Theme Park Enjoyment Index for MAY 2023 (Starcruiser Grand Opening/Grand Closing, Minion Land details, DisTwitter gets a Baby Bricker and more!)
The Theme Park Enjoyment Index (TPEI) is a monthly look at the events that have made an impact, both positive and negative, in this wild world of theme parks we all love so much. Each TPEI comes out on the last Saturday every month, and we assign each piece of news a positive or negative number, tally it all up at the end and chart it. The range goes from 0-100 with 0 being
Stitch's Supersonic Celebration
 while a perfect score of 100 would be 
Pandora: The World of Avatar
.
Remember, all links in TPEI open up in a new browser window. So feel free to check stuff out, we'll be here when you get back!
*Disney Axes Star Wars Galactic Starcruiser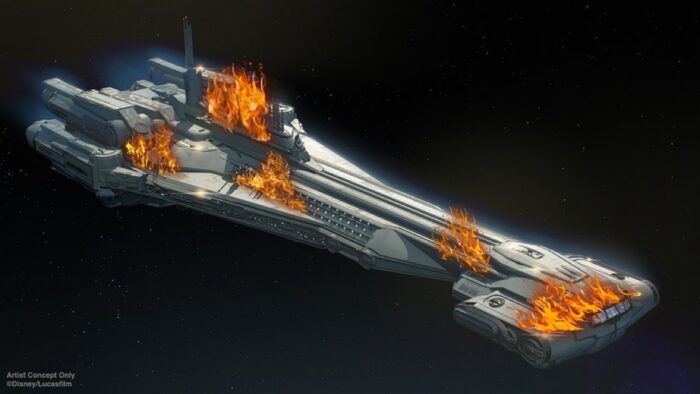 As a jaded theme park blogger, it takes a lot to shock me. However, even with Rumors & Innuendo saying for months that the Star Wars Galactic Starcruiser was having occupancy problems (leading to discounts finally being available to Cast Members and DVC owners) the announcement that the heavily hyped Hotel Experience would be having it's final "sailing" at the end of September was something that I truly didn't see coming. For me, one of the biggest reasons I didn't think Disney would get rid of the Starcruiser anytime soon is because there's really nothing else you can do with it.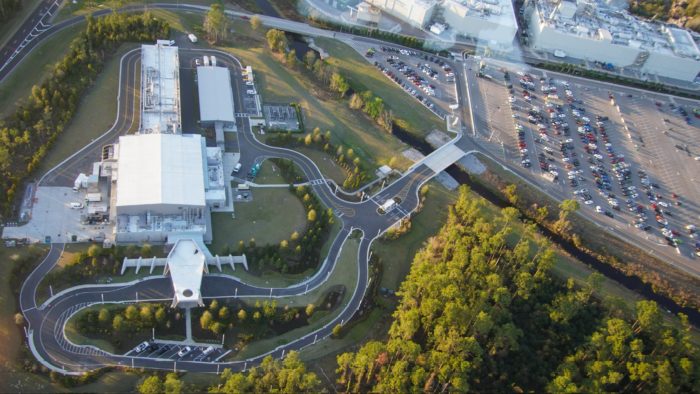 Many of us Star Wars fans wished it could be an elaborately themed Star Wars Hotel without the $5000-for-two-nights cost, but because of how it was built the Starcruiser can't easily be converted into Just Another Hotel. The rooms are abnormally small, even by Disney Hotel standards, because the assumption is that everyone staying there would be involved in the various storyline gameplay. There's no pool, or any of the other traditional amenities you'd find in a standard hotel. Right now Disney just has a big concrete building located mostly backstage and from the outside has all the charming aesthetics of a state prison.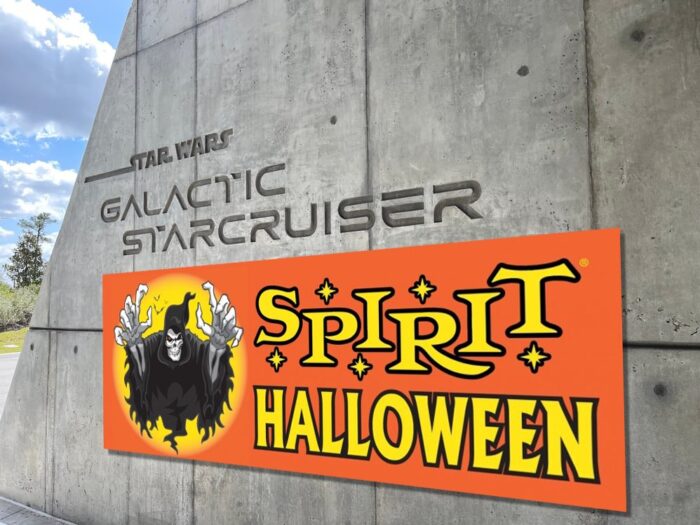 You have to assume that Disney brainstormed many possible "fixes" to the Starcruiser occupancy problem, including the idea of a coupon day for the poors like Your Humble Author, but instead of making a go of it the company is going to write-off the Starcruiser as a business expense. This accelerated depreciation will allow them to see real savings in the near future rather than down the road. We've seen a lot of similar financial shenanigans in the world of entertainment lately, including Warner Brothers Discovery (WBD) taking a lot of heat for writing-off a whole bunch of filmed entertainment, which including movies and shows that have already aired, along with productions that were never released (including a Batwoman movie.) What this essentially means is that WBD can not allow any of these products to be seen again. For example, they can't sell the Batwoman movie to another company and let them air the movie. The Batwoman movie is gone, in theory, forever (although to use our second Jurassic Park quote in the same paragraph, in our experience "life finds a way…")
We'll be doing a SATURDAY SIX Tribute to the Galactic Starcruiser in the coming weeks because 1) So many people in the community who actually experienced the Starcruiser said it was one of the best things they've ever done in their lives and 2) TouringPlans' own Joe Matt reminded me that this fine blog series has done previous tributes to Shrek 4-D, Rip Ride Rockit, and theme park skill games while adding "maybe you should do a tribute on something that was actually good for once."
Look for our Starcruiser tribute article in the next few weeks, but before we go let's close out with some pictures from the long and storied history of this one-of-a-kind themed experience…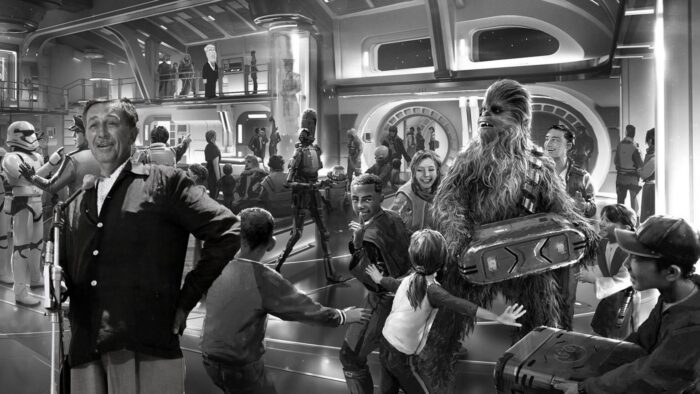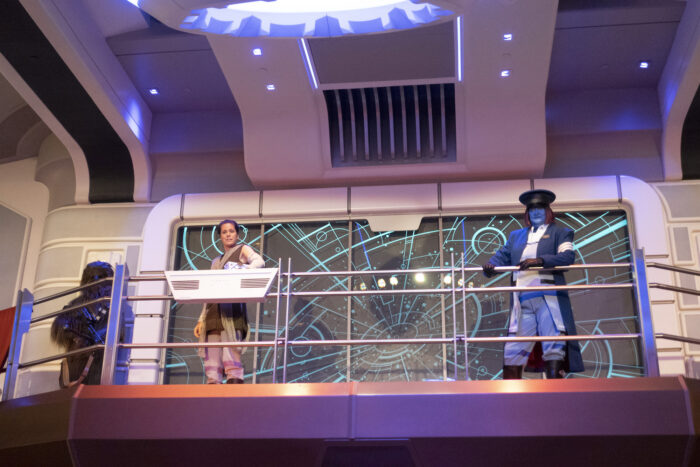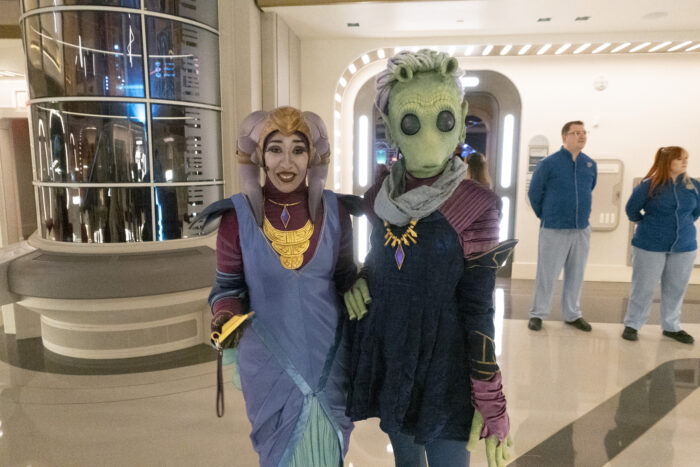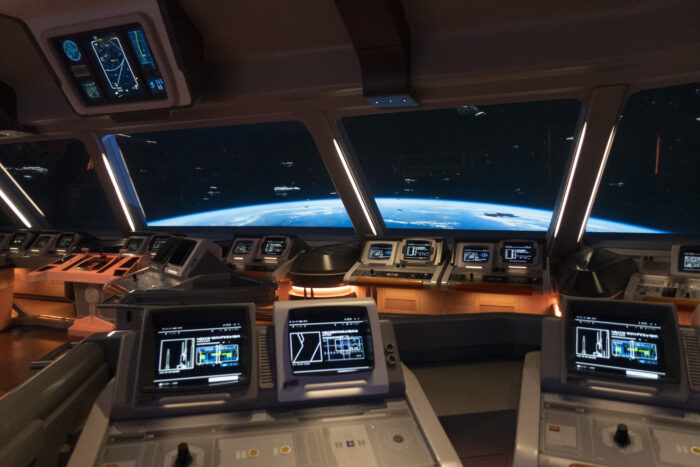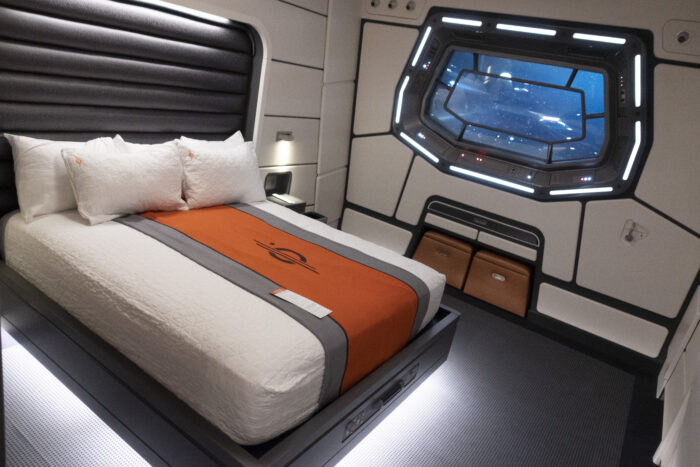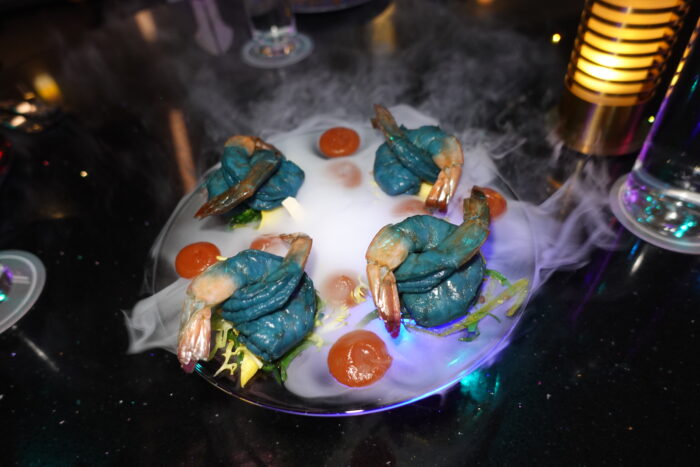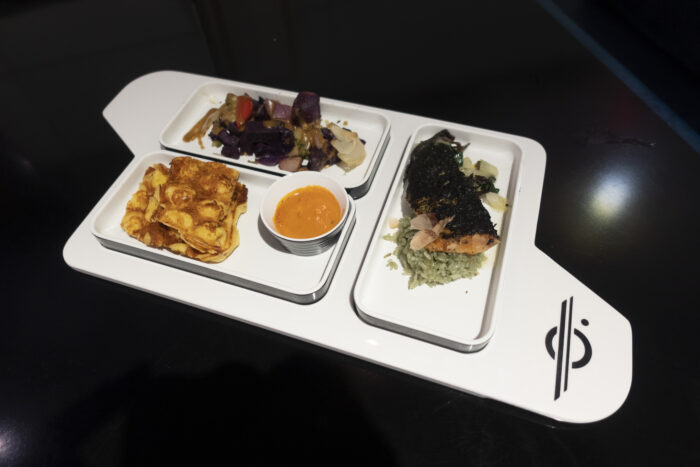 TPEI SCORE: It's a wash. Generally speaking, this would be a huge negative for the community. There were a lot of absolutely GREAT things that came with the Galactic Starcruiser. However, a lot of people have memory-holed the fact that several of these incredible experiences onboard the ship were meant to be included with Star Wars: Galaxy's Edge and pulled at the last minute so that they could be exclusive to the guests willing to spend $5,000 for a two night stay. IF the Starcruiser would have been an unqualified success, the lesson Disney would have learned is that only those willing to pay "deserve" something this good.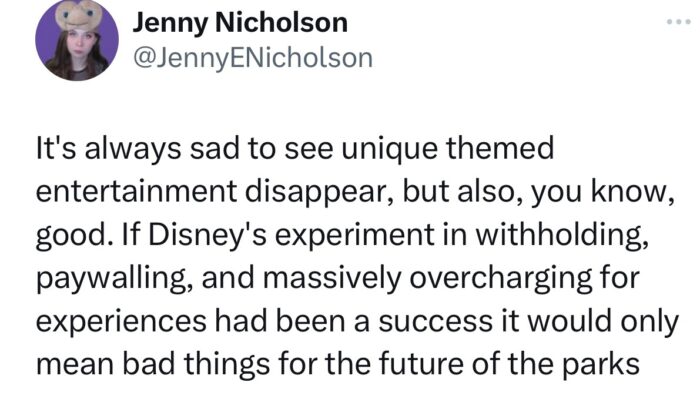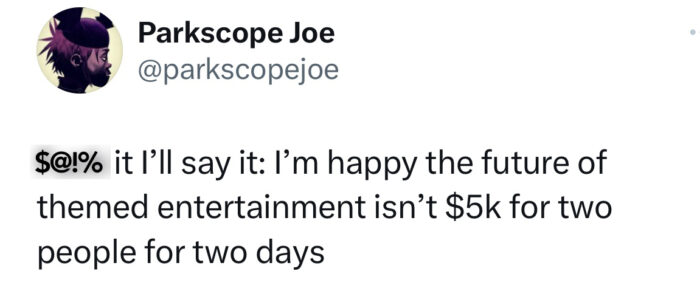 Although, we WOULD actually pay $2,500 a night for this experience…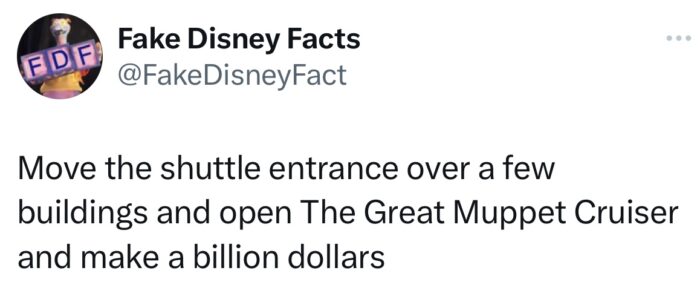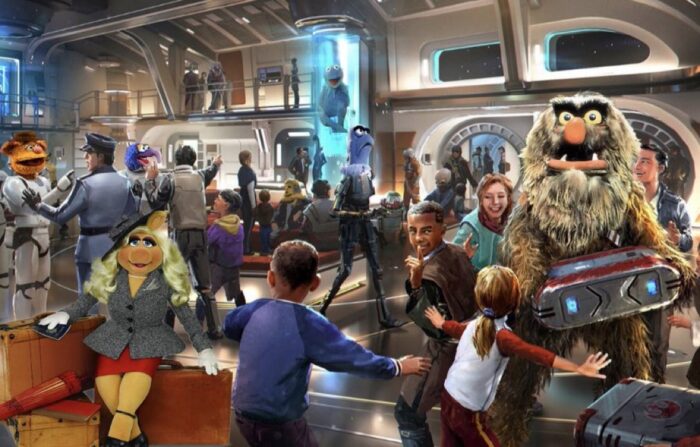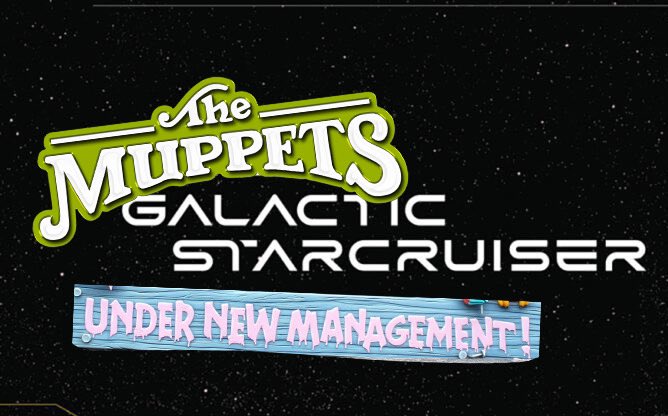 *Disney Cancels Imagineering Move to Lake Nona, FL
Who would have thought that the Starcruiser wasn't Disney's biggest cancelation of the month, at least officially. In July of 2021, Disney announced a one-Billion-dollar project in Lake Nona, FL where it was going to build a campus for Disney Parks, Experiences, and Products. This would be relatively close to the Orlando International airport, and it began requiring many California-based employees to relocate to Florida. This went about as well as you can think, especially in the Walt Disney Imagineering department, where several high profile names left the company rather than uproot their families.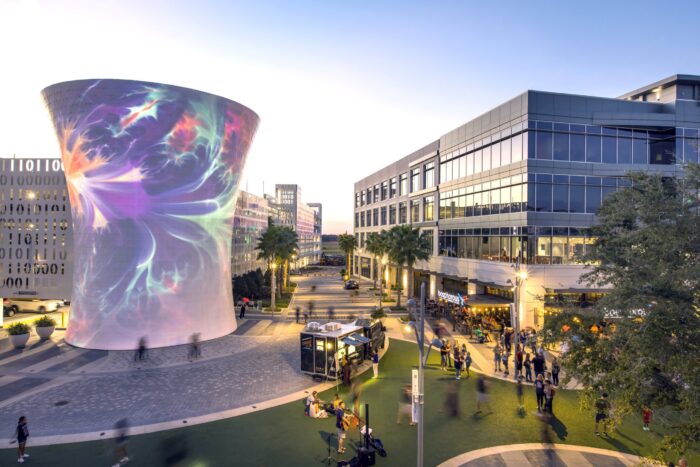 Here's a map of where Disney's campus would have sat in relation to the growing Lake Nona community.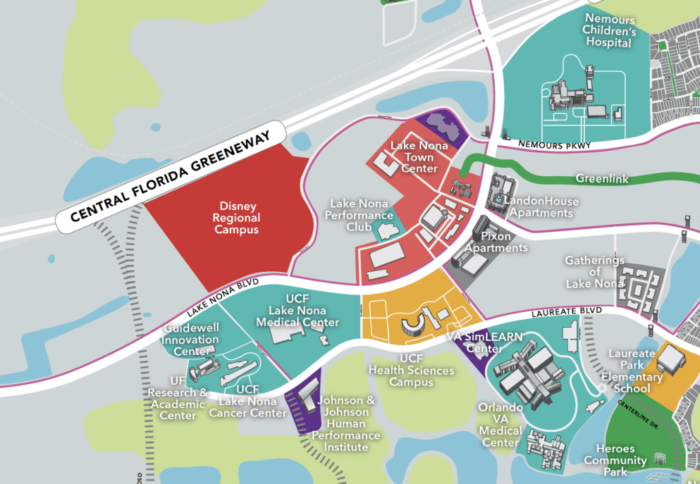 Dedicated readers may remember our very first Flights With Bioreconstruct article included aerial photos of Disney preparing land in Lake Nona for development.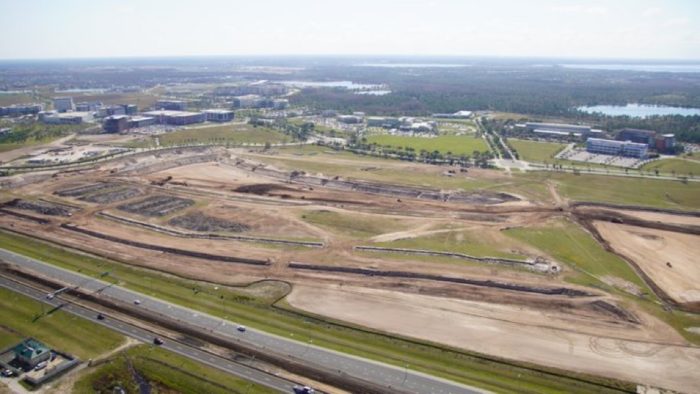 This was the second huge project started by former Disney CEO Bob Chapek that was unceremoniously cancelled in the same week, which begged the question…

NEVER DID I EVER think that one of the my favorite theme park related podcasts – The Disney Dish with TouringPlans own Len Testa and theme park icon Jim Hill – would be mentioned by a high level right wing personality (and former lawyer to a person who has an audio-animatronic in Disney's Hall of Presidents.) But it happened, and it's because Jim and Len have been talking about the Lake Nona deal being "dead" for months, Disney just never made it official. The reason Ms. Ellis made this tweet is because of the current spat between the Governor of Florida and Disney. Many people took the news of Disney pulling the Billion-dollar plug on Lake Nona as retaliation for all the nonsense that the Governor is currently putting them through, but the reality is that this stuff all went down much earlier.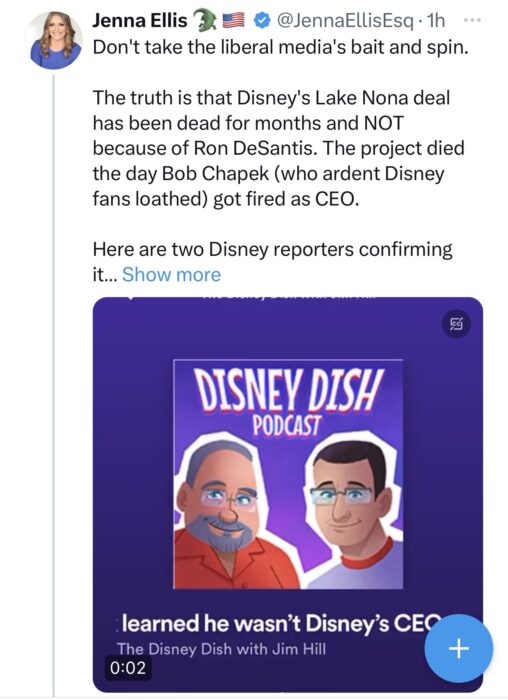 Speaking of the current battle between Disney (and sanity) versus the Florida Governor… this month Disney released news that the Governor's hand-picked goon squad (the Central Florida Tourism Oversight District, formerly known as the Reedy Creek Improvement District) has been avoiding getting process served on a lawsuit. Every time you think this show can't do anything dumber, they find a new barrel to get to the bottom of.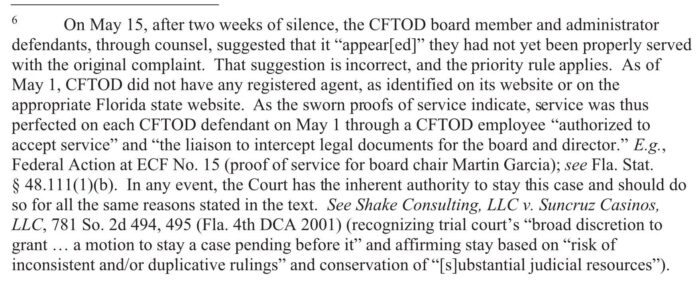 TPEI Score:  + 2 As someone who lives in Florida, I'm truly glad this Billion dollar move is off because, quite frankly, WE'RE FULL. In all seriousness though, it's awful for the Imagineers and others in the company who left their – possibly – dream jobs over an ultimatum that never actually went through.
*Disney pulling streaming content off Disney+ and Hulu
News came out in May that Disney would be removing content from its streaming services including series such as Big Shot (starring John Stamos), Willow, and Y: The Last Man.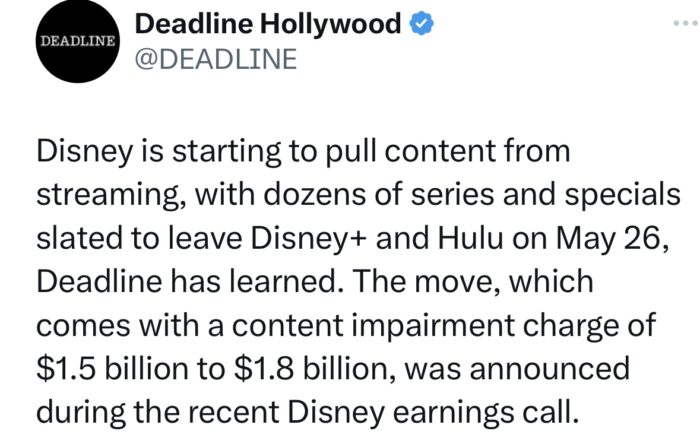 We mentioned earlier that Warner Bros. Discovery did a similar removal of content, except in their case they were taking a write-off and the series were GONE. Disney is leaving open the possibility of selling or licensing the shows to other streamers down the road. As an aside, I am someone who owns way too many DVDs and Blu-Rays, something I get hassled and teased about constantly at home. However, this is what happens to those people who depend solely on streaming. The things that you enjoy watching the most can just evaporate – or be changed – overnight, and there's nothing you can do about it.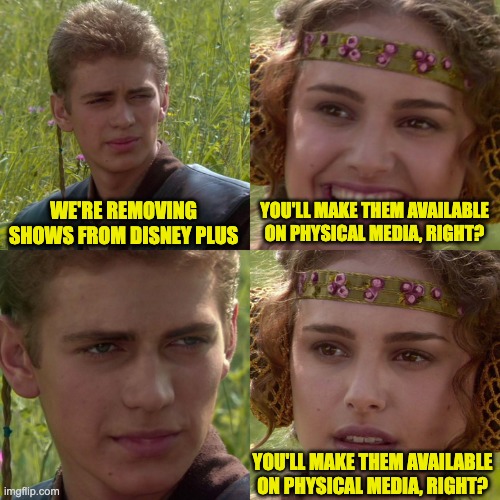 As of this writing, it was still up in the air exactly what shows were going to be removed from the platform, but there was ONE SHOW that everyone knew was going away forever…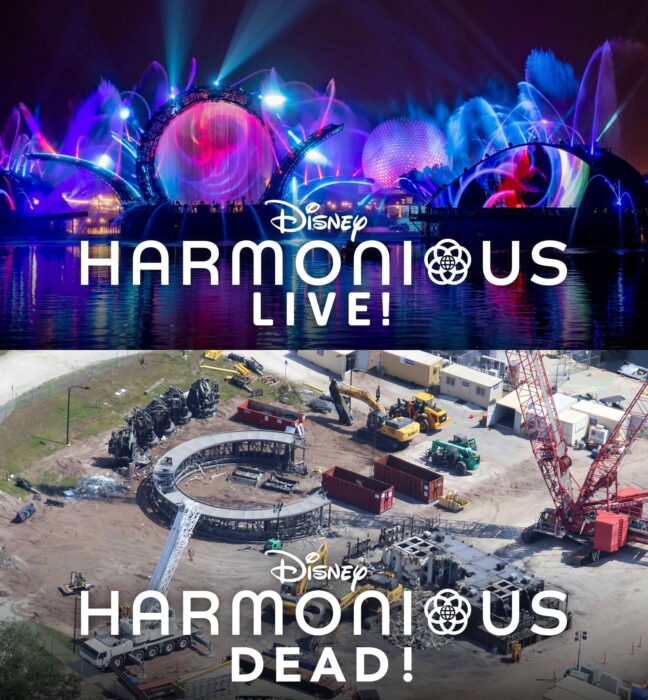 TPEI Score: – 8 This sucks. Period, end of story. For a lot of these streaming channels, the reason they are removing content is so they don't have to pay the various creators involved. I feel like there needs to be some sort of new entertainment law passed, because we are in a digital era that no one saw coming a decade ago let alone a 100 years ago. If a company like WDB or Disney or Comcast wants to take a write-off on a show and never air it again, fine. But the rights to that show should then be transferred to the person(s) who created the content and allow them to find a way to distribute it (even if it means airing it for free on say, YouTube.)
*Universal Announces Minion Land for Universal Studios Florida
It is really quite amazing how different Disney and Universal are when it comes to announcements and releasing concept art for things coming to their theme parks. The reason we all knew about the cuts to Star Wars Galaxy's Edge for things that eventually showed up at the Starcruiser is because Disney told us these experiences – such as the elaborate nighttime dinner show –  were coming to the parks and appeared in concept art for Batuu.
Universal is on the other side of the coin. This article debuts on Saturday morning, May 27th. Yesterday (Friday, May 26th) Universal unveiled the new in-park logo for the upcoming Minion Land coming to Universal Studios Florida later this summer. When was Minion Land announced and we were shown concept art of this upcoming land? LAST WEEK (May 18th.)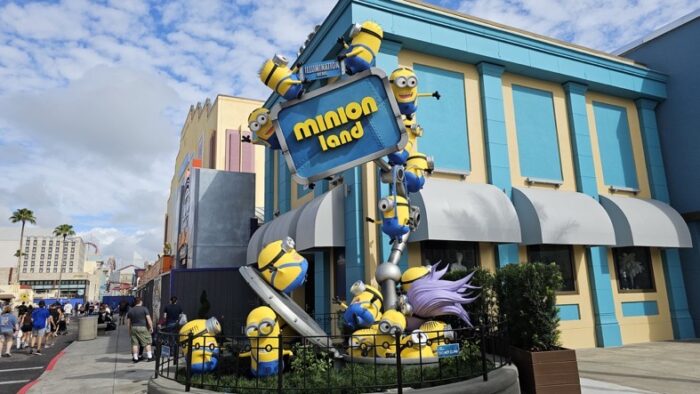 The logo for Minion Land is charming as heck and filled with great details.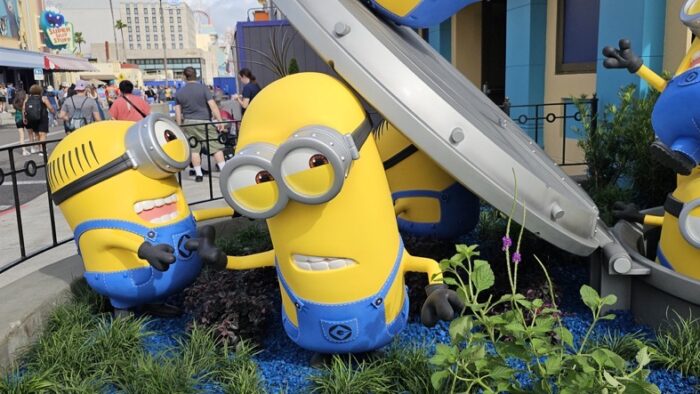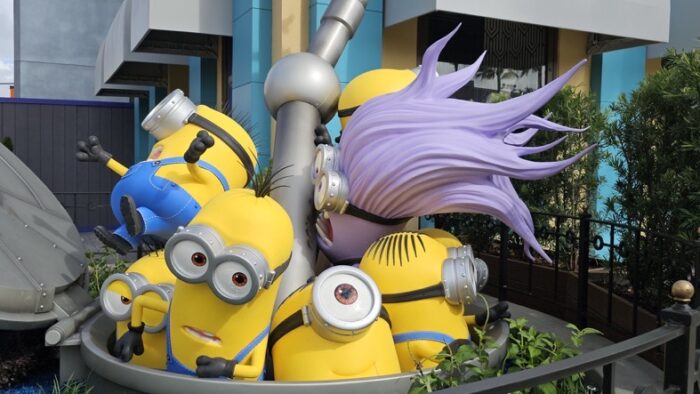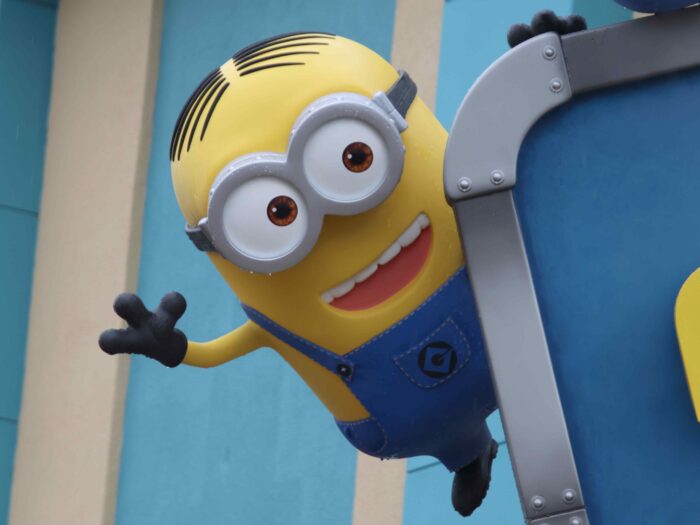 So what is included in Minion Land? Well first off we have Despicable Me: Minion Mayhem, which originally opened in 2012.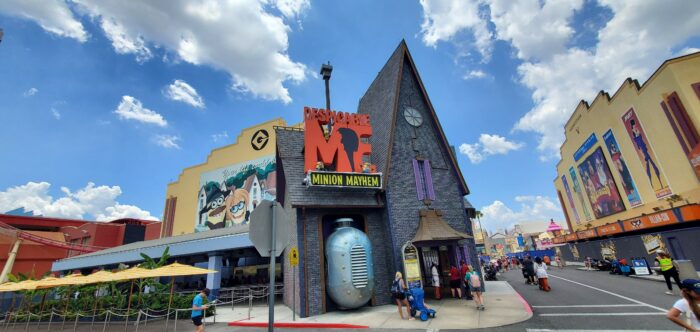 Across the street from Minion Mayhem is the former home to Shrek 4-D, this will be the new home to Villain-Con: Minion Blast, opening later this summer.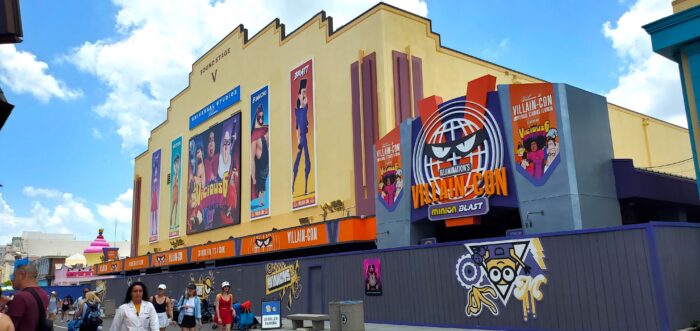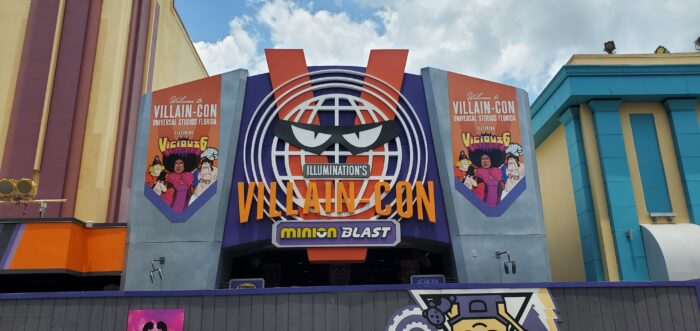 For more details on Minion Blast, check out this awesome video by the Permit Princess Alicia Stella. Essentially, Minion Blast's storyline has guests heading to Villain-Con, the world's largest convention for villains, taking place in Orlando.  In attendance are the Vicious 6, the  super villains from Minions: The Rise of Gru. This dastardly group have organized a challenge at Villain-Con to find their newest member. As part of the "job interview," guests will pick up an E-liminator X blaster and step onto a moving walkway to cause as much destruction as possible to earn points. We'll encounter the Vicious 6 and a minion or two (thousand) along the way.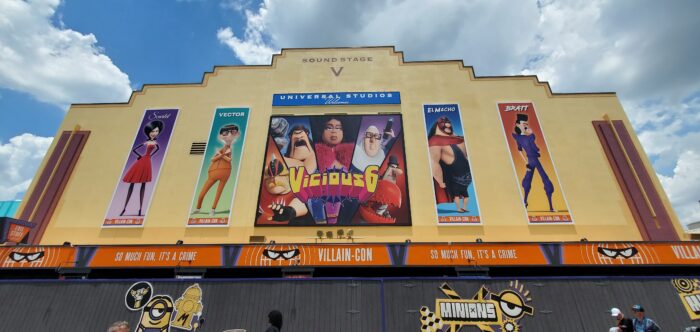 One great detail on the attraction's facade is this sign pointing to what will most likely be Villain-Con's gift shop.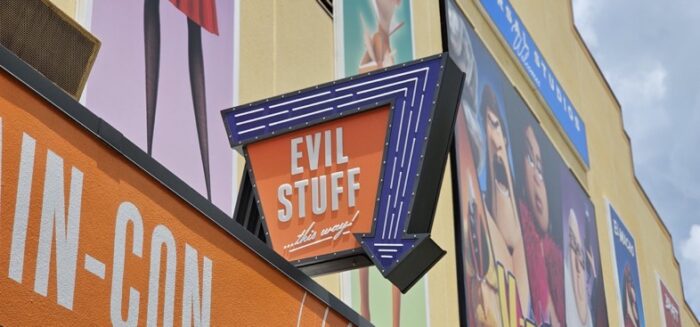 It's great because look at the sign for Minion Mayhem's gift shop right across the street…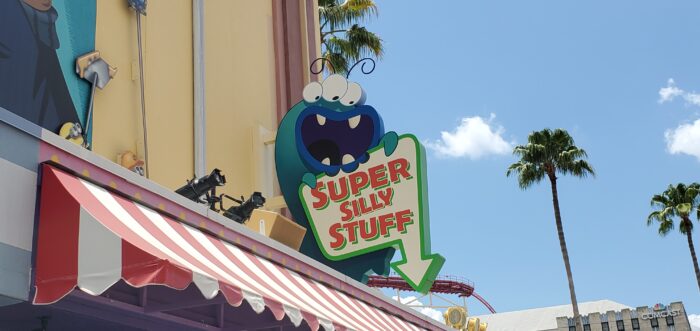 Villain-Con Minion Blast is opening later this summer, but knowing Universal it may actually be open by the time you are reading this.
Minion Land also includes all the various places that USF is making from the former home of Universal Classic Monsters Cafe. Let me tell you something, I love Back to the Future, I love Jaws, and I love Universal Classic Monsters, but the overall upgrades we have received in the parks with BTTF-to-Springfield, Jaws-to-Diagon Alley, and Monsters Cafe-to-Minion Land is nothing short of extraordinary.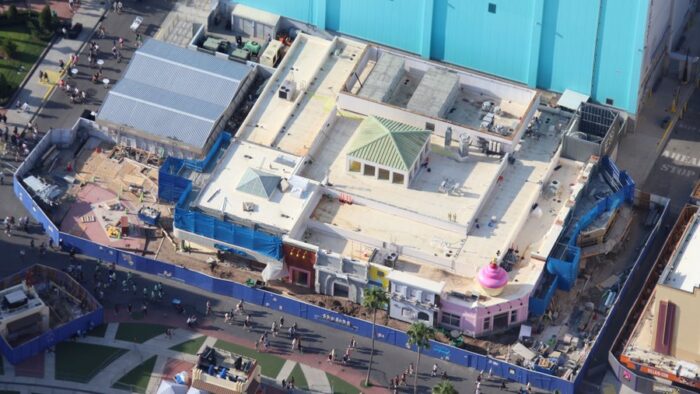 Here is what we will be getting in what was once a restaurant once known for serving  "monster sized" pizza slices…
Bake My Day – The clue to what's in store for guests is a massive pink cupcake on its roof. Inside this whimsical retail location and bakery, they'll find Minion-themed sweet treats, including cupcakes, macarons, and s'mores, along with exclusive Minion-inspired merchandise like apparel, plush, drinkware, accessories, keychains, and more.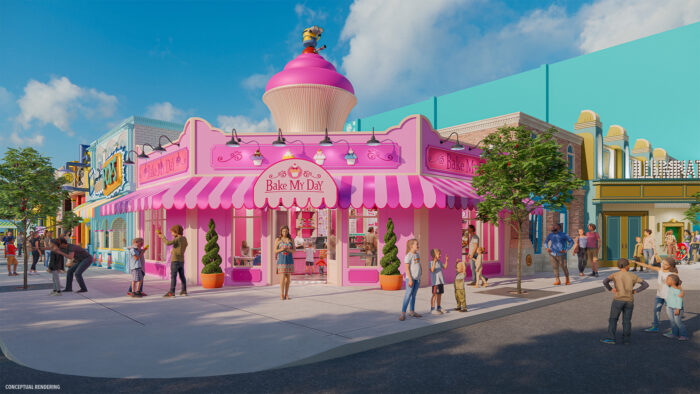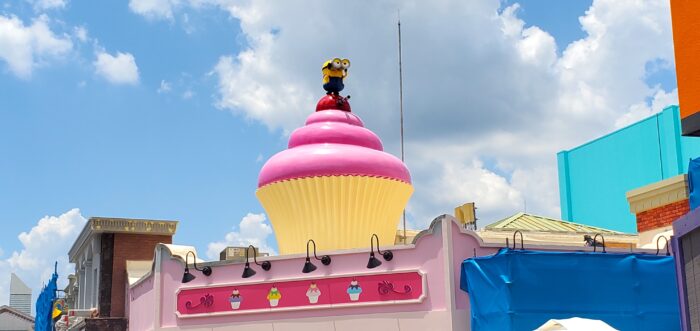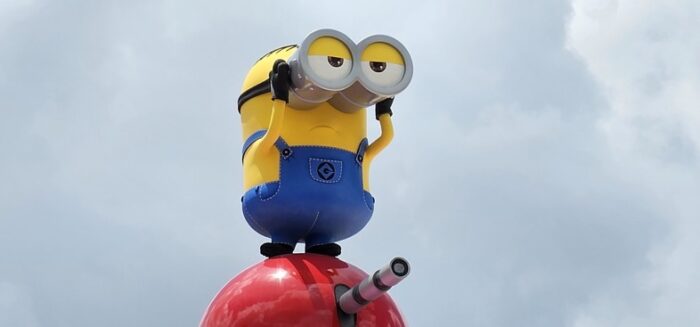 Illumination Theater –Guests will be able to meet the Minions, Gru, Margo, Edith, and Agnes, plus new additions from the hit film Sing – Rosita, Gunter, and Johnny – at an outdoor Illumination Theater facade. Throughout Minion Land, colorful murals and fun photo ops will celebrate additional characters from popular Illumination films.
Freeze Ray Pops – There's no better way to cool off on a hot Orlando day than with colorful popsicles inspired by Gru, the Minions, and Vector (this location will also offer beverages)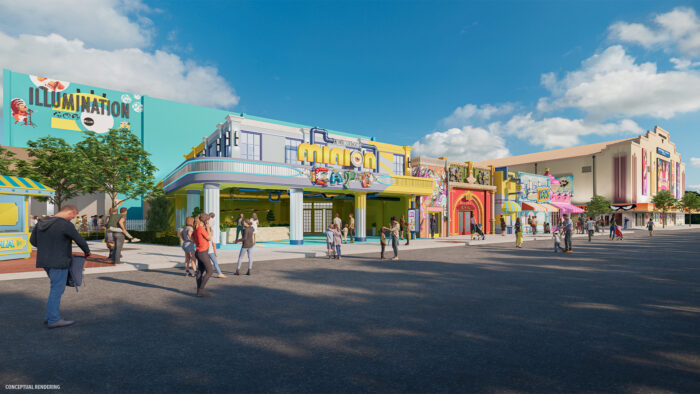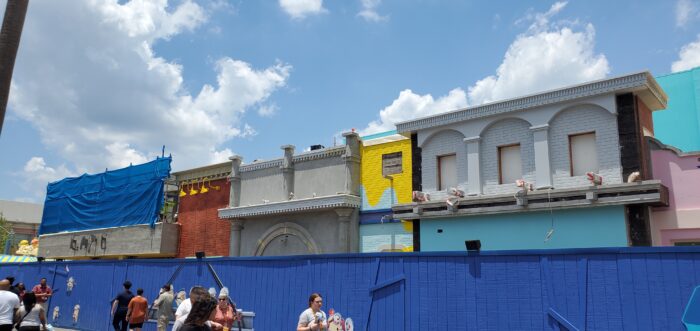 Pop-A-Nana – Have you ever tried banana-flavored popcorn? Well, that's precisely what you'll find at this new walk up location serving sweet and savory popcorn inspired by the Minions' love for bananas. An assortment of cute popcorn buckets will also be available, including the Minion Selfie bucket.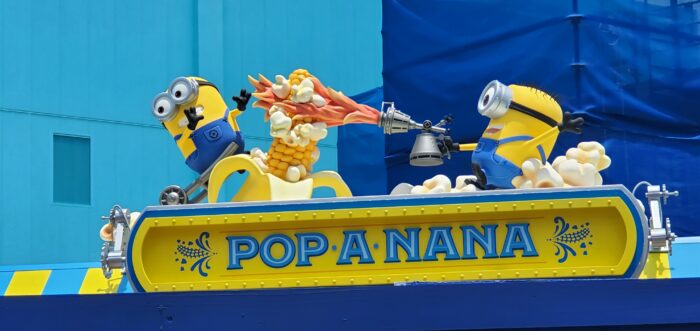 Minion Cafe – Will feature three main areas:
The Kitchen, where guests will see the equipment the Minions used to whip up the cafe's menu
The Breakroom, where guests can dine in the Minions' break space, including "Office Safety Tips" and a vending machine stocked with mischievous items
The Dining Room, where guests can enjoy their meal surrounded by colorful artwork courtesy of the Minions.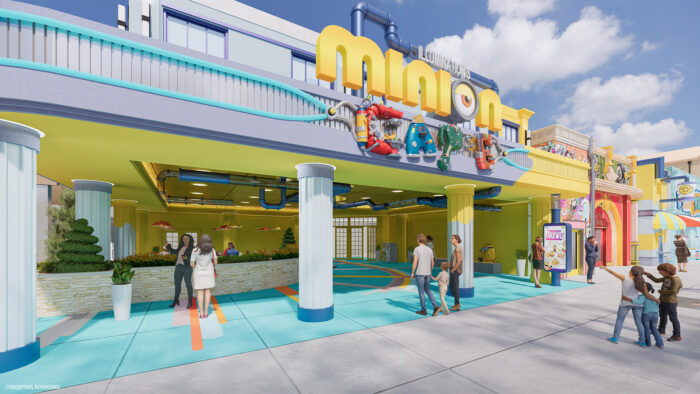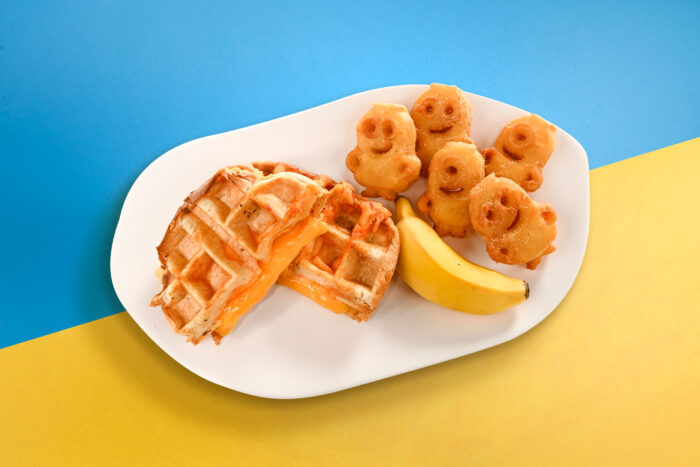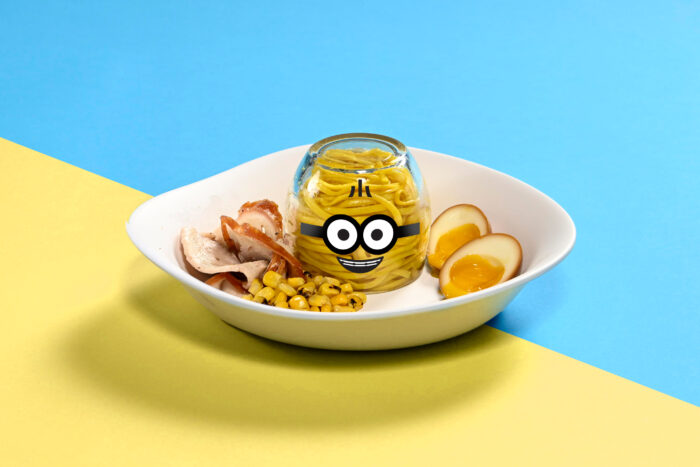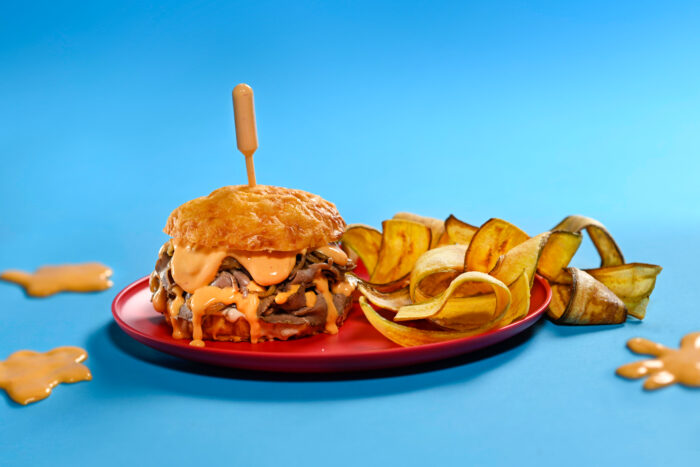 TPEI Score: + 10. I have to remind you, I was probably in the top 1% of Monster Cafe fans. That was my go-to place in the park before they changed over to the more Boston Market-like menu because of my love for Universal Classic Monsters, large pizza slices, and crinkle cut fries. The transition to a more family friendly area is much needed at Universal and this overhaul also looks like a major improvement as well adding in things such as meet-and-greets, merchandise, and grab-and-go snacks. The "Main Street USA" area of USF has been a hodge-podge collection of random stuff for 30 years and now it will finally have some sort of fun theme with Minion Land. I'm all in.
*Jurassic Park Tribute Store is Best Yet at Universal?!
You know we love the Tribute Stores that have appeared seasonally at USF over the past several years, however I was a bit worried when the stores moved from their former home in the New York section of the park into a smaller area in the Hollywood section. Well, my fears have been put to rest as this season's Tribute Store is themed to the original Jurassic Park movie (celebrating the film's upcoming 30th anniversary) and it just might be the best Tribute Store yet.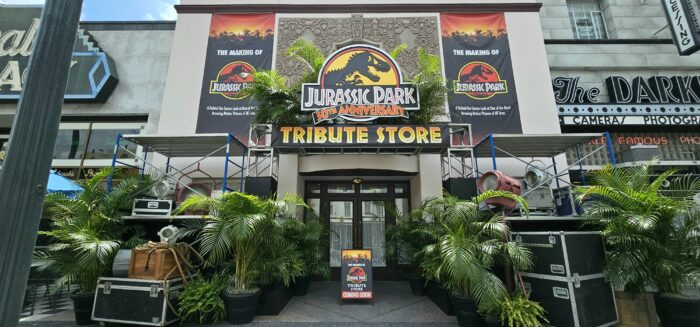 We'll give the store a more thorough examination next month, but check out some of the next level awesome details you'll see in the store… such as the iconic Barbasol shaving cream can that was used to transport "viable embryos" off the island. The concept of the entire Tribute Store is giving you a behind-the-scenes look of how the original Jurassic Park was made and it is mind-blowingly awesome!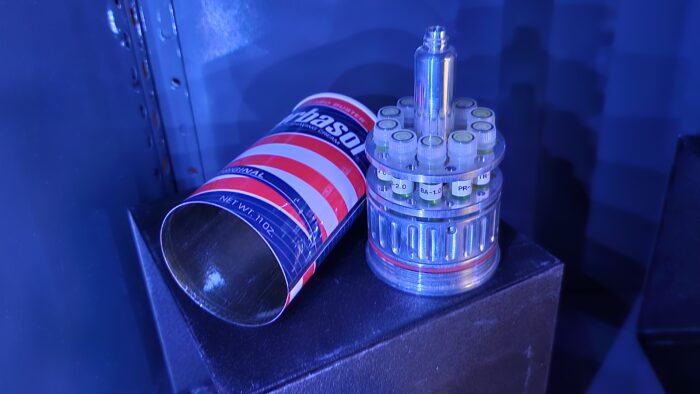 As always, the Tribute Store is filled with fantastic photo-ops.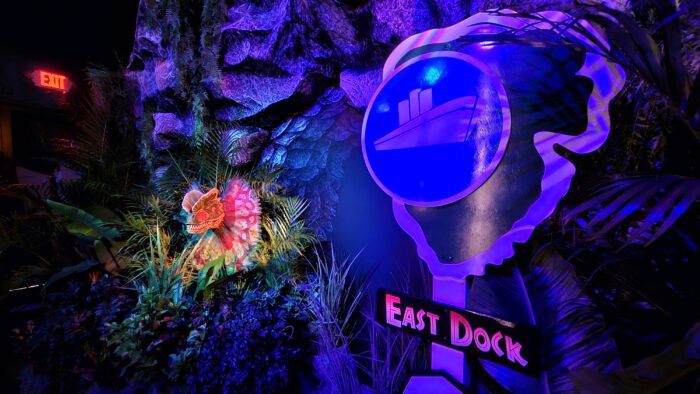 This T-Rex one is great right?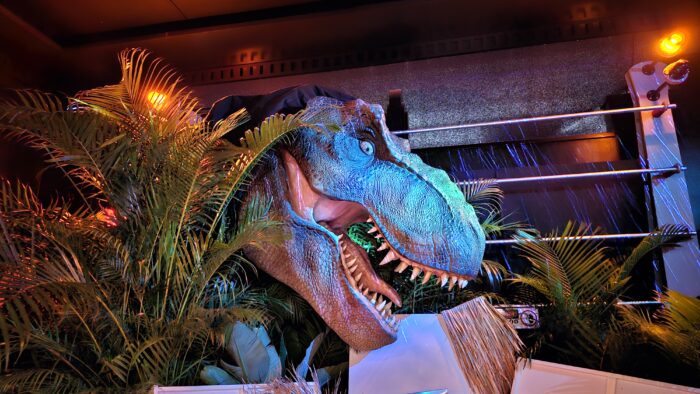 WELL IT GETS EVEN BETTER!!!!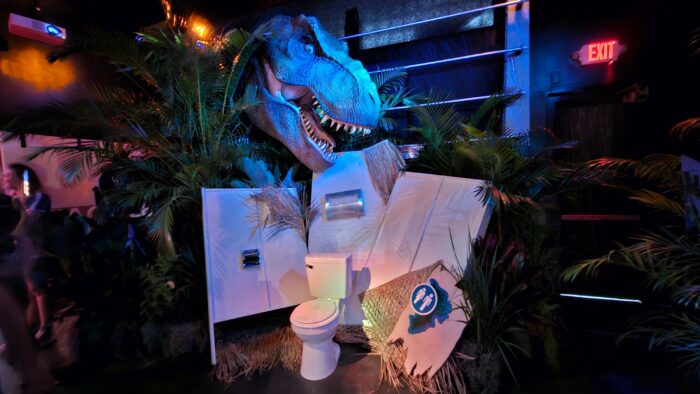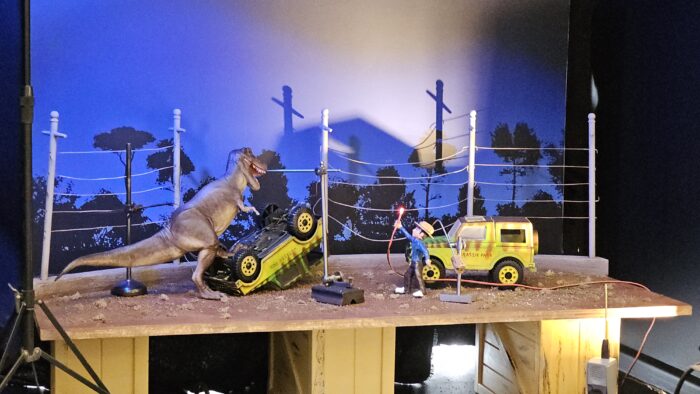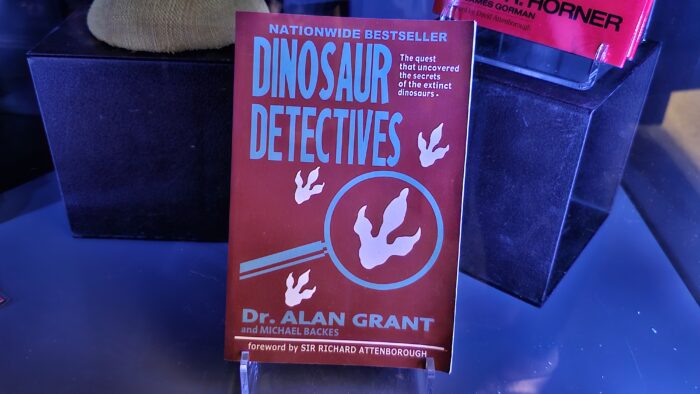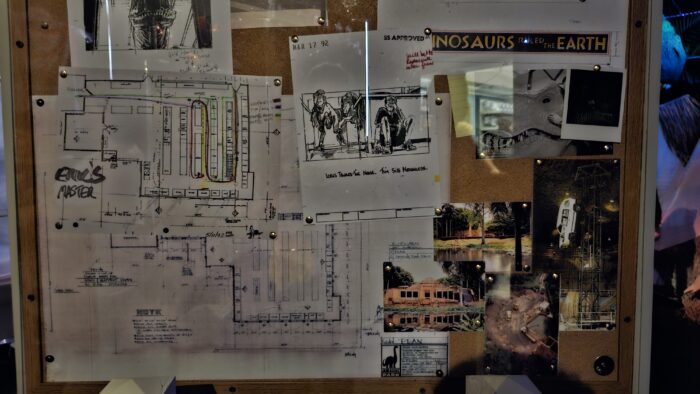 Reminder that the Tribute Stores are – in fact – stores, so it is loaded with awesome Jurassic Park merchandise, including 30th anniversary t-shirts.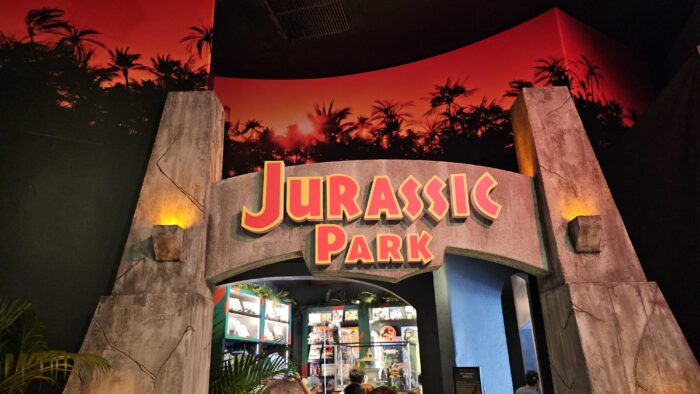 One thing to also keep in mind, ace photographer Hedgehogs Corner is also the Mighty Maven of Merchandise and is basically a personal shopper for your Universal items if you can't make it to the parks. You need something from the Jurassic Park Tribute Store, or anything else in the parks – including Volcano Bay and the onsite hotels – she can get it for you. Be sure to check out here site by CLICKING HERE.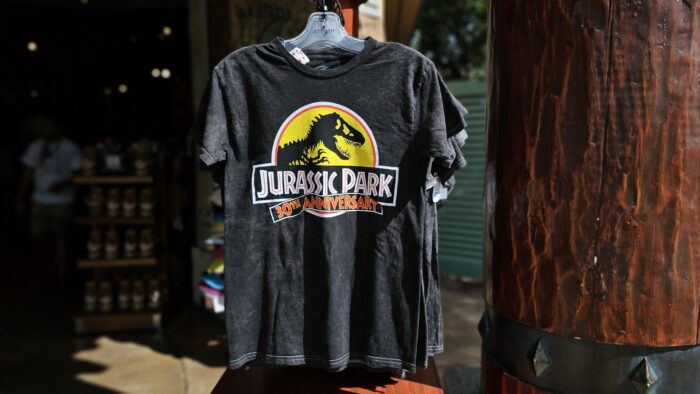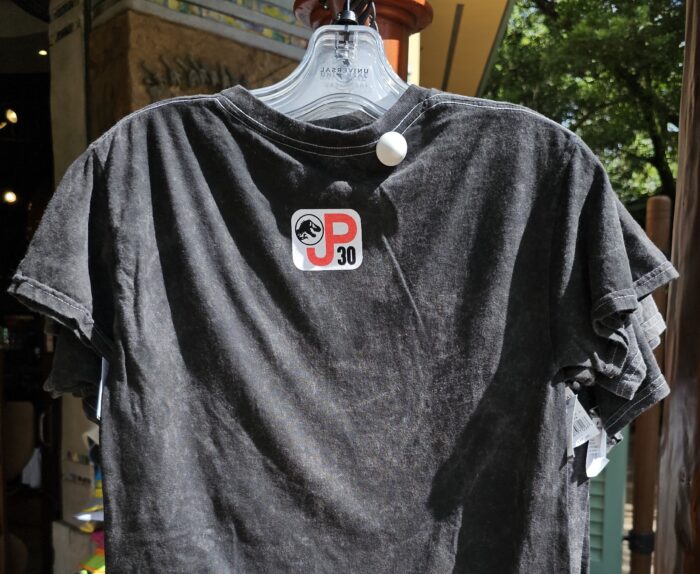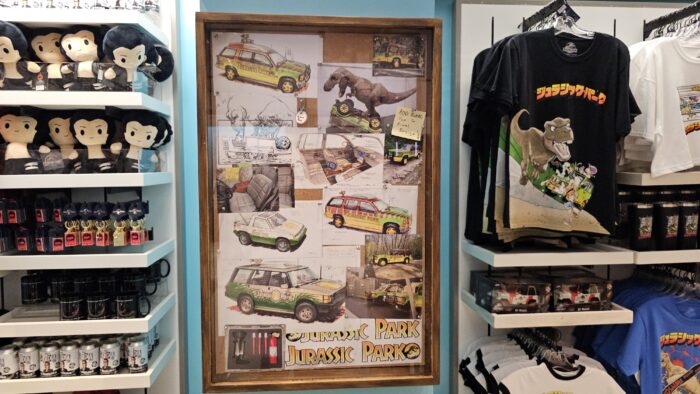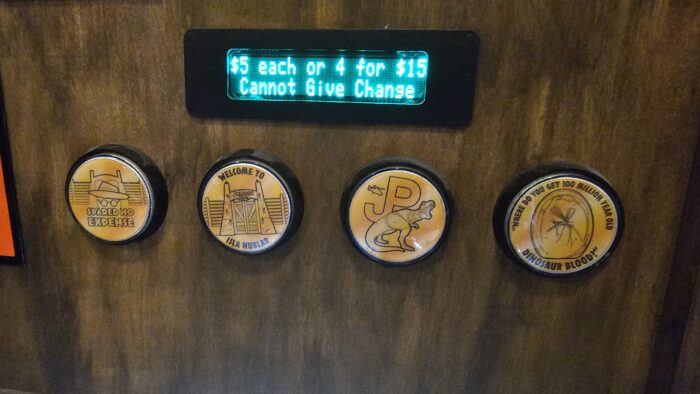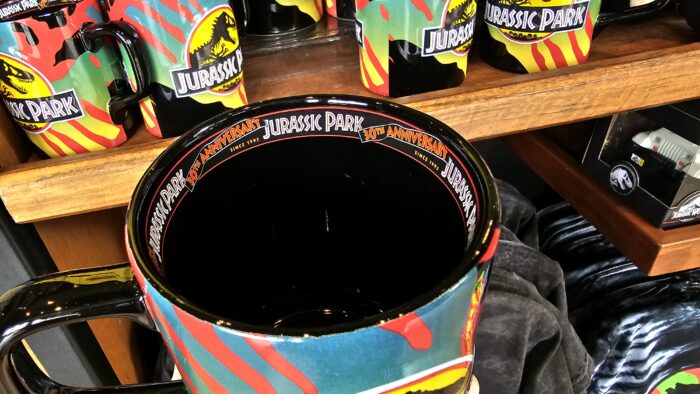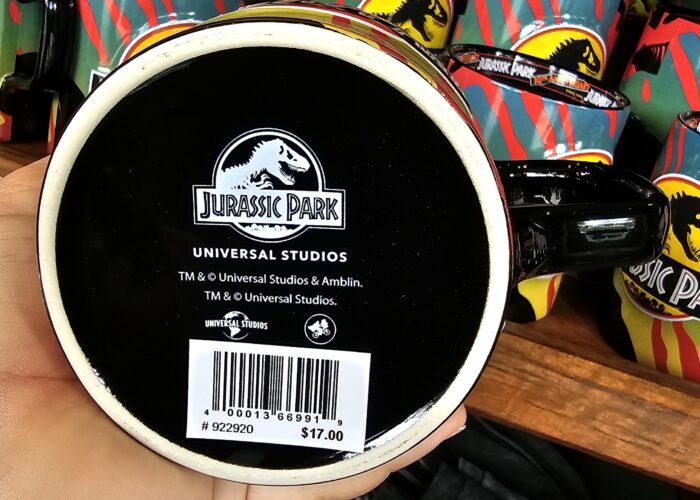 ALERT! ALERT! ALERT! New Mold-A-Matic machine molds, including my favorite one yet…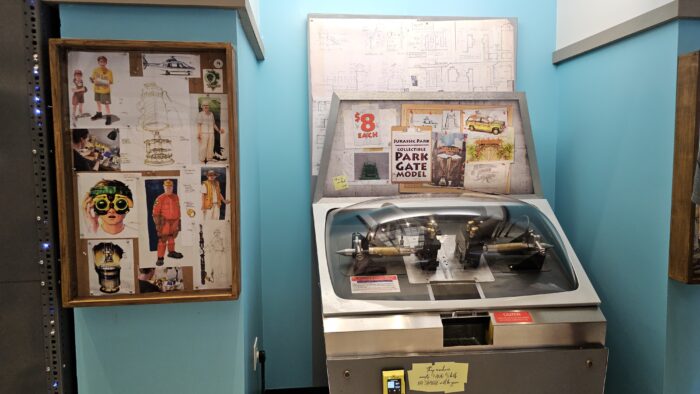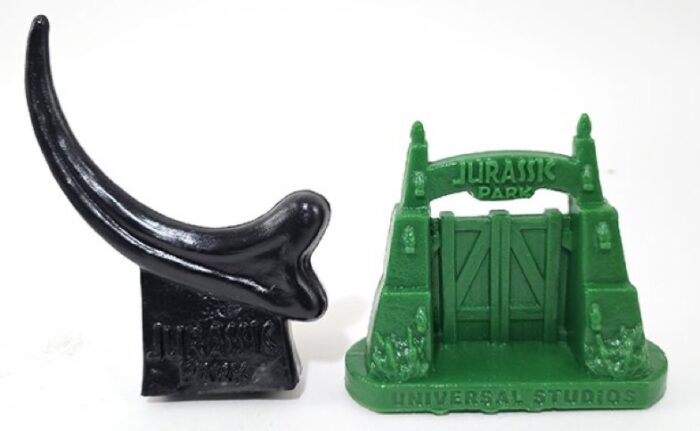 Each Tribute Store also has a selection of treats that tie into the theme of the store…
ARE YOU KIDDING ME?!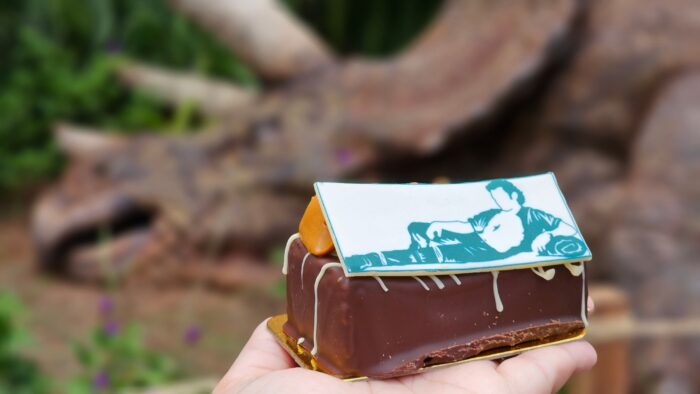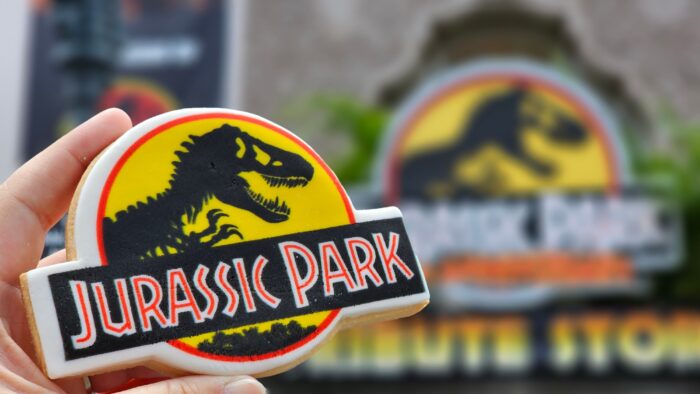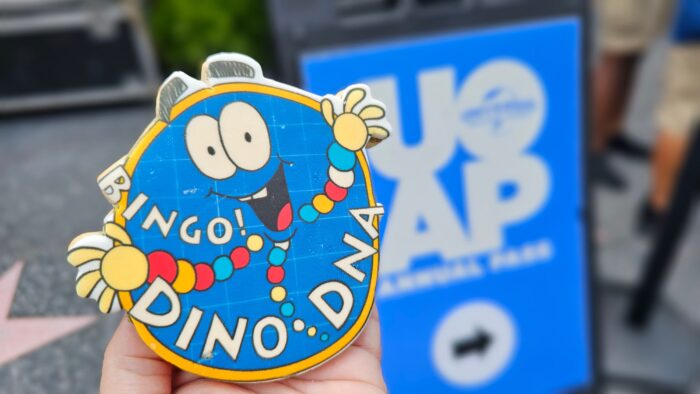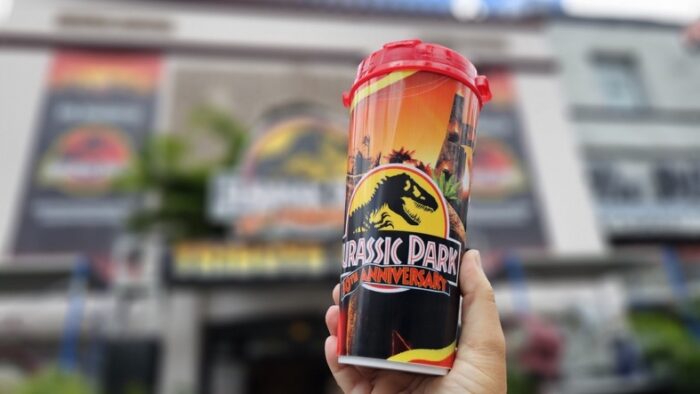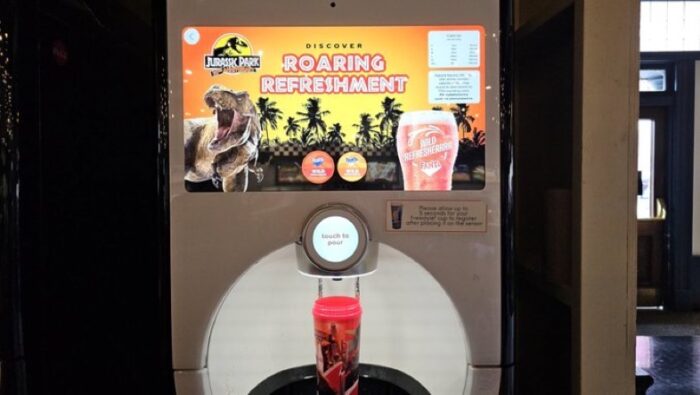 But that's not all folks, here's the real blockbuster. Brace yourselves, you might wanna sit down." – J Jonah Jameson, Spider-Man Far From Home
Outside the Tribute Store is another tribute to Jurassic Park the movie, but also USF itself. A "sick" triceratops can be seen lying on the ground. This triceratops was a "wow" moment in the movie, but also was showcased in the Horror Make-Up Show lobby as well as the former Boneyard area of USF that was a collection of props from movies and television shows (this area is now where the music stage is next to Hollywood Rip Ride Rockit.) The triceratops was given to Give Kids the World Village and is currently on loan from them.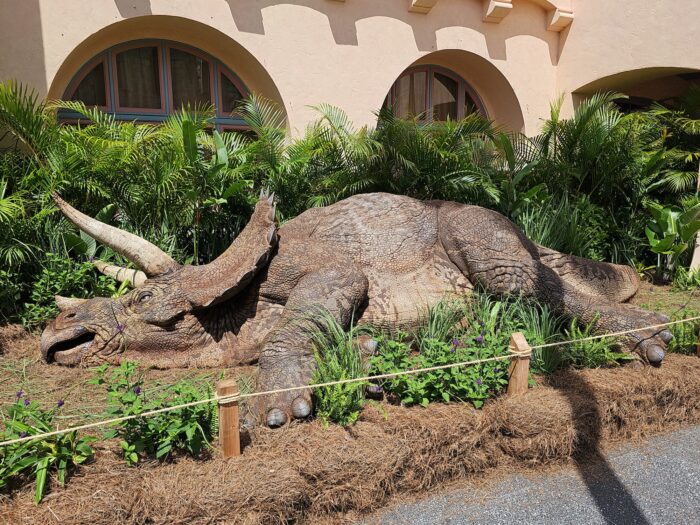 Is this West Indian lilac?" – Dr. Ellie Sattler
Yes. We know they're toxic, but the animals don't eat them." – Jurassic Park employee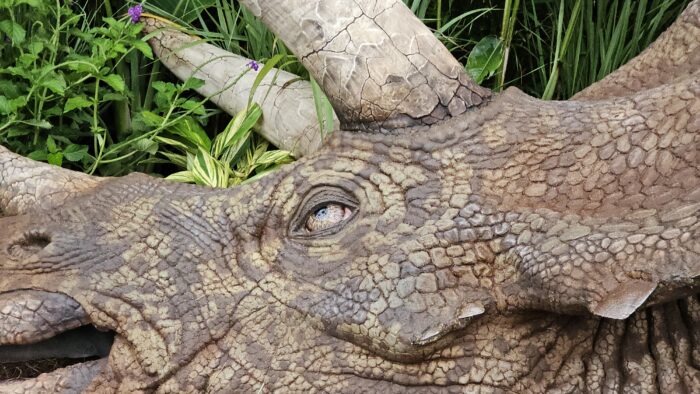 TPEI Score: + 8 Another monster home run from the Universal design team. Wow.
*In Completely Unrelated News In Theming…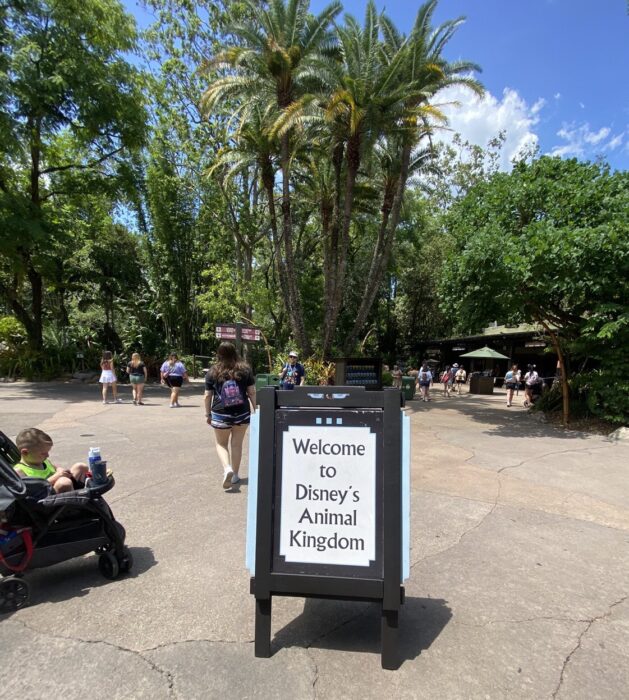 QUICK HITS
*DisTwitter Becomes An Uncle/Aunt!
The best news this month came courtesy of the Disney Tourist Blog as Tom Bricker announced that he and his wife Sarah are soon going to be proud parents. Go out of your way to read their announcement. Tom and Sarah are two of the best people in the entire community and we here at TouringPlans couldn't be happier. Personally, as someone who is a stickler for good photographs, having one of the photographers on my Theme Park Photog Mt. Rushmore taking baby photos means we will FINALLY see some good content in that specific niche area. I mean, c'mon, look how cute these photos are and we're just getting started…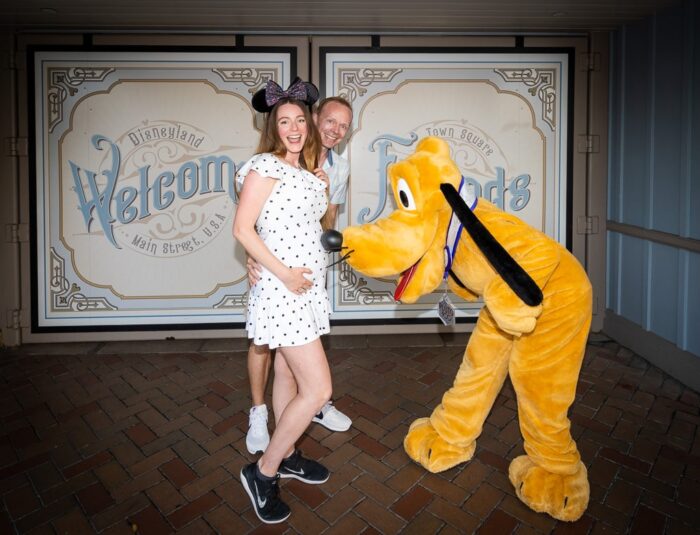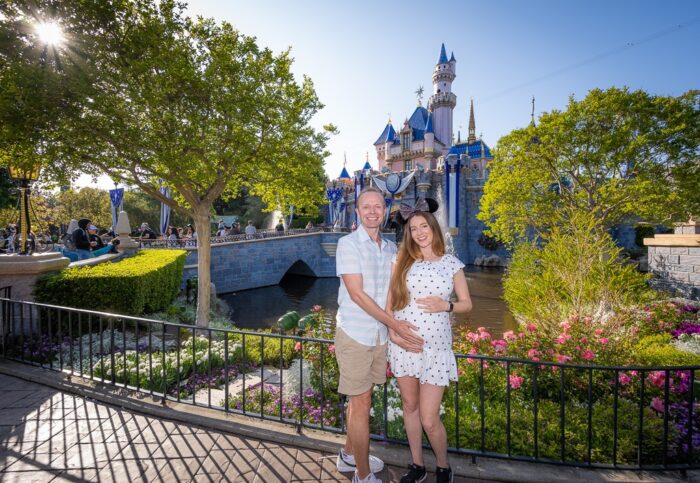 *Disney released Guardians of the Galaxy 3…and it's AWESOME
The month started off hot with Guardians of the Galaxy 3. This movie would be James Gunn's final movie in the Marvel Cinematic Universe as he heads over to run their competition with DC. This is a HUMONGOUS loss for Disney/Marvel (and if you don't know the reason for why he moved over to DC, don't Google it because it will make you scream at the ineptitude of Disney management) but a huge gain for us comic book movie lovers who will finally get more than one DC movie in a row that is good.
A funny thing happened at my Guardians screening, before the movie there was a commercial for Guardians of the Galaxy: Cosmic Rewind! The ad featured testing of the ride and then actual on-ride footage at EPCOT! This was a nice surprise and makes me want to see more theme park content before the movies.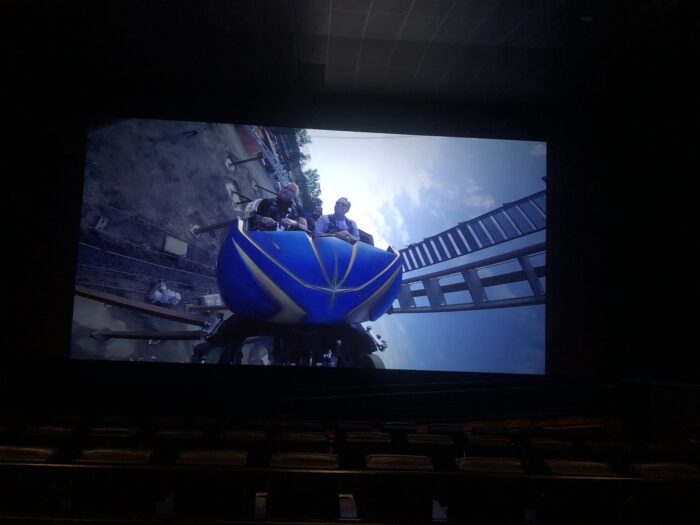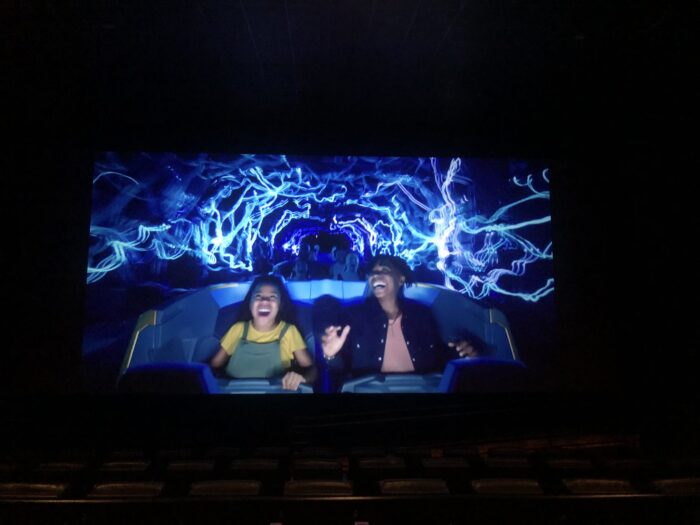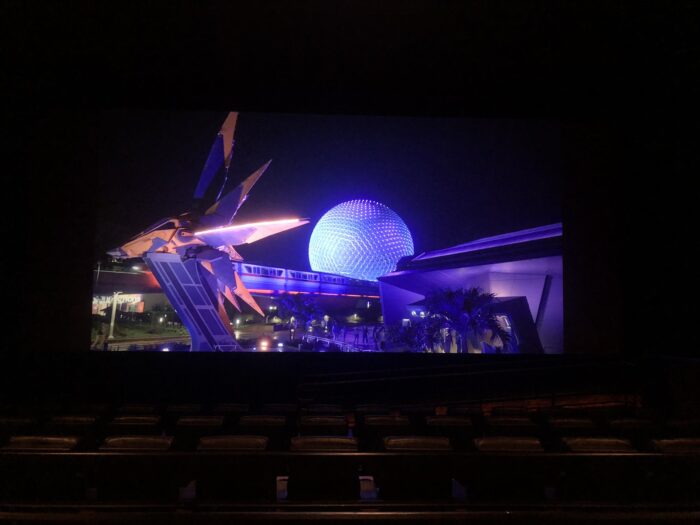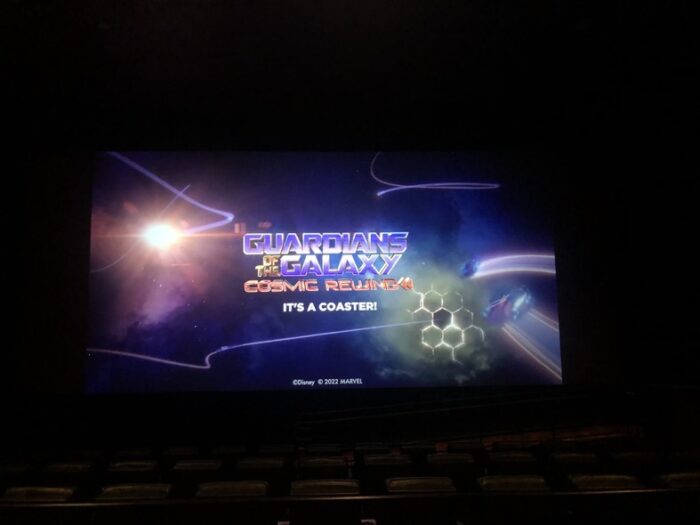 The release of GOTG3 also led to one of the most fun marketing gimmicks I've seen in a while…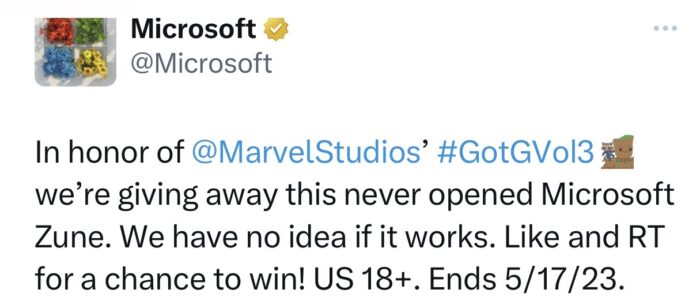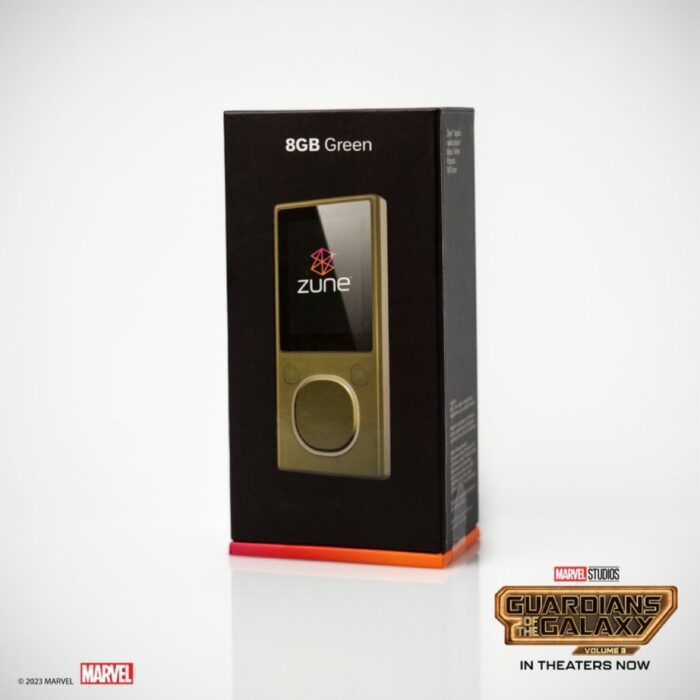 *New Muppet Show on Disney+ and it's also GREAT
A new Muppets show arrived on Disney+ based around the band Electric Mayhem and its the best Muppets content we've had in YEARS. To be fair, it's some of the only Muppets content we've had in years. I truly feel that – at their best – The Muppets are at the tippy top of all intellectual properties as they have mega appeal to every age group. For the most part they have been completely wasted since being bought by Disney decades ago and here's hoping we get a Muppet resurgence in the near future.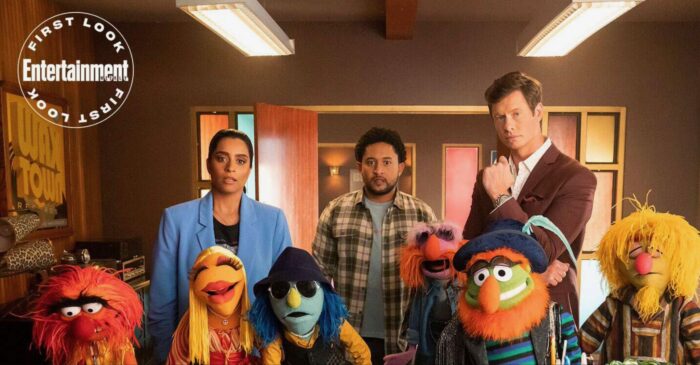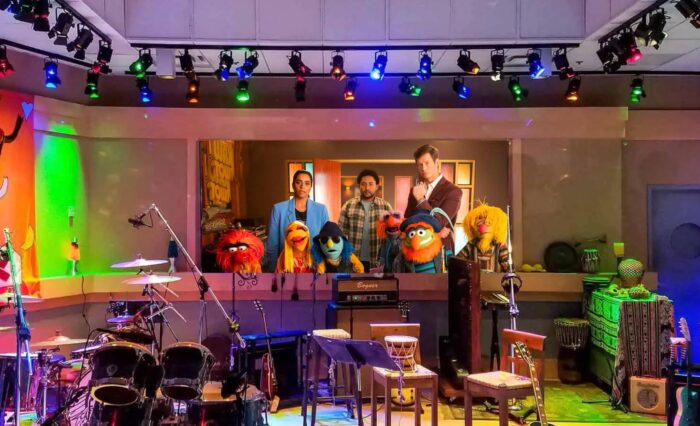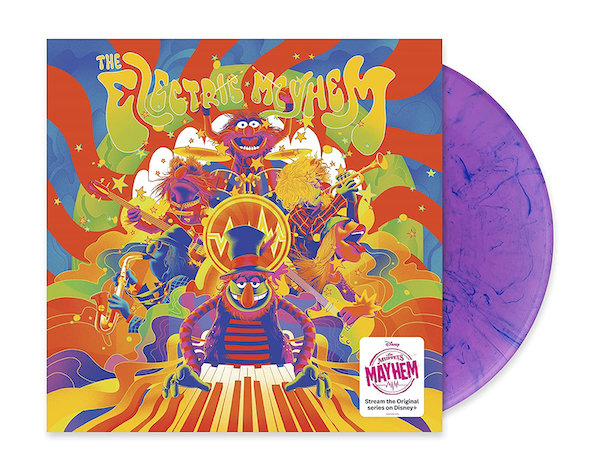 *More Disney  Transportation Card Goodness
We've said it before and we'll say it again, you need to follow @servoisnaked on social media because you not only get great theme park photos in general, but she's also really delivering in the area of Disney Transportation Cards. This month we got a great look at the various cards made for Disney trams.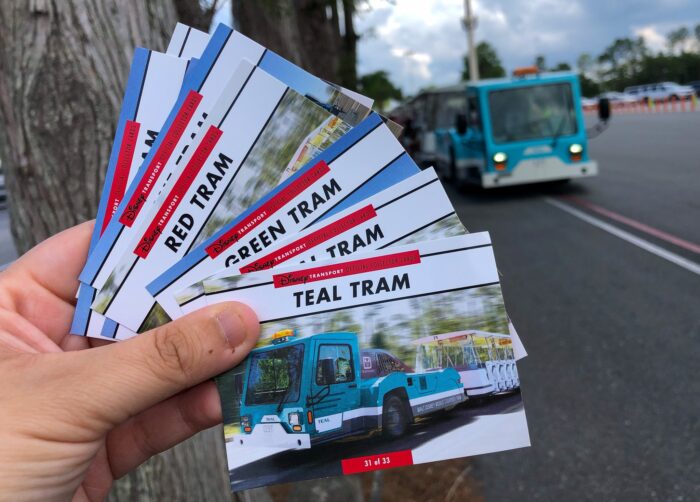 *Disney Reports Quarterly Revenue. Realizes It Needs Locals Again…
For the past year or so, all theme parks have pretty much been doing well because of the overall pent-up demand for travel. However, in recent months the travel industry in general has been seeing "soft" futures with people being wary of spending money during an economy that is volatile at best. For a while after the world shut down for Covid, supply and demand issues caused inflation. Now, thanks to corporations raising prices because they see an opportunity, we are going through a Greedflation. That combined with an attack on Disney by the governor of Florida, Disney is taking steps to regain the losses it has taken in areas such as streaming and linear cable.
You know Disney is desperate when they offer good deals to us local peasants in Florida, and this month the alarm must have sounded in Burbank.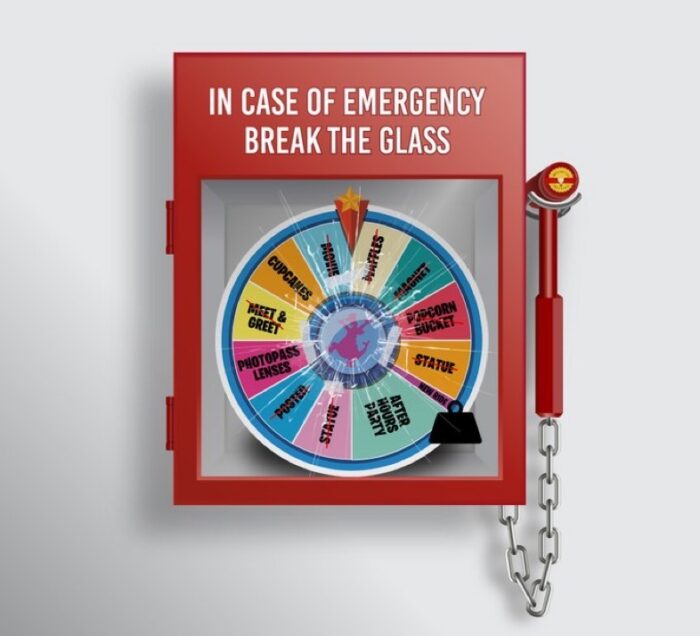 Walt Disney World announced "V.I.PASSHOLDER Days" are coming this June for a limited time. Offerings include new discounts, a "limited-time, exclusive space" to rest and cool off, a new Passholder magnet, and "more." The discounts are mostly for Flower & Garden outdoor kitchens at EPCOT.
Disney won't put a single dime into improving the Imagination Pavilion, but they know how much people love Figment so the new Annual Passholder magnet features everyone's favorite purple dragon.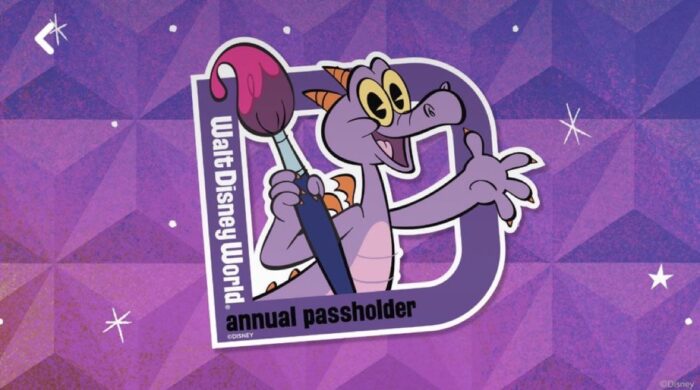 Universal also started doing more things for their Annual Passholders, including exclusive entrances at the parks.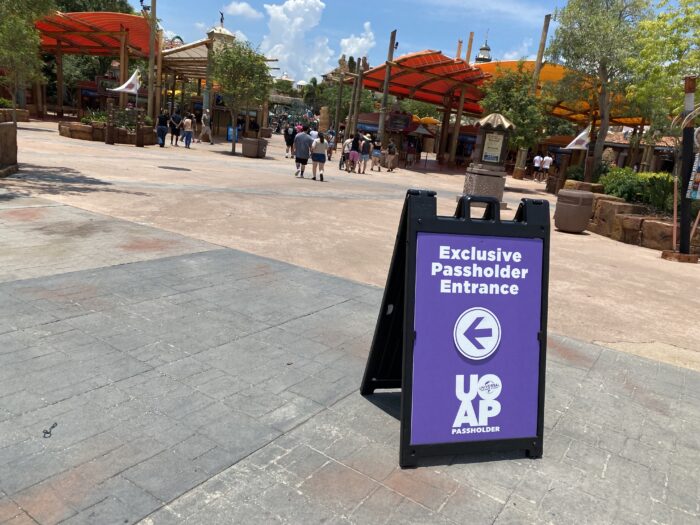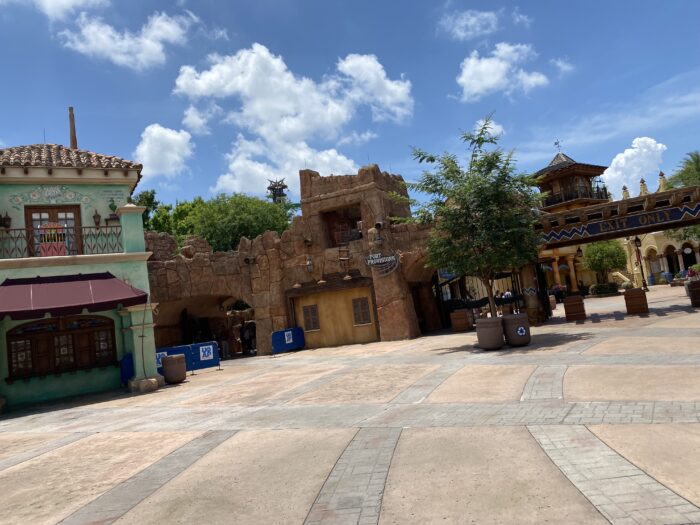 *PLEASE Universal, DON'T DO THIS…
I'm not a fan of virtual queues for theme parks, but for water parks they are great. In theme parks, you NEED people in lines. In theme parks, those lines are generally in air conditioned spaces that are elaborately designed with theming. In water parks you are generally just standing outside under the hot sun with minimal theming of the actual queue. Universal's Tapu Tapu system of virtual queueing at Volcano Bay is great. What do theme parks do when something isn't broke? They try to fix it.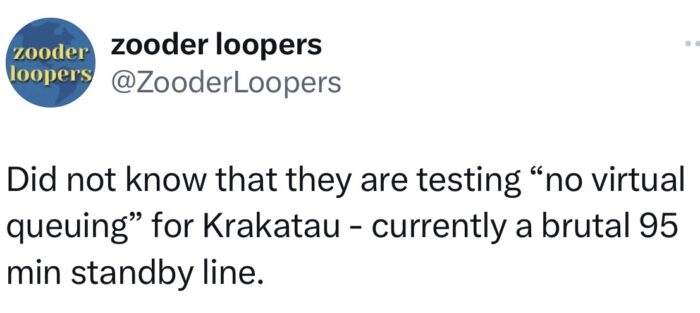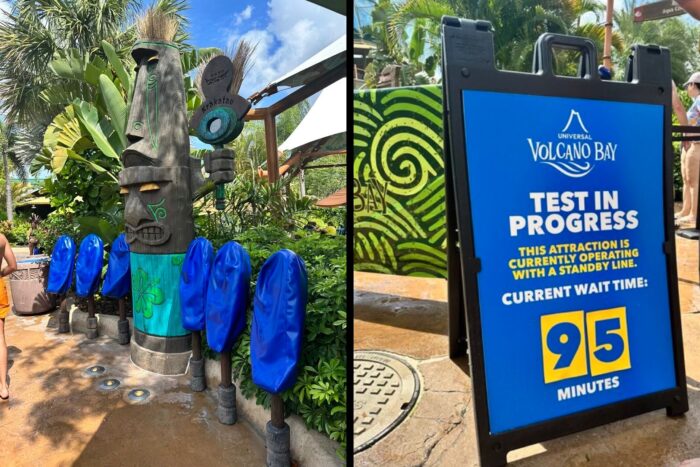 *WHAT IF… WDW Park Icons were more realistic…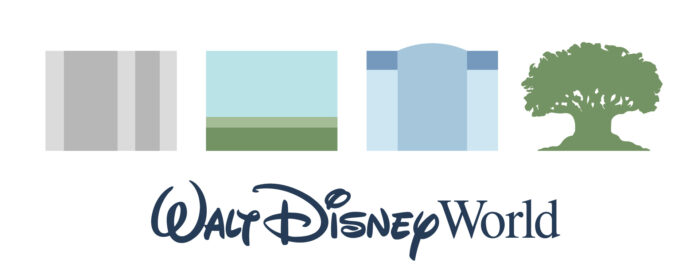 *Reminder that the NBA Experience closed THREE YEARS AGO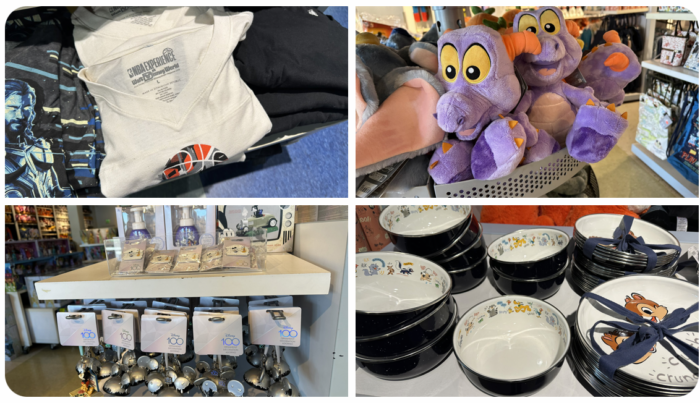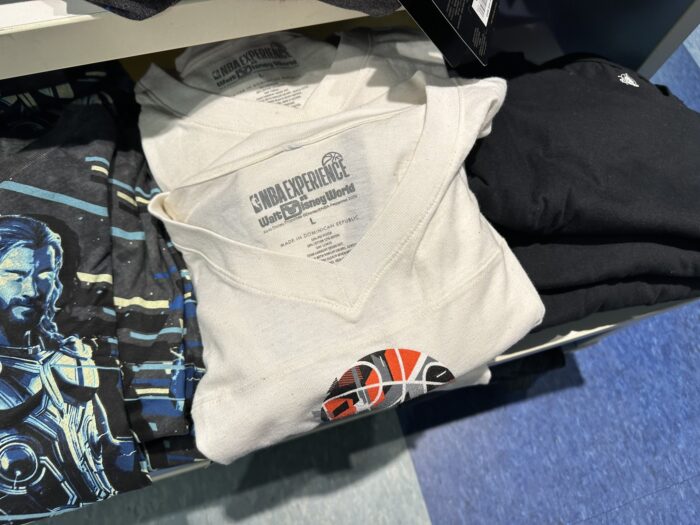 Now, here's a piece of merchandise I wouldn't mind having, especially at a discount.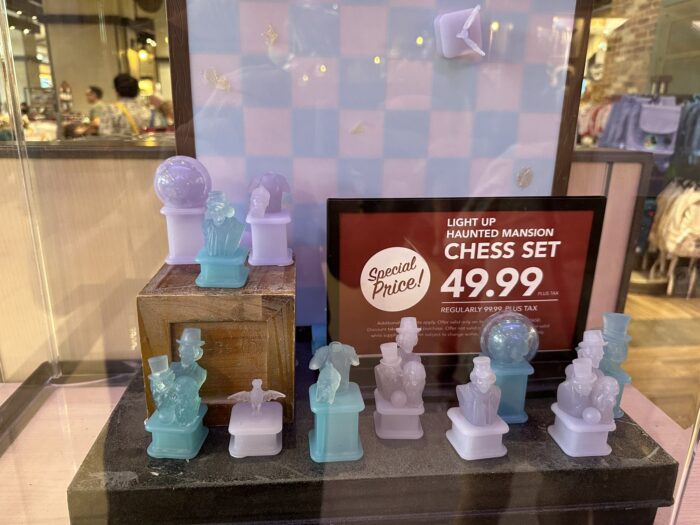 When I think of Droid Depot in Star Wars: Galaxy's Edge,I think of themed silverware. That said, as a Star Wars fan I desperately want this set.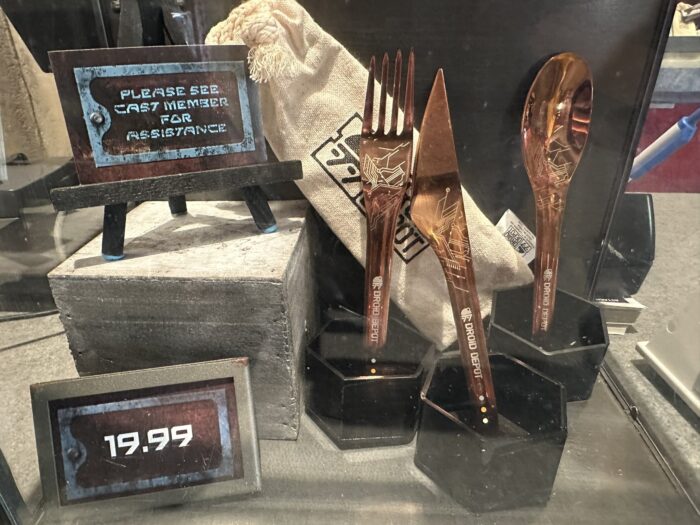 Show me the lie…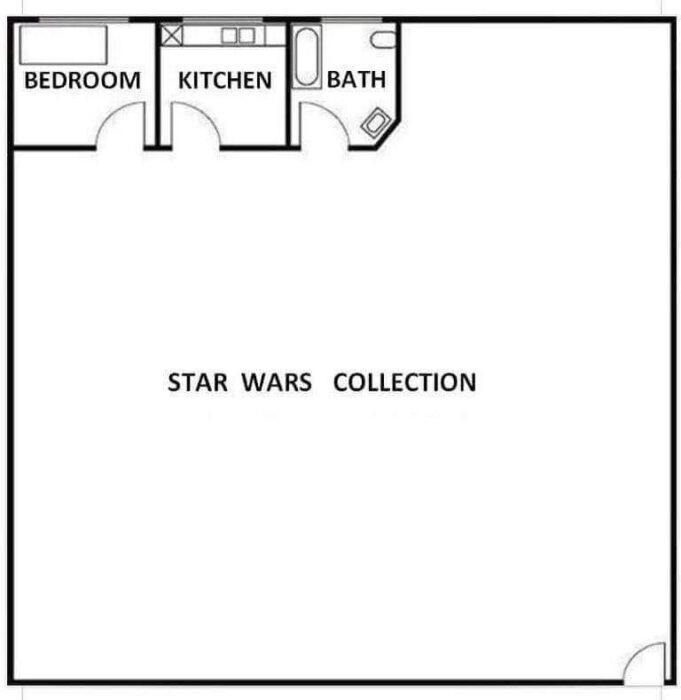 Speaking of Star Wars, the Starcruiser may be gone soon, but there's still some cool Star Wars stuff that has the Starcruiser "feel" on the Disney Wish (which I think also costs about $5,000 per sailing, so you get two things that "feel" like the Starcruiser.)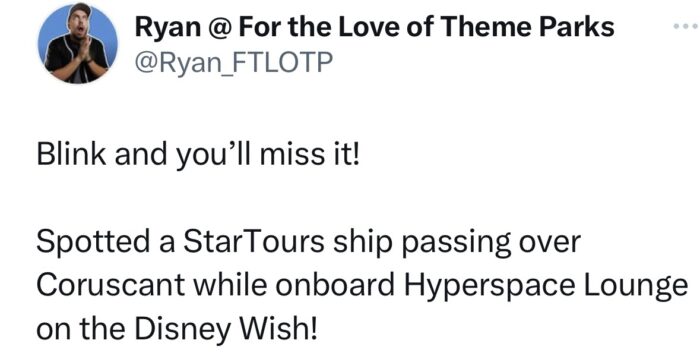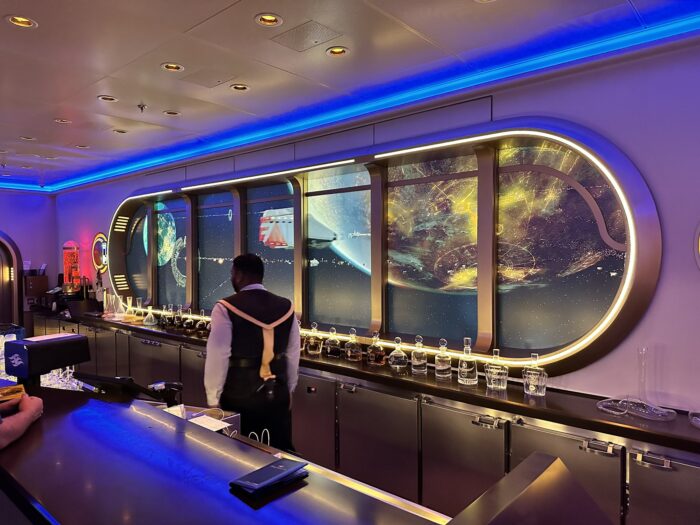 *Little Mermaid Sand Sculpture at Disney Springs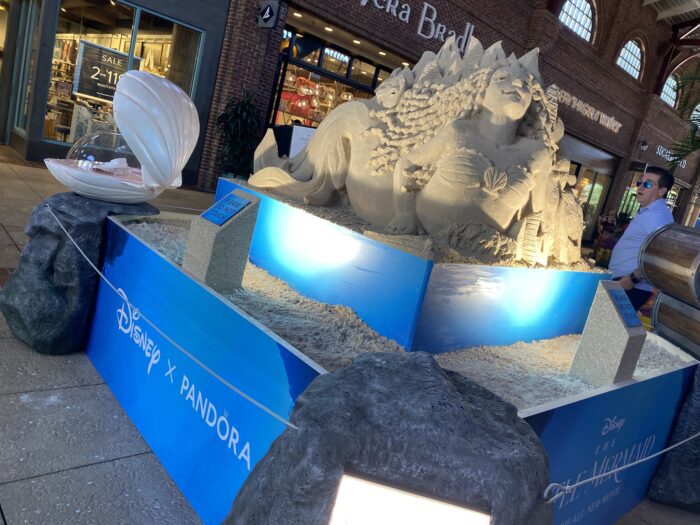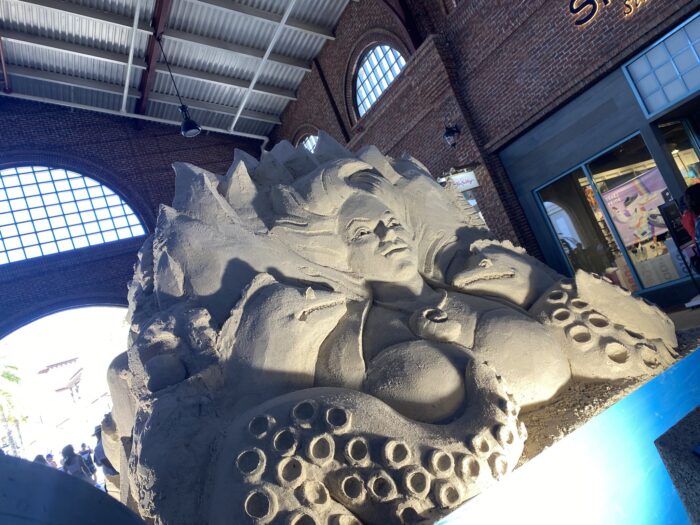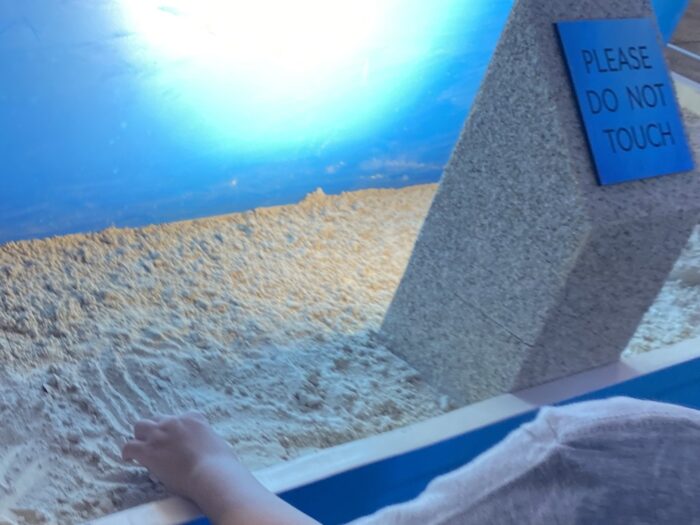 *We've seen Height Minimum signage, but what about Height MAXIMUM?
Meanwhile, over at SeaWorld Orlando…

*Imagineer Bob Weis Honored with Window
Last month we did a SATURDAY SIX on the "Windows" of Universal Studios Florida and the references you will see on them. Those windows were based on the references you see over at Disney, which use many windows to pay tribute to people who have made significant contributions to the company. May brought us a window to Imagineer Bob Weis in Disney Hollywood Studios.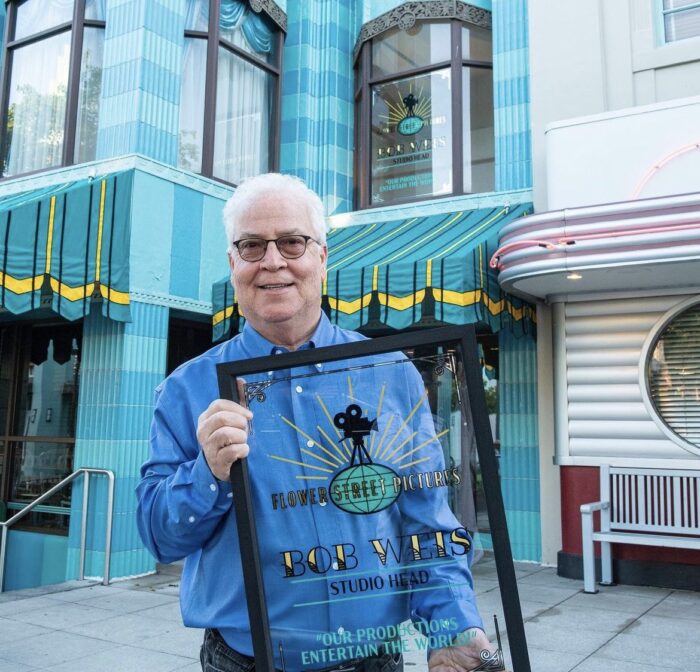 If you remember last month we saw those AMAZING "tiny" drawings by artist @jdimaria124 that featured Mickey & Minnie's Runaway Railway out in Disneyland with their E-Ticket queue. Well, this month Jamie was back with some great drawings featuring Roundup Rodeo BBQ found in our Toy Story Land down here in Florida!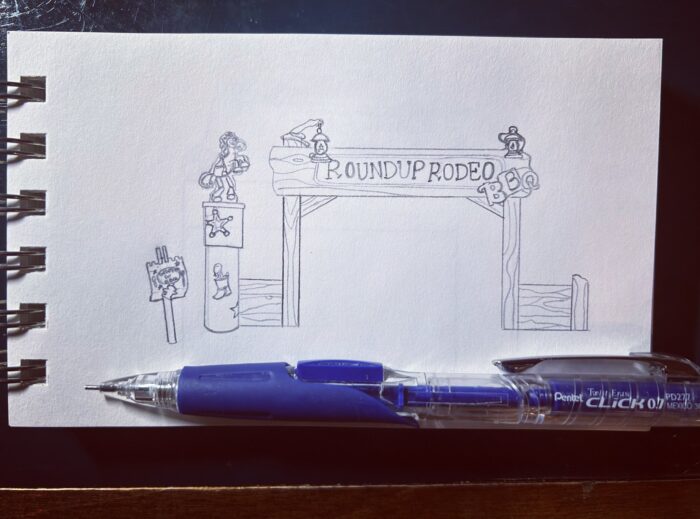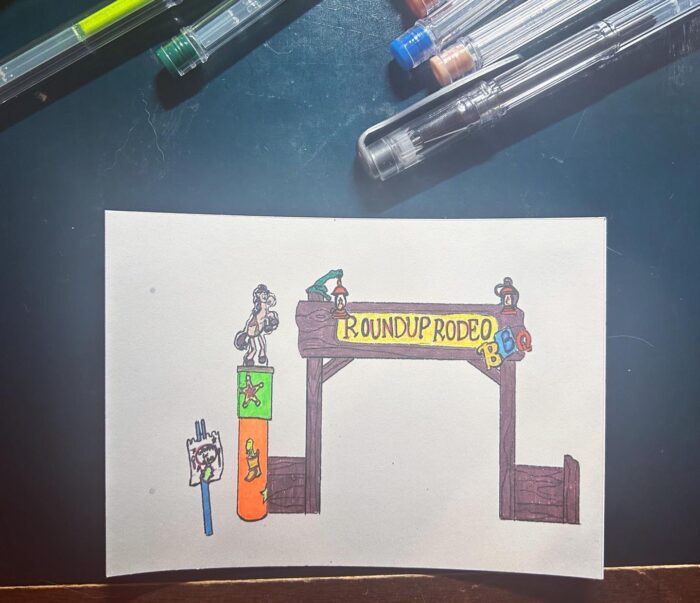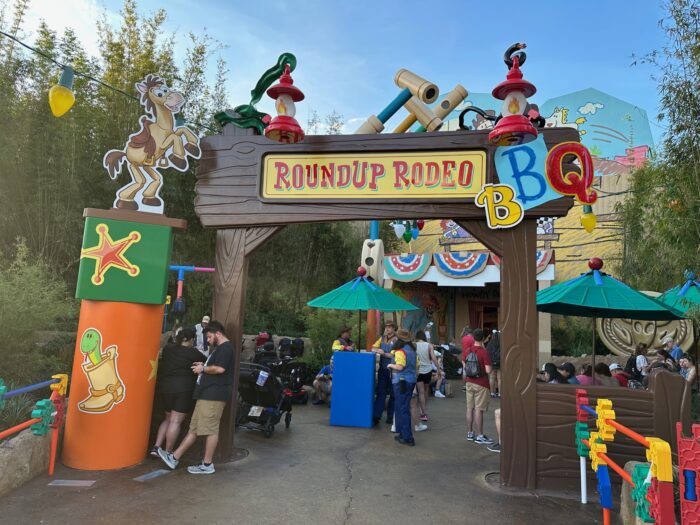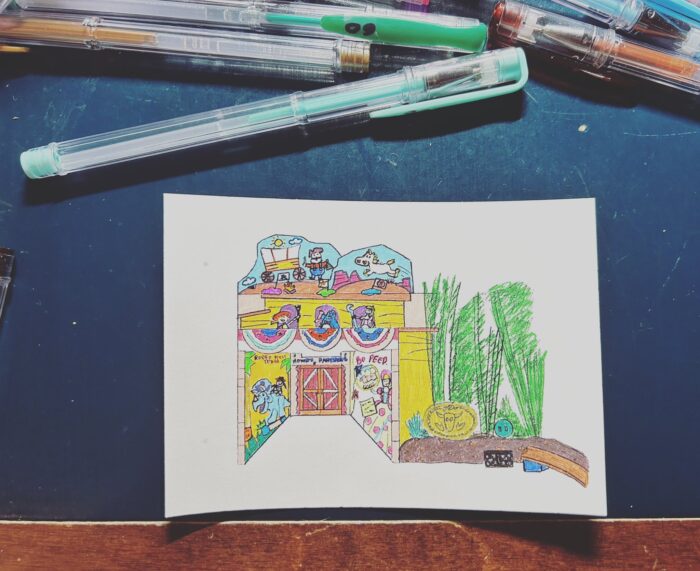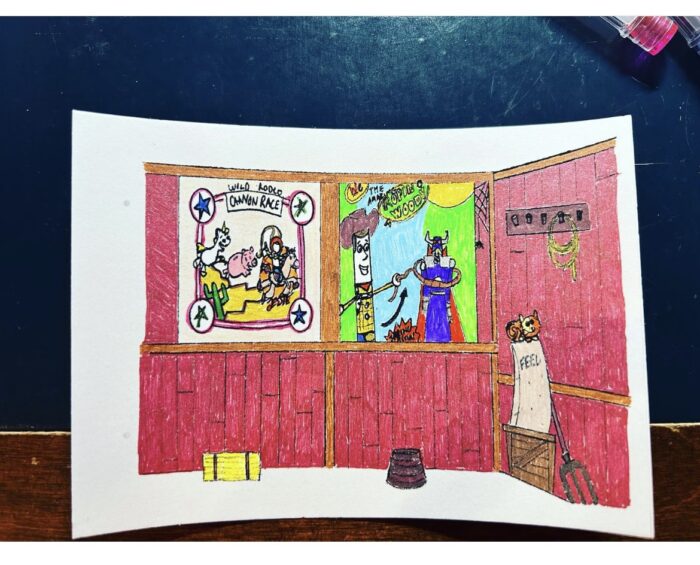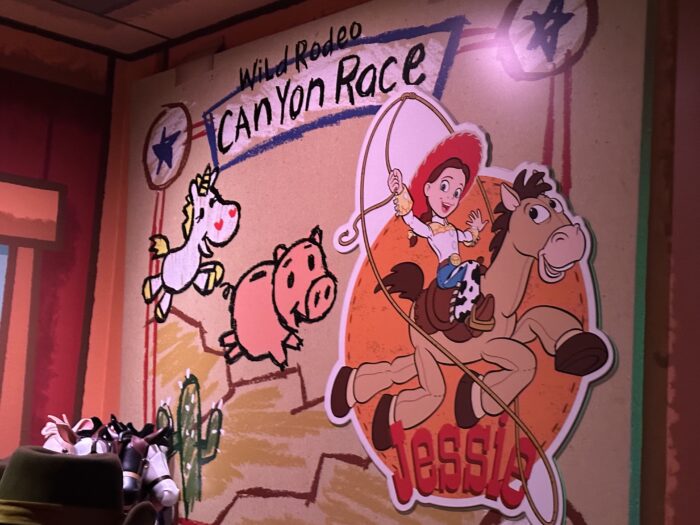 Love this drawing of Sonny Eclipse by artist @retr0gate.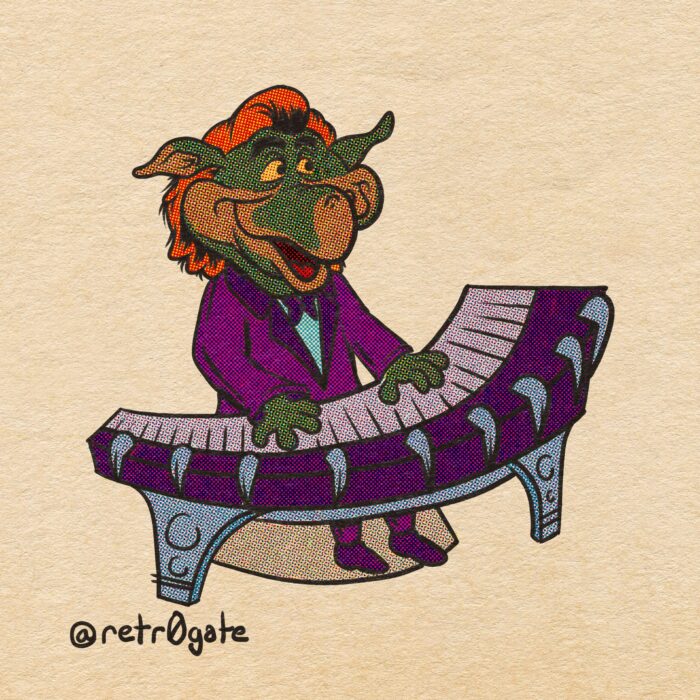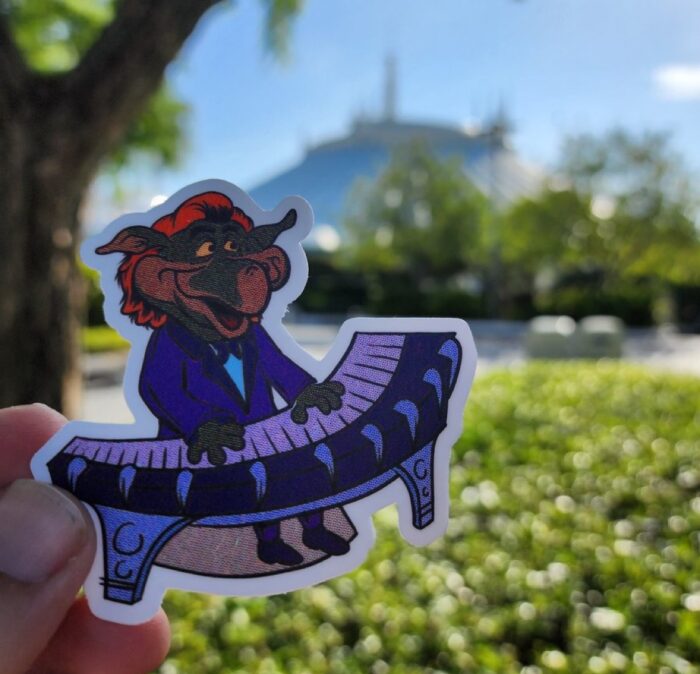 No idea why SonderQuest took the time to draw one of the shortest water rides in any theme park that is almost guaranteed to keep you dry, but I'm glad he did!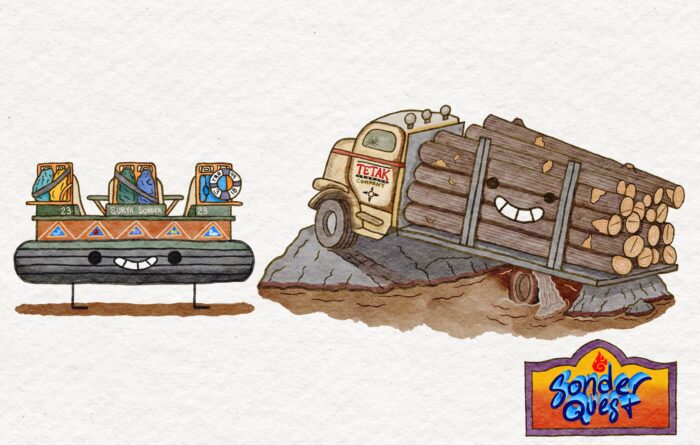 I love me some LEGO, and no one puts out better theme park LEGO projects than The Horizoneer. Are these incredible or what?!!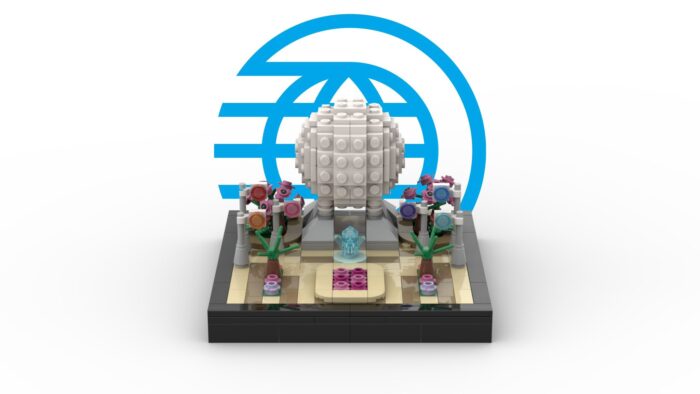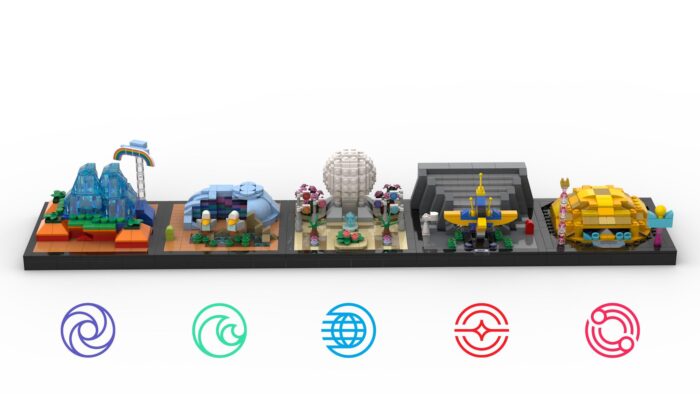 BACK IN THE AIR WITH BIO!
Great news, blogger-in-the-sky @bioreconstruct is getting better every day and is back in the air getting us great photos! What a better way to close out this month than looking at some of his recent gems…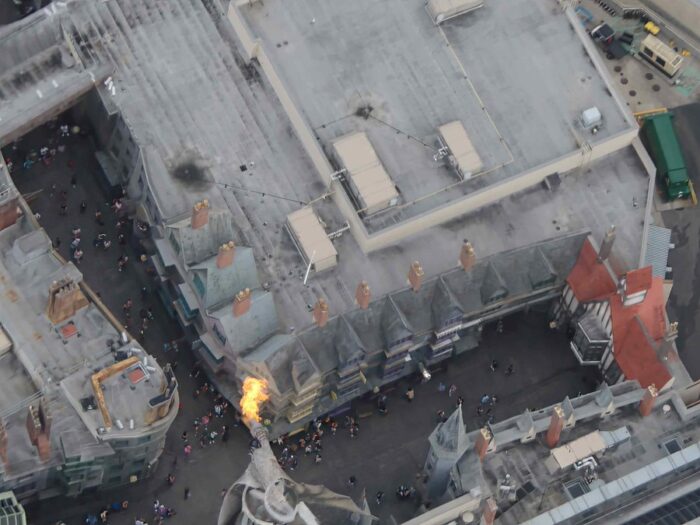 Let's head on over to the Epic Universe construction site to see the status of Universal's next theme park…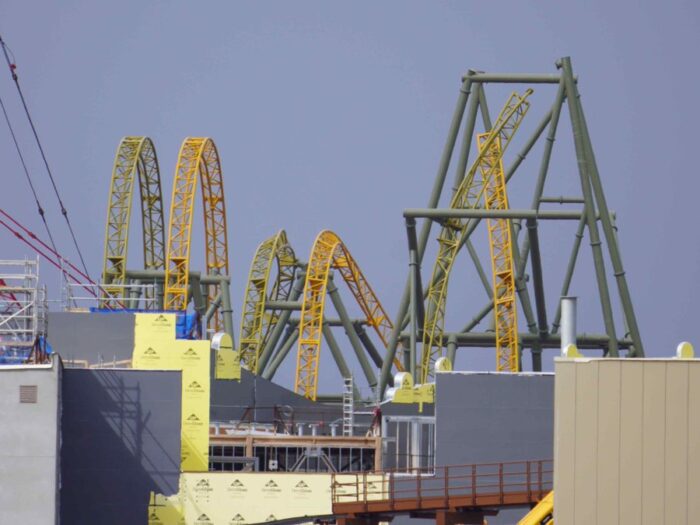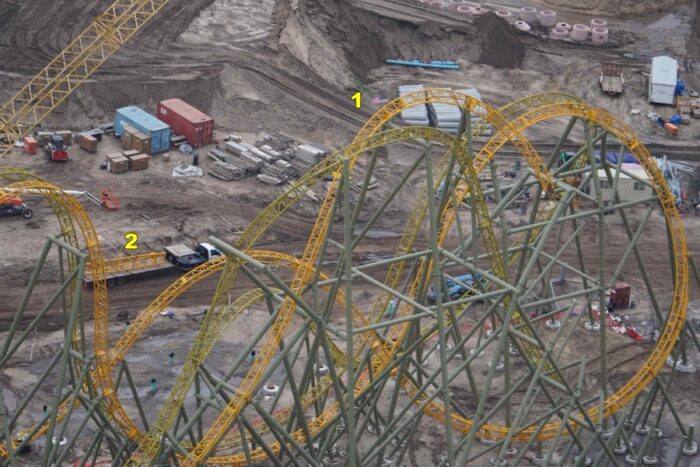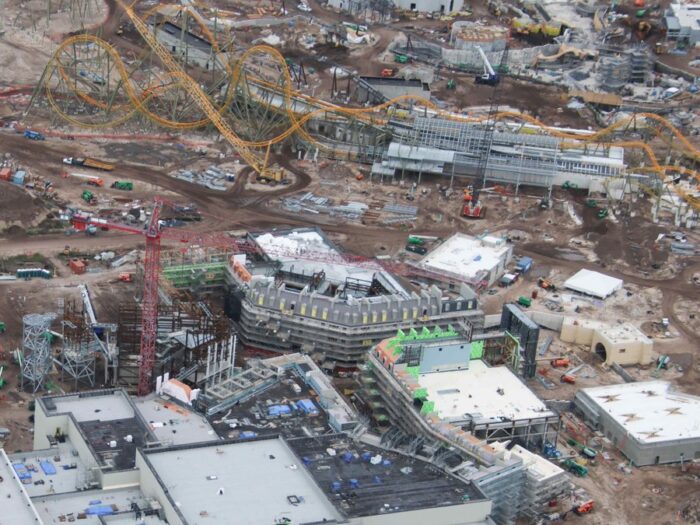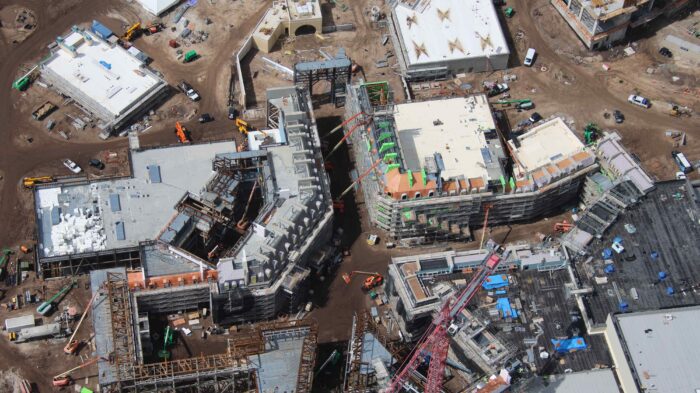 The statues in How to Train Your Dragon land are going to be GINORMOUS!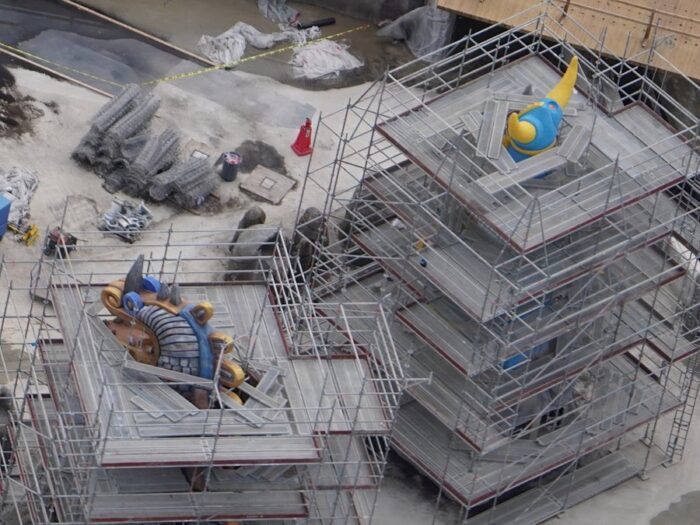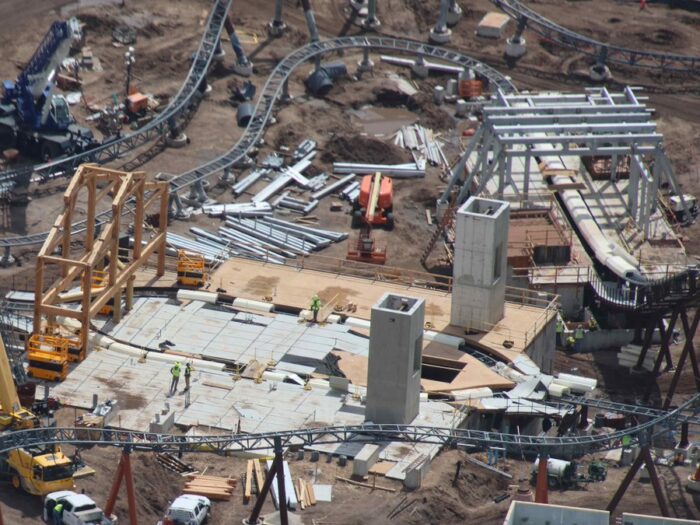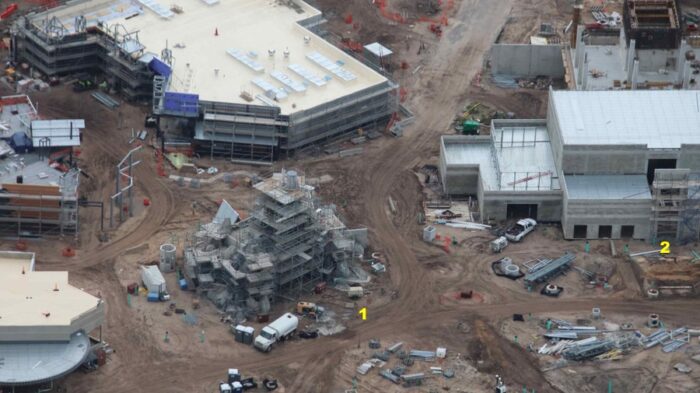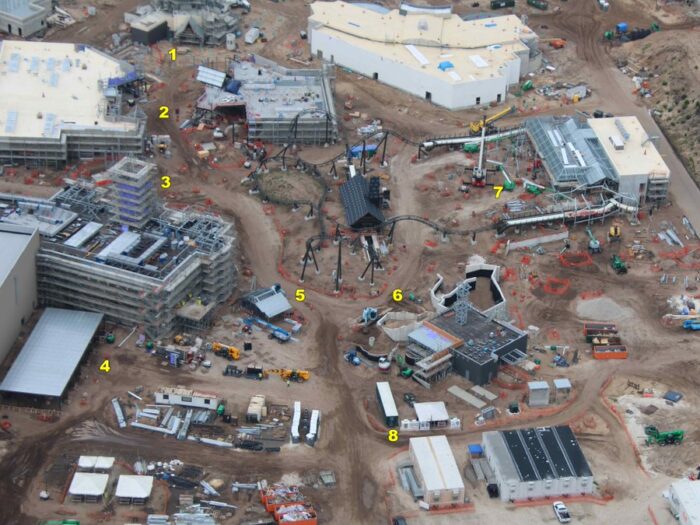 Meanwhile, over at EPCOT…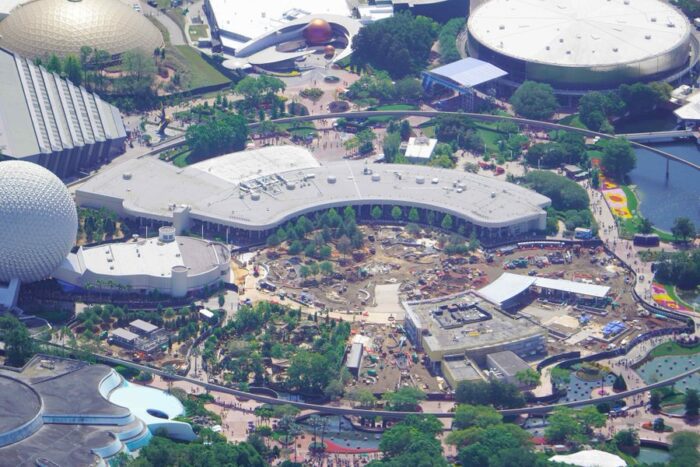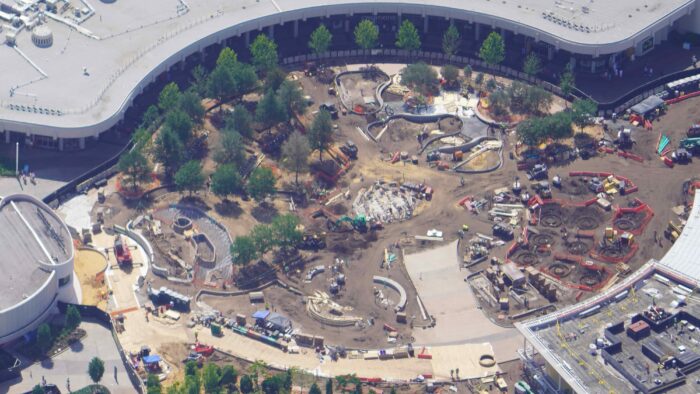 Above Disney's Magic Kingdom…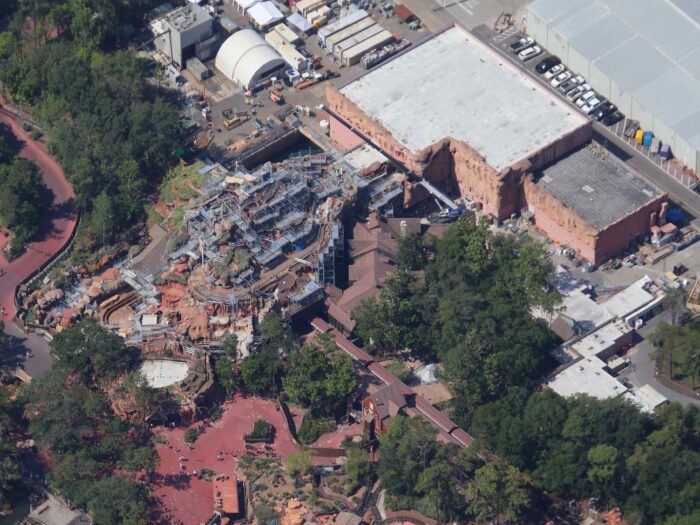 Last month's Theme Park Enjoyment Index: 20
This month's net change: +25
Current enjoyment level: 45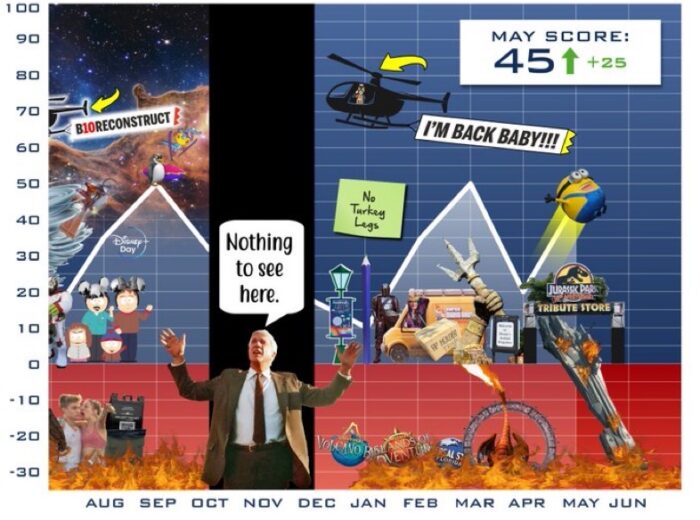 Writer Derek Burgan, when not cleaning Len Testa's pool, can be found reading comic books, watching professional wrestling, and taking his dog Bacini to Universal and Disney. organizing his various Tsum Tsums in alphabetical order. He will not, we repeat not, be found at a Disney Outlet Store. An official DisTwitter Influencer, you can interact with him @derekburgan
Digital Artist Scott Walker hails from Scotland and is the fifth most famous person from this country following Alexander Graham Bell, Ewan McGregor, Gerard Butler, and Groundskeeper Willie.