Merriest Nites Review: Is The $175 Disneyland Christmas Party Worth It?
Merriest Nites is a special extra-ticket event held select nights at at Disneyland during the holiday season. The party includes an exclusive viewing of A Christmas Fantasy Parade, photo opportunities, a dance party, live entertainment, and more. In this Merriest Nites review we'll we'll talk about what to expect and how to make the most of your time at Disneyland's Christmas party. We'll also try and decide if the $175 asking price is worth it.
The party dates are November 11, 16, 30, December 7, and 9. Tickets for all nights of Merriest Nites Christmas party are sold out.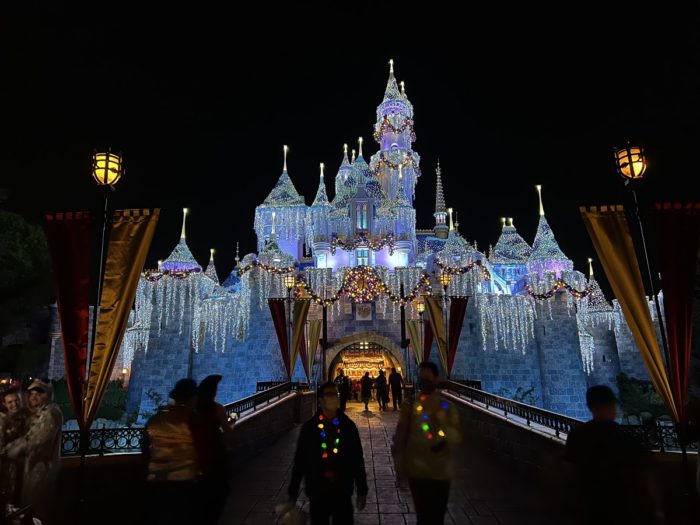 What time is the Party?
Officially the Party starts at 8 p.m. and runs until 12 midnight. Guests with valid Disneyland Christmas party tickets may enter Disneyland up to three hours prior to the event's start time.
Will I need a special ticket to get into the Party?
Yes. Admission requires buying a separate ticket just for this event. It's not included in any regular theme park tickets or Magic Keys.
How much do the Party tickets cost?
The first night of the party is $175, while the rest of the nights are $165.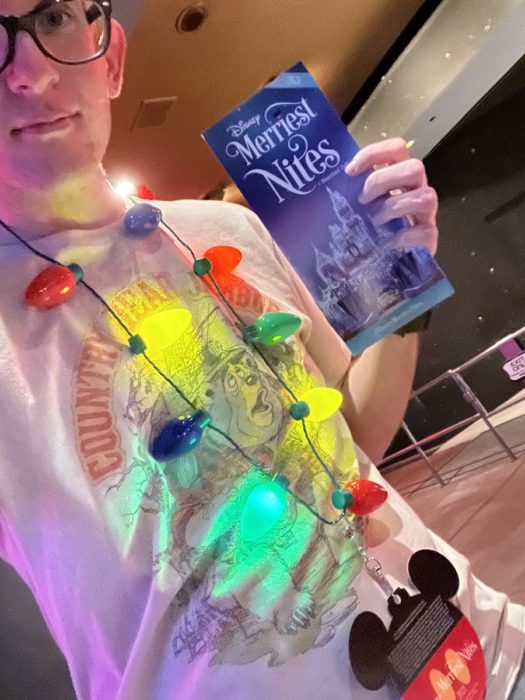 I don't have a Park Hopper. Can I still buy Merriest Nites party ticket?
Yes. Merriest Nites party tickets are totally separate from regular park admission media. If you have a one day/one park ticket, you're welcome to visit DCA in the morning and then Merriest Nites Christmas party in the evening using a party ticket. This would not count as a "Park Hop."
I hear parking isn't included with the party tickets. Seriously? 
Yes, seriously. Disney does not include free parking with Merriest Nites party tickets. Parking will cost you $30 (unless you have free parking on your Magic Key).
How will I know where to go after I arrive at Disneyland?
Depending on what time you arrive at Disneyland, some or all of the entrance turnstiles will be dedicated to party admission. Look for the signs indicating where to go. When you enter the park with a Christmas party ticket, a cast member will place a plastic wristband on your arm and hand you a lanyard. Also be sure to grab a map on the way in.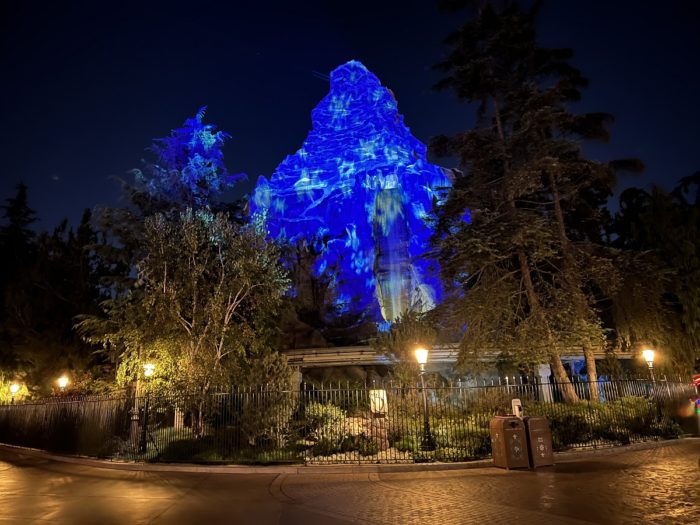 I'm not going to Merriest Nites Christmas party, but I will be in Disneyland during a day when the Party is held. Will they kick me out of the park when the Party starts?
No one will forcibly remove you from the park, but beginning promptly at 7:00 p.m. cast members will set up checkpoints for wristbands. If you're not wearing a wristband, then you'll be directed toward the park exit. Wristband checks occur periodically at the attractions and at the entrances of each land.
I'll be visiting Disneyland in the afternoon and also attending Merriest Nites. Do I have to leave the park at some point?
No. Beginning in late afternoon, a station inside the park at Star Wars Launch Bay in Tomorrowland will be set up to distribute wristbands to Party guests who are already inside. Stop by, they'll scan your Christmas party ticket, give you a wristband, and you'll be good to go when the party starts.
What is the crowd situation like during the party?
I personally found the attraction lines for the rides to be quite short during the Party. But popular character meet and greets, such as Mickey and the gang from Disney's Christmas Carol, had lines of 10 to 20 minutes. I found it impossible to do everything. With so many meet and greets, live entertainment, and the parade, I did not ride any attractions when I attended the Party. There just wasn't enough time.
What's NOT open during the party?
All of Critter Country, Mickey's Toon Town, and Star Wars: Galaxy's Edge are closed during the event. Bummer!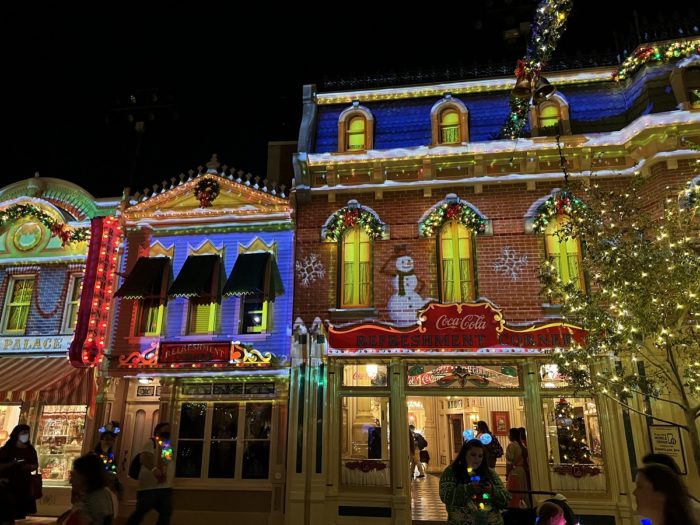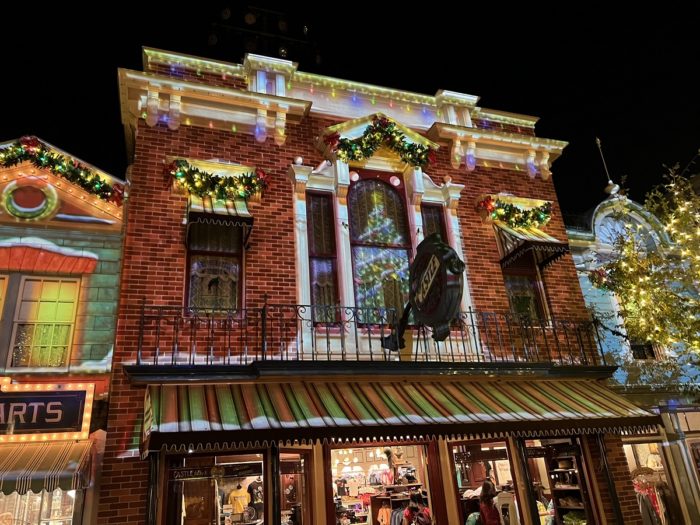 Now that you've got the business out of the way, can you tell me what there is to do at the Party?
On to the fun stuff! The Merriest Nites Party has several components:
Rides
Live entertainment
Special character meet and greet opportunities
A Christmas Fantasy Parade
The Muppets Christmas Caroling Coach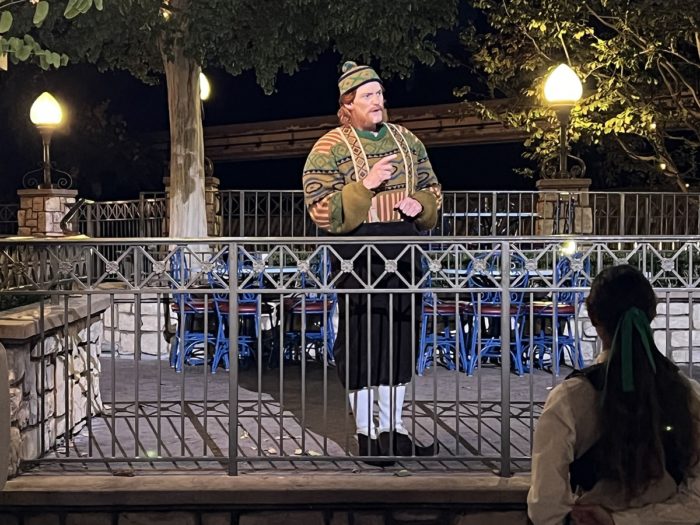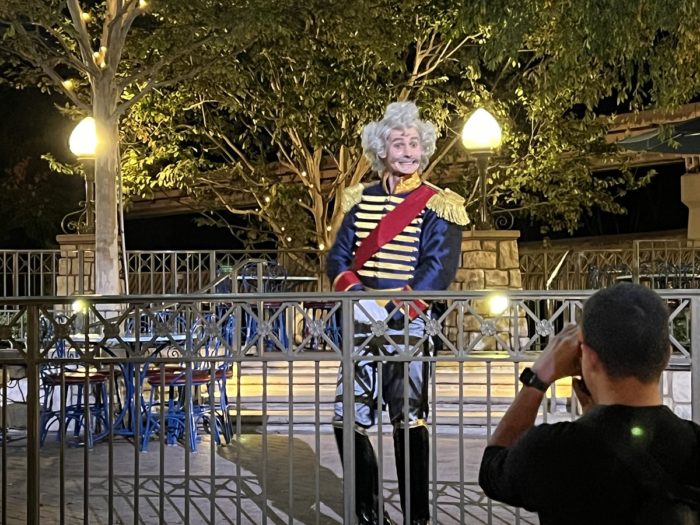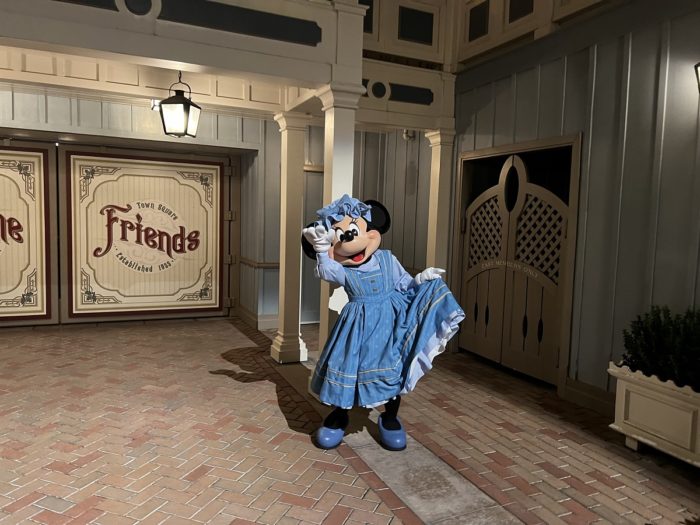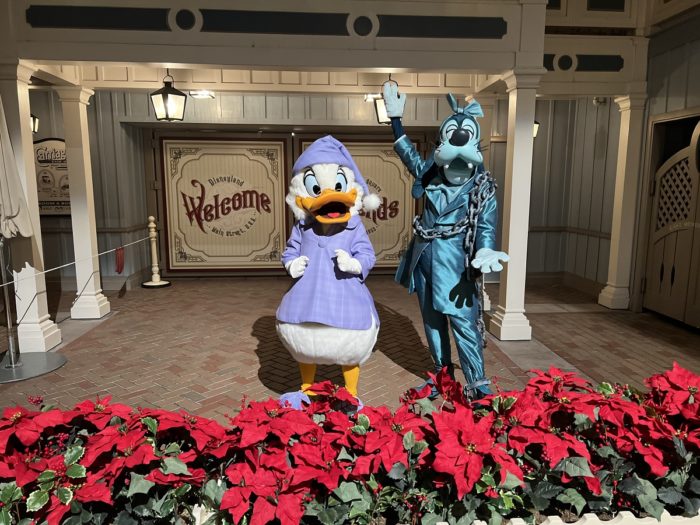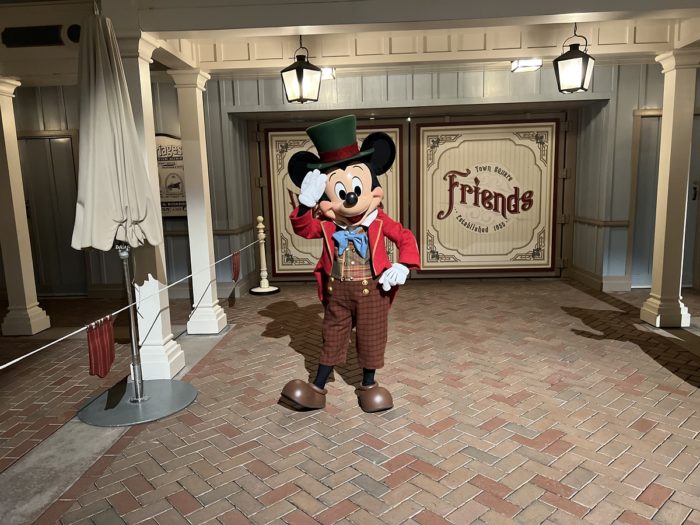 How Many Character Meet and Greets Will Be Available? 
Friends from Frozen (Elsa, Oken, Wandering Oaken, and Duke of Weselton) – Fantasyland
Belle & Beast – Fantasyland
Donald's Snow Fight – Fantasyland (in Fantasyland Theater)
Pluto's Christmas Tree – Fantasyland (outside of Pixie Hallow)
Fantasia's Frozen Fairy Wings – Fantasyland
Santa Claus – Fantasyland (in Fantasy Faire)
Friends from Mickey's Christmas Carol – Main Street, U.S.A. (near Mad Hatter shop)
Princess Tiana – New Orleans Square (on the balcony above Royal Street Veranda)
Jack and Sally – Near Orleans Square (on the Haunted  Mansion balcony)
Buzz Lightyear – Tomorrowland (second level of Star Wars Launch Bay building)
Miguel – Frontierland
Lilo and Stitch – Adventureland (outside of Enchanted Tiki Room)
What are my food options during the Party?
There are a number of counter service venues open during the Party. These spots give you a range of options from sweets to salads. There are some exclusive food items available during the party, but nothing very substantial. Most of the include some kind of churro with toppings and dipping sauce.
It seems silly to me to use a substantial percentage of your valuable party time for a full meal. To take best advantage of the Christmas party offerings, consume your sit-down protein before the party starts. A 5:30 p.m. dinner at Jolly Holiday Bakery is a great way to fortify yourself for the long night ahead.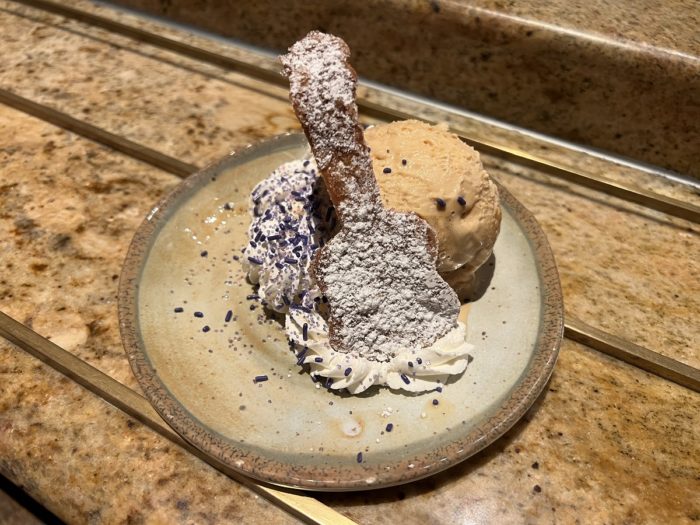 Here's the only special item we tried. The Remember Me, which is a guitar-shaped piece of fry bread along with dulce de leche gelato and whipped cream. This was one single scoop of ice cream for $10. $10! That's not a typo!
Tell me about the parade.
A Christmas Fantasy Parade features Santa Claus, elf dancers and characters from Toy Story, and Disneyland princesses. This parade has been running for ages at Disneyland, and if you've seen it at some point over the last 10 years, you'll know what to expect. There are no changes exclusive to this Christmas event.
The parade starts in Town Square on Main Street, U.S.A and makes its way up the street near the Matterhorn. It then rolls through the path leading up to "it's a small world." As with all parades, depending on where you're situated on the parade route, it could take 15 minutes or more for the parade to pass your location. The exact parade route is noted on the Merriest Nites party park map.
For the best view obtain a spot for the parade at least 30 minutes ahead of time. There's only one showing during the party, and spots fill up quickly.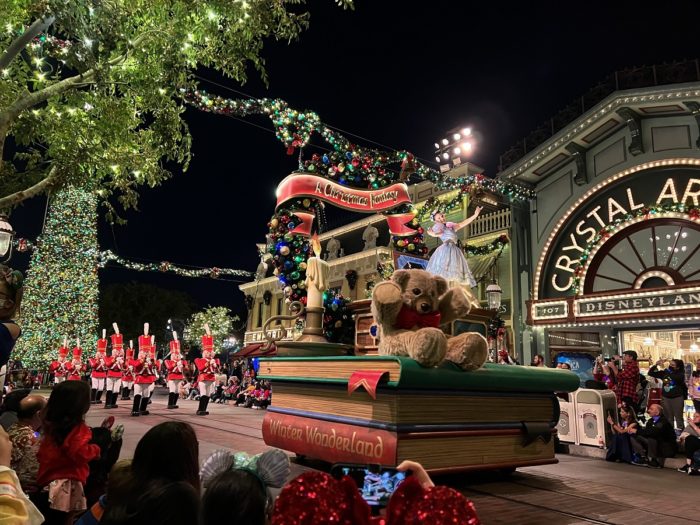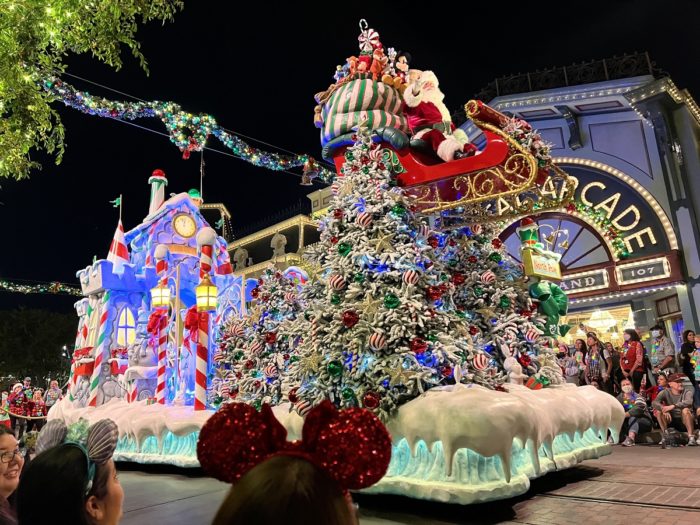 What is The Muppets Christmas Caroling Coach?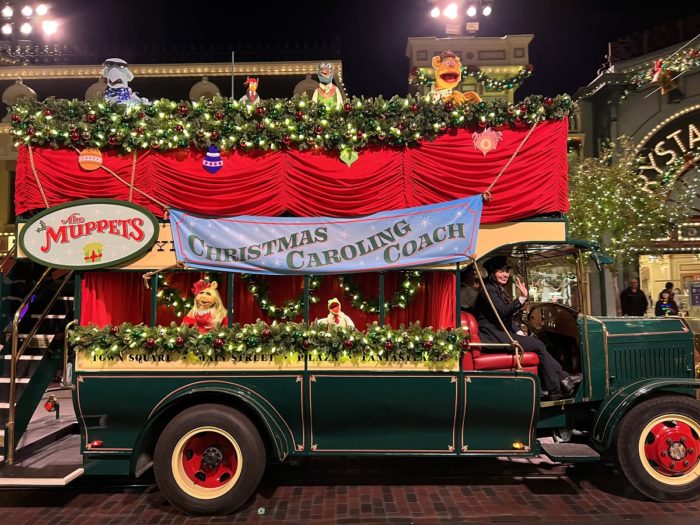 It's the best party about Merriest Nites, that's what it is. Seriously, it's wonderful and hilarious and you should go out of your way to make it a part of your night at Disneyland's Christmas party. Miss Piggy, Kermit, Fozy, Gonzo, Pepé the King Prawn, and Sam Eagle sing Christmas music from Disneyland's world famous Omnibus. The Omnibus will enter Main Street from Town Square and then travel up the street before circling around the hub. The bus will then stop in front of the Partners statue (in the street between Plaza Inn and Jolly Holiday Bakery) and run the show. Unfortunately this tight area makes viewing a huge pain. The street is cleared so the Omnibus can enter the hub, and then when it passes by there is a mad dash of people rushing to get the best viewing spots to see the show.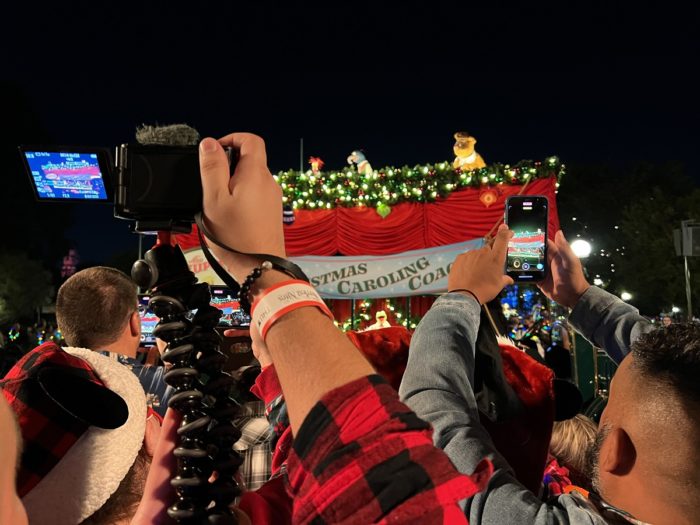 Even if you are fast enough this will be your view from only 2 rows of people back. I'm not sure what the answer is but Disney must figure out a better way of doing things moving forward.

If you miss out on the Muppets show or aren't going to the party we have a video of the full show on our YouTube channel.
How might weather impact the Disneyland Christmas party?
Tickets are non-refundable, and the Party goes on rain or shine, even if there's rain. Some of the Party activities may be postponed, curtailed, or cancelled, but the Party itself will continue.
What should I do first during the party?
The first step is deciding what your priorities are. Are you there to meet characters? Do you want to focus on the unique entertainment? Do you want ride time with low lines? Each of these scenarios needs a different touring strategy. Once you have have your priorities set, it's easy to choose a plan.
Wait times are low during the party, and you could easily ride the best of what Disneyland has to offer before the event is over. The park's headliners have short wait times, for example Indiana Jones Adventure was a walk-on every time I walked by.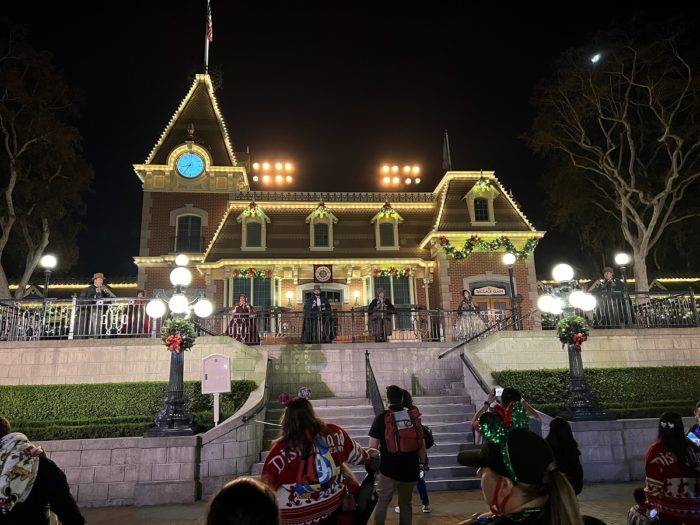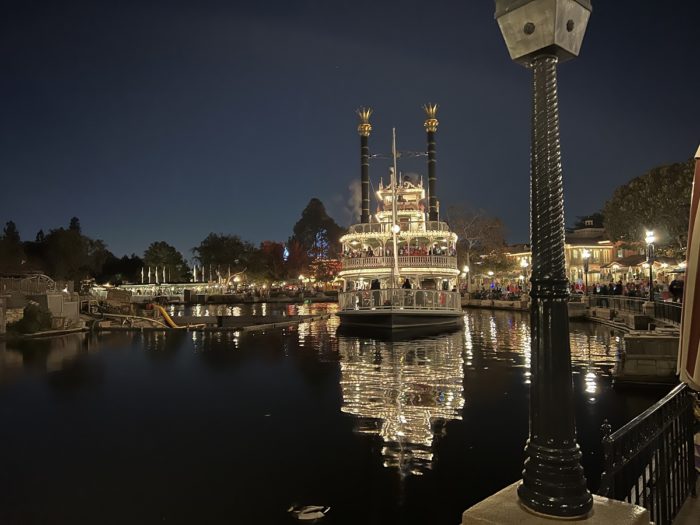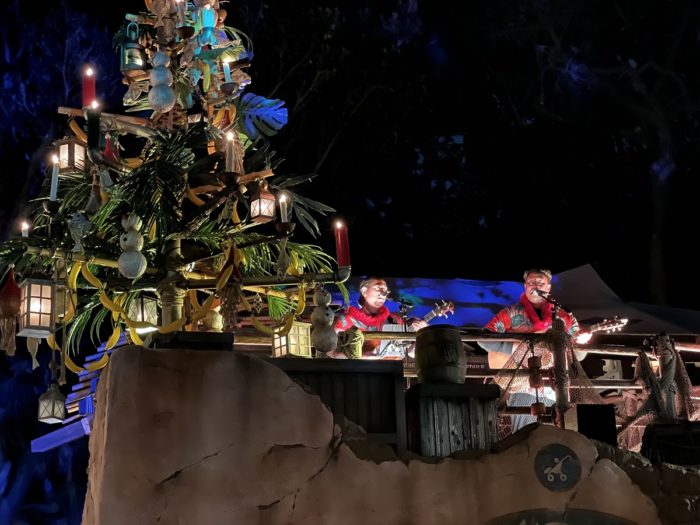 There's some fantastic live entertainment during the party that adds festive fun to each land. Our favorites include a jazz band performing on the deck of the Mark Twain, and the bell ringing carolers on Main Street, U.S.A.
What tips do you have if meeting characters is my main goal?
If meeting characters is your main goal you might want to see them early in the party as their lines are consistent throughout the party.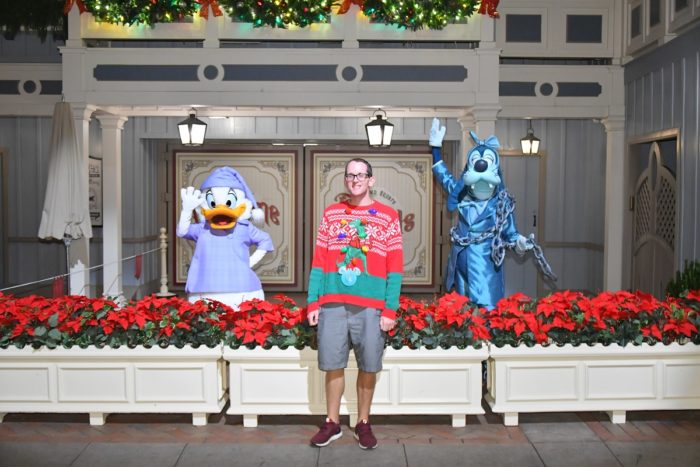 Is Merriest Nites Christmas Party worth it?
We get a lot of feedback from attendees of the similarly priced Halloween party over in DCA that ranges from people saying it was a waste of money, all the way to people saying it was a highlight of their trip. Almost everything offered for the Party is also part of a regular park admission, minus the live entertainment. Is this worth $165-$175 to you? To maximize the return on your dollar, think about:
Being present for the entire event. Think of it this way: if you pay $175 for your ticket and you stay for a full five hours, you're spending almost $35 per hour for your entertainment. If you only stay for three hours, then you're spending $58 per hour for your entertainment.
You'll have the most "Christmasish" experience if you focus on events/activities that are unique to the Party. Space Mountain is the same Space Mountain, with or without a Merriest Nites Party ticket. The Muppets Christmas Caroling Coach can only be seen at the Party.
Multitask when possible. If you've got to wait around for a parade to start, use this time for your food consumption.
Parking is not included in your Merriest Nites Party ticket.
Photopass downloads are included for free with Merriest Nites Party tickets.
More information, including ticket options, can be found on the official Disneyland website.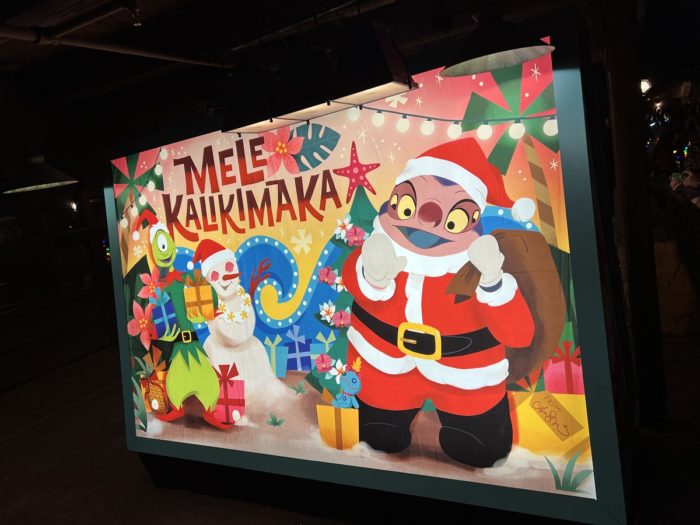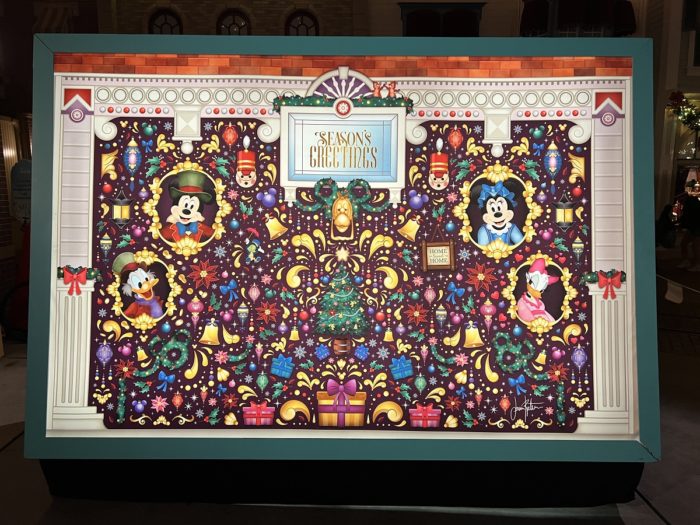 Fun photo backdrops like these are scattered around the park.
Disneyland Merriest Nites Party 2021 Map
The Christmas season is here and crowds are picking up at Disneyland Resort. Be sure to check out our Disneyland Crowd Calendar, which rates every day of the year on a scale of 1 to 10 so you can see how busy Disneyland and DCA will be during your visit. Also check out our Disneyland Touring Plans. These itineraries can show you how to beat the crowds and spend less time in line at your favorite rides. Our Touring Plans can also be personalized! All of our tools are used by hundreds of thousands of visitors each year and are constantly being updated by our in-park team of researchers and data scientists.
Are you planning to attend Merriest Nites party this year? What are you looking forward to most? What are your strategies, must sees, and must skips? Let us know in the comments below.