The Magic, The Memories, and Merch! FEBRUARY 2020 Disney Outlet Store Photo Report
Welcome to the latest edition of The Magic, The Memories, and Merch!, the longest running monthly look at the Disney Outlet Stores in Orlando.  We have "Bargain" Ben Wszalek covering Vineland and myself – Discount Derek – at I-Drive, and we are here to give you the Outlet Report you really want totally deserve. This month we've been #blessed to be joined by Budget-minded @Blog_Mickey and of course Christela "Clearance" McC is also here with a look at some Outlet items from out in California. The addresses of each place and everything else you need to know is located at the end of the article as always.
Enough jibber jabber! Ready to see what we we found? Alright, let's go!
The Annual Theme Park Turkey of the Year Awards are one of our favorite things on the TouringPlans blog, and one of last year's winners was the opening of the NBA Experience. In case you missed it, the opening of the NBA Experience made the disastrous opening of Star Wars: Galaxy's Edge out in Disneyland look like a rousing success in comparison. Flash forward a couple months, and the first wave of NBA Experience merchandise has reached the hallowed grounds of The Outlets. This is not record time, but it's a contender. The "hand made" merchandise that was supposed to look like it came from Pandora: The World of Avatar made it to the Outlets within a couple months after the land had its grand opening, and surprisingly enough there were items like "DJ-Rex" shirts from Galaxy's Edge which were discounted before the land even opened.
So here's an NBA Experience hat. Looks perfectly fine. The "hidden Mickey" air holes at the top of the hat are actually pretty brilliant. Disney certainly didn't expect the place to be so deserted that they essentially had to make the experience a free add-on to encourage guests to try it, but you'd think the few that did go would consider buying this hat…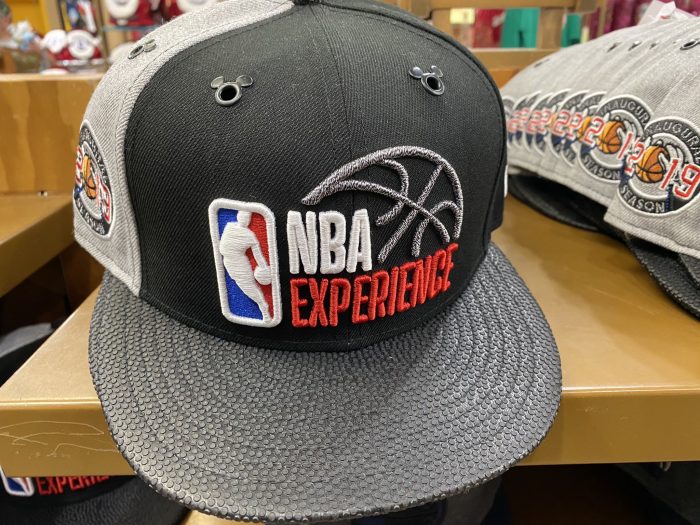 EXCEPT THAT IT RETAILED FOR $50!!!!!!! Whaaaaaaaaaaaaaaaaaaat?! That price makes $5 sides of pickles at Regal Eagle look like a bargain in comparison.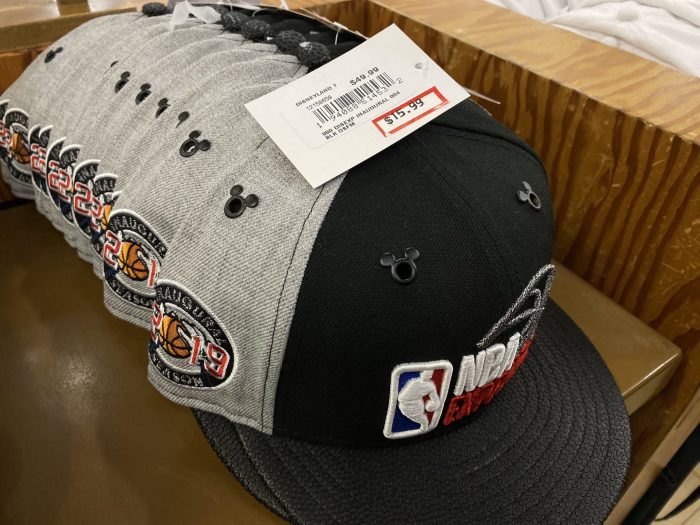 To no one's surprise, plenty of hats are available.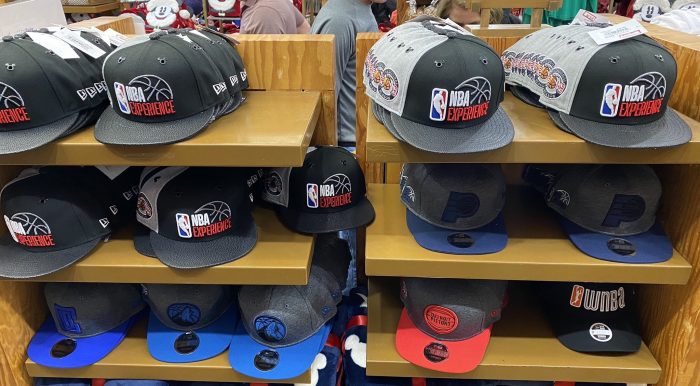 Shirts from the NBA Experience also arrived, including this next level bonkers one featuring Minnie Mouse.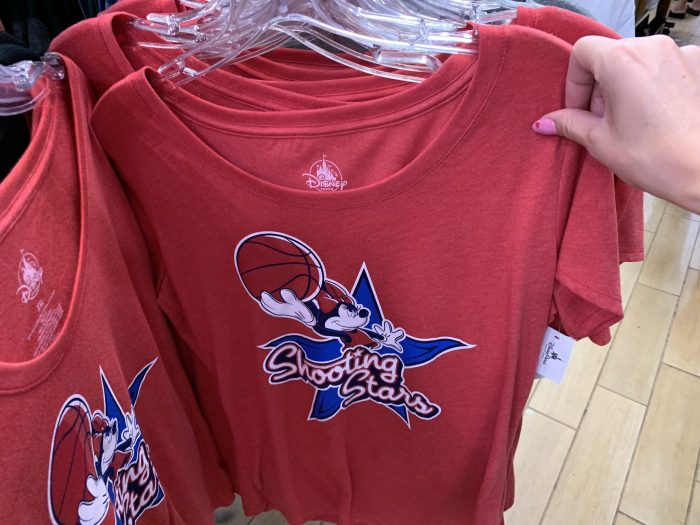 WNBA shirt. Original price was $35. Can you imagine? Reduced to $10.99.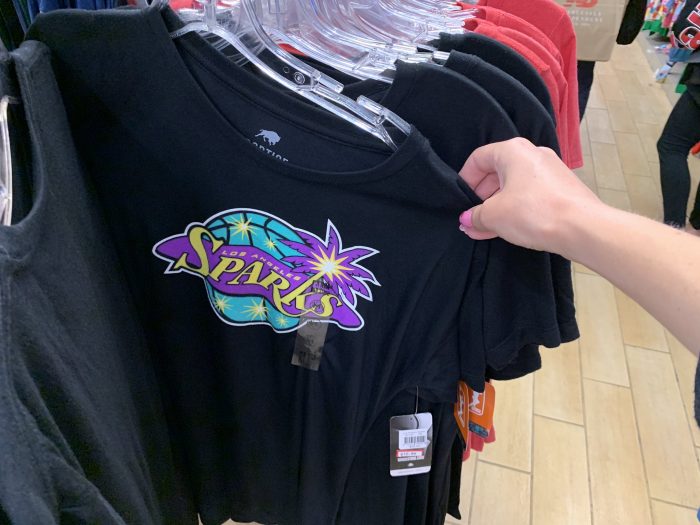 A few months back we did a SATURDAY SIX on The Good, The Bad, and The Ugly of Disney+. With The Mandalorian and The Imagineering Story, the streaming service certainly started out with a bang. That said, I personally haven't watched anything new on Disney+ in 2020, while their competitors like HBO have been churning out must-watch stuff like McMillion$, The Outsider, and Curb Your Enthusiasm. To say the overall hype for Disney+ has bottomed out may be an understatement, and I'm not sure what will get people really excited until much later this year when the Marvel series start, along with The Mandalorian season two.
So anyhoo, this Disney+ t-shirt has arrived at the Outlets. Originally $24.99, now $9.99.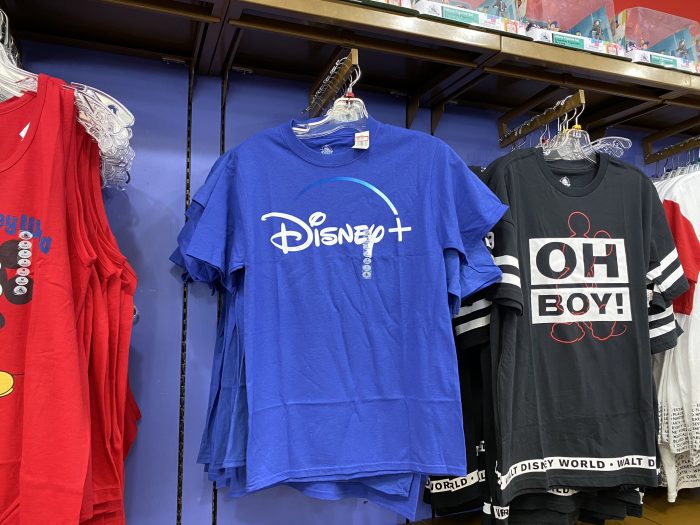 You may be wondering, "Who would actually PAY to wear a Disney+ t-shirt to begin with?" Well, the Super Bowl gave us that answer.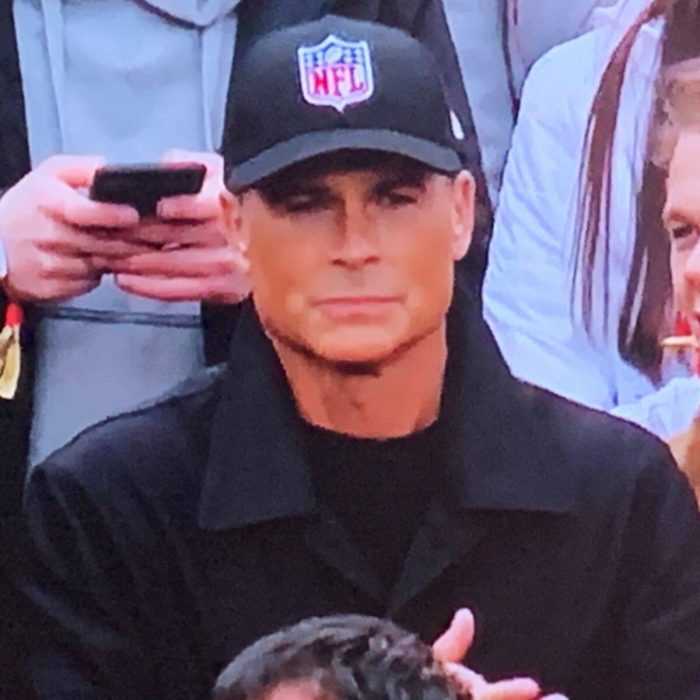 Those Disney+ shirts should be a promotional giveaway. Or maybe leave them on the beds of guests staying at Gran Destino Tower to remind them that Disney+ is available in their rooms. C'mon now!
More Galaxy's Edge items arrived this month, including the Chance Cubes. As a lifelong Star Wars fan, my first experience with chance cubes was at the premiere of The Phantom Menace. I was actually in Orlando at the time, and saw the movie at Downtown Disney. It's impossible to understand this now if you weren't alive at the time, but Star Wars Fever had caught the nation. In other parts of the country people were in line for days – if not weeks – leading up to the release. Even at Downtown Disney the theater was packed with people dressed up, bringing their own lightsabers. When the LucasFilm logo appeared at the very start of the film there was one of the loudest cheers I have ever heard for any more before or since. Imagine, FOR A LOGO.
So anyhoo, chance cubes were used in a ridiculous scene in the movie which had the Jedi – the ultimate good guys in the Star Wars Universe – cheat to get the outcome they wanted. My reaction? Well, I have to pull from another movie for that. Remember the movie Misery, when Annie Wilkes lost her mind about a movie "cheating"? That was me during The Phantom Menace. Don't even get me started on midichlorians….
Chance cubes were originally $9.99, now $3.99.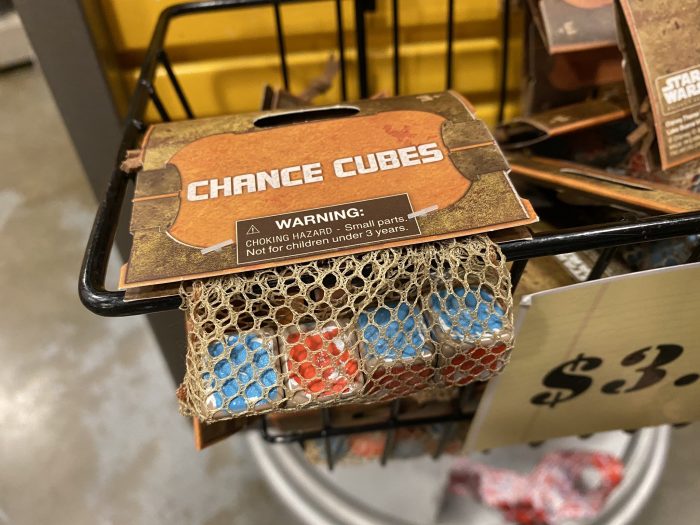 Who knows what the point of this Stormtrooper "figurine" is. $62.99?! Am I taking crazy pills?!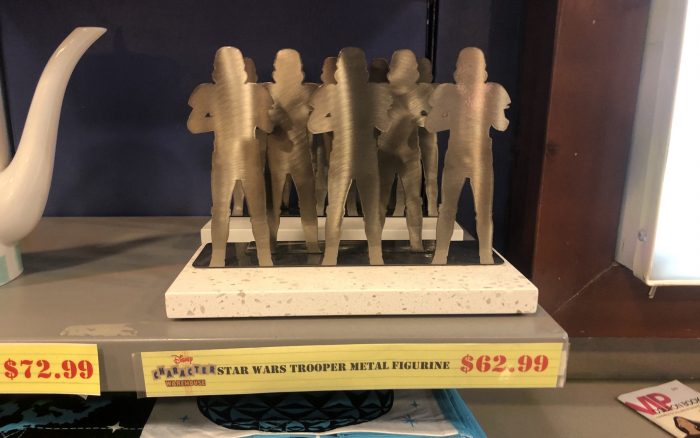 Bunch of Disney Vacation Club merchandise showed up this month, including this very basic hat. Reduced to $7.99.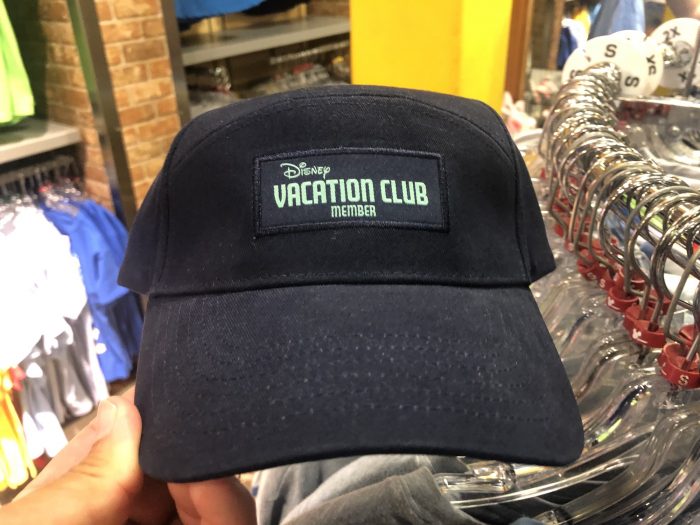 A tote bag with logos of the various resorts, including Aulani and The Villas at Grand Californian. Originally $44.99, now $13.99.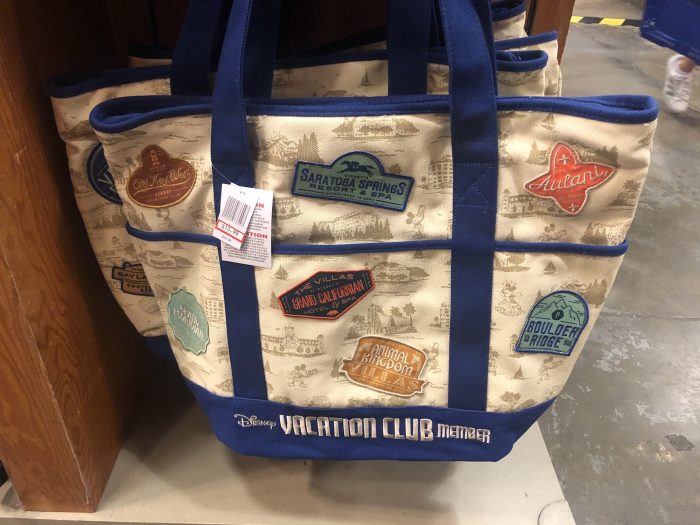 This set of DVC Mickey Ears came with a built in pair of binoculars. This would have been handy when I stayed at Old Key West and found out my room was approximately 7 miles from all the resort's amenities. That particular stay at OKW was also the very first time I met author Daniel "Drunk@Disney" Miller. The ears were reduced to $6.99.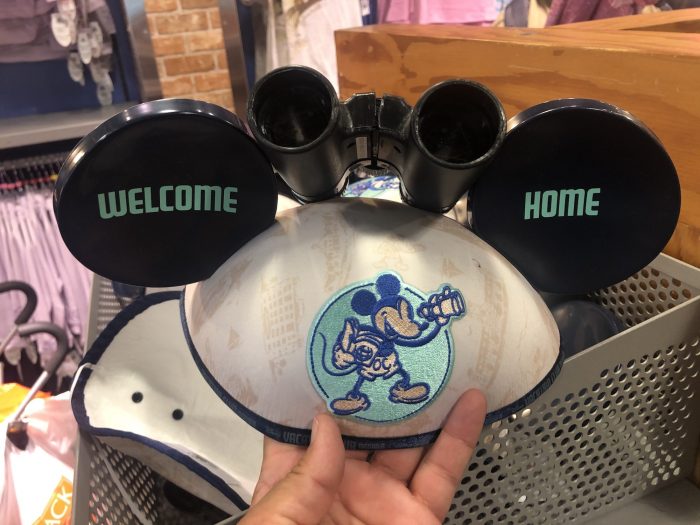 In the Disney fan community, when this headband was released it was commonly referred to as the "Donald's Butt" headband.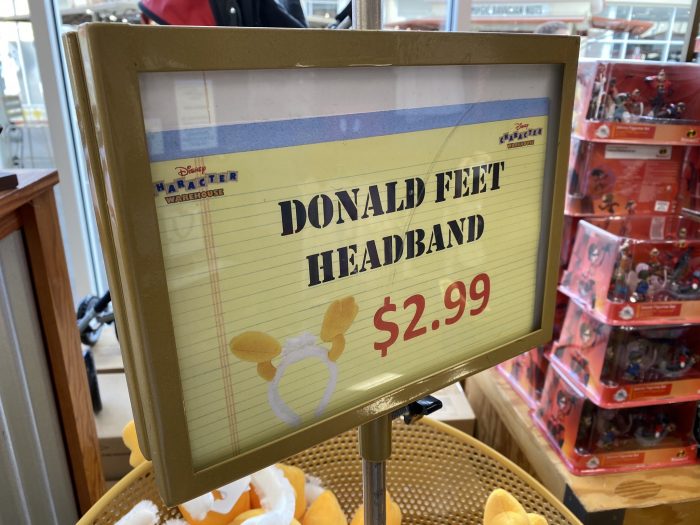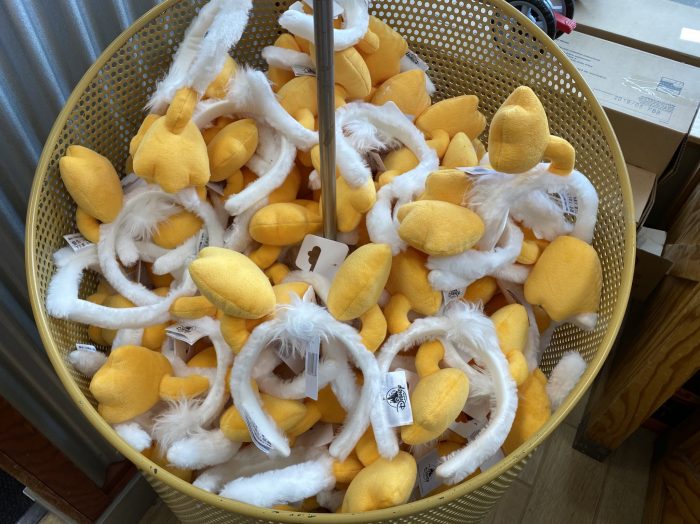 These Judy Hopps ears were reduced to $7.99.
Buzz Lightyear headband. Reduced to $7.99.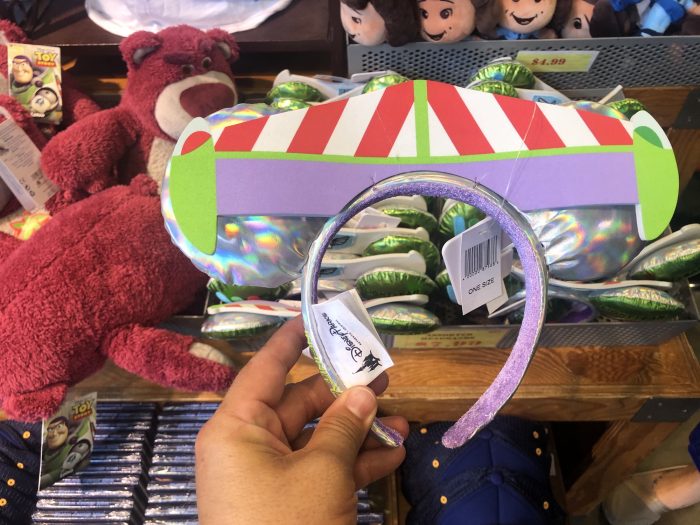 Hat from Toy Story Land. Originally $24.99, now $7.99.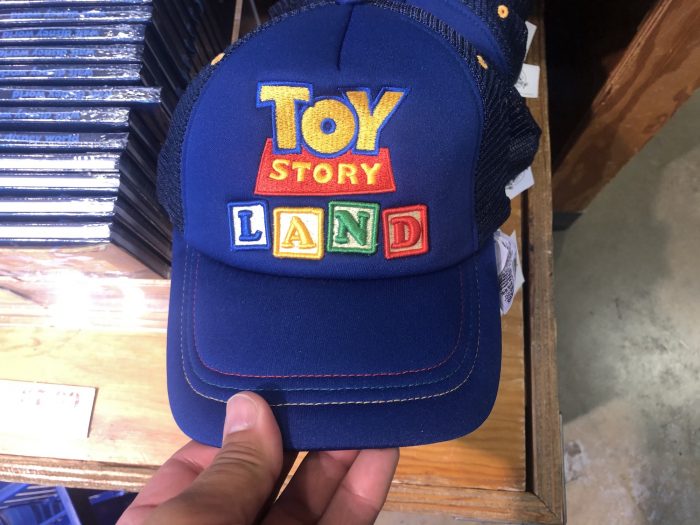 Back has a cute logo.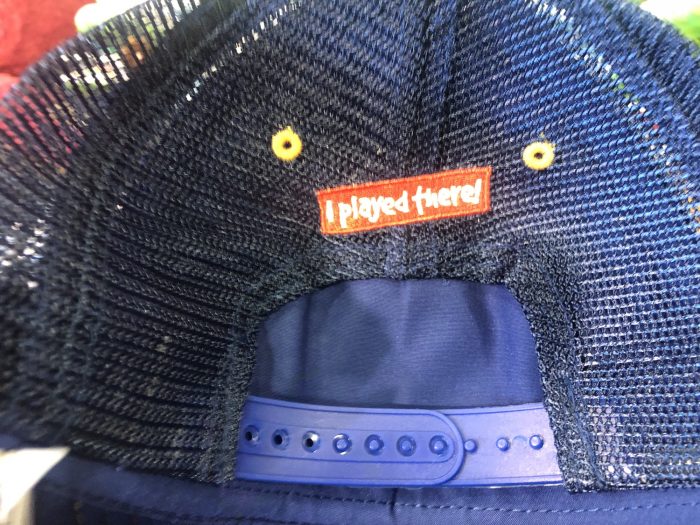 Toy Story necklace, reduced to $4.99.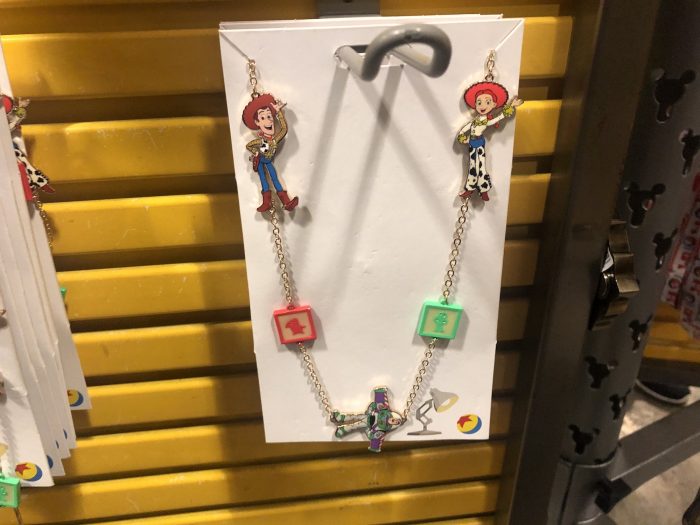 I absolutely adore these Vinylmation from the Wonderground Gallery. This blind box set is themed to it's a small world. As good as they are, there was no way I could justify the original $19.99 pricetag when I first saw them at the Marketplace Co-op in Disney Springs. Sadly, I still couldn't at the $10.99 price at the Outlets. I think at $4.99 I would have bought a couple though.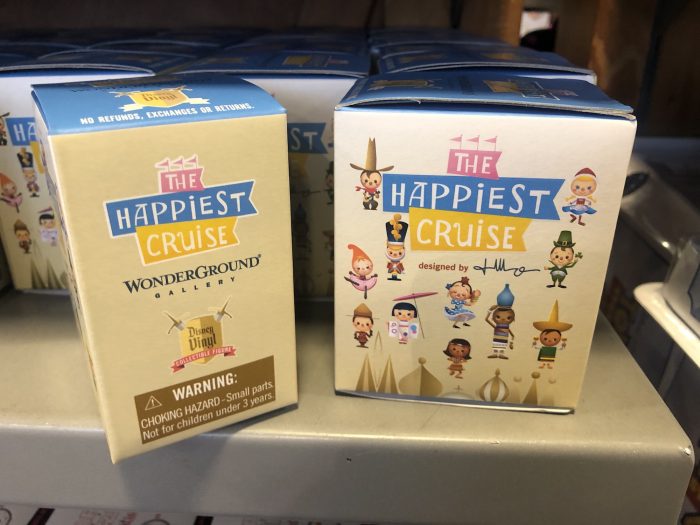 Also couldn't bite on these Kingdom of Cute Vinylmation. These were originally $19.99, now $9.99. Some of the options are just terrific, including the Tiki Bird, Nautilus, and Matterhorn Yeti. But if I spent $10 and got the Mickey Candy Apple I just might scream (which my odds of getting it are about dead even).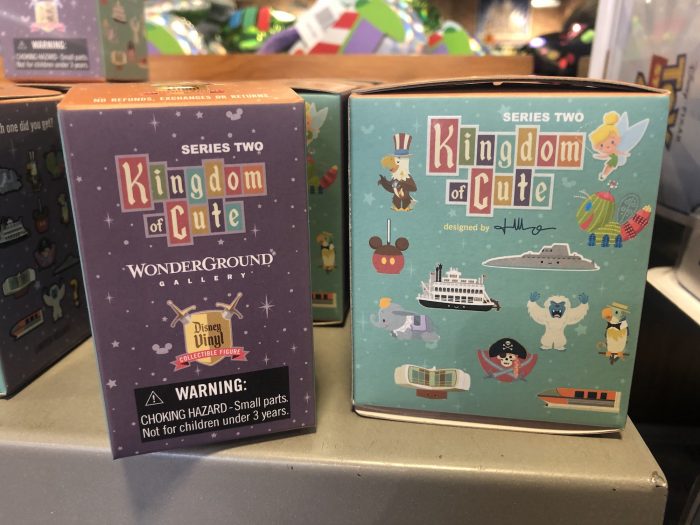 The special Funko Pop releases seem to draw the eBay resellers in by swarms during the initial release, but many of these figures make their way to the Outlets. I was also at Disney Springs last week and they still had a ton of pretty much any of the ones you were looking for (Splash Mountain set, Redd from Pirates of the Caribbean, etc.). This one featuring Alice at the Mad Tea Party was a Disney Parks exclusive and was originally $49.99, now $25.99.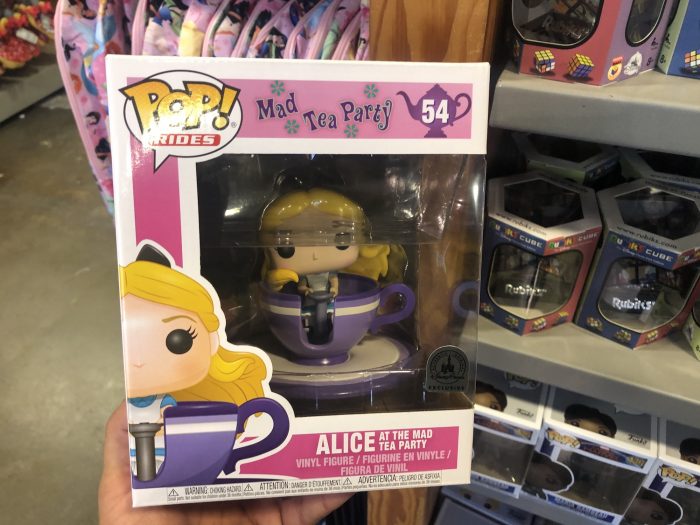 Orange Bird iPhone case, reduced to $7.99.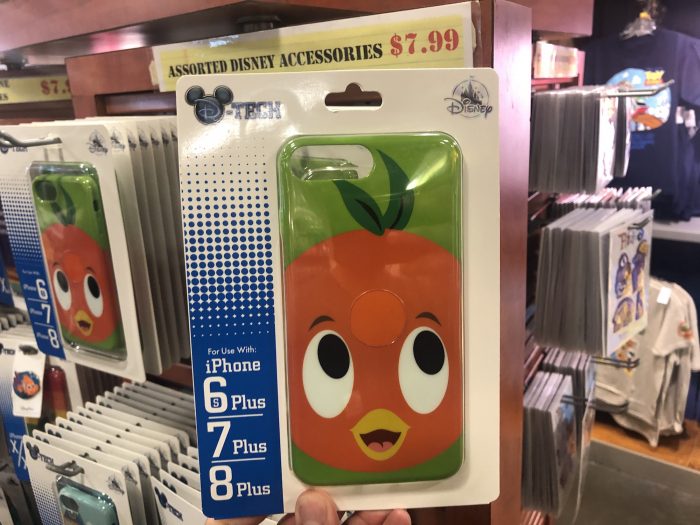 Now, when we first saw the Dumbo iPhone case, we knew it would be a first ballot Outlet Hall of Famer. We've covered it showing up at the Outlets, and of course I bought it.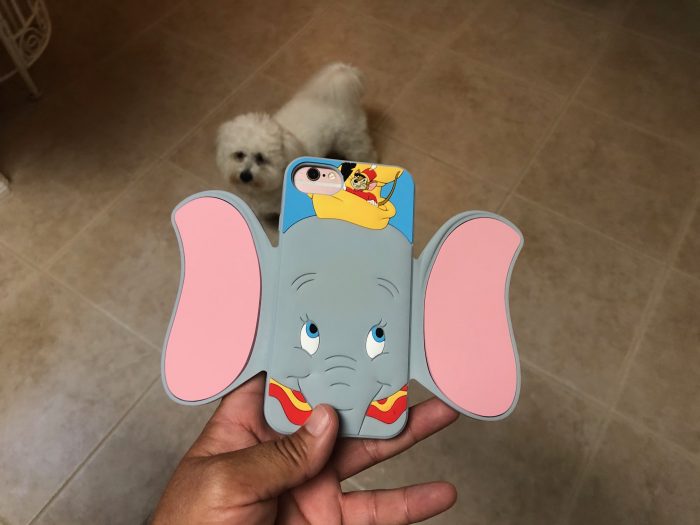 Here is an iPhone 7 in the case.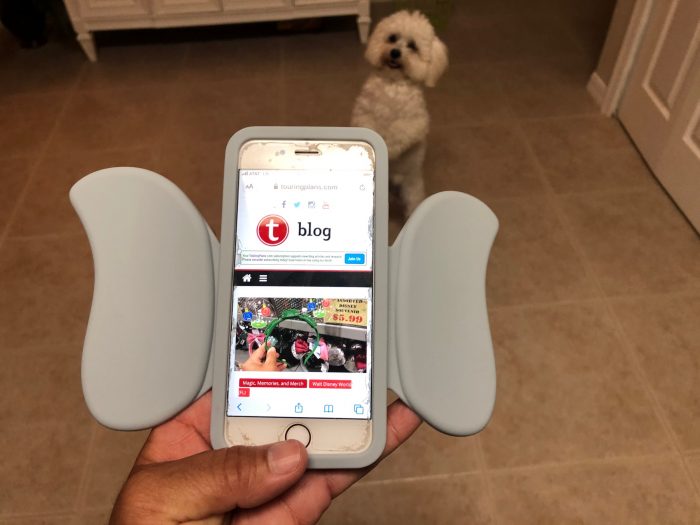 The ears fold in, and I think they are magnetic, because they sort of closed together relatively tight. The case is still ABSURD, but not as absurd as we originally though. You can not use the ears as a "stand" as the weight of the phone just makes it fall over.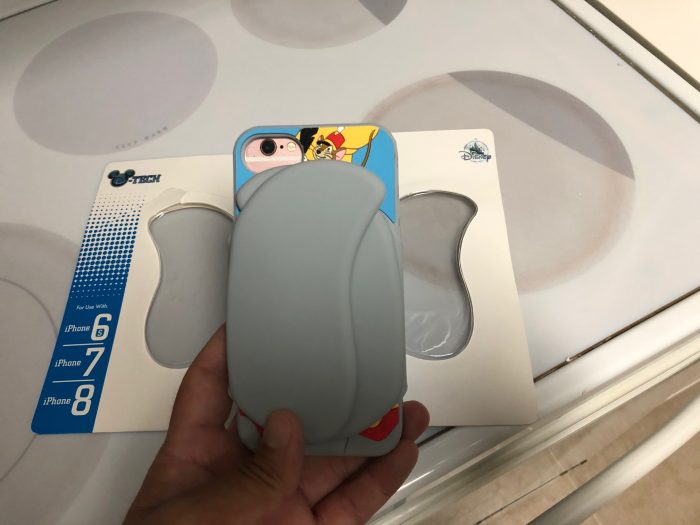 This EPCOT fan pack was reduced to $5.99. The button has a Mickey made out of the World Showcase flags and looks horrible.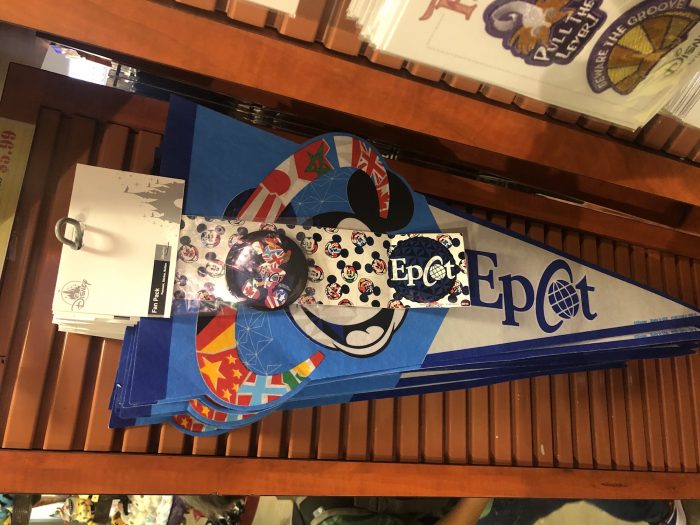 2019 Disney Cruise Line photo frame. Reduced to $6.99. Our very own Captain Cruiseline Scott Sanders of the World Famous Disney Cruise Line Blog just got back from a #DCLBlogCruise and all the pictures from that trip made it look like a great time. I've sailed the high seas on DCL and it was a blast, so definitely consider booking your trip one day to check it off your bucket list. ALWAYS book through a travel agent, and one that I can recommend for DCL is Storybook Destinations. (I have zero financial relationship with any travel agency, but after sailing with Disney and some great Royal Caribbean ships, I can comfortably add Tracey Heinrichs of Dreams Unlimited Travel and Beci Mahnken of MEI/MouseFan Travel as Outlet Report Approved travel agents. #ad #nothosted #DisneyCreators)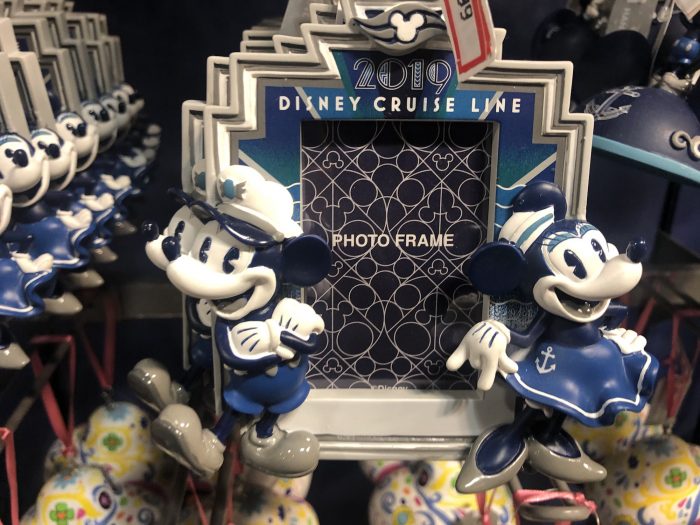 Disney Cruise Line magnets, including one that was a photo frame, reduced to $4.99.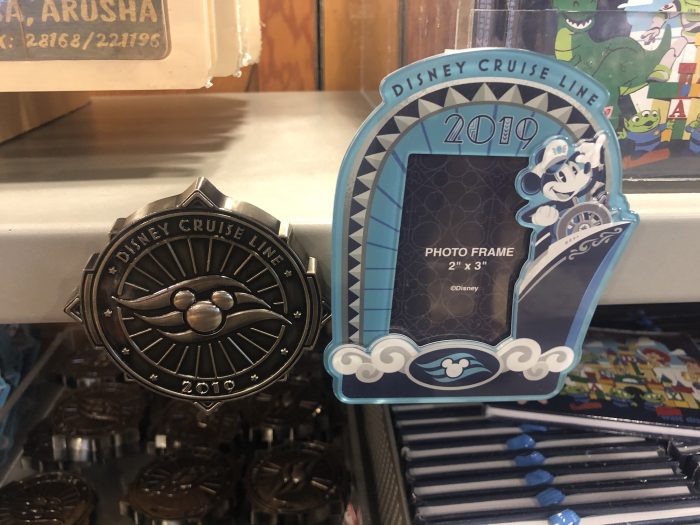 2019 branded Disney Cruise Line coffee mug. Originally $19.99, now $6.99.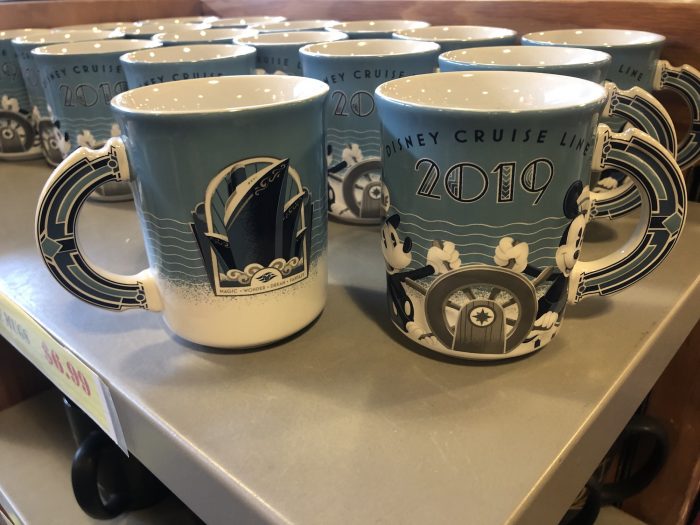 Last month we showed the huge amount of items from the "Disney Foods" line that arrived to the outlet, and this month a large serving bowl was available as well. I actually picked one up for house. Originally $17.99, now $6.99.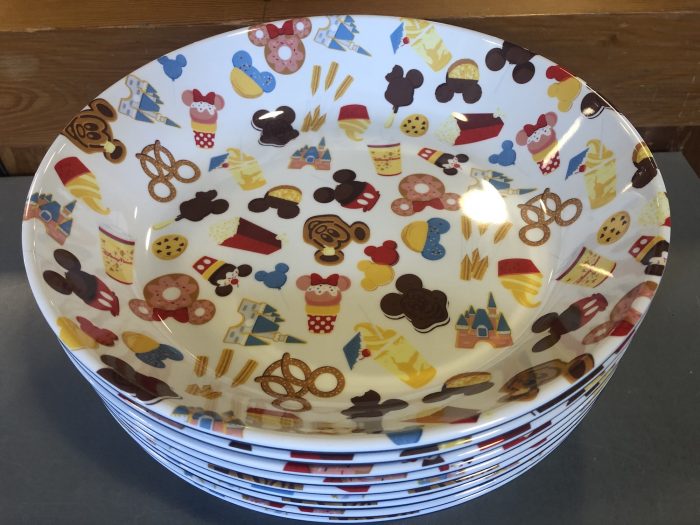 This is the third straight month I'm posting pictures of this particular doll, and each time Disney has billed it with a different sign (including the amazing "DOLL" the first month). This time the doll is labeled as "Vampirine" even though she is "Vampirina."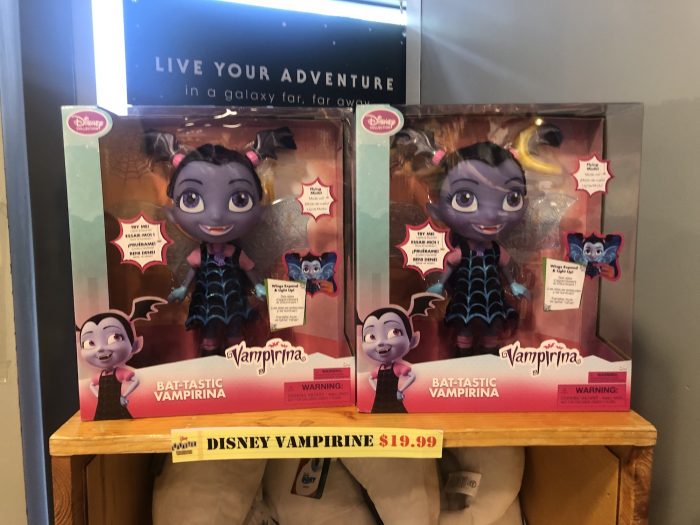 We may need to do a whole article on Disney Outlet Signage, because like my Twitter Feed, they are regularly filled with typos.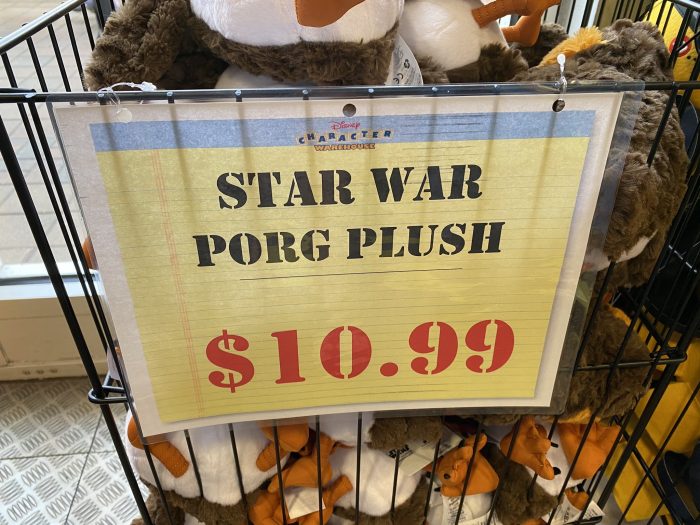 And the sign said "Theme park bloggin' people need not apply"
So I stuck all my Tsum Tsums under my hat and I went in to ask him why
He said "You look like a fine upstanding young man, I think you'll do"
So I took off my hat, I said "Imagine that. Huh! Me workin' for you!"
Whoa-oh-oh
Sign, sign, everywhere a sign
Typos everywhere, breakin' my mind
Buy this, and buy that, can't you read the sign?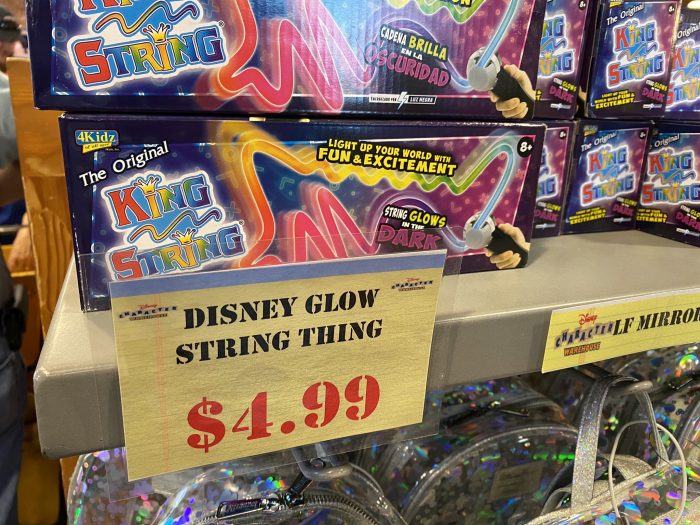 This monkey plush was called a Tug-A-Lug and had the gimmick of the arms and legs being connected, so if you pulled the right leg longer the right arm would shrink. We saw this in some Disney character plush a year or so ago. I recently did a SATURDAY SIX on weird and unique merchandise available in EPCOT's  World Showcase, and one thing I noticed while doing research was how many countries were selling generic animal plush. When I see them at the Outlets I always assume the plush came from Animal Kingdom, but turns out there are a lot of places in EPCOT selling stuff like this monkey doll. This monkey was originally $17.99, now $12.99.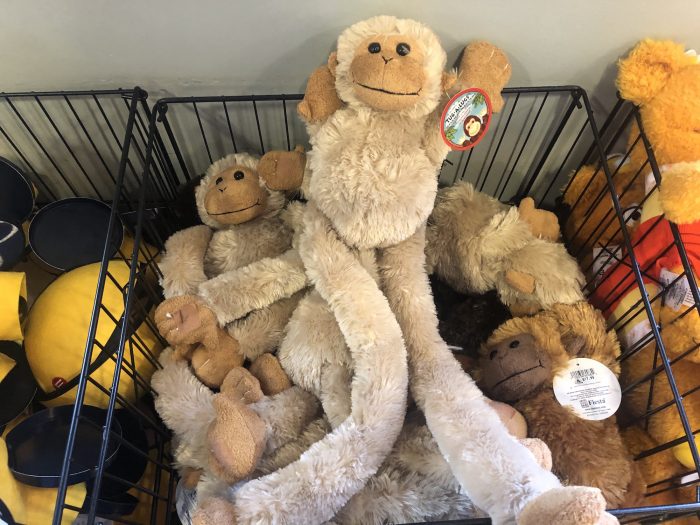 We're getting close to these Scary Avatar Monkey plush holding the record for staying at the Outlets for the longest amount of time. Price just got reduced again, so we'll see if that helps get them out of the store (NARRATOR: "It did not help.")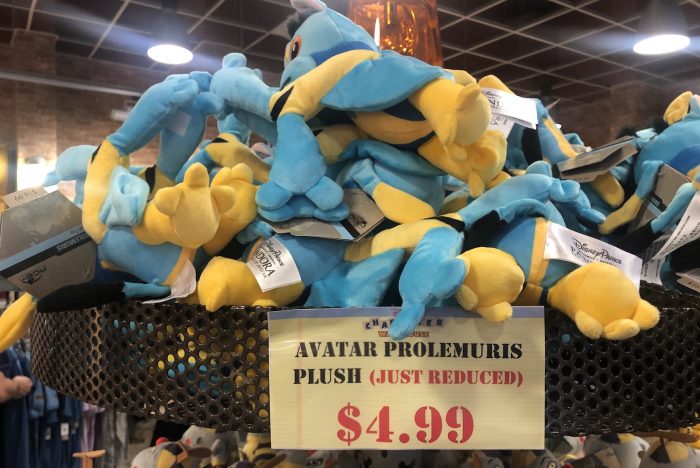 Without further ado, let's head out to CALIFORNIA and see what Christela McC found at an Outlet closer to Disneyland.
First up is this Galaxy's Edge grand opening light-up lanyard featuring the Millennium Falcon. The price was originally $15.78, reduced to $6.99. California sales tax is 7.75%, which would make that $15.78 an even $17 in the parks. As a Star Wars fan, I can't imagine wanted to wear this big and gaudy thing around my neck while in a Disney park.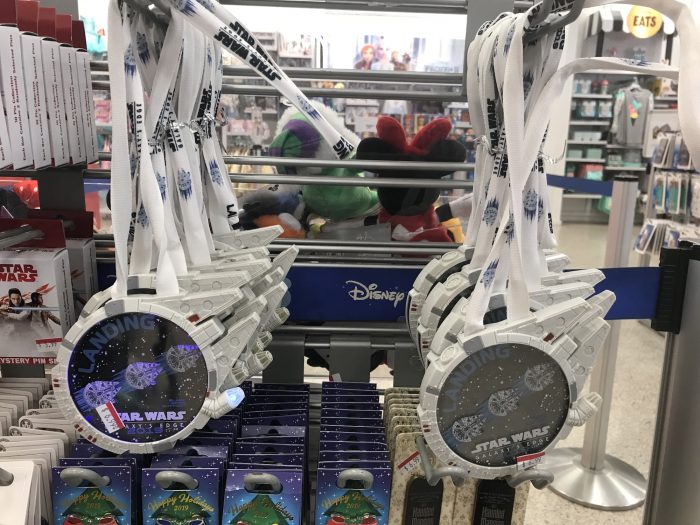 A hair accessory themed to Woody's cowboy hat. If this comes to Florida, I will buy one for Bacini – the official dog of DisTwitter – and take a picture of him wearing it.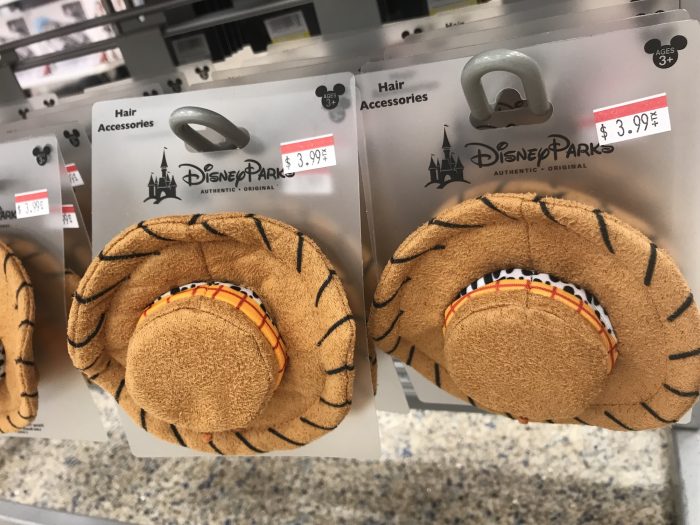 Radiator Springs coffee mug for that five year old who likes his with a "lot of cream and even more sugar." Reduced to $5.99.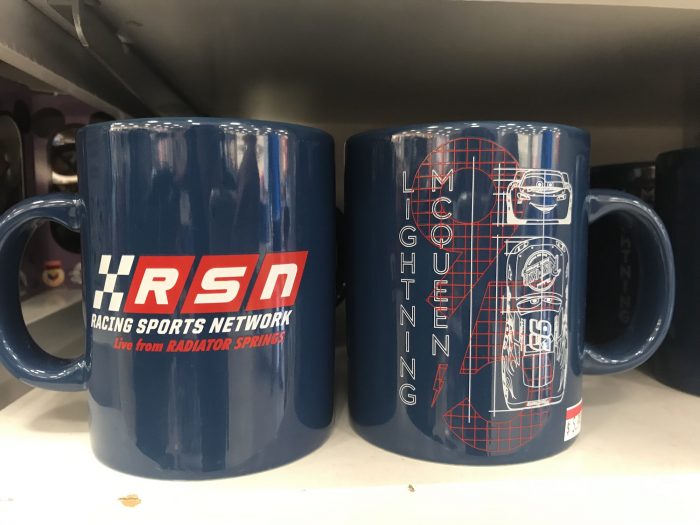 Okay, there are times that I think Disney puts way too many patches on totes like this to make them look gaudy, but this one looks like there's not enough. It just looks sad. Tote has been reduced to $12.99. Probably was one of those "spend ____ and get this tote for just ___" gimmicks at the Disney stores.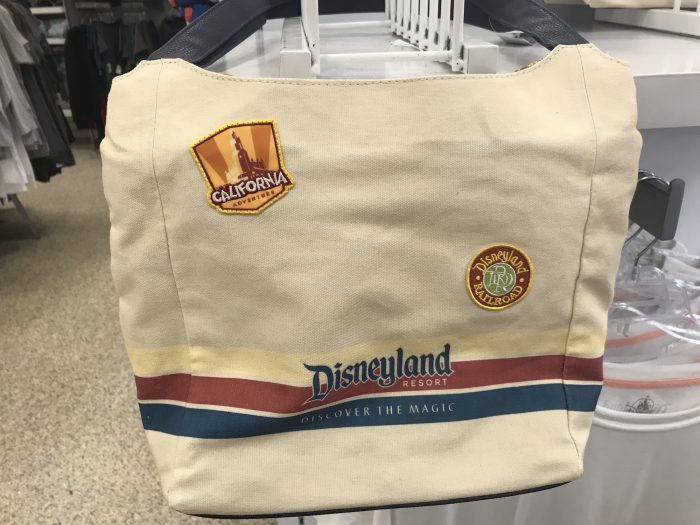 Here's the other side of the bag.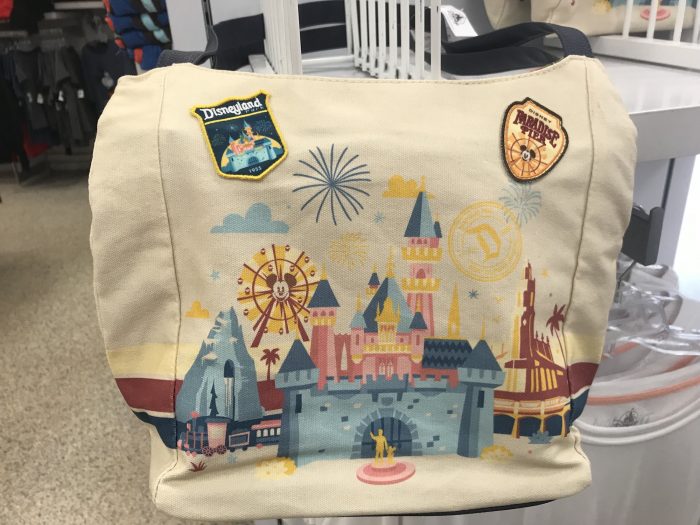 Maybe they used all the extra patches on this backpack. Originally $34.99, now $15.99.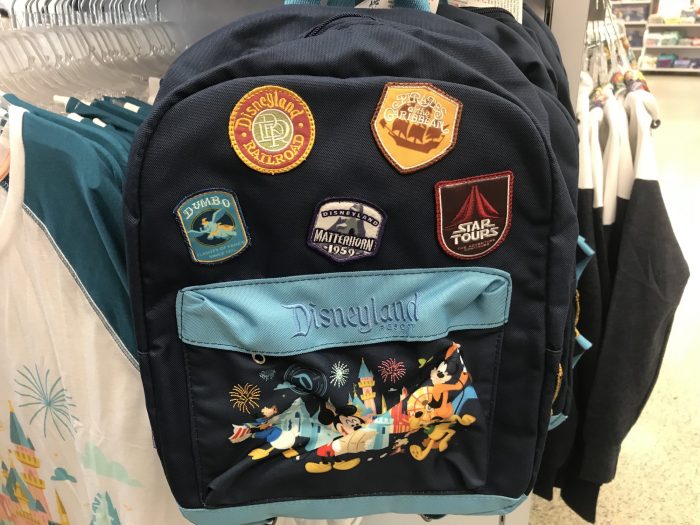 This long-sleeved Disneyland shirt really pops. I don't buy many long sleeved anything considering the average temperature in Florida is 110 degrees with 100% humidity, but I'd consider this one. Originally $34.99, now $11.99.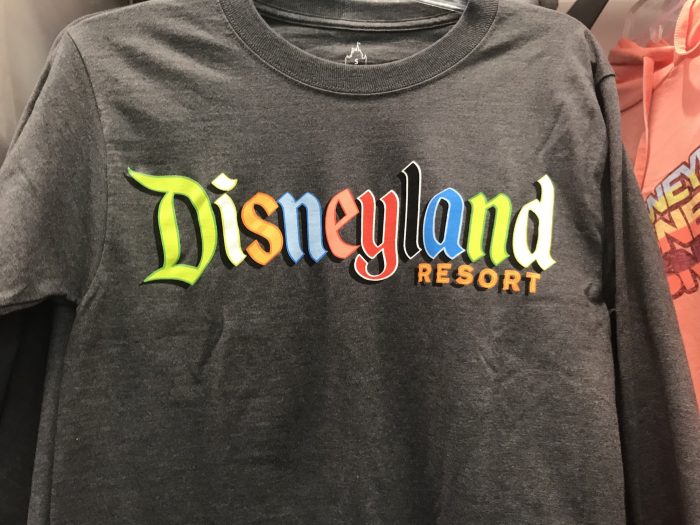 Here's the graphic on the sleeve. Dang, this one's sweet!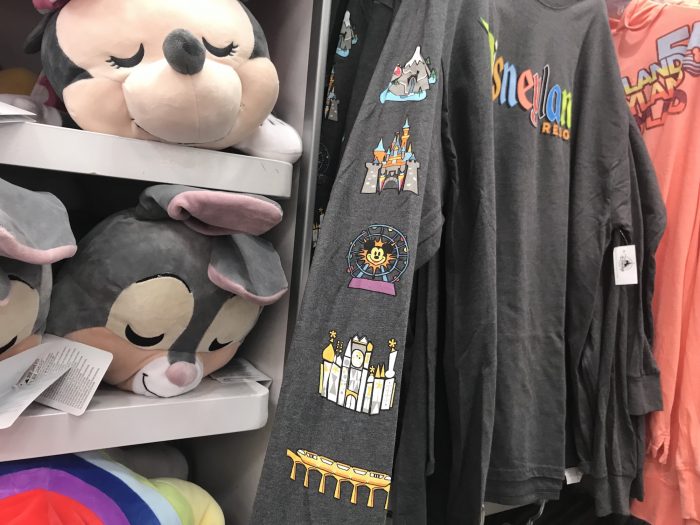 Oh come on! A MUPPETS SHIRT?!!! Be Fair To Florida!!!! (Originally $34.99, now $11.99.)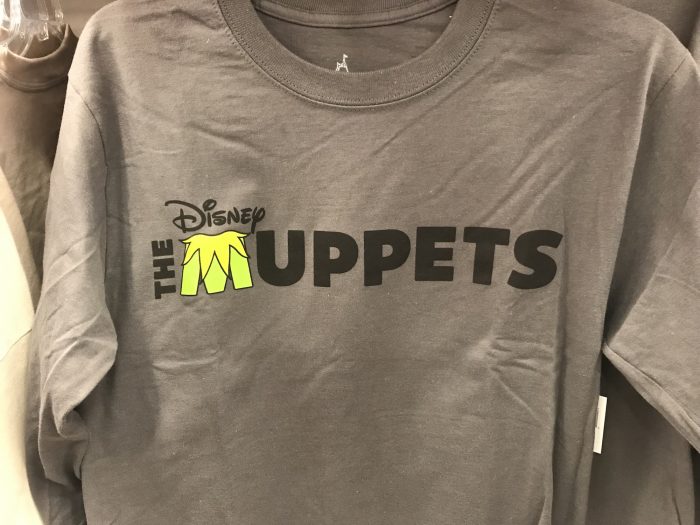 LOOK AT THIS SLEEVE!!!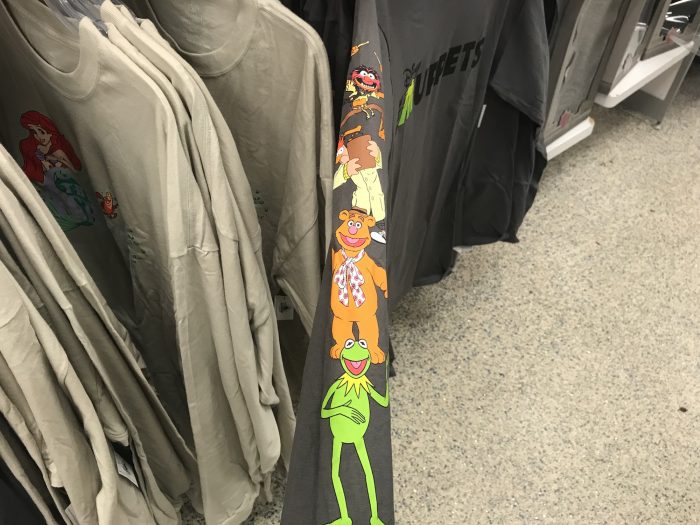 Front of a Radiator Springs Fire Department Shirt. There actually was a high profile fire in Disneyland earlier this month, and ironically it started near the fire station. Shirt was originally $24.99, now $7.99.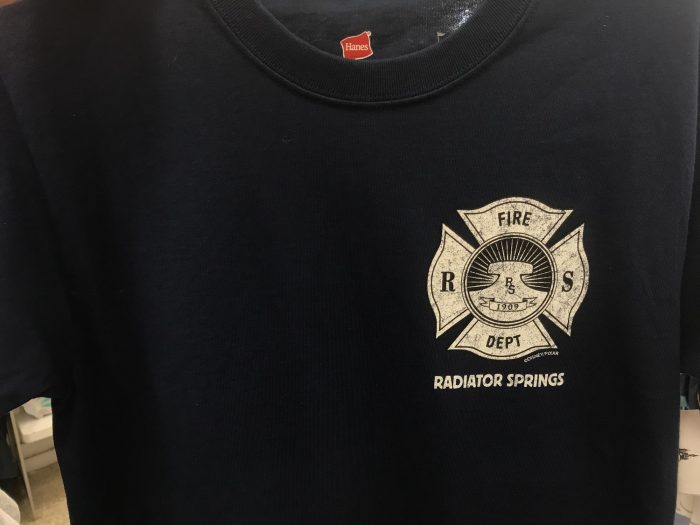 You have to always remember to check the back of Disney t-shirts, because sometimes they are insane. This one's not too bad though.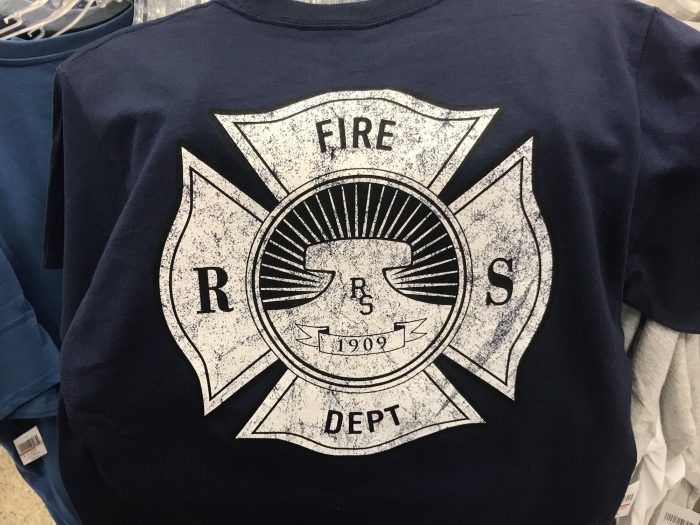 Here's a long sleeved Disney Cruise Line shirt that had "UV protection." Reduced to $12.98.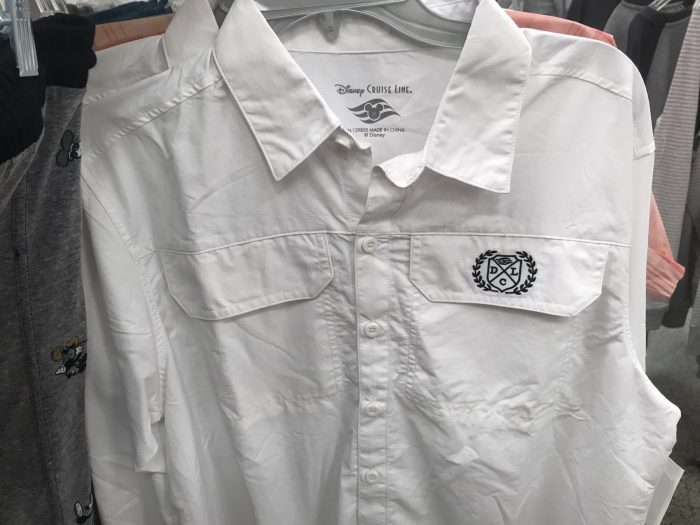 Retro-themed hoodie. Originally $44.99, now $16.99.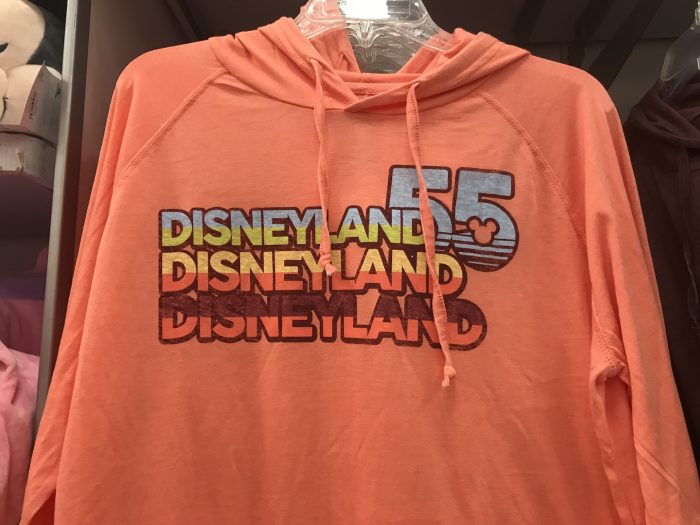 Front of a kid's Christmas-themed Disneyland spirt jersey. Originally $44.99, now $20.99. That candy cane Minnie Mouse silhouette is just plain odd.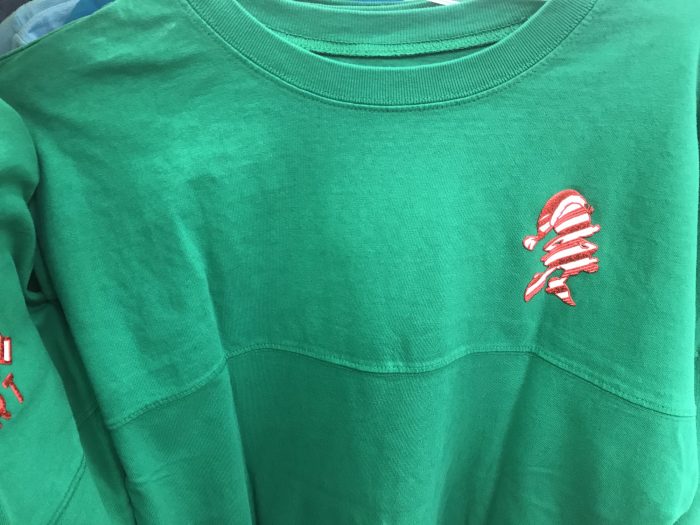 Back of spirt jersey.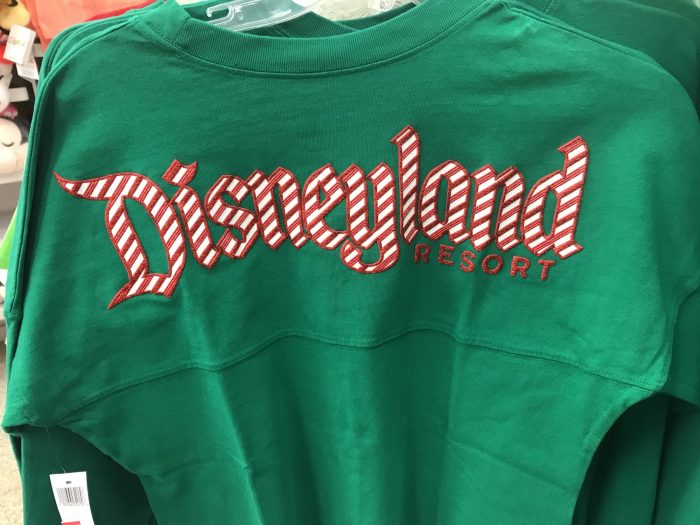 Christmas pins. Each were originally $17.99, now $6.99. This grouping includes the Disneyland Hotel related pins.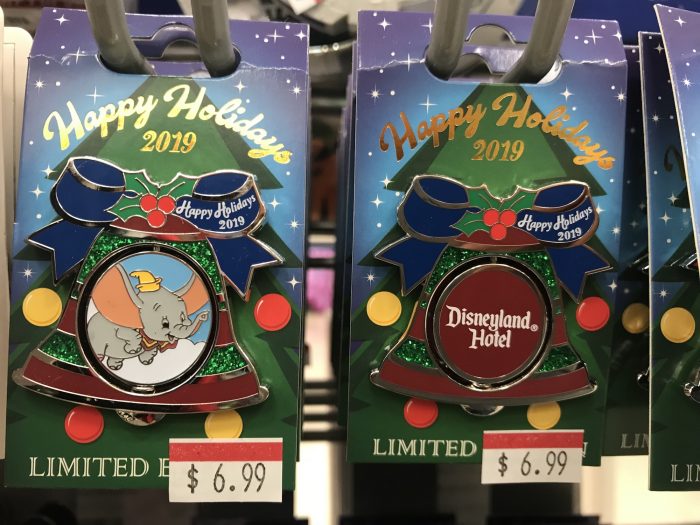 While here we have the Paradise Pier Hotel pins.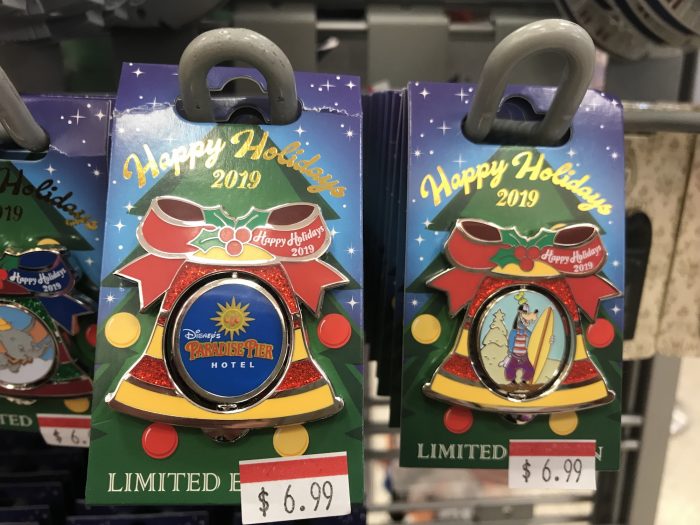 And the ones for Grand Californian Hotel and Spa.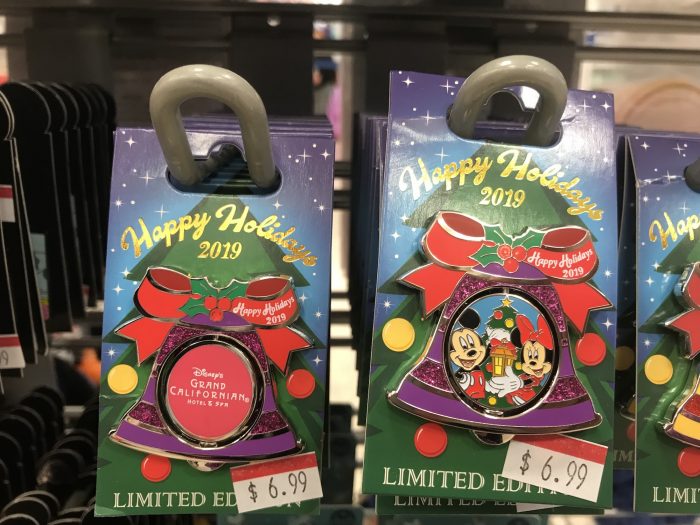 Thanks as always to Christela McC, who goes above and beyond for us. Now let's head back FLORIDA and stay with Christmas related items.
First up is this Framed Pin Set from the 2019 Mickey's Very Merry Christmas Party. If you ever need a picture to define the phrase "A fool and his money are soon parted" here you go.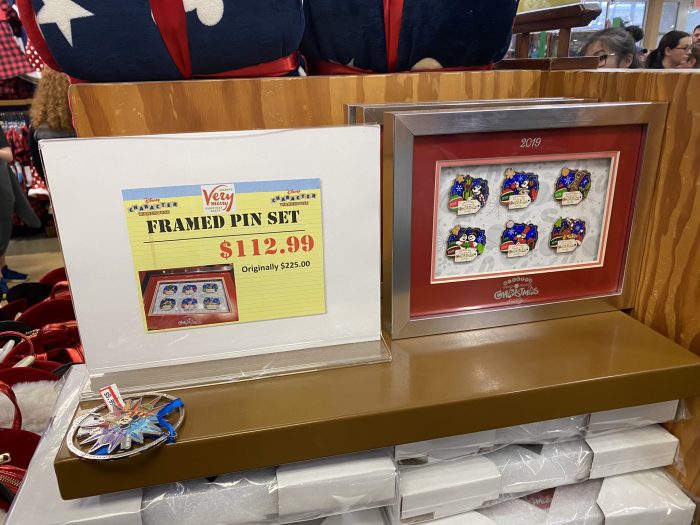 Here's a closer look at the individual pins.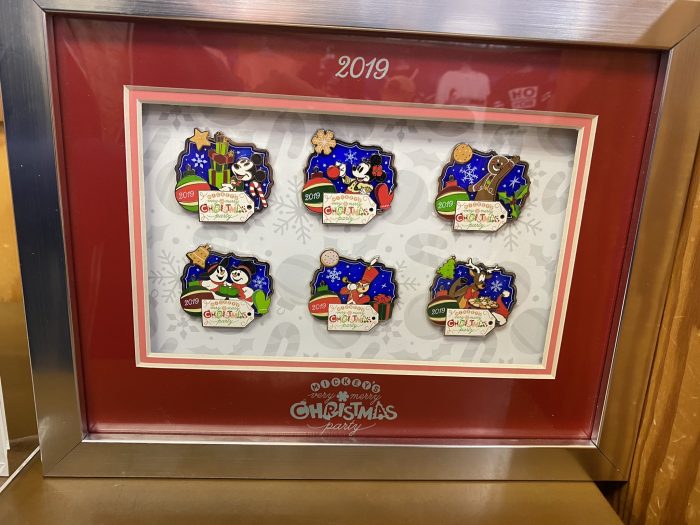 Ran into this sign, which was a first for me. Generally speaking "almost everything" is discounted at the Outlets, but there are some non-discounted items. This month they made sure guests knew.

The regular-priced items included this Milk and Cookies for Santa Set. $24.99.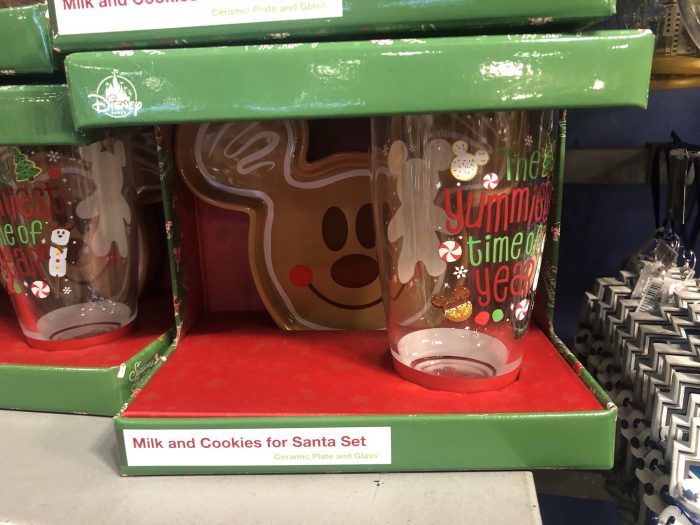 An extremely generic Christmas-themed coffee mug from the Disney Cruise Line. $16.99.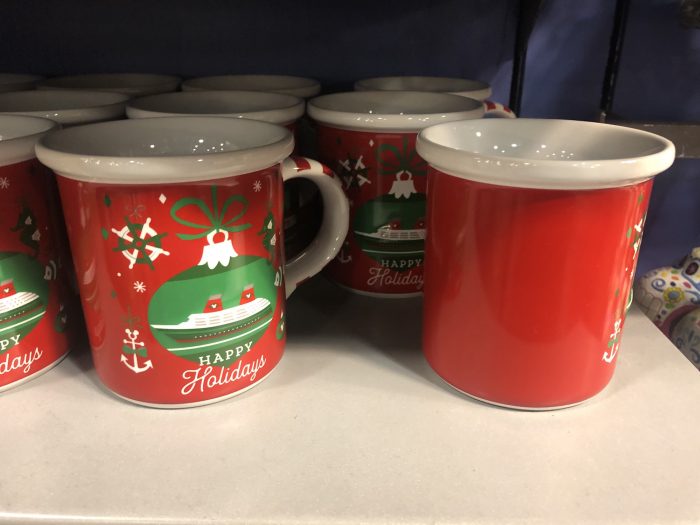 This Snowman's head was filled with gummi snowmen. $8.99.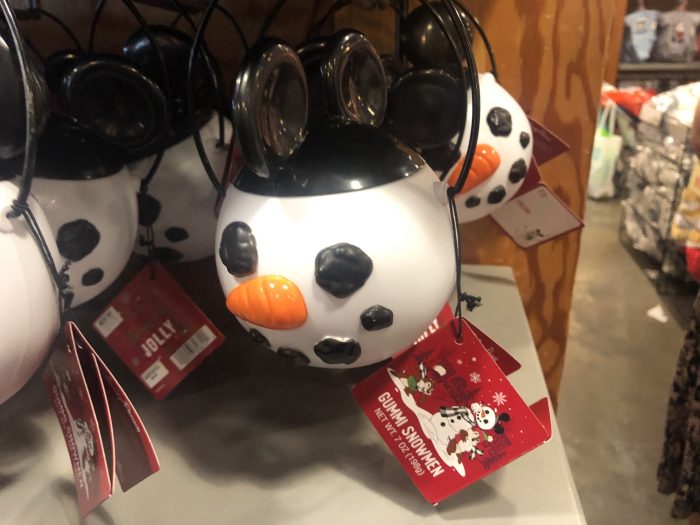 This one they actually put the exact same price using an Outlet price sticker.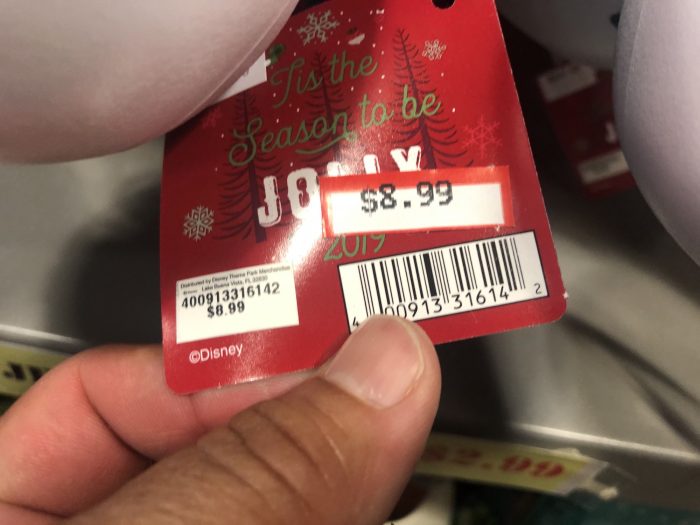 Okay, back to the discounted stuff, including this item which was identified – and I'm completely serious – as a "Corporate 4 park ornament". LIKE I COULD MAKE THAT UP. Originally $27.99, now $9.99.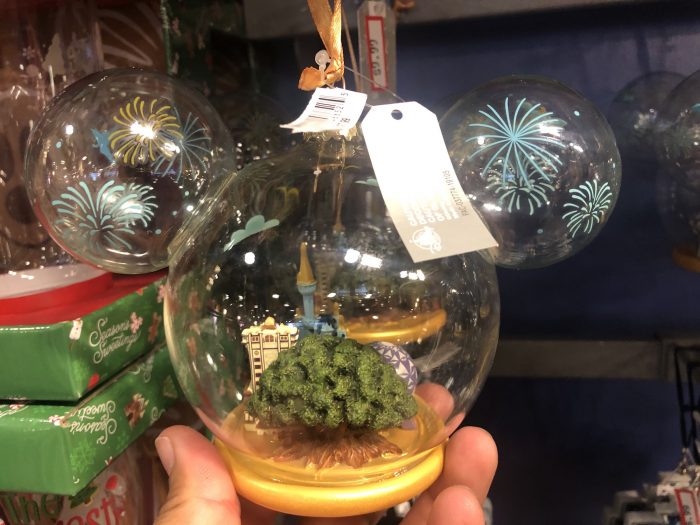 A couple Christmas-themed shirts. Gingerbread Mickey on the left was originally $24.99, now $7.99, while the long-sleeved shirt on the right was originally $49.99, now $19.99.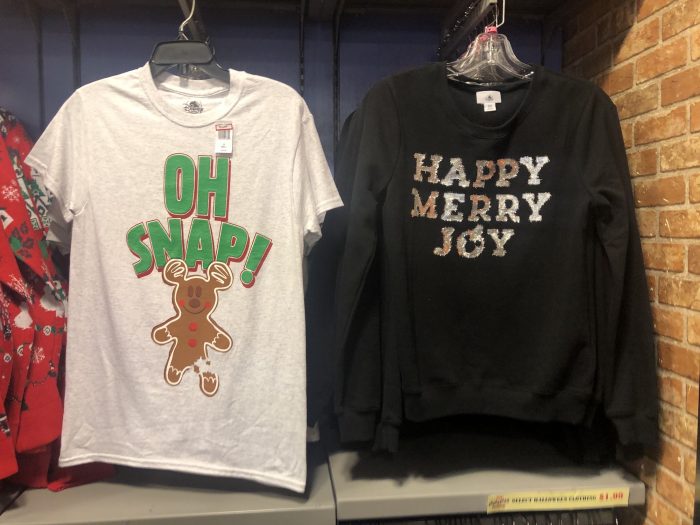 The "My First Trip to WDW" onesie is a great one. Both of these were originally $19.99, now $9.99.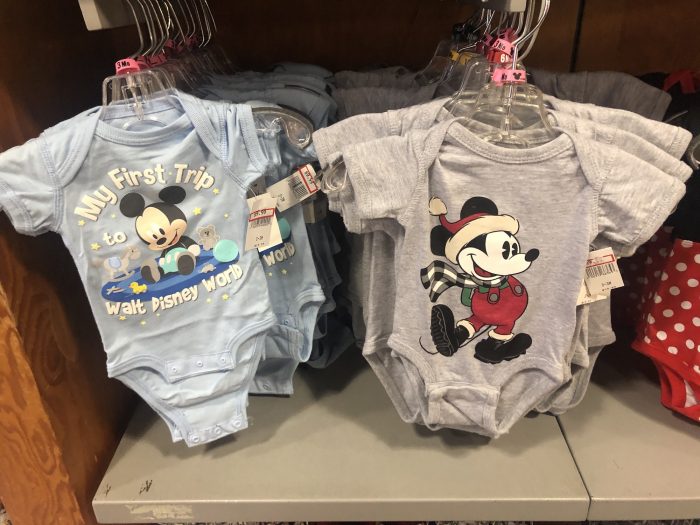 The Minnie Mouse-themed onesie was originally $19.99, now $9.99, while the Finding Nemo one was originally $29.99, now $9.99.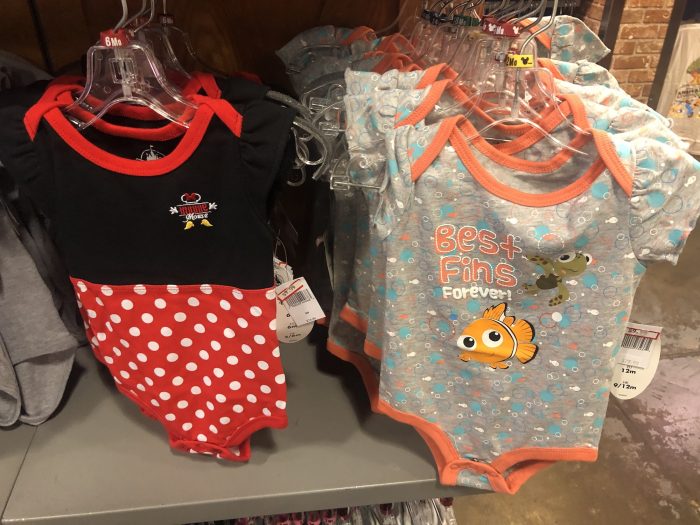 I saw the following set of shirts last year while at the DisneyStyle store in Disney Springs. Texted Babydoll at home that I would be buying them for the family once they hit Ye Olde Outlet Store. Well, they arrived. Bought one of each, including the food one for me (which would be an appropriate time to plug last week's SATURDAY SIX: Introducing the Disney Food HALL OF SHAME). Shirts were originally $34.99, now $14.99.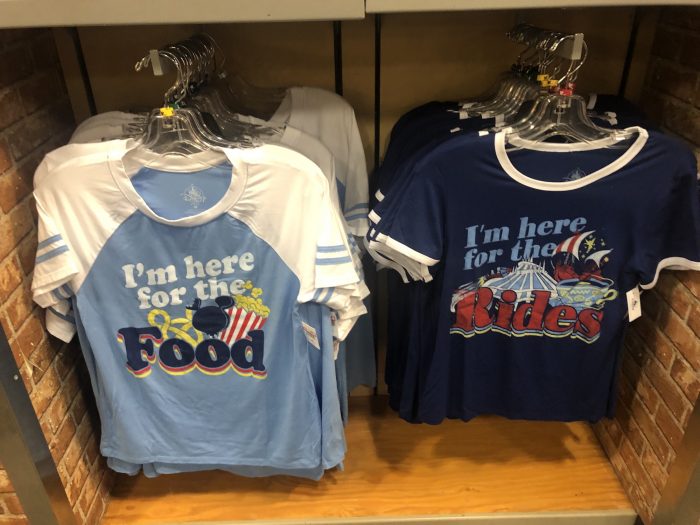 Got one each of these as well. Same price.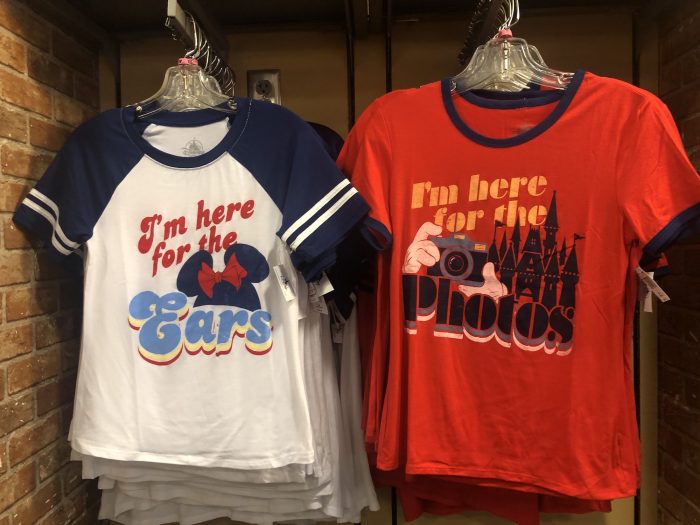 There's things in American culture we look back on and wonder just how crazy our parents and grandparents were. Imagine thinking a "pet rock" was interesting. What about in the '70s and an "invisible dog on a leash." Both of those seem perfectly normal compared to the "rompers" that we have today. Future generations will think we had LOST OUR MINDS (and they'll be right). These were originally $69.99, now $24.99, and they are presented without commentary.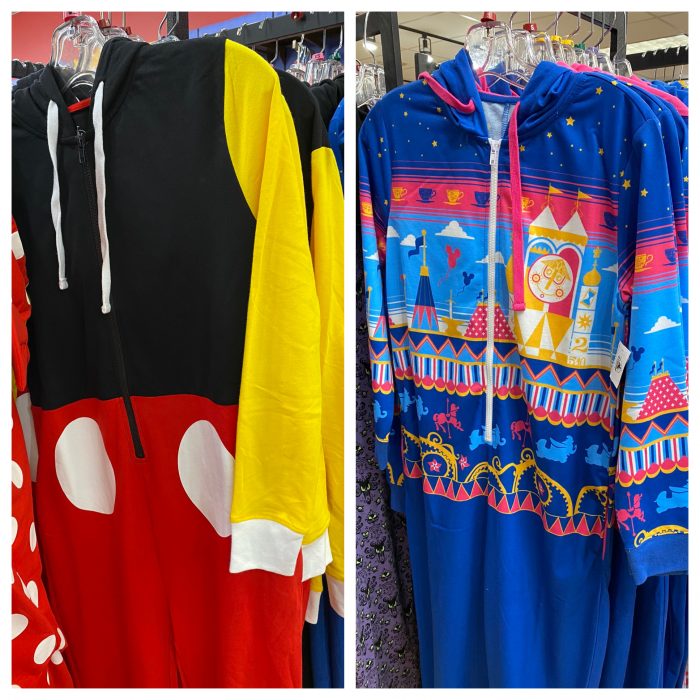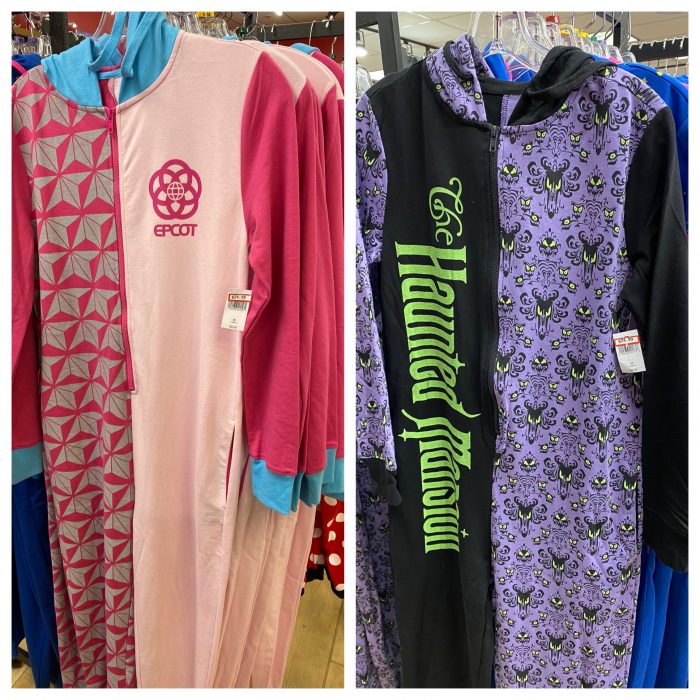 Donut Love shirt for kids. Originally $24.99, now $12.99.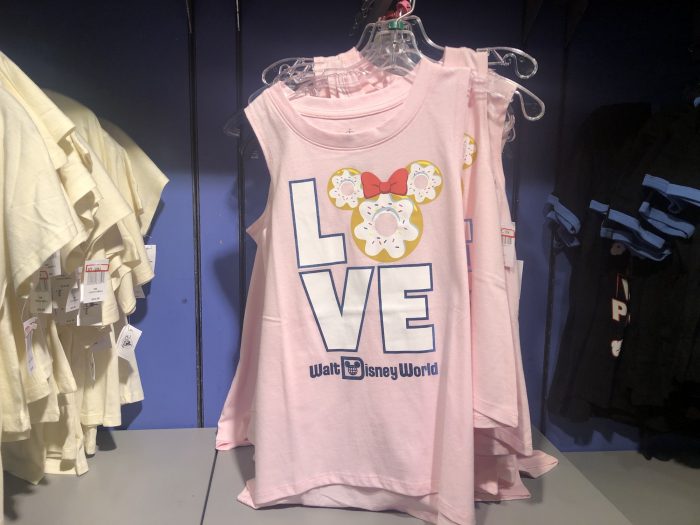 Nice Tiki Room t-shirt. Originally $34.99, now $12.99.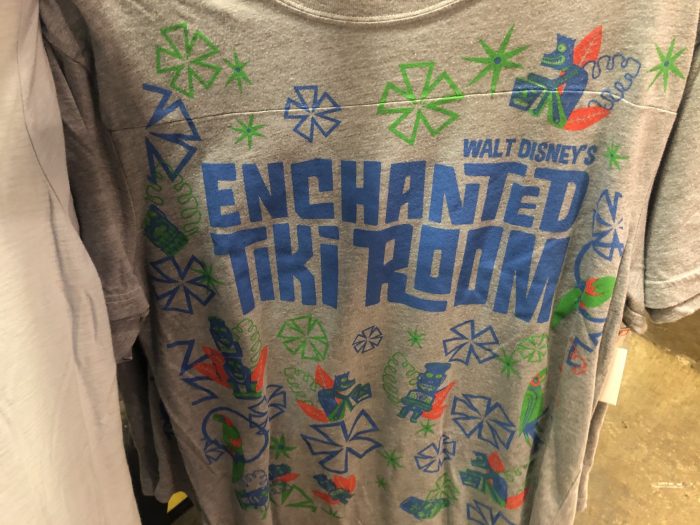 Mad Tea Party shirt. I don't know how Disney could possibly justify charging $34.99 for this, but it's been reduced to $12.99. This looks like a t-shirt I could make at home.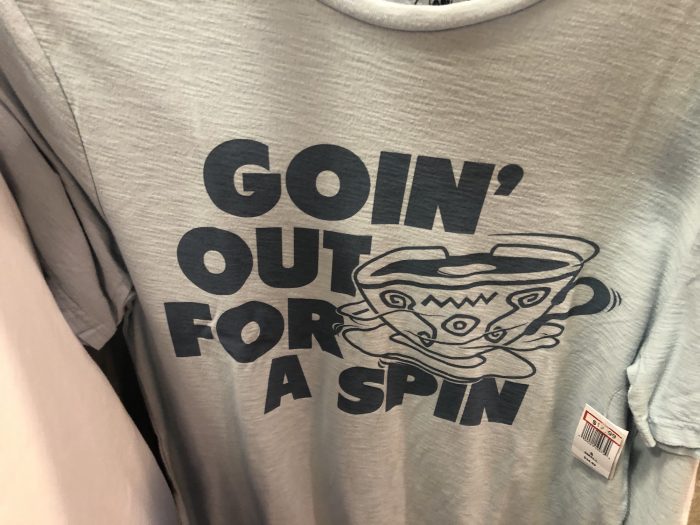 A whole bunch of unwearable Mickey Mouse shirts arrived. One on left was originally $34.99, now $19.99, while shirt on right was originally $34.99, now $12.99.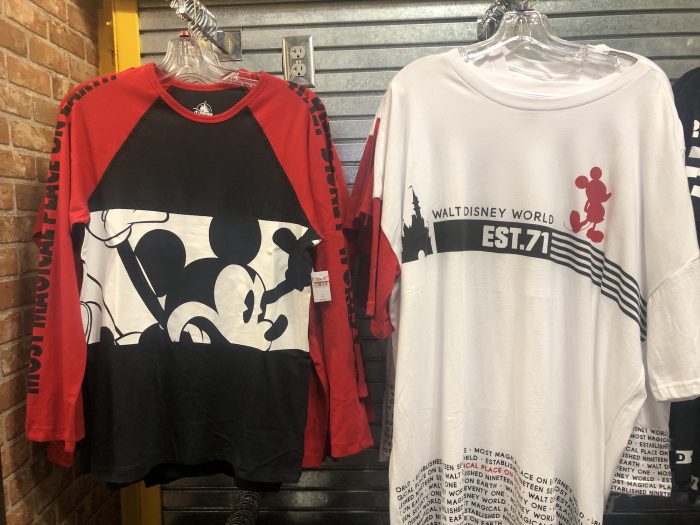 Imagine buying this shirt and wearing in public. That's confidence. Originally $34.99, now $12.99.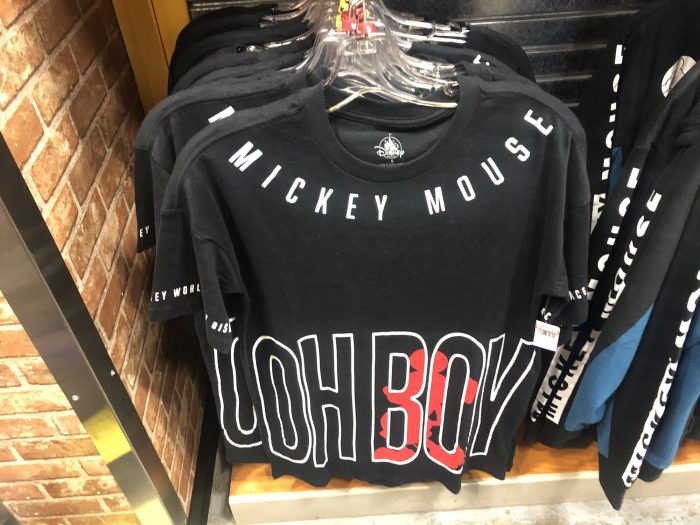 LOVE this retro style shirt featuring the four boys. Originally almost 40 DOLLARS!!!!! What?!!!!! Reduced to $12.99.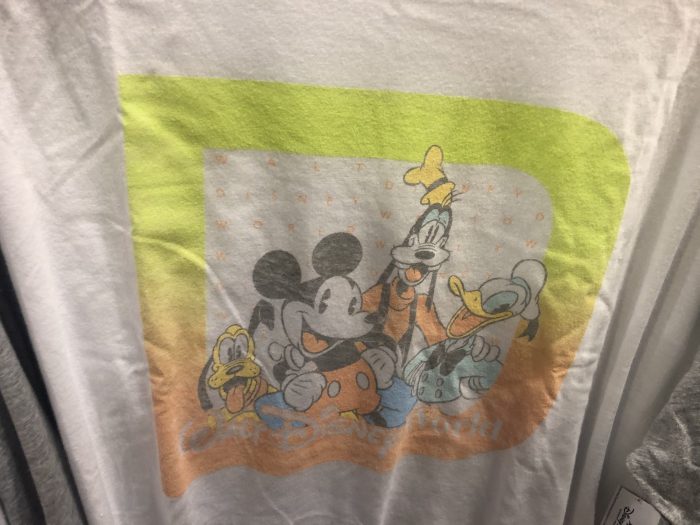 Galaxy's Edge shirts still hanging around.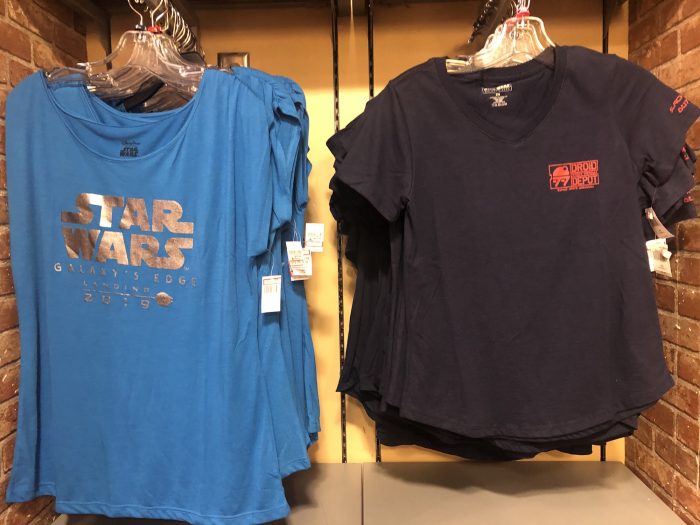 I did like this Star Wars t-shirt though. Reduced to $9.99.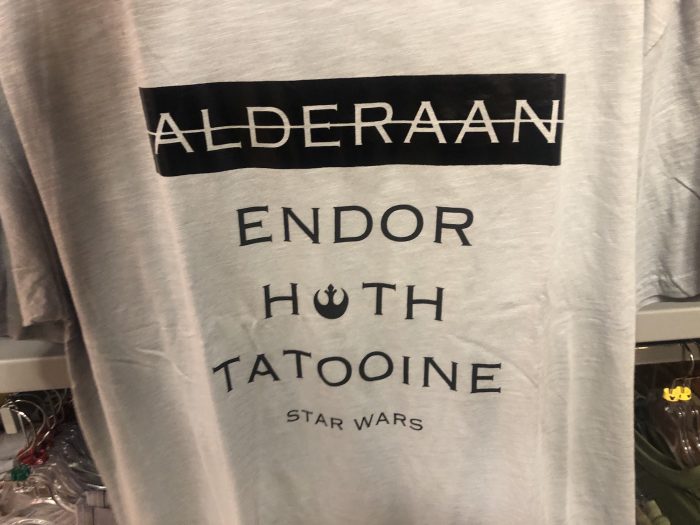 Now this Toy Story Land shirt is ::Chef's Kiss:: I just love that artwork using a milk carton for a monorail going down a handrail at the house. Brilliant stuff. Would buy as a print to hang on the wall. Shirt was originally $19.99, now $9.99.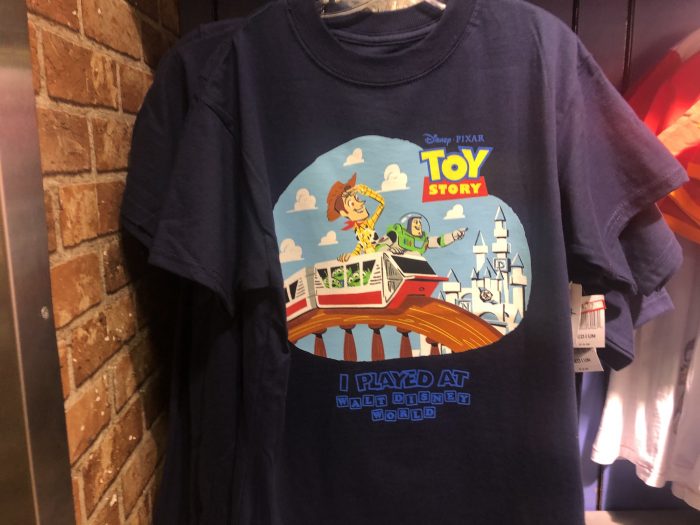 A Buzz Lightyear shirt done in 1970s fonts in bright neon green. Who knows why for any of it. Originally $19.99, now $9.99.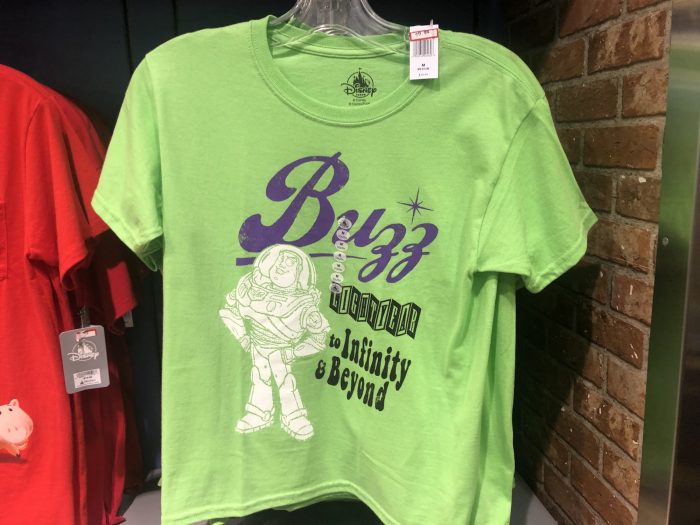 A very "busy" DVC collared button-up shirt. Originally $54.99, now $16.99.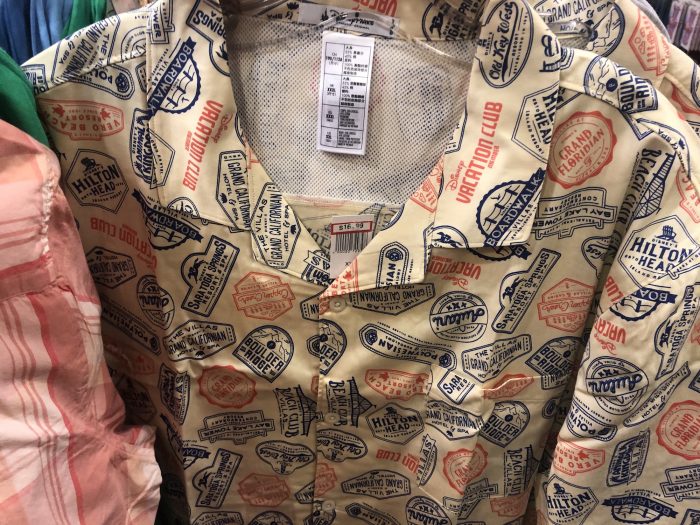 Disney Cruise Line shirt. Originally $24.99, now $7.99.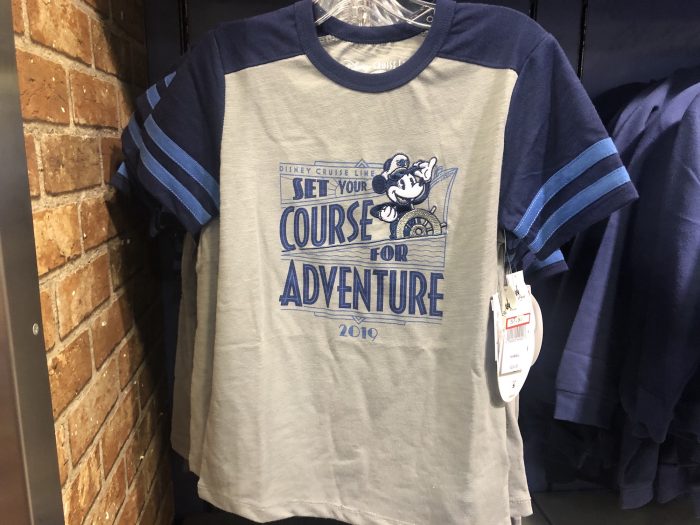 DCL hoodie for kids. Originally $39.99, now $14.99.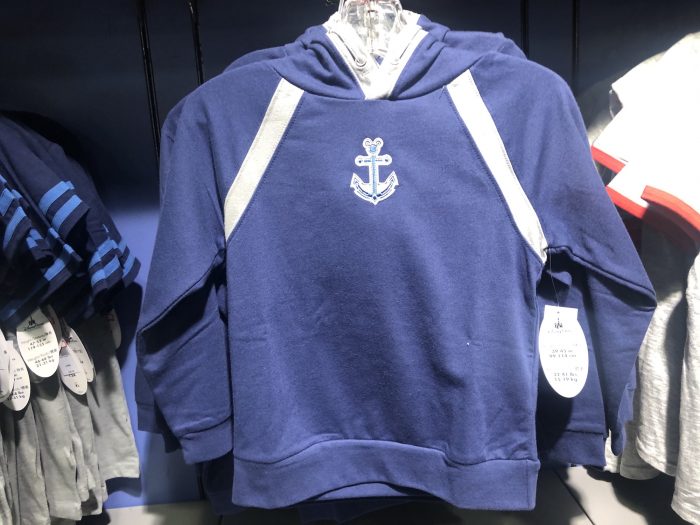 DCL shirt for kids. Originally $27.99, now $8.99.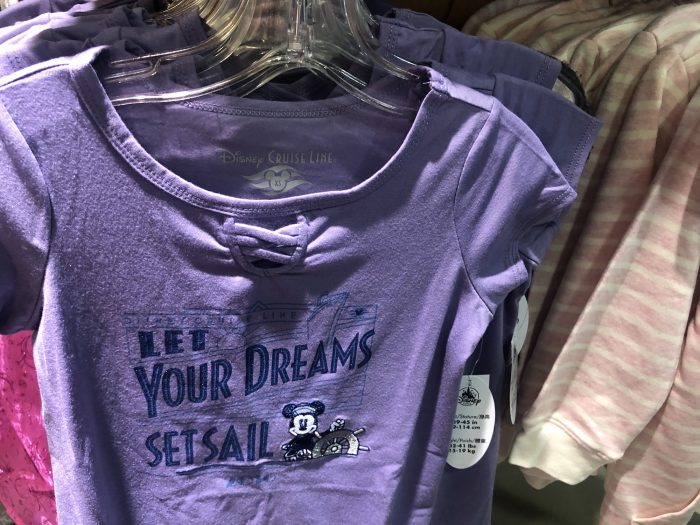 Animal Kingdom shirt. Originally $19.99, now $9.99. I liked the logo on the sleeve, a touch these types of shirts generally don't have.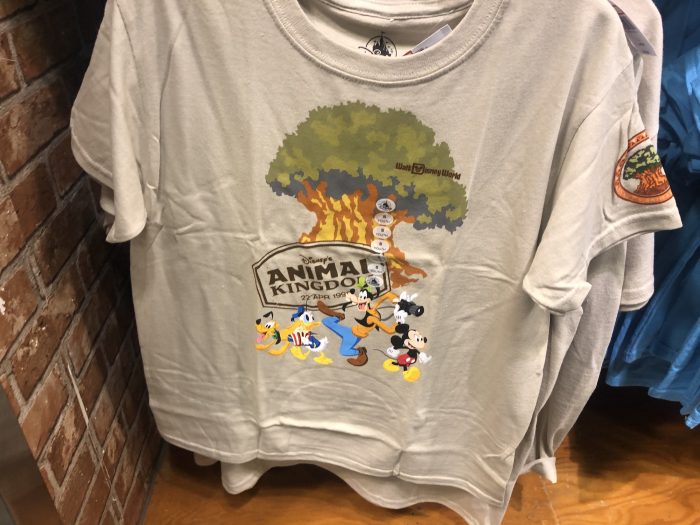 This looks like a shirt for the Lion King on Broadway. Originally $34.99, now $10.99.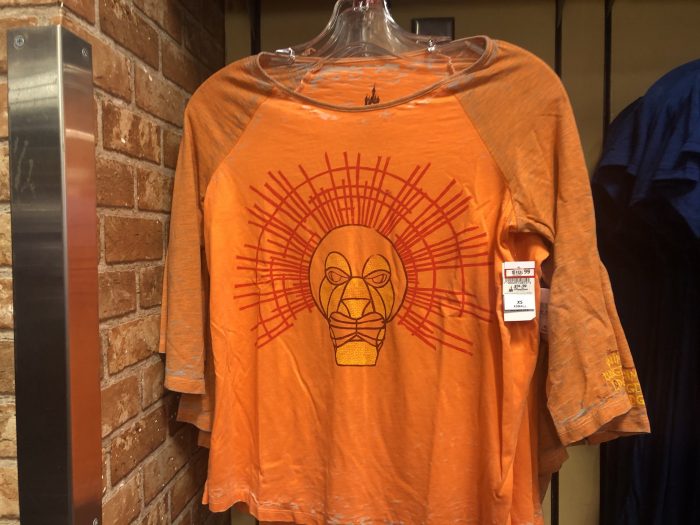 The following sweaters are from a Dream Big, Princess line. All were originally $44.99, now $17.99. First up is Belle and Tiana.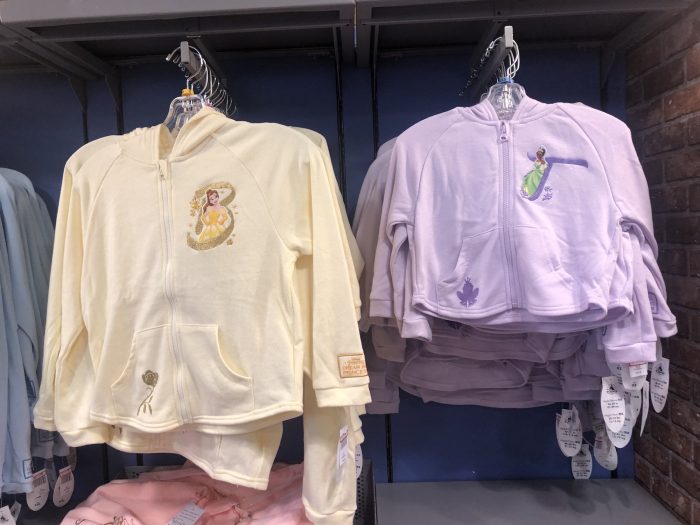 Here we have Cinderella.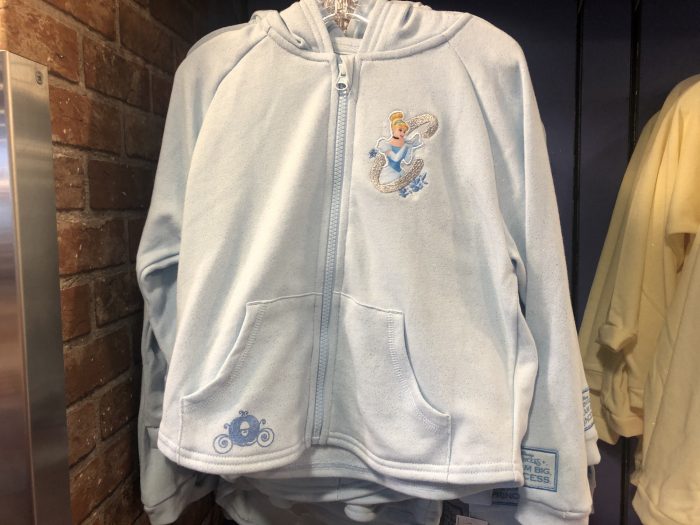 Disney Cruise Line sweater. Originally $39.99, now $14.99.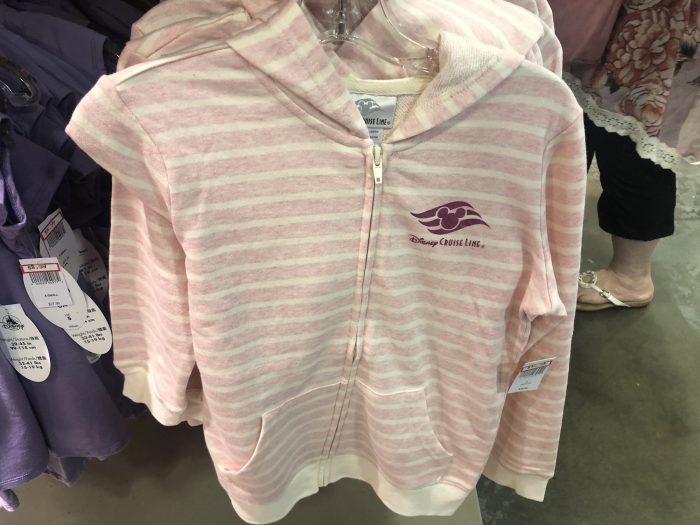 Bibbidi Bobbidi Boutique "back pack." This is actually a good warning sign to other guests giving them a heads up to give a wide birth unless they want to be covered with residual glitter.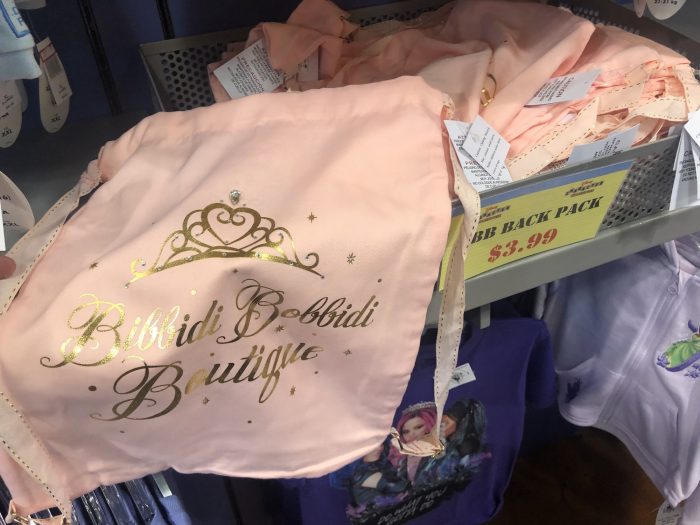 I don't understand why these gloves have white finger tips unless it allows you to be able to touch an phone screen easily (?). If that were so I would think every finger would have them though, so your guess is as good as mine.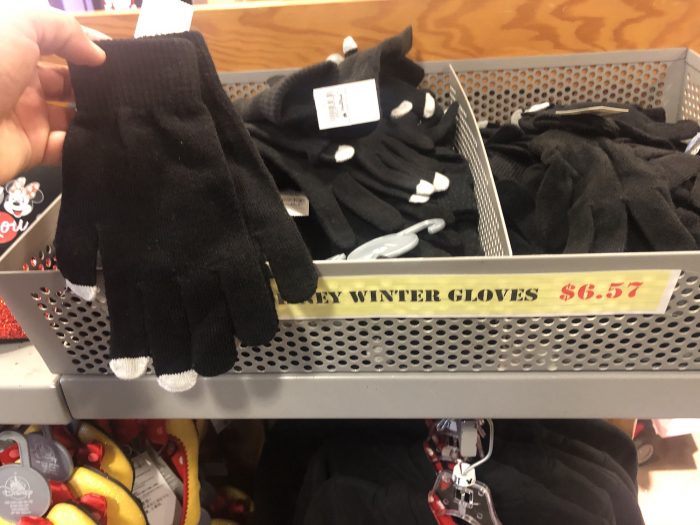 In case you're wondering, still have plenty of Avatar pins available at the registers.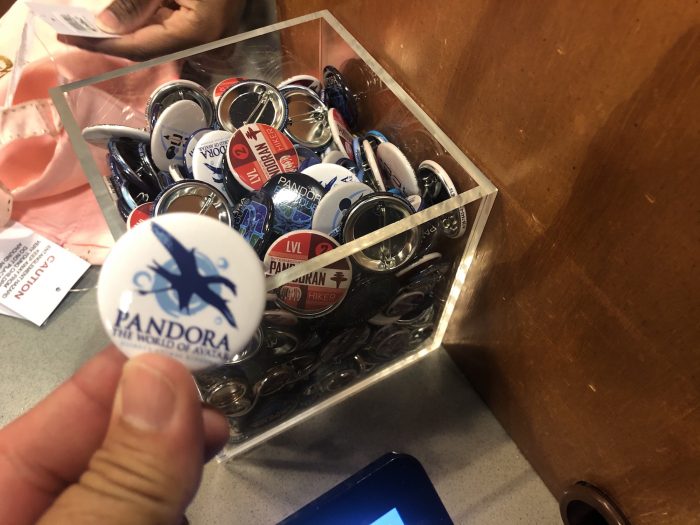 SEE YOU NEXT MONTH!
There are actually two Disney outlet stores in Orlando. Both are in Orlando Premium Outlet shopping complexes, and they are called Disney's Character Warehouse, presumably because The Land Of Misfit Toys was already trademarked. There is one Character Warehouse located on International Drive close to Universal Studios (4951 International Dr, Orlando, FL 32819), and the other is on Vineland Avenue, right across I-4 near the exits to Disney World (8200 Vineland Ave, Orlando, FL 32821). They do not ship. There are items at the Outlets that you can buy both in Disney stores along with the Shop Disney Parks app, but you will be paying full retail for the items. For our CALIFORNIA OUTLET trips, @ChristelaMcC goes to the Las Americas outlet in San Diego. It is located right off the last U.S. exit.
I often get asked "which store is better?" That depends. Vineland is close to Walt Disney World, while the I-Drive location is a hop, skip, and jump away from the Universal Orlando Resort. The Vineland Disney Outlet Store is much, MUCH bigger than the I-Drive location. However, the Vineland outlets in general are much, MUCH busier than I-Drive. Each have their pros and cons, and ultimately they carry much of the same items. For a Disney Outlet Store FAQ, check out this SATURDAY SIX Presents: Everything You Wanted To Know About The Disney Outlet Stores (But Were Afraid To Ask)
Previous editions of Magic, Memories, and Merch: July 2013, August 2013, September 2013, October 2013, November 2013, December 2013, January 2014, February 2014, March 2014, April 2014, May 2014, June 2014, July 2014, August 2014, September 2014, October 2014, November 2014, December 2015, January 2015, February 2015, March 2015, April 2015, May 2015. June 2015, July 2015, August 2015, September 2015, October 2015, November 2015. December 2015, January 2016, February 2016, March 2016, April 2016, May 2016, June 2016, July 2016, August 2016, September 2016, October 2016, November 2016, December 2016, January 2017, February 2017, March 2017, April 2017, May 2017, June 2017, July 2017: The FOUR YEAR ANNIVERSARY special, August 2017, September 2017, October 2017 (tribute to the O.O.G.), November 2017, December 2017, January 2018, February 2018, March 2018, April 2018, May 2018, June 2018, July 2018 (FIVE YEAR ANNIVERSARY special with the introduction of the OUTLET HALL OF FAME), August 2018, September 2018, October 2018, November 2018, and December 2018, January 2019, February 2019, March 2019, April 2019, May 2019, June 2019, and July 2019 (SIX YEAR ANNIVERSARY), August 2019 (major changes come to Outlets), September 2019 (camera hat,) October 2019, November 2019 and December 2019 and January 2020.
We also did an edition of Magic, Memories, and Junk for a non-Disney owned Outlet Store, and for you merch addicts like myself, you may also enjoy a look at the official Disney merchandise available on the Disney Cruise Line, Castaway Cay, and at the Orlando International Airport. Want to see our favorite WDW resort-specific merchandise? Well, CLICK HERE!
If you liked what you read here, you may enjoy THE SATURDAY SIX articles every week on the TouringPlans.com blog and you can follow your humble author on Twitter (@derekbugan).