The SATURDAY SIX looks at Universal Orlando's 2020 MARDI GRAS
This week's SATURDAY SIX takes a look at Six Reasons We Love Universal's 2020 Mardi Gras. No one loves theme park events more than us. Mickey's Not So Scary? Fantastic. Halloween Horror Nights? Even better. Grinchmas, Mickey's Very Merry, and Festival of the Arts? Love 'em all. We're less than a week away from EPCOT's Flower & Garden, an event we love so much that it will be worth suffering through the current state the park is in. However our favorite annual celebration just may be Universal's Mardi Gras. This year the event is celebrating its 25th anniversary, and it's the best one yet! Let's start off why we love this spring fling with…
# 6 – Voodoo Doughnut
We have long professed our love for Voodoo Doughnut in CityWalk, and the bakery's synergy with the theme parks is nothing short of incredible. There have been special donuts made – exclusive to Universal guests – for all the major events in the theme park calendar year. From HHN and Grinchmas, to holidays like Easter and the 4th of the July, and even a "velociraptor claw" for Jurassic Park. The specialty donut made for Mardi Gras 2020 is possibly their most tasty creation to date, with a filling inside being a cinnamon sugar flavored Bavarian cream. The outside of the donut has vanilla frosting, with a jester cap design and sprinkles in the traditional Mardi Gras colors.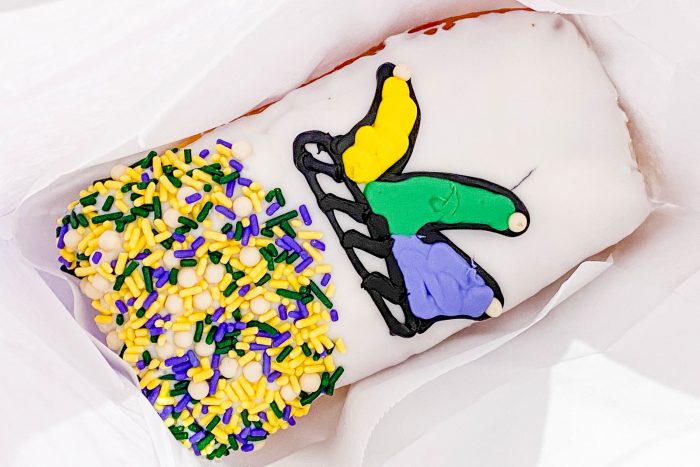 Imagine eating a frosted donut filled with cinnamon sugar butter from Texas Roundhouse. That's right, a bite of this donut may make you immediately ascend straight to Heaven (or at least make you feel like you did).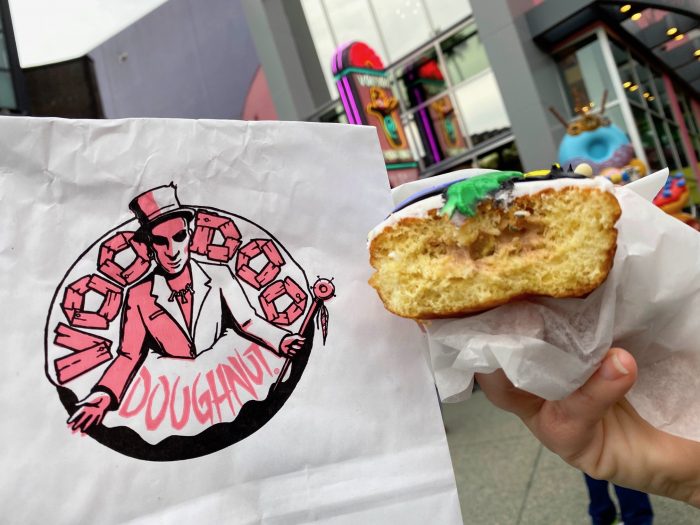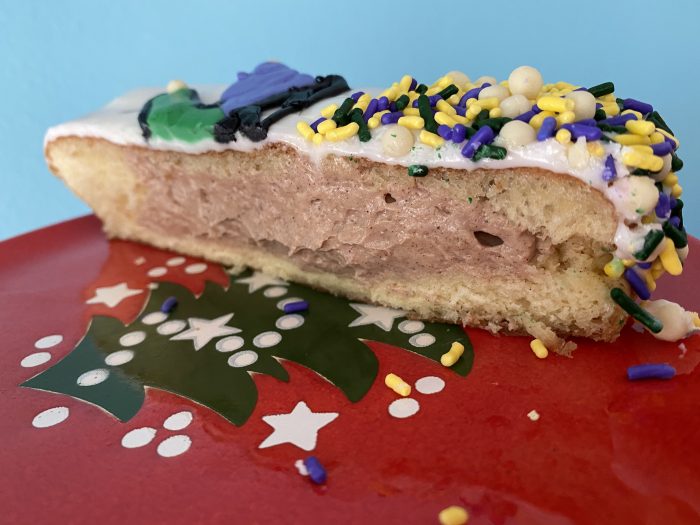 This year pretty much all of CityWalk is celebrating Mardi Gras, with just about every restaurant having their own food and drink options themed to the party. Toothsome Chocolate Emporium is already well known for their next-level bonkers milkshakes, but for Mardi Gras they took it up a notch with their King Cake shake. Anyone who tops a milkshake with a cupcake AND a beignet is a true hero in my book. Also included? On-theme beads.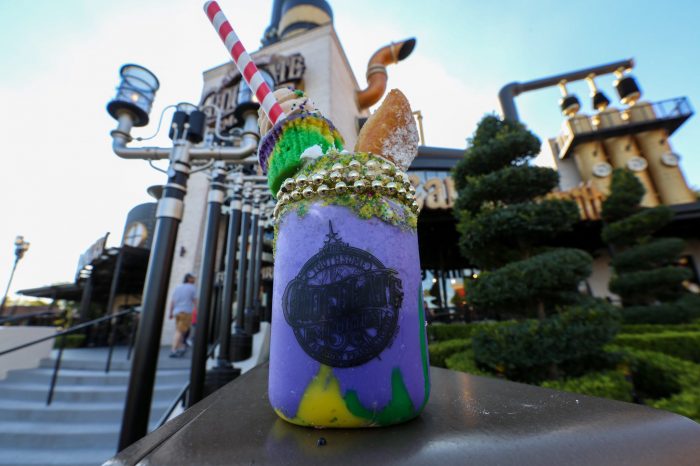 Places with a Mardi Gras themed option include The Cowfish, Bob Marley – A Tribute to Freedom, Hot Dog Hall of Fame, Breadbox, and Cinnabon. Of course this IS Mardi Gras, and you'd be doing yourself a huge disservice without making a quick trip to the New Orleans staple, Pat O'Brien's.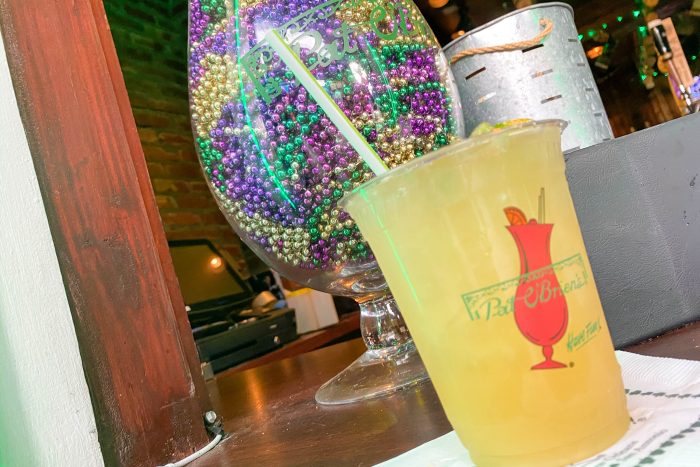 # 5 – Tribute Store
For the past few years at Halloween Horror Nights, Universal created a Tribute Store that gives guests a true shopping "experience." For the first time, a Tribute Store was created for Mardi Gras, elaborately themed to the creepy and macabre side of N'awlins. Inside the store, guests will find two rooms full of merchandise: the first room recreating a Jazz hall, while the second is themed as a cemetery. Filled with photo-ops, the Tribute Store is a must-do for all guests.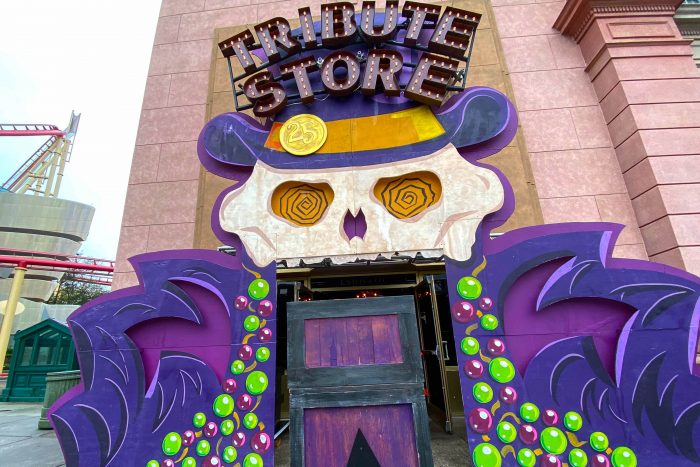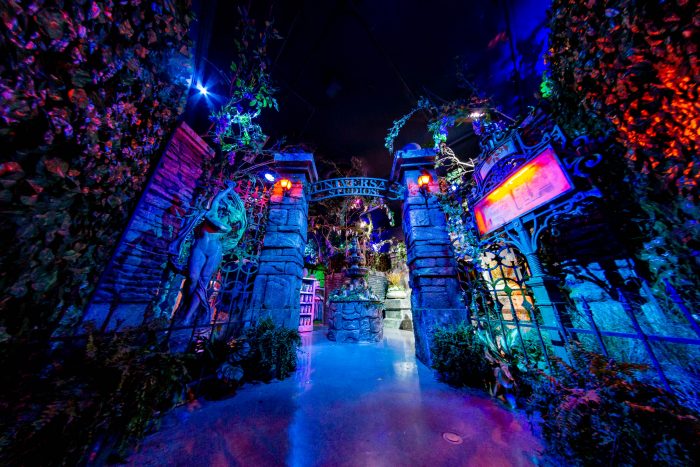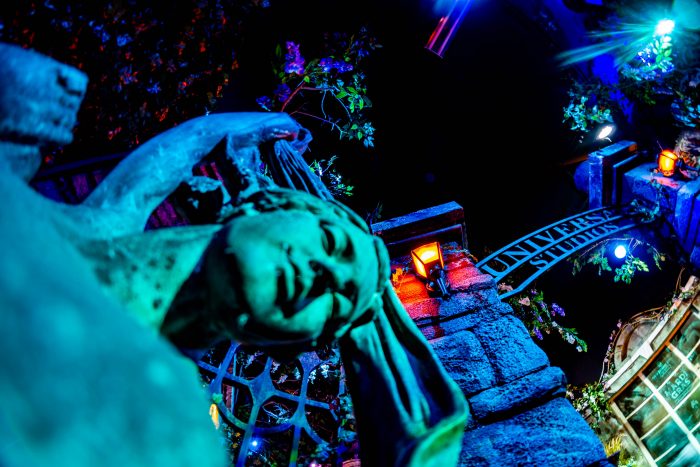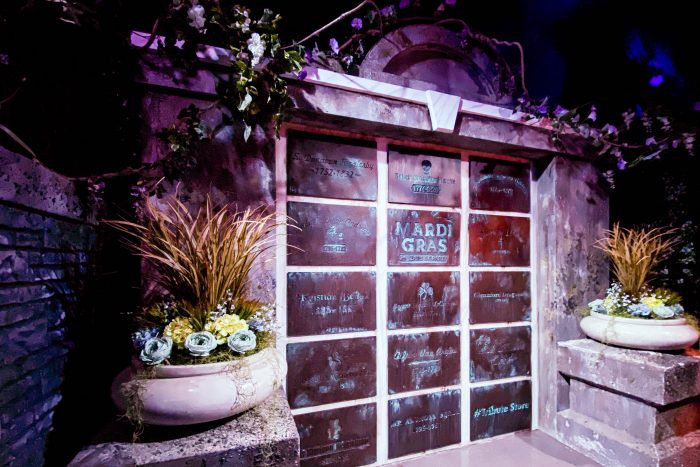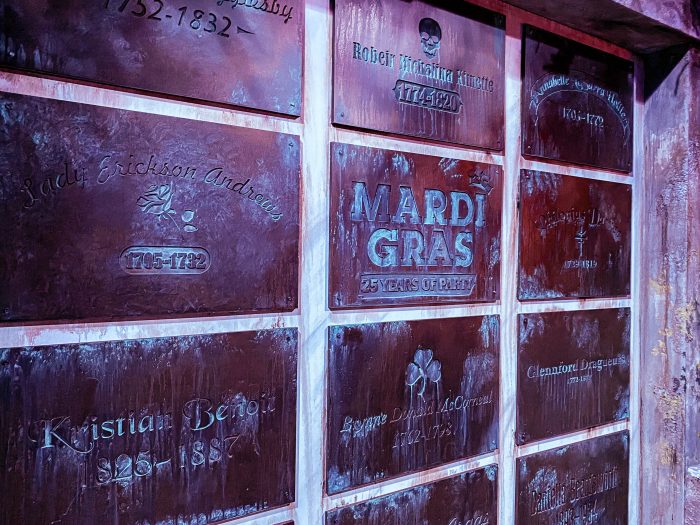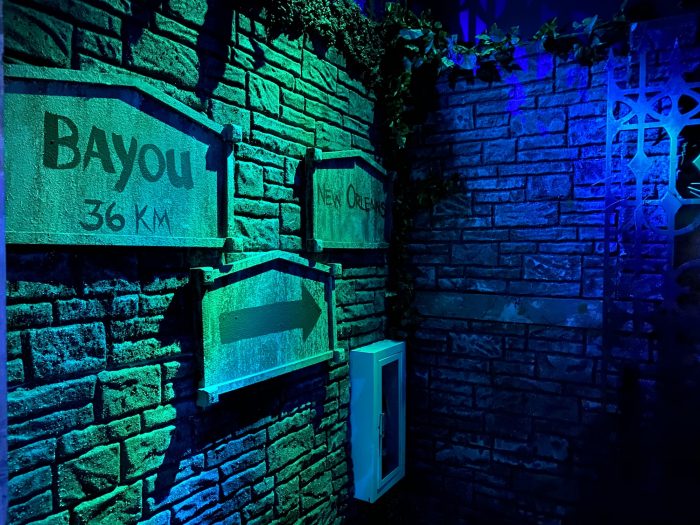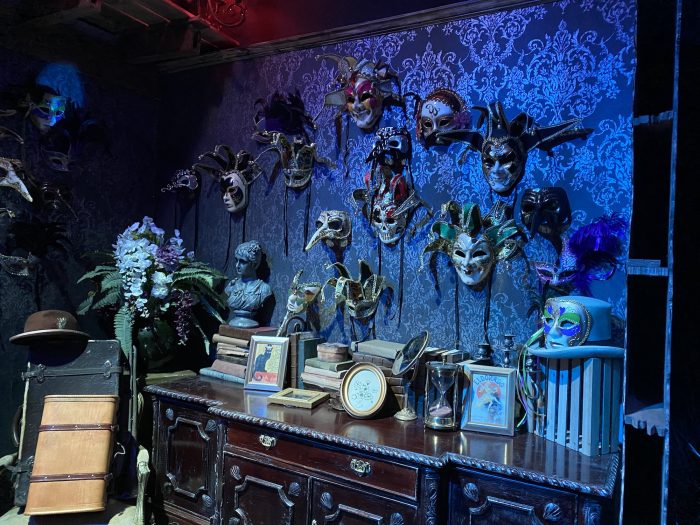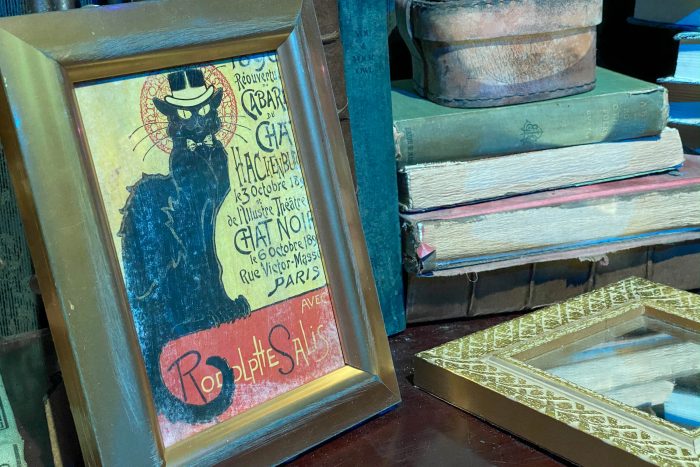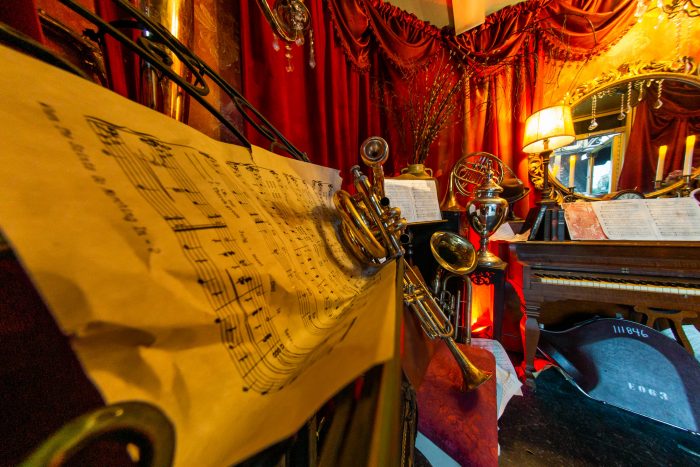 Baron Samedi – a longtime part of New Orleans Mardi Gras culture – is represented in the Tribute Store.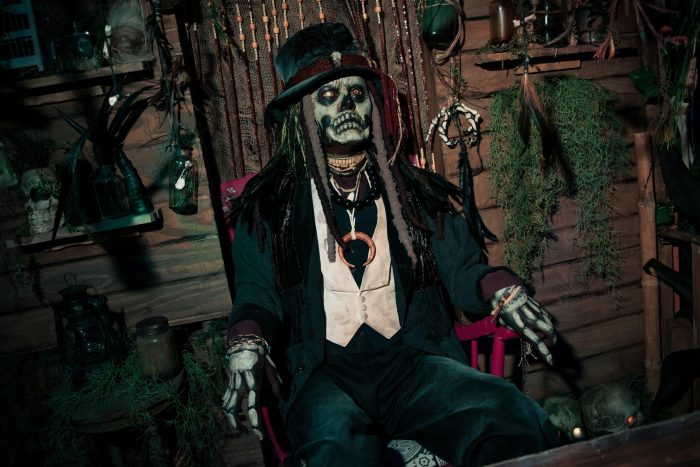 # 4 – The Merch
Not only is the Tribute Store filled with Mardi Gras related merchandise, but you'll find items related to the event across Universal Studios Florida. Our favorite item? Well, once again Universal has commissioned artist Shelby Denham – who has done some bravura work for HHN – to create an incredible piece of artwork based on Baron Samedi that guests can purchase as a print.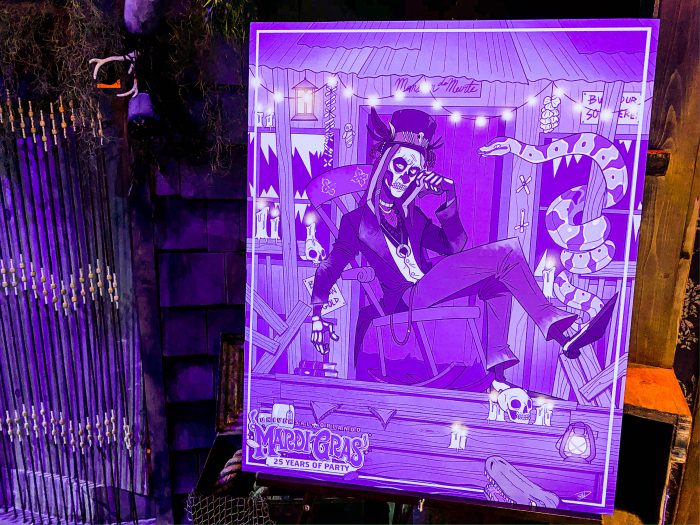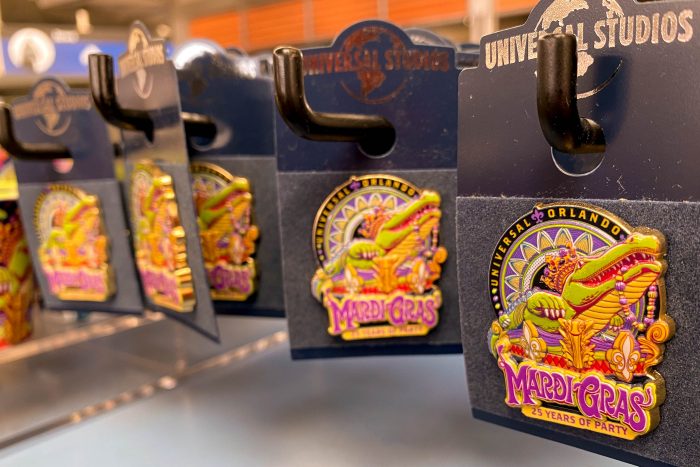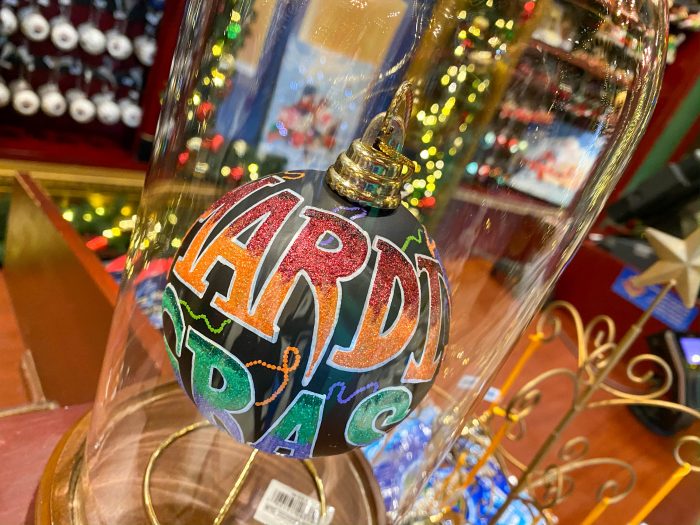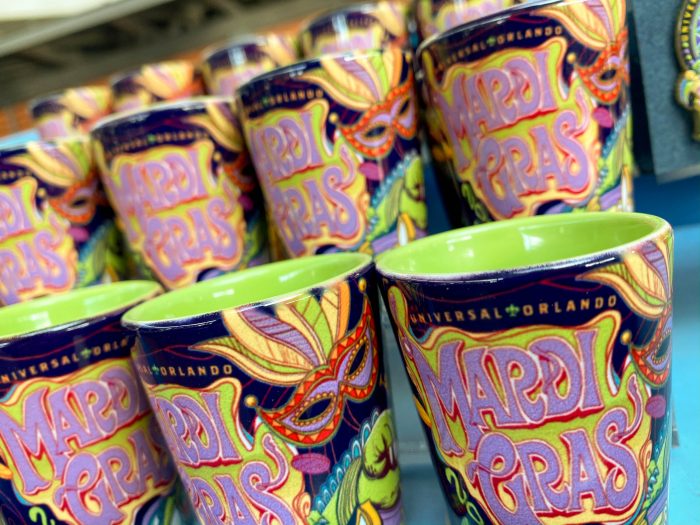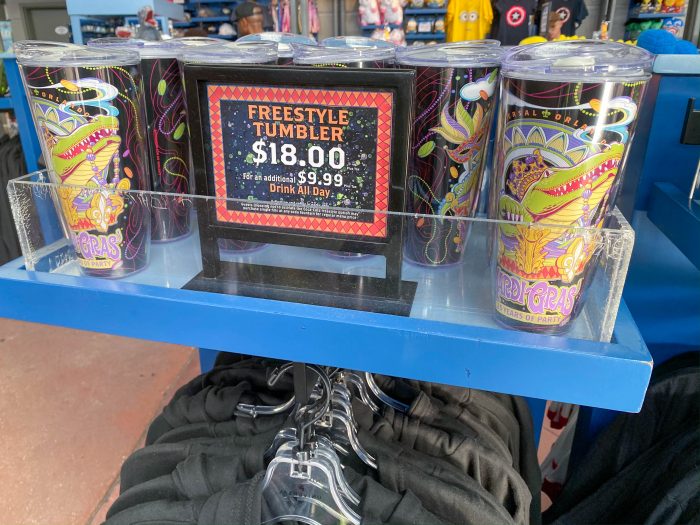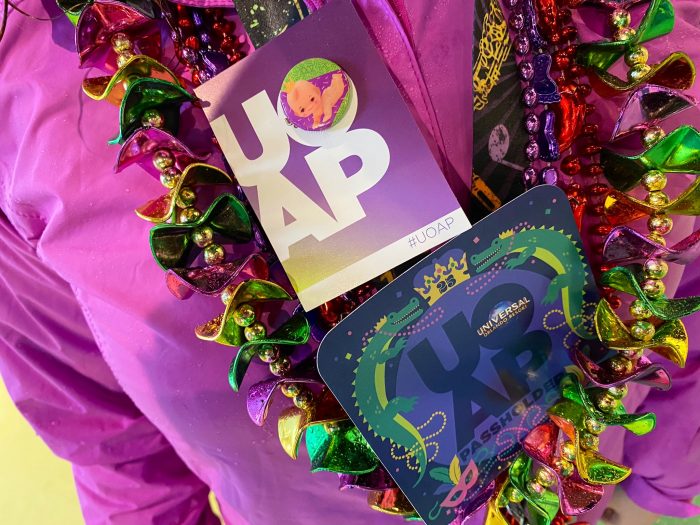 # 3 – Food and Drink
One of our favorite places on Disney property is Port Orleans French Quarter and a big reason for that is the cajun style food available in the food court. Beignets, king cake, po' boys, gator bites, shrimp gumbo, red beans & rice, Andouille sausage, and jambalaya are all on the menu at Universal's Mardi Gras. In fact, these options in the French Quarter Courtyard combined with the offerings at Fast Food Blvd and Diagon Alley make USF (during Mardi Gras season) the greatest single place on Earth for theme park snack eating. To celebrate the 25th anniversary of the event, the Courtyard will also offer a rotating food booth where the menu changes every two weeks. Each of the menus will focus on a part of the world that celebrates Mardi Gras and highlights local ingredients and flavors. This includes, Trinidad and Tobago, Louisiana Creole, Brazilian Carnivale, and Germany.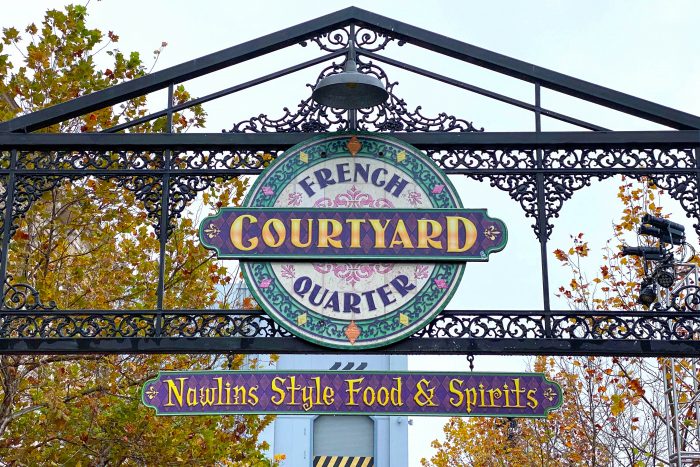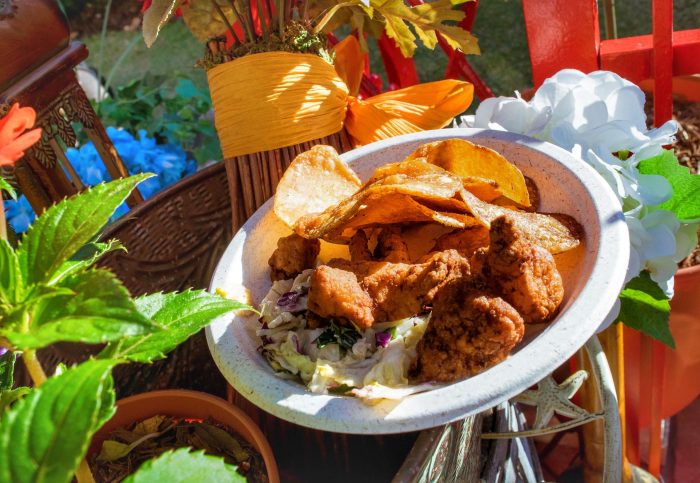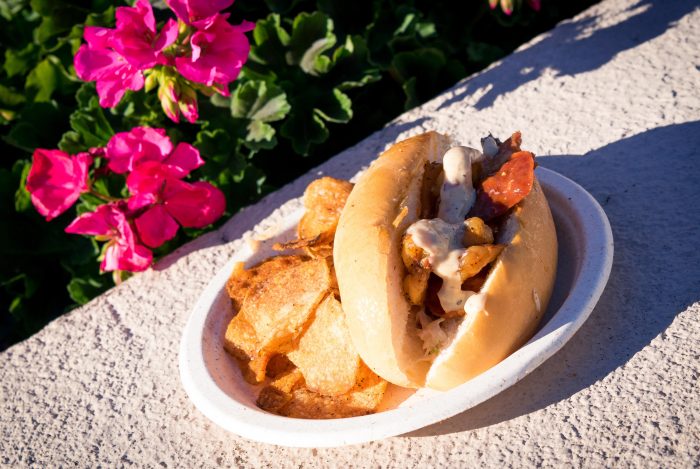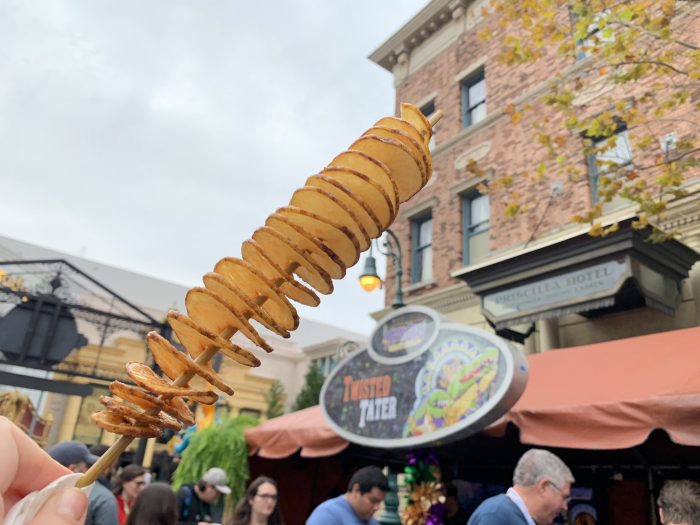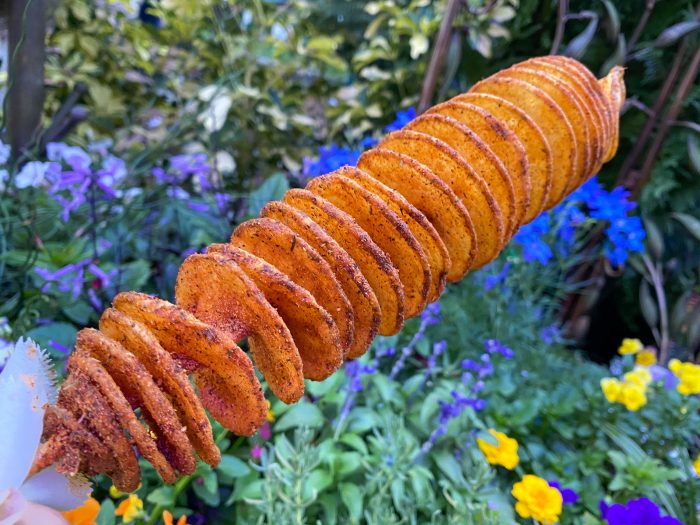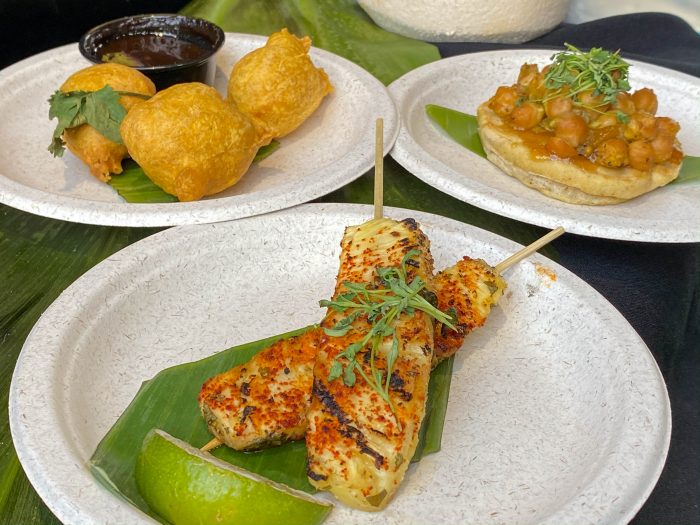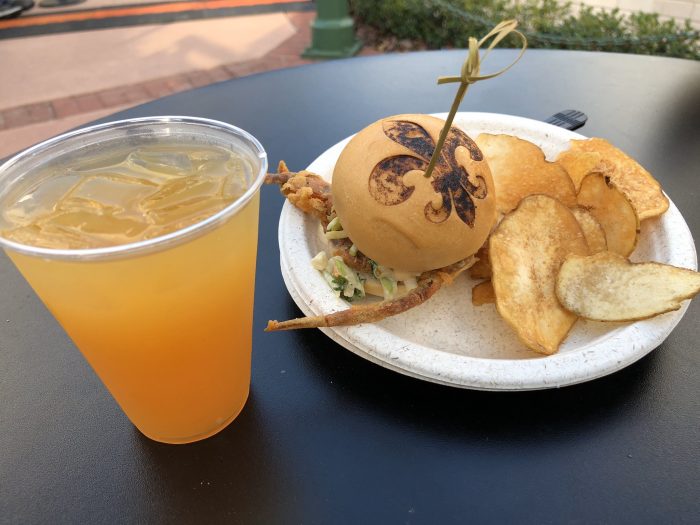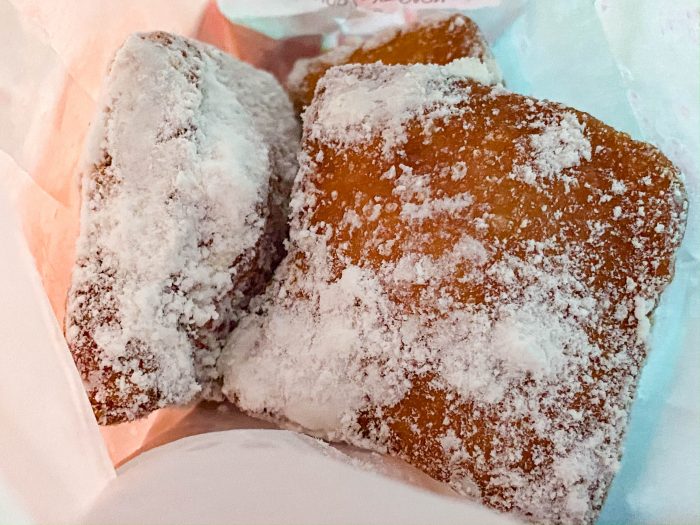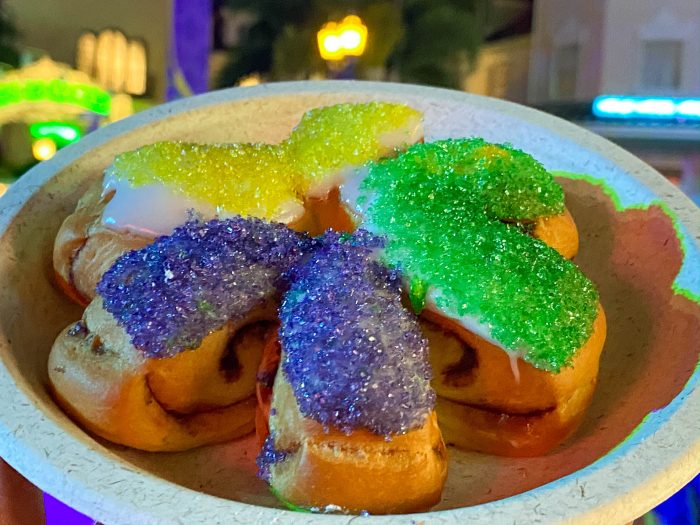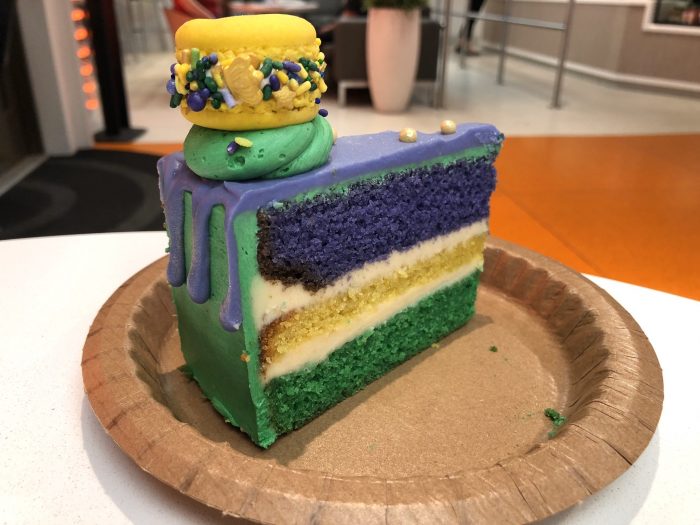 The backdrop of the French Quarter Courtyard was also very friendly for anyone photographing their favorite food or drink.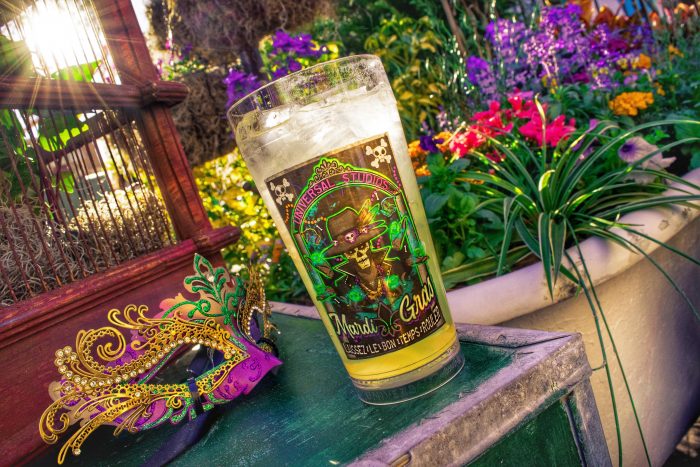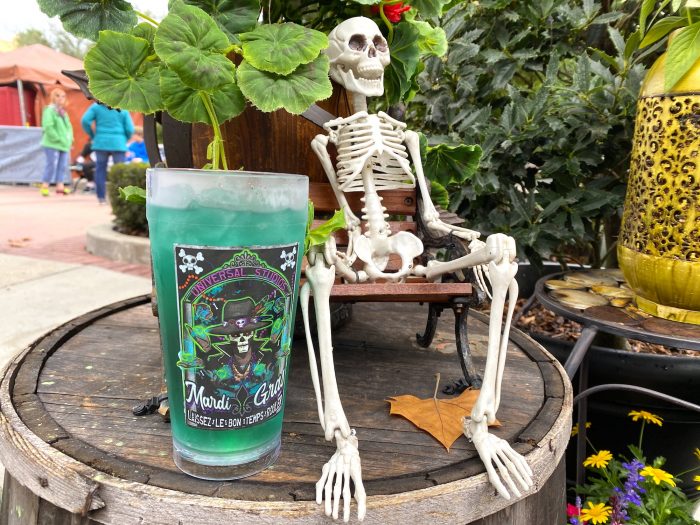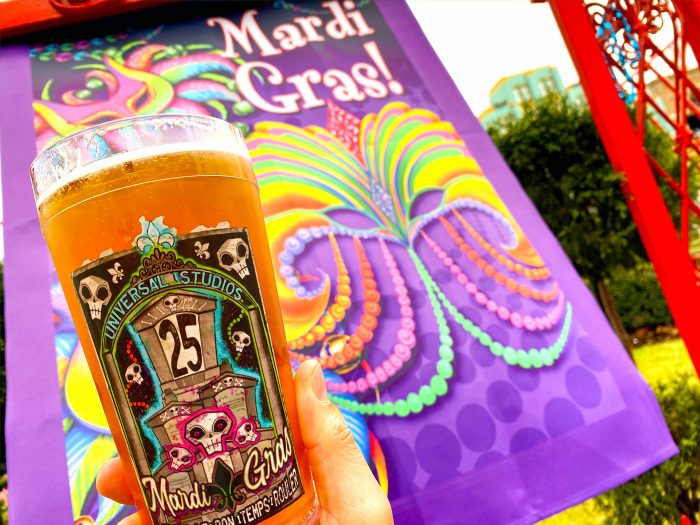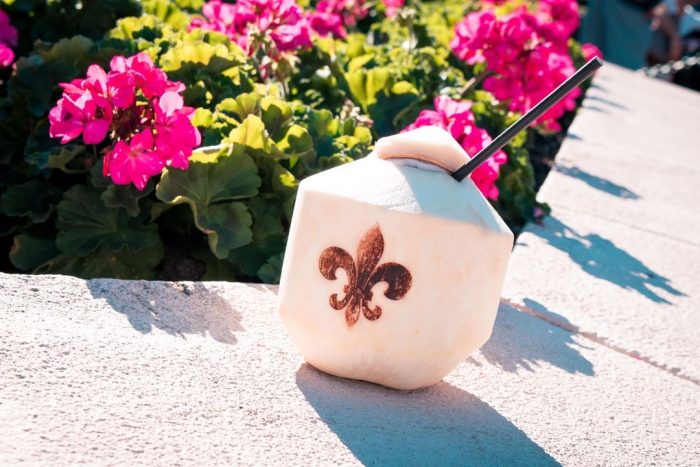 The Courtyard also had several nice photo ops for guests, including this throne.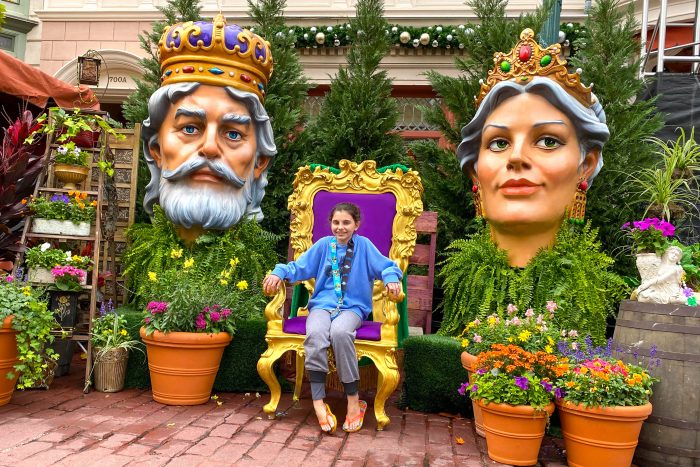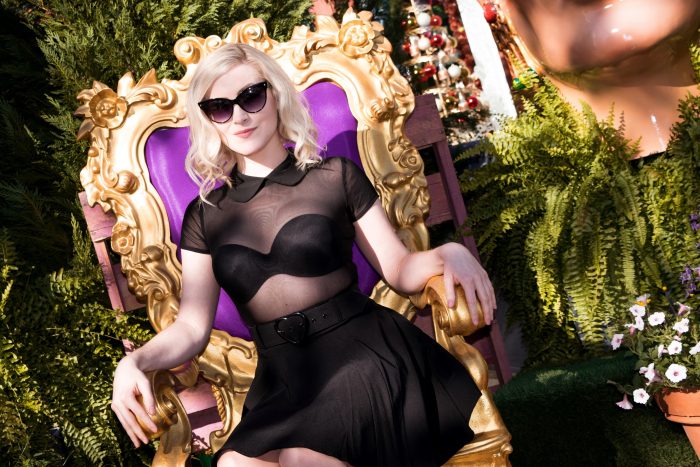 Mardi Gras themed food and drink was also available throughout the park as well.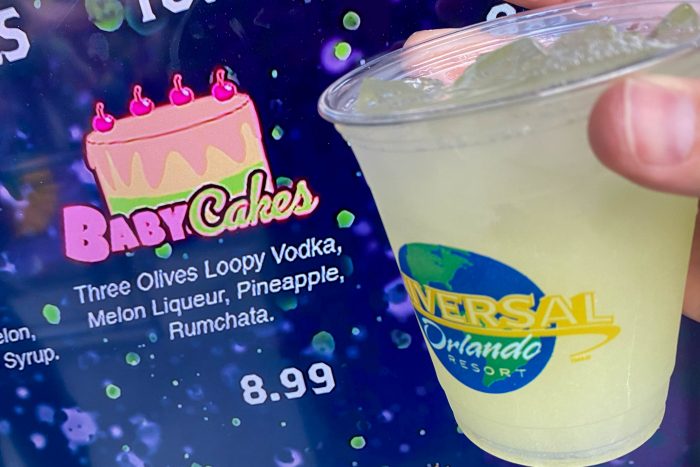 One of our favorite snacks was also one of the hardest to track down. Available only at Schwab's Pharmacy in the Hollywood Section of Universal Studios Florida, were the Float Floats. These three beverages were inspired by some of the new parade floats this year, whose theme is Treasures of the Deep. Now finding Schwab's open was a challenge, as Schwab's makes Banker's Hours look like Wal-Mart Hours in comparison. However, the floats lived up to the hype and included: Mardi Gras (pineapple and lime soft serve ice cream, grape soda, blueberry boba and waffle cone flag), Sunken City of Atlantis (vanilla soft serve, wild berry soda, mango boba and gummy shark), and Shipwreck (pineapple soft serve ice cream, chocolate soft serve, pineapple soda, cotton candy and waffle cone flag).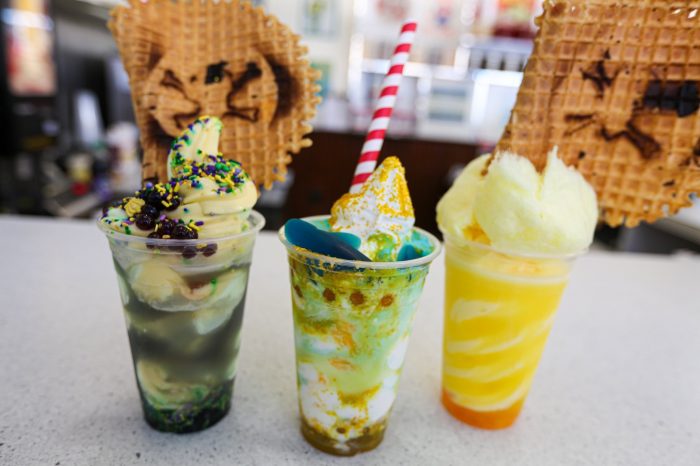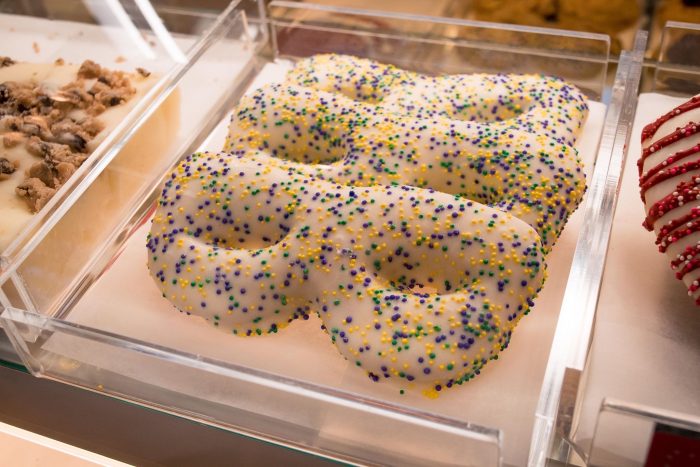 If you brought your appetite to Mardi Gras, the all-you-can-eat Bayou Boil is where you want to be. The boil features crawfish, chicken, jambalaya, and desserts with special parade viewing. Tickets start at $59.99 plus tax per adult, $39.99 plus tax per child. This was possibly THE best value in the park when it started last year, and people caught on. However it is still worth going out of your way to experience it. (Not a seafood fan? Then enjoy chicken and andouille sausage jambalaya upon request.)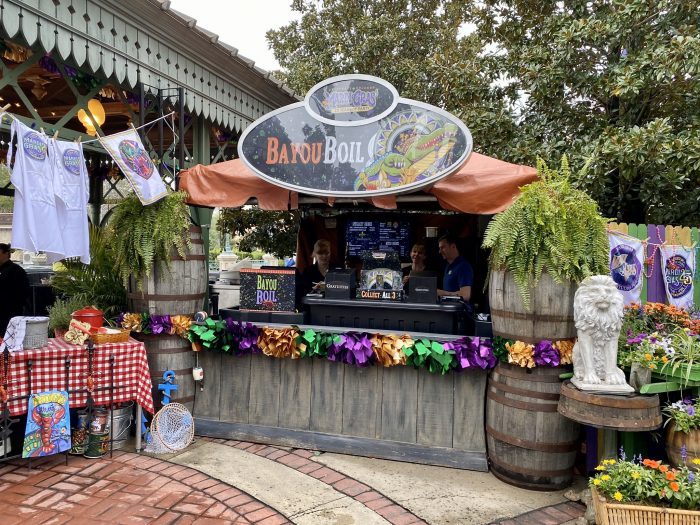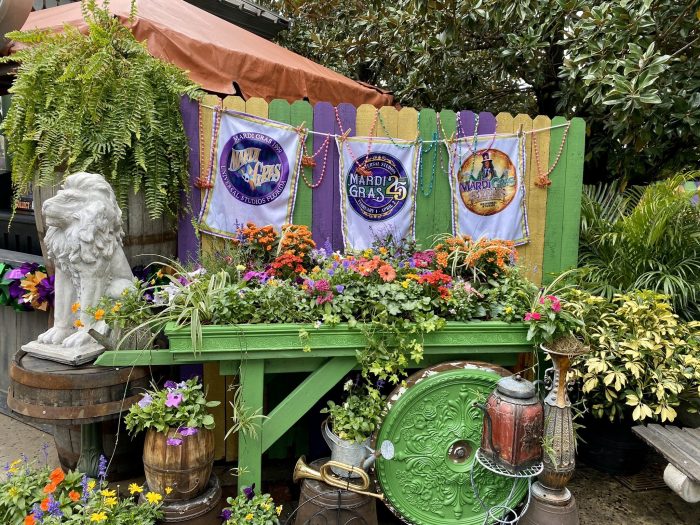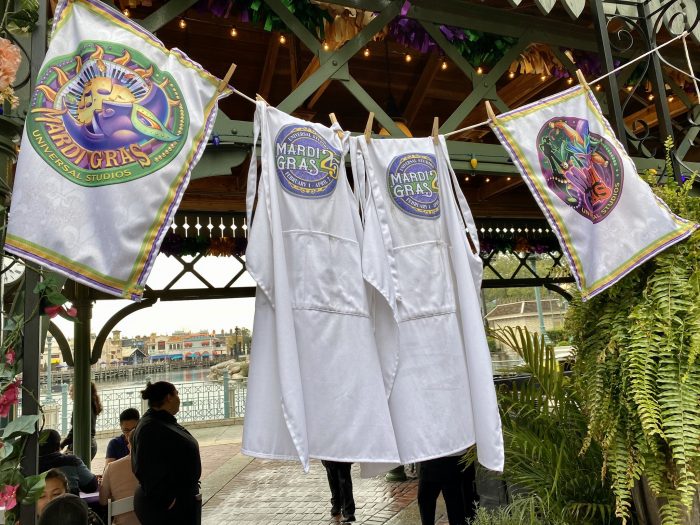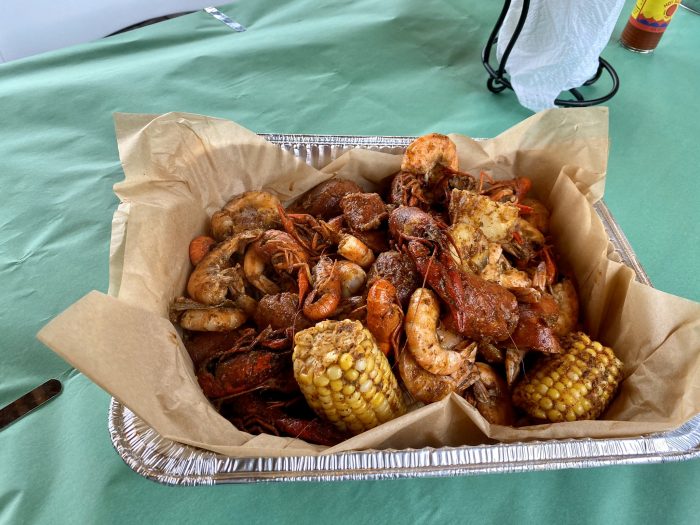 # 2 – The Live Music
The crown jewel of Mardi Gras are the headlining concerts that include some of the biggest names in music. From R&B to EDM, Alternative Rock to Country, these artists perform full musical sets, and it's completely included in park admission! This year's line up is one of the biggest, most diverse yet: The Roots, Karol G. Bell Biv Devoe, Live, Kool & the Gang, TLC, REO Speedbwagon, Dustin Lynch, Luis Fonsi, the All-American Rejects, Diana Ross, Chris Young, Earth Wind & Fire, Marshmallow, Why Don't We, and Gavin Degraw.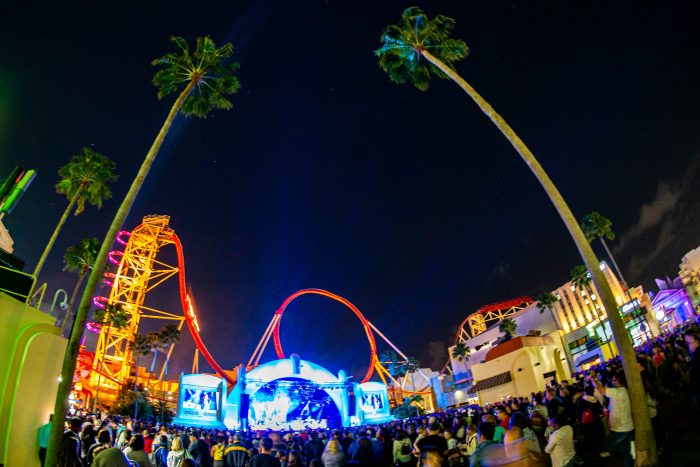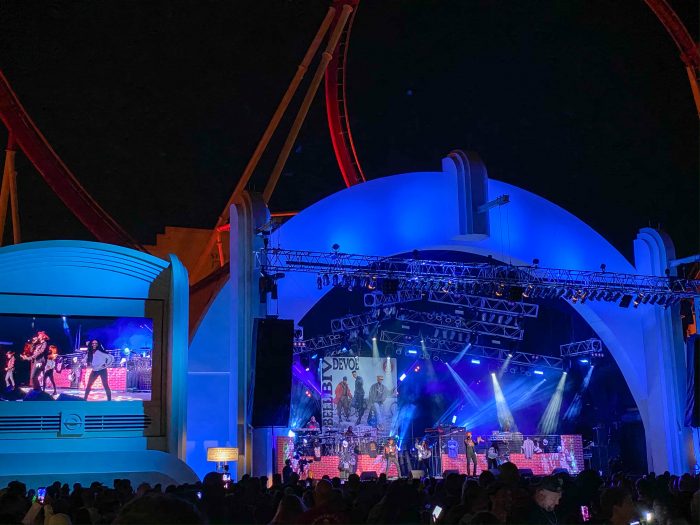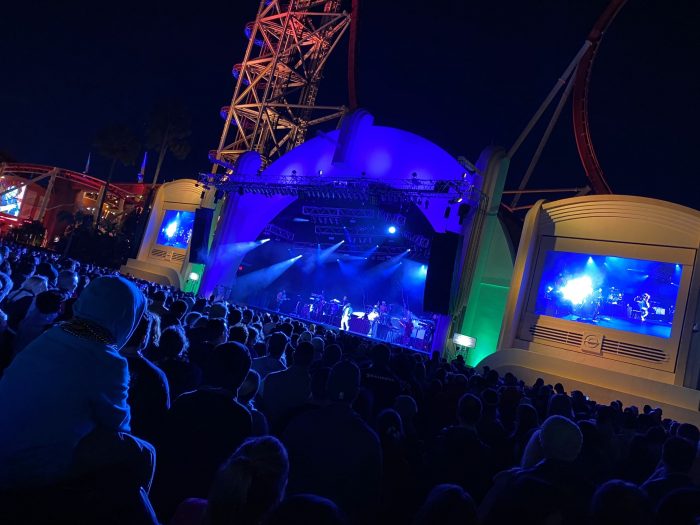 One of the things I truly loved about Disney's former Night of Joy parties was the amount of smaller bands and musicians that they would bring in and let perform inside the park. It's great to see the headliners, but it is also nice to appreciate the smaller names, many of which guests would never know of, but has to be a once-in-a-lifetime moment for the performers. For Mardi Gras, Universal brings in authentic New Orleans musicians for these live performances. This is a wonderful touch that lets guests enjoy musicians in a more intimate setting.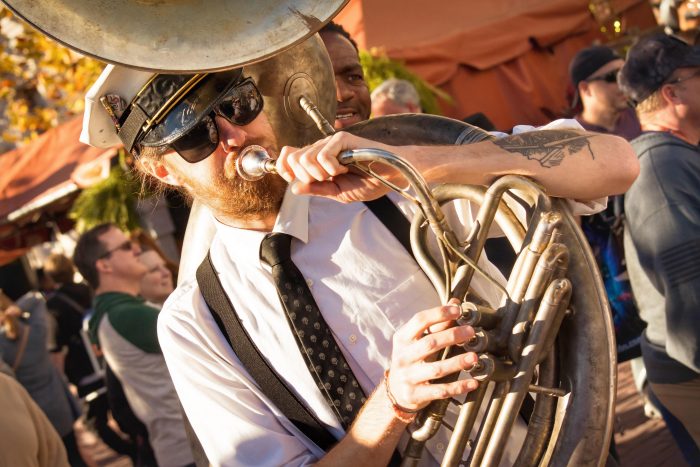 # 1 – The Mardi Gras Parade
One of the most popular things at every Universal Mardi Gras celebration at Universal is the parade. Filled with colorful floats and characters, the parade has a unique energy that fits perfectly within the party theme. While Disney is the market leader in incredible parades such as Festival of Fantasy and Disneyland's new  Magic Happens, Universal's Mardi Gras is a whole lot of fun and is "interactive" because you'll catch a ton of beads being thrown from the floats! Each year there is a mix of the classic Mardi Gras floats of years past mixed in with new floats created for this year's theme (which, as mentioned above, is Treasures of the Deep.) The music is lively, the colors are popping, and everyone is having a blast.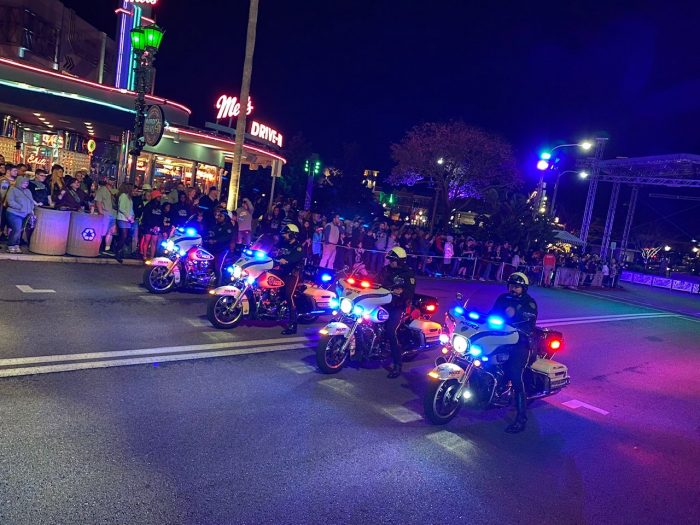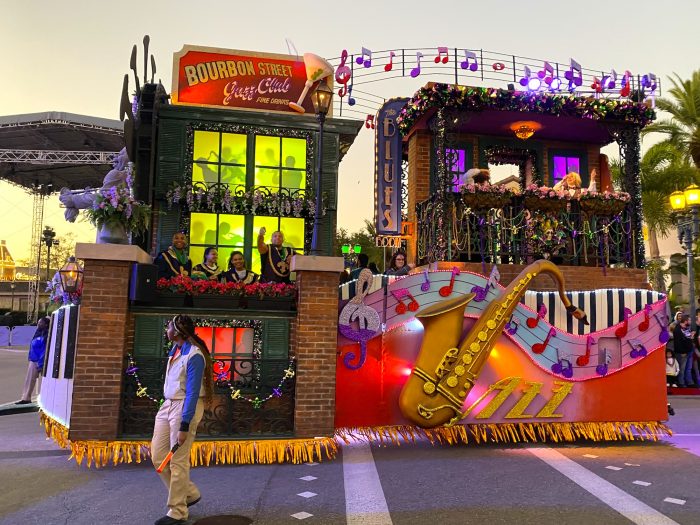 To get an idea of how much the lighting at night transforms the park and help makes the parade look even better, check out this aerial of Universal Studios Florida taken during Mardi Gras by @bioreconstruct.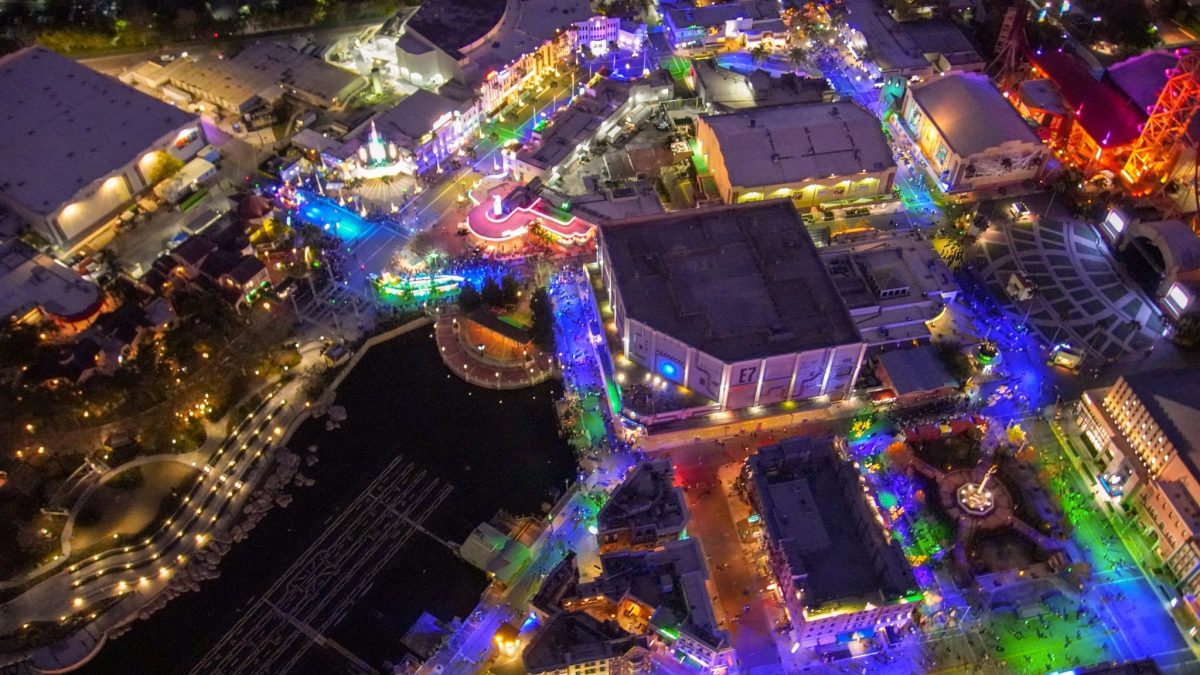 The parade floats themselves look fantastic and are engineered by Kern Studios, the same company that has created floats for the iconic New Orleans celebration since 1947. Now, when I first saw my first Mardi Gras parade at Universal, I was taken back by the floats being driven by pick up trucks. I was so used to Disney parades that my mind thought, "well that seems to be a cheap way to go" It wasn't until afterwards that I found out the Mardi Gras parade in New Orleans does the exact same thing. The trucks were making everything more authentic (same withe police bikes used to start the parade).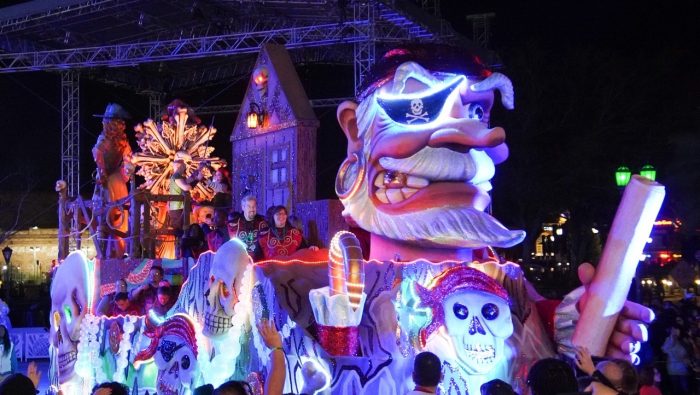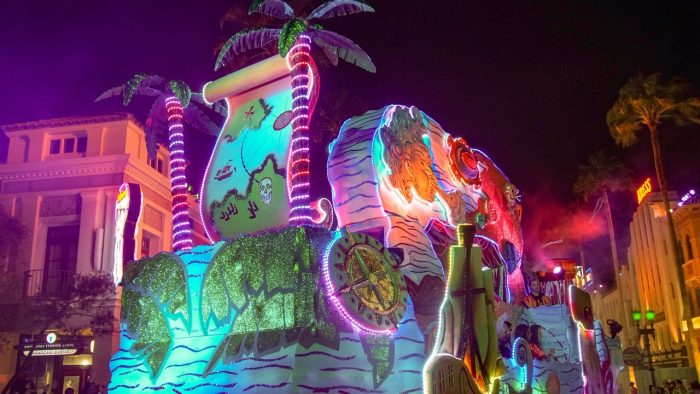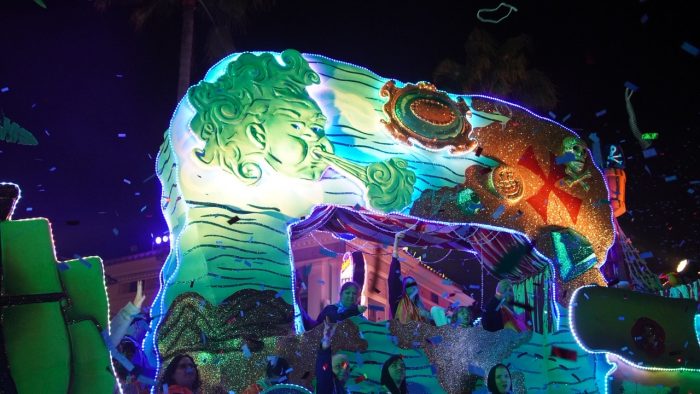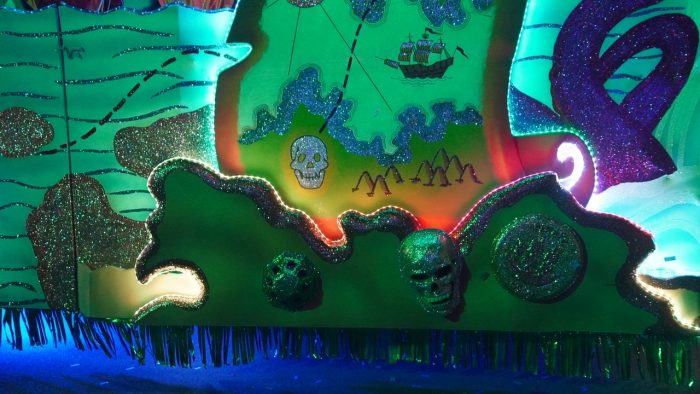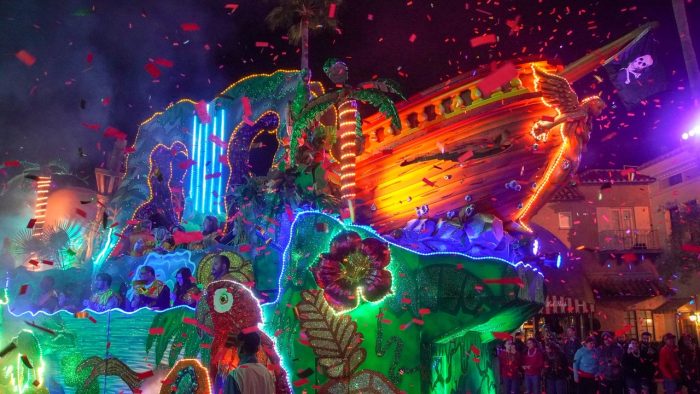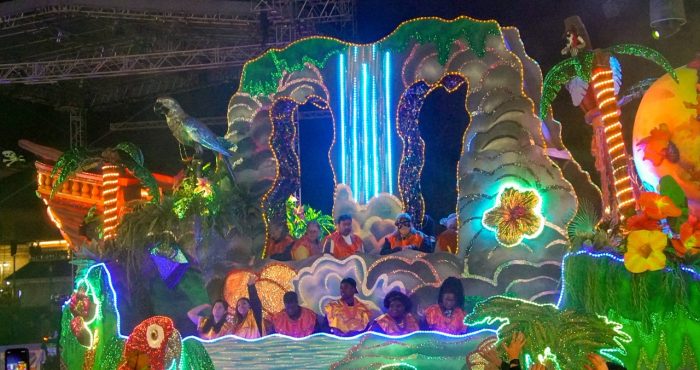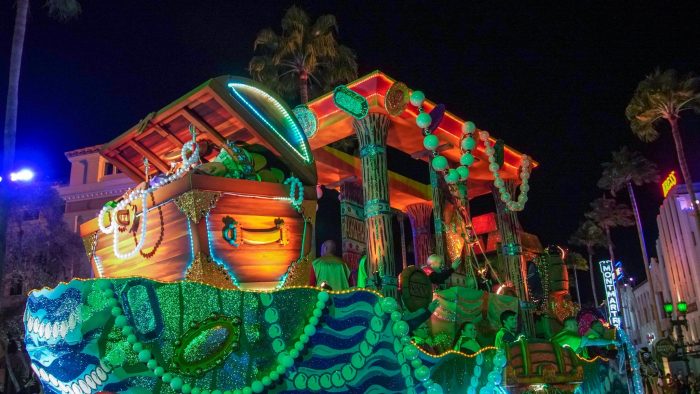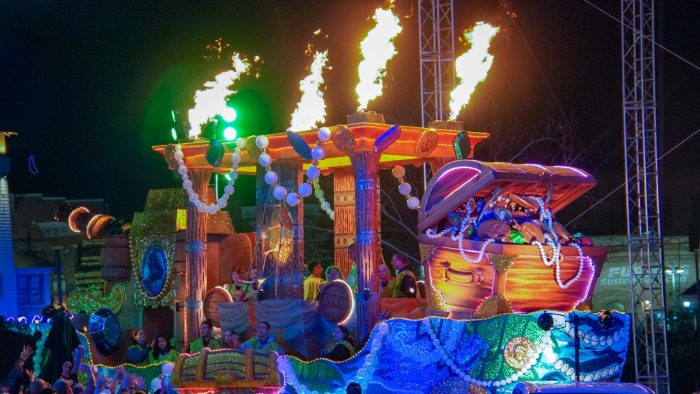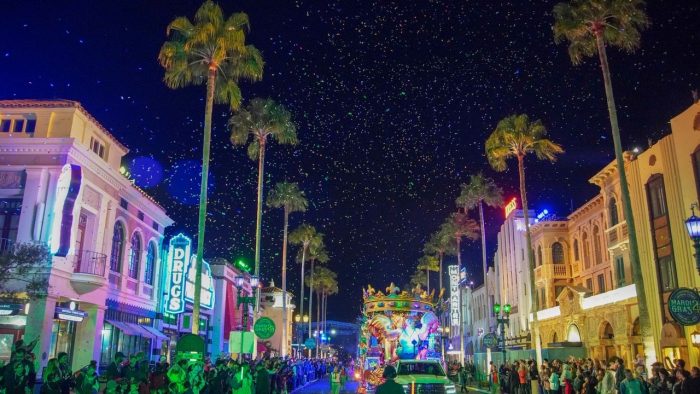 The unofficial icon of Universal's Mardi Gras celebration is the King Gator float, and this year the float looks better than ever decked out for the 25th anniversary.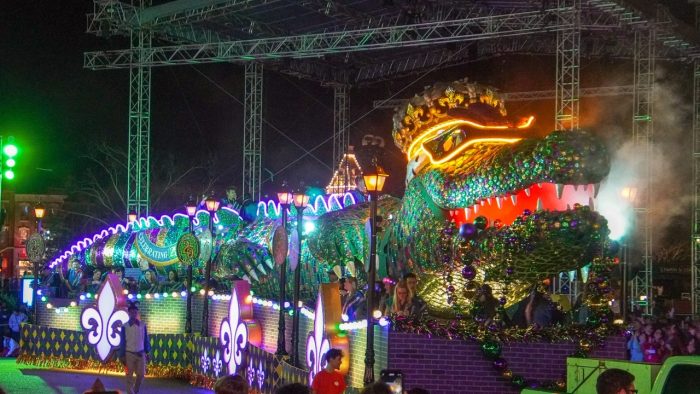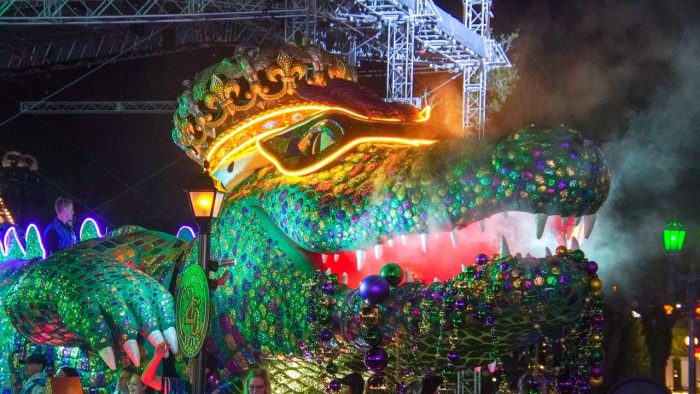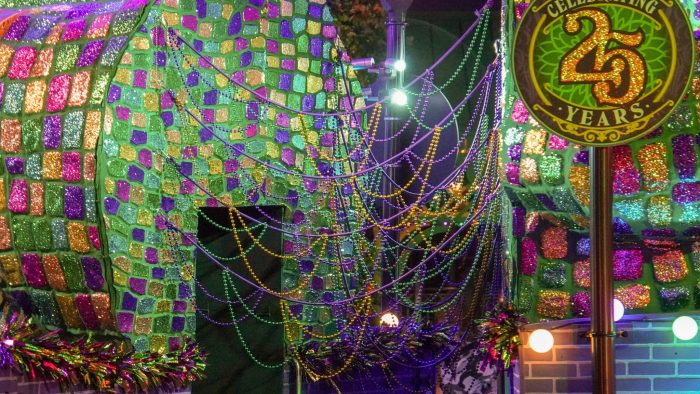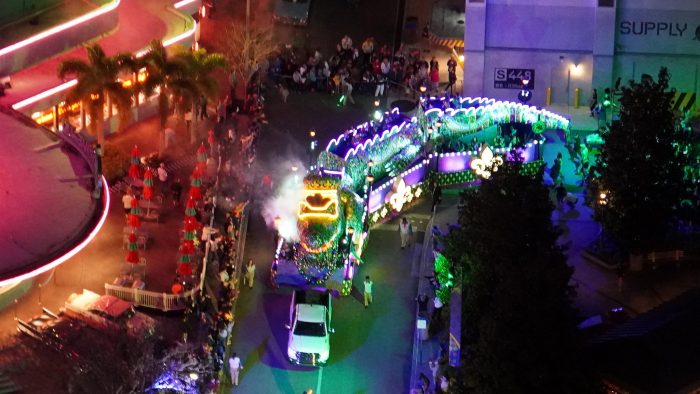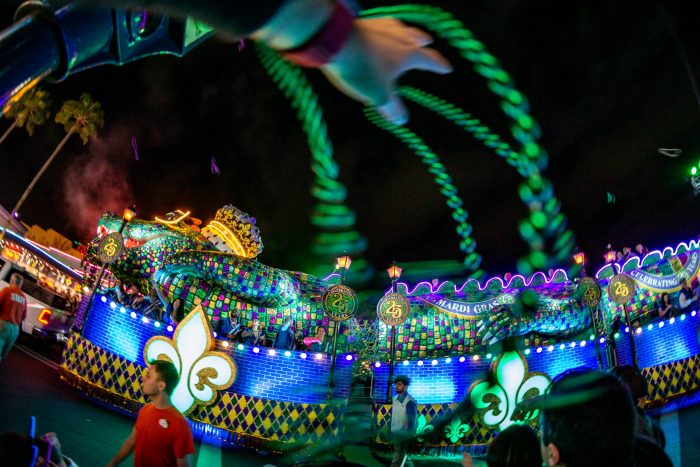 Who doesn't like catching beads?!!!!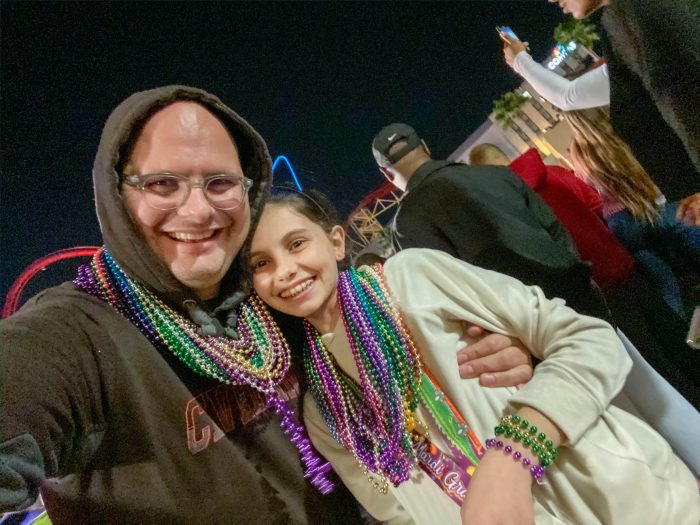 Honorable Mention – Guests on Floats
What's better than catching beads? THROWING THEM. That's right, guests are able to be on the Mardi Gras floats and toss beads to the crowd. This is one of the most fun things to do in any theme park and it is absolutely free.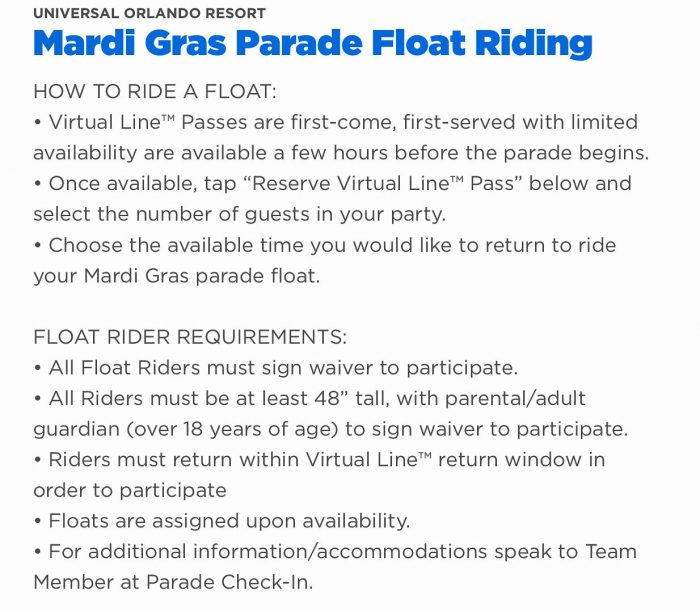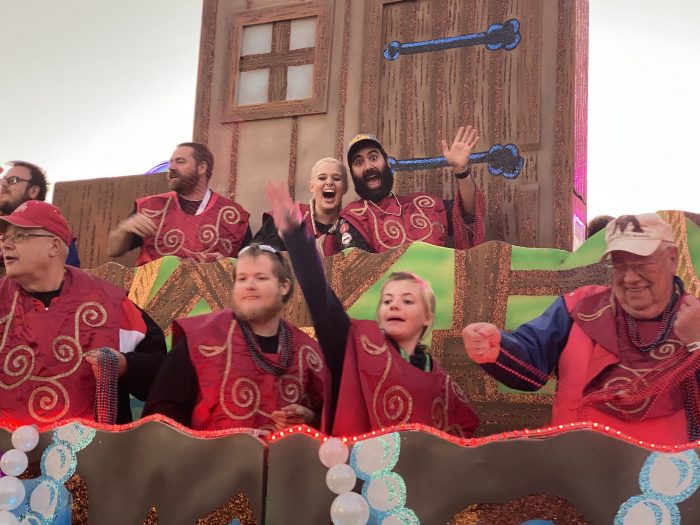 If you have a picture of yourself on a Mardi Gras float from 2020, send it to Derek@TouringPlans.com and we'll add it in!
Double Secret Honorable Mention: The Team Members
Get your cameras ready because there are a ton of colorful characters throughout the park, and working the parade route.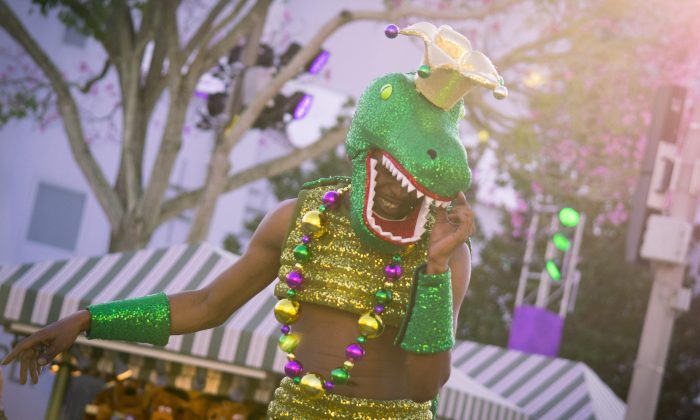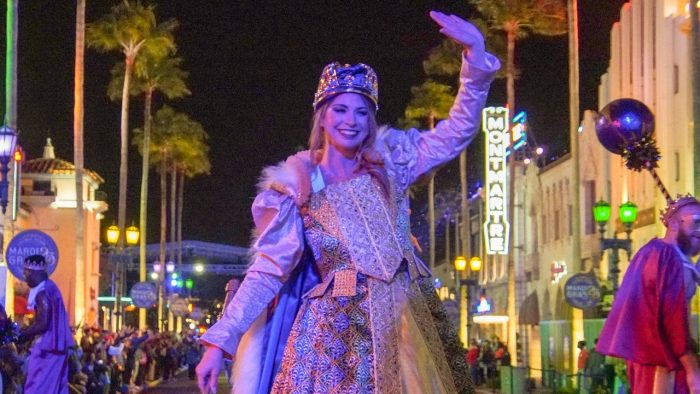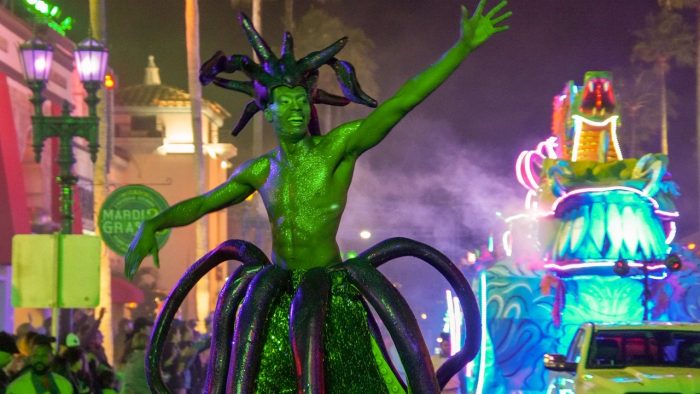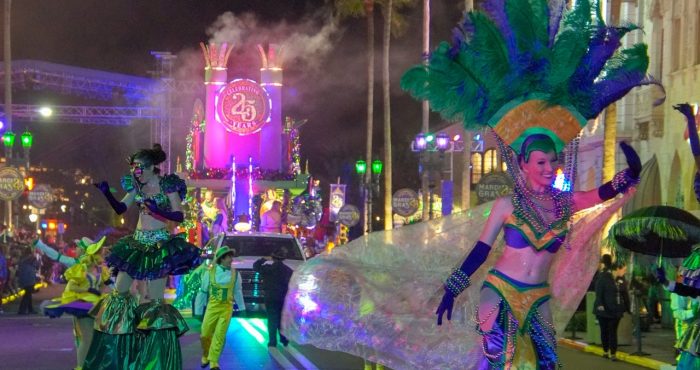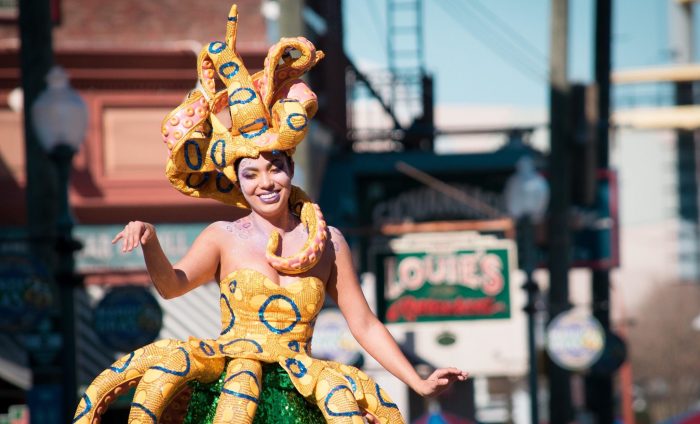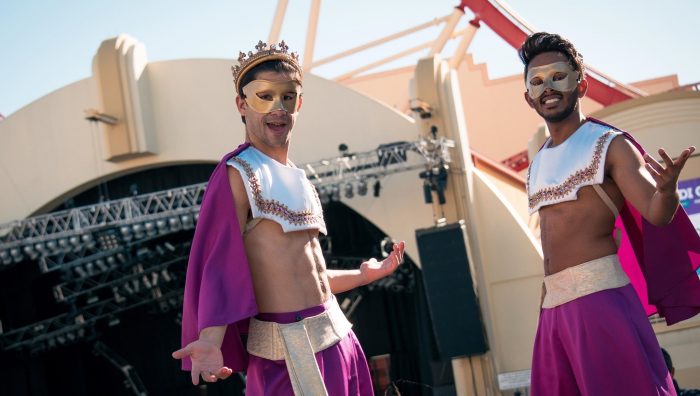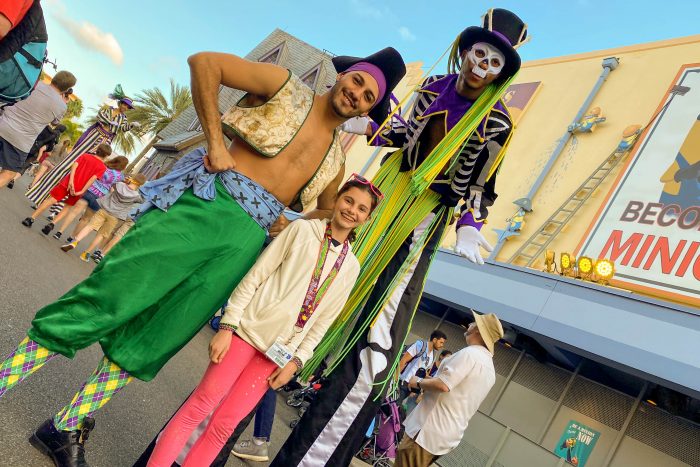 Even Hashtag the Panda can be seen getting into the fun. Here he is tossing out beads from Race Through New York – Starring Jimmy Fallon.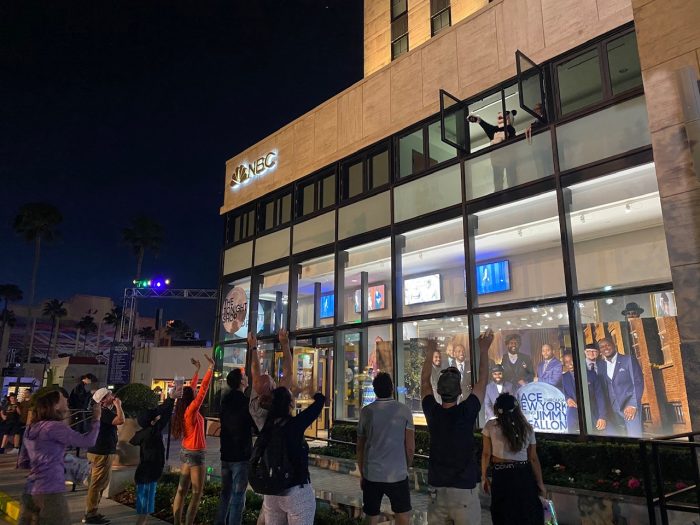 So there you have it: Six Reasons We Love Universal's  2020 MARDI GRAS! See you next weekend for the latest installment of the SATURDAY SIX, where we'll look at something fun from the world of Disney and Universal. If you enjoyed yourself, be sure to check out The Magic, The Memories, and Merch! articles covering the latest from the Disney Outlet Stores. You can also follow Your Humble Author on Twitter (@derekburgan).
If you enjoyed this article, you will surely like the following: 
Getting To Know Universal: Mardi Gras 2020
The 4th Annual Theme Park Turkeys of the Year (featuring art by Shelby Denham)
The SATURDAY SIX looks at @bioreconstruct's FAVORITE aerial photos
Special Thanks to The Elite Brandon Glover, the bio-est of all reconstructs @bioreconstruct, Captain Cruiseline Scott Sanders of the world famous Disney Cruise Line Blog, my personal protege Hunter "Elvey" Underwood, the SAT SIX Fun Squad of Parkscope Joe and Nick, hot shot Michael Carelli, and Hermione Granger's tutor Megan Stump for their invaluable assistance with this article. The SAT SIX is inspired each week by goofballs Aengus Mackenzie and LitemAndHyde and you Potterheads will  enjoy Meg's other blog work over at the Central Florida Slug Club.