'Ohana Breakfast: You're Really Going for All-You-Can-Eat Waffles
'Ohana has long been one of the most popular restaurants at Walt Disney World due to its tropical-inspired character breakfast and feast of skewered meats and bread pudding for dinner.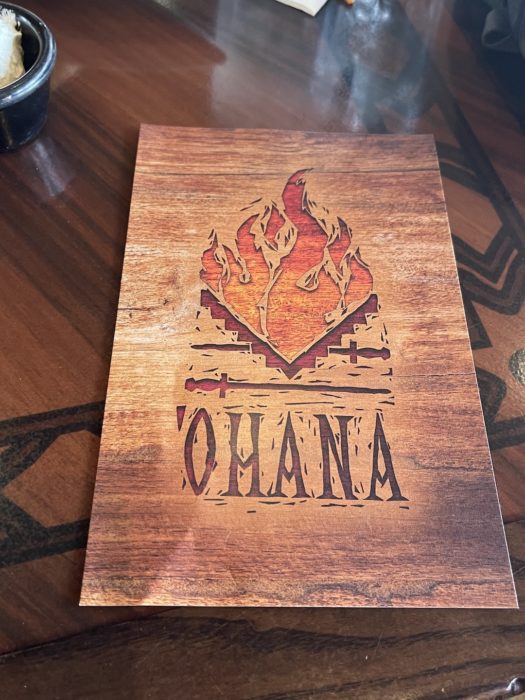 However, guests haven't been able to enjoy this Polynesian Village Resort staple since Walt Disney World reopened in July of 2020. That is, until now. But this isn't exactly the same 'Ohana that you remember.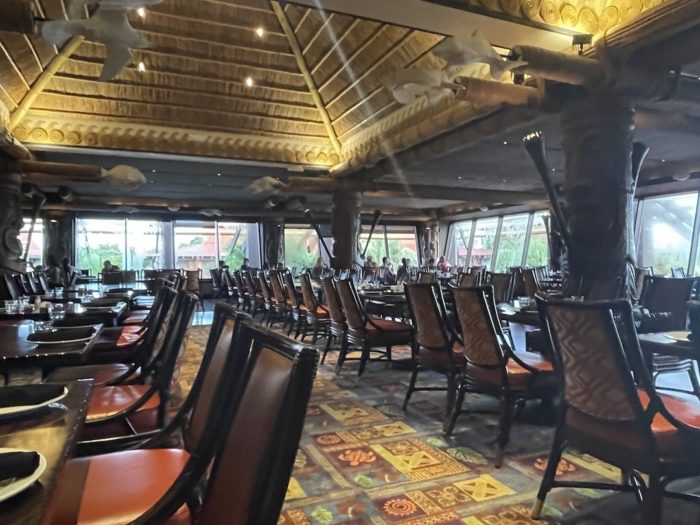 Located on the second floor of the Polynesian Village Resort, the dining room still has the South Sea Pacific vibe, an abundance of tikis, and that view of Cinderella Castle's spire. However, 'Ohana's characters have yet to return at the time of writing.
Our park reporter Chrissy has already covered the changes to 'Ohana's popular dinner fare, but you know we had to come back to check out whether this new, character-less breakfast is worth a visit.
What You Need to Know
Breakfast at 'Ohana is priced at $25 per adult and $14 per child before tax. Annual Passholder discounts are accepted. In addition, the food is served family-style meaning it's all-you-can-eat and is brought to your table.
Now due to the restaurant's popularity, and the fact it hasn't been open since March 2020, you're going to want a dining reservation as getting a walk-up table is pretty much a miracle. But if you're already within your 60-day window, consider using the TouringPlans Reservation Finder.
The Menu
'Ohana's breakfast menu is typical American fare with tropical flavors.
Seasonal Fruit & Freshly Made Pineapple-Coconut Breakfast Bread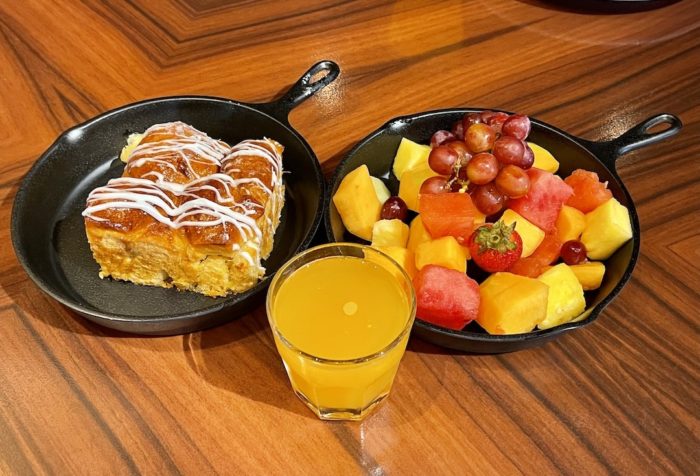 Not much to say here except that the helpings were plentiful and good! And of course we got POG Juice (passion fruit, orange, guava) to go with breakfast — it's included in the price.
'Ohana Breakfast Skillet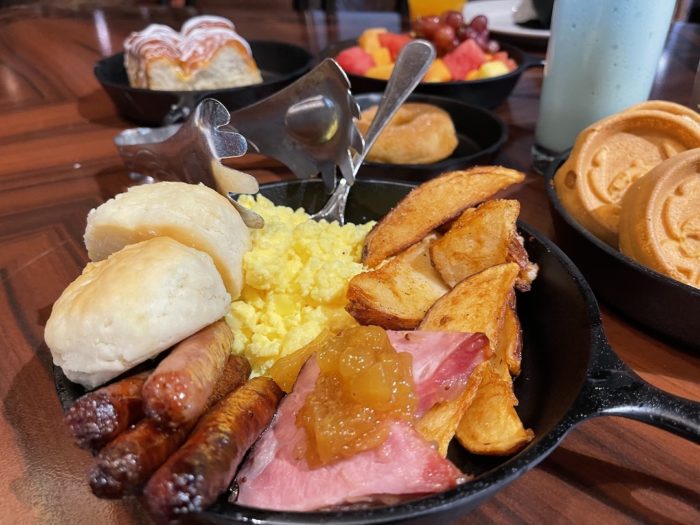 The breakfast skillet comes loaded with scrambled eggs, pork breakfast sausage links, Hawaiian-style ham topped with pineapple compote, fried island-style potatoes, Mickey-shaped Waffles, and biscuits!
It comes as no surprise that the best part of the skillet is, of course, the waffles! There's Stitch waffles served here, and that was a huge selling point for Chrissy's little one.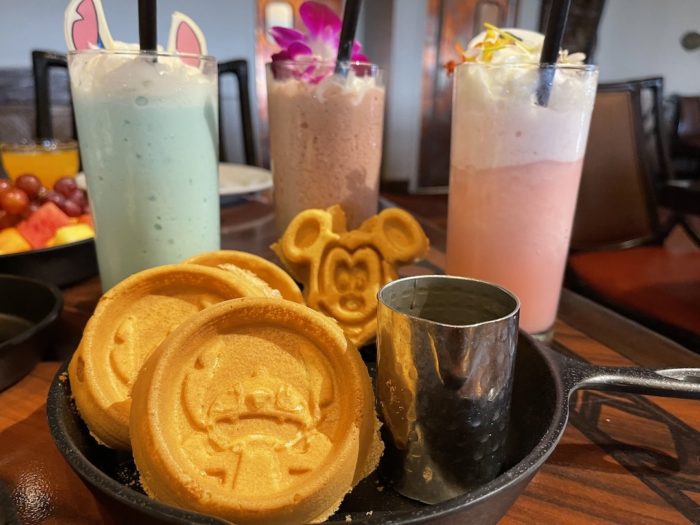 The rest of the fare was fine and just short of crossing the line to outright bad. But with that being said, some items – like the service – were likely due to first day issues. Nothing was cold, but nothing was hot either.
Smoothies
One of the best parts of the meal was actually an add-on, with a variety of tropical smoothies. For $6.49 each, they're a wonderful value. Plus, the attention to detail on top was so delicate and beautiful, and they all were delicious!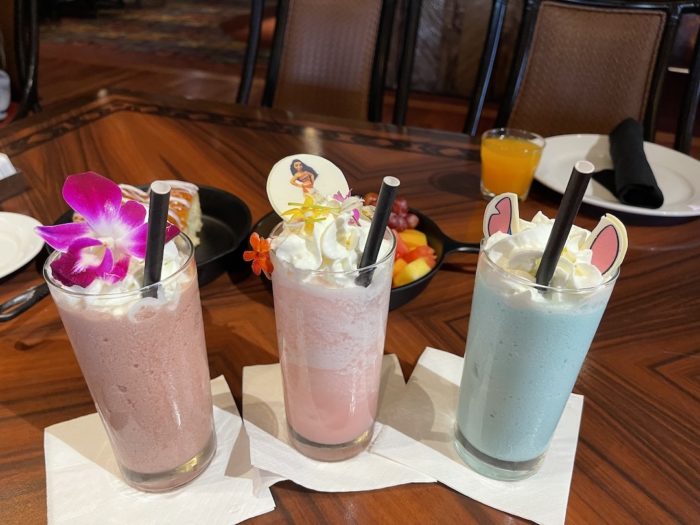 The options are as follows:
Vanilla, strawberry, and chocolate "Lilo" smoothie topped with an edible orchid.
Vanilla, mango, guava, and ginger "Moana" smooth that's also topped with an edible orchid and a chocolate Moana disc.
Coconut, vanilla, and pineapple "Stitch" smoothie complete with Stitch ears.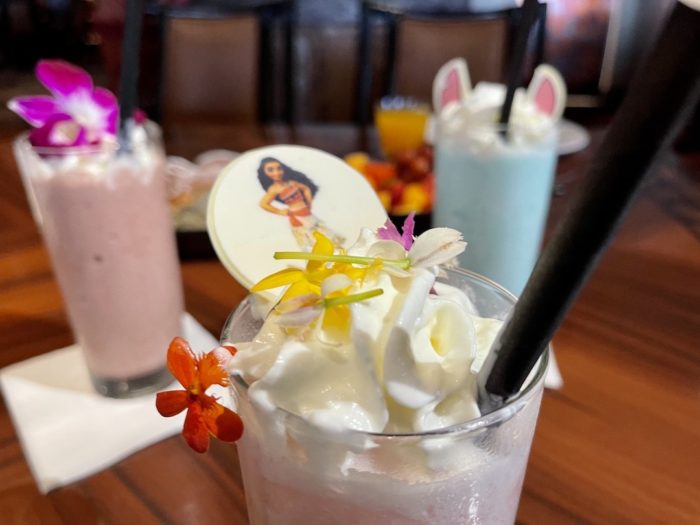 Chrissy's personal favorite was the Moana as it contained several juices like watermelon, mango, guava, and ginger. The edible flowers on everything coupled with the Moana chocolate disc was just delightful.
But regardless of what you choose, these smoothies are inexpensive, enormous, delicious, and so well themed. Chrissy was delighted with them, and the kids will be too.
Mimosa-Your-Way – $13.00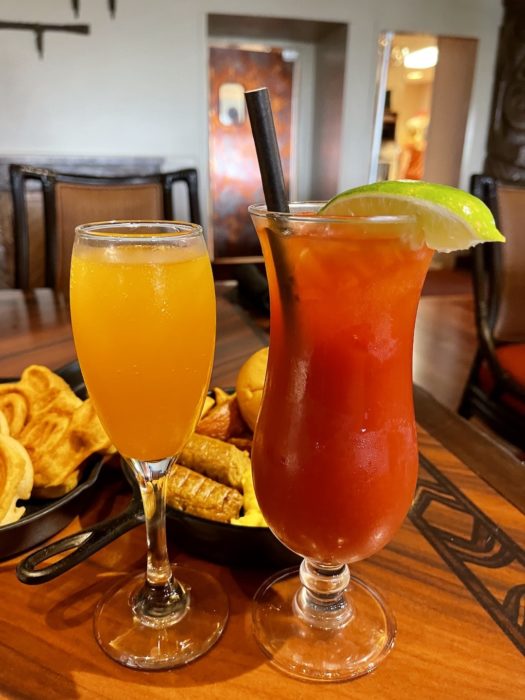 Listed as Domaine Ste. Michelle Brut Sparkling Wine with your choice of juice, Chrissy ordered this one with the pineapple juice and found it to be fruity and simply lovely.
Wasabi Bloody Mary – $13.00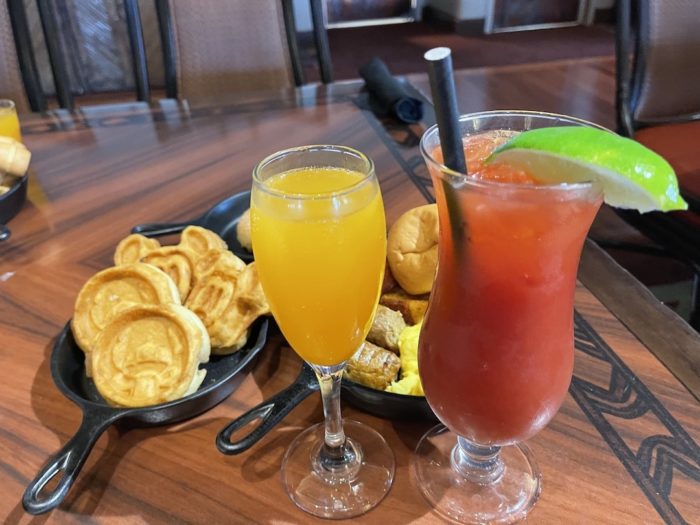 Warm heat, beautiful spice and flavor, and a tangy twist. Chrissy loved this one and is so happy it returned with the restaurant. It's made of Absolut Peppar vodka and house-made Wasabi Bloody Mary mix. According to Chrissy, it's an outstanding way to start the day.
Plant-Based Breakfast Menu
Almost all Walt Disney World restaurants currently offer dietary and allergy-free options and plant-based menus. Here's a look at what to expect from 'Ohana's plant-based selections.
Cinnamon Sugar Donut with Seasonal Fruit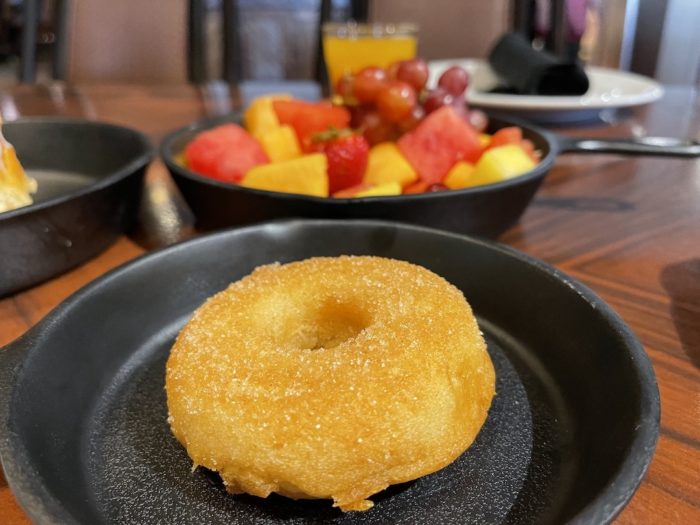 This is your starter instead of the traditional pineapple-coconut bread. Compared with the beautiful goodness that is pineapple-coconut bread, this is a bit of a disappointment.
Plant-Based Skillet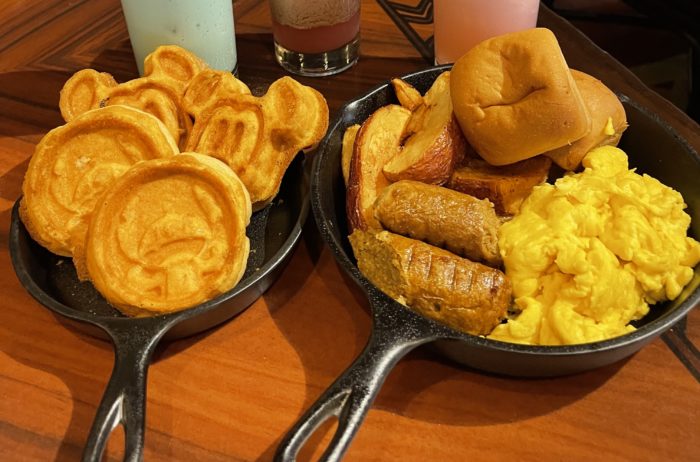 Includes scrambled "eggs," "sausage," fried island-style potatoes, and character-shaped waffles.
So here's the thing. The egg substitute wasn't bad at all, but the sausage was odd. However, the fennel gave it a savory taste which is great for those who enjoy strong flavors in the morning, and the plant-based waffles were cute.
Final Thoughts
So is 'Ohana the best breakfast on property? No, it's not. However, Chrissy still thinks it's a great value for families and will be back. Her advice? Get the Bloody Mary and a smoothie and let the kids rip through four servings of Stitch waffles. They can't eat this much anywhere for the price and they can (and will!) eat $14 in Stitch waffles. Do they taste the same as Mickey waffles? Yes, but don't tell the kids.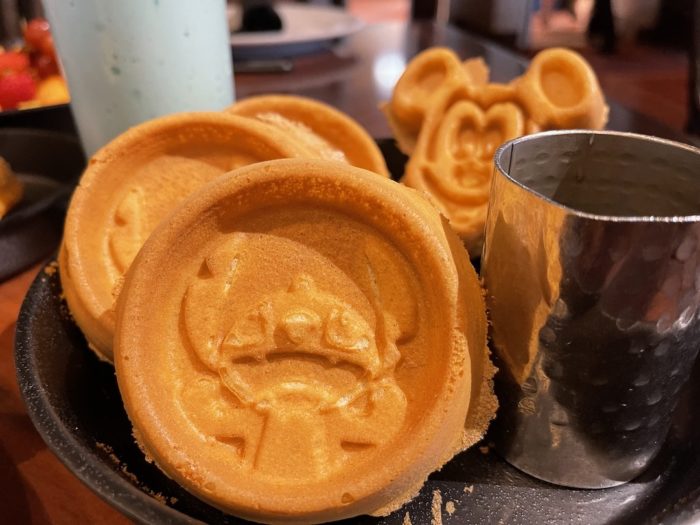 Plus, a quick-service breakfast costs around the same price as 'Ohana and isn't in such a fantastic location. Again, the whole endless waffle thing is a win for her family, and the drinks made the sit-down experience even better.
Are you planning to revisit 'Ohana during your next trip to Walt Disney World? Let us know in the comments!