Review of The Viv Hotel Anaheim Near Disneyland
The Viv Hotel, Anaheim, a Tribute Collection is a hotel near Disneyland Resort in Anaheim, California. In this post we'll review a standard room with 2 queen beds. The Viv Hotel Anaheim has a very trendy appearance, but is it style over substance? And is the 1.1 mile walk to Disneyland and Disney California Adventure a deal breaker? Keep reading to find out.
This hotel was formally known as Radisson Blu Anaheim.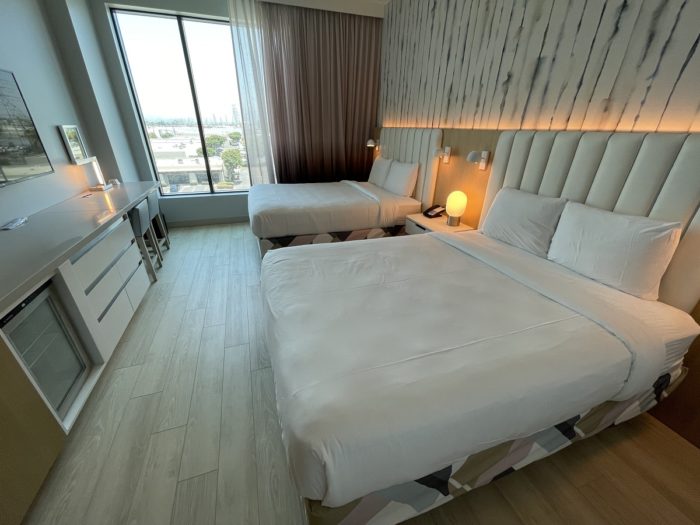 Here's the standard room I stayed in during my stay. As you can see there's a decent amount of space to walk around in. I really appreciated the curtains, which blocked out most of the outside light and made me think it was a lot earlier than it actually was when I woke up in the morning.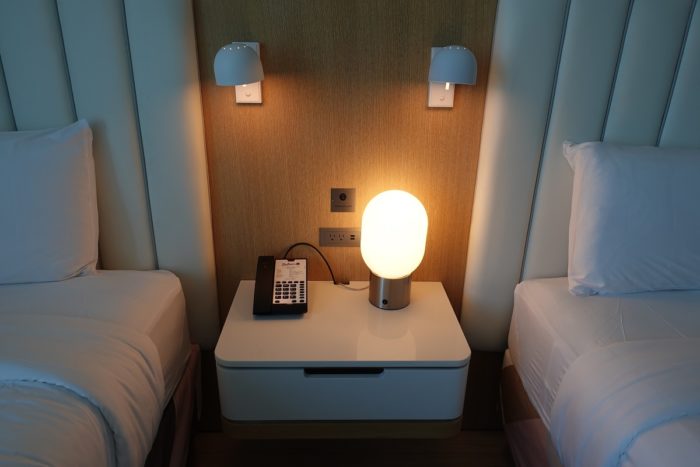 Between the beds is a nightstand with a drawer, alarm clock, lamp, plugs, and USB charging ports.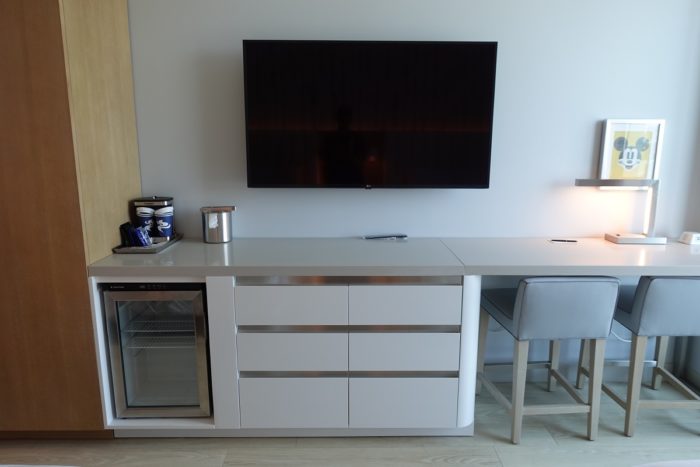 In front of the beds is some more storage drawers, along with a fridge, TV, and coffee maker. On top of the dresser is enough room for at least 2 people to place their luggage or any souvenirs you've picked up during your trip. 
The desk/table area. There's a good amount of desktop space here, but unfortunately the chairs are extremely uncomfortable. I found these chairs to be hard to sit in for longer than 30 minutes due to the lack of back support. If you're a business traveler, or someone who needs to work on a laptop then you may be better off finding a chair in the pool area.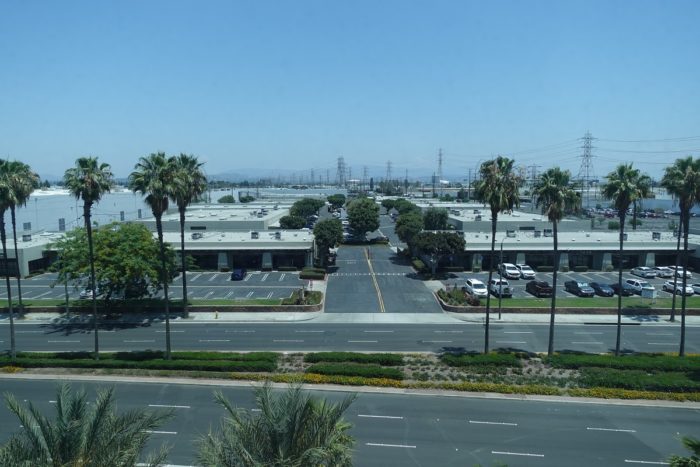 Here's the view from my room on the third floor. Rooms facing west overlook the 5 freeway, which isn't great, but at least rooms on the upper levels are able to see Disneyland. Rooms on the east side of the building, which is pictured here, face an industrial park.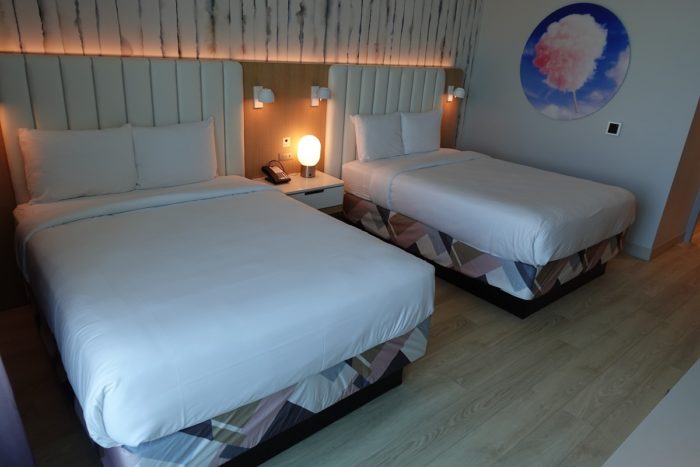 Back to the beds, they were great! They're comfortable and have a padded headboard so you can kickback and watch some TV. If I had to guess what style of pillows were on the bed I'd say medium firm, which I like. Sometimes I stay in hotels where the pillows are too soft and my head sinks to the bottom like a rock.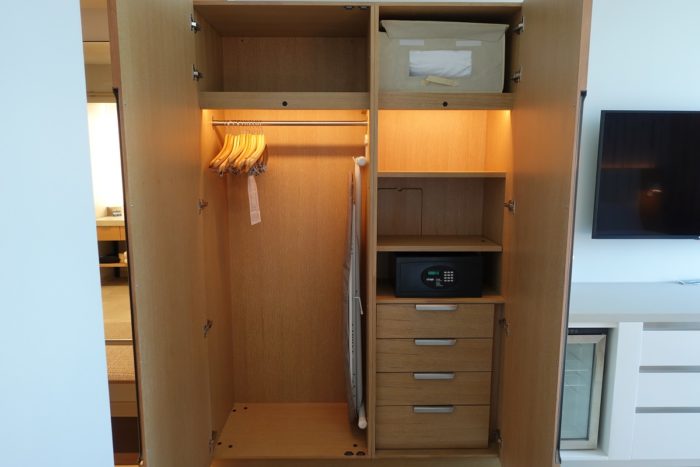 This massive cabinet (seriously, it's at least 8 feet tall) is home to a closet with hangers, ironing board, safe, 4 drawers, and extra blankets and sheets. There's plenty of room to hang clothes and store luggage in here.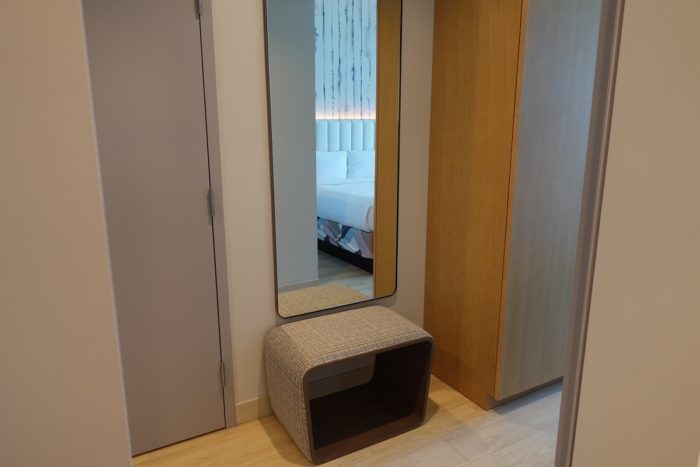 Next to the cabinet is this stool and long mirror that doesn't quite go to the ground.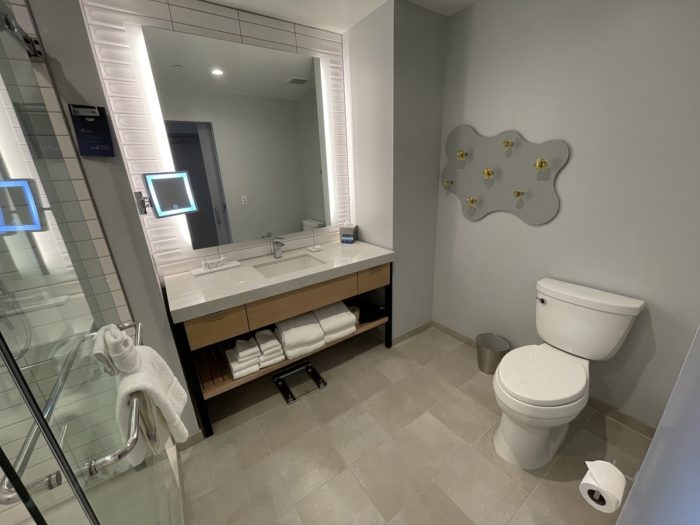 At the beginning of this post I mentioned that The Viv Hotel Anaheim could have been style over substance, and thankfully the bathrooms were very solid and functional. There's a good amount of counter space, drawers for storage, and excellent lighting.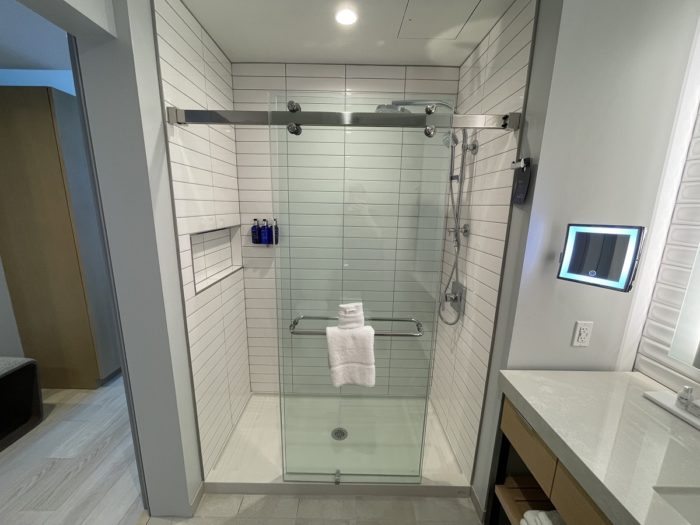 The shower has plenty of room to move around in and the included soap, shampoo, and conditioner all smelled very nice. I'd like the water pressure to be better, but that's a minor gripe.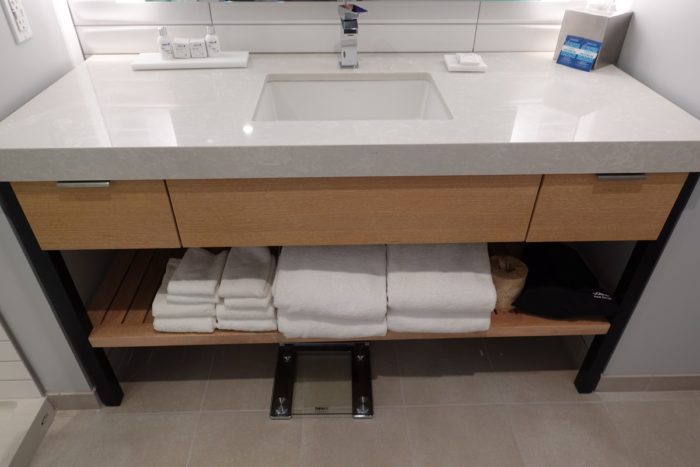 One more look at the sink and counter. A scale is included. I can't recall ever staying in a hotel that had a scale, but there it is.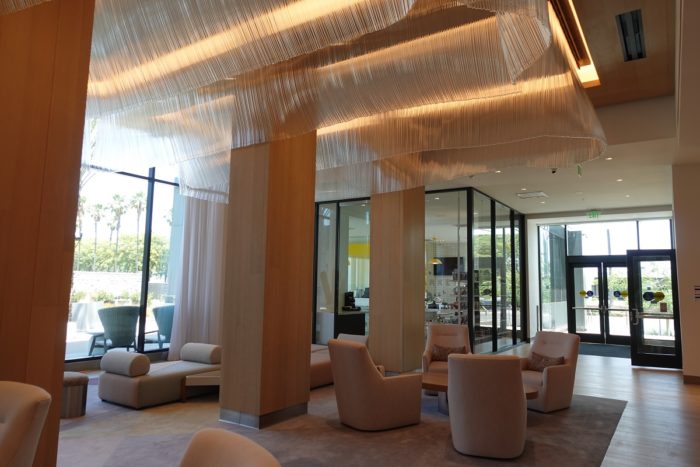 Moving on to the lobby, as you can see it's very stylish and open.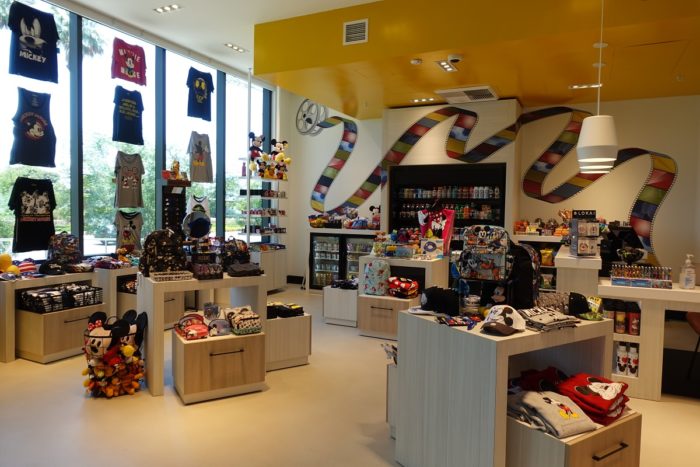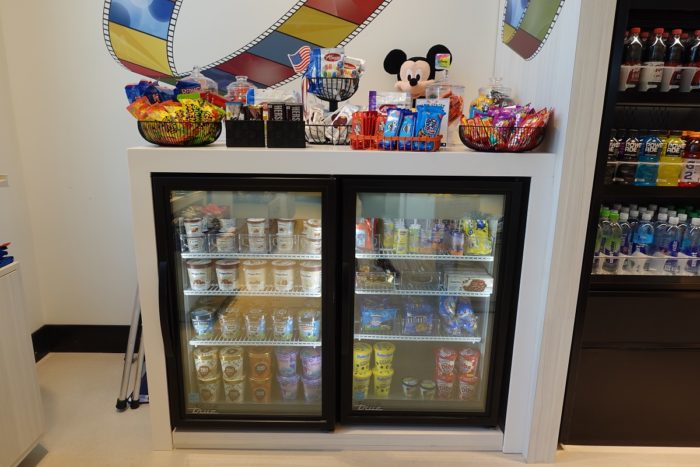 A shop with some snacks and Disney merchandise is located in the lobby. I was surprised at how many varieties of ice cream they had for sale.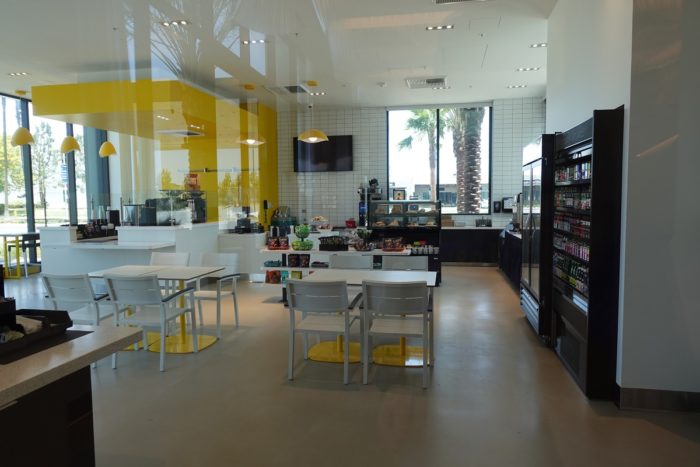 A snack bar with drinks, sandwiches, and pastries is also connected to the lobby.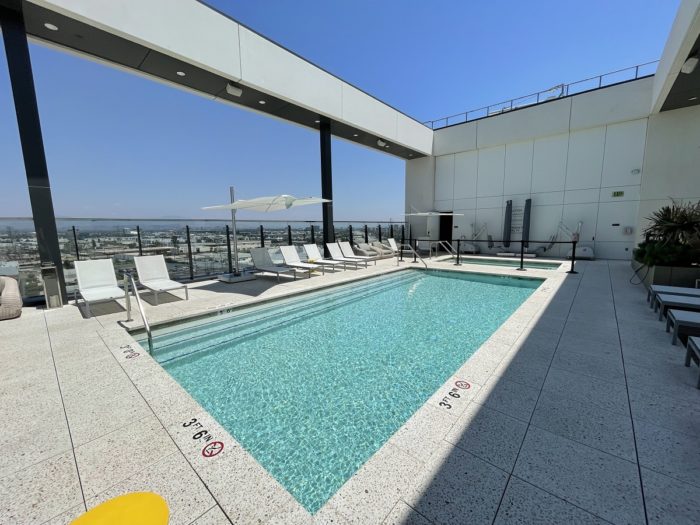 One of the signature amenities of The Viv Hotel Anaheim is the rooftop saltwater pool and hot tub. It's not very big but it's a nice place to relax.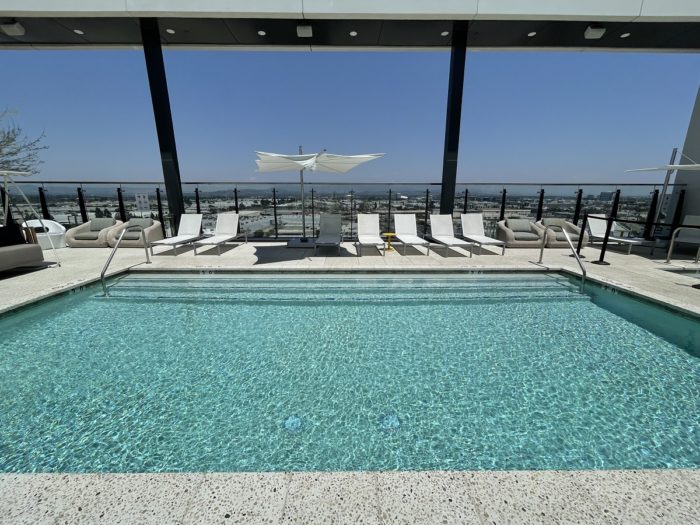 It's worth mentioning that the rooftop pool is only available to guests 21 and up.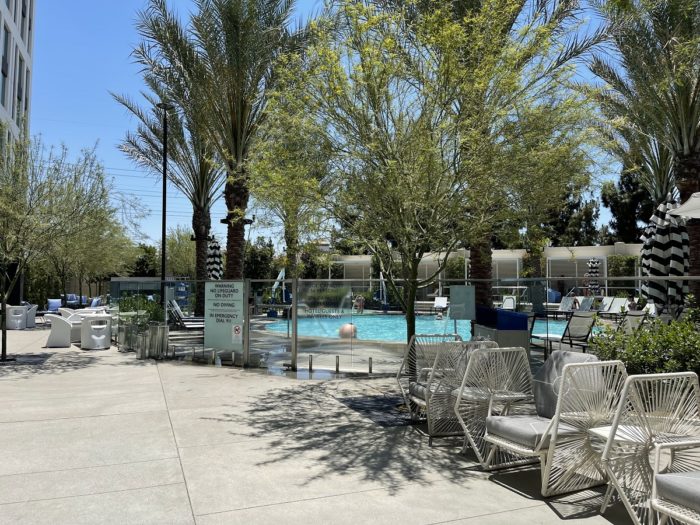 The all ages pool is located on ground level near the lobby. It's a decent sized pool and there's a good amount of seating.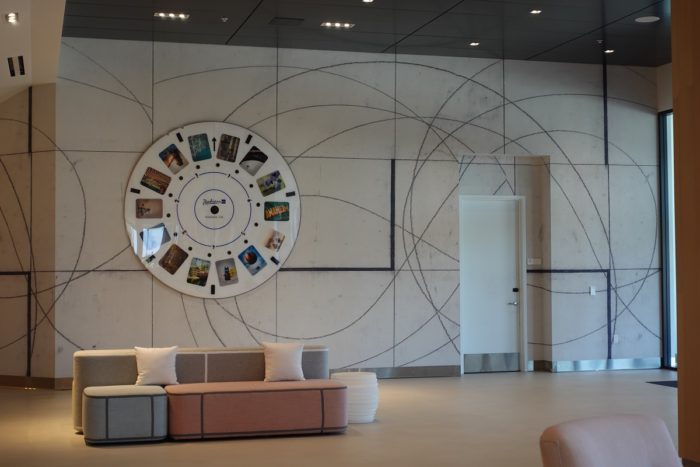 Before heading back up to the roof I wanted to mention some of the hotel's interesting art pieces, like this giant Viewmaster slide featuring local landmarks.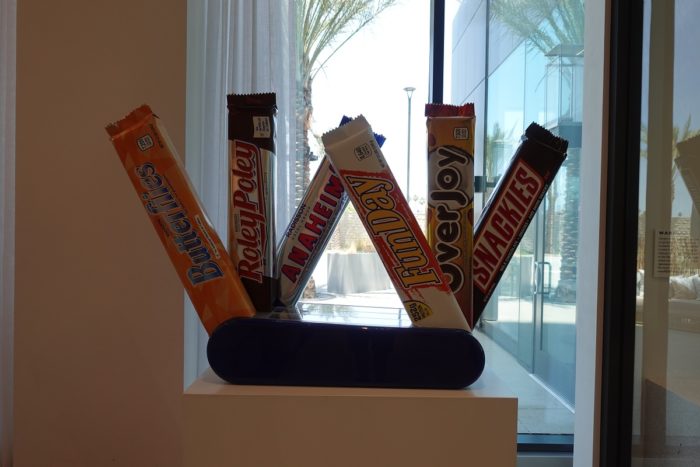 Or this pocket knife where instead of tools it's candy bars.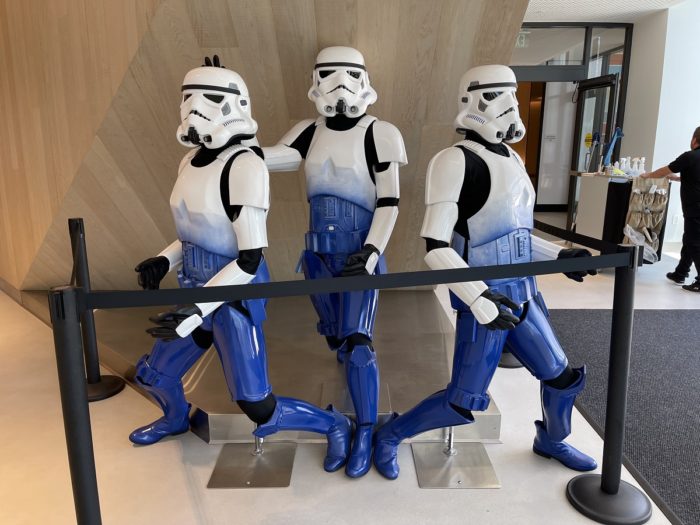 "I'm afraid that I just blue myself."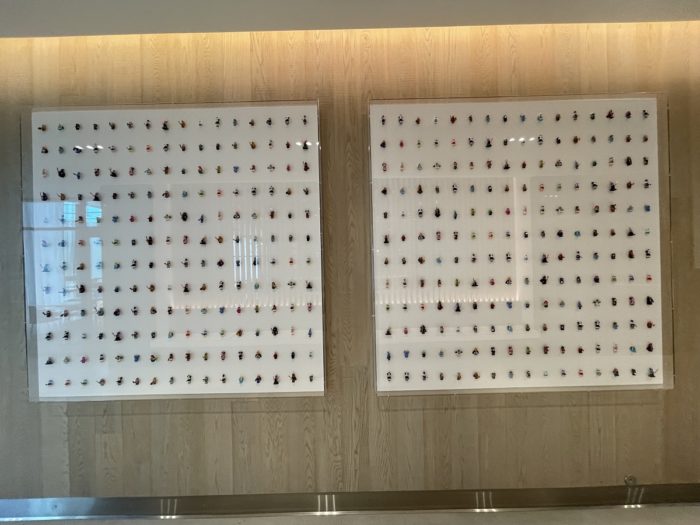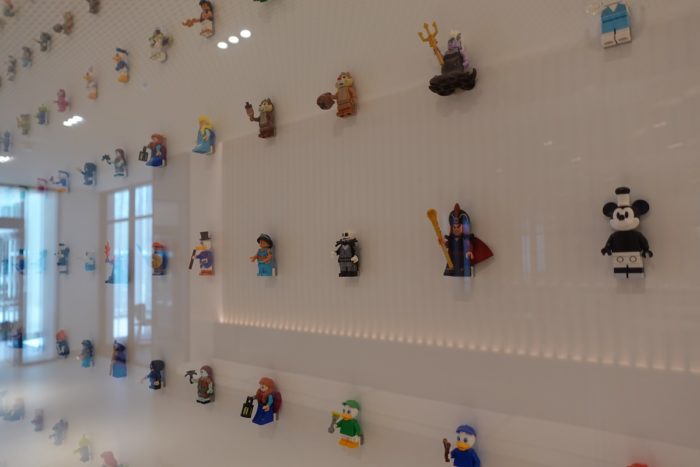 This fun display shows hundreds of Disney Lego minifigs.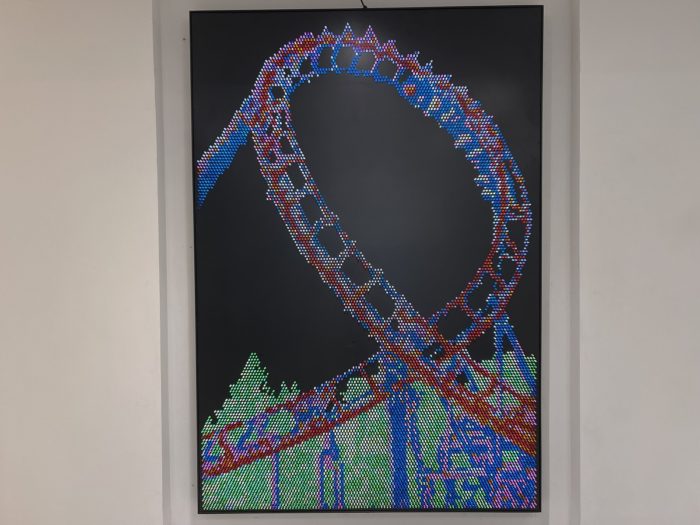 This piece is a gigantic Lite-Brite.
Back to the top floor, here's a lounge with plenty of heaters and fireplaces for cooler nights.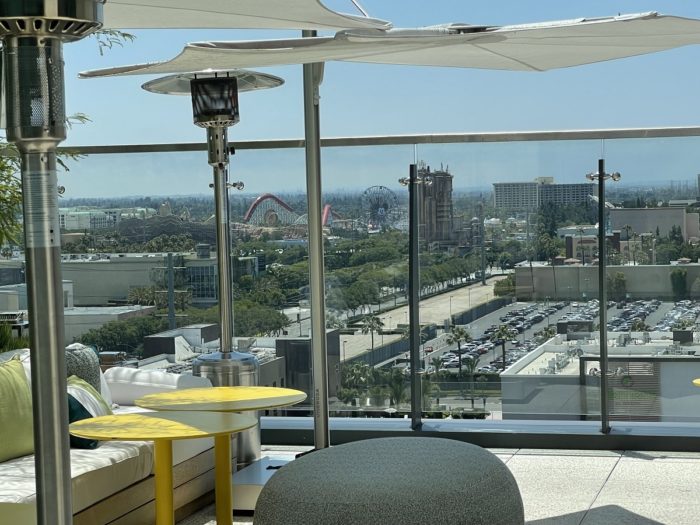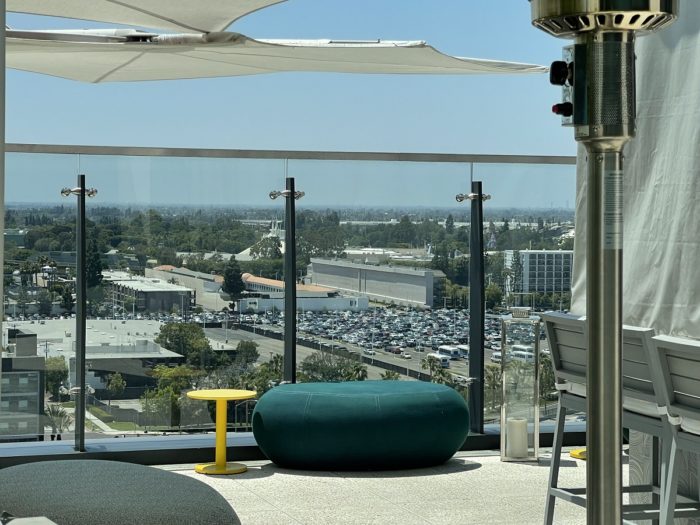 The lounge has great views of Disney California Adventure and Disneyland. At night you can get a great view of Disneyland's fireworks.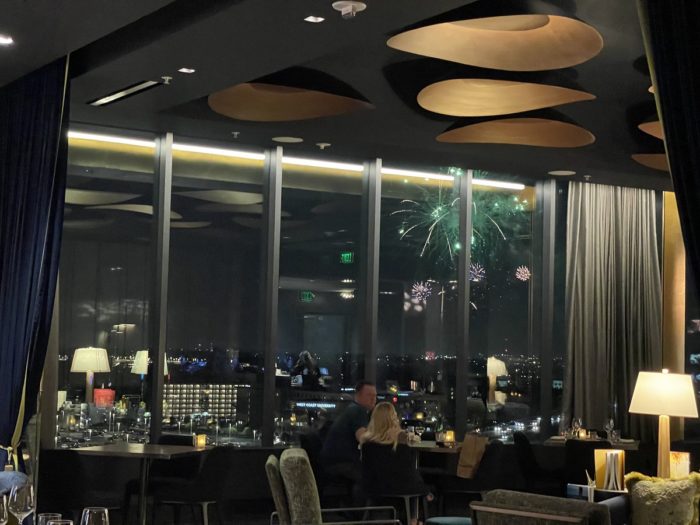 Speaking of fireworks, there they are! The Top of The V (which is next to the aforementioned outdoor lounge) is pricy, but you can't beat that view.
Overall The Viv Hotel Anaheim is a great hotel, and my fears of it being style over substance were not true. But there are some drawbacks. First, the distance to the parks may be an issue for some. The walk to Disneyland and DCA is 1.1 miles each way, which isn't so bad in the morning, but it can be annoying at night after you've spent all day walking around a theme park. If you have a car you could drive to one of Disneyland's parking facilities, but then you'd have to pay for Disney's parking on top of the hotel's high $25 per a day parking fee. Other options include taking an Uber/Lyft, or using ART (Anaheim Rapid Transit), which has a dedicated station at the hotel. ART's 1 day passes are $6 for adults and $2.50 for kids. 3 and 5 day passes are also available for $16 for adults, $3.50 for children, and $25 for adults, $5.50 for children. The Viv Hotel Anaheim's prices are decent with most nights I looked at being under $200.
Planning a trip to Disneyland? Be sure to check out our Disneyland Crowd Calendar, which rates every day of the year on a scale of 1 to 10 so you can see how busy Disneyland and DCA will be during your visit. Also check out our Disneyland Touring Plans. These itineraries can show you how to beat the crowds and spend less time in line at your favorite rides. Our Touring Plans can also be personalized! All of our tools are used by hundreds of thousands of visitors each year and are constantly being updated by our in-park team of researchers and data scientists.
Have you stayed at The Viv Hotel Anaheim? Do you plan on staying there? Leave a comment or let me know if you have any questions.
Note: The Viv Hotel Anaheim did not sponsor this post and did not pay for, or receive copy approval.