Potential Usefulness of Genie+ at Magic Kingdom
Last week, signs went up around Walt Disney World converting old FastPass queues into Lightning Lanes. So crunch time is upon us – this isn't a drill or a joke; Lightning Lanes are happening. And in order to be in that Lightning Lane, you'll have to be paying for Genie+ (or have a kid to swap or a DAS reservation). Maddening. The whole idea that you'd have to pay a Genie to get your wishes … nonsensical. But this is the world we live in.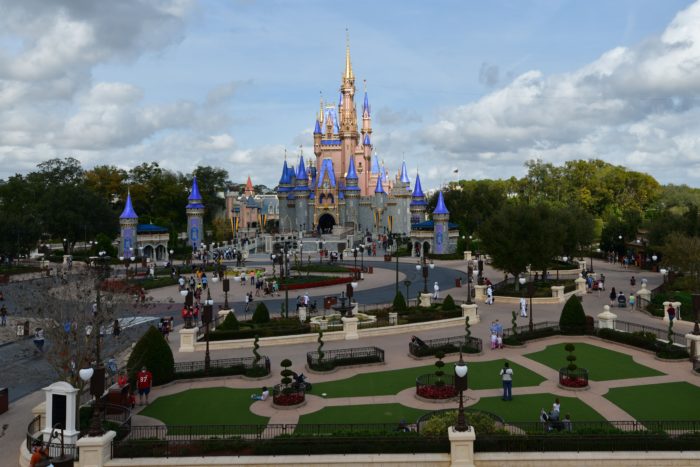 So how can we make the best of these new rules? We have to figure out whether Genie+ is worth what it costs to use. We know that it will cost $15 per person, per day (and certain high-demand rides will cost more for individual access). We've already analyzed what might at happen at Animal Kingdom, EPCOT, and Hollywood Studios. At Magic Kingdom, where the largest number of attractions qualify for Genie+, this "per person" stipulation is of particular importance. There are many family-friendly rides that qualify for Genie+, so the multiplication of the Genie+ cost for a whole family is more obvious. For example, my family of four has to give up $60 to use Genie+ for a day. $15 doesn't sound terrible, but I can get a good meal for $60, even at Disney prices. Is that a budgeting trade-off I'm willing to make? Maybe. But I want to do the math first and see what I'm getting.
Explain the Math
For this series of posts, we're assuming that the financial break-even point for using Genie+ is saving an hour of wait time. Because if you have a one-day ticket, on average you're spending about $15/hour on your park ticket. That price per hour goes up if you only spend a few hours in the park each day. Or it goes down if you buy multi-day tickets. So it's an average – a benchmark.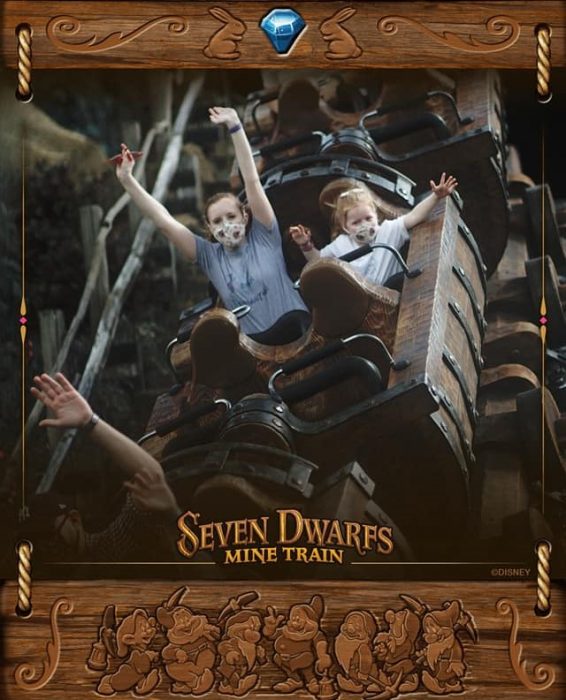 How do we figure out how much time you might save with Genie+? We use the only data we have so far, which is FastPass data. 2019 was the last full calendar year that FastPasses were used. If we can get all of that data, and assume that Genie+ availability, capacity and use are similar to FastPass+, then we can make some educated guesses about how much time we'll be able to save.
I pulled all submitted actual wait times from 2019. This gives us a lot of data points – not just how long the wait was, but also whether it was standby or FastPass, what day and time the wait was from, and what attraction the wait was for. I can then group all of that data based on what the crowd level was and what part of the day it was. That means I'll have average standby and average FastPass waits for every attraction that was open in 2019, in the following 9 conditions:
Low crowds (Crowd Levels 1-3), Morning (before the 11-5 peak crowds)
Low crowds, Midday (11 am – 5 pm)
Low crowds, Evening (after the 11-5 peak crowds)
Medium crowds (Crowd Levels 4-7), Morning
Medium crowds, Midday
Medium crowds, Evening
High crowds (Crowd Levels 8-10), Morning
High crowds, Midday
High crowds, Evening
For each condition, I can calculate, on average, how much time you might have saved by using FastPass+ at each attraction. And then we can add all of that up for a full day of touring and hypothesize whether paying the $15 (per person) is worth the potential time savings.
Magic Kingdom, Low Crowds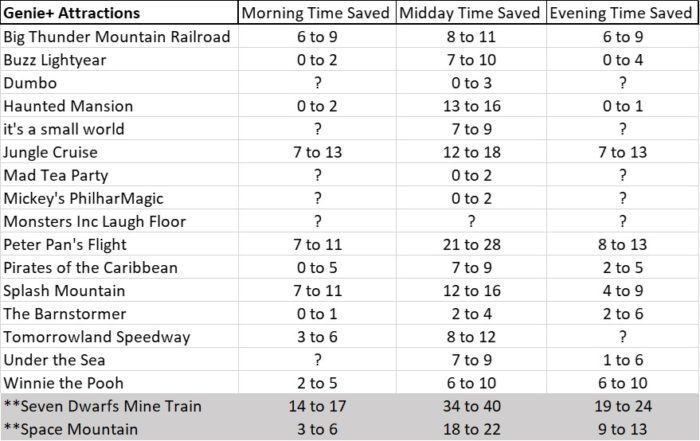 A few notes about how to interpret these wait time savings tables. Wherever you see a question mark, that means that we either don't have any FastPass data about that attraction, or we don't have enough to make a statistically valid claim about the time saved using a FastPass versus waiting standby. Anything attraction that appears in the table is a Genie+ potential ride. The gray attractions at the bottom are some (educated) guesses about which attractions might require "individual access" (aka, paying more) and therefore wouldn't qualify for Genie+.
The great aspect of Magic Kingdom is that, compared to any other park, so many attractions qualify for Genie+. So you can take advantage of the quantity of options and maybe have the opportunity to earn a lot of time savings. Unfortunately, on low crowd days, you're going to have to use a LOT of "wishes" from your Genie+ to get close to an hour. The only attraction with potential savings of more than 20 minutes is Peter Pan's Flight, and only if you get a return time during peak hours.

Peter Pan's Flight is easily the Genie+ attraction that will save you the most time, if it's a must-do for your family.

Let's say that you can get and use a lot of those "wishes" throughout your day at Magic Kingdom. You use two in the morning, at Big Thunder Mountain Railroad and Tomorrowland Speedway. Midday you get and utilize four wishes, at Peter Pan's Flight, Haunted Mansion, Jungle Cruise, and Splash Mountain. In the evening you pick up one last wish for Winnie the Pooh. If you use those seven wishes, you save 73 to 103 minutes. That's a lot of work and scrolling for open return times, but it could be worth it if you work your day around finding and utilizing those times.

The Becky Personal Opinion? No way I'm buying Genie+ on a low-crowd day at Magic Kingdom. We'll just follow a touring plan for our family and avoid the long waits that way. On low crowd days there will only be a few really long lines, and we can hit those at rope drop or wait until the evening when things die down.
Magic Kingdom, Medium Crowds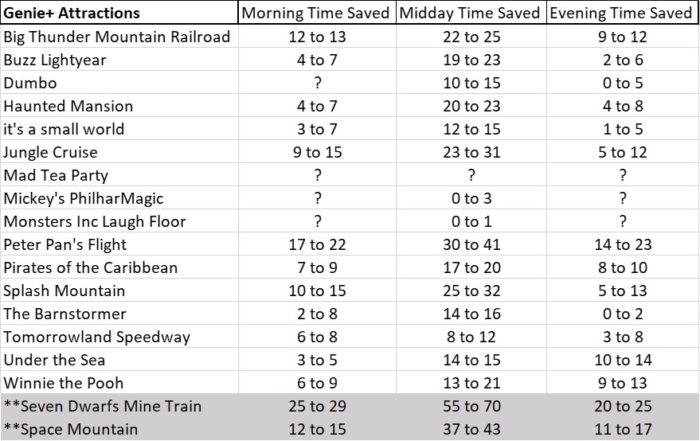 Unlike the other parks, even at medium crowd levels there aren't any attractions that are a sort of one-hit-wonder that automatically save you most of an hour. But there are a lot of attractions with time savings of over 20 minutes during peak hours, so this is where the quantity of attractions starts coming into play.

If the weather is warm on the day you visit, the time you save with a Splash Mountain return time will go up, especially in the middle of the day.

If you like rolling in to the park a couple of hours after rope drop, then Genie+ on a medium crowd level day might work for you. Pick up midday return times for Haunted Mansion, Jungle Cruise, Peter Pan's Flight and Splash Mountain. Stay late and get return times for Under the Sea and Big Thunder Mountain Railroad in the evening. With six Genie+ "wishes" you save between 117 and 153 minutes. If my family happens to like all of those rides, and we can feel reasonably sure that we'd be able to use six "wishes", maybe it's worth it to pay $15 for each person for the day.

What would I do in this situation? It's still a no for me. My kids don't like Haunted Mansion or Splash Mountain, so two of the decent wait-avoiding options are out for us. And I don't want to be getting my phone out and refreshing/scrolling available return times 6 or 7 times. I'd rather come up with a plan that helps me avoid the big waits and experience the attractions that my family enjoys. It's not worth $60 to tailor our day around trying to find times and attractions that work for us. But if you're willing to rack up 5 or 6 "wishes", and you pick the right attractions to use them on, it could definitely be worth it.
Magic Kingdom, High Crowds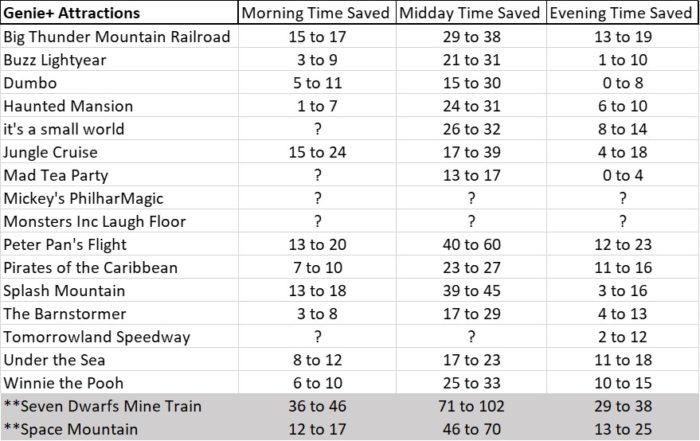 At high crowd levels is where we see the real differences between Hollywood Studios and Magic Kingdom, the two parks that should garner the most attention for potential Genie+ use. At Hollywood Studios, Genie+ was worth it at high crowd levels because there are a high percentage of attractions that all have high average waits (and therefore more significant potential time savings). At Magic Kingdom, the opposite is true. Even at high crowd levels, there is only one attraction where you could potentially save an hour of time, and that's Peter Pan's Flight at midday. The time savings at Magic Kingdom come from the ability to potentially avoid many half-hour-ish waits depending on how many "wishes" you're able to use.

The least useful Genie+ "wish"? Of the attractions we have data for, it looks like Dumbo. I'd probably throw PhilharMagic and Monsters Inc Laugh Floor in there too.

Let's say you hit the park bright and early and are able to grab morning return times for Jungle Cruise and Splash Mountain. After those rides, 11 am rolls around and you get times for Big Thunder Mountain, Haunted Mansion, Peter Pan's Flight and it's a small world all before 5 pm. After 5 there are still passes available for Pirates of the Caribbean, Under the Sea, and Winnie the Pooh. Because Magic Kingdom has the most attractions eligible for Disney+, it's also the park that's most likely to have evening availability of Genie+ return times because there are so many more to choose from. So potentially using 9 "wishes" in a day could happen. If it did, you'd be looking at wait savings of 179 to 252 minutes. $15 per person for 9 wishes that save up to 4 hours? That's a decent trade-off.

What would I do on a high crowd day at Magic Kingdom? Assuming that real-life experience shows that return times are abundantly available because of the large number of attractions, I might actually go ahead and shell out the extra $60 for my family. I wouldn't be happy about it, but if I can trade the price of one expensive quick service meal or one cheap-ish table service meal and turn that into much less waiting, especially in the peak midday hours, I'd consider that a worthwhile trade.
What Does This Mean For You?
If the capacity and the wait times for Genie+ are similar to FastPass+, then:
At low crowd levels, you should easily be able to tour around Magic Kingdom without Genie+. The park absorbs crowds into the large number of standby lines rather well. Be smart about which attractions you do in the morning and evening, and use peak hours for a long lunch or attractions with shorter (or no) lines.
At medium crowd levels, there are enough decent waits at Magic Kingdom that if you get 5 or 6 "wishes" throughout your day, you can probably avoid an hour or more of waiting. Unlike at Hollywood Studios, you won't be able to make up that time by scoring one or two key return times. You'll have to put in the work to grab a higher quantity of return times. But at medium crowd levels, it could be worth it – especially if your touring style is heavy on peak hours.
At high crowd levels, you can potentially avoid many half-hour-ish standby waits throughout the day at Magic Kingdom. This is one of two situations (the other being high crowds at Hollywood Studios) where I'd be willing to put my money on the line and give Genie+ a try.
OVERALL – Genie+ isn't a good investment at Animal Kingdom or EPCOT, unless you park-hop between the two and can grab return times for the high-wait attractions at both parks on the same day.
OVERALL – Because of the high average waits at most attractions in Hollywood Studios, it's the park where you can save the most time with the fewest "wishes". Assuming that you can get and utilize the same number of "wishes" at each park, you will save the most time at Hollywood Studios. But since it doesn't have as many available attractions at Magic Kingdom, return times may fill up quicker and make using more "wishes" more difficult.
OVERALL – Magic Kingdom has the most Genie+-eligible attractions, and should therefore have the highest availability and capacity for return times of any park. That makes it likely the safest bet if you want to give Genie+ a try on one day of your trip. But at low and medium crowds, it might not make much of a difference anyway.
Now that we've explored the potential for Genie+ at every park, what are your opinions? Are you going to avoid Genie+ no matter what? Or are you likely to give it a try in certain situations? Let us know in the comments!