REVIEW – Disney's Fort Wilderness Cabins Are a Blissful Destination All Their Own
One of the crowning achievements of the early years of Walt Disney World is still a shining gem to this day. Disney's Fort Wilderness Resort and Campground is a fan favorite, for many reasons. We like to experience Disney resorts first hand so our subscribers and travel agency clients have up t0 date information to make smart decisions about their Walt Disney World vacation.
Chrissy on our team stayed in a Fort Wilderness cabin recently, and she made the most of it. From golf cart rental to exploring the recreational offerings, here's how to have a blissful stay at Disney's Fort Wilderness in one of the cabins.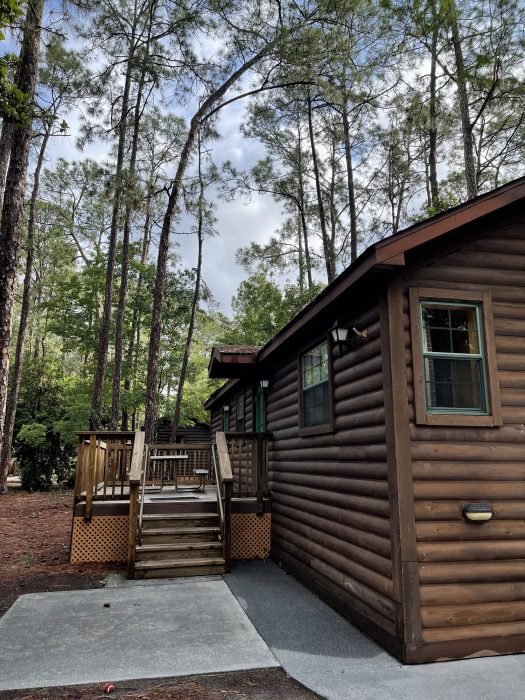 Disney's Fort Wilderness Cabins Review – The Facts
Chrissy and her party stayed in Cabin 2616, which is located in Peacock Pass. Fort Wilderness is so massive. Each group of cabins, RV sites, and primitive camp sites are on a loop off the main roadways that run through the resort. Most of the cabins are near the front of the resort. The 2600 loop, where Chrissy cabin was located, is near the Wilderness Pool, a smaller quiet pool.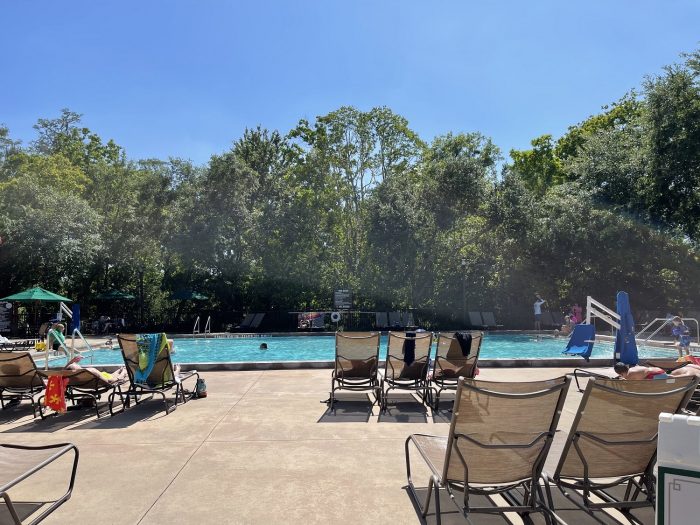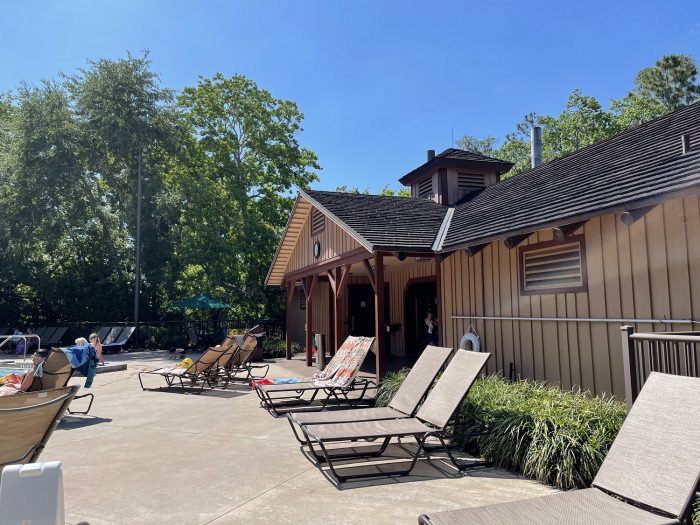 There is parking at each cabin, most with room for two vehicles and a golf cart. Fort Wilderness Resort is built on wetlands that are now protected, and therefore some portions of the roadways and loops are more narrow than others. All cabins are the same size. The vast majority of cabins are located at the front of the resort, but our Room Finder will help you narrow down the best locations to suit your needs.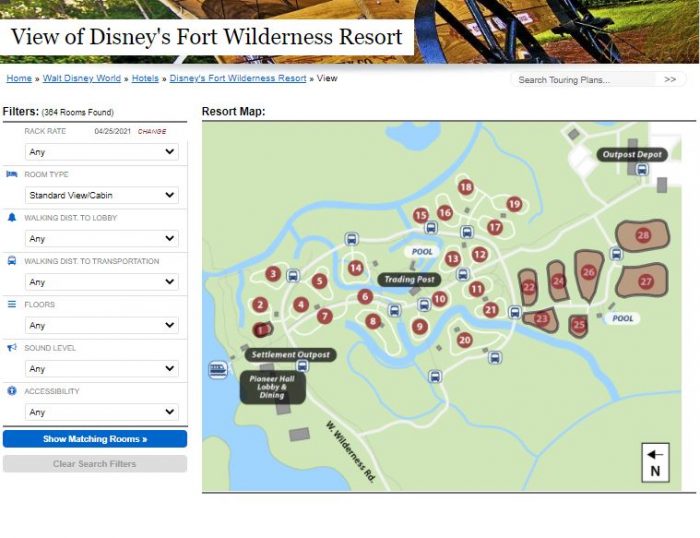 Here are the features of Cabin 2616, which would also be the same features of any standard cabin:
Sleeps 6 – queen bed, bunk beds, pull out sofa bed
Queen bed and bunk beds are in one bedroom at the end of the hall
Sleeper sofa is in the main living area
Kitchen is stocked with appliances and initial paper and cleaning supplies
Full kitchen with full size appliances

Dishwasher
Fridge / freezer / ice maker
4 slice Sunbeam toaster
12 cup Mr. Coffee machine
Kenmore microwave / convection oven
2 burner electric range
2 rolls paper towels
2 regular coffee filters, 1 decaf, 4 creamers, stack of sugar & artificial sweetener
Cutting board
2 small bottles dish soap, 2 dish sponges, 3 envelopes dishwasher soap
2 dish towels
1 pot holder
Manual can opener
Dishes – service for 6 including – 6 coffee cups, mason drinking jars, dinner plates, salad plates, and cereal bowls.
Serving Dishes -1 large serving platter, 1 covered casserole dish (oven safe), and 1 oven-safe lasagna pan
Other odds and ends – spoon rest, grill tools, drink pitcher with lid, liquid measuring cup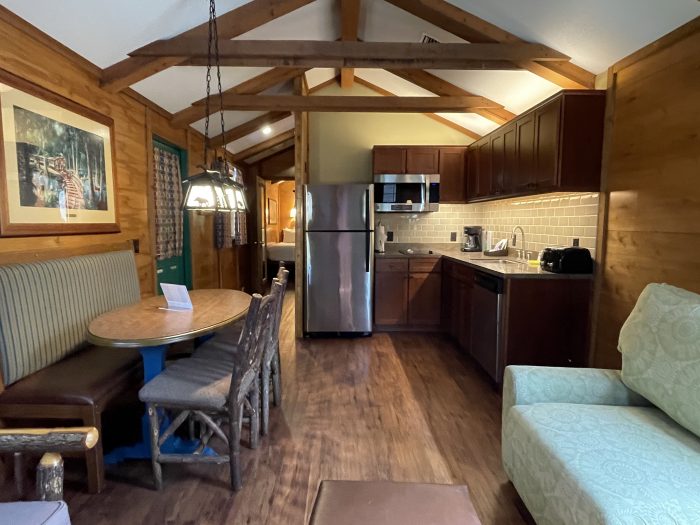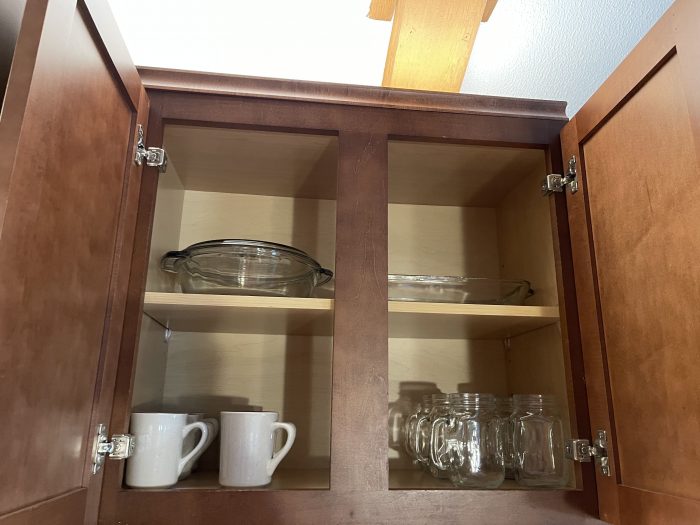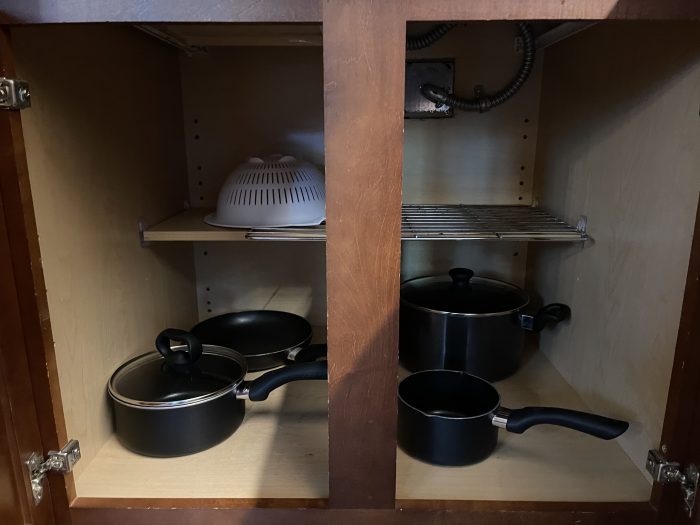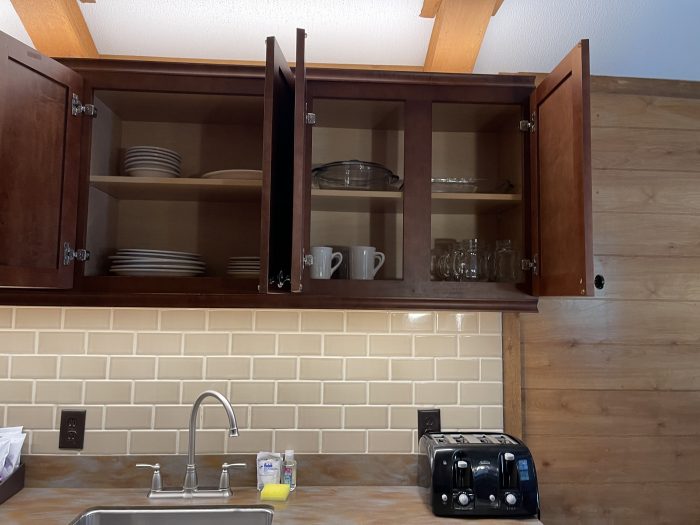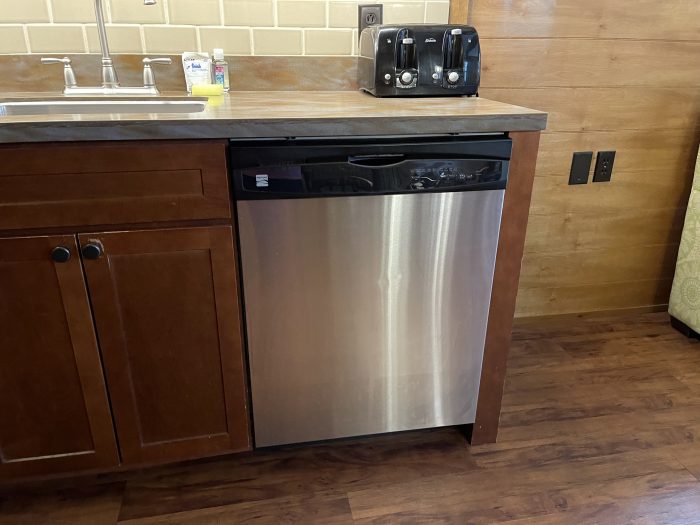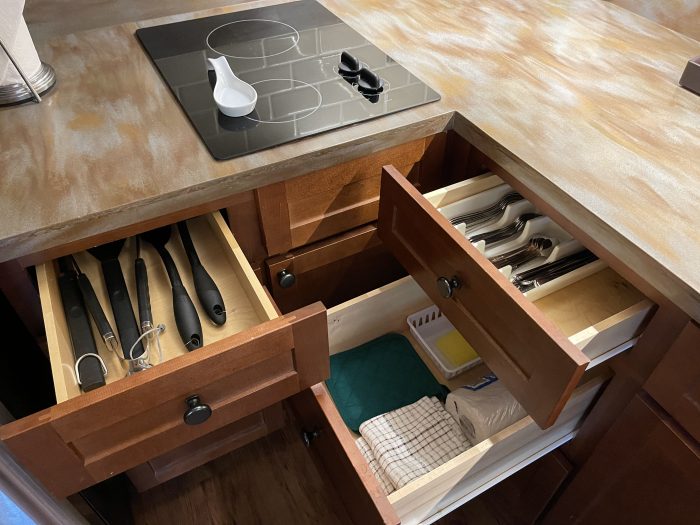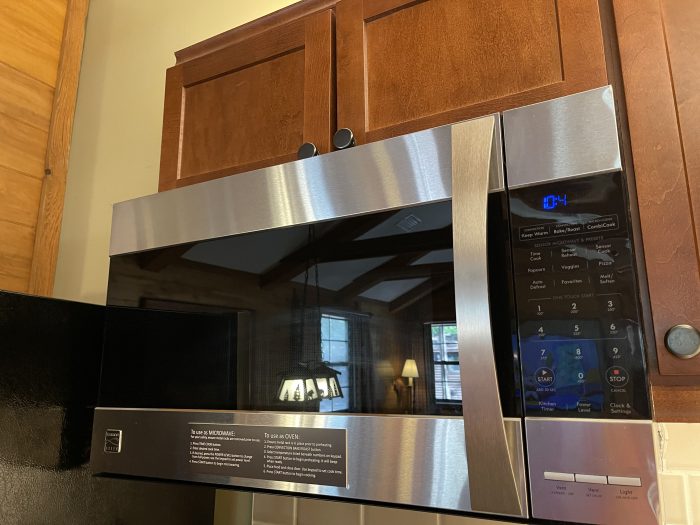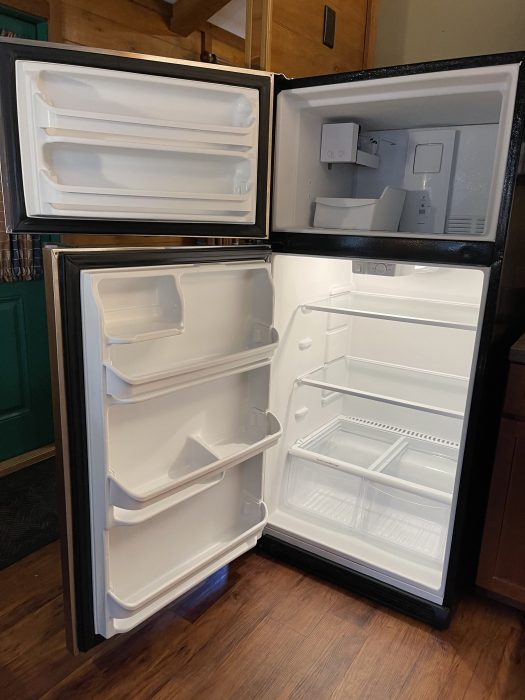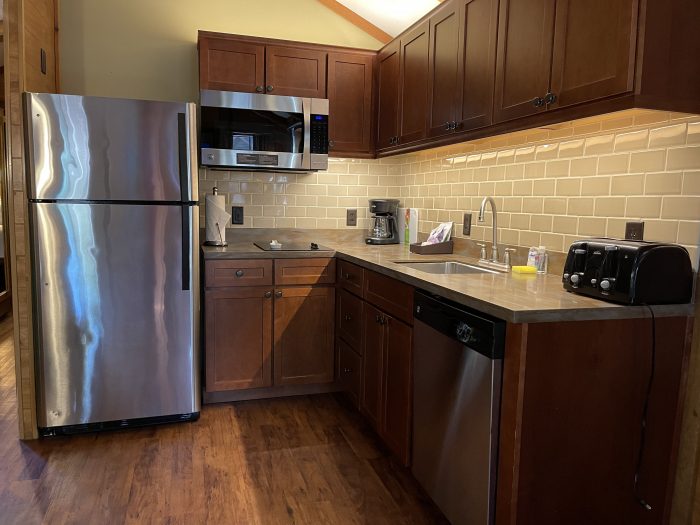 Dining area – 3 chairs, 1 bench
Televisions – 1 in the main room (47") and 1 in the bedroom (22")
Front porch with picnic table
Charcoal grill outside of the cabin
Ironing board, iron, safe (13×5)
Room Dimensions

Cabin– 11 ft 2 in wide x 40 ft long
Bathroom – 7 ft 3in long x 6 ft wide
Bedroom – 11 ft 1 in wide x 9 ft 5 in long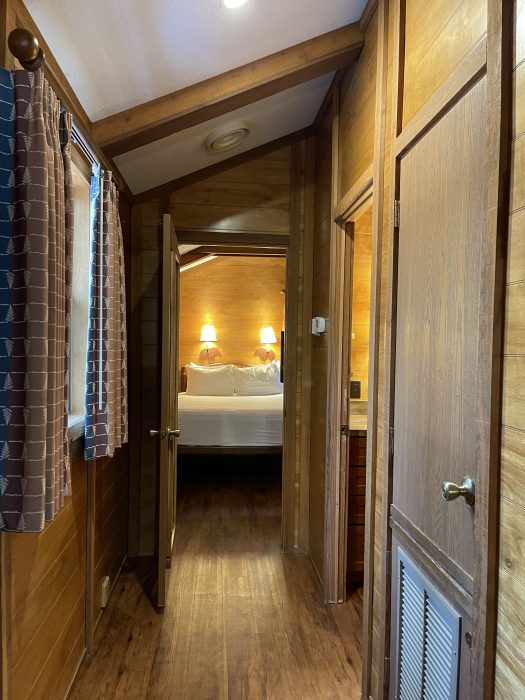 Light Meter Reading

All were taken with room lights on and curtains closed. It's a dark room with the curtains closed and all lights on. Bottom bunk kiddo will need a flashlight!
Breakfast table 385
Kitchen counter 456
Hallway 40.1
Bathroom vanity 358
Bedroom vanity 73.1
Nightstand 38.4
Pillow on queen bed 292
Bottom bunk pillow 6.1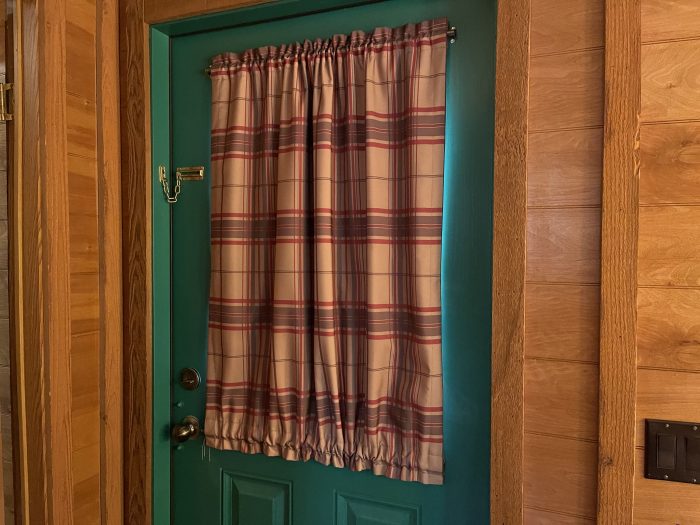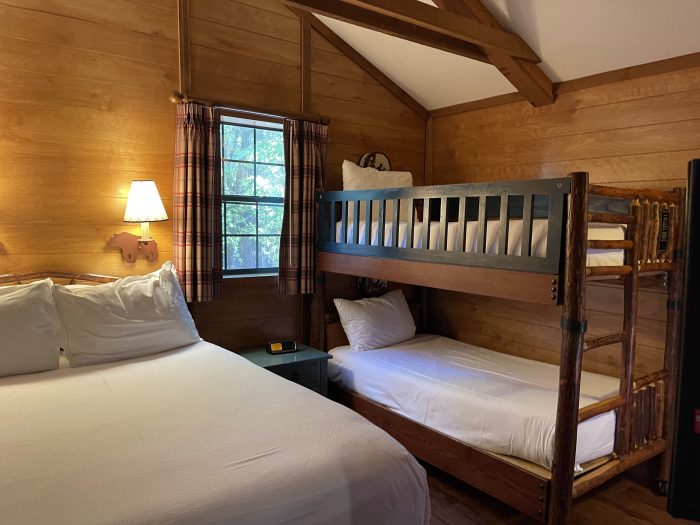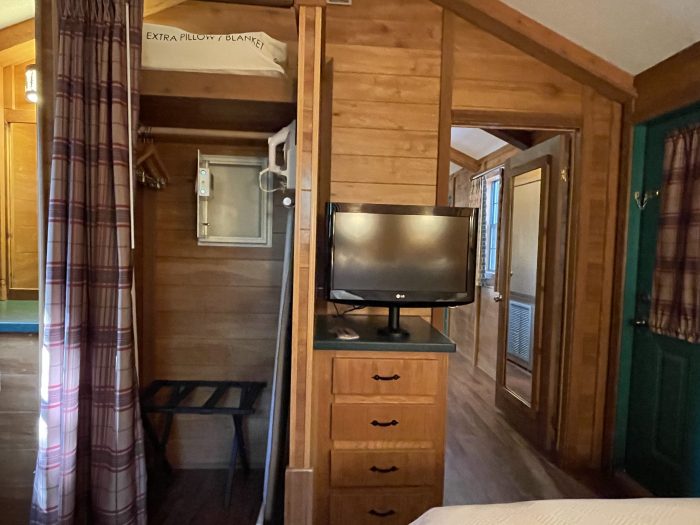 One of the downsides of the cabin is that the bathroom is self contained, there is no separate vanity area. This makes it a little challenging for more than one person to get ready for the day at the same time. Additionally, the only bedroom of the cabin has both the queen bed and the bunk beds, so the kids are in the same room as the adults. When my husband, toddler, and I stayed in July 2020 we liked this because our son wasn't even three years old yet. We requested bed rails from the front desk and having them on the bunk bed made for a nice sleeping arrangement. But once our son is older it might be a little rough having him in the same bedroom as us.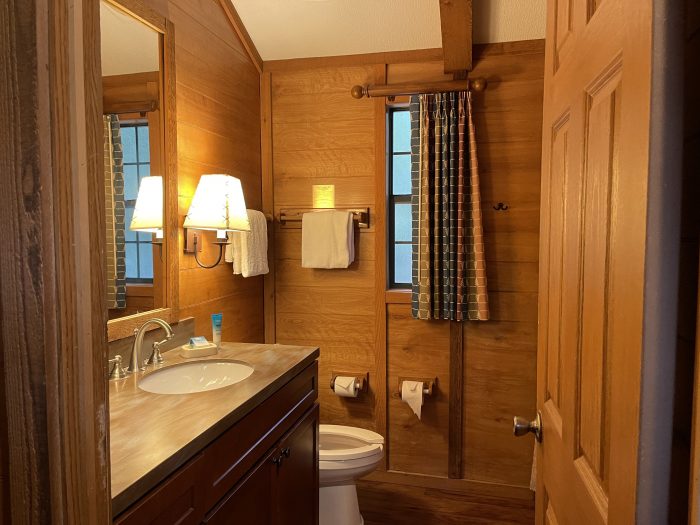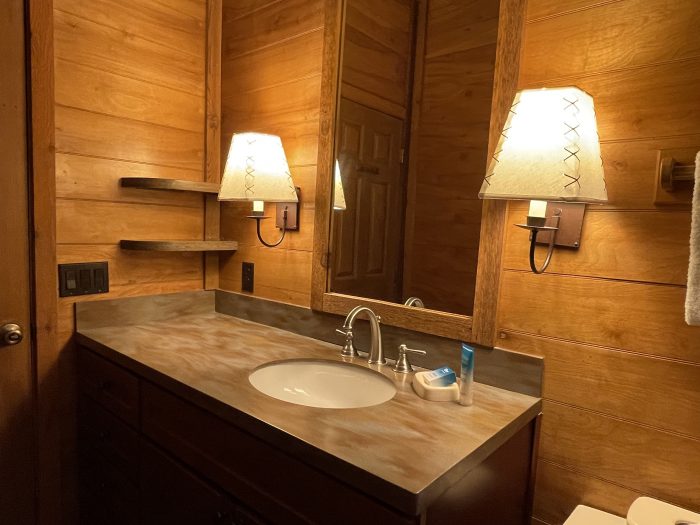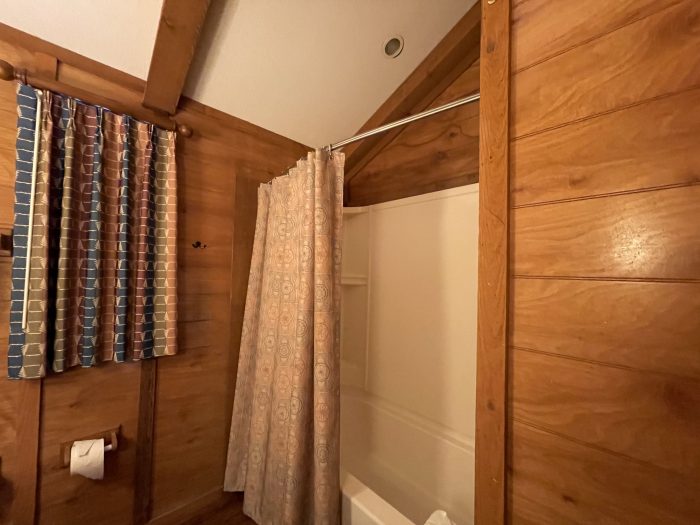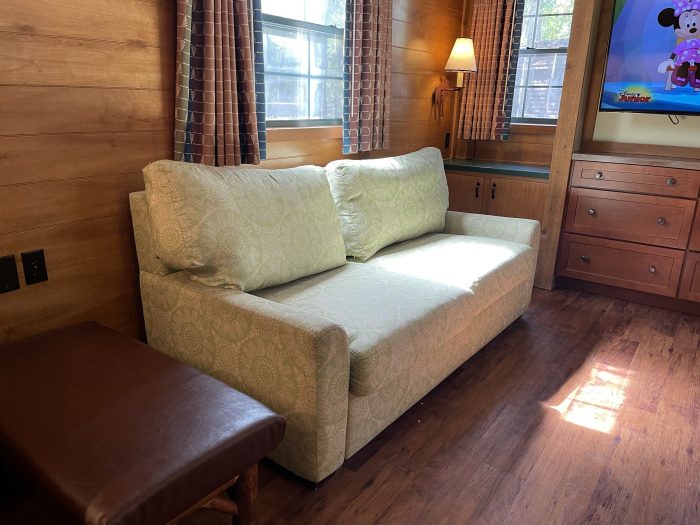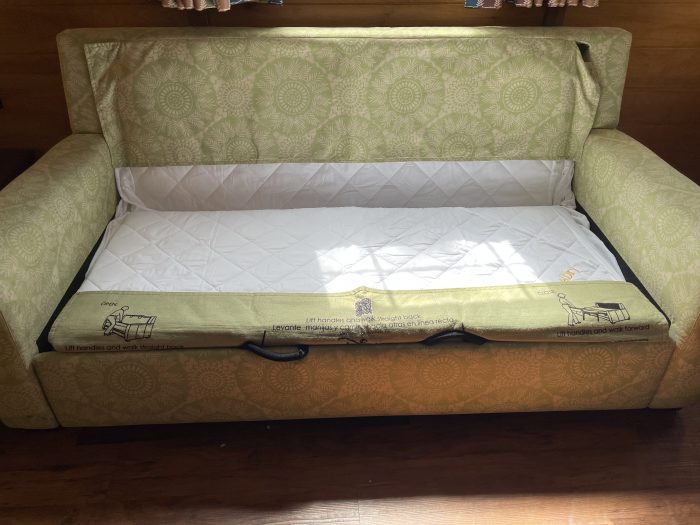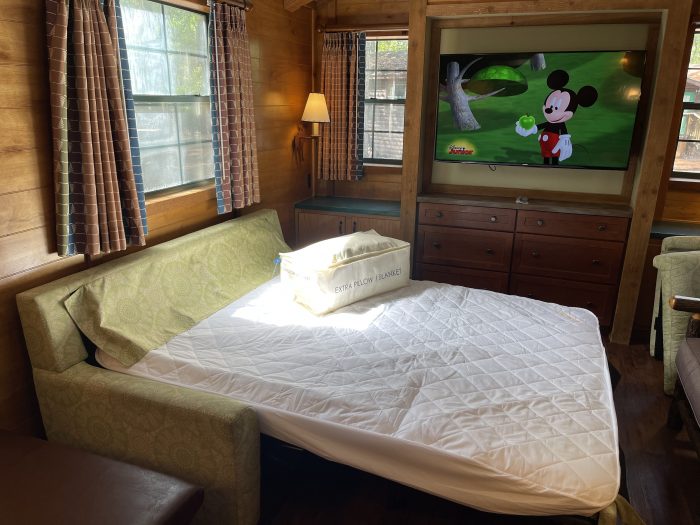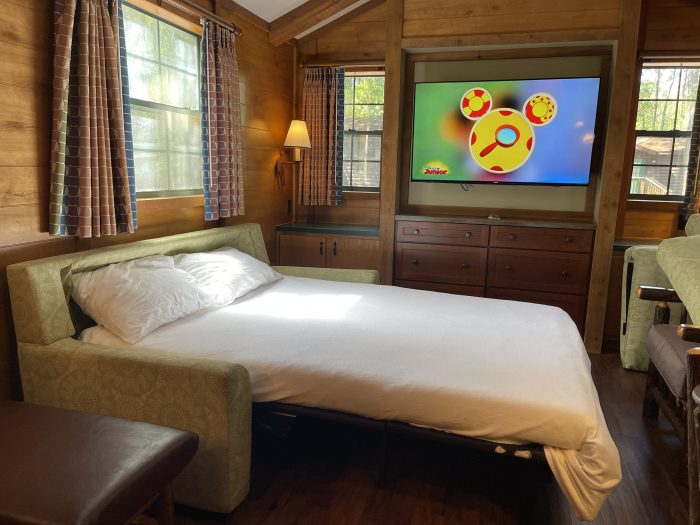 The sleeper sofa is an option in this case, but it is all the way down the hallway in the living area. There are two doors to get into and out of the cabin, one near the bedroom and the other near the living area. These are all things to consider when thinking about your family and their needs.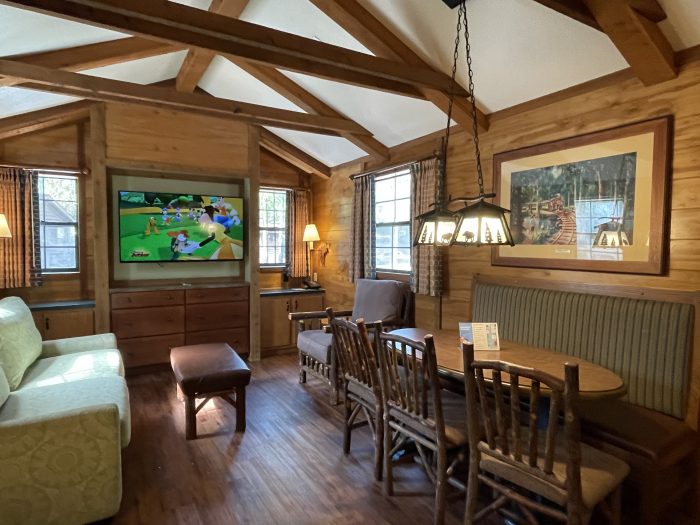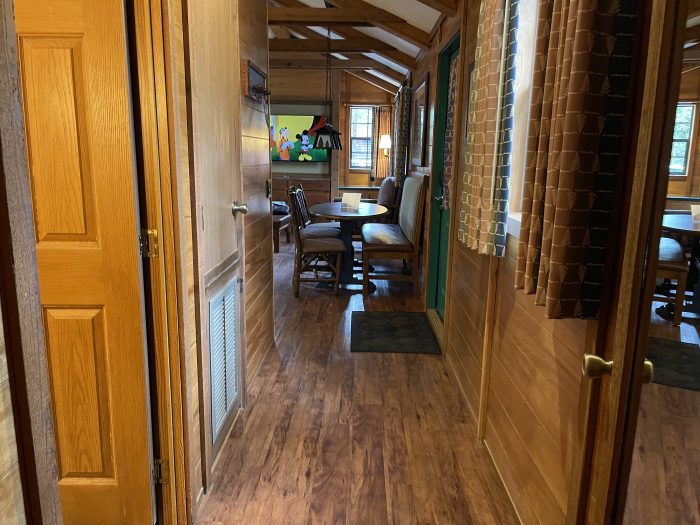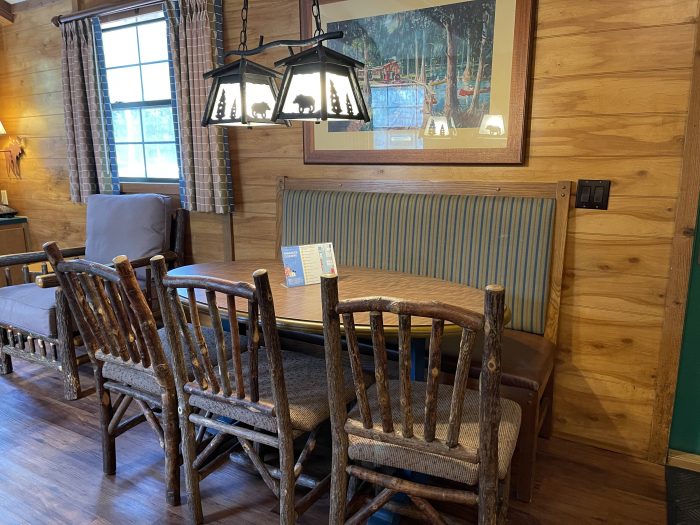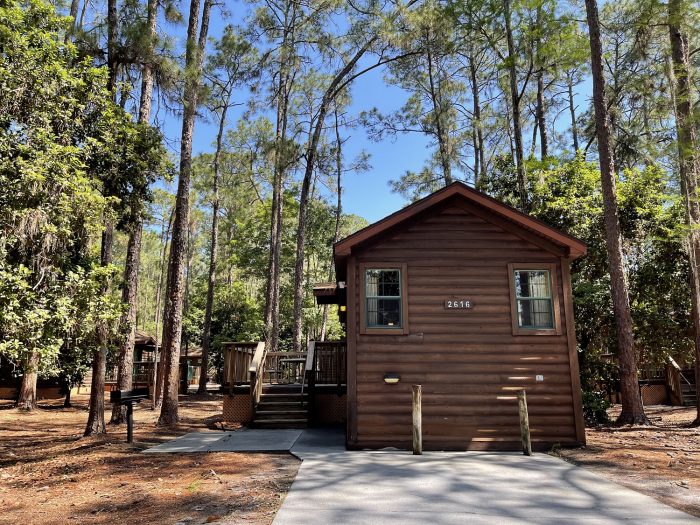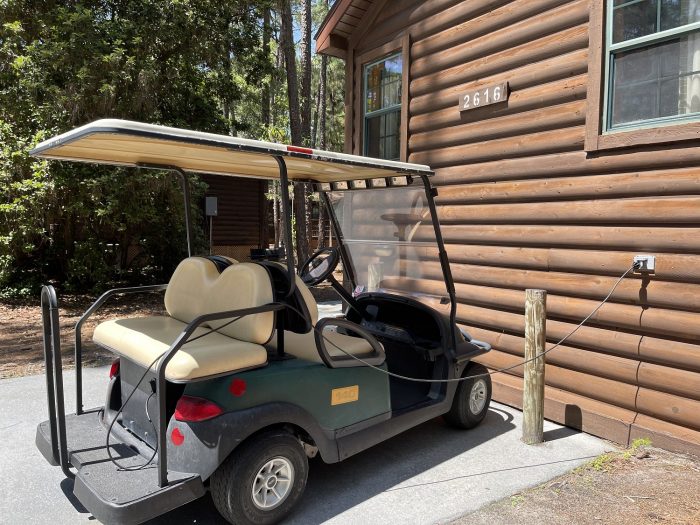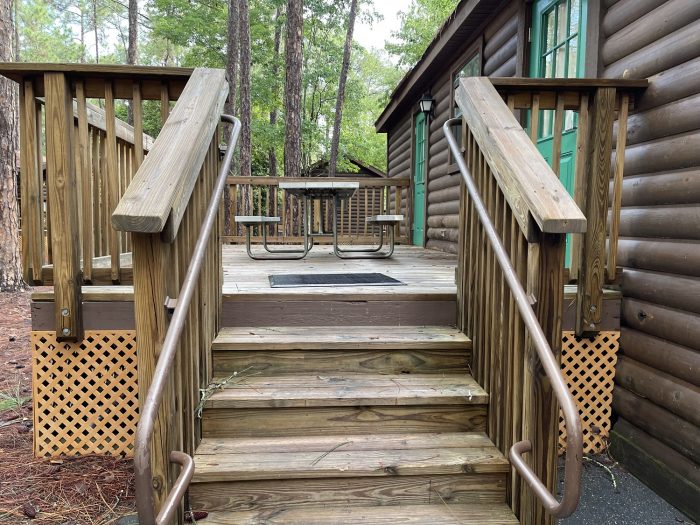 There are laundry facilities throughout the resort, but most only have parking for golf carts.
For the 2600 loop the closest laundry is connected to the Wilderness Pool area, with golf cart parking only.
Laundry rooms offer the same machines, products, and pricing as other resorts, with the added bonus of picnic tables and seating inside.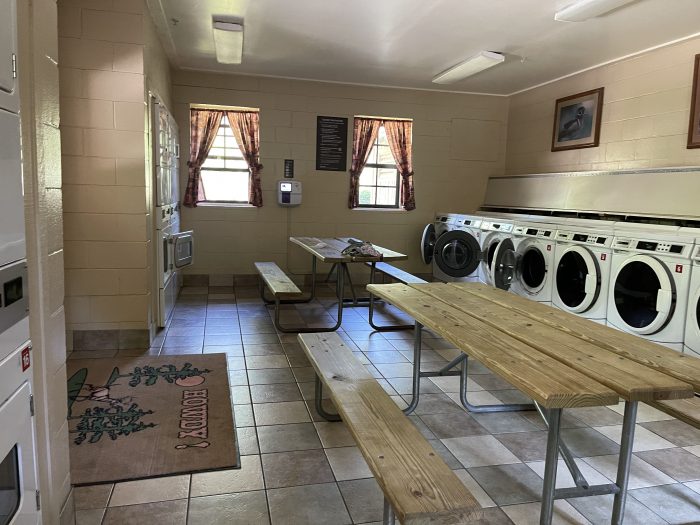 Disney's Fort Wilderness Resort Amenities
This resort is full of so many amenities, activities, and space that many guests spend most of their time at the resort rather than the parks. There is one small, quiet pool toward the front of the resort, and a few playgrounds throughout the resort. The main recreation area is the Meadow, which is near the center of the resort. Finally, at the back of the resort is Pioneer Hall. Here you'll find the marina (with Magic Kingdom boat transportation), a few food and beverage options, the main merchandise shop, and a playground.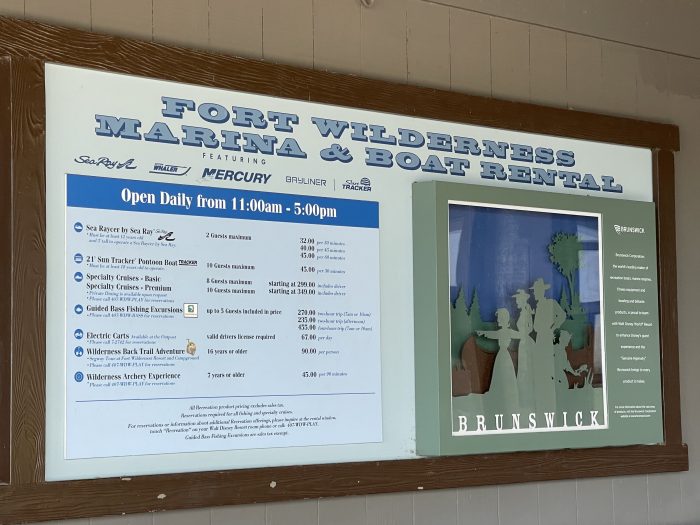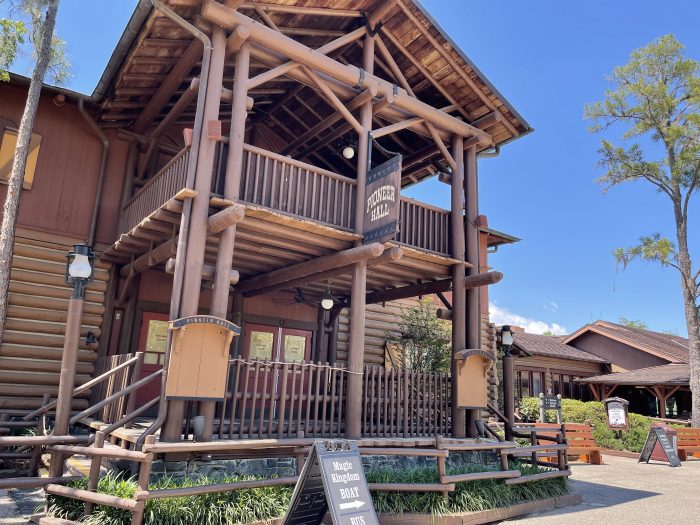 Meadow Recreational Area
All of the amenities in the Meadow can be accessed by golf carts, bike, scooter, walking, or internal bus. There is no regular vehicle parking here.
Meadow Pool – This is the only pool on property with a slide for big kids and adults. The slide was down for repairs during Chrissy's visit. Hours 10:00 a.m. – 11:00 p.m.
No towels provided! This is different from every other Disney resort.
Capacity – 121 people
Hot Tub / Spa – capacity 12 people, max time = 15 minutes
Splash Area / Aquatic Play Area – in a fenced in area next to the main pool. Down for refurb while we were there. Capacity = 23 people
Meadow Snack Bar – quick, casual bites that are perfect for poolside dining. Basic cocktails, beer, and wine too.
Bike Barn – open 9:00 a.m. – 5:00 p.m.

Bike rentals
AP discounts on canoe, kayak, and boat rentals
Fishing and sporting equipment rentals
L&B Gem Mining – bags can be purchased at the Bike Barn behind the Meadow pool and down the path.

Paydirt / small bag $9.00
Emerald Strike / medium bag $15.00
Mother Lode / large bag $30.00
Gem bags can ben sifted in a sluice (provided by the Bike Barn folks when you buy gems) at the Assay Station which has running water from 9:00 a.m. – 5:00 p.m. while the Bike Barn is open. Gem guide is also on site.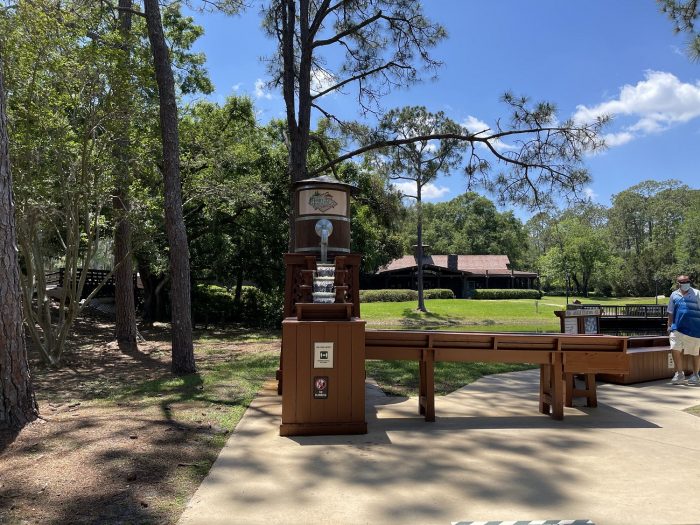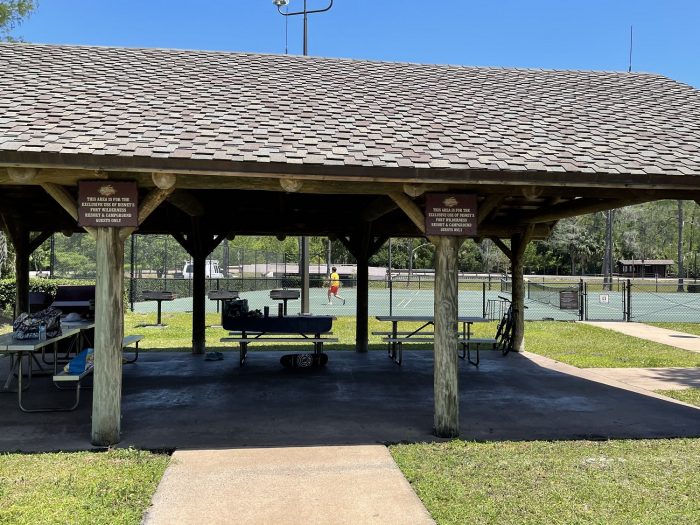 Tennis Courts – open from 8:00 a.m. – 9:00 p.m. Play is limited to 1 hour if other people are waiting to play
Volleyball – not available currently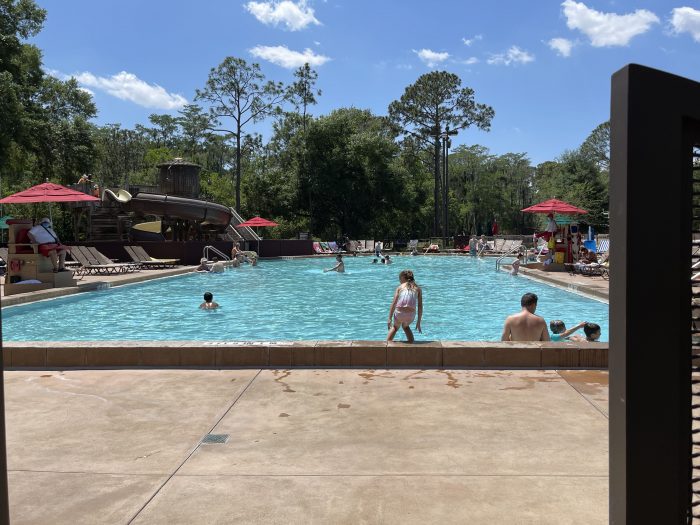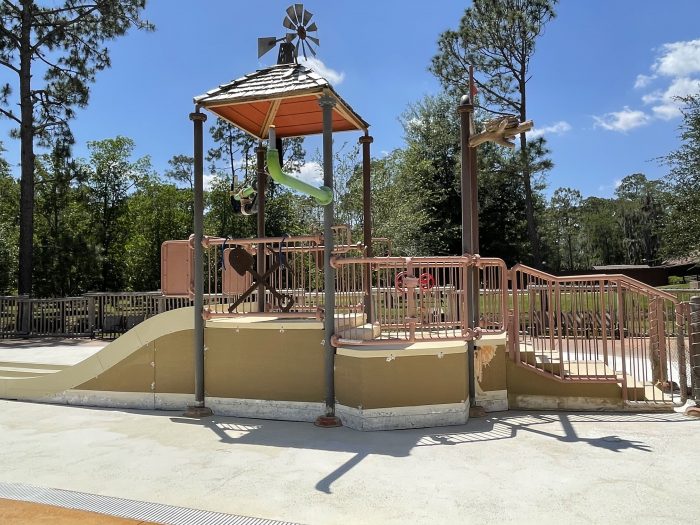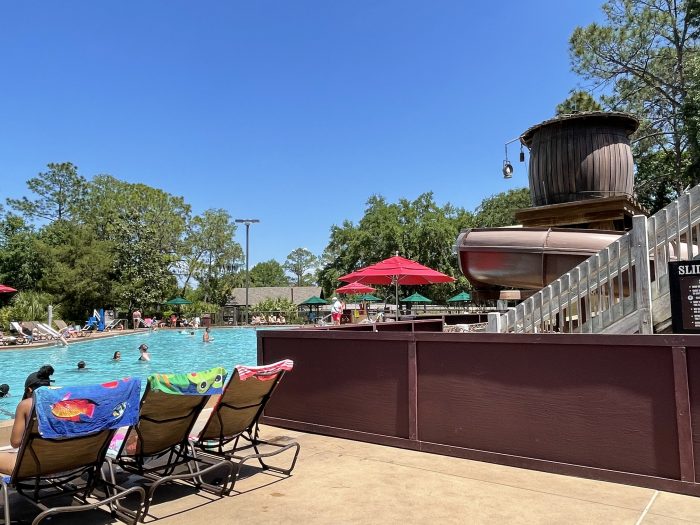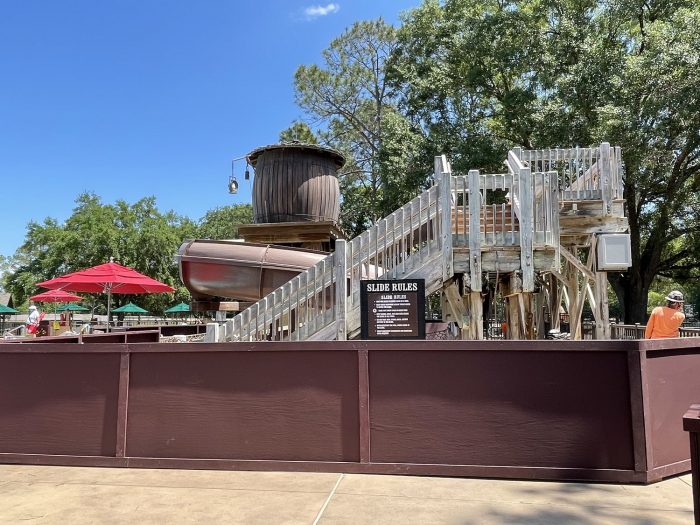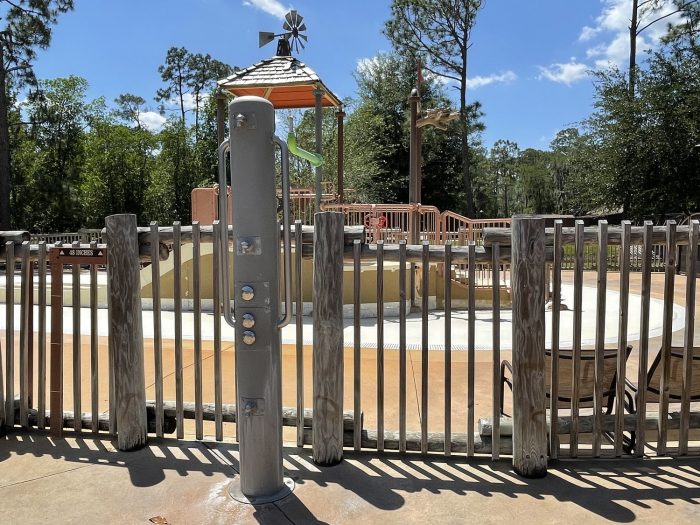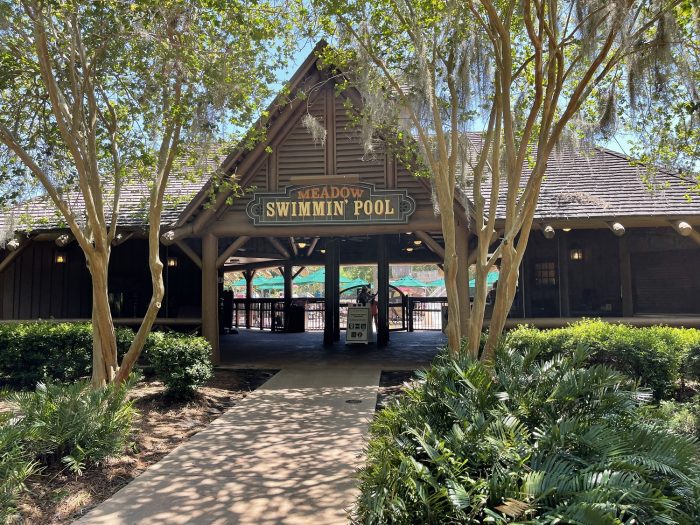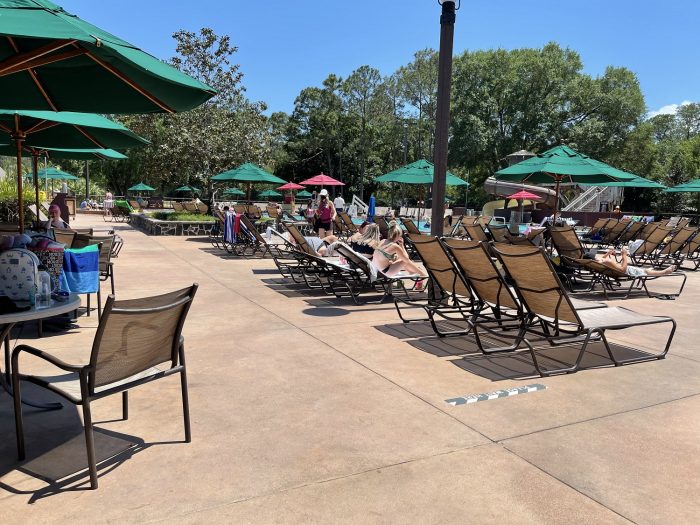 Disney's Fort Wilderness Cabins are dog friendly. There is a dog park with an adorable name, Waggin' Trails Dog Park. It is located on Big Pine Drive and is closer to the back / water side of the resort. It is open from dawn to dusk. Pet owners are asked to have control of their dog at all times and clean up after them. There are two separate, gated areas, one for small dogs under 30 lbs, and the other for large dogs more than 30 lbs. There are waste bags in each area and hoses. Each gated area has covered shelters with picnic tables so humans have somewhere to sit while their dogs play. A large playground for non-furry children is right next to the dog park, with a little kid and a big kid area, and is also fenced in.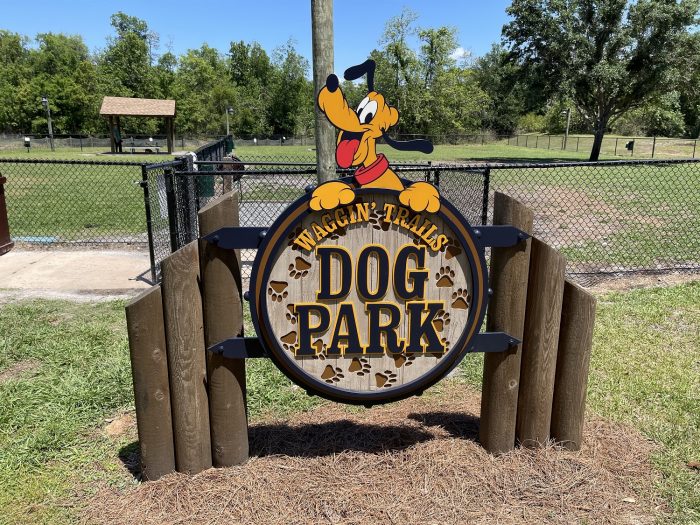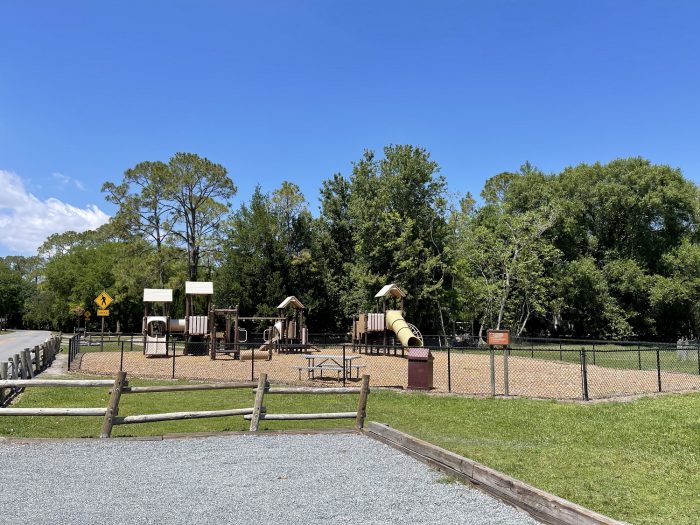 Outdoor movies are a beloved feature of all Disney resorts. But at Fort Wilderness the experience is "of the first water" (that's cowboy speak for being the best). Unfortunately, right now the elements that make the outdoor movies so special here at Fort Wilderness are temporarily unavailable.  Chip 'n Dale's Campfire Sing-A-Long (presented by OFF!) is normally offered at an outdoor theater located next to the Meadow Recreational Area. The entertainment aspect of the Chip 'n Dale sing-a-long is currently not offered, but movies are still offered. You can also purchase S'more packs (chocolate, marshmallows, graham crackers, sticks) from the Chuck Wagon near Pioneer Hall or from both merchandise locations – Meadow Trading Post and Settlement Trading Post. Campfire movie schedules were posted in several locations all over the resort. Movies are always G rated and start at 8:00 p.m.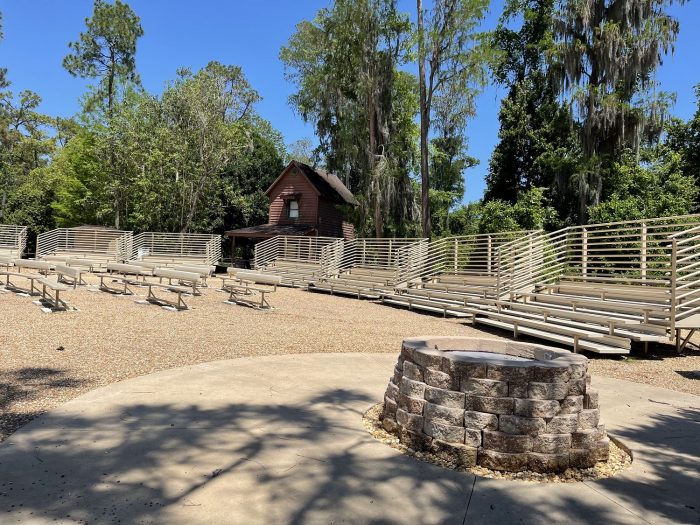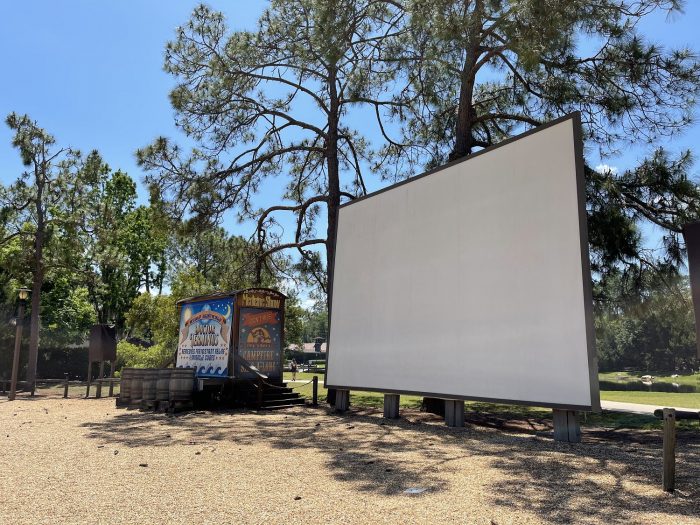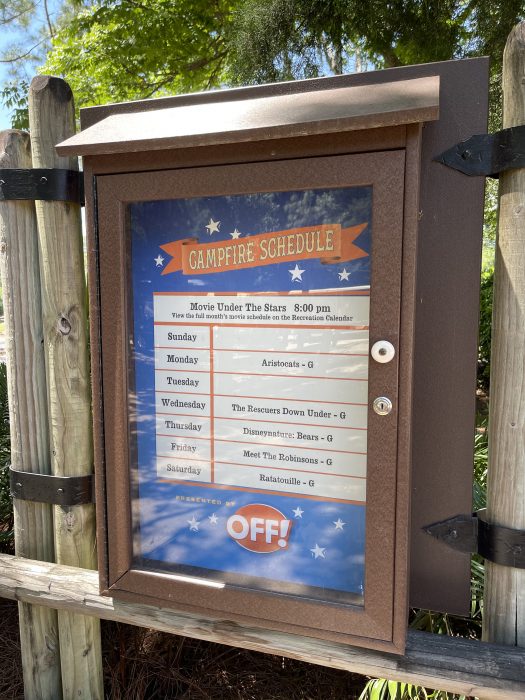 What would a wilderness themed resort be without horses? The Tri-Circle-D Ranch is located at the front of the resort. There is also a small pony pen near Pioneer Hall. Pony rides are offered for children age 2 and older, under 80 pounds, and they must be able to sit up by themselves. Chrissy and her family didn't do this, but they did get to see a pony, and that's almost as good. Hours are 10:00 a.m. – 3:00 p.m. and $8.00 + tax per child. Pony rides are currently only available on a walk-in basis.
Over at the Tri-Circle-D Ranch there are full grown horses, many of which perform different roles at the Disney theme parks. Horseback trail rides can be reserved at (407) 939-7529, at $55 per person + tax,  for a 45 minute ride. The trail is separate from the resort's roads so you'll see natural Florida beauty, and a side of the resort than many guests do not get a chance to witness. Reservations are not required, but are recommended, and all riders must be age 9 or older. Close-toe shoes are required, and you must be 48 inches tall and weigh under 250lbs. Wagon rides and Carriage rides are not currently available.
Would you like to see horses without paying? Trail guides start their rides at the Trail Blaze Corral at the front of the resort near the Outpost / Check-in area. Chrissy hung around gawking at the horses until one of the kind Cast Members let Chrissy pet one (Ranger). But you do not need to resort to this method, you can follow the walkway to the Tri-Circle-D Ranch stables and walk through to see Cinderella's Ponies and a few horses of Main Street, U.S.A. There's also the calliope that Walt Disney purchased for the Mickey Mouse Club Circus Parade at Disneyland Park.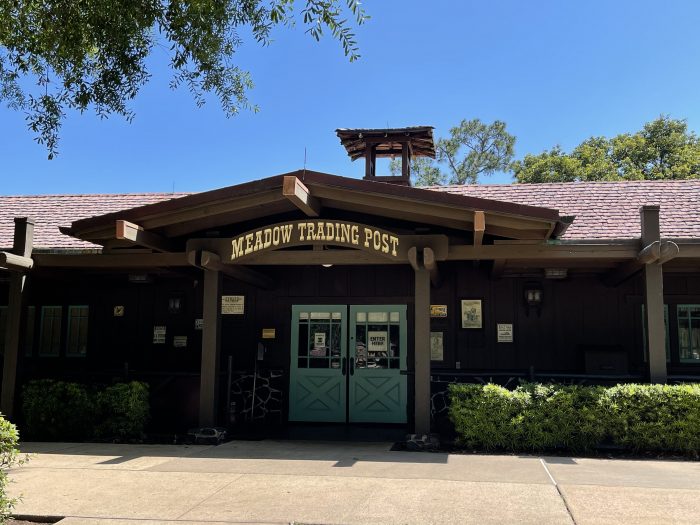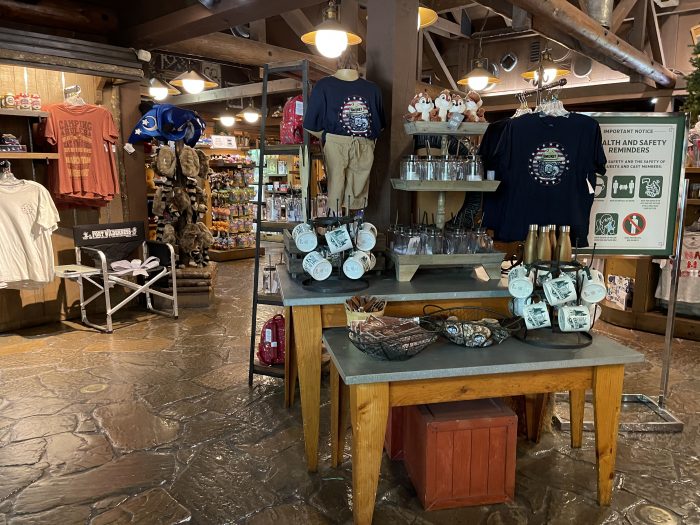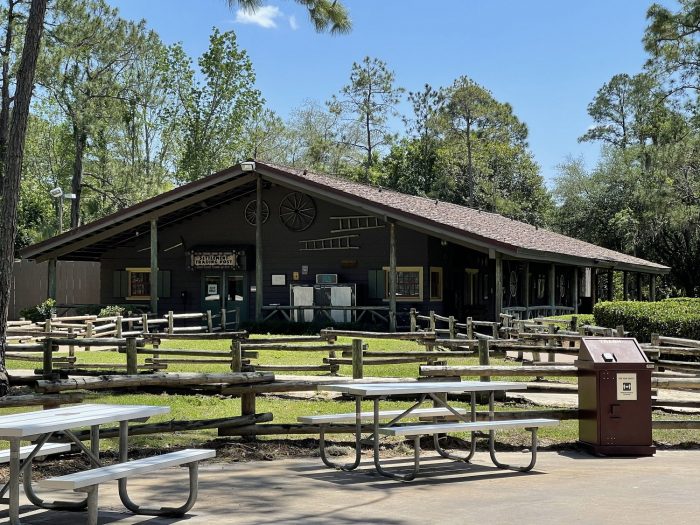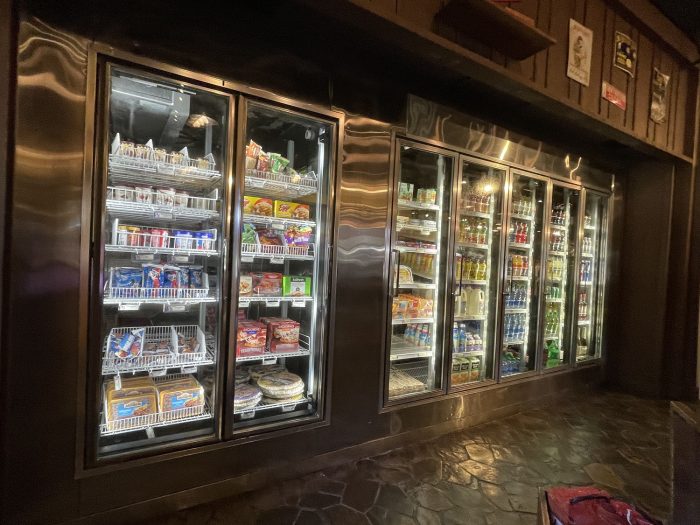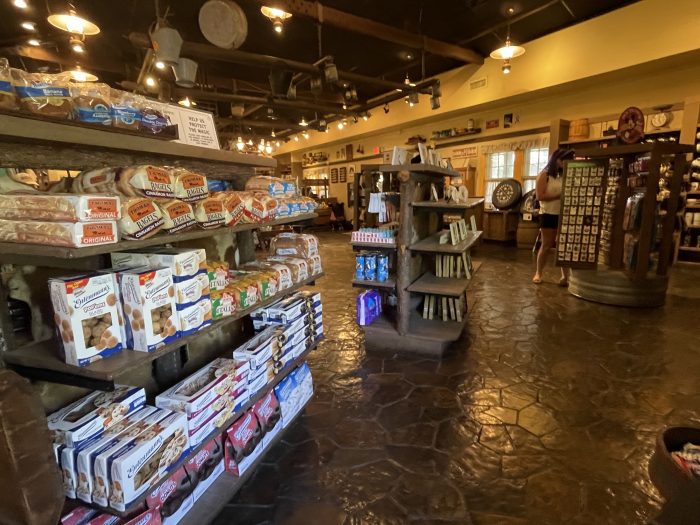 Disney's Fort Wilderness Resort Transportation
Because this resort is so vast and spread out, the transportation can be frustrating. Chrissy rented a golf cart, which we recommend doing for ease with getting around the resort. To access the theme parks you will need to head to the front of the resort where the park bus terminal is located. There are internal buses that continuously run throughout the resort, but only stop at other destinations within the resort, and do not go to the parks.
14 bus stops throughout the resort.
12 of 14 are internal stops – these are buses that take you around the resort in a loop.
You cannot get on a resort bus on 12 of the 14 stops. For example, stops at the following loops will only take you to other stops in the resort and will not take you to a park- 2800, 2600, 2200, 2000, etc.
All of the "numbered" stops are just to pick up guests at those cabins or campsites.
The only two bus stops that will see buses that go to parks are:

The Outpost Bus Stop – this is at the front of the resort near check in. EPCOT, Disney's Animal Kingdom, Disney's Hollywood Studios, and Disney Springs.

A Cast Member told Chrissy that although it isn't on the map, a MK bus will stop here but it's only once every hour or so.

Settlement Outpost – Magic Kingdom bus

Guests can take a boat to the Magic Kingdom from the Marina, which is at the back of the resort near Pioneer Hall.

When we were there the boats looked to be frequent! We were told the frequency depends on occupancy. We went during spring break.
If your cabin or site is near Pioneer Hall, some guests indicate they like to take the Magic Kingdom boat over and then use the monorail to get to the TTC then transfer to EPCOT. Sadly, that is not an option right now as the EPCOT monorail is not running.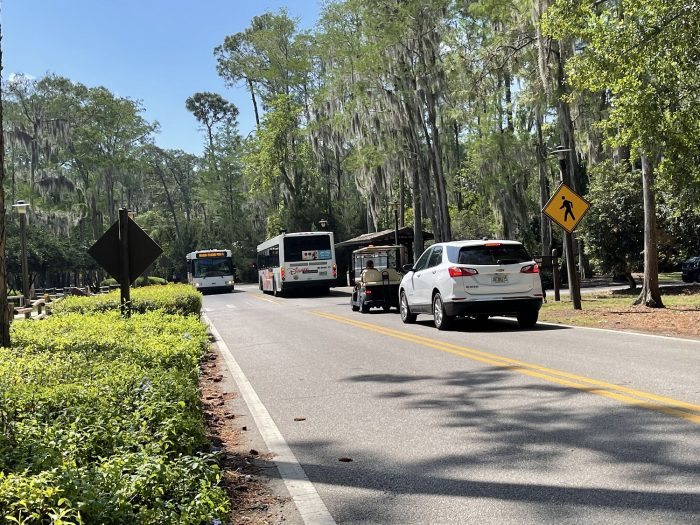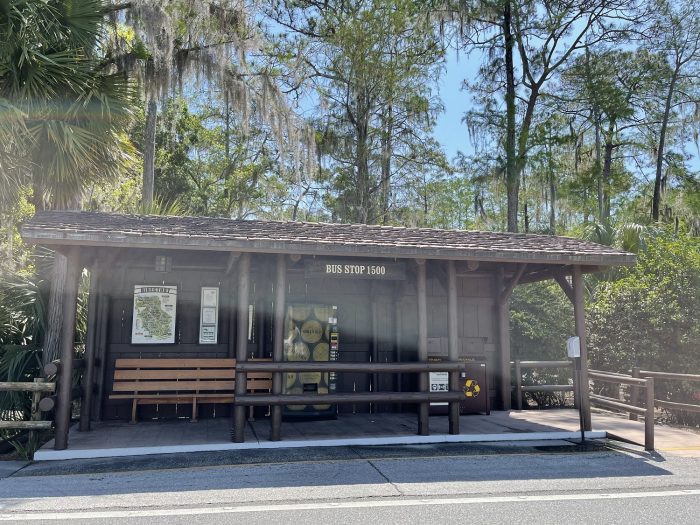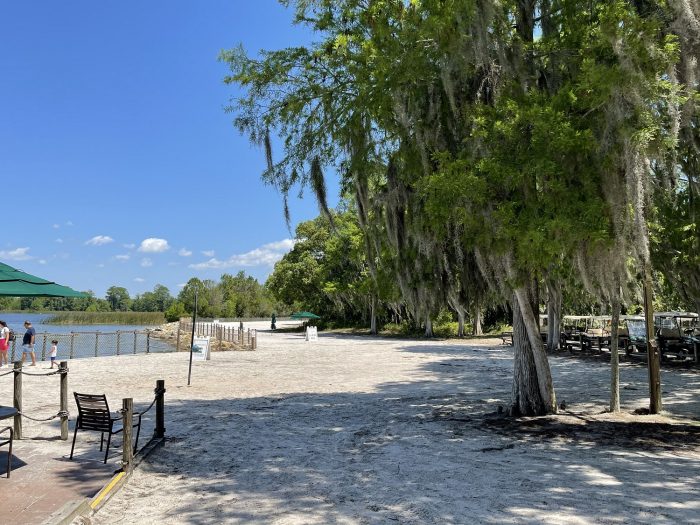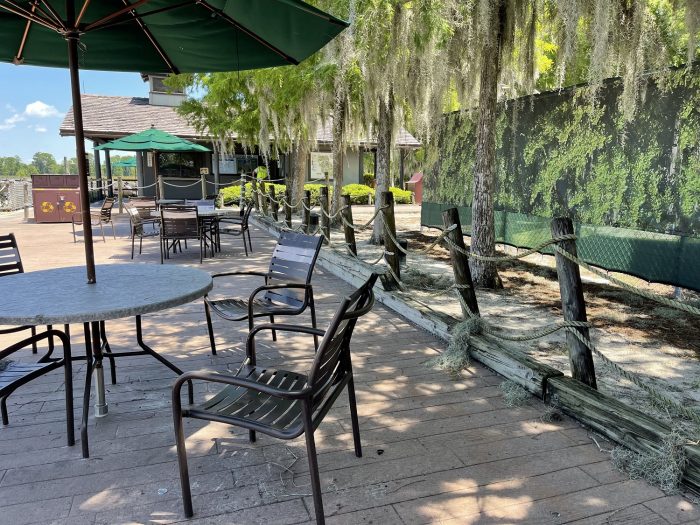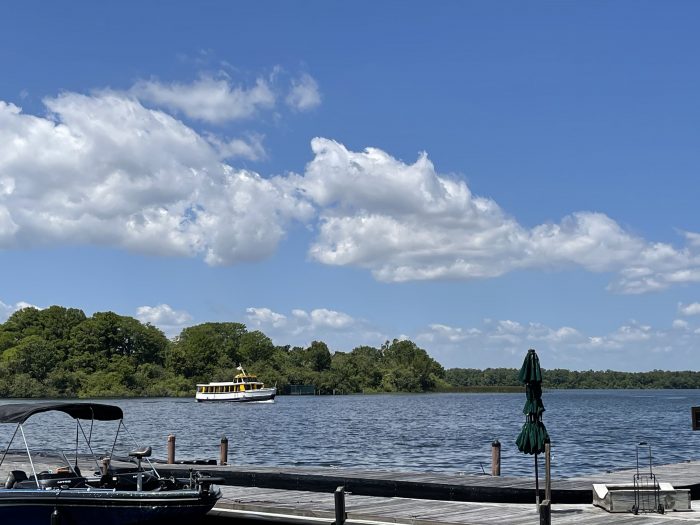 Golf Cart Rentals

Reservations are not required but are recommended. Unreserved carts are rented on a first come/first served basis.
Externally – you can call (407) 824-2742 to make a reservation up to 1 year in advance
Internally – you can call 7-2742 for reservations
The Disney website says carts are $62.91 + tax but the Bike Barn shows the rate as $67.00 per day.
Golf carts are picked up at the green umbrella outside the Outpost near check-in and returned to the same area.
Golf carts have a 10-foot charging cord under the back seat that retracts when not in use. Each cabin has an outlet just under the cabin number.
It was no problem to park two cars and the golf cart on the side with enough room to charge.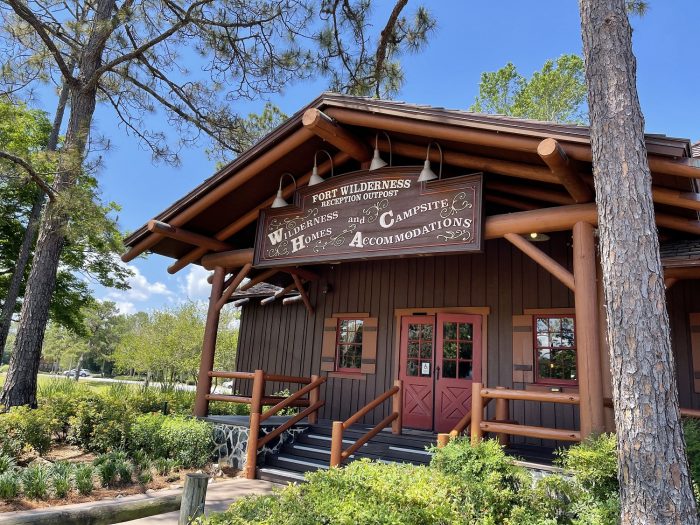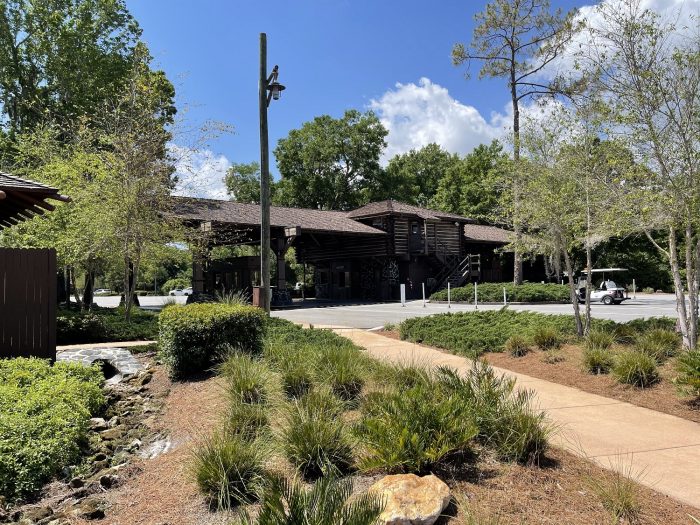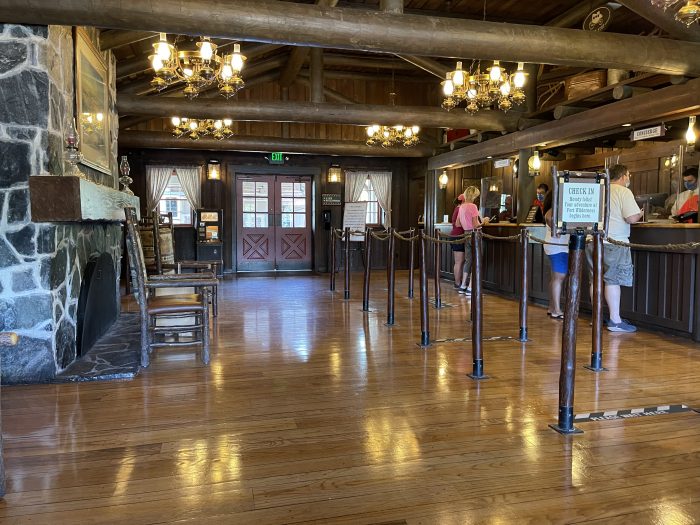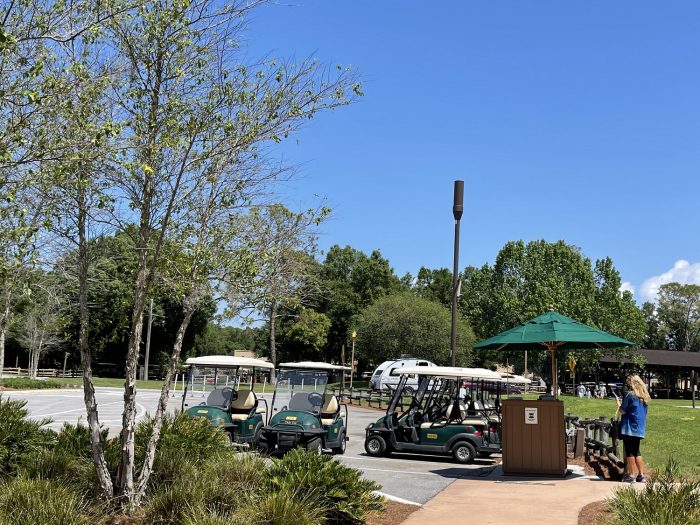 Dining at Disney's Fort Wilderness Resort
Currently the two signature dining experiences offered at Fort Wilderness Lodge are not open: Trail's End Restaurant and the Hoop-Dee-Doo Revue. There are, however, three other dining locations available at this time.
P&J's Southern Takeout

This is the only mobile order location on property.
There is inside and outdoor seating
Located near the back of property, near Pioneer Hall
No car parking – only golf cart, bike, etc.

Meadow Snack Bar

Open for lunch and dinner
Quick service located at The Meadow Pool
Outdoor seating and pool seating
Basic cocktails, beer, and wine also available

Crockett's Tavern

Outside walk-up order only
Hours 4:00 p.m. – 10:00 p.m.

Chuck Wagon

Camper parked between Pioneer Hall / P&J's and the Marina
Open daily 5:00 p.m. – 9:00 p.m.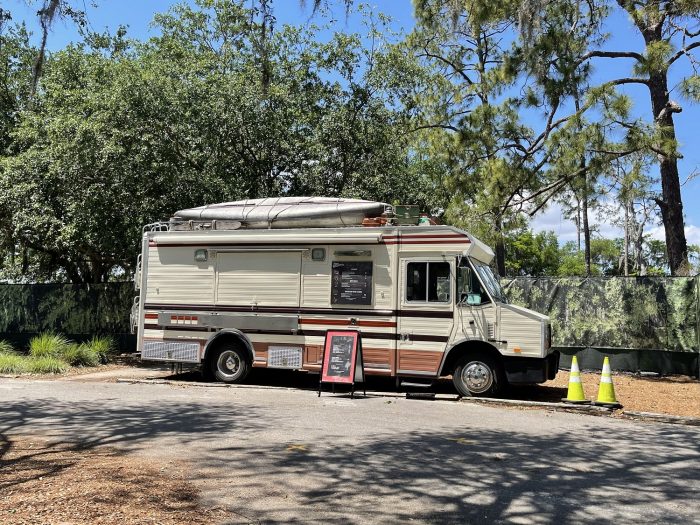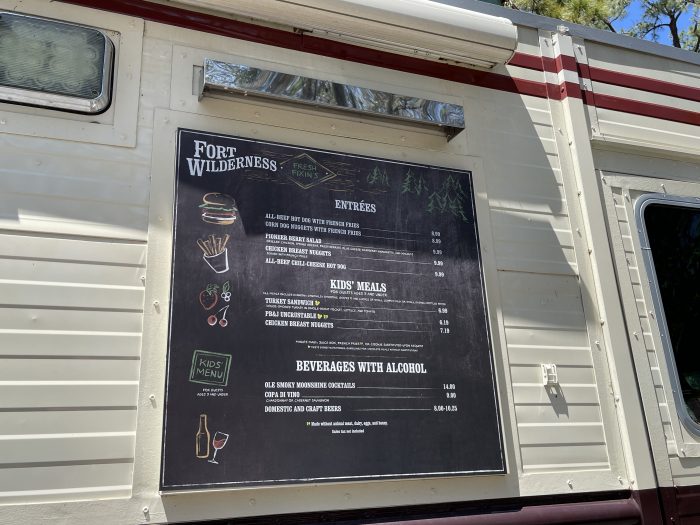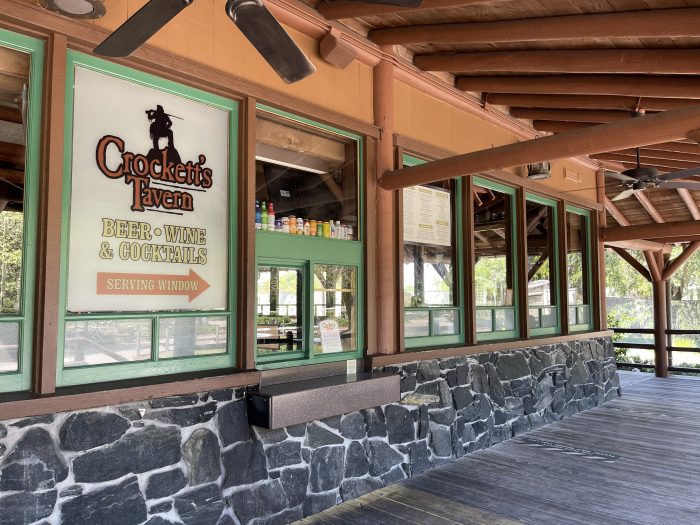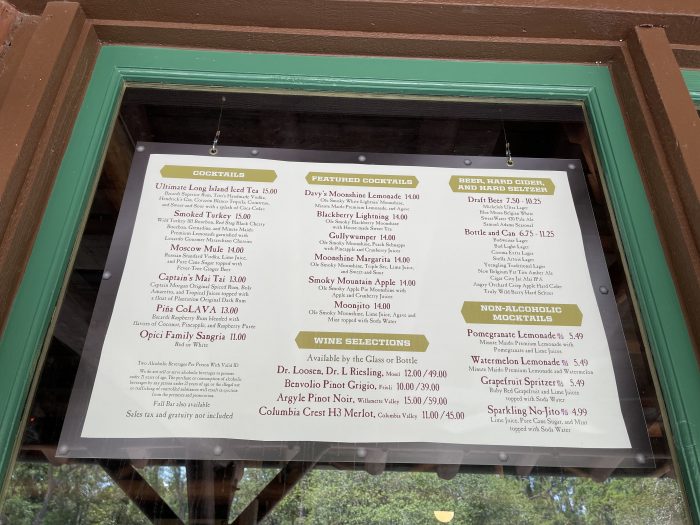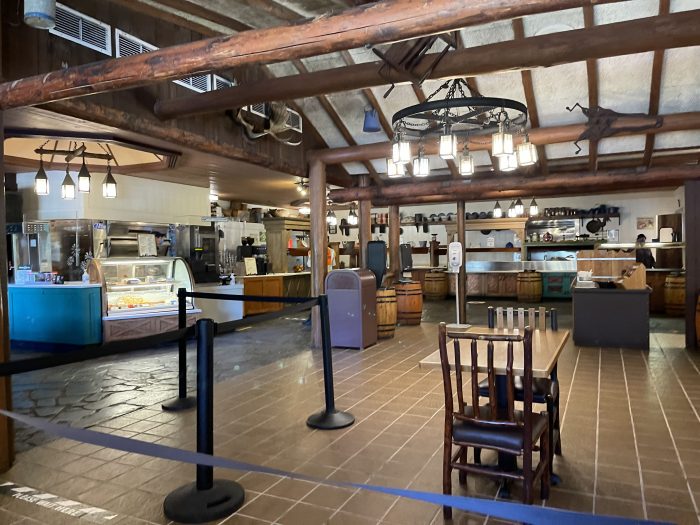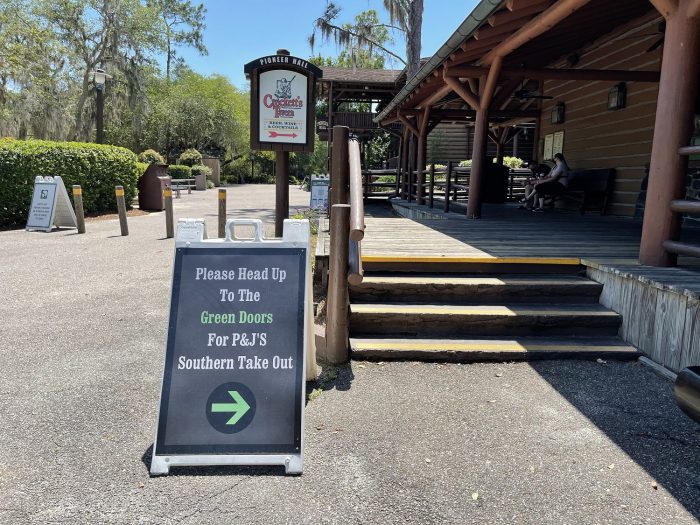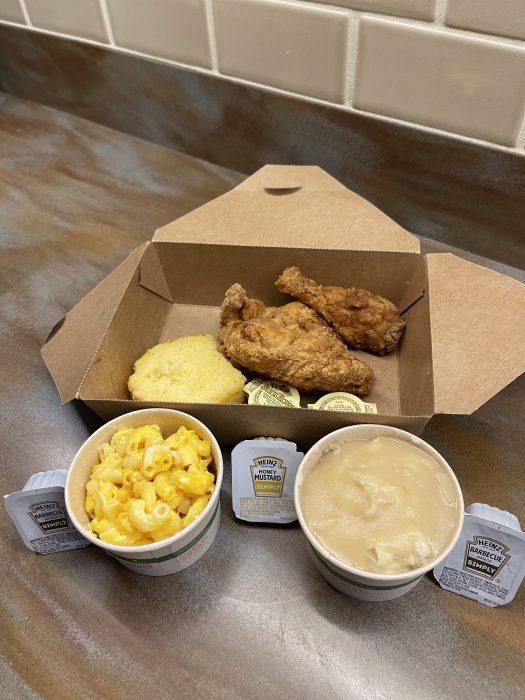 Disney's Fort Wilderness Resort Review Wrap-Up
Although Chrissy only stayed one night, it felt like getting away from it all, while being near all the magic. Disney's Fort Wilderness Resort is beloved by families, especially the cabins. With a full kitchen and dining area, as well as an outdoor charcoal grill and outdoor seating area it is easy to save some money, or even just heat up some leftovers from last night's magical meal. It's hard to beat waking up in the wilderness surrounded by natural beauty, and Disney magic.
Have you ever stayed in a cabin at Fort Wilderness? How was your experience? Let us know in the comments!