REVIEW: Is Regal Eagle Smokehouse A Strong Addition to Epcot?
As is tradition with any restaurant opening at Walt Disney World, Regal Eagle Smokehouse has already received loads of reviews. The general consensus is that it does indeed live up to the anticipation. This space, the former home of Liberty Inn quick service, desperately needed to be born anew. On that account, Regal Eagle has spread its golden wings. This is a vast improvement of the space.
But, does the food and the theme fit Epcot? Is it is a strong enough addition to be worthy of this beloved Disney theme park?
I believe it does, and here's why.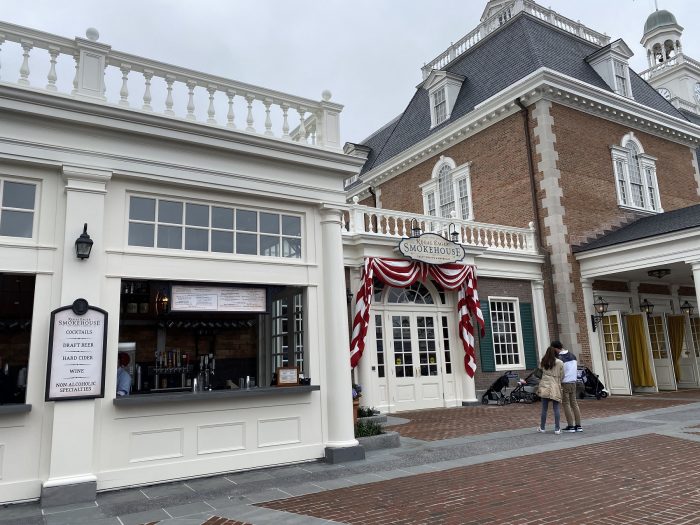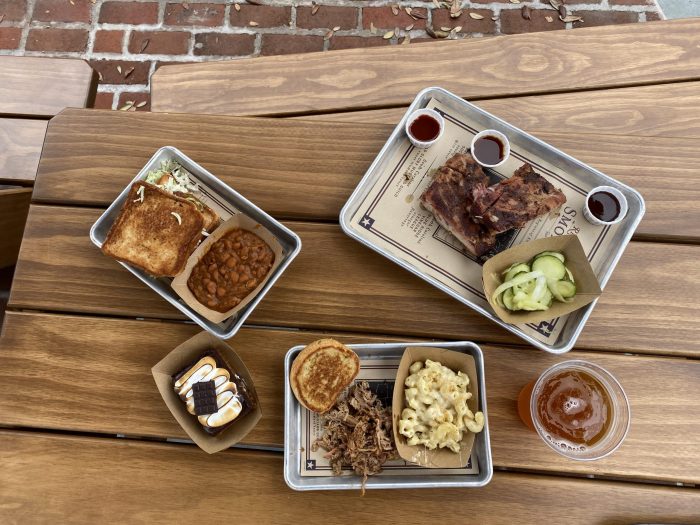 The Muppets Theme is Not Over-The-Top
Was it necessary to have a theme and backstory featuring The Muppets? Absolutely not. But, The Muppets theme is not intrusive or gaudy. Simply told, the story of Regal Eagle Smokehouse goes that the overly patriotic character, Sam the Eagle, is hosting and judging barbecue from different regions of the country.
Factions representing some of the major BBQ regions in the USA are woven into the menu. The menu indicates the region and style each food menu represents. The placemat at the bottom of each food tray mentions the competing factions. But most of all, these different groups are the inspiration for the decor along the brick wall that runs the length of the restaurant on the right hand side as you enter.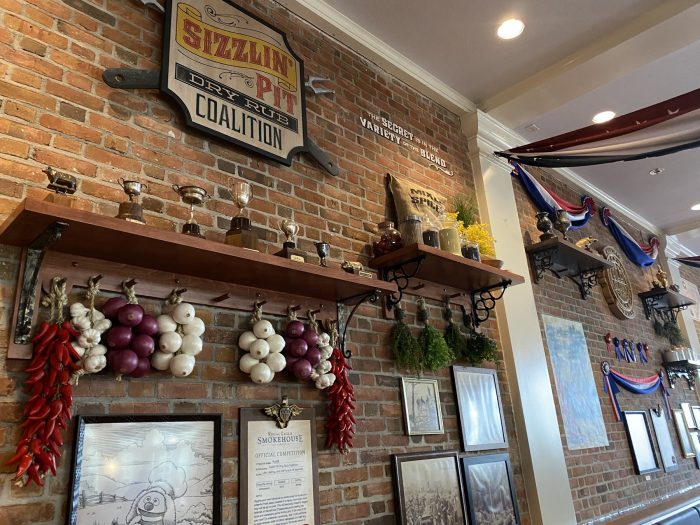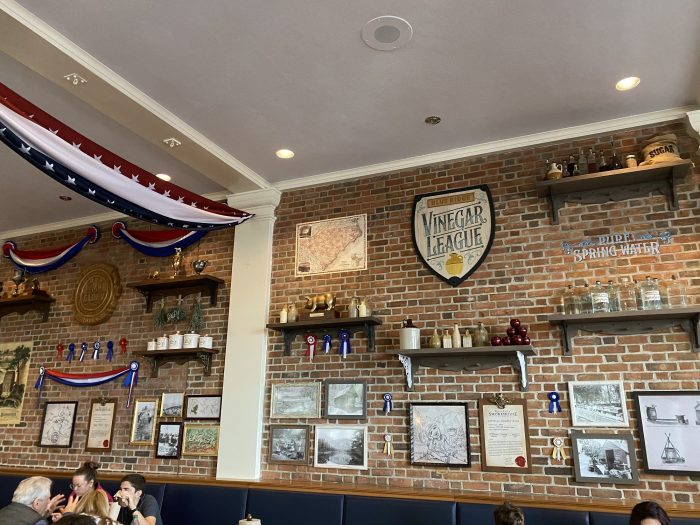 Each faction has a Muppet mascot, like Gonzo (everyone's favorite weirdo) and Janice (the hippy-like Muppet with long blonde hair). One downfall with this decor, and the details they contain, is if you are not sitting near it, you cannot get close to it to observe the details without disturbing the parities sitting there. These decorations and the aforementioned placemats are essentially the only evidence of the Muppets theme. It is a respectable balance, adding some Disney fun without it overtaking the entire feel of the space.
Side note: Has it been irking anyone else that the name of this place is "Regal Eagle" yet Sam the Eagle is an overly patriotic character whom I believe would not want to be associated with the word regal, that means having to do with royalty or the monarchy?
The Dining Area and Seating is Improved
There are no more iron chairs loudly scraping against the floor, filling the large dining room with a harsh screeching echo. The dining room may have high ceilings, but it feels warm and inviting – more so than it ever did before. The wood tables and backless chairs make it easy to accommodate a variety of party sizes. My dining party and I arrived in the dining room at just around noon and nearly every indoor table was occupied. Just a few days shy of opening day, this did not surprise us. With no other option available to us, we sat outside.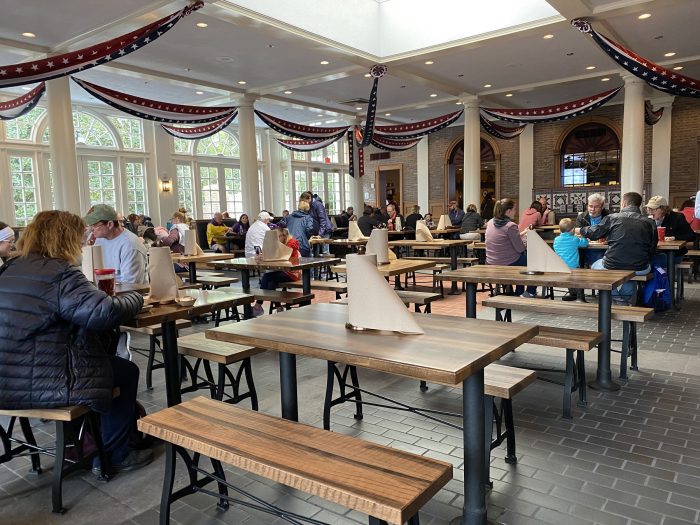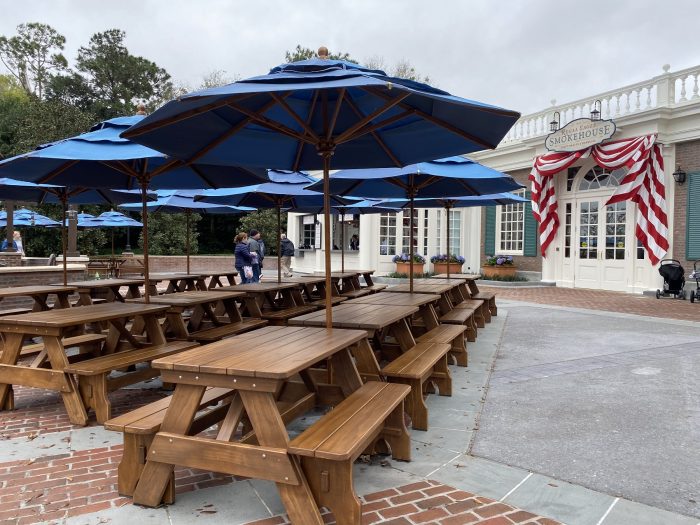 The outdoor dining area is great. The bench seating works well for a party of four or five. Each table has its own umbrella – this will be absolutely necessary in the summer. With the walk-up bar and the real working smoker, the atmosphere is very inviting. While the smoker does indeed work, it is mostly for show. During our visit Chef Al ran the smoker, creating wisps of smoke that acted as a signal to hungry park guests.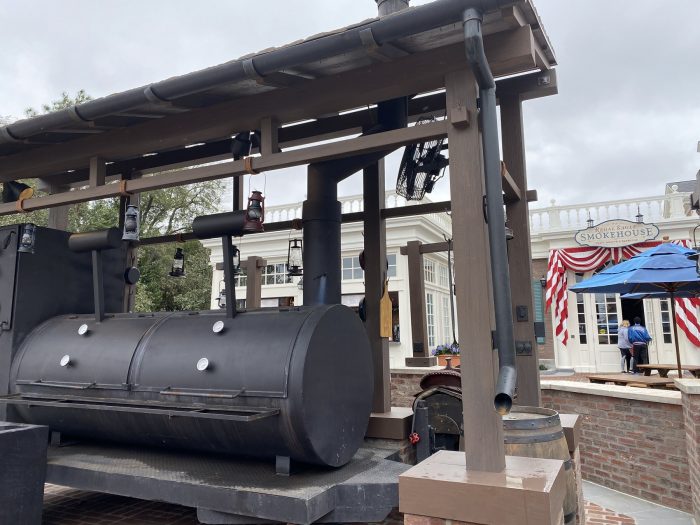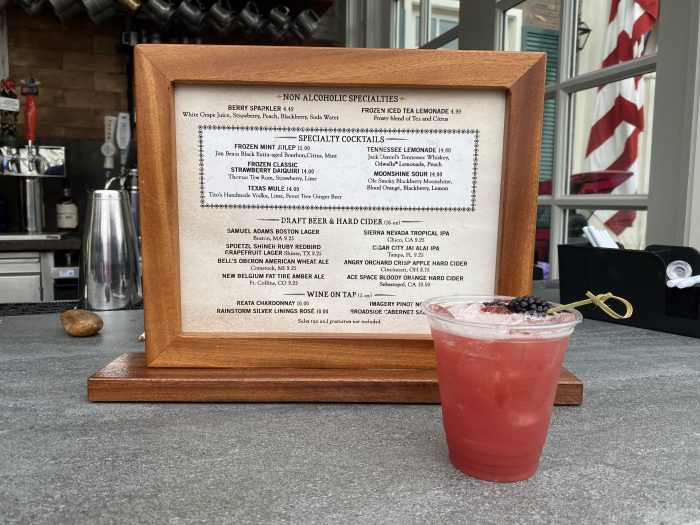 One missed opportunity is that the outdoor bar is purely a walk-up bar without any seating. Then again this encourages quicker turnaround and thus higher traffic. It is easy to grab an outdoor table with your food order in hand, and then grab a drink from the outdoor bar to pair with your meal.
The Food Is Executed Well
I like that they kept the food traditional, overall. There isn't a Brisket Mac and Cheese or a BBQ Chicken Flatbread, something along those lines. Everything on the menu, aside from perhaps the BBQ Burger and the Plant-Based Burger, are items you'd easily find at any BBQ joint in the South or Midwest. The seasoning on each meat we ordered could have been stronger for my taste. But, I recognize Disney needs to be able to please masses of guests from all over the world. The one glaring omission is a true vegetable side. The closest option are the house-made pickles, but I would prefer green beans, okra, or collard greens.
Memphis Dry-Rub Pork Ribs $15.99
A dry rub generally consists of herbs and spices that are rubbed onto the meat prior to it being cooked. Pork ribs can easily become tough and dry if they are not slow cooked, and dry-rub ribs are especially vulnerable to this as they lack any sauce. These Memphis Dry-Rub Ribs needed more time in the smoker. I could not separate them from the bone no matter how hard I tried. I meagerly ate them with a fork, tearing away as much meat as I could. Thank goodness for the variety of sauces to help with the dryness.
My dining partner was able to split apart the second set of ribs and I enjoyed that set a little better since I could eat the ribs the way they are meant to be eaten – by hand. I'd like to perhaps go to Flame Tree BBQ soon to see how their ribs are holding up after being served at Animal Kingdom for so long.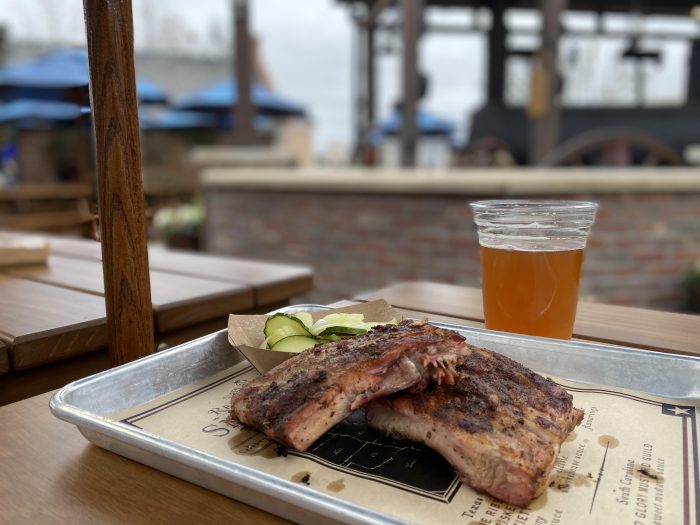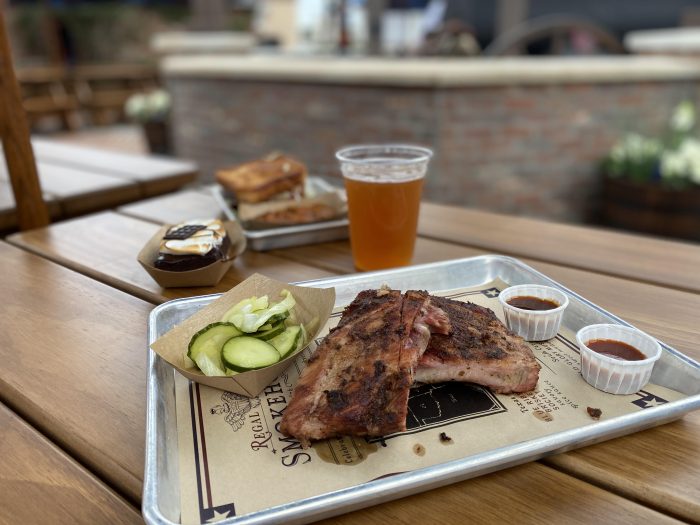 I selected the House-Made Pickles to accompany the ribs as they are receiving lots of attention. It is odd to see pickles as a side, especially at a BBQ restaurant – normally pickles come along free of charge. These aren't just pickles, though. In this case they resemble a pickled cucumber salad. They are thinly sliced with a few onions here and there. The flavor is tangy, with a hint of sweet. If you want something to lighten up your meal, this is a good choice.
For the price of $14.99 for just the ribs alone, I'd suggest getting the American Platter instead for $18.99. You'll be able to enjoy three different meats of your choice, including the ribs should you desire.
North Carolina Chopped Smoked Pork Butt $12.49
Many people think of pulled pork when they think of barbecue. It is generally my go-to in this genre. But, chopped pork is actually better in some ways as it takes the process one step further. Rather than just pulling the meat from the bone, chopped pork is chopped up once it's off the bone, making the meat more tender.
This North Carolina Chopped Smoked Pork Butt is indeed tender. The pork flavor pulled through as the seasoning seems light. Some of the heavier sauces that are available to accompany your meal, like the spicy sauce, might over power the flavor of this meat. The serving size seemed a little small; I believe it is 6 oz.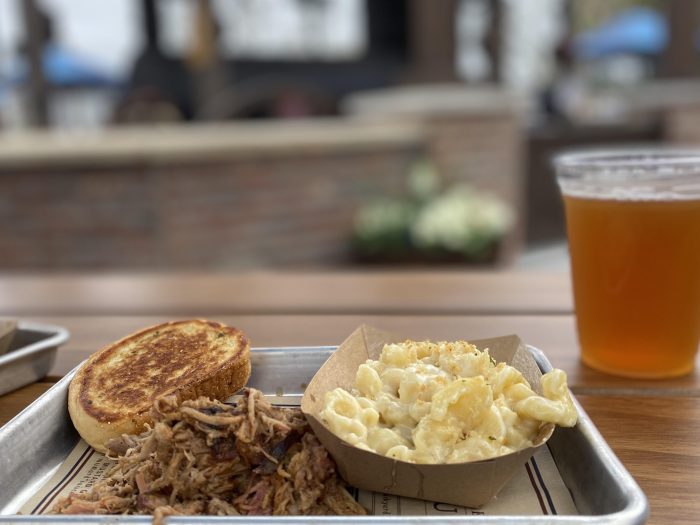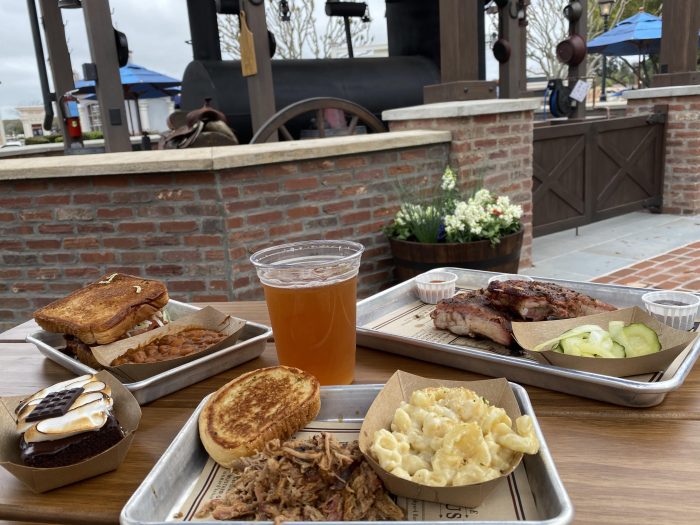 The star of this plate is the Mac and Cheese – which you can get as a side to any of the meals. My dining partner selected this and I have to admit, looking back on it I am envious. This mac and cheese is legitimate and does not taste mass produced.  True Southern style mac and cheese should be rich and creamy, and this is accomplished in Regal Eagle's version.
BBQ Jackfruit and Beyond Burger (Plant-Based) $12.99
After ordering the ribs and the chopped pork butt, I realized I had not ordered one of the sandwich options, served on garlic toast. I decided this would be a good chance to try Regal Eagle's plant-based burger option, perhaps in hopes of having a redeeming experience after the majorly disappointing plant-based burger at Restaurantosaurous.
Regal Eagle's plant-based burger is actually a two-fer. A Beyond burger patty is topped with BBQ style jackfruit. I have seen jackfruit in many plant-based dishes, and was curious to give it a try. On my burger there were very large chunks of jackfruit, making it awkward to eat at times. The Beyond patty is very good and comes very close to tasting like beef, but the jackfruit overpowered and detracted from the patty. I have had both Beyond and Impossible patties and I am still torn on if I have a preference for either brand.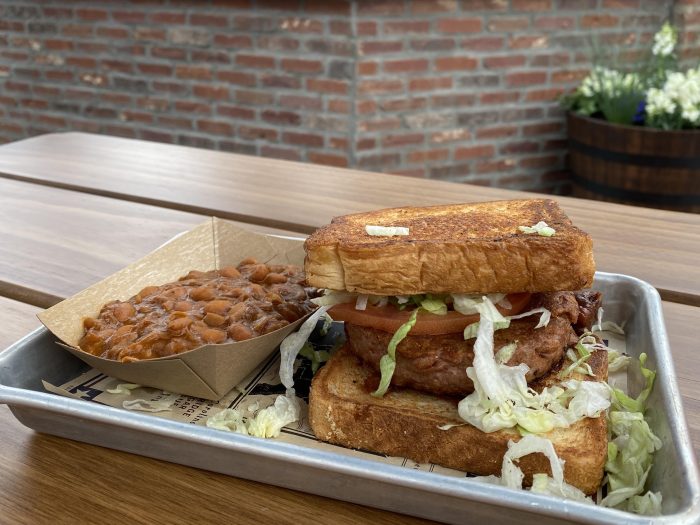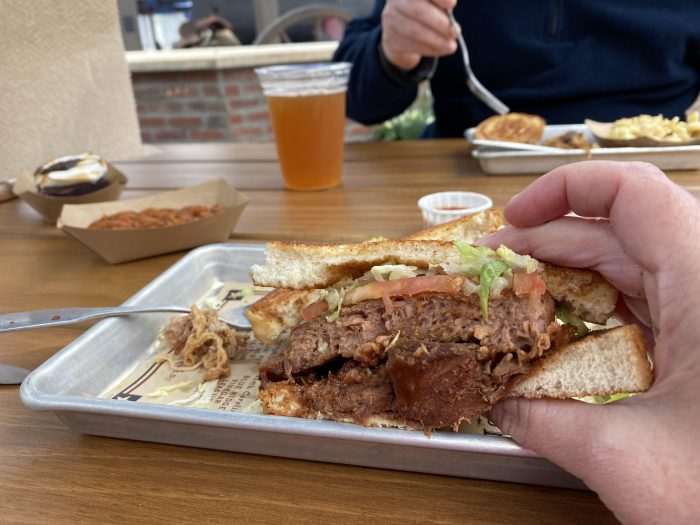 The shredded iceberg lettuce and tomato are nice-to-have standard toppings. I had high hopes for the Garlic Toast as a bun, but it did not hold the burger and jackfruit well. This is not a bad choice for plant-based eating – though I would recommend either asking them to go light on the jackfruit or consider picking some of it off if you find it overpowers the burger itself.
I selected the Baked Beans with Burnt Ends as my side, and they did not disappoint. The beans are a good compromise of Texas-style ranch beans that are rich and savory, and Southern BBQ beans that are sweet. The burnt-ends (which are the ends of the beef brisket) add some heartiness to this side. In the end, I wish Disney offered a side plate, often found at Southern and barbecue restaurants because I'd easily dine on the mac and cheese, burnt-end beans, and one other side as my meal.
S'Mores Brownie $4.99
As I walked through the dining area, my heavy tray full of food, I practically sold 15 of the S'Mores Brownie as people devoured it with their eyes. This visual delight induces salivation with its perfectly browned marshmallow cream and small dark chocolate bar on top. The brownie itself is dense and moist. The base has a slight caramel flavor, I believe in part due to the heavy use of butter, rather than a traditional graham cracker crust. The marshmallow cream on top is not sticky and as thick as traditional marshmallow. A layer of dark chocolate ganache sits in between the marshmallow and brownie, adding more decadence to each bite.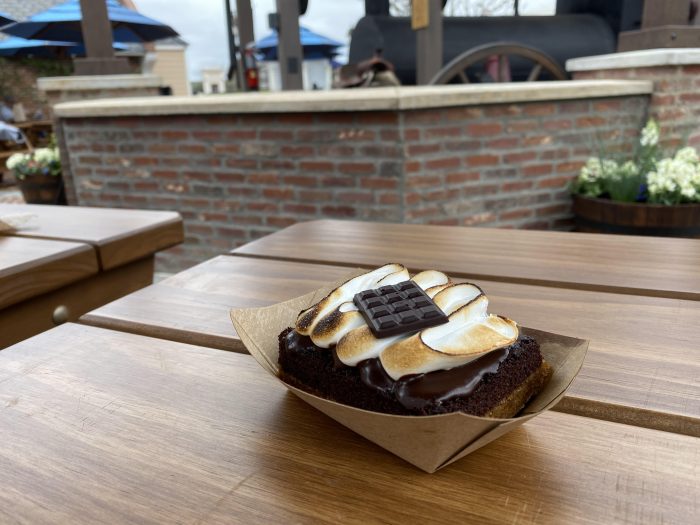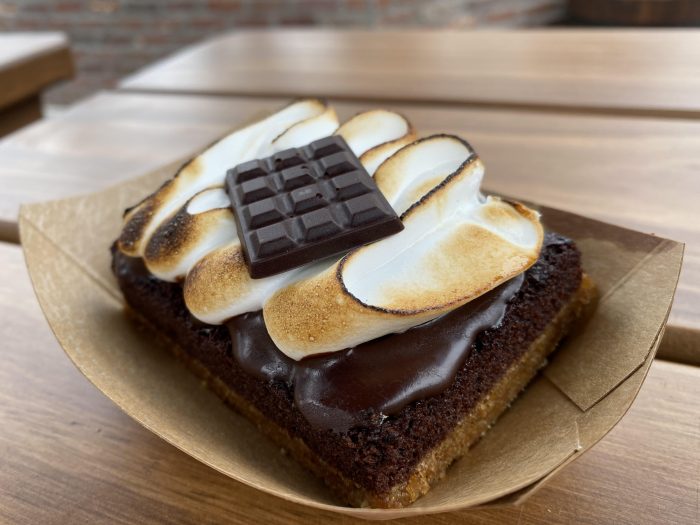 In Conclusion…
The big question is, with so many great culinary choices in Epcot competing for attention and vacation dollars, "Is Regal Eagle a top contender?" For those that prefer to stick to familiar flavors, I think Regal Eagle is a great choice while inside Epcot. While I may prefer to explore the flavors of the world and try different cuisines, other guests prefer not to – and that's okay. Or, if you do not have many barbecue restaurants where you are from, then I would certainly recommend Regal Eagle as a good representative of the varying styles.
The purpose of each World Showcase pavilion is to act as an ambassador for its host country. Usually the food presented is slightly diluted compared to what you might find at the actual country itself. That is not to say the quality is poor, but rather the recipes and presentation are sometimes modified just a little to be more approachable and easily mass produced. In that sense, I cannot think of a better food to represent the United States of America than barbecue.
Practically every style of food that is popular in America is not our own. As a melting pot of a country, the vast majority of our food is based on food found in another country. This is even true of barbecue. The origins of cooking meat over indirect heat come from Latin cultures, including the Caribbean and South America. Over time, after pigs were imported to Florida from Spain, and then spread through the South, the recipes and techniques evolved. Immigrants and settlers across the South and out toward Texas and the Midwest evolved the flavors and techniques to create their own Americanized style of barbecue.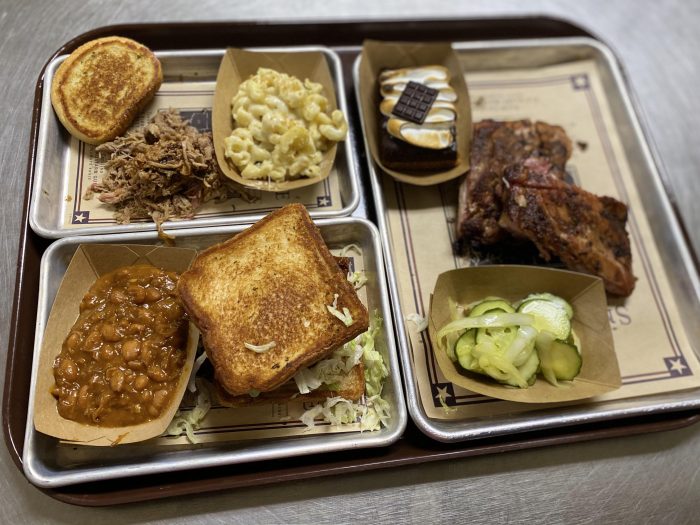 Take one look at our TouringPlans Menu Finder, search the word "barbecue", and you'll see there is a fair amount of barbecue-inspired food all across Walt Disney World. As a local who has a variety of barbecue places nearby that I can easily visit, I wouldn't head to Epcot just to dine at Regal Eagle. However, the barbecue offered here is as authentic as one can expect from Epcot. It can stand proud as one of the better barbecue offerings available at Walt Disney World.
And because restaurant openings tend to have a bit of "extra Disney magic" to try and make the best first impressions possible, we'll be back to review it again after it has had some time to get into its regular groove to see how it holds up.
Are you eager to try a meal at Regal Eagle? Let us know what you'd like to try on your visit.