11 Reasons Why Walt Disney World Quick Service Restaurants Are Awesome
I frequently see social media posts from guests planning Walt Disney World trips who are apoplectic about not finding table service dining reservations available at a particular location or at a particular time. While there are many wonderful table service spots at the Disney World parks and resorts, there many benefits to the dining alternative – quick service restaurants.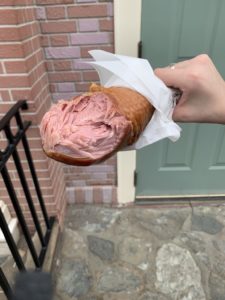 In many cases, you may be better off skipping table service meals and sticking with the quick service options. Here are some reasons why:
1. There are more quick service locations than table service locations.
The exact number of dining locations of any particular type is always in flux, but right now the Walt Disney World website lists about twice as many quick service locations (203) as table service locations (96) in the parks and resorts, and that's not counting the many food carts and booths that add to the count of quick options. There are some locations, notably the value-level resorts that have no on-site table service venue.
Due to the sheer number of quick service locations, you're likely to find one nearby, wherever you are. That means you can pop in to eat when you're hungry, not based on where you thought you might be when planning several months ago.
2. Quick service options may have longer hours.
In the WDW resort hotels, most quick service locations open at 7:00 a.m., with a few opening as early as 6:00 a.m. These same locations are typically open until 11:00 p.m. Table service options often start at 7:30 a.m. and end at 10:00 p.m., meaning that if you're hungry early or late, you'll want to look for quick service places.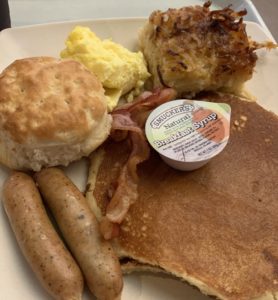 3. Quick service locations may be less expensive.
There are exceptions, particularly depending on what type of food you order, but in general quick service restaurants at Disney World cost less than table service restaurants. For example, the bacon cheeseburger offered at the Wilderness Lodge's Roaring Fork quick service restaurant lists for $13.99. A similar bacon cheeseburger at the sit-down Sci-Fi Dine-In at Hollywood Studios costs $19.00.
4. There's no need to tip at quick service locations.
Another factor in the expense analysis is that guests will need to add a gratuity to the cost of table service meals, which is not the case with quick service meals. This means the real cost comparison above is $13.99 vs. $22.80 ($19 + a 20% tip).
5. You don't need reservations at quick service locations.
To eat at most WDW table service locations, you need to make a reservation, usually weeks, if not months, in advance. This can take hours of planning and, depending on where you live, can mean you need to wake up at a strange hour to play reservation roulette that you might or might not win. Conversely, quick service dining takes no advance planning. And while you might have to wait, there's little chance that you'll be shut out of dining at your favorite quick service spot.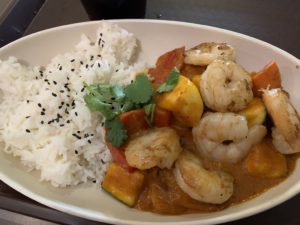 6. Eating quick service meals takes less time than eating table service meals.
While the timing varies based on the location, what you order, and the time of day, we typically tell people to budget at least an hour to dine at a table service restaurant. At many quick service locations you can order, get your food, and be done eating in less than half an hour. That means you have more time available to enjoy the rides, entertainment, and other attractions in the parks.
7. Quick service restaurants have some menu items that are unavailable elsewhere.
The variety of foods available is staggering at both table service and quick service venues, but there are some items that you can only get from quick service restaurants. For example, you're only able to get a Ronto Wrap or Zuchii Wrap at the quick service Ronto Roasters at Hollywood Studios' Galaxy's Edge, not at any table service location. And don't forget the many food booths at the EPCOT festivals that all have unique offerings.
8. Your beverage costs go down if you use a refillable mug at resort quick service locations.
The quick service restaurants at the WDW resorts offer a $20 length-of-stay refillable mug that you can use to get soft drinks throughout your time at the hotel. When eating table service meals, you have to pay for beverages every time. If you're a big soda or coffee drinker, the savings adds up quickly.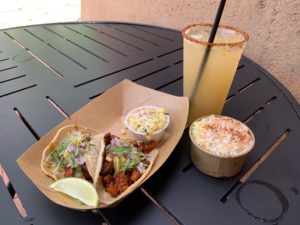 9. There are more options for dining outdoors.
In the COVID era, many guests feel more comfortable doing their dining outdoors, where there is better air circulation. Only a handful of table service restaurants have outdoor seating and even that may be unavailable at the time you want to dine.
10. Mobile order makes things easier for introverts.
As a certified introvert, sometimes I'm in a place where I need a little break from talking to people, even waiters. The mobile order option for most quick service places takes away this little bit of friction. Mobile order can also be helpful for guests with hearing issues or for whom English is not their native language.
11. Some guests with food allergies may find it easier to understand what their options are quick service restaurants.
The vast majority of quick service restaurants keep a binder behind the counter which contains complete ingredient lists and nutritional information for their offerings. You can speak with a chef at table service restaurants, but sometimes seeing information written out makes it easier to process.
Are you a fan of quick service dining? Let us know in the comments.