REVIEW – Minnie's Seasonal Dining at Hollywood & Vine
Hollywood & Vine at Disney's Hollywood Studios has brought back buffet dining, and is serving up breakfast, lunch, and dinner. During breakfast, it is a Disney Junior Dance Party, where you can join Disney Junior friends for a breakfast buffet. Lunch and dinner is Minnie's Seasonal Dining, and during our visit, the characters were dressed for Halloween.
What You Need to Know
Hollywood and Vine returned to buffet-style dining on August 28th, and the characters are also back to their normal and greet. Minnie host five different seasonal dines throughout the year. Currently, it is 'Minnie's Halloween Dine,' which runs through November 7th, before switching over to 'Minnie's Holiday Dine' on November 8th.
Breakfast at Hollywood & Vine is $42 per adult and $27 per child and features Disney Junior friends. Lunch and dinner are both $55 per adult and $36 per child, with appearances by Minnie and her pals, and feature the same menu. Reservations for all meals are strongly recommended.
Characters
Of course, Minnie is the host of her seasonal dine and is wearing her Halloween best. Characters come around to your table, and interactions tend to be longer than in traditional meet and greets in the parks.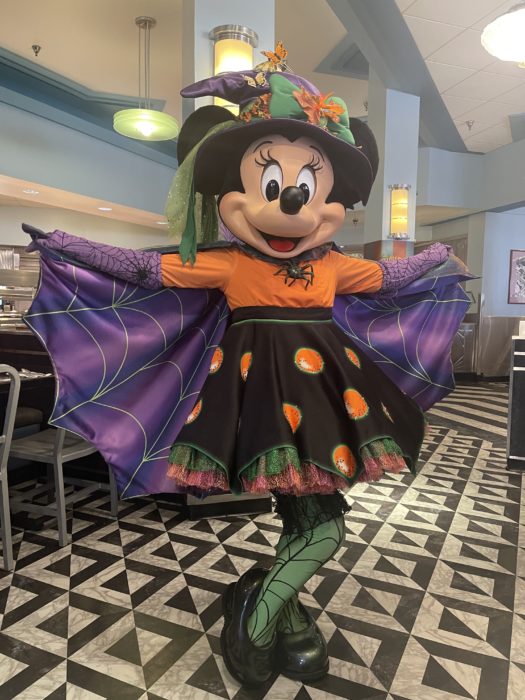 Mickey is also there in his spidery outfit, complete with spider buttons and a spider web cape. Mickey and Minnie make their rotations together and visited our table twice during our one-hour lunch.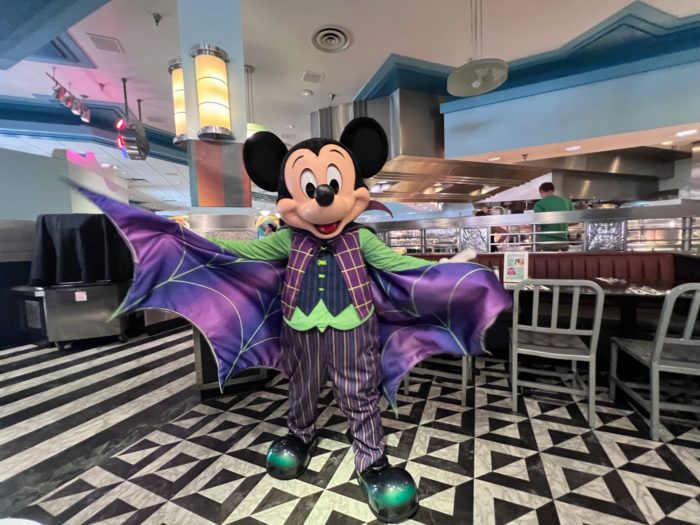 The characters played off the energy at our table and truly made the whole meal. For example, Mickey took a seat when we took a little too long at the buffet, and we played right into his shenanigans and had a great time.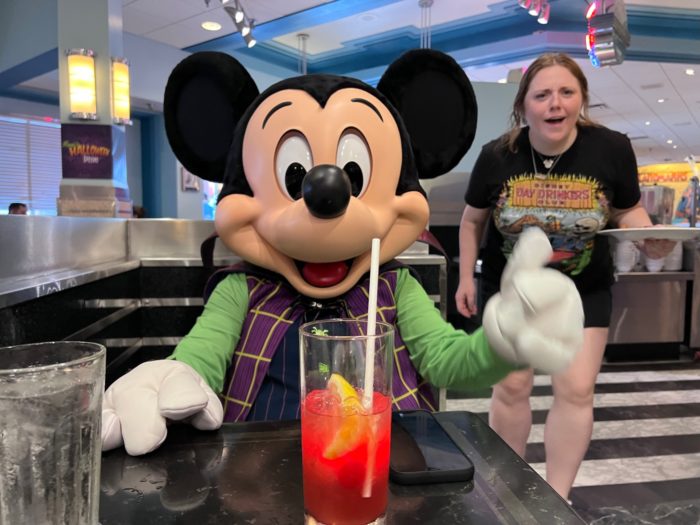 Of course, Minnie brings some of her other friends, Pluto came for a visit and had a custom dog tag with a glittery bat for Halloween.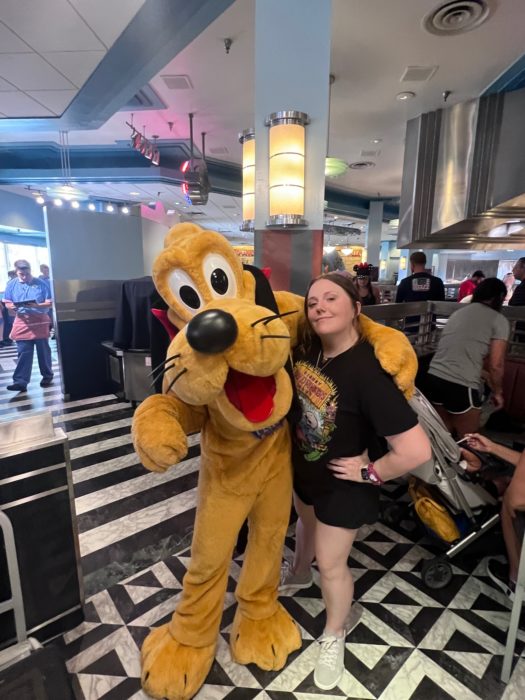 Finally, Cowboy Goofy made an appearance at our table.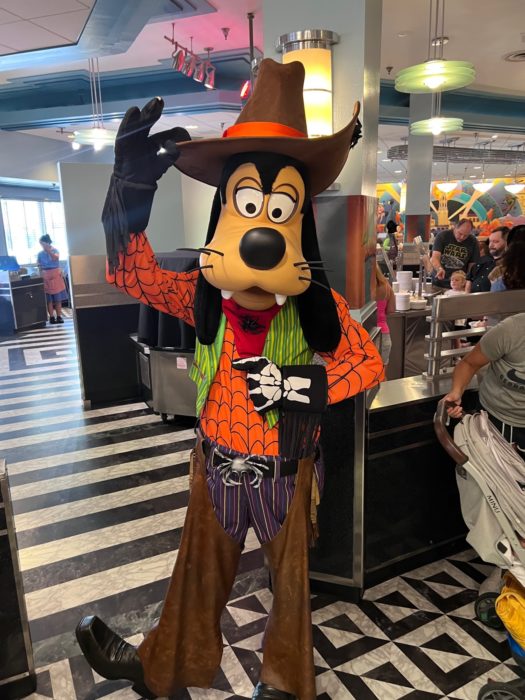 We arrived for lunch at 11:30 when Hollywood & Vine opens, and the characters started meeting about 10 minutes after we sat down. While Mickey and Minnie came around twice in that time, it took over an hour for Goofy to finally make it to our table.
Buffet
The buffet just came back, and we were impressed by the selection, freshness, cleanliness, and quality of the food. The buffet begins with a salad section, then cold salads and fruits, it continues to soup and hot items, before hitting the carving station, and there is a kids buffet at the end. Hollywood & Vine has two identical buffets, one for each side of the restaurant, so it helps with the flow of traffic. Of course, we can't forget about dessert, and Hollywood & Dine has it covered. There is a central dessert station, and it is located in the middle of the two buffets which allows great access for everyone.
The buffet starts with a salad bar, it includes two different types of lettuce and various toppings for your salad, everything was incredibly fresh.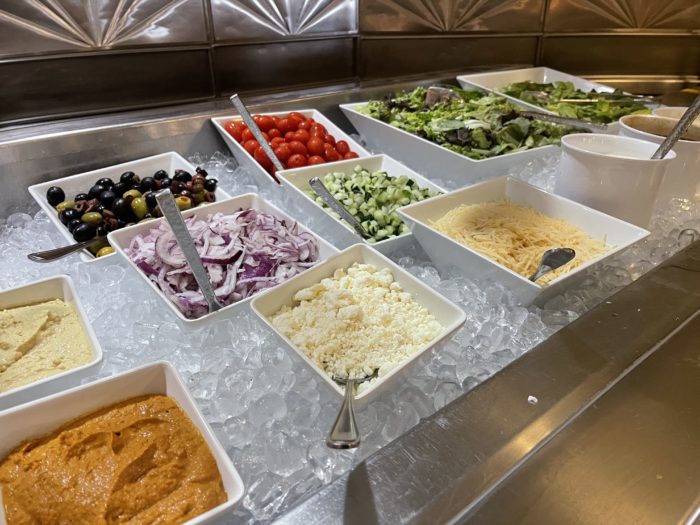 Moving on, there was a section with a decent amount of fresh fruit, cold salads, and peel-and-eat shrimp complete with cocktail sauce and lemon wedges.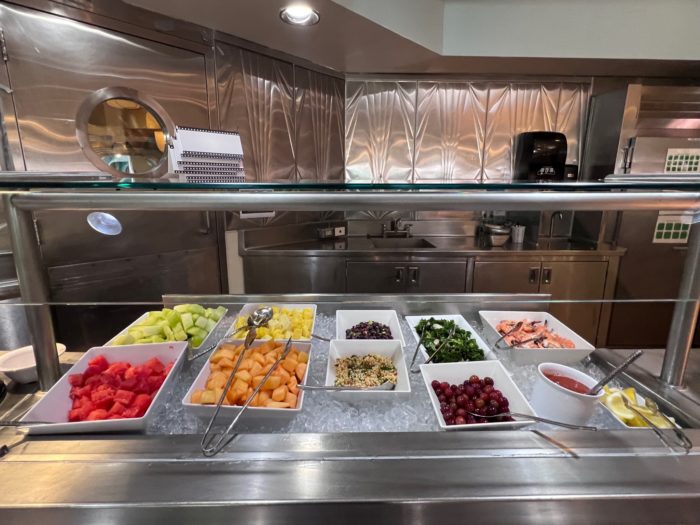 Continuing to the hot dishes, the buffet featured two kinds of potatoes, as well as a plethora of vegetables.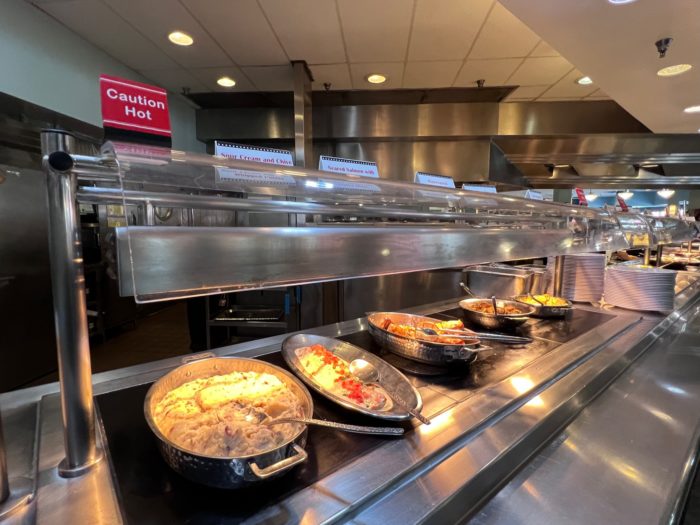 One of our collective favorite sides was the 'Caramelized Brussel Sprouts' they were perfectly crispy and lightly sweet from the caramelization, they were so good we went up for seconds!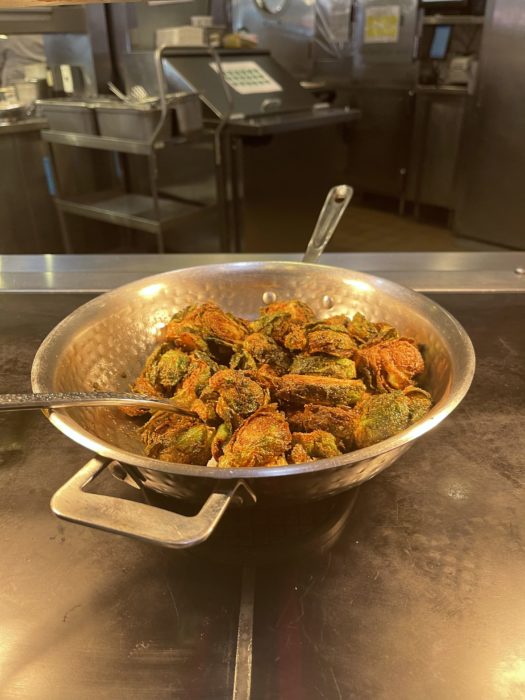 As far as entrees were concerned, there was a good selection of meats, fish, as well plant-based options.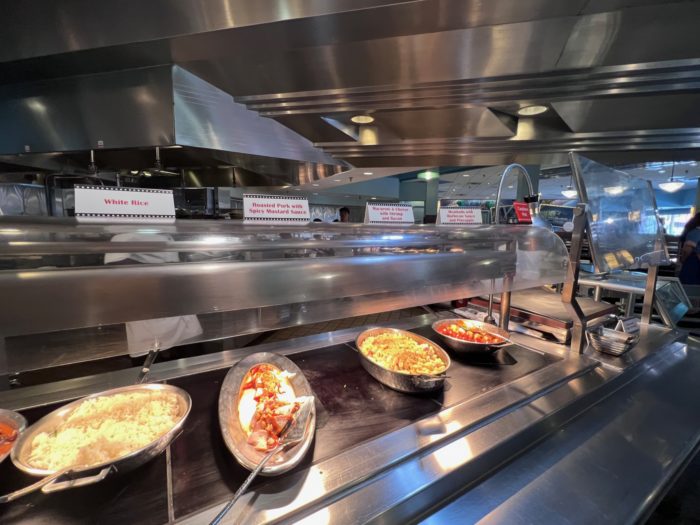 The 'Crispy-Tofu with Asian Glaze' was plant-based and a favorite of the table, the Asian glaze made this dish, it was perfectly sweet and had a nice flavor, it was crisp without being dry and overall an excellent plant-based option.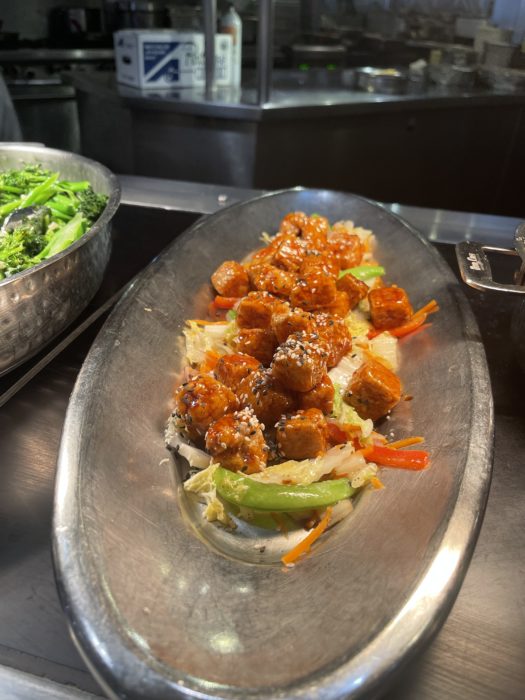 A little further down the line was the carving station which featured an 'herb-crusted tenderloin steak with horseradish cream.' The tenderloin was freshly carved by a Cast Member and there were very generous with the portions that we had to tell them we wanted a little less than what they were trying to offer.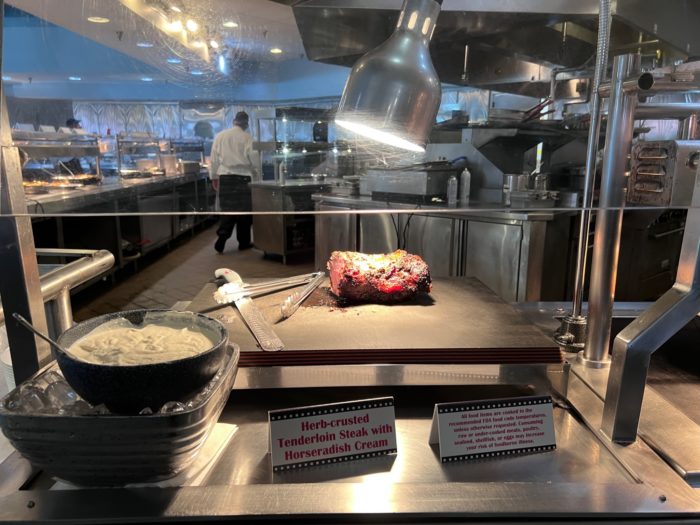 This buffet also has a great spot for kids to fill their plates, it is located significantly closer to the ground and stocked with kid favorites like mac and cheese, chicken nuggets, and corn dog nuggets very similar to the ones from Casey's Corner in Magic Kingdom.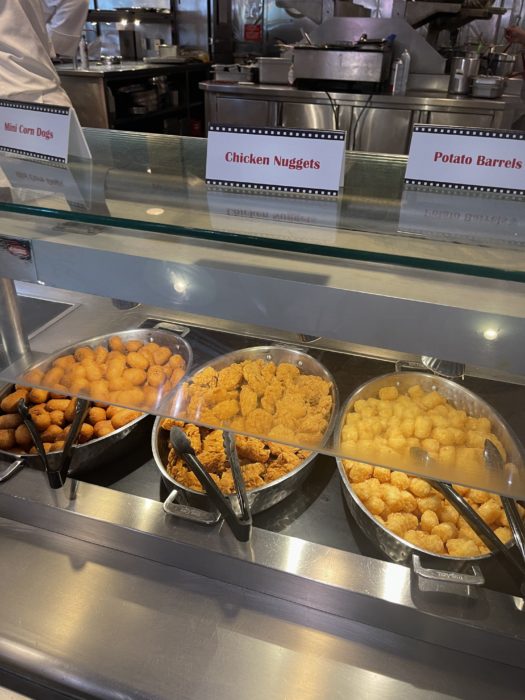 There was one dessert area that had plenty of options from Star Wars-themed cupcakes to seasonal bread pudding.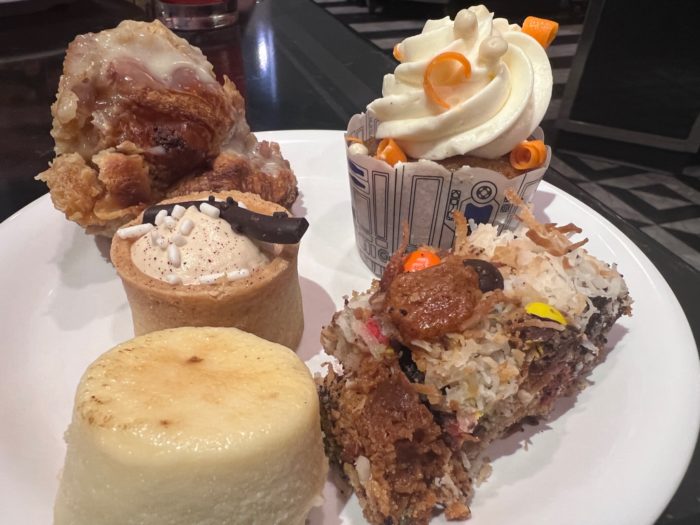 Honestly, our expectations weren't high for the return of this buffet, a lot of times at character dining the food tends to suffer for the bonus of having characters around. However, we were truly impressed with the food here, especially for what Hollywood & Dine is. We can safely say it has some of the best food options for a character dining meal that we have had in a while.
Overall
We had a wonderful time at Hollywood & Vine, the characters were outstanding and interactive, the food was great and there were plenty of options for everyone. While we might not be adding this one to every trip, we will seek it out if we are looking for a fun character dining meal with good food.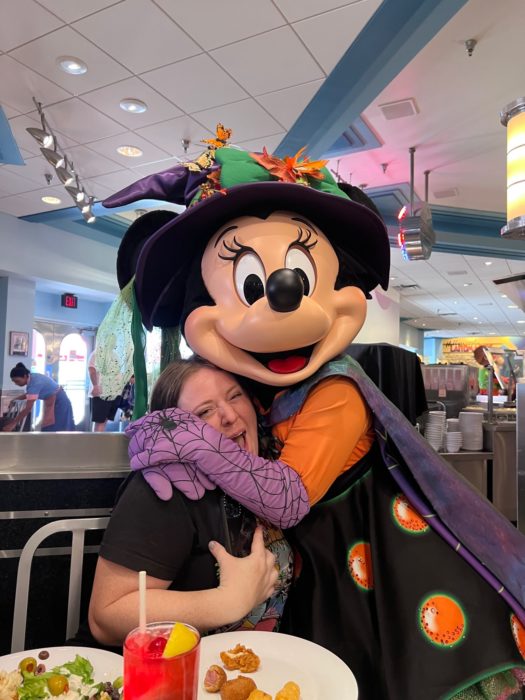 The buffet itself was wonderful, it was constantly kept clean and the food was also replenished often. We were the first group seated in the restaurant, and honestly, if we were to do it again we would probably do the same, everything was just perfectly organized at the time.
Overall, this one gets our stamp of approval. So, if you are looking for a fun character dining meal during your next trip to Disney's Hollywood Studios, we highly suggest Hollywood & Vine for lunch or dinner.