Gluten-Friendly Dining at Disney's Hollywood Studios
In recent years, gluten-friendly dining at Walt Disney World has become much easier and much more delicious!
While the vast majority of Disney World table-service and quick-service restaurants offer allergy-friendly menus, and mobile order via My Disney Experience is equally accomodating, our team was interested in seeing how Disney properly handles gluten-free items.
Our park reporter Chrissy has been on the scene at Disney's Hollywood Studios where she ordered gluten-friendly meals and snacks from some of the park's most popular spots.
Here's what she discovered:
Ronto Roasters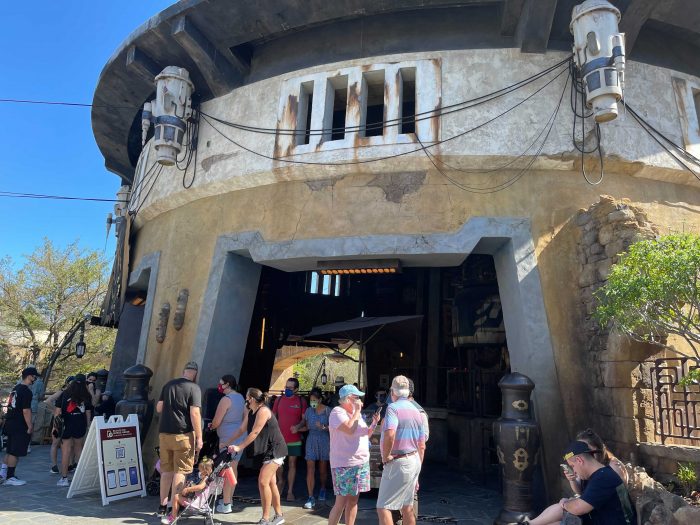 Blue Milk may be the best known Star Wars snack, but Ronto Wraps are, by far, the most delicious!
Ronto Roasters is located next to Docking Bay 7 Food and Cargo and across from Savi's Workshop. This walk-up window serves a breakfast Ronto Morning Wrap, a standard Ronto Wrap, several plant-based options, and more.
Note: Even though Ronto Roasters closes in the afternoon., both standard and gluten-free Ronto Wraps are available at Docking Bay 7 after 3:00 p.m.
When Chrissy ordered the gluten-free Ronto Wrap at Ronto Roasters for $12.99, she found that it came in its own separate box which was marked with an allergy sticker. This label, she later learned, is part of the kitchen staff's safety check process that's performed before the food is brought out to guests.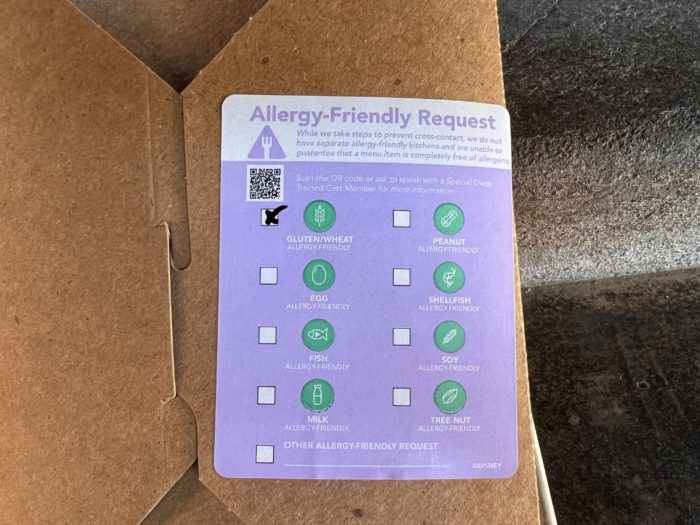 Meanwhile, standard Ronto Wraps come in folded paper.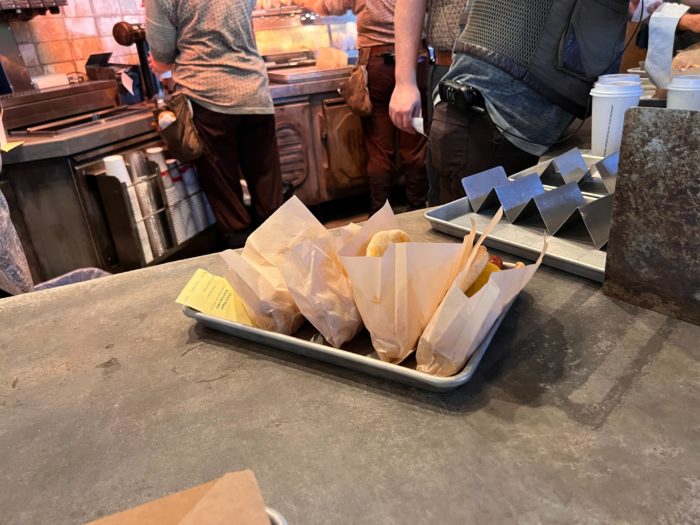 Also, a chef wearing a different color uniform and who is part of the team that handles allergy orders, brought out the tray himself and even got her drink.
Guests can ALWAYS speak to a Cast Member about allergy concerns, and they will often have you speak to a chef in order to guarantee that your food is prepared properly and safely.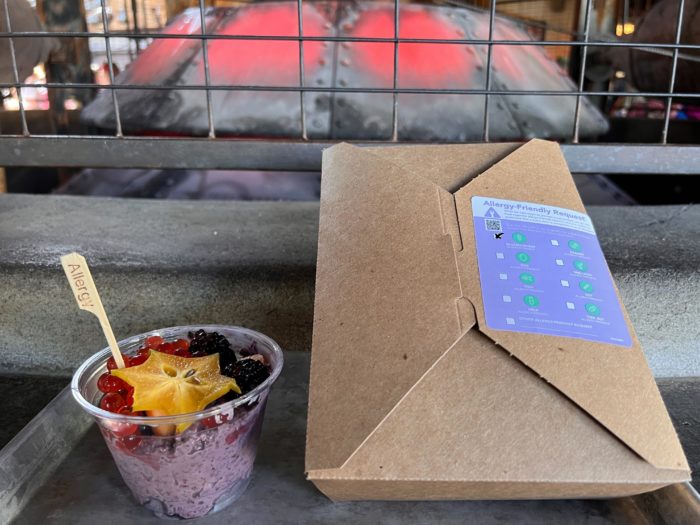 Chrissy also ordered Ronto Roasters' Rising Moons Overnight Oats which came with the "Allergy" labeled pick that's standard across property.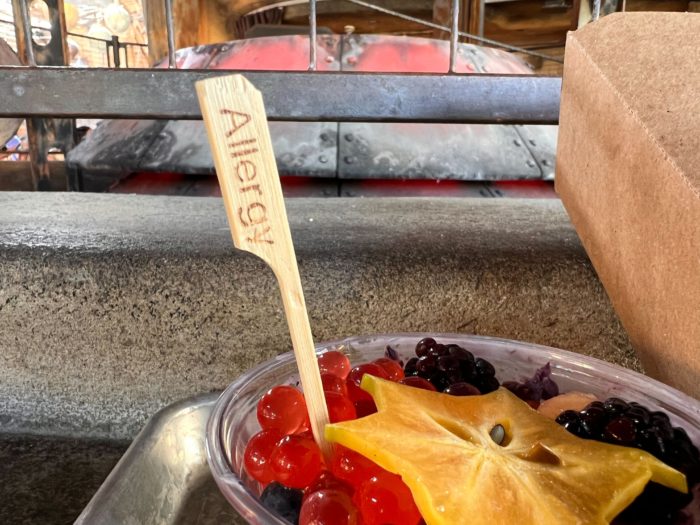 Listed as oats, dragon fruit, yogurt, and seasonal fruit, Rising Moons Overnight Oats is priced at $6.99.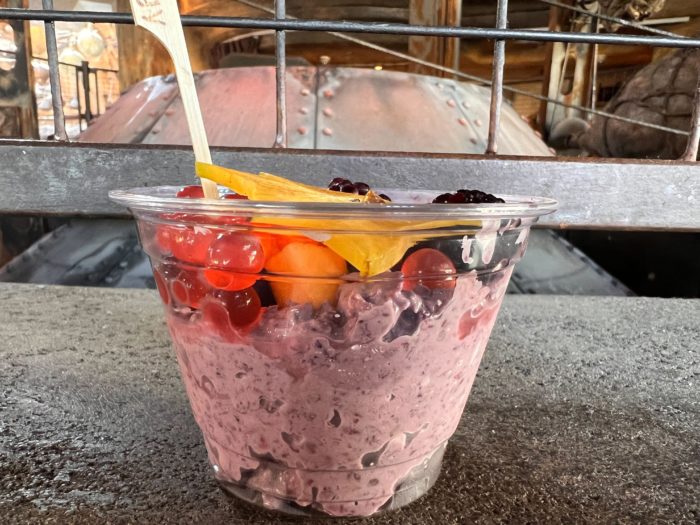 PizzeRizzo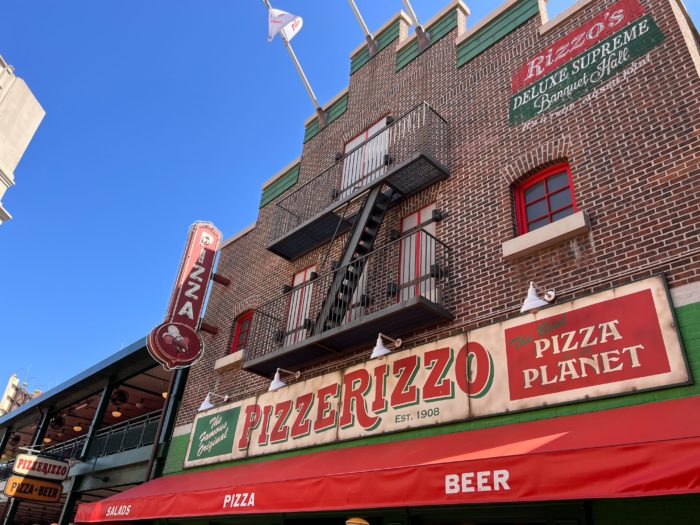 One of the most divisive theme park eateries of the age, you either love it or hate it.
Regardless of which camp you fall into, the fact remains that PizzeRizzo offers great seating, air conditioning, an upstairs ballroom with a disco ball, and several gluten-free items.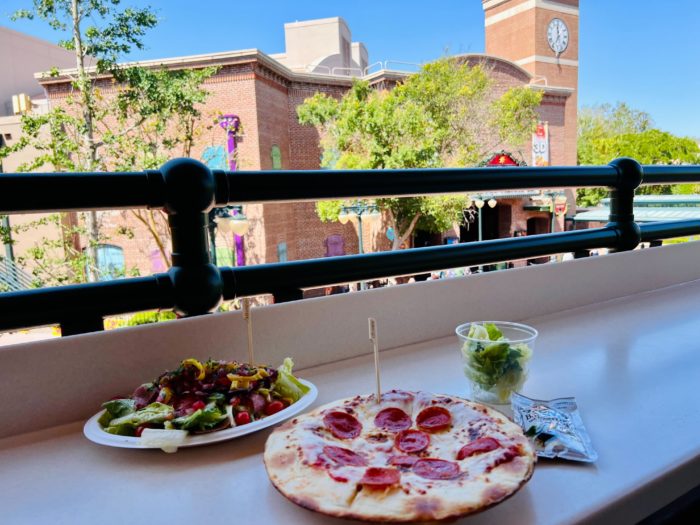 The PizzeRizzo gluten-free Pepperoni Pizza is priced at $10.99 and is served with an allergy-friendly crust and a side salad with a guest's choice of dressing. It's a classic.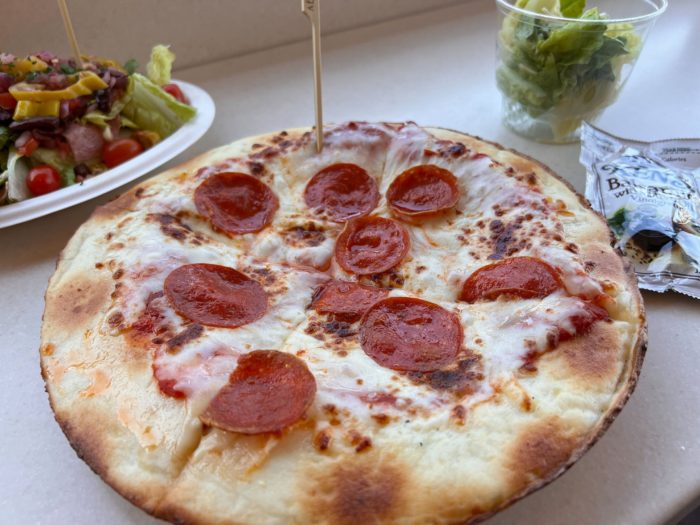 PizzeRizzo's Antipasto Salad used to be terrible, but now we love the new version! Priced at $10.79, no longer is this salad smothered by an unappetizing dollop of toppings. Instead, it's now topped with lovely cherry tomatoes and sliced veggies that allow for customization. Light, fresh, and yum!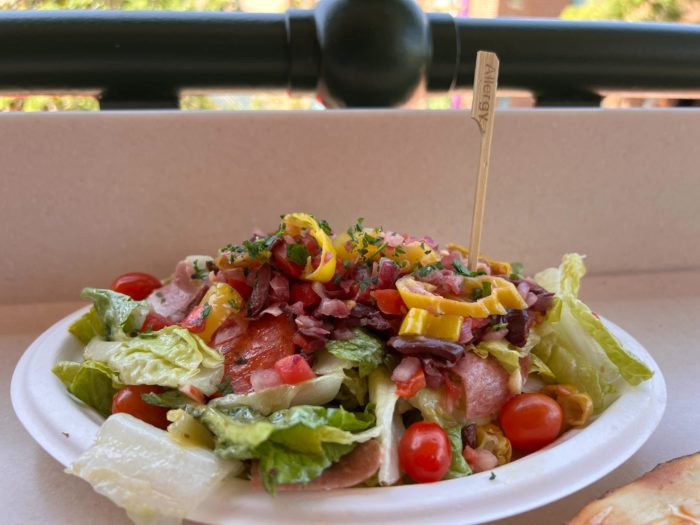 Woody's Lunch Box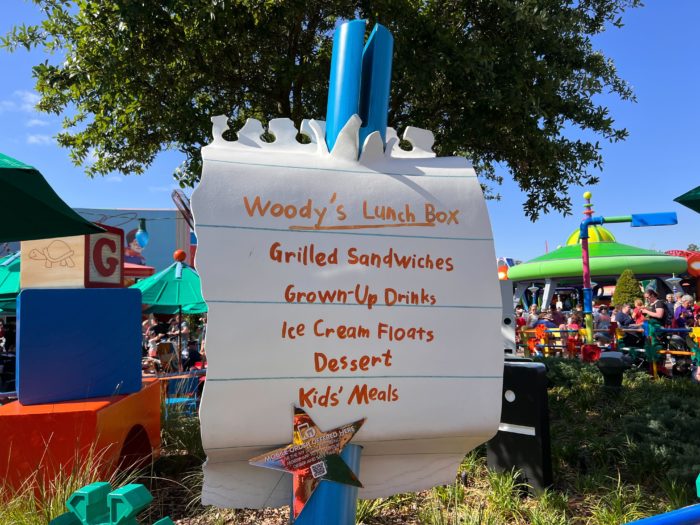 One of Chrissy's favorite gluten-free quick-service options in all of Disney's Hollywood Studios is the BBQ Brisket Melt at Woody's Lunch Box in Toy Story Land.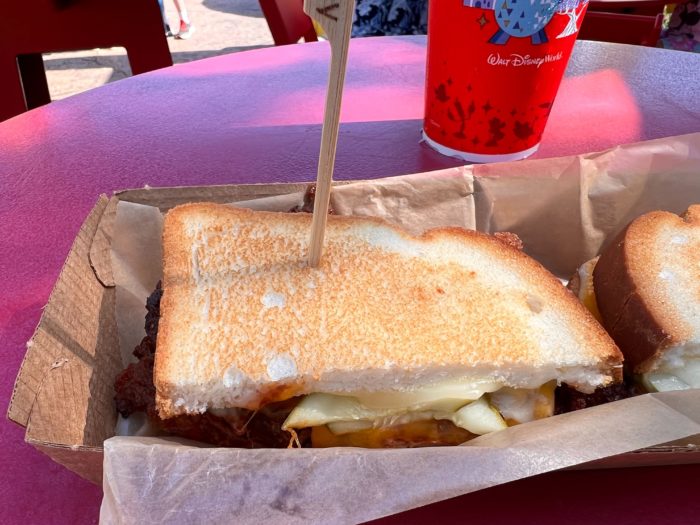 Priced at $12.99, it's the perfect combo of sweet sauce, savory smoked brisket, puckery pickles, and Monterey Jack cheese on grilled allergy-friendly bread. It's such a wow; 11 /10 recommend!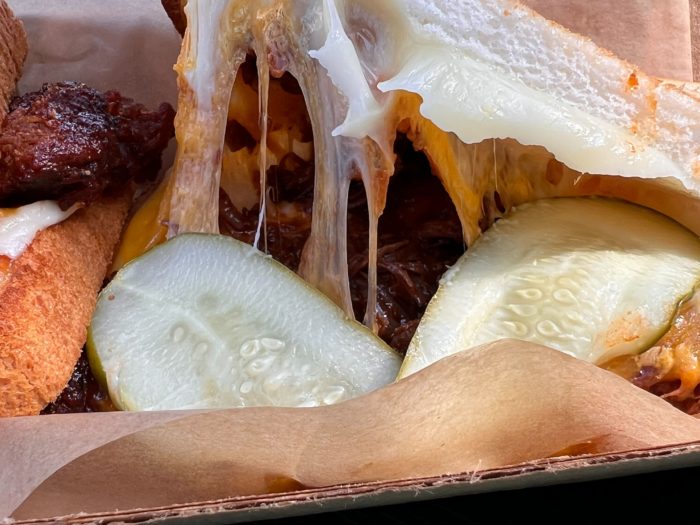 Woody's Lunch Box has additional gluten-friendly items, including a grilled three-cheese sandwich, a smoked turkey sandwich, potato barrels, and tomato-basil soup.
Hollywood & Vine
In our latest review of Hollywood & Vine's Disney Junior Play n' Dine, our team loved that the restaurant offered a gluten-friendly bread basket. Nobody wants to feel like they're missing out just because they have an allergy, and we appreciate that all guests can enjoy bread AND the character love.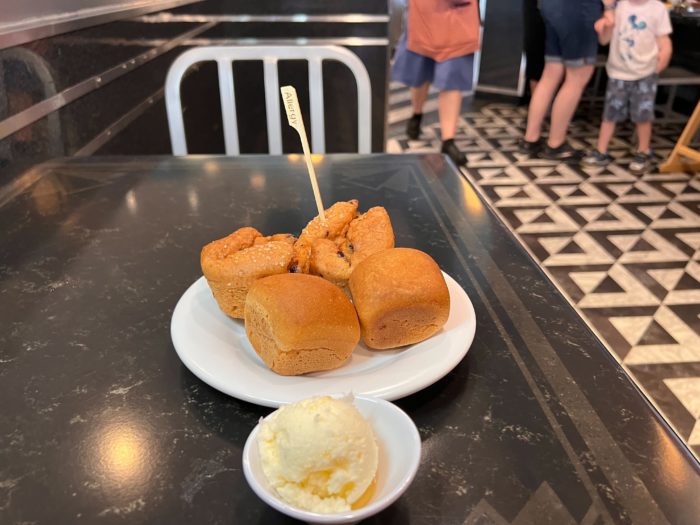 In addition to gluten-free items being served separately and with that "Allergy" pick, guests were even given separate butter dishes to prevent cross-contamination.
Overall, we've been impressed with Walt Disney World's care and consideration in handling guests' allergies and dietary restrictions.
As our team continues trying gluten-friendly dishes at each park and resort, so be sure to let us know where we should go next!