REVIEW – Wine Bar George is the Best Disney Restaurant for a Special Meal
A well-prepared meal with thoughtful wine pairings and impeccable service can satisfy you like nothing else can. Wine Bar George is one of the greatest assets of Disney Springs. Although it has been open for two years now, there are plenty of folks still discovering this place for the first time. Let's take a look at what makes Wine Bar George so special.
Wine Bar George Atmosphere and Service
The service at Wine Bar George is truly special. Each server is well versed in the best wines to suit your tastes, and your budget. Any wine is available by the ounce, which is perfect if you want to try something new, or indulge in an expensive wine without going all in.  Besides providing helpful recommendations on wine, you're sure to experience attentive service that will help you make the most of your meal.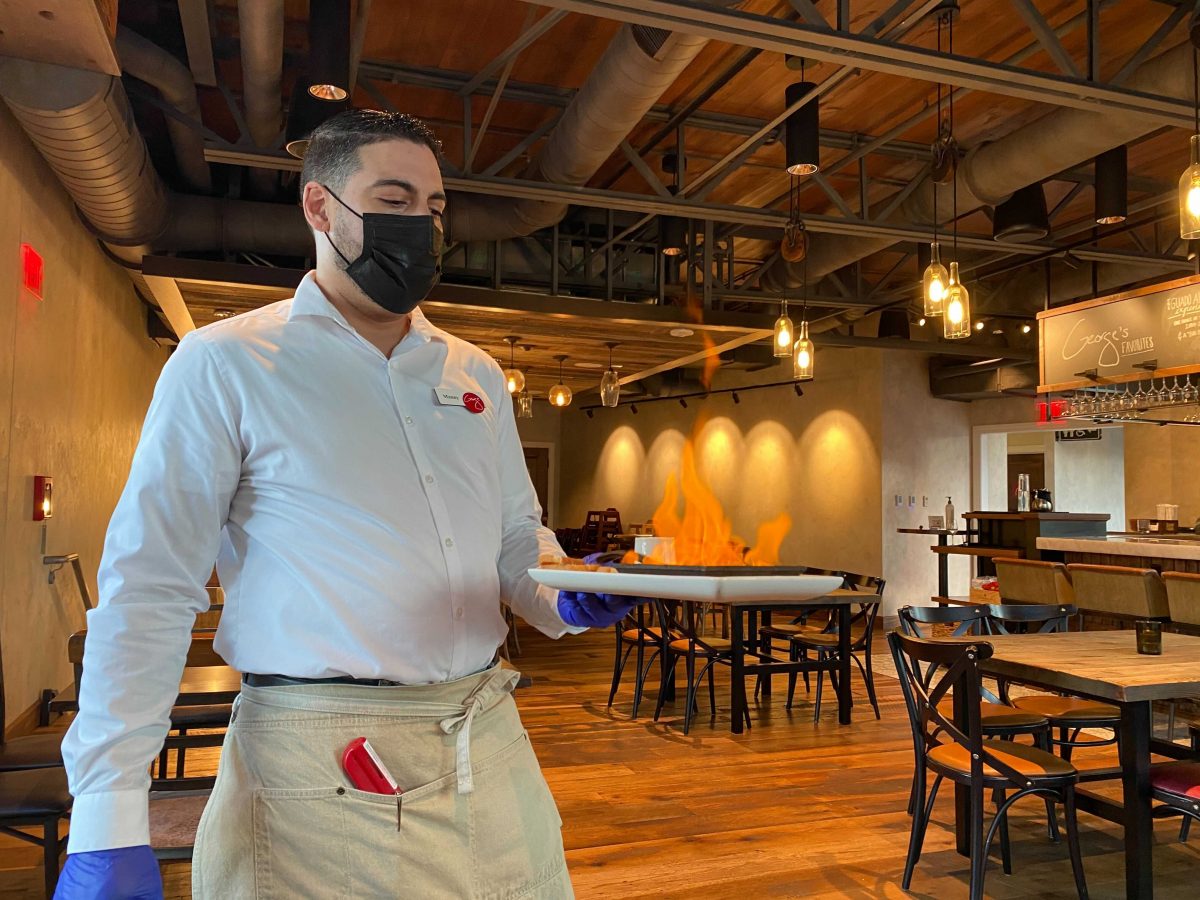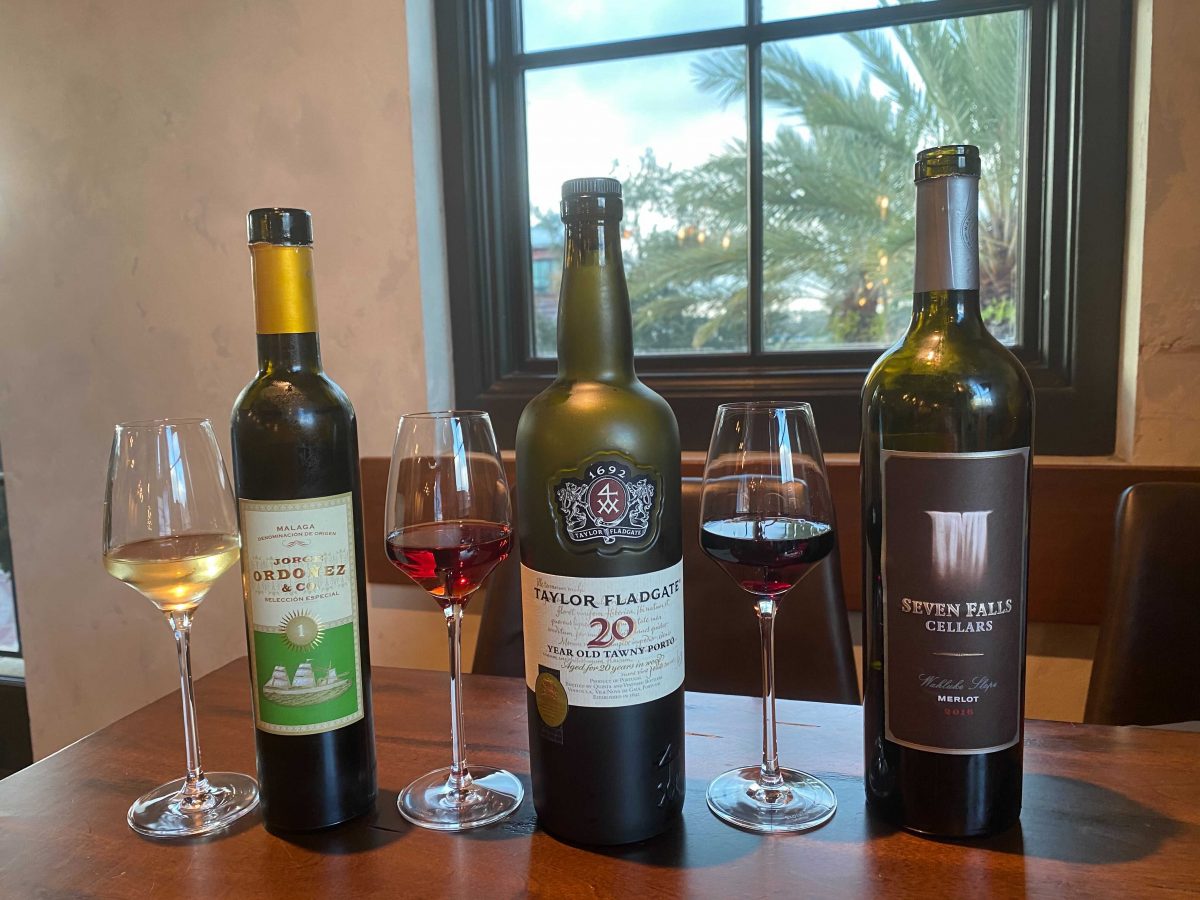 Chrissy on our team got to experience this service for herself this week. Her server went a step further by providing recommendations on the best way to actually eat some of the food. More on that later. What permeates throughout the service is the hospitality from George Miliotes – owner and Master Sommelier.
Any time I have dined here, George has been there. He greets guests, he helps his team–the pride he takes in his business is inspiring. When my toddler was just a few months old we had a family meal there. I will never forget how sweet it was to see George stop by our table, smiling and waving at our little baby.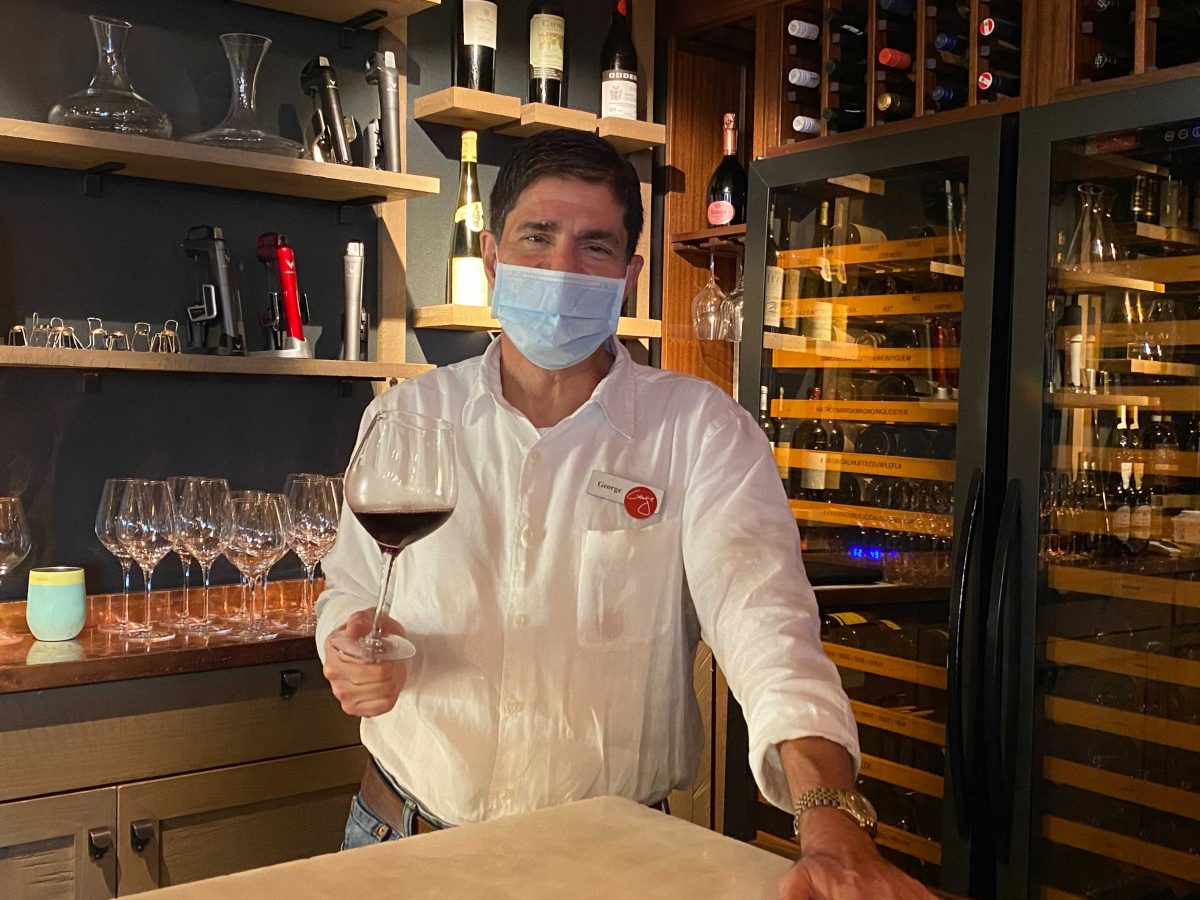 Sure enough, when our team visited George was there. He gladly stopped by and chatted about his business, his team, and the passion he had to build a menu that pairs perfectly with wine, along with craft cocktails and beer. He worked closely with his chef to ensure each dish offered quality, yet could still be affordable for families enjoying Walt Disney World.
There is a beautiful bar downstairs, with high-top-style tables around the perimeter. The main dining room is upstairs. There's a lovely balcony upstairs as well, that overlooks Disney Springs and even has glimpses of the lake.
Cocktails and Drinks
Naturally, you can sip delicious wine until your heart's content. But, don't overlook the cocktails and drinks here either. The Hoot is one of the newest cocktails made with Hooten Whiskey with Ginger Beer and Crème De Cassis. It's lovely looking drink and has a nice bite to it thanks to the ginger beer. The Hooten Whiskey is aged for 12 years, making it smooth and mellow.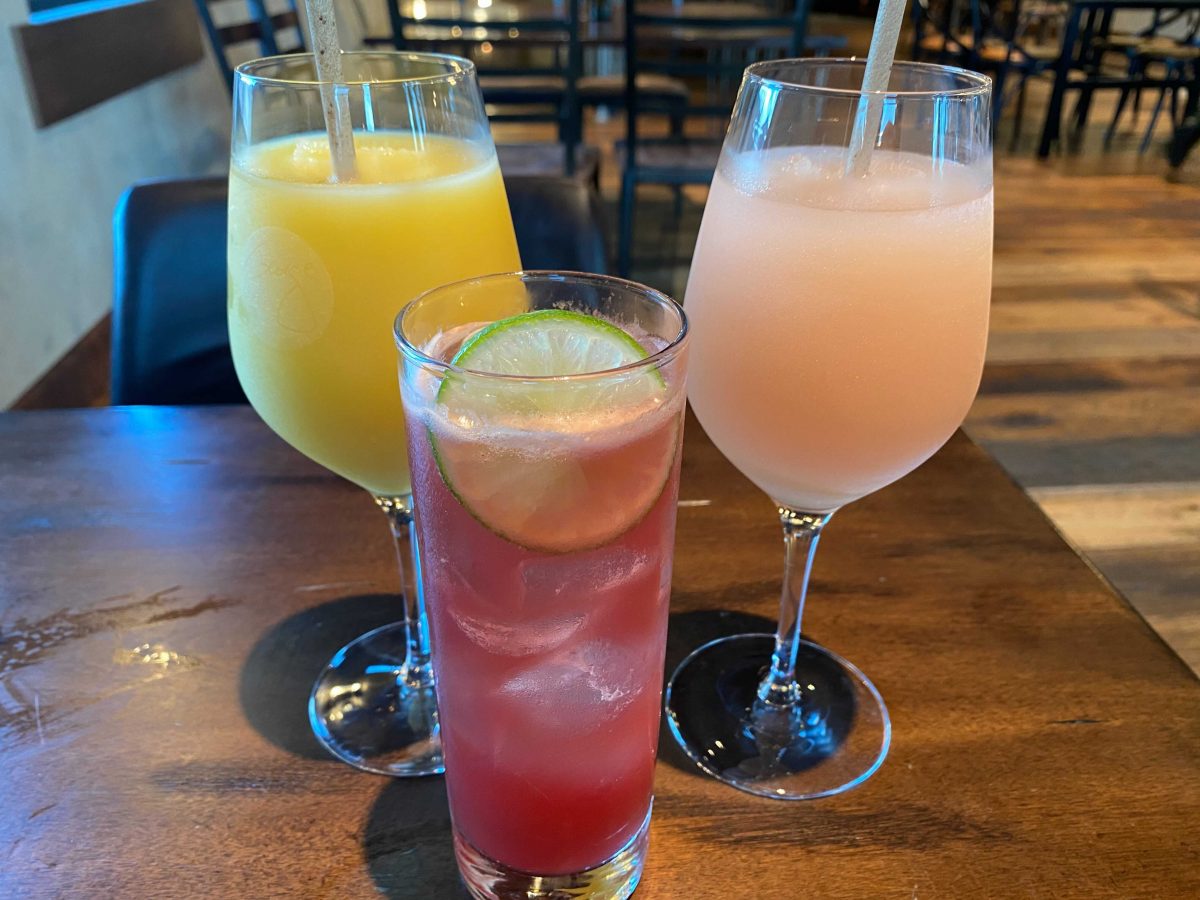 Disney fans will love the Frozcato, which is Moscato wine, vodka, and Dole Whip. If only Wine Bar George could open a kiosk in Magic Kingdom and sell these to help guests deal with long lines. This is a great afternoon drink as it is not too strong, and not too sweet.
Another refreshing afternoon drink is the Frosé. Frozen rosé has become quite popular in the last few years. Our team really enjoyed this one because it was not too sweet or syrupy.
Small Plates
The bulk of the menu at Wine Bar George is made of small plates, meant to share and to help you explore how different flavors pair with wine. There are a few entrees served family style. And during special occasions and holidays a few special entrees are often added.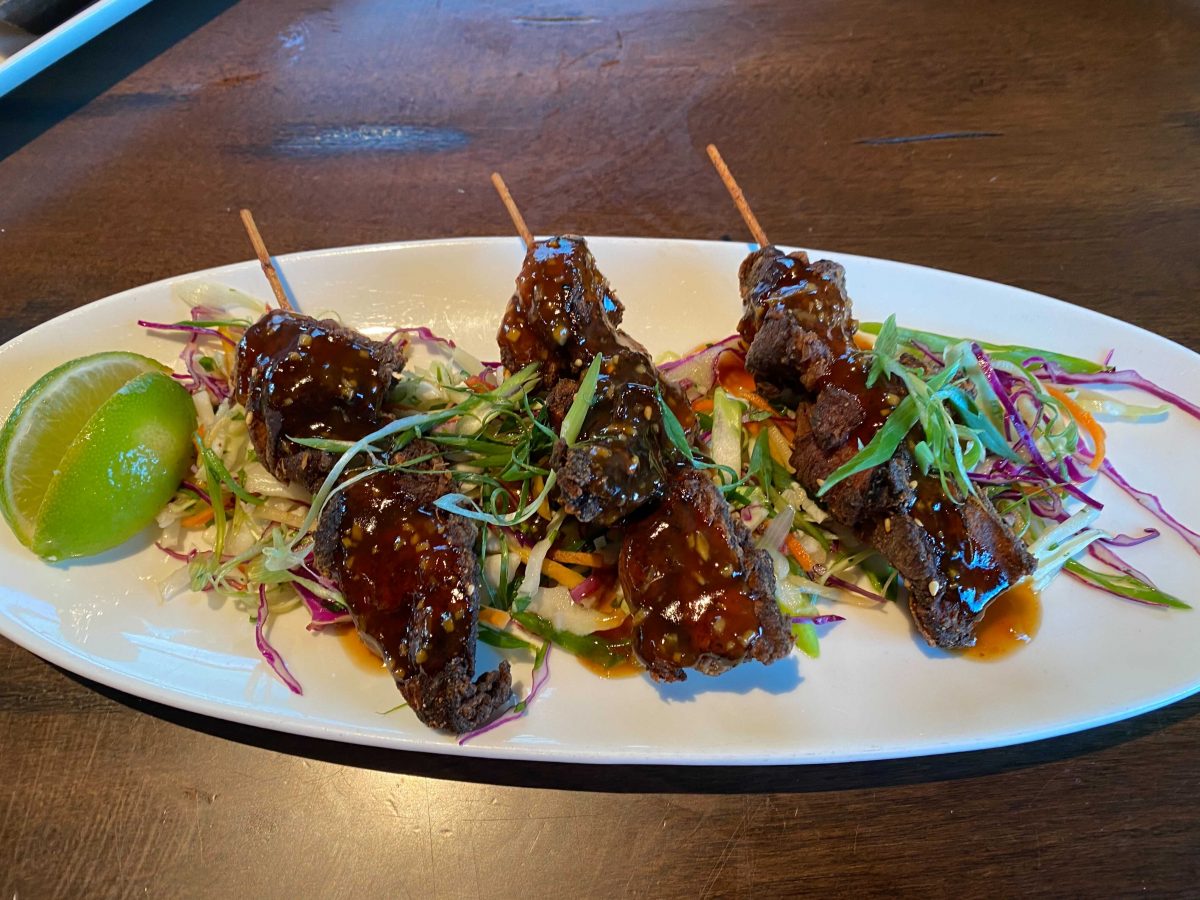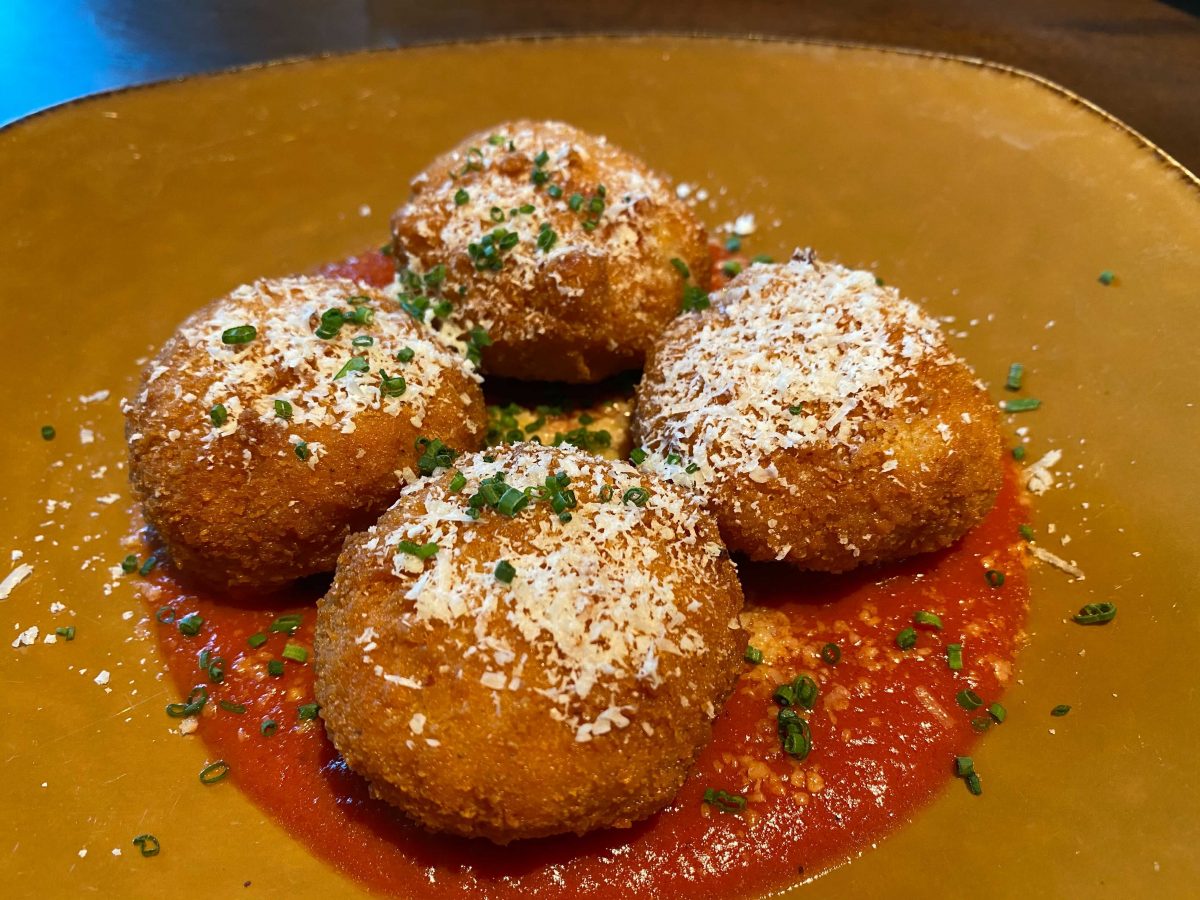 Chicken Skewers – These skewers are seasoned with togarashi which is Japanese chili spice blend that isn't overly hot. The chicken had a nice crust and was juicy and flavorful. Be sure to make use of the lime, after all, everything that is on the plate is there for a reason.
Crispy Mac & Cheese Bites – As indulgent as they sound, perfect with a rich red wine. Imagine yourself eating mac and cheese bites with your alcoholic Dole Whip on the balcony while Santa floats by on his pontoon boat.
Saganaki On Fire – Clearly if you want to make a statement during your meal this is the way to do it. A squeeze of lemon at the end of this flaming cheese being delivered to your table is part of the dramatic presentation, but it also brightens the dish. Although it is a must to enjoy while it is still hot, our team actually found it to be more delicious once it had cooled.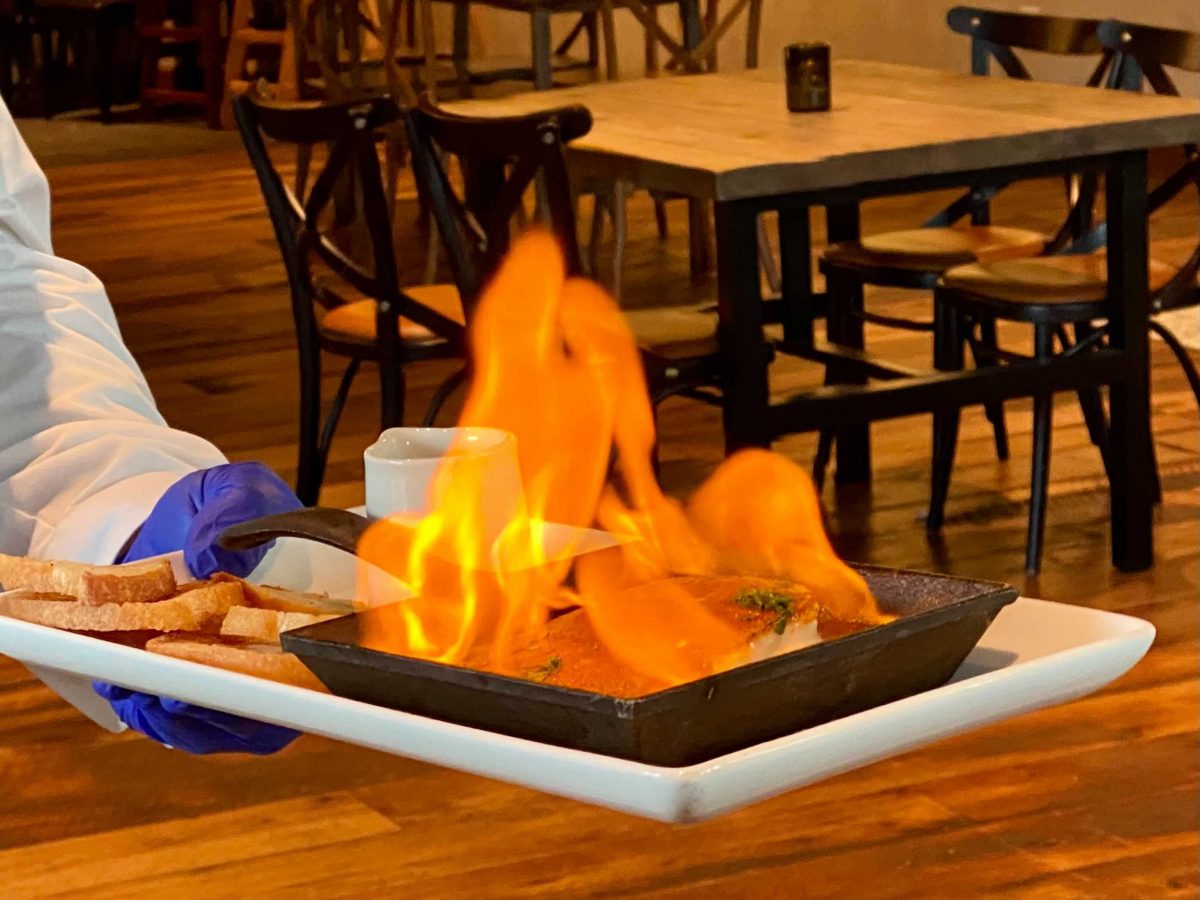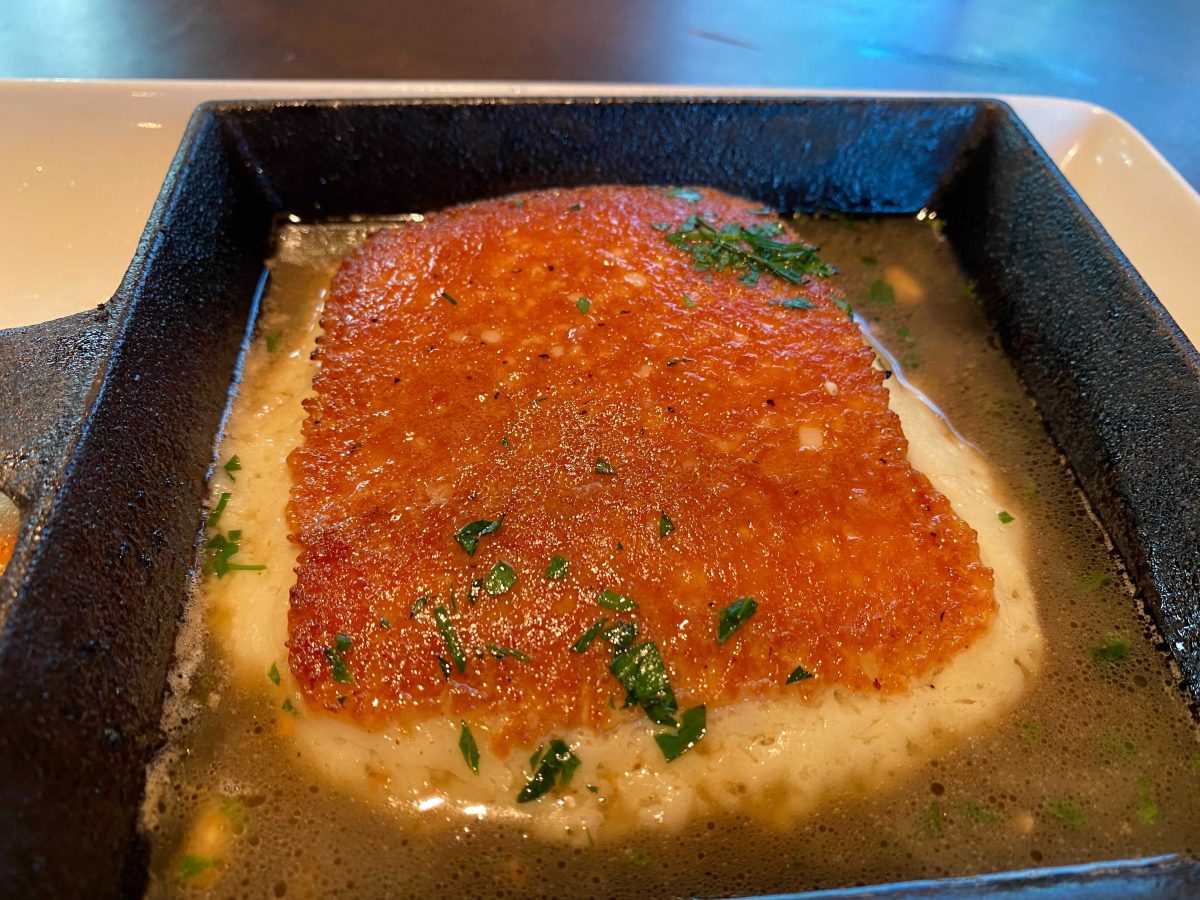 Iberico Pork Pluma – Iberico Pork comes from a special breed of pig, originating in Spain. It is one the most loved proteins to pair with a Spanish wine. Here the Iberico Pork Pluma was tender and perfectly cooked. The blackberry coulis is sweet and wonderful this time of year. This is not Mom's pork chop – it's not cooked until it could break a window. It was tender enough to be cut with a fork. The presentation was just lovely; this dish would impress even the most discerning diner.
Charcuterie Board – Who can resist a beautiful board full of meat when visiting a wine bar? Let's start by addressing the pork pate. Pate can be an imposing thing, but Wine Bar George serves a version that is approachable and tasty. It had a nice pepper crust, too. The pickled vegetables, pepper chutney, and whole grain mustard add a nice tang to the salty, savory meat. The mortadella and the calabrese salami is a Charcuterie Board classic, but much higher quality than found on your typical grocery store deli platter.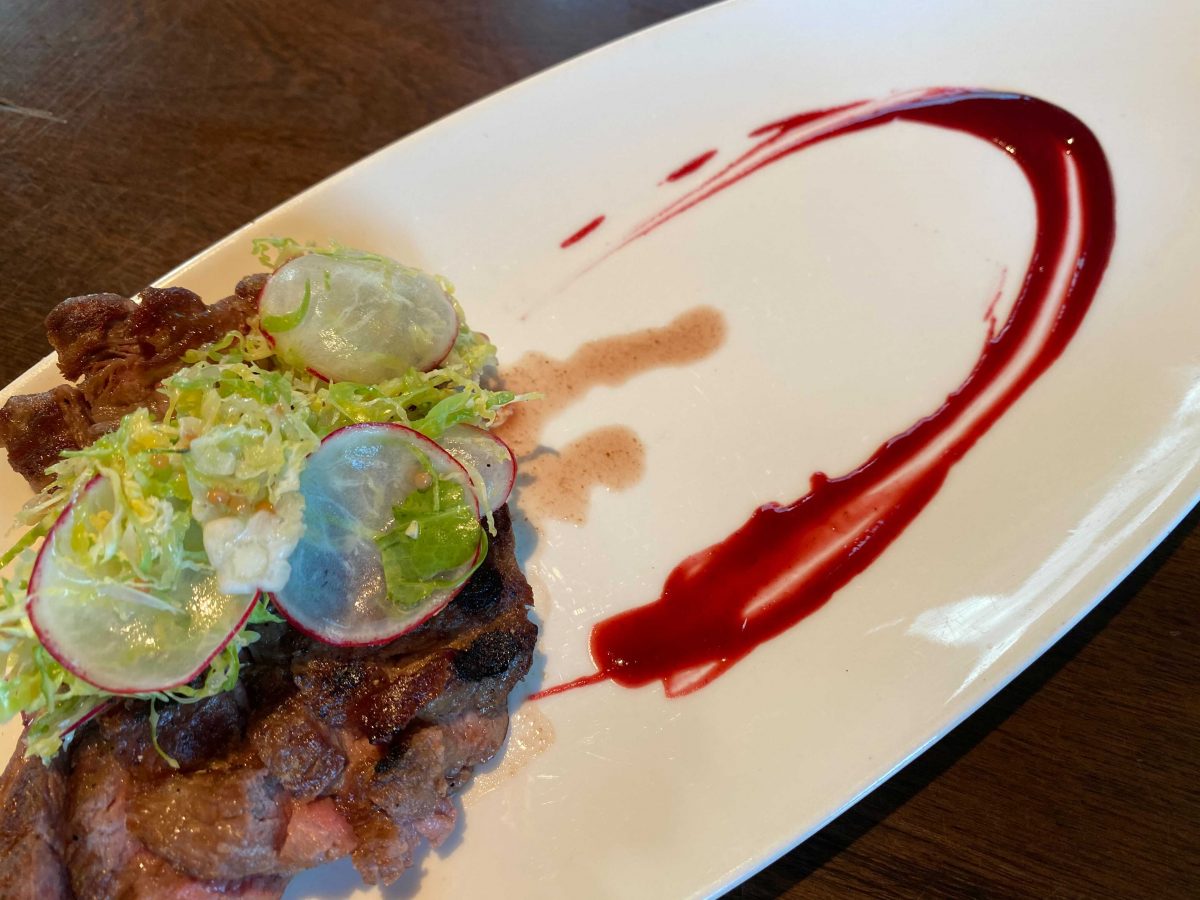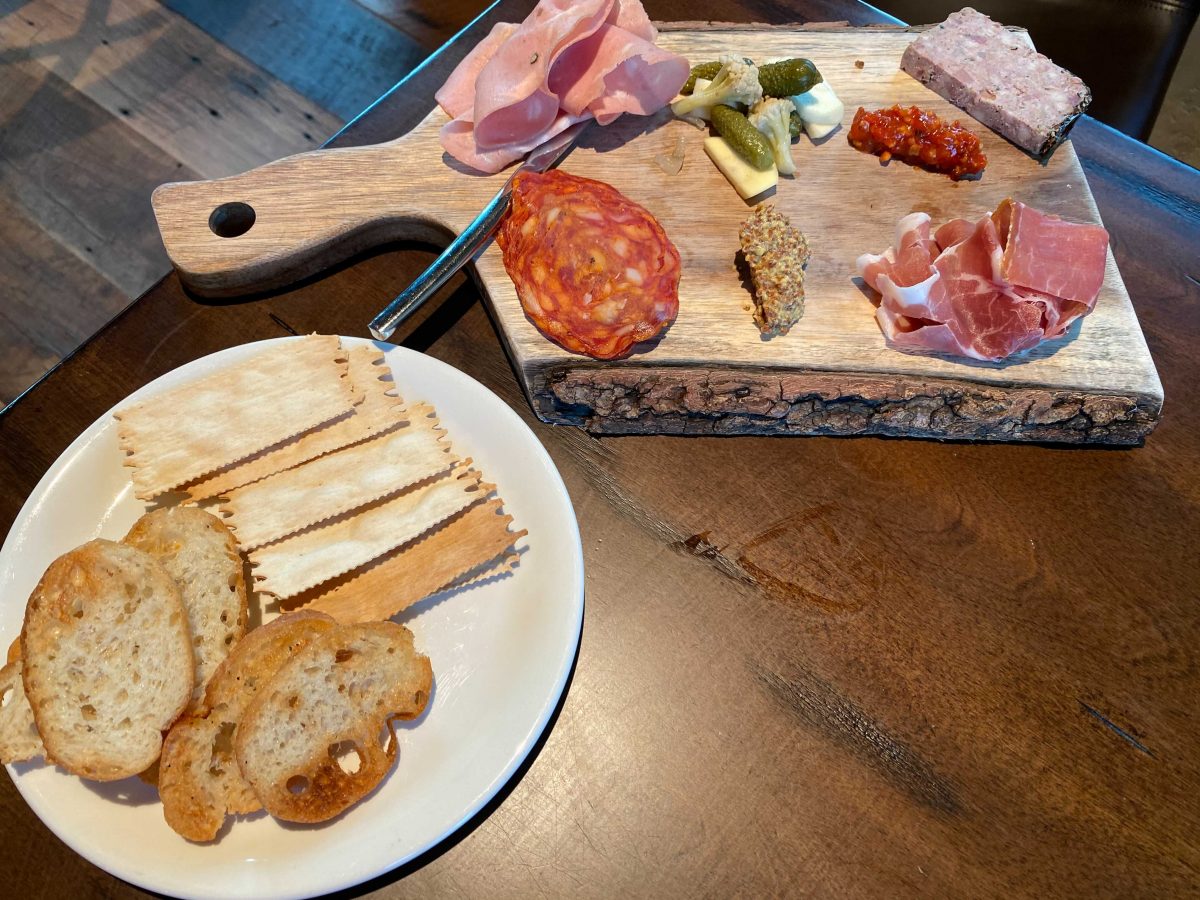 Desserts
After indulging in all that beautiful paired food and drink, it can be hard to think about dessert. But you would miss out big time if you skipped out on the last course.
 Key Lime Pie – You can seriously get key lime pie anywhere throughout Florida. Here at Wine Bar George a different interpretation is offered. It had a custard like texture, with a good amount of tartness. The serving size can appear small, but it is quite filling thanks to its denseness.
Olive Oil Cake – You know that moment in the movie Ratatouille when Ego the food critic has one bite of the ratatouille and is instantly transported to his childhood? That's what happened to Chrissy. Anyone with a favorite Italian Grandma who used to make this cake needs to order this Olive Oil Cake without any hesitation. There's nothing I can add to Chrissy's heartfelt words, "I quickly teared up because the smell and taste put me right back into her tiny kitchen at Christmas. It made such an impression on me that this was the dish I decided to ask George about when we met him downstairs. I asked him if it was his idea or if it came from his Chef. He said that he had a very specific idea of what he wanted for this cake so he and Chef worked on it closely. Truly. Anyone with an Italian Gram that they are missing needs to have a glass of wine and a plate of this and toast to her memory – which is exactly what I did."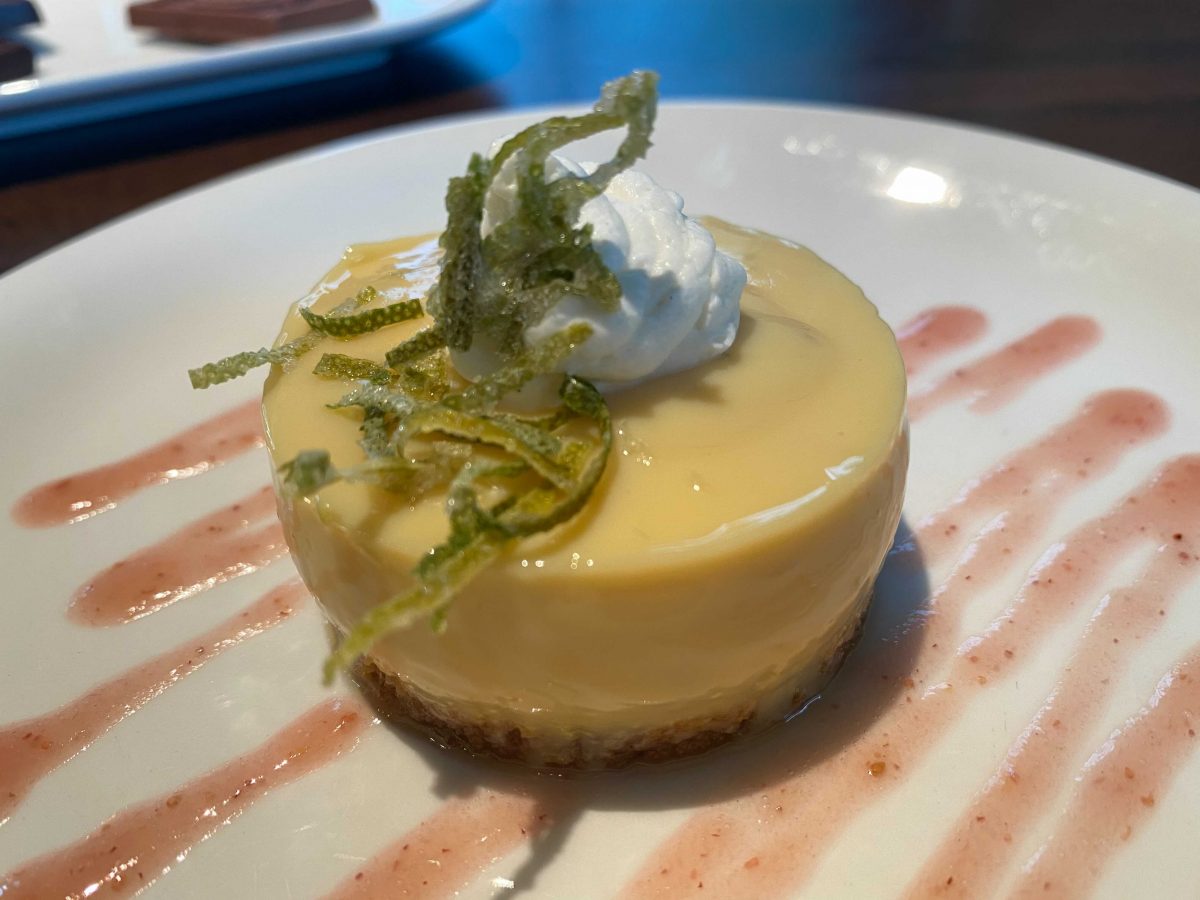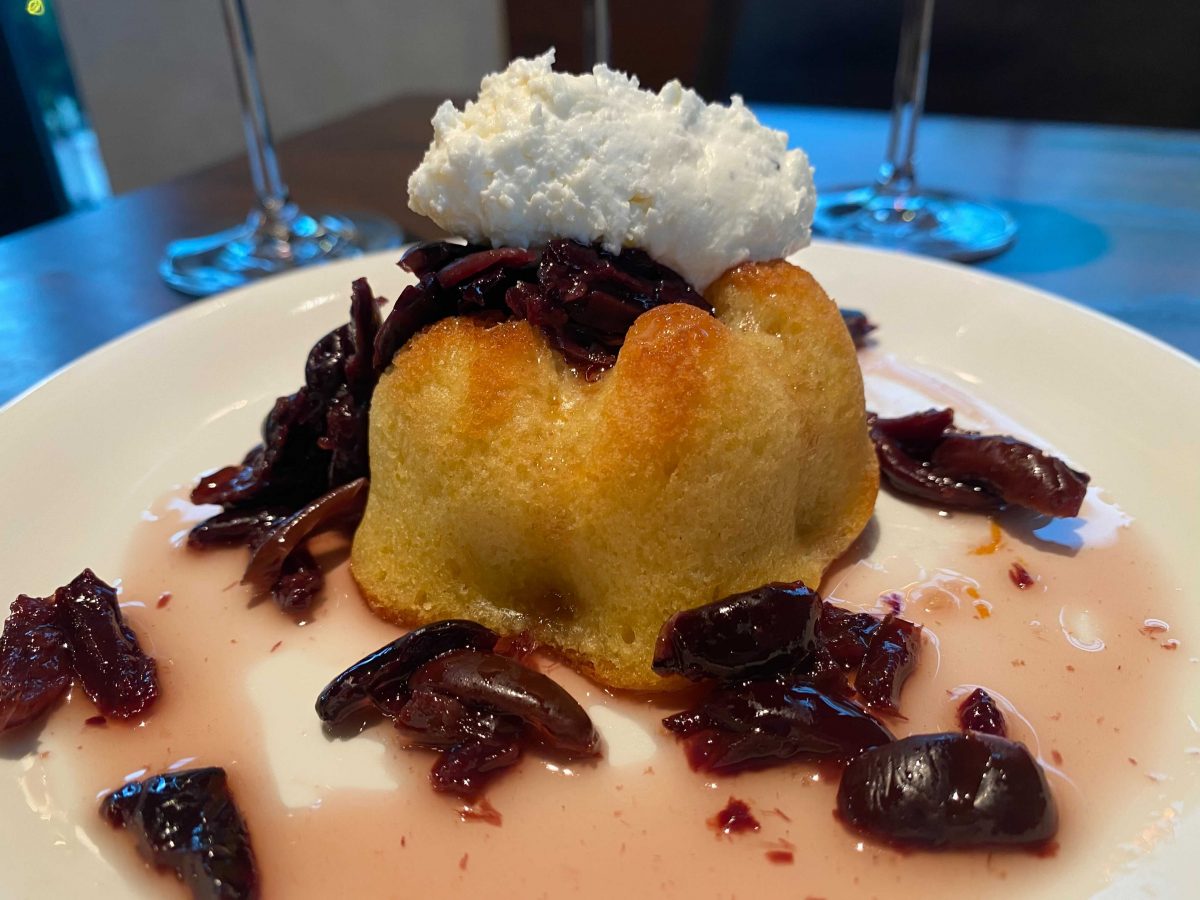 One of the most unique experiences offered here, and one that is truly special to Disney Springs, is The Chocolate Experience. All of the chocolate comes from The Ganachery Chocolate Shoppe, just a few doors down. Benjamin, our team's server, told them to crack the milk chocolate and then touch the broken end to the tip of our tongue to catch the actual flavor, then try the port. It was a magical culinary moment. Then the dark chocolate and the merlot made for another beautiful pairing.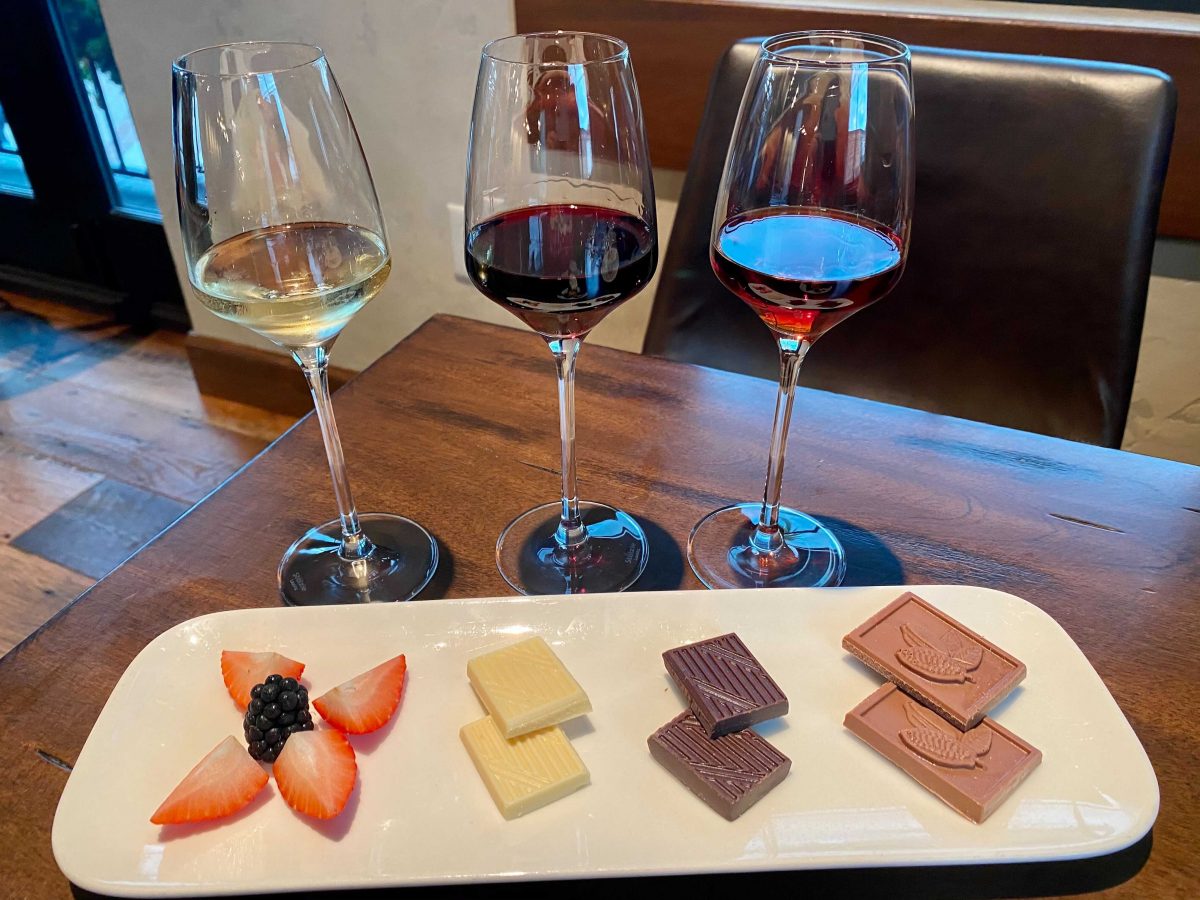 Final Thoughts
We have ratings for every single Walt Disney World restaurant on our site. From over 500,000 surveys, our readers give Wine Bar George a 96% thumbs up rating. And it is ranked number three out of 106 table service restaurants at Walt Disney World.
When you walk into Wine Bar George you will surely feel like you're doing something special when you come in the door. The music is upbeat, but still relaxing. The atmosphere is warm, inviting, and yet a little elegant. Whether you want to splurge and go for an extravagant experience, or just relax with one drink, you will be welcomed.
This location is one of a few Disney Springs locations that you can book through OpenTable. We recommend doing so, as OpenTable's availability is updated more frequently. And the cancellation policy is not as strict as through Disney's system. Brunch is a great option as well. Which reminds me, I need to call dibs on that meal for the next writing assignment.
Have you ever been to Wine Bar George? How was your experience?