"Don't Miss Dishes" at Wine Bar George
Located at The Landing at Disney Springs, Wine Bar George is an estate-style wine bar from Master Sommelier George Miliotes.
Miliotes has a history with Walt Disney World in that he was part of the opening team for the Contemporary Resort's California Grill and managed the restaurant from 1995 to 2002.
While Wine Bar George is a prime destination for those looking to enjoy a glass of fine wine, this Disney Springs location is also home to fantastic fare, regardless of whether alcohol is on the agenda or not.
The interior of Wine Bar George is industrial with concrete floors and brick walls and natural light. On the first floor, guests will find a central bar; but we recommend the second floor as it's quieter and offers both indoor and outdoor seating.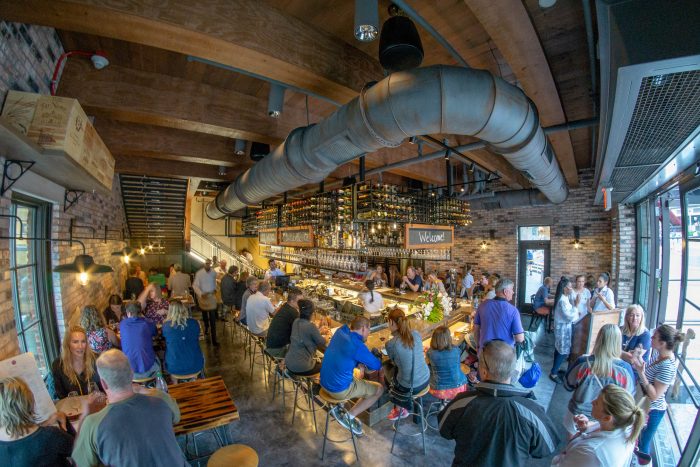 Wine Bar George's posted operating hours:
Monday to Friday – 12:00 p.m. to 9:00 p.m.
Saturday to Sunday – 10:30 a.m. to 9:00 p.m.
Wine Country Brunch (Saturday & Sunday only) – 10:30 a.m. to 2:00 p.m.
Bites and Boards (Saturday & Sunday only) – 2:00 p.m. – 3:00 p.m.
Advance Dining Reservations can be made on the My Disney Experience app, on OpenTable, or via our free TouringPlans Reservation Finder.
Our team always has a fantastic experience at Wine Bar George, and we're not alone! This Disney Springs location has a 95% Thumbs Up rating with Unofficial Guide Readers, and a total of 444 readers have submitted positive reviews within the last two years!
With that said, let's get to the food!
Now, we love every single one of Wine Bar George's Small Plates, but the following items are what we consider "Don't Miss Dishes" at this Disney Springs locale.
Saganaki on Fire – $16.00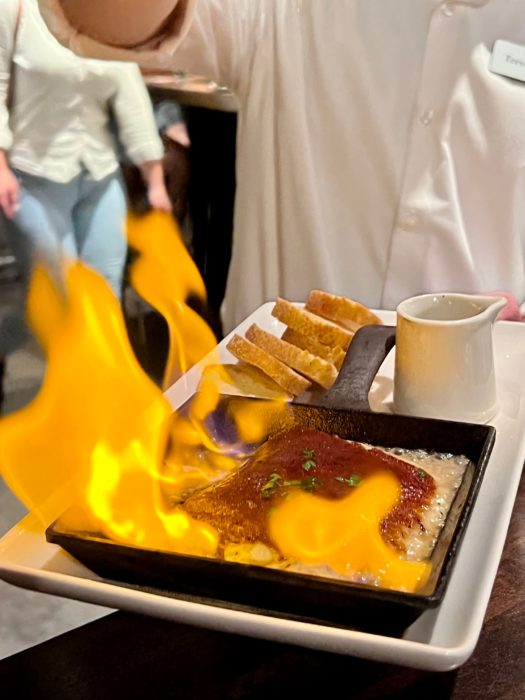 Now, this is our kind of dinner theater.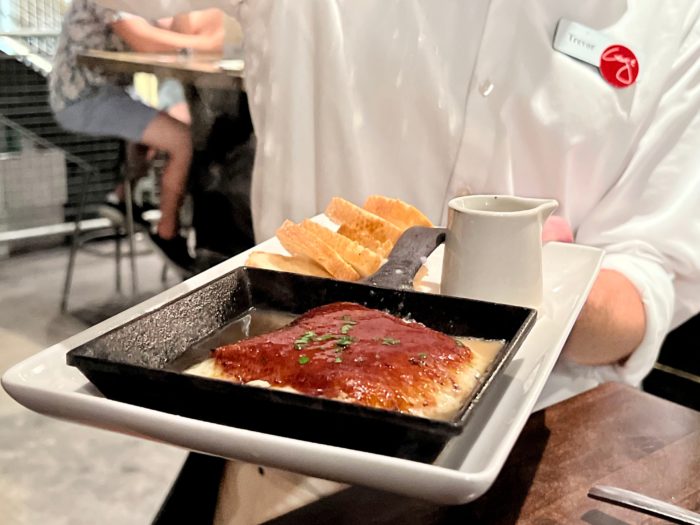 Described as Vlahoriti, Metaxa, and crostini, not only is it the best show in the whole place, but it's arguably the most delicious! If you have more than 2 people, it's wise to order a second serving.
Crispy Mac & Cheese Bites – $13.00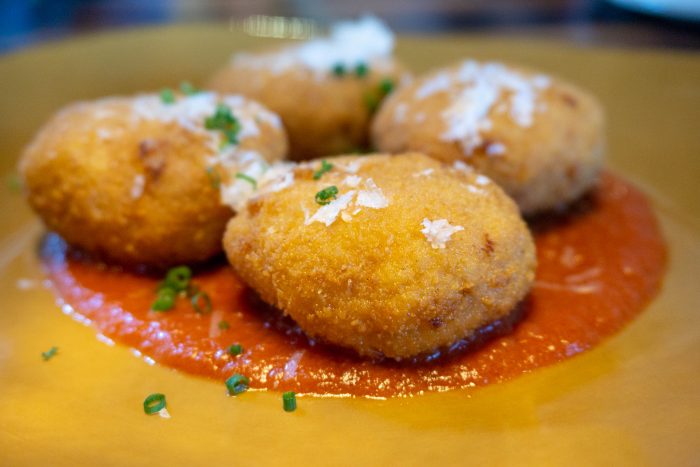 A wee bit of spice makes this dish perfect for a table of adults. It's creamy, it's crunchy, it's wonderful. Give it all the stars.
House-Made Meatballs – $14.00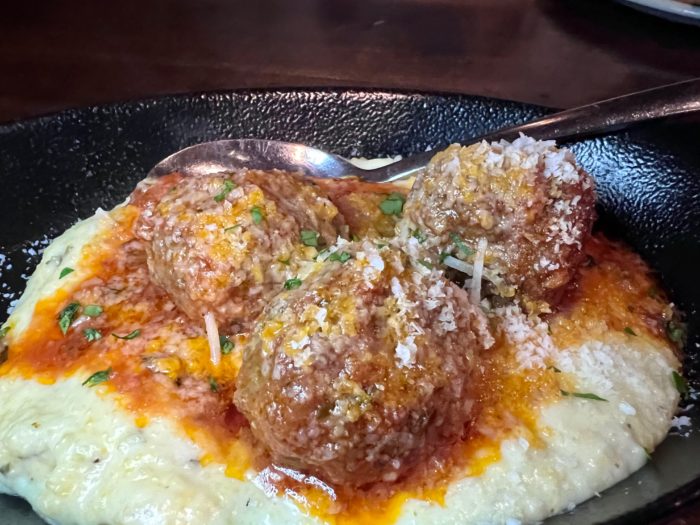 The triple cheese and polenta are delightful on their own, but add the most wonderful meatballs and you've got happy on a plate. We LOVE these!
The Big Board – $61.00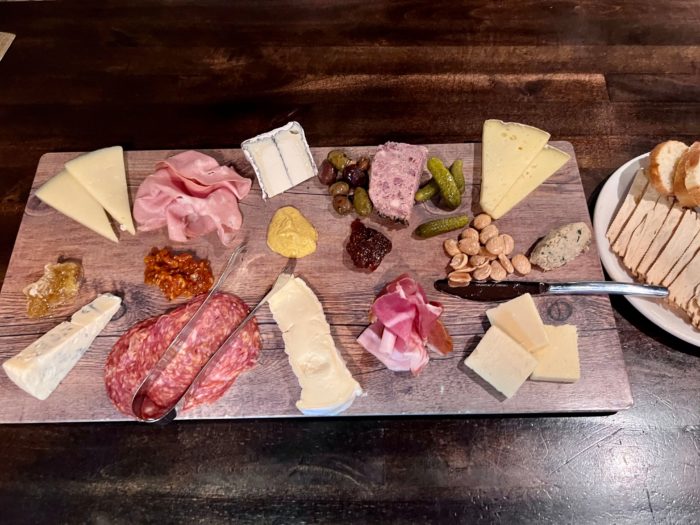 Yep. This one is a bit pricey, but it's not called "The Big Board" for nothing. Take a look at all you get!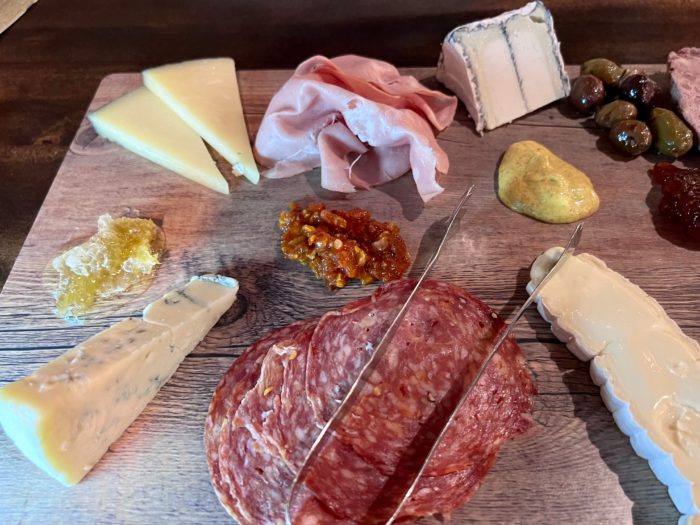 Grilled Romaine – $12.00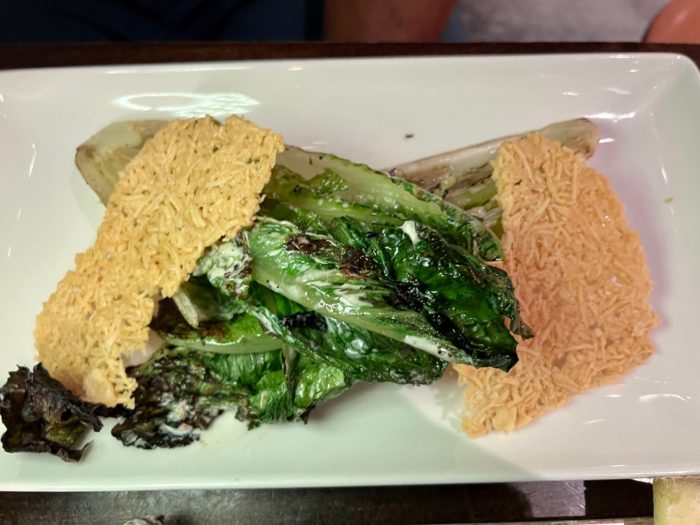 If you've never had grilled salad, take the opportunity. Plus, it's an excellent way to offset all that cheese.
Frozen Old Fashioned with DOLE Whip Orange – $14.00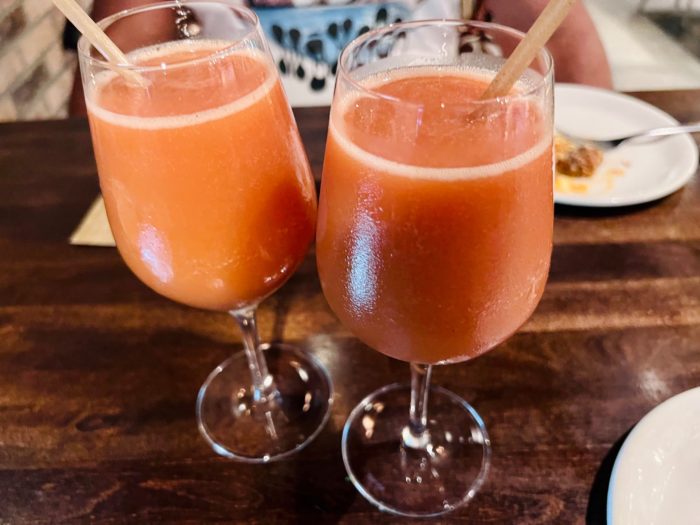 Lastly, as part of Disney Springs' Flavors of Florida event, Wine Bar George is offering this new twist on a classic park treat!
However, do note this specialty item is only available through August 14.
Is Wine Bar George one of your favorite Disney Springs restaurants? Which item is your favorite? Let us know in the comments!