REVIEW: Yak and Yeti Local Food Cafes Brings Quick Asian Flavors At Decent Prices
Disney's Animal Kingdom has one of the most diverse dining options of any Walt Disney World theme park, second to EPCOT of course. Although a few of the quick service options at Animal Kingdom are temporarily closed, namely Pizzafari and Harambe Market, there's still lots of great options. Ivonne on our field team had lunch at one of Animal Kingdom's often overlooked options: the Yak and Yeti Local Food Cafes. The quick service restaurant is located in the Asia section of the park, and it has some pros and cons.
The Yak and Yeti Local Food Cafes is a walk up quick service location, right next to the full service Yak and Yeti Restaurant. Both of these locations are operated by Landry's Restaurants, which also operates the Rainforest Cafe at the front of the park. Mobile ordering is not available here since it is a third party location. Only outdoor seating is offered which makes it a great options for anyone who prefers to eat outside right now, though it can be tough to find spots in the shade. Our readers have submitted over 500,000 surveys in the past few years and have given Yak and Yeti Local Food Cafes a 90% thumbs up rating which is great! It ranks as number 24 out of 108 quick service options at Walt Disney World.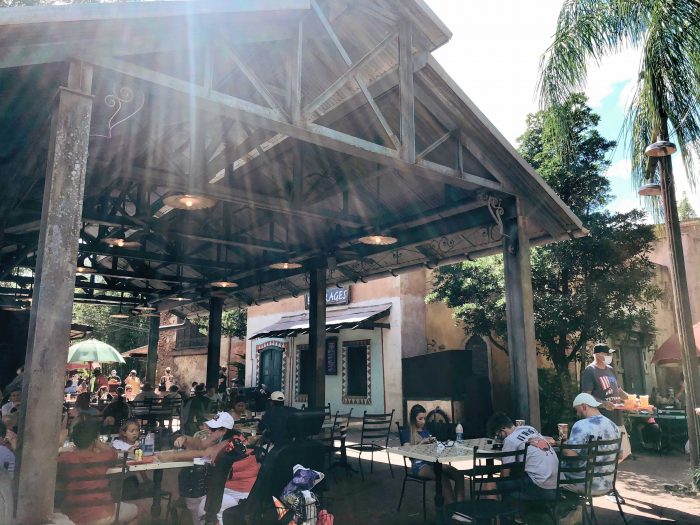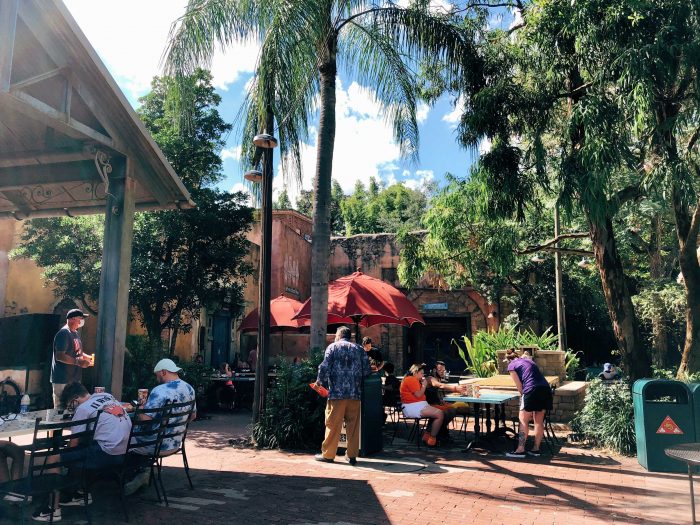 The food is very different than most of Disney's quick service restaurants. The menu at Yak and Yeti Local Food Cafes highlights Asian flavors with a casual, American-influence. There's a gourmet Kobe beef hot dog that you can have plain, Bahn Mi style, or topped with kimchi, as well as a Kobe beef cheeseburger, as well as Sweet and Sour Pork, and a great vegetarian dish, the Vegetable Tikka Marsala. The pricing is on par with Disney's owned counter service locations, though the prices of the Kobe burger and Kobe hot dog do reflect the upgraded quality.
Ivonne selected the Korean Fried Chicken Sandwich, with Fried Chicken Breast, Kimchi Slaw, and Honey Heat Sauce. If you're not familiar with kimchi, it is a spicy pickled cabbage, a very popular condiment in Korean and other similar cuisines. Normally, Korean fried chicken is very crispy. This chicken was not as crispy as expected, but the slaw added some crispness and a bright flavor, while the honey heat sauce was true to its name. It was an enjoyable sandwich for $13.99 and on par with most other quick service sandwiches available in the park.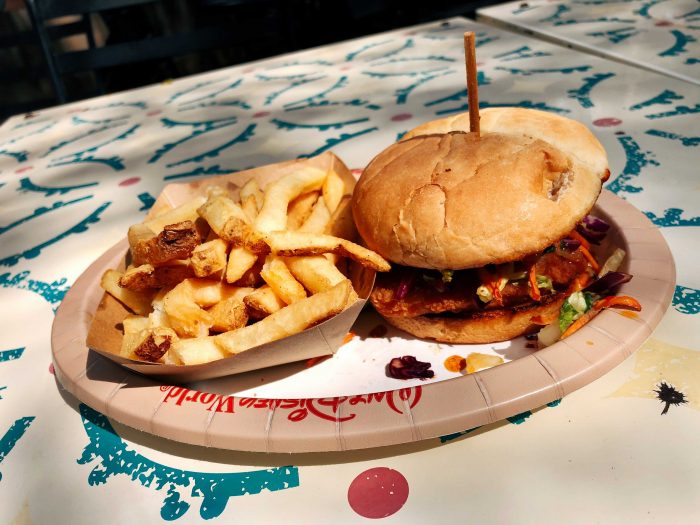 If you like to be in the know about the best places to eat at Walt Disney World, then order up a subscription and join us. You'll get access to all our tools, including our Lines app which enables you to view Expected Wait Times compared to Disney's Posted Wait Times plus listings for all Walt Disney World restaurants, with ratings and menus.

What's your favorite place to eat at Disney's Animal Kingdom? Have you dined at Yak and Yeti Local Food Cafes before?