REVIEWED: EPCOT Food and Wine Booths Part 3, Near Future World
There's 81 different food items at this year's EPCOT International Food and Wine Festival, and more food booths will be opening in October. That's a lot to sample, but we're trying it all!
Here's a quick rundown of the items you'll find in the booths in Future World and around the entrance to World Showcase. (Note: Mac & Eats and Lobster Landing will open at a later time, and Shimmering Sips was sold out of key food items on day 1 and will be reviewed later.)
Donut Box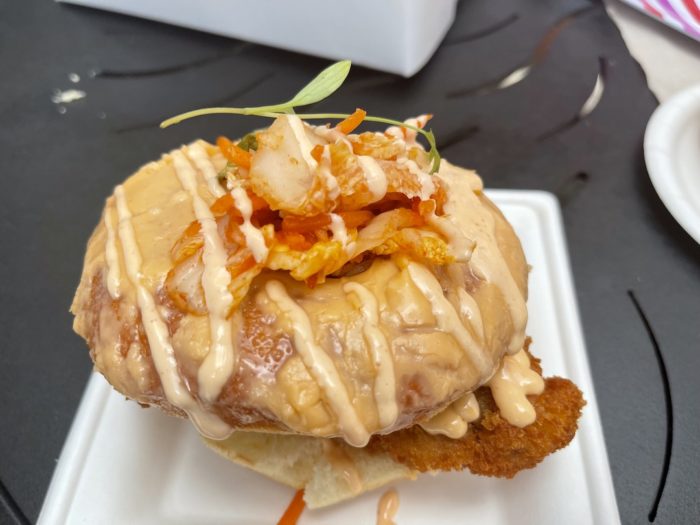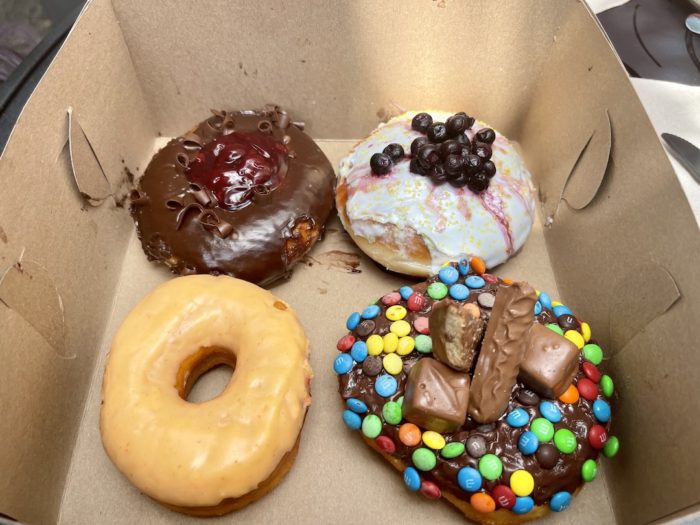 Candy Jar Donut made with M&Ms, Snickers, and Twix, $5.00
Sriracha-glazed Donut, $5.00
Chef's Donut of the Day (Two kinds available on day 1: Black Forest and Lemon-Blueberry), $5.00
Crispy Chicken on a Sriracha-glazed Donut, $8.50
Our review: The day we went, the two "donuts of the day" were Black Forest and Lemon-Blueberry. The lemon-blueberry looked different from the picture at the register, but it was tart and had a good amount of filling. The real standout was the Black Forest however.The cherry center was the perfect amount of tart to balance the sweet of the chocolate. Even if you don't like Black Forest cake, this donut is worth your time.
Next up, was the Sriracha-glazed – and it was a nope. Funky, odd, and not in a good way. Hard pass. But then when you got the Crispy Chicken on the Sriracha-glazed donut, it all made sense. This is enormous enough to share and very, very tasty. It has a heat that is mild enough for the spice adverse.
The Candy Jar donut is an Instagram star and rivals Everglazed for drama and taste. Basically impossible to find fault except that it's going to melt quickly which means you have to eat quickly. (That's not a problem, though.)
Overall, we suggest getting the Donut Box combo of four donuts for $16 — save the $4 and get this one rather than spending $20 on 4 which you're going to do because donuts.
Flavors from Fire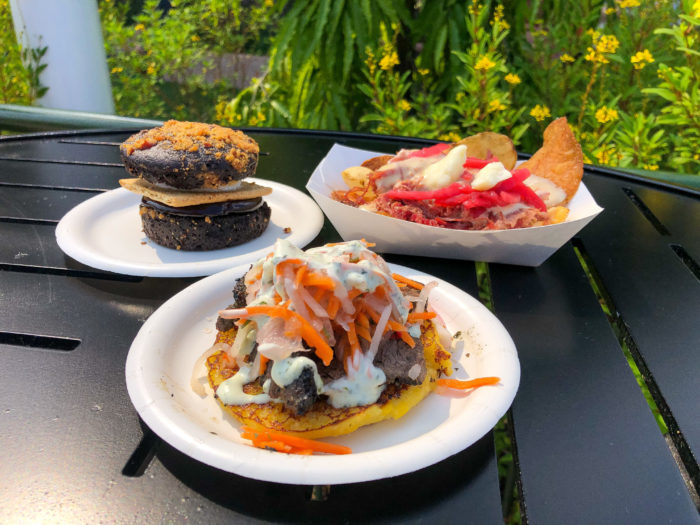 The Corned Beef Corner Route (smoked corned beef with crispy potatoes, cheese curds, pickled onions, and beer-cheese fondue, $5.50
The Chimichurri-up Offense (charred chimichurri steak on a smoked corn cake with pickled vegetable slaw and cilantro aïoli, $7.25
The S'mores Whoopie Pie-lon (smoked chocolate cake, graham cracker, marshmallow, chocolate ganache, and candied bacon, $4.00
Our review: When it comes to the Corned Beef Corner Route, if you love loaded fries you'll probably love this. There is enough here that you could probably split this with someone else since the toppings are substantial enough. We especially liked the beer cheese fondue, and corned beef was delicious as well. Lots of love for the Chimichurru-Up Offense. We weren't sure what they meant by smoked corn cake but when we got it we realized this is basically an open faced arepa. We loved the steak with the sweetness of the corn cake and the pickled vegetable slaw added some nice crunch. If you're not a fan of cilantro, ask them to leave the aioli off. For dessert, there's the S'mores Whoopie Pie-Lon. If you like sweets and the flavor of s'mores, you'll like this, but it is a lot of sweet in that dish.
Brew-Wing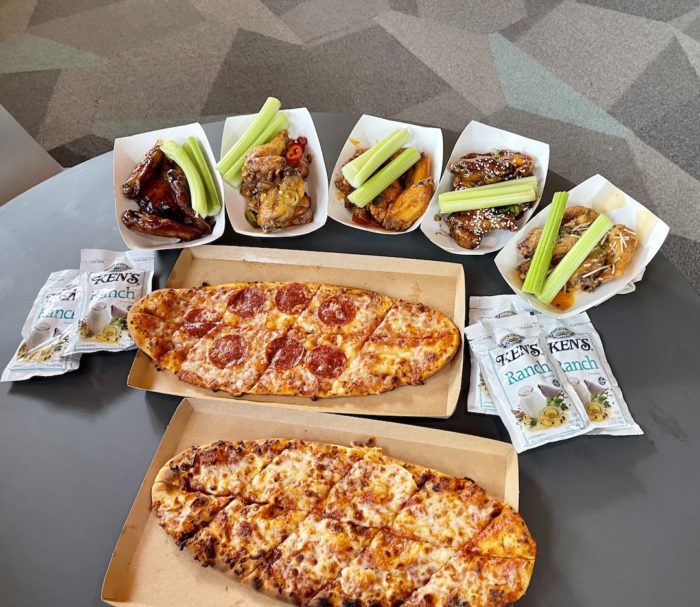 Garlic-Parmesan Wings with Celery and Ranch, $7.50
Barbecue Wings with Celery and Ranch, $7.50
Teriyaki-Sesame Wings with Celery and Ranch, $7.50
Traditional Buffalo Wings with Celery and Ranch, $7.50
Mango-Habanero Wings with Celery and Ranch, $7.50
Cheese Flatbread, $9.00
Pepperoni Flatbread, $9.00
Our review: Hooray for indoor seating with A/C and restrooms!!!! This may have made us more excited about this kitchen. For the wings, they were all good, but the standout was the Mango-Habanero wings. These aren't heat just for the sake of heat, but heat for the sake of flavor. The wings are all crispy and well cooked, thoroughly sauced, and a portion size that doesn't seem offensive even with the steep price of $7.50 seem like a good value because you can wash your hands and face in a restroom steps away without getting out in the blazing sun again. The Teriyaki, the barbecue, and the garlic parm are all very mild and kid friendly.
When we were there, we got one ranch packet per order, but we have heard that bleu cheese is available upon request.
The Flatbreads are not the best pizza on property, but very good and a great value. This is a top pick for kids and picky eaters because of the size, taste (nothing fancy or funky) and the ample table seating inside.
The Noodle Exchange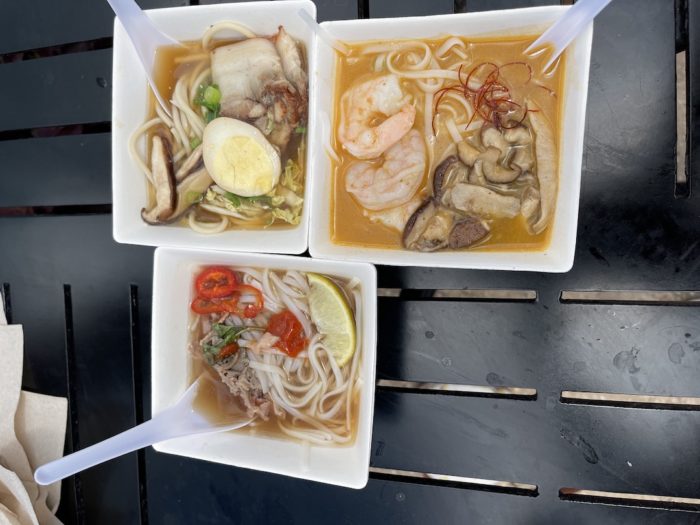 Traditional Spicy Vietnamese Beef Pho with Shaved Beef, Enoki Mushrooms, and Thai Basil, $5.50

Char Siu Pork Udon with Enoki Mushrooms, Bok Choy, and Soy Pickled Egg, $5.50

Shrimp and Coconut Curry Rice Noodles with Shiitake Mushrooms and Thai Basil, $6.25
Tofu Pho with Enoki Mushrooms and Thai Basil, $5.50
Our review: These are HUGE bowls of LOVE. The Shrimp & Coconut – this was the only one that each of us disliked. The shrimp was juuuuust cooked but could have used another 15 seconds. The broth had a very strong saffron flavor that didn't appeal to any of us. Skip unless heavy saffron is your thing. On the other hand, the Traditional Spicy Vietnamese Beef Pho was so spicy and so wonderful. The noodles are cooked perfectly and the flavors were just right. This one had serious fire, so not for anyone who is shy of heat. A vegetarian option, the Tofu Pho is tofu done right! Plus, it looks gorgeous! Light tasting but substantial and filling. The is a great option. However, the winner at the booth is the Char Siu Pork Udon. We were arguing over the last bit of this because it was sooo good. It was 500 degrees and we were scampering to eat hot soup – so delicious! In the fall, this is the must-do dish.
Earth Eats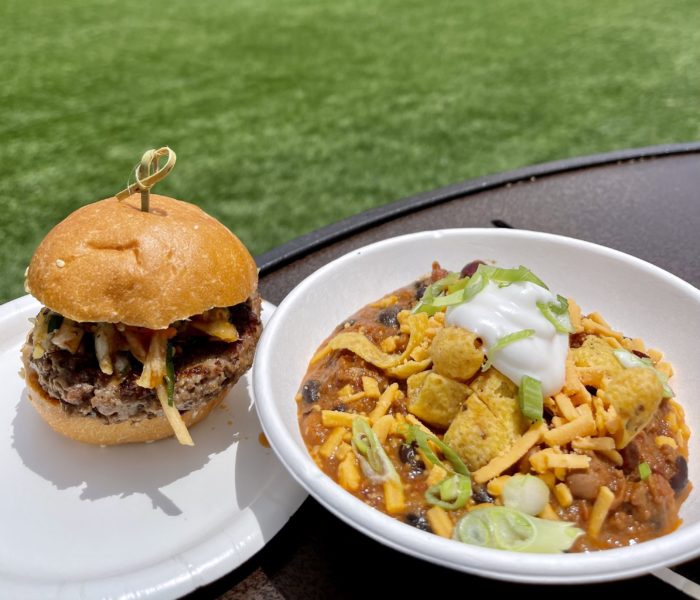 The Impossible Burger Slider with Wasabi Cream and Spicy Slaw on a Sesame Seed Bun, $6.00
Impossible Three-Bean Chili, $5.50
Our review: With the price increase of 75 cents for the Impossible Burger, that might have priced us out. There's better options out there for omnivores. It is a good option for gluten-free diners because there are so few other options. If you're going to get anything, however, the Chili is gluten-free, plant-based, and delicious. It's a wonderful portion size for $5.50.
Refreshment Port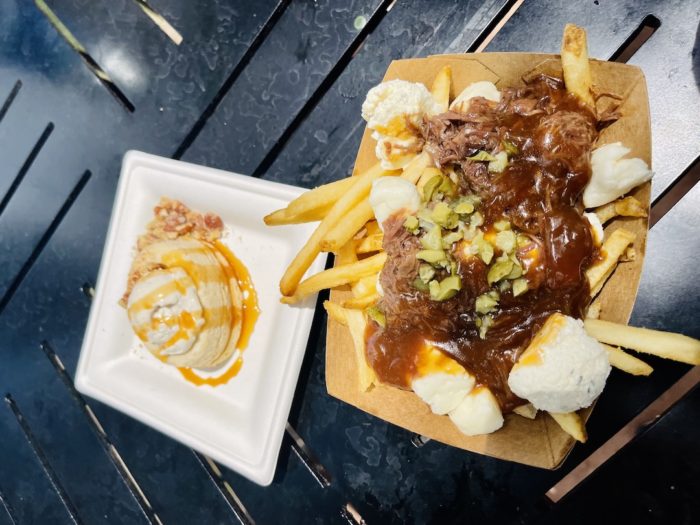 Braised Beef Poutine: French Fries, Boursin Garlic & Fine Herbs Cheese Sauce, Cheese Curds, and Gherkin Relish, $9.50
Maple Boursin Cheesecake with Whipped Boursin Maple Bourbon Cheese and Candied Pecans, $4.50
Our review: Get the Braised Beef Poutine. Hopefully the serving size doesn't change because for the price it feels very reasonable. It's a monster offering of fries, cheese, more cheese, and gravy. What's not to love? The Maple Cheesecake had us worried because we were afraid it would have a fake maple flavor to it, but this was a treat. Creamy, sweet, and such a nice foil for the heavy, savory flavors of the poutine. So impressed that this joy came from Refreshment Port!
Australia
Grilled Sweet and Spicy Bush Berry Shrimp with Pineapple, Pepper, Onion, and Snap Peas, $6.00
Roasted Lamb Chop with Sweet Potato Purée, Bush Berry Pea Salad, and Pistachio-Pomegranate Gremolata, $8.25
Deconstructed Pavlova with Pastry Cream, Citrus-macerated Berries, and Lemon Myrtle Meringue, $4.00
Our review: There's a reason why the Grilled Shrimp keep returning. It isn't a pretty dish, and the portion size is small, but it has great flavor and the shrimp were cooked properly. If you are a fam of lamb, this is the dish to get. Tender and flavorful, you'll want to clean the bone. At $4.00 for the Pavlova, it didn't feel like this would be that great of a value from its appearance, but the flavor won us over. It's pretty, sweet, tangy, and yummy. You'll want to get two so you don't have to share.
Hawaii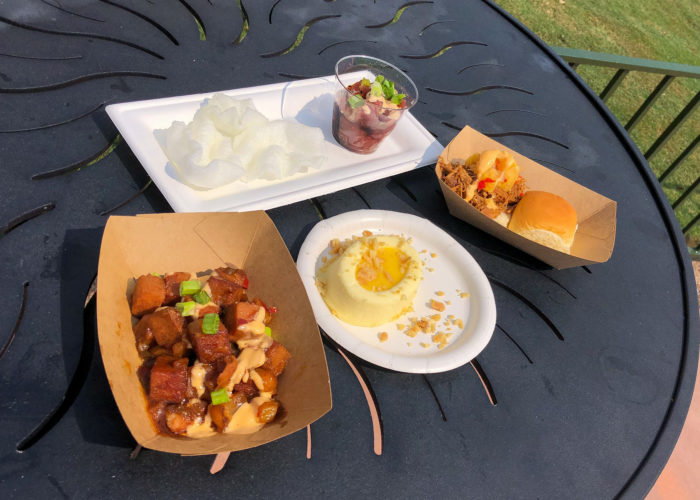 Kalua Pork Slider with Sweet-and-Sour Dole Pineapple Chutney and Spicy Mayonnaise, $5.75
Teriyaki-glazed SPAM Hash with Potatoes, Peppers, Onions, and Spicy Mayonnaise, $4.50
Tuna Poke with Eel Sauce, Spicy Mayonnaise, and Crispy Shrimp Chips, $7.00
Passion Fruit Cheesecake with Toasted Macadamia Nuts, $4.25
Our review: The Kalua Pork Slider is a staple of the festival. It's basically a pork sandwich on King's Hawaiian Rolls and the pineapple chutney adds great flavor. If you're not a fan of spicy mayo (or mayo in general), just ask for it to be left off. Same applies to the Teriyaki-glazed SPAM hash. It's a good dish if you're a fan of the flavors, but for picky eaters it may seem a bit odd to have SPAM and teriyaki and spicy mayo. The Tuna Poke was fresh and delicious, but again with the spicy mayo. That said the eel sauce added sweetness and the shrimp chips are light and crispy, so there's a lot to love about this dish. There's also a lot to love about the passion fruit cheesecake. Tart and sweet and the toasted macadamia nuts giving it crunch, this is a wonderful dessert option.
The Swanky Saucy Swine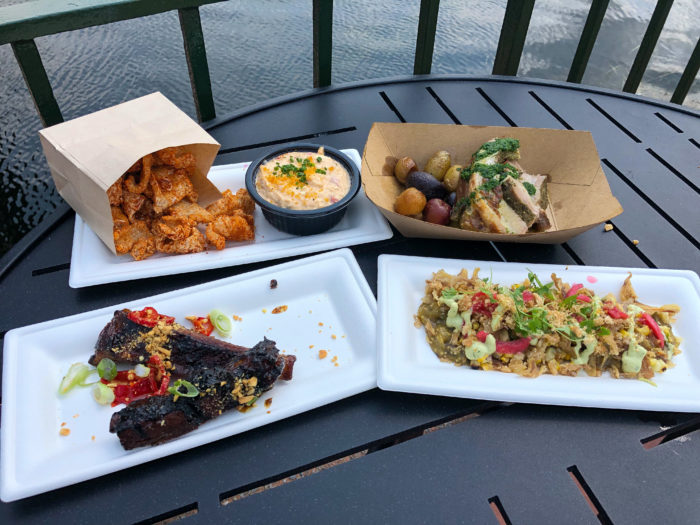 Crispy Barbecue Pork Rinds with Pimento Cheese, $4.75
Roasted Porchetta with Pork-fat Roasted Rosemary Potatoes and Lemon-Parsley Salsa Verde, $6.25
Soy-glazed Sticky Ribs with Green Onions and Peanuts, $7.00
Crispy Pig Ear Salad with Fire Roasted Tomatillo Sauce, Pickled Red Onions, Queso Fresco, Roasted Corn Salsa, and Avocado Cream, $5.25
Our review: Pork Rinds may not be everyone's cup of tea, but if you like them, you'll love the barbecue flavor on them. Adding the pimento cheese with it really makes this a must-try snack food. Looking for a bit more substantial dish? Go for the Roasted Porchetta. The pork was cooked perfectly and the lemon-parsley salsa verde on top gave the right amount of acid. Potatoes cooked in pork fat and rosemary are a delicious side for this, and the portion size is hearty. Soy Glazed Sticky Ribs have a great flavor, and so that's a win, but these were a bit tough. Not as tough as the Crispy Pig Ear Salad, though. The toppings are great, but some of the pig ear is absolutely inedible. Enjoy at your own risk.
Read part 1 and part 2 of this series. In the meantime, what looks good to you from these booths?