SATURDAY SIX – 6 Reasons We Love Sailing on ROYAL CARIBBEAN
This week's SATURDAY SIX takes a look at the ROYAL CARIBBEAN CRUISE LINE! As a lifelong theme park fan, I put off cruising for years. Despite being told by everyone I knew who had cruised that I would love it, I thought "cruising couldn't be that good." Granted, my total sum of knowledge came from watching episodes of The Love Boat, but I felt confident in my decision. A couple years ago I finally relented and took my first cruise, and within the first few days on the ship I had a startling revelation: turns out, I loved cruising. Since that sailing, my daily life consists of two distinct areas: being on a cruise and looking forward to my next cruise.
As much as I enjoy sailing on the Disney Cruise Line, it was Royal Caribbean who got me to fall in love with the sea and is my preferred cruise line. Thanks to a combination of great ships, a wide array of destinations, incredible service, and competitive pricing, Royal Caribbean brings a lot to table. Today we're going to look at some reasons why sailing on Royal Caribbean should be part of your next vacation, and we'll kickoff the countdown with…
# 6 – The Ships
Royal Caribbean (RCL) currently has 26 ships in their fleet, with more on the way. Like Walt Disney World with Animal Kingdom Lodge, Port Orleans: French Quarter, and Pop Century, having this many ships allows RCCL to have a wide variety of options for guests. There are smaller ships, medium size ships, large ships, and some which are almost like floating cities (we're looking in your direction Quantum of the Seas). Again, like theme park hotels, the ships are classified into different classes, such as Quantum Class, Freedom Class, and Vision Class.
While the larger ships can seem intimidating to someone who has never cruised before, we have found out that the sheer amount of things to do on the bigger ships make them a destination in and of themselves. Everyone knows about the pools and hot tubs on a ship, but did you know there can also be rock climbing, zip lines, indoor skydiving, mini-golf, escape rooms, and even bumper cars?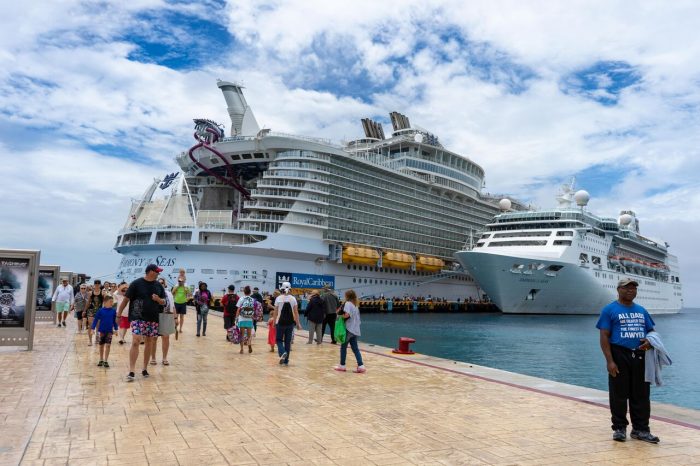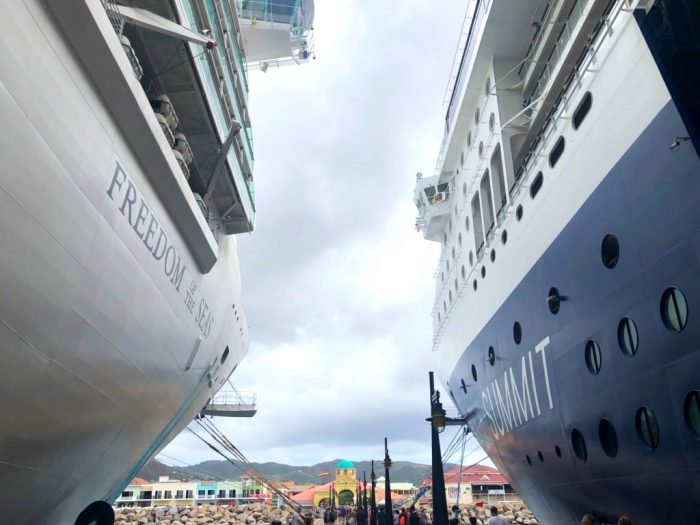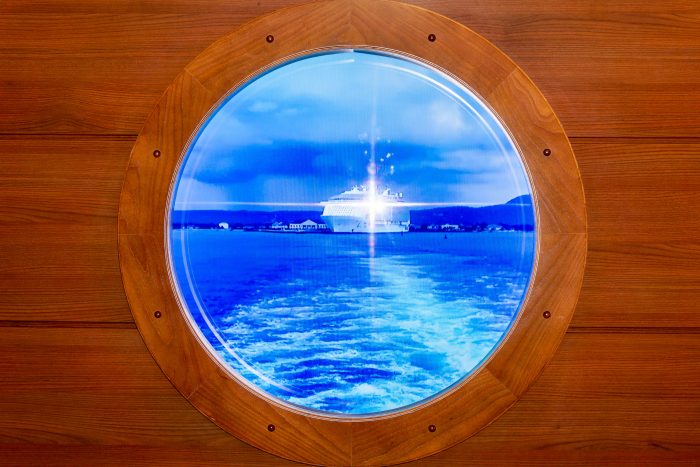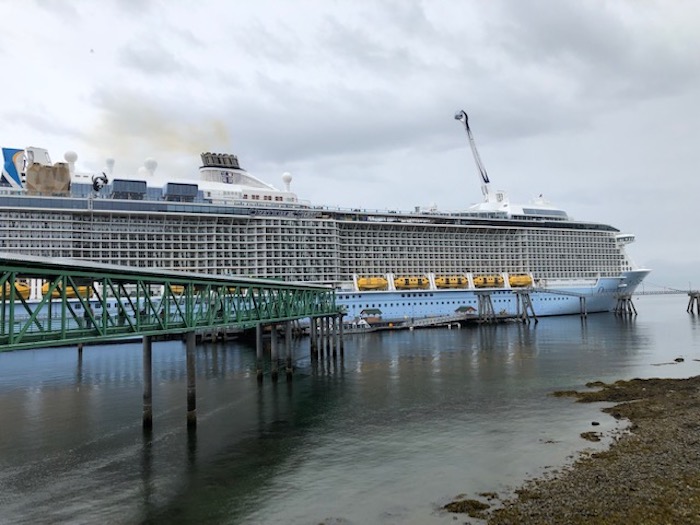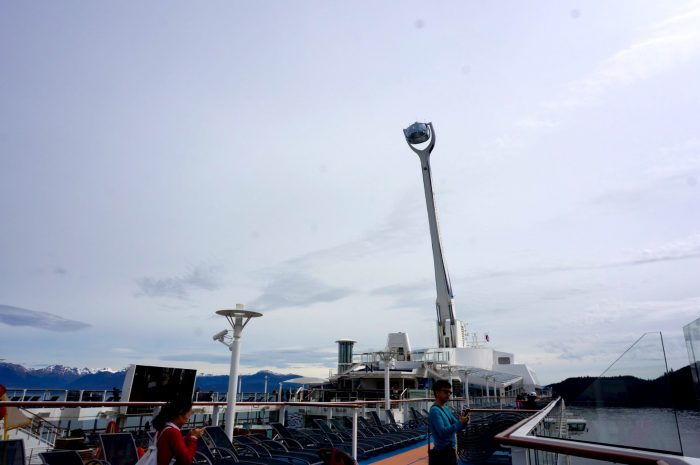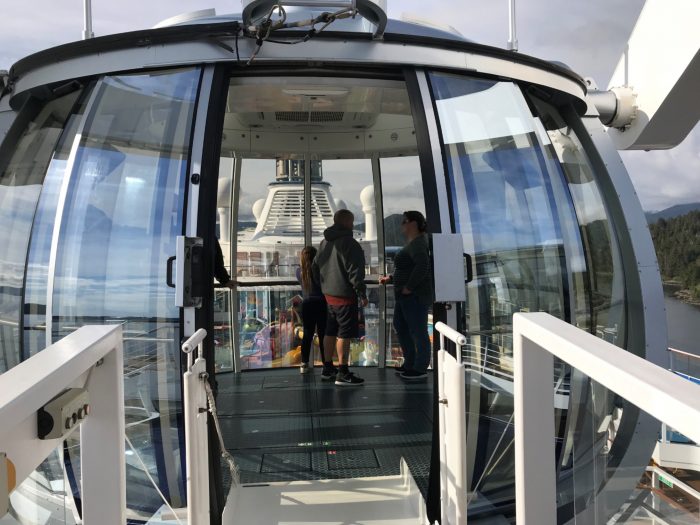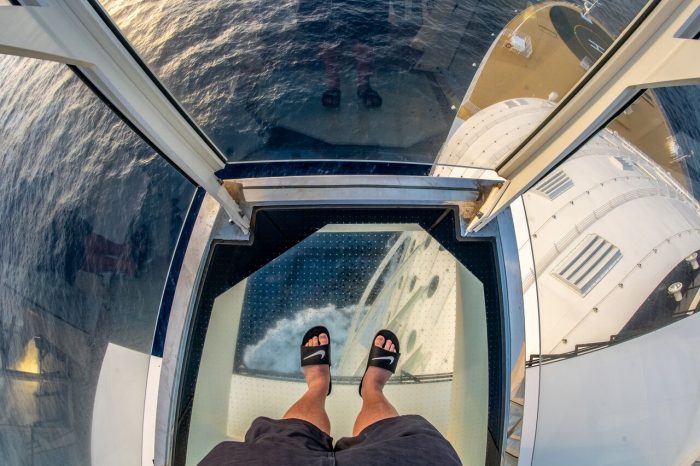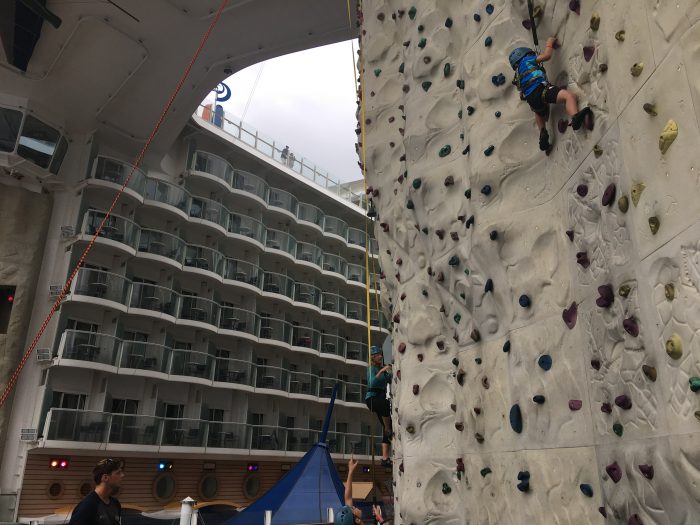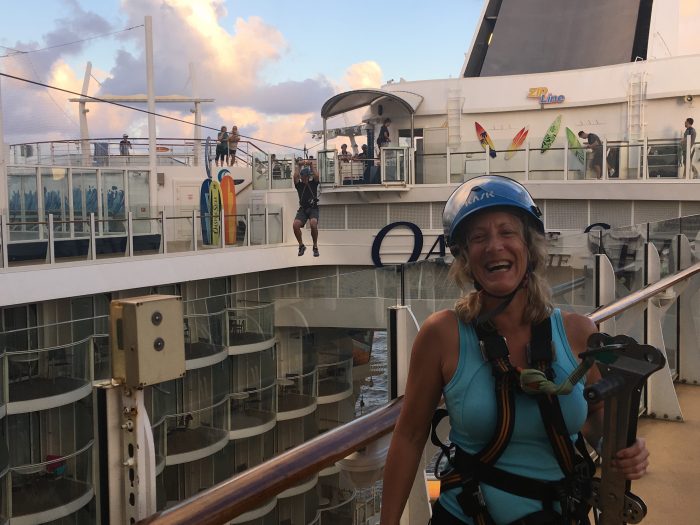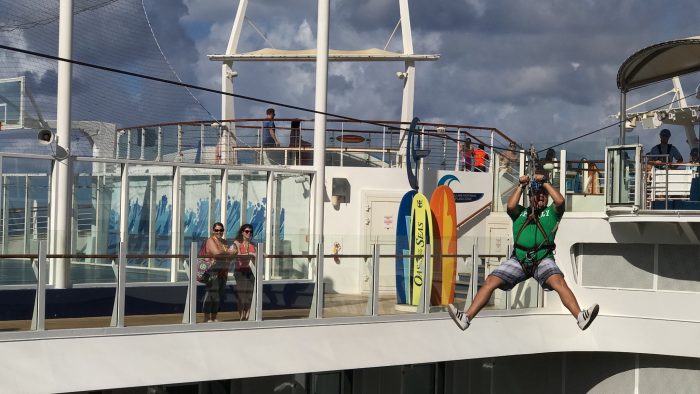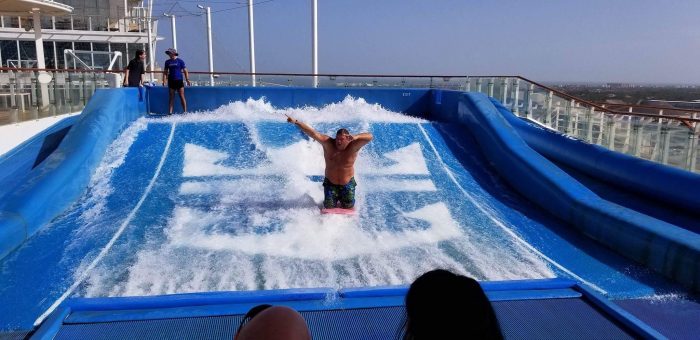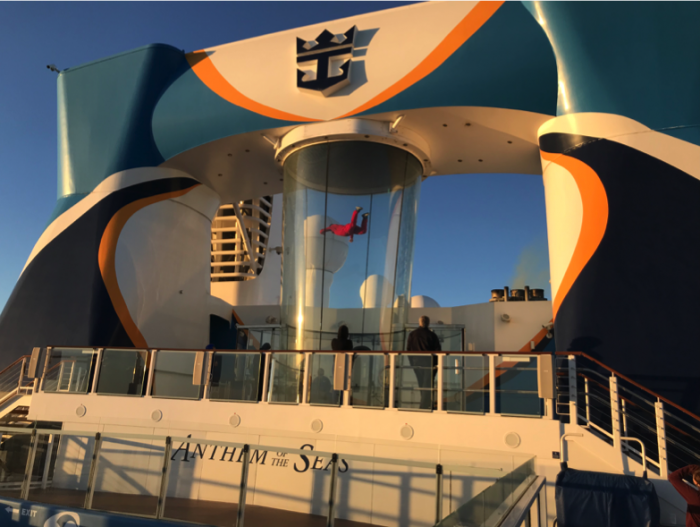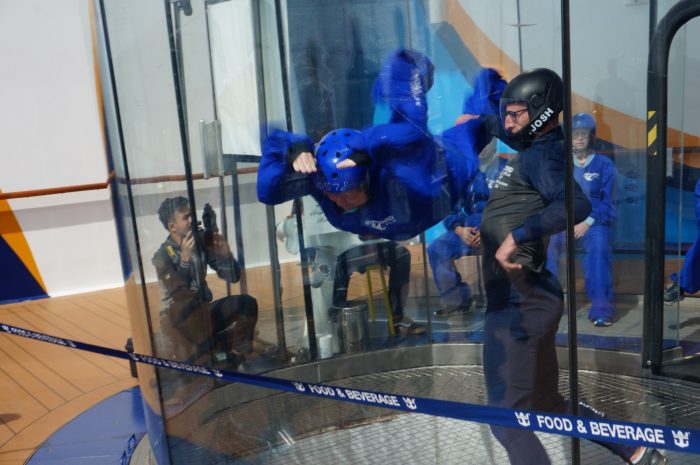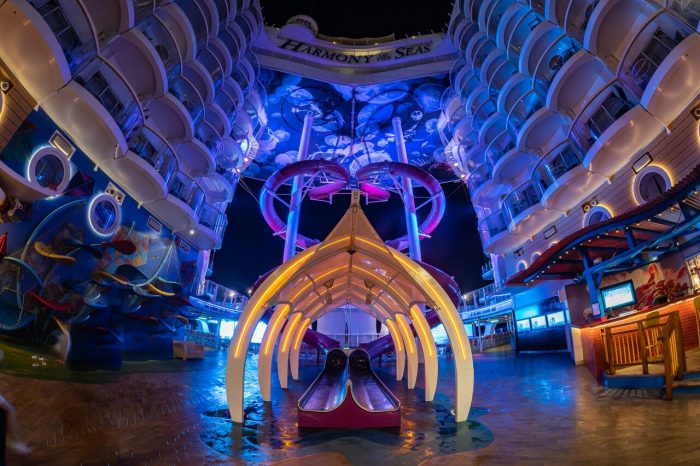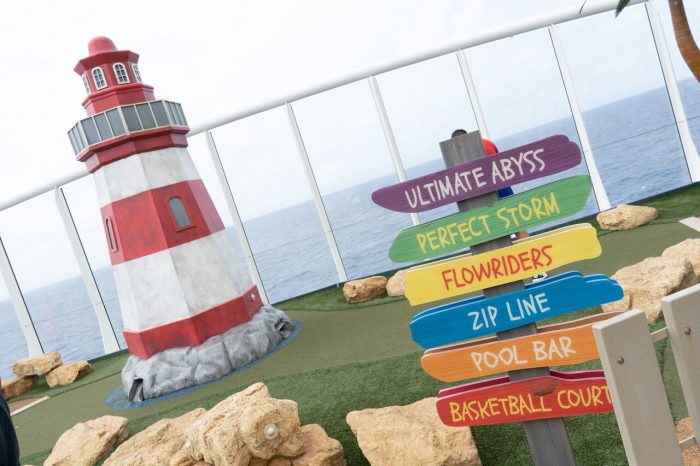 For us, one of our favorite things to do on a cruise is having a room with a balcony. Royal Caribbean's pricing makes that possible.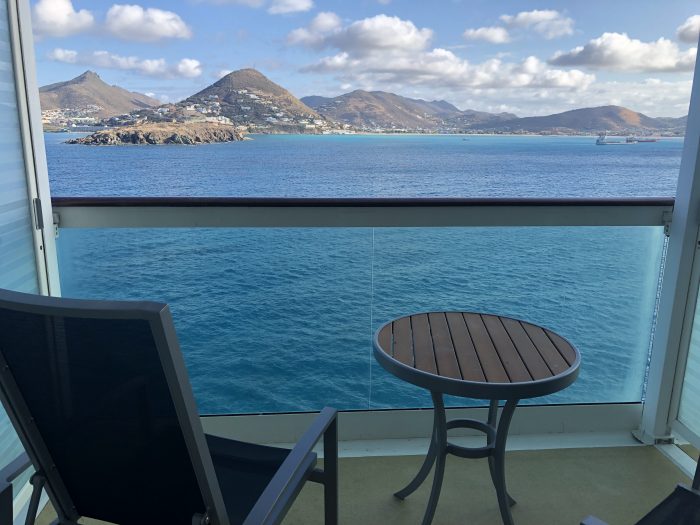 On our last two sailings we've had the chance to see dolphins swimming outside of our cabin.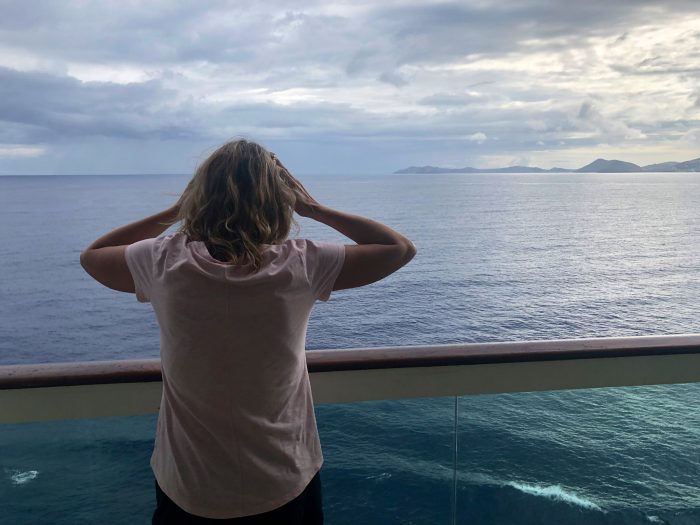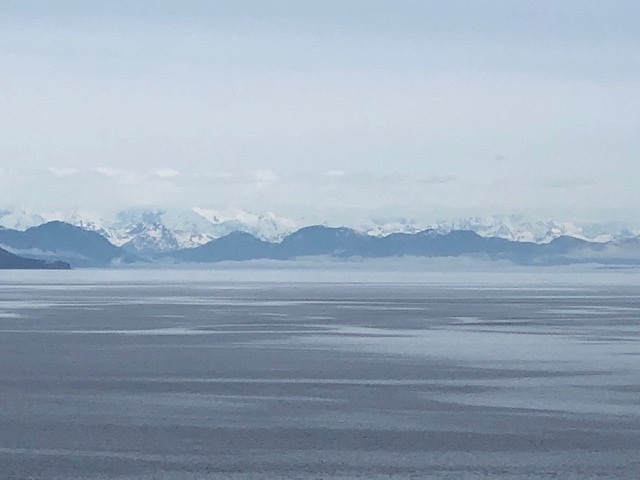 # 5 – The Shows/Onboard Entertainment
Each Royal Caribbean ship is filled with onboard entertainment and many offer Broadway-caliber shows including Grease, Hairspray, and Cats. There are also Royal Caribbean exclusive shows such as Columbus: The Musical and Once Upon a Time that have great production values and some incredible singing.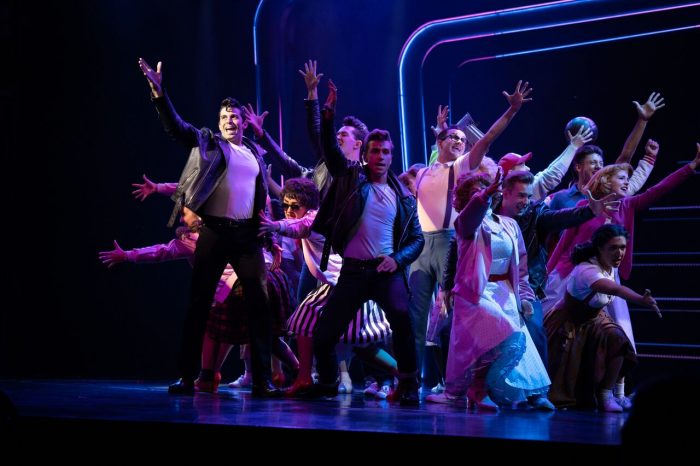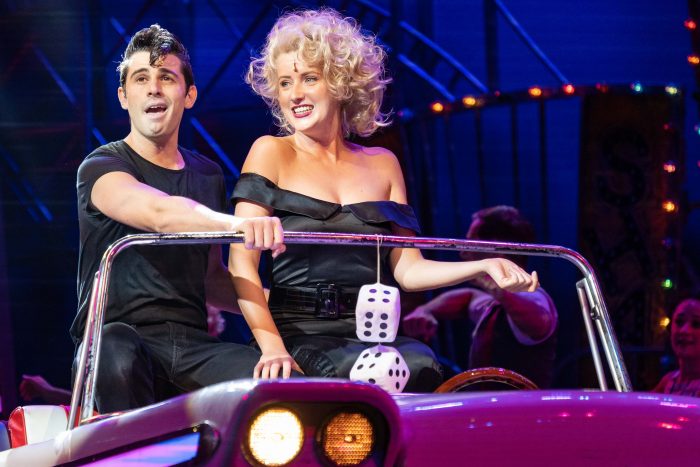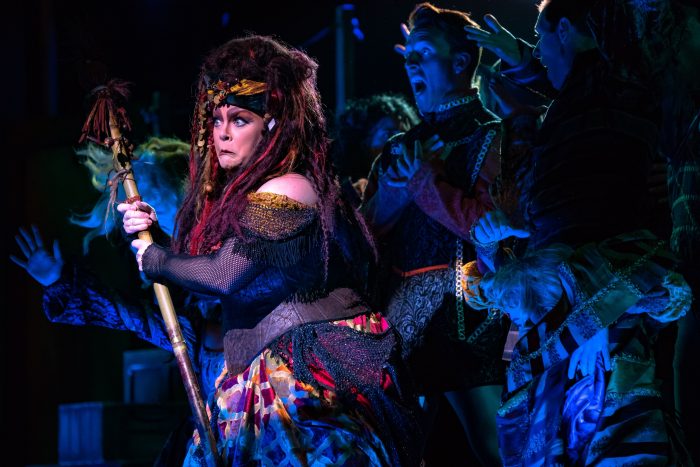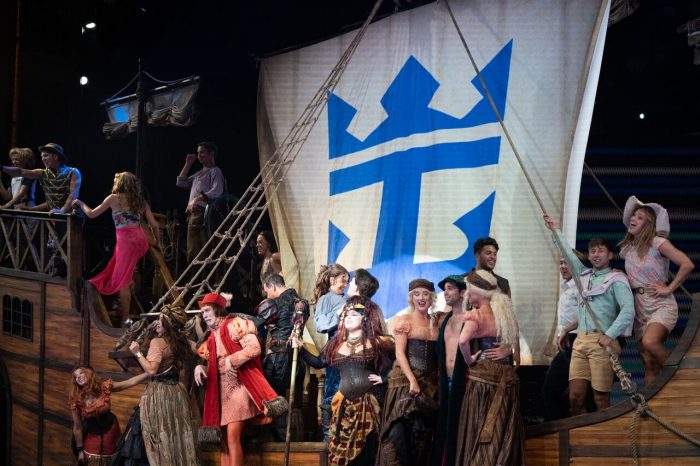 Several Royal Caribbean ships also have an ice rink that is used for shows. While watching the performers, it was just mind boggling how these skaters can do such a well choreographed routine on a relatively "small" ice rink all while on a cruise ship moving relatively "fast" on the water!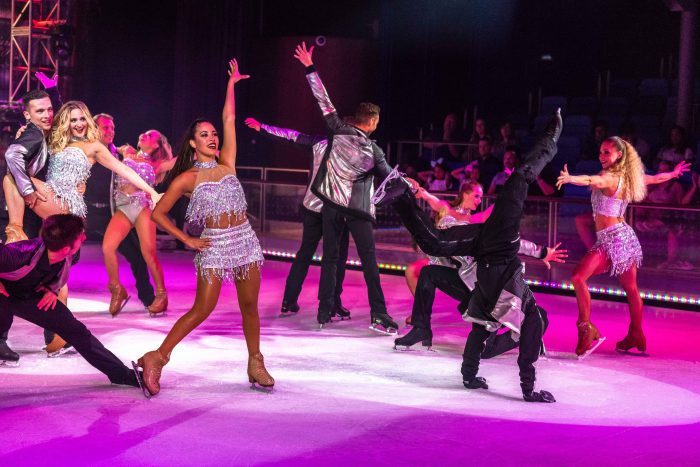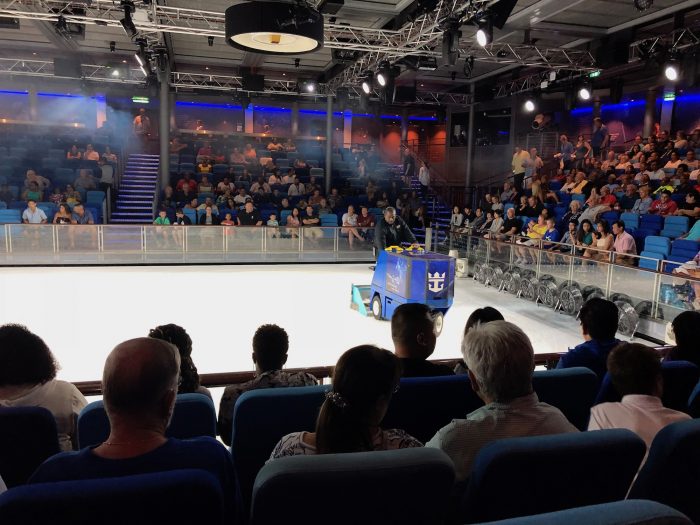 One of our biggest surprises when moving up to the Oasis class of ships was seeing performances at the AquaTheater. This is an outdoor venue that is located at the very back of the ship and delivers some must see shows. The performers do a show involving acrobatics and diving that needs to be seen to be believed. Another neat thing with Royal Caribbean is that there are balcony rooms on the "inside" of the ship, so many guests are able to watch the AquaTheater from their own cabin!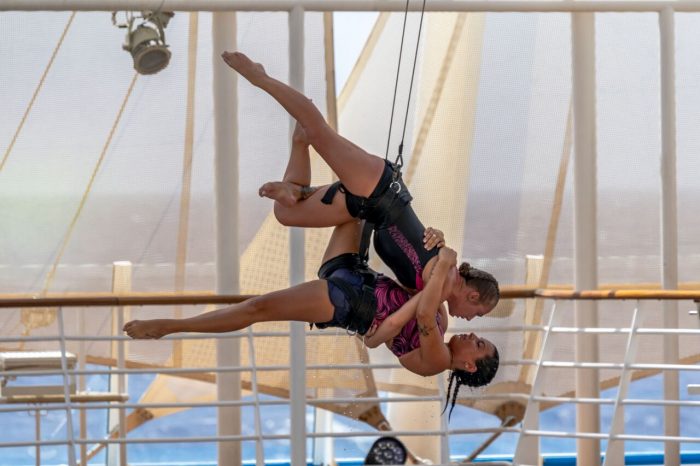 One thing we also love every single cruise are the amount of onboard shows that involve the guests. My personal favorite is the Love & Marriage game show, which takes three couples, has them answer just a couple questions about each other, and always has the theater rolling with laughter. Another show worth searching out is The Quest. A bit harder to describe, but The Quest is an adults-only game show involving teams that is just as fun to watch as it is to participate in.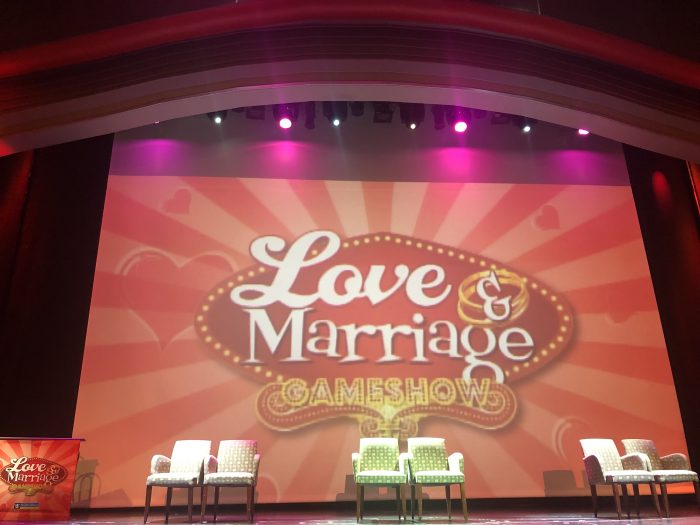 The belly flop competition at the pool is always a must for us. With a mix of bravado and insanity, the contestants always make for a fun show.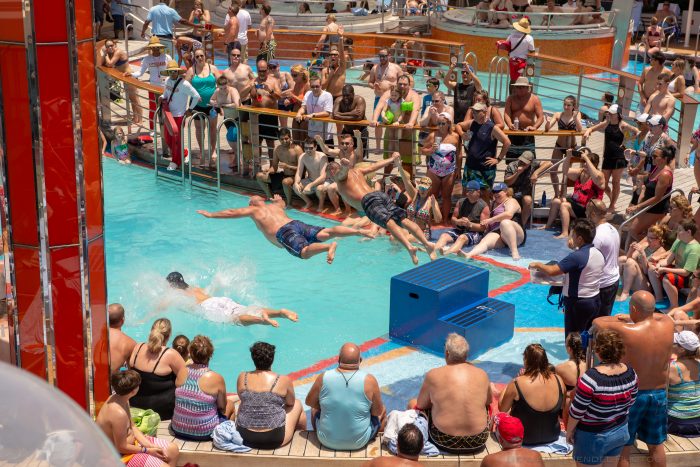 While we don't consider ourselves gamblers by any means, we usually stop at the Casino at least once on every sailing. Try some hands of blackjack, take a couple spins of the roulette wheel, and then just throw money away on the slot machines.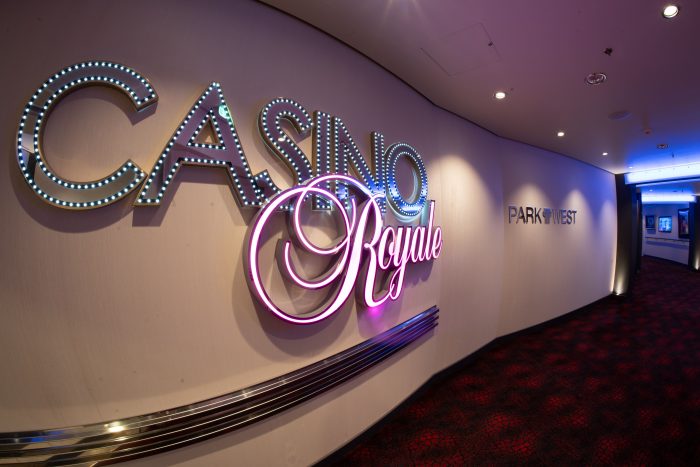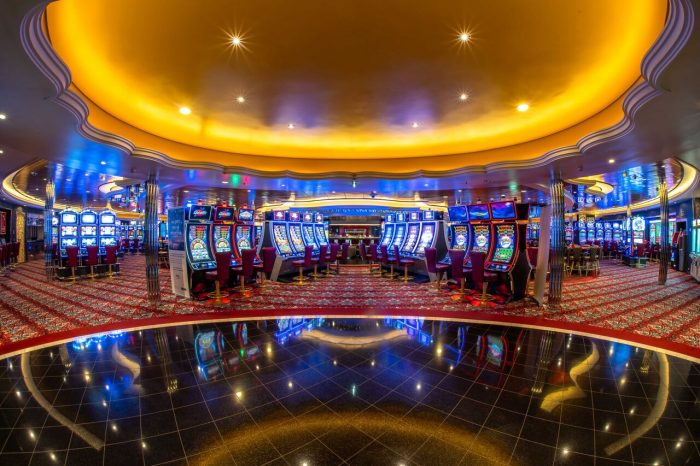 # 4 – The Food
If you lose weight on a cruise, you did something terribly wrong. The amount of great food available on a Royal Caribbean ship is indescribable. For us, an almost daily stop was at Sorrentos. Serving complimentary by the slice, it was always easy to pop on by and grab a couple pieces to go.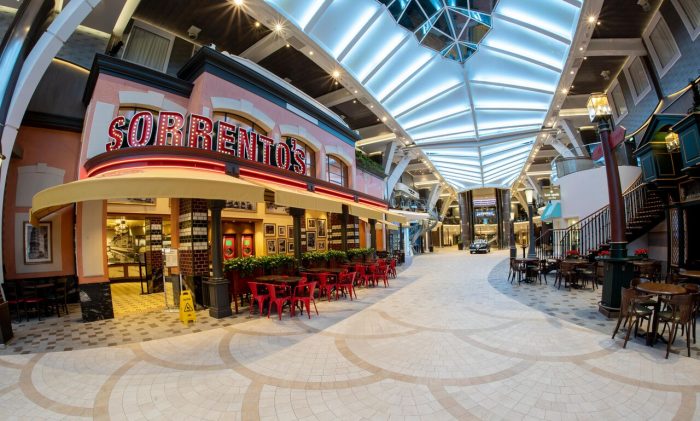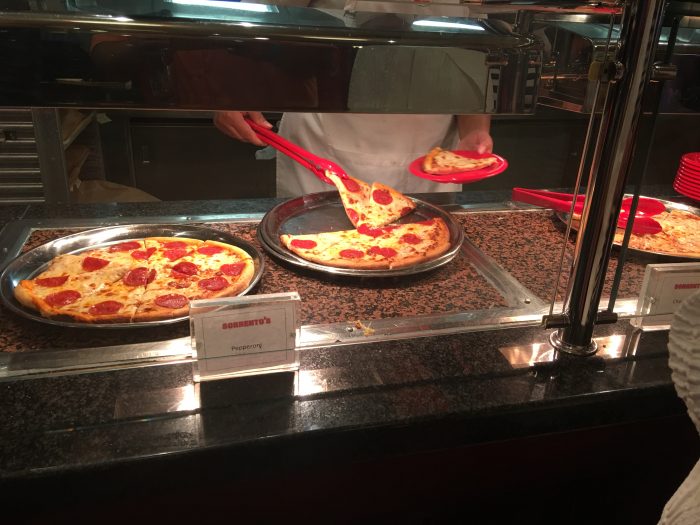 Each day there was always cheese, vegetable, and pepperoni slices available along with a "Daily Special."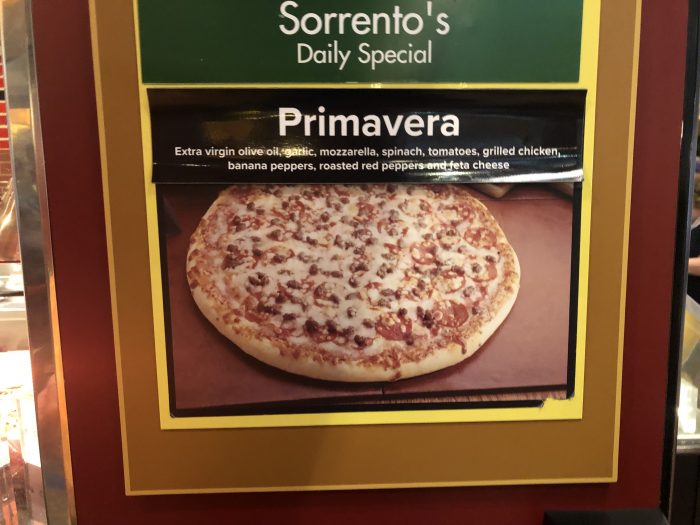 Having a vegan in our party, we asked if they could make a pizza without cheese. They said, "Sure. How many slices would you like?" My answer? "All of them."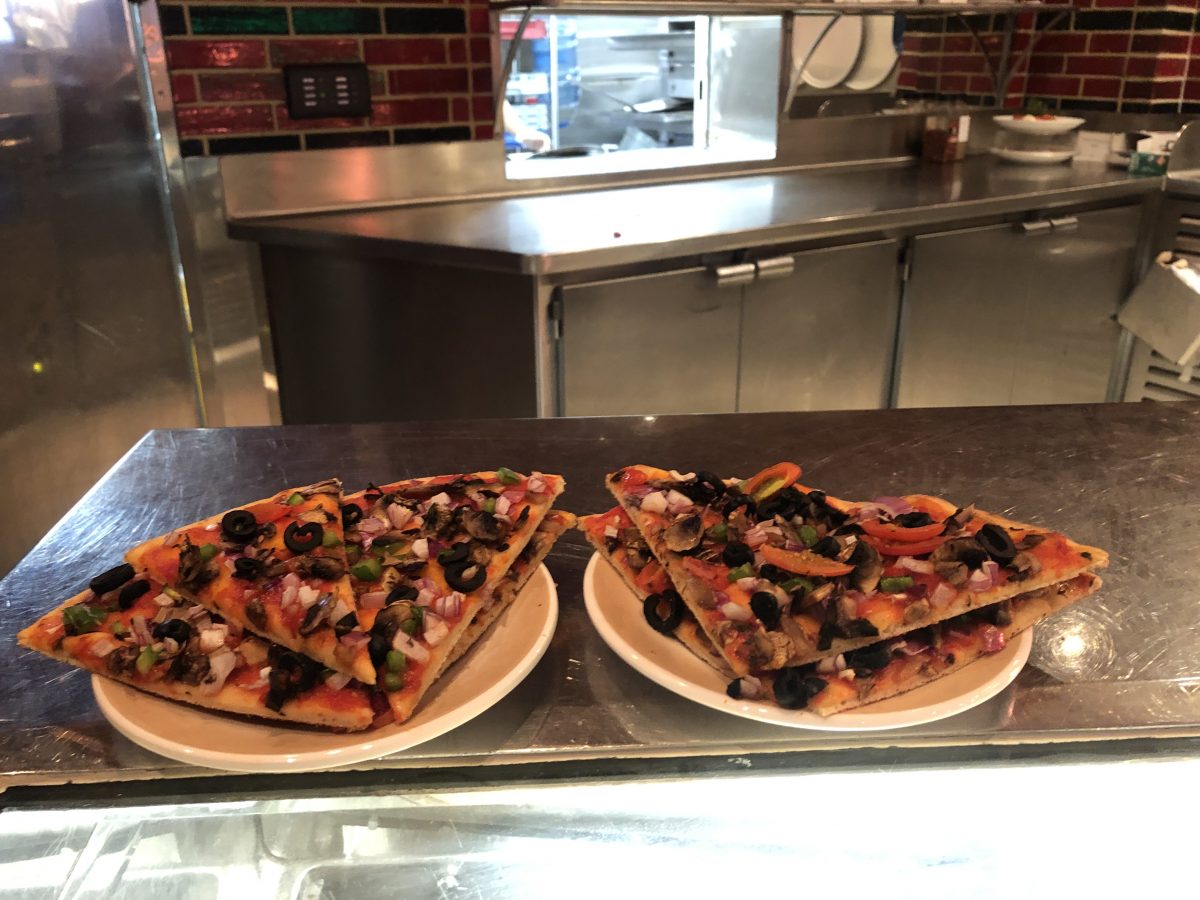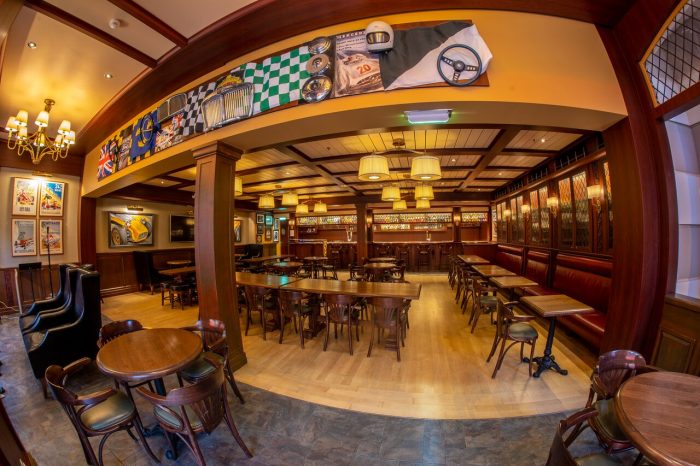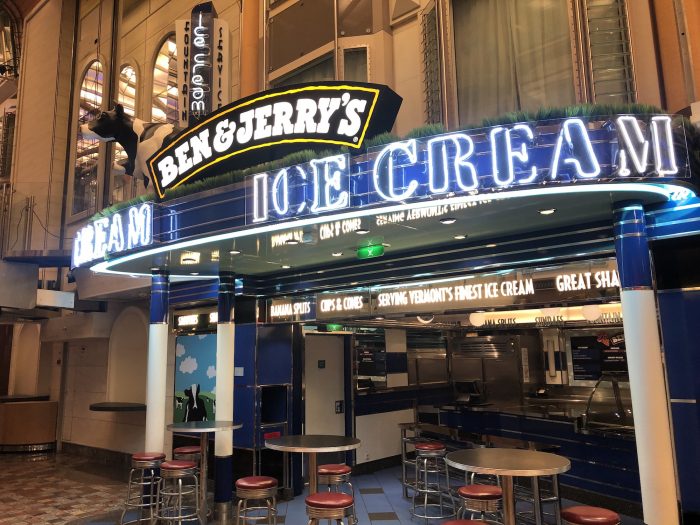 There is a mix of complimentary food venues and others that charge a nominal fee. We enjoy going to the Johnny Rockets diner, where it costs $11.95 per person, but it's all you can eat.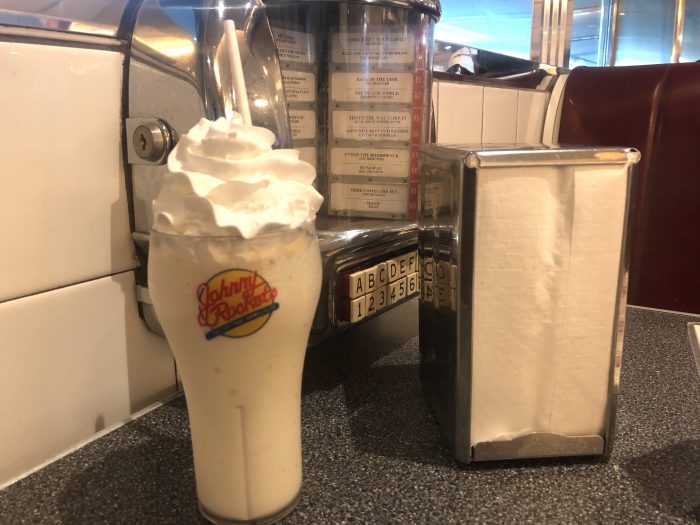 150 Central Park is a popular venue for many, and one item to try is the "salt buffet." Salts included are Hawaiian sea salt, black mineral salt from India, smoked alder salt, pink flake salt from Australia, a Mediterranean sea salt from France, and another gray salt from France. The salts accompany bread and unsalted butter, allowing guests to put whichever salt they choose on their butter.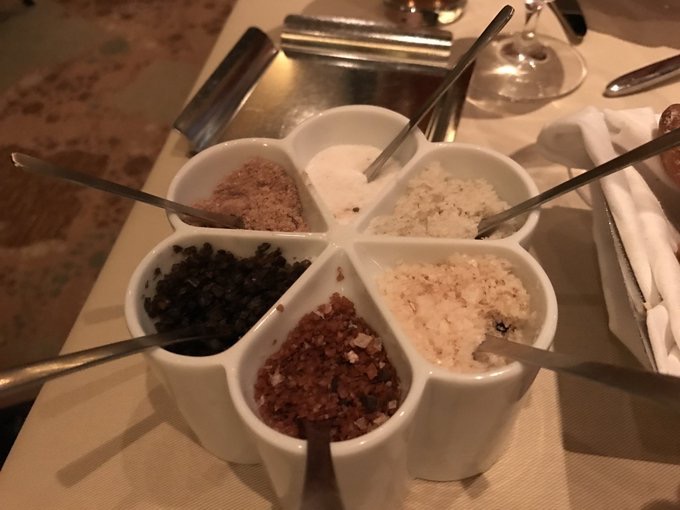 Grilled black pepper bacon at Chops Grille is almost worth taking a cruise just to eat.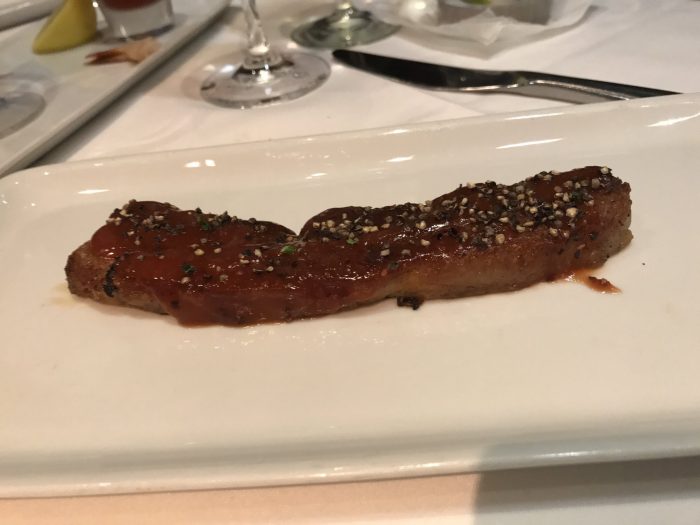 Our favorite place to eat on any cruise ship is the Windjammer on the Royal Caribbean ships. Windjammer was available for breakfast, lunch, and dinner, having consistently great selections. The variety of food was remarkable. Seafood, pizza, steak, fried chicken, pasta station, roasted pork, roasted duck, curry, hamburgers, hotdogs, and just about any food you can think of. Seemingly 100 different types of desserts available, including a make-your-own ice cream sundae. Traveling with picky eaters or anyone with a food allergy is easy at the Windjammer because there is something for everyone. Lots of window seating also made for some pleasant meals.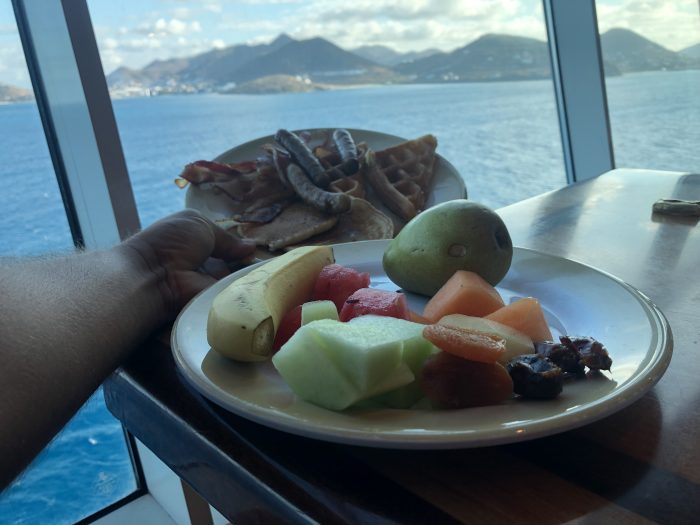 Room service was a $7.95 charge but – like Johnny Rockets – you could order as much as you wanted. I of course took that as a challenge. Salads, sandwiches, burgers, chicken tenders and more are on the menu. I expected the pizza to be the exact same as the offerings in Sorrentos, but it was actually even better.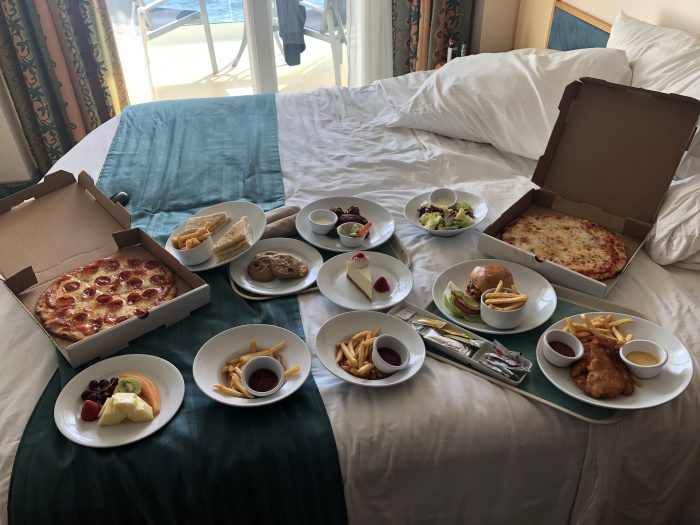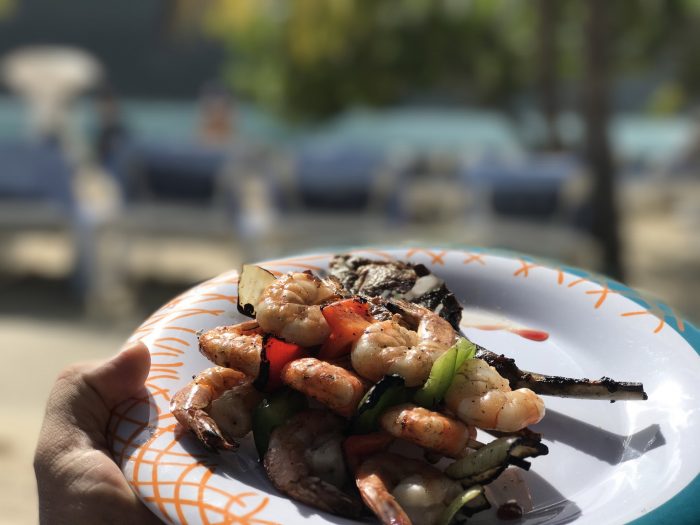 Many guests are going to prefer eating in the main dining room, in which ordering is done like a traditional restaurant off a daily menu.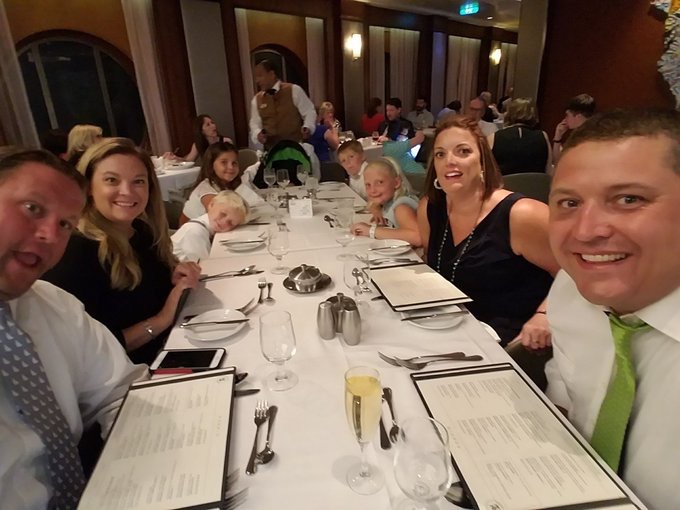 Coke Freestyle machines are available on Royal Caribbean. As a Coke fan, when we went on a Disney Cruise I was excited to discover that soda machines on their ships were complimentary. However I found out quickly that the old adage "you get what you pay for" rings true and was much more satisfied with Royal Caribbean's soda package.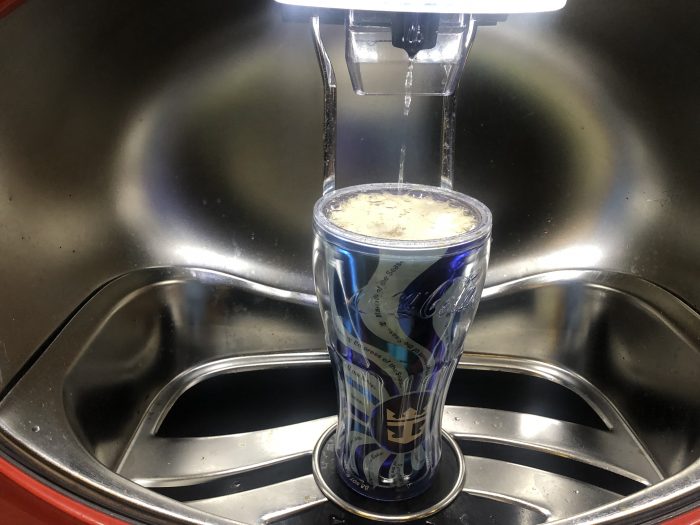 Like you're not going to get a drink served out of a pineapple?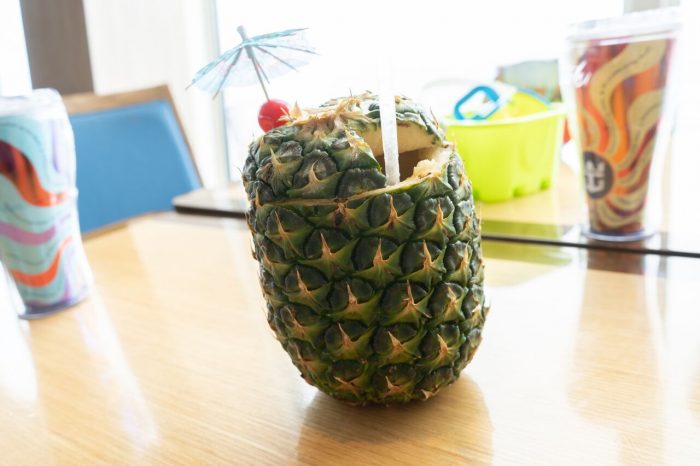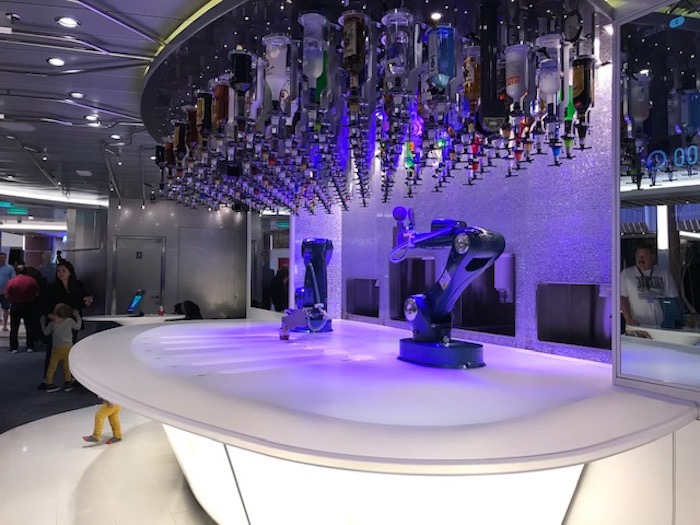 # 3 – Family Friendly
No matter what age your kids may be, there is going to be plenty of stuff for them to do on a Royal Caribbean ship. Adventure Ocean has dedicated areas for kids as young as six months old up to teenagers. One thing I noticed on my cruises was seeing so many young kids still in various Adventure Ocean rooms at a time of night I would consider too late for them to be up. Talking with parents, it turns out that kids have so much fun in these programs that it is like pulling teeth trying to get them to leave. Now that I can understand. Of course all kids are going to love pools and hot tubs, but the ships have a lot more activities they are going to enjoy with the larger ships being a virtual theme park for them with a carousel, mini-golf, basket ball courts, ping pong, elaborate water slides, and more.
Related article: Cruising with kids on Royal Caribbean by Matt Hochberg of the Royal Caribbean Blog. The Royal Caribbean Blog is an invaluable resource for anyone thinking about taking a Royal Caribbean cruise. There is an amazing amount of articles, a great message board forum, and a fun podcast to listen to. Hochberg is one of the original hosts of the beloved WDW Today podcast, so theme park fans can enjoy a bit of nostalgia mixed in with their Royal Caribbean cruise info on this terrific weekly podcast.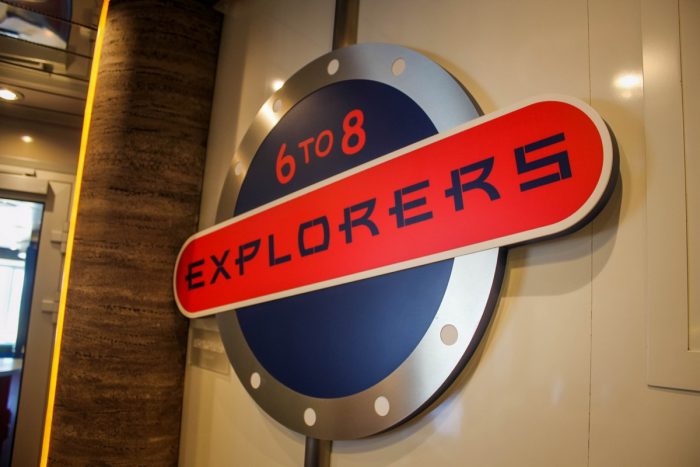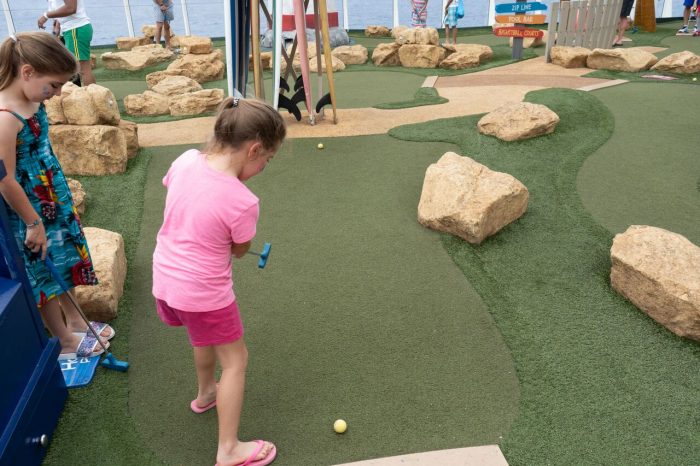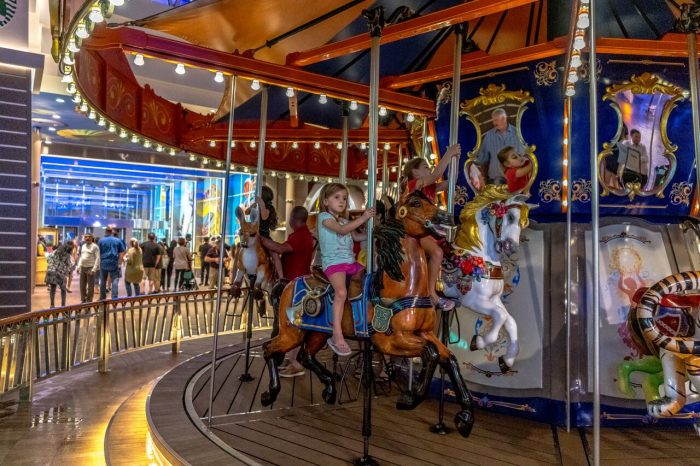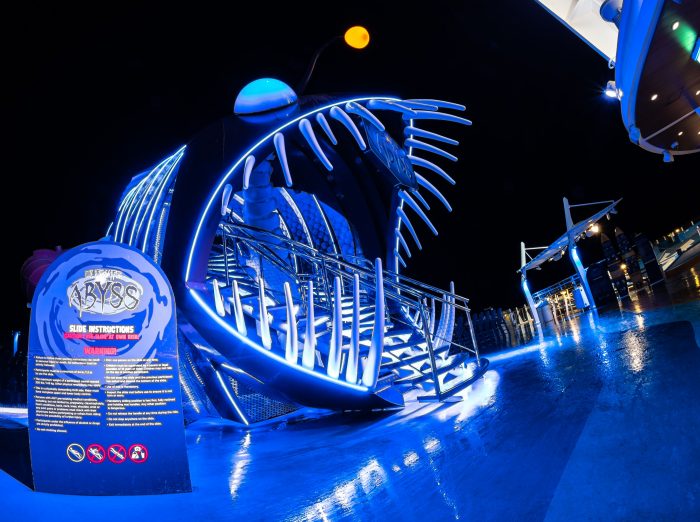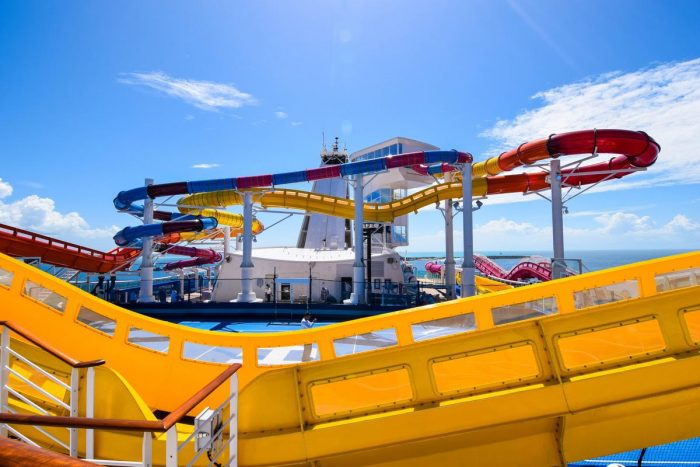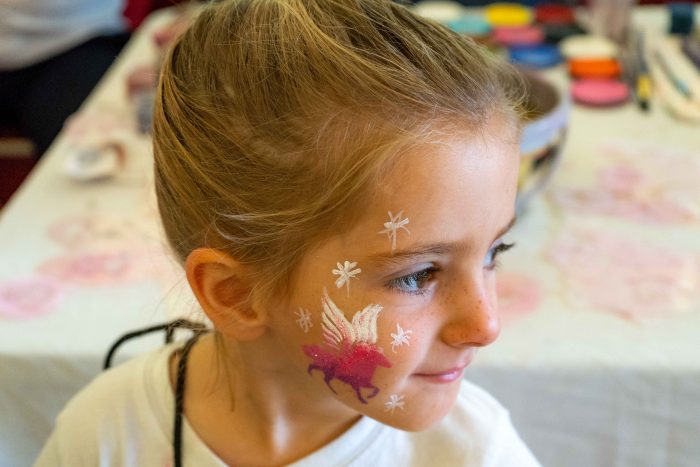 As a person who loves arcades, I have been really impressed by the lineup of offerings on the Freedom class of ships and higher.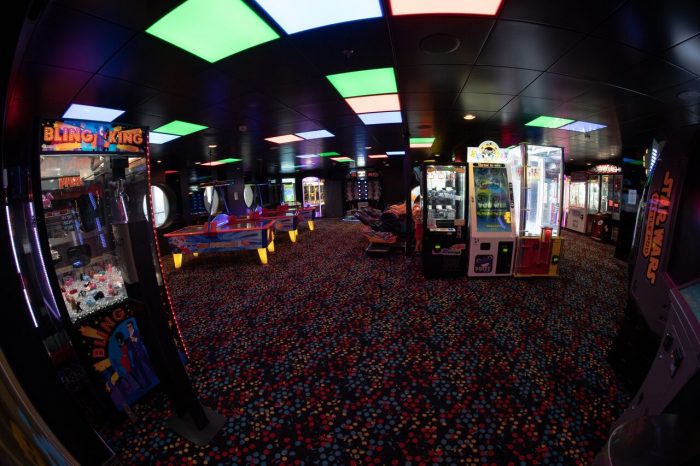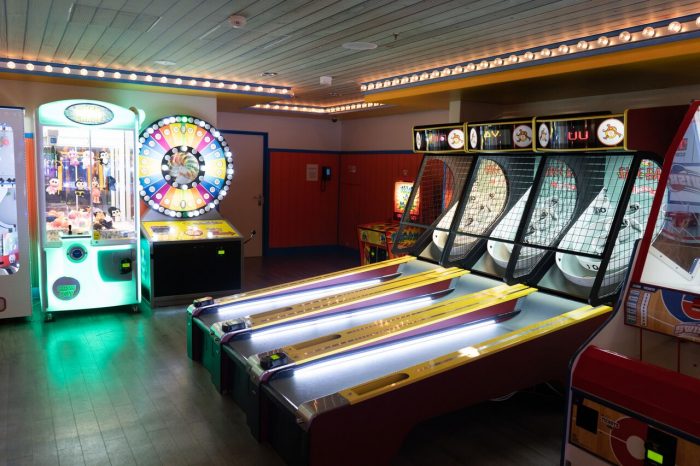 On the Quantum class of ships there is SeaPlex. Completely indoors, SeaPlex has a full size basketball court, offers rollers skating, and even has bumper cars.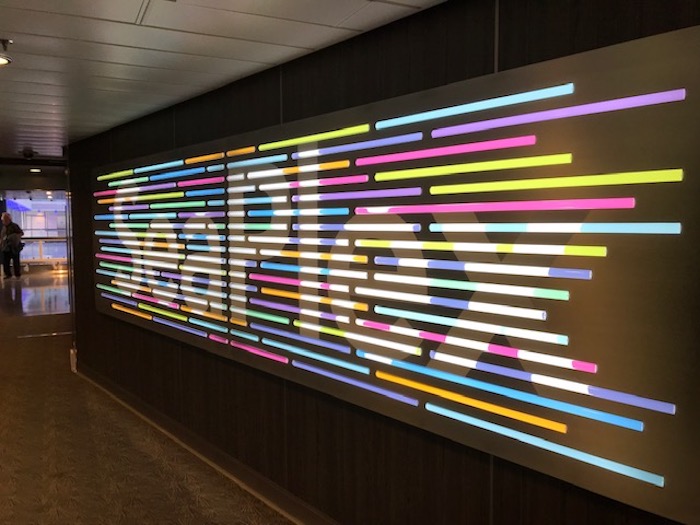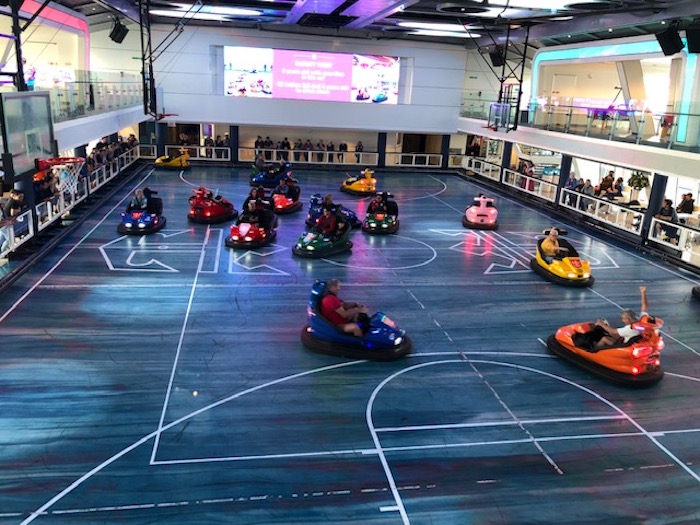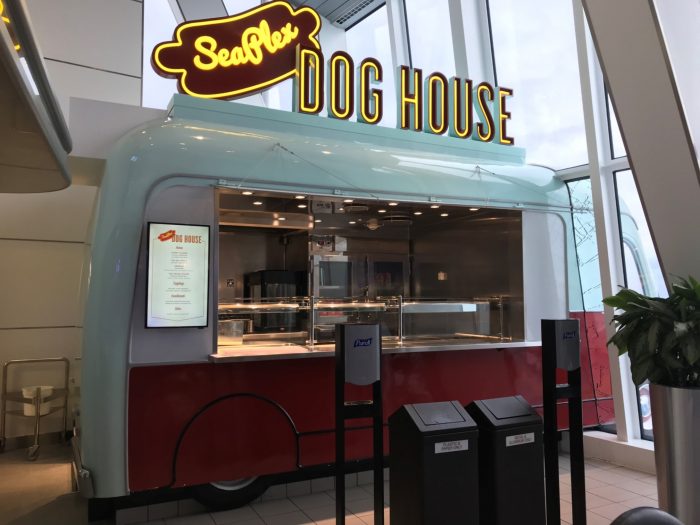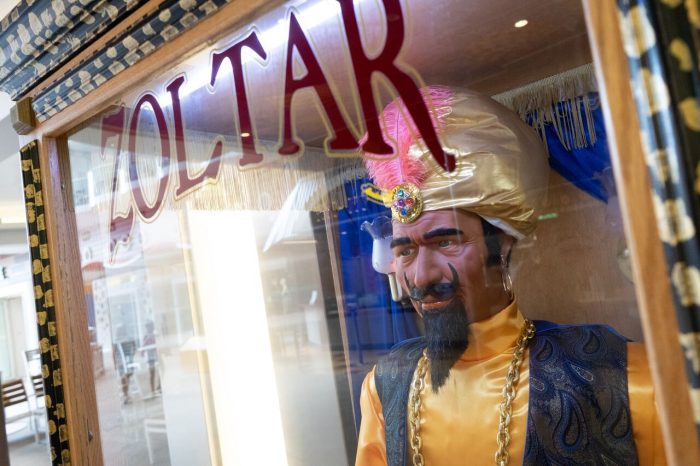 # 2 – The Ports
With 26 ships, Royal Caribbean sails to a lot of places. While you could have an incredible time just staying onboard the entire time, exploring these ports across the globe can lead to some amazing once-in-a-lifetime experiences. You can book shore excursions through Royal Caribbean, or book them yourself through a third party. We have done both. There is something to be said about the "peace of mind" when booking through Royal Caribbean because they guarantee that either the ship will wait for you, or they will get you to the ship at their expense. On my most recent sailing, the Freedom of the Seas stayed in one port for an extra half hour before leaving because one of the excursions was late coming back. If you book your own excursion, the ship ain't waiting for you.
THAT SAID, we have started to book more and more of our excursions on our own. Instead of being in a large group, this has allowed us to have an more intimate, VIP-like experience. You can also just get off the ship and explore any port on your own without excursion. There is no wrong way to do it, but it definitely helps to take advantage of sites like TouringPlans, the Royal Caribbean Blog, Cruise Habit, or and definitely use a no-cost-to-you Travel Agency such as the official TouringPlans Travel Agency.
Living in Florida, I have relatively easy access to ships sailing a variety of Caribbean islands, but Royal Caribbean does much more than "just" the Caribbean. Every single person I've talked to who has done an Alaskan sailing has done nothing but rave about the experience. Same with the Panama Canal. Royal Caribbean has cruises in Europe, China, Australia, South America, Canada, and more. Personally, I'm fine with experiencing the world in Disney's EPCOT, but now that my girlfriend has the cruising "bug" I foresee a lot of exotic trips in our future.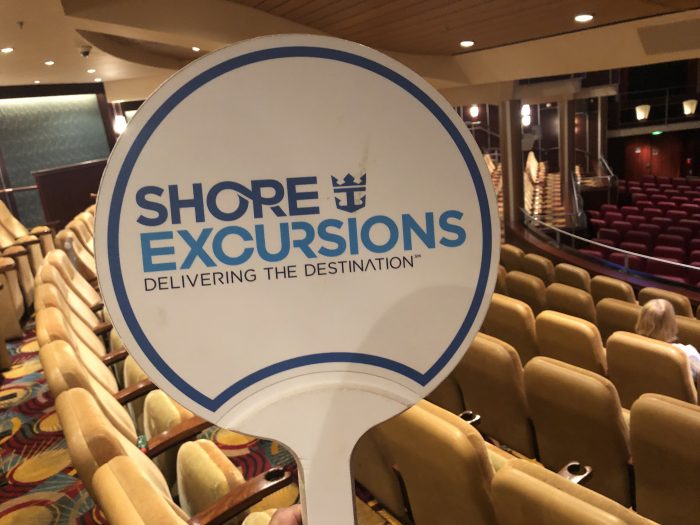 Here's some examples of port experiences you can have on your Royal Caribbean sailing. Maho Beach in St. Maarten is known for how close the airplanes come to the beach.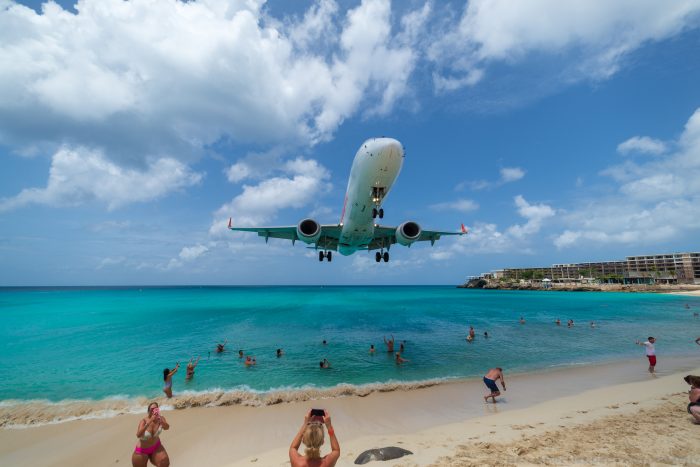 On our most recent trip to St. Maarten, we decided to try the "Discover Scuba Diving" excursion through Royal Caribbean. Scuba has been a long-time bucket list item for my girlfriend, and it was time to see if it was something she would like.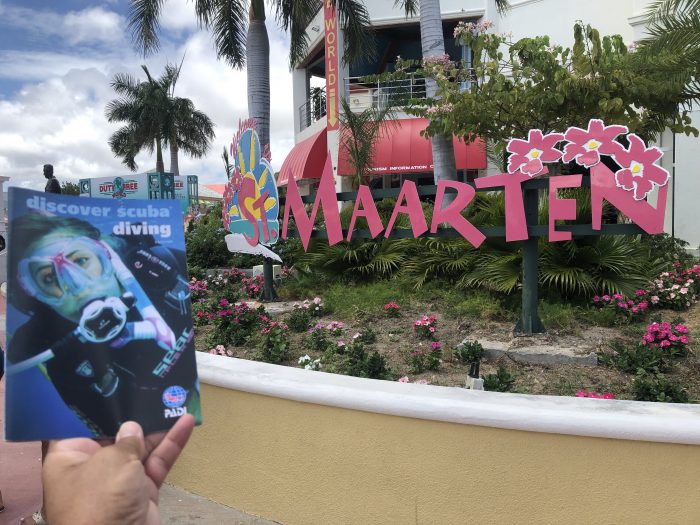 The instructors were great, and my girlfriend completely fell in love with scuba diving. While the rest of the group was learning how to scuba, I was an "observer" (paying a reduced cost for the excursion) and was able to snorkel in the ocean around them.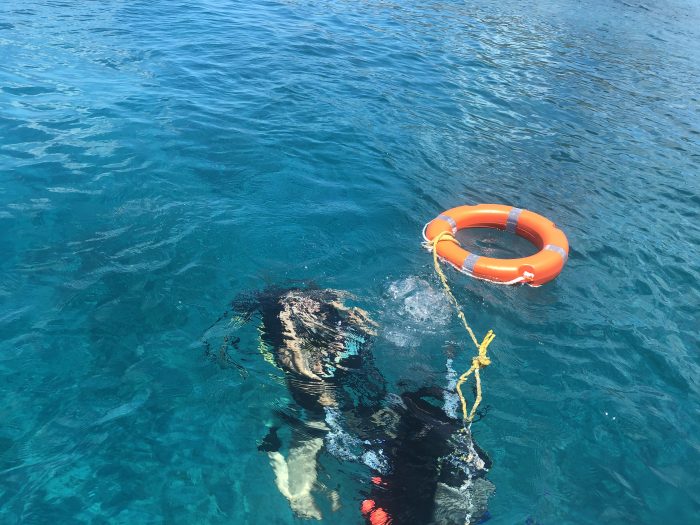 Seeing the Pitons in St. Lucia was another great moment. We did an unbelievably great private tour on the island and were able to experience a private beach, botanical garden, bathed in volcanic water (which was completely bonkers), and more. Doing a private tour like this reminded me of some of the positives of booking on your own. When we went to the volcanic water bath, we could do everything on our own time and schedule. Every other person there was part of a large group, which meant the majority of their time at the bath was just trying to get everyone organized before quickly having an experience and getting ready for the next stop.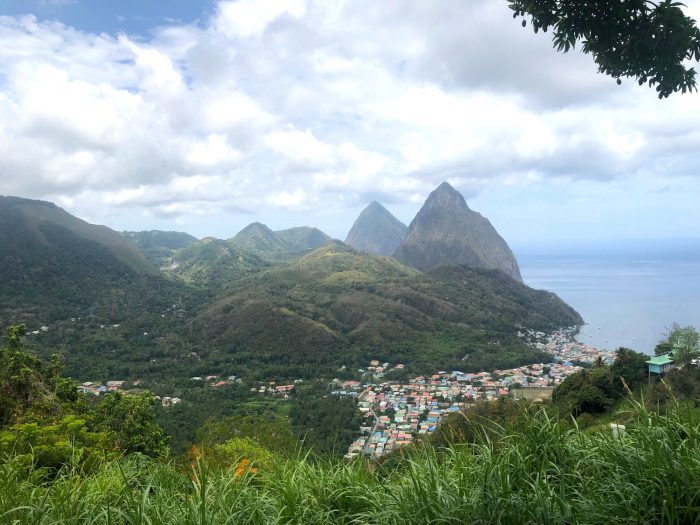 On Antigua we did a private tour and got to see many parts of the island including Devil's Bridge.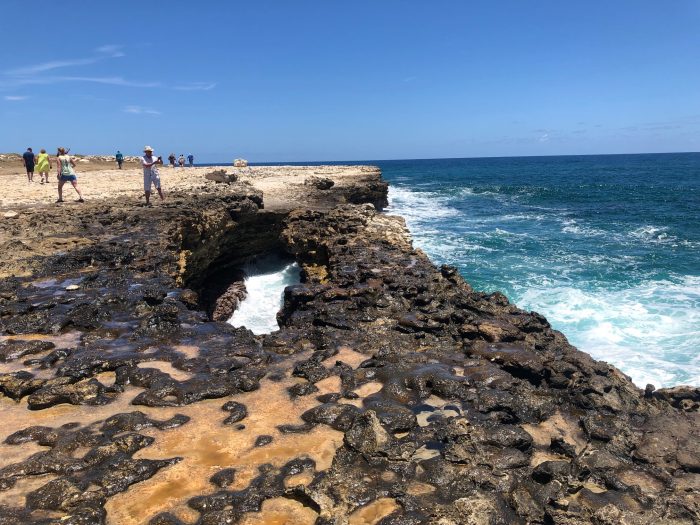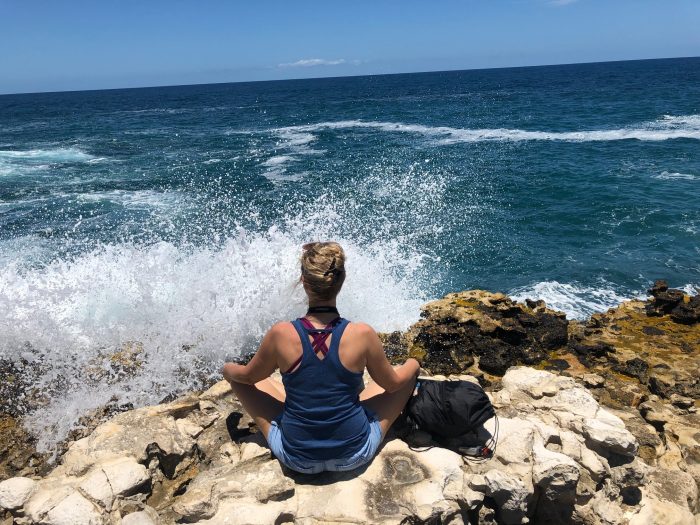 Shirley Heights on Antigua was pretty breathtaking.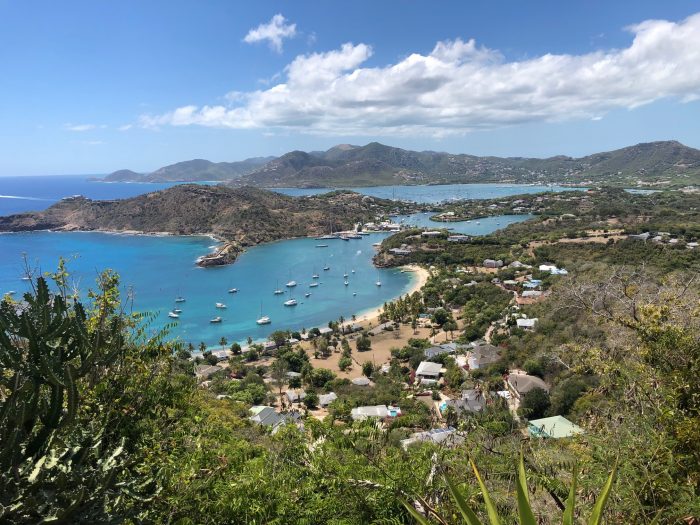 On the island of St. Kitts we did a Royal Caribbean booked excursion to Mt. Liamuiga. This was a dormant volcano. To say the hike was strenuous is an understatement. Let's put it this way, Frodo and Sam had an easier time climbing Mount Doom to throw in the ring. The view once you reach the top is hard to describe in mere words. My girlfriend and I both started crying. Her because of the overwhelming beauty of the area, me because I knew we had to climb down the mountain we had just climbed up.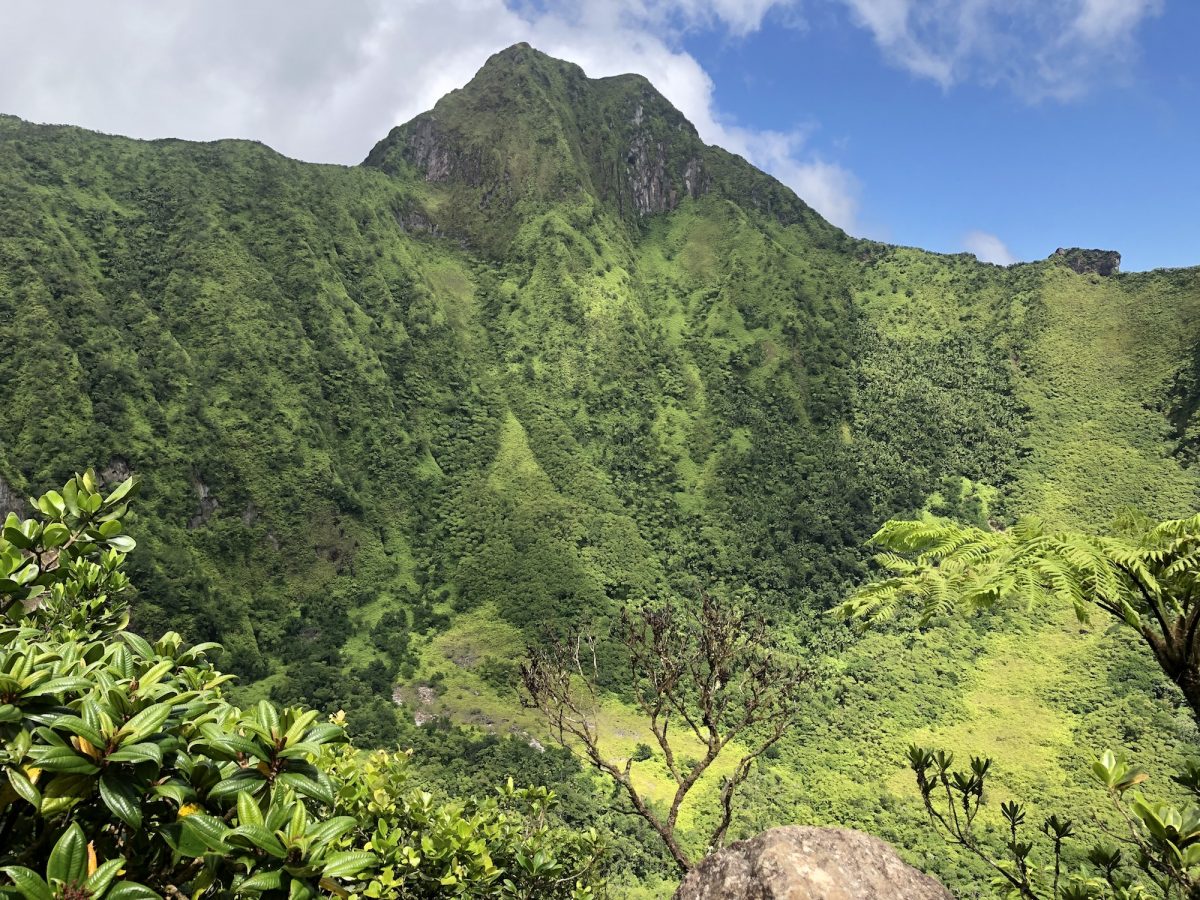 On Barbados we did a private catamaran tour with Silver Moon that may be pound for pound the best excursion we've ever had. We swam with turtles, saw shipwrecks, and were treated first class on an amazing boat.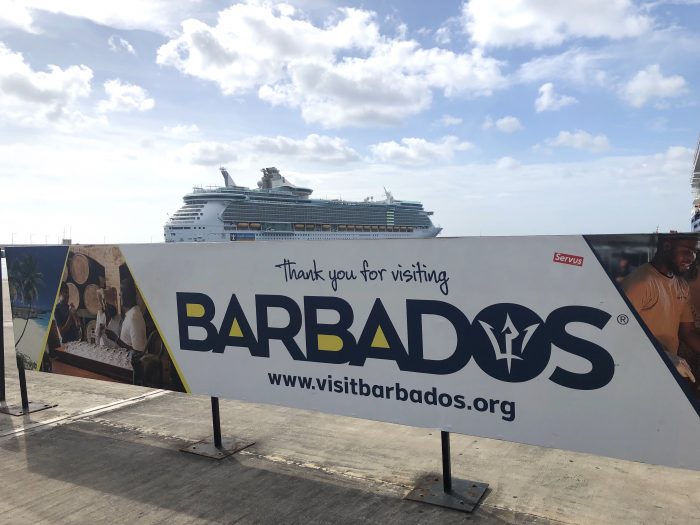 The Chichen Itza Mayan Ruins in Cozumel, Mexico is a great place to check out. We've been to Mexico on several cruises; doing cave exploring, a day at the beach, and checking out the Mayan ruins, and the latter was pretty remarkable.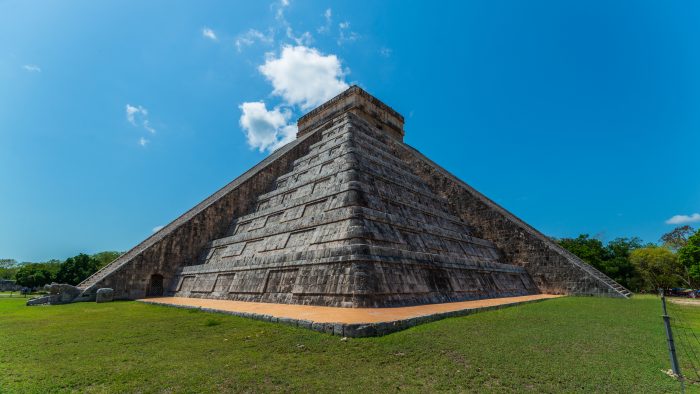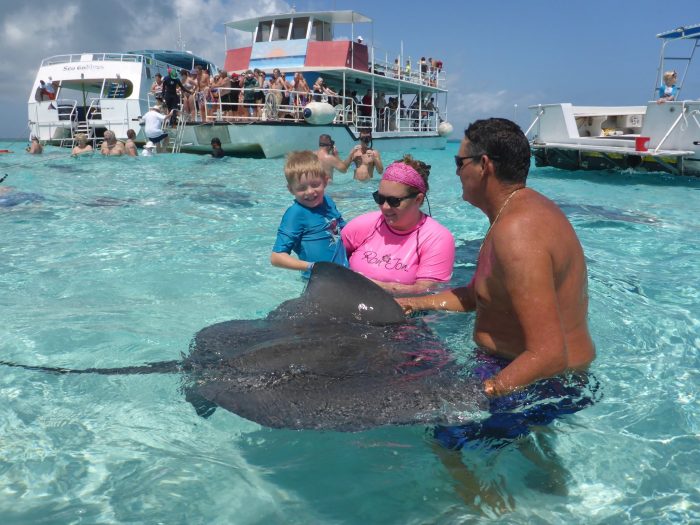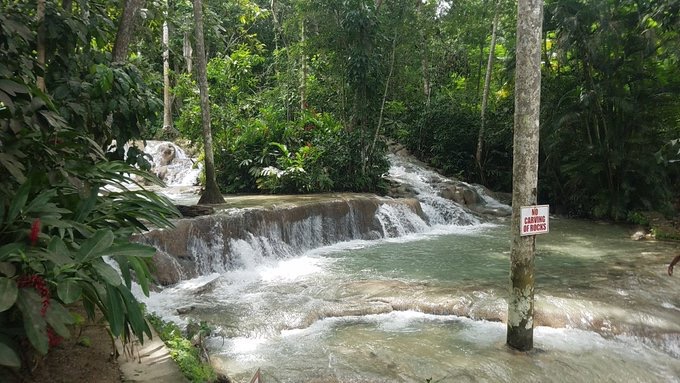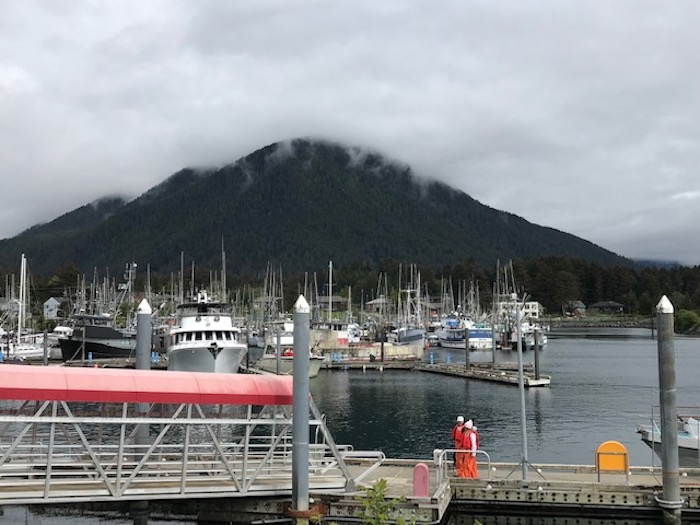 Royal Caribbean's private island in Labadee, Haiti, is a total blast. Aside from great beaches to swim and snorkel, there is a ton of activities including a zip line, a HUGE waterslide, and even a long coaster-like ride down a mountain.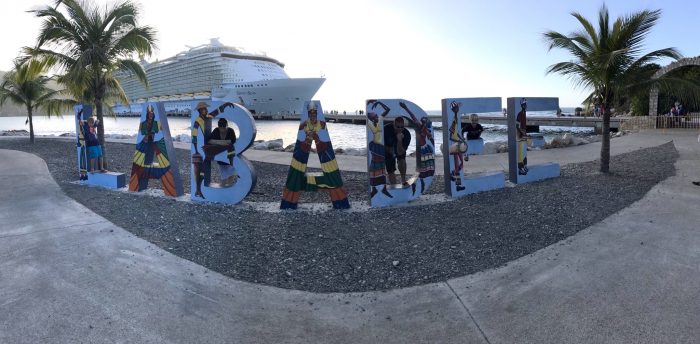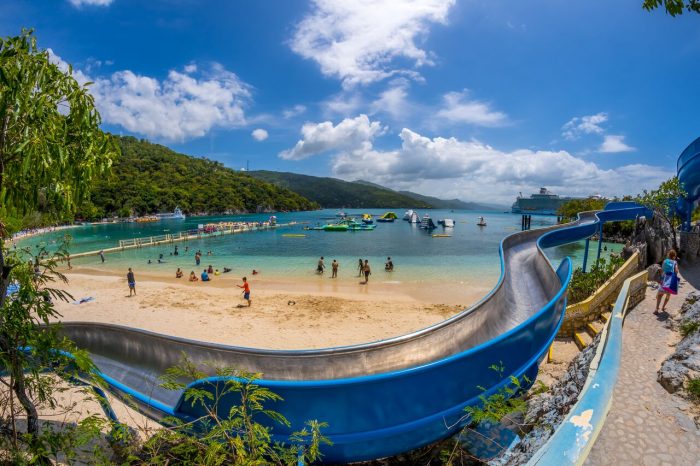 # 1 – Perfect Day at CocoCay
While a day at Labadee is great, Royal Caribbean's other private island experience – Perfect Day at CocoCay – is a game changer. With a $200 million upgrade, Perfect Day at CocoCay is the ultimate place for relaxation and fun with freshwater pools, incredible beaches, a water thrill park, zip lining, dining locations, a swim up bar, and more. THIS is my type of vacation destination.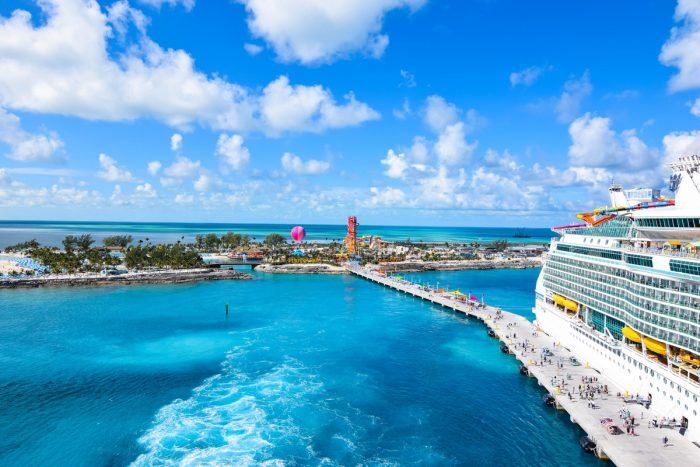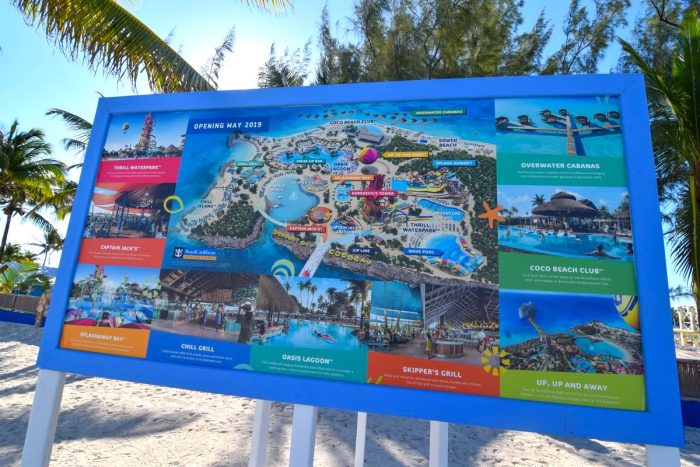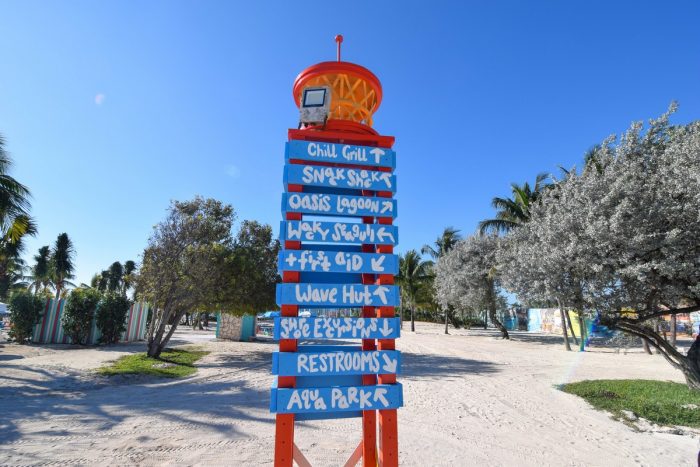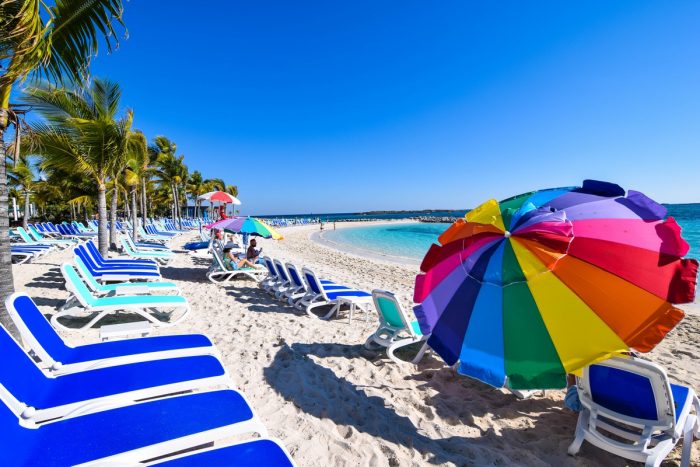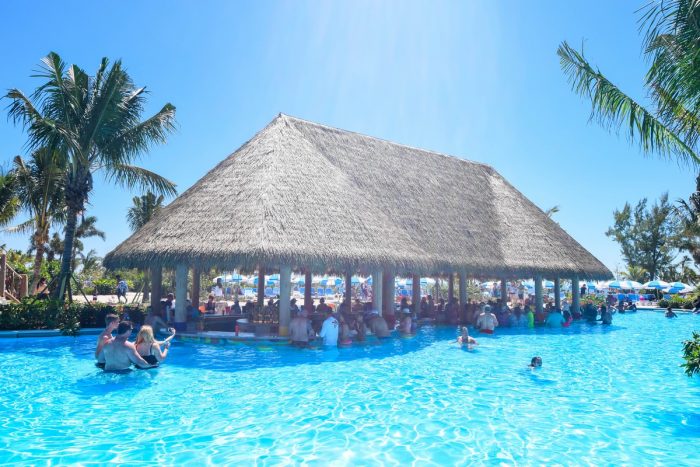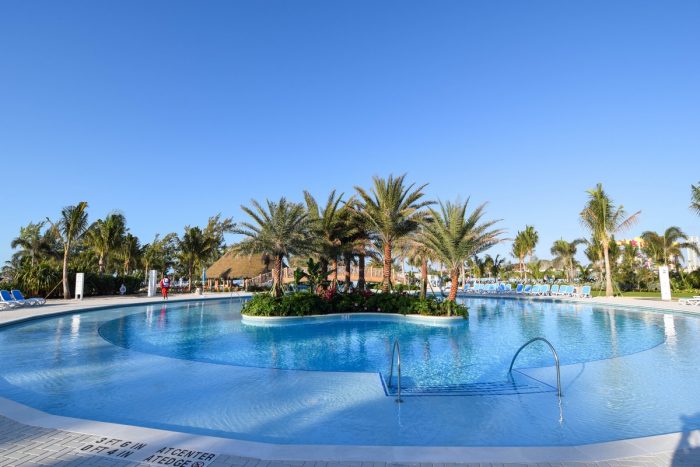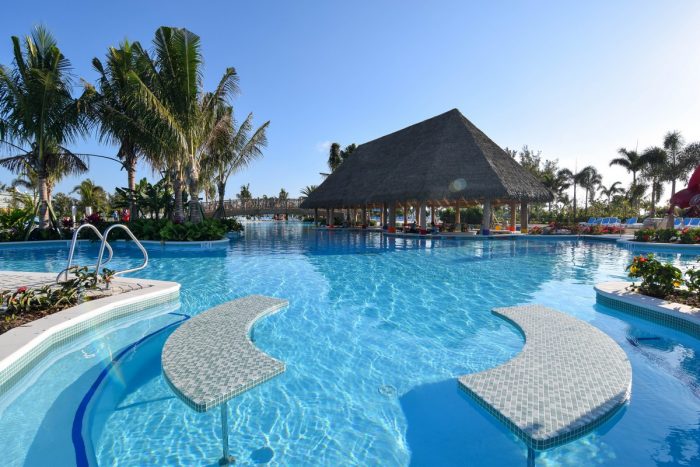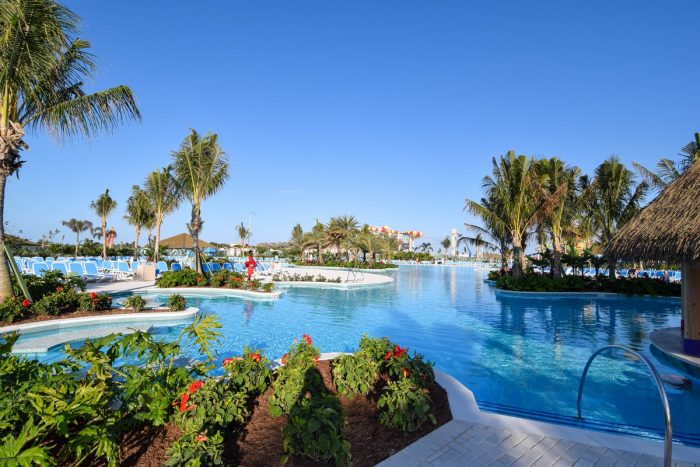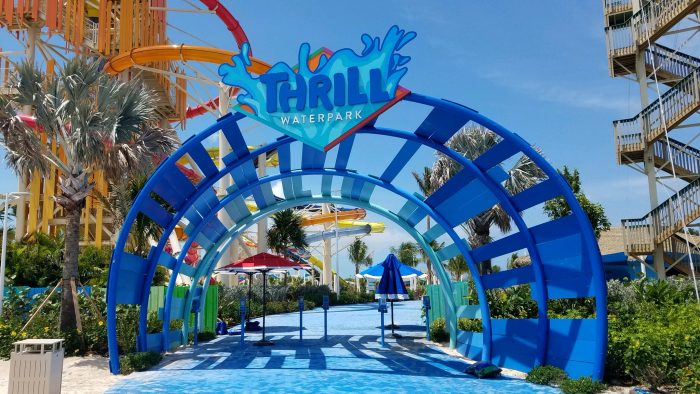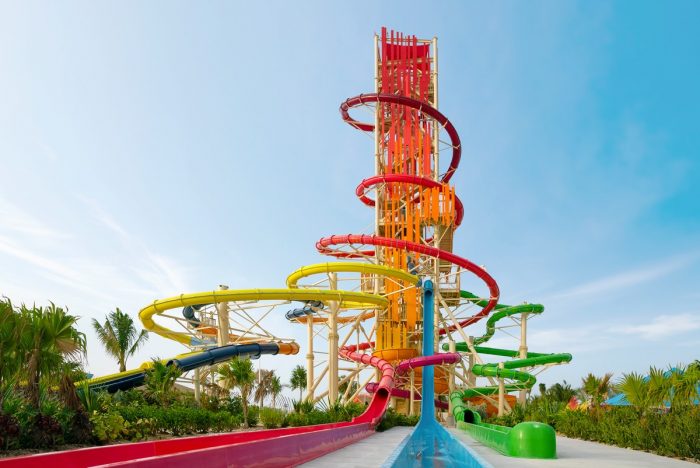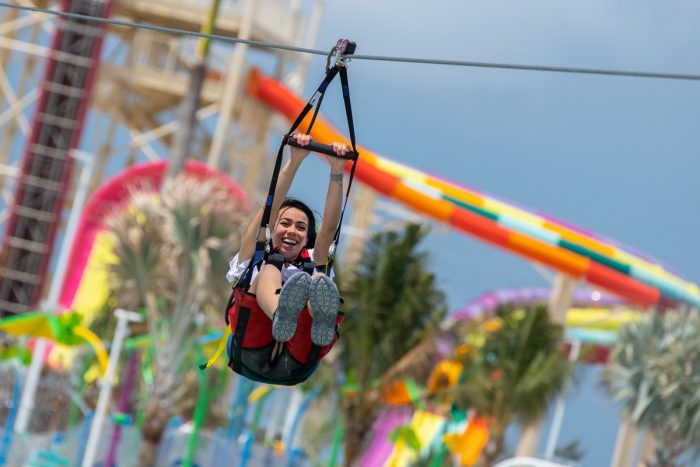 Ready to book a cruise? You should be! Be sure to reach out to a good Travel Agent to book, not only does it cost you nothing, but you can save hours of aggravation if anything comes up before or during your cruise. Reach out to the TouringPlans Travel Agency today!
Honorable Mention: The Merch
When I first started cruising several years again, the Disney Cruise Line merchandise blew away what was available on Royal Caribbean. I'm happy to report back that Royal Caribbean has upped their merch game in a major way, with a whole bunch of items that I felt compelled to buy. During the sailing they had some good sales on some sharp looking t-shirts that we bought as well.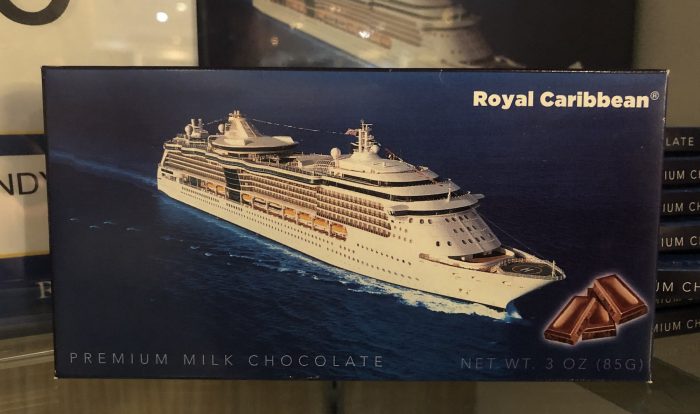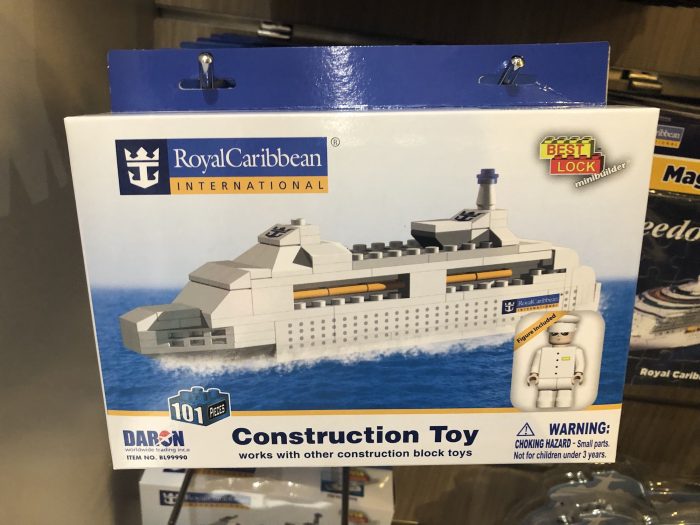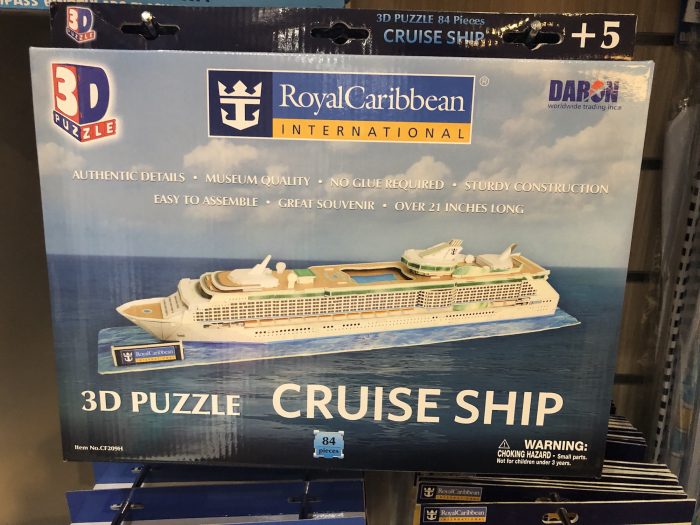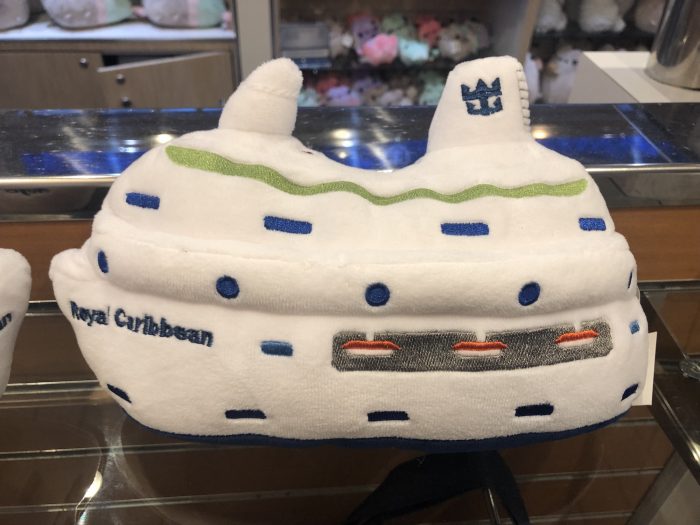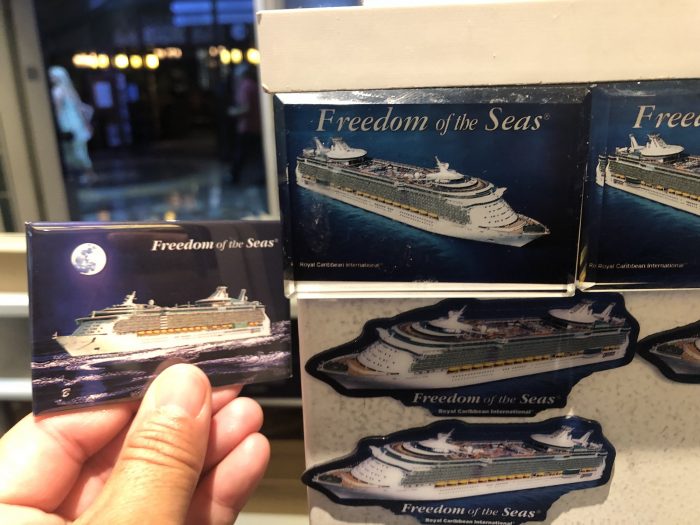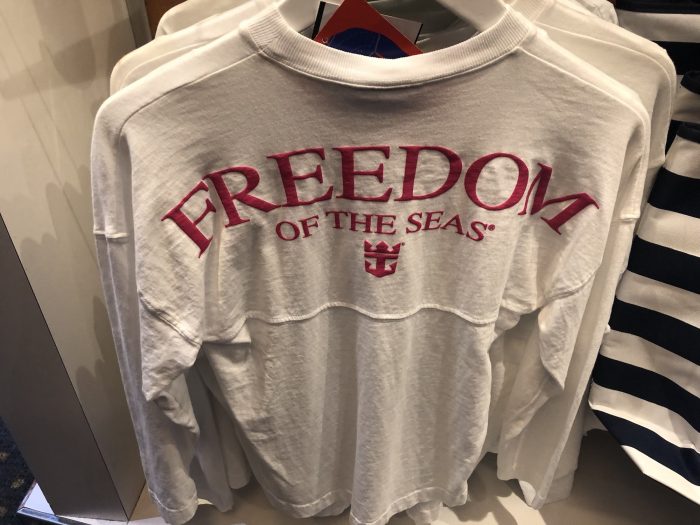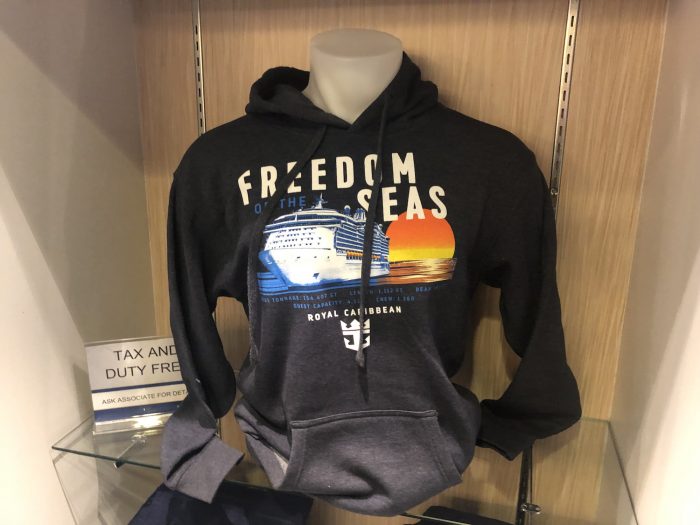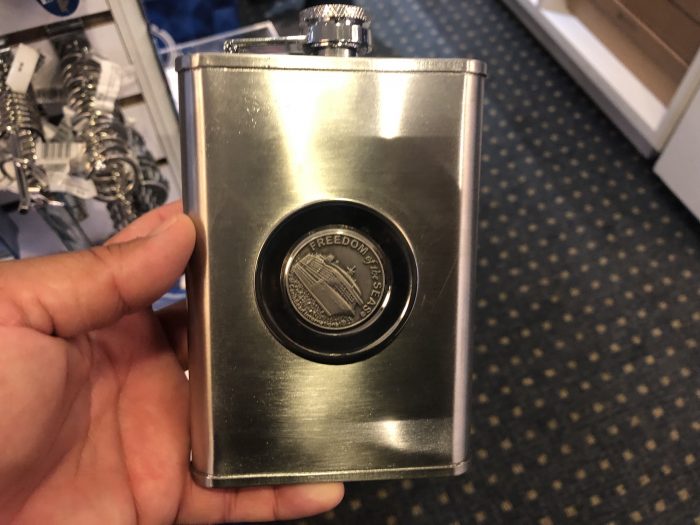 So there you have it: Six Reasons We Love the ROYAL CARIBBEAN CRUISE LINE! See you next weekend for the latest installment of the SATURDAY SIX, where we'll look at something fun from the world of Disney and Universal. If you enjoyed yourself, be sure to check out The Magic, The Memories, and Merch! articles, or, for your listening pleasure, check out the E-Ticket Report podcast. You can also follow Your Humble Author on Twitter (@derekburgan).
If you enjoyed this article, you will surely like the following: 
Royal Caribbean Anthem of the Seas vs. Disney Fantasy: A Cruise Comparison
6 Reasons We Love Sailing on the DISNEY CRUISE LINE
Special Thanks to The Elite Brandon Glover, Captain Cruiseline Scott Sanders of the world famous Disney Cruise Line Blog, photo wunderkind Mike Sperduto, Autism at the Park's own Maureen "the Real" Deal, "Professor" @DrunkAtDisney, Pilot to the Stars @SkylinerPilot, @bdh_photos of Ben Hendel Photography, Matt Hochberg of the Royal Caribbean Blog, Billy Hirsch of CruiseHabit.com, the SAT SIX Fun Squad of Parkscope Joe and Nick, and Hermione Granger's tutor Megan Stump for their invaluable assistance with this article. The SAT SIX is inspired each week by goofballs Aengus Mackenzie and LitemAndHyde and you Potterheads will  enjoy Meg's other blog work over at the Central Florida Slug Club.
FINAL PLUG! Did you know The 2019 Unofficial Guide to Universal Orlando has a special edition of the SATURDAY SIX in it?That's right, ANOTHER NEW ONE EXCLUSIVE TO THIS EDITION!Finally, someone came up with an actual reason to read a book. ORDER this baby now!