The SATURDAY SIX Looks at DISNEY SING ALONG SONGS – Beach Party at Walt Disney World
This week's SATURDAY SIX takes a look at the Disney Sing Along Series – BEACH PARTY AT WALT DISNEY WORLD! It's time once again to fire up the DVD player and pop in another edition of the fan favorite Disney Sing Along Songs. Readers of this fine blog series know how much we love this amazing series, as we first watched the incredible Disneyland Fun, followed up with the spookiness of Happy Haunting, and traveled to Disney's Fort Wilderness for Campout at Walt Disney World. This month we are celebrating the reopening of Disney's water parks by applying some sunscreen, donning our swim trunks, and watching BEACH PARTY!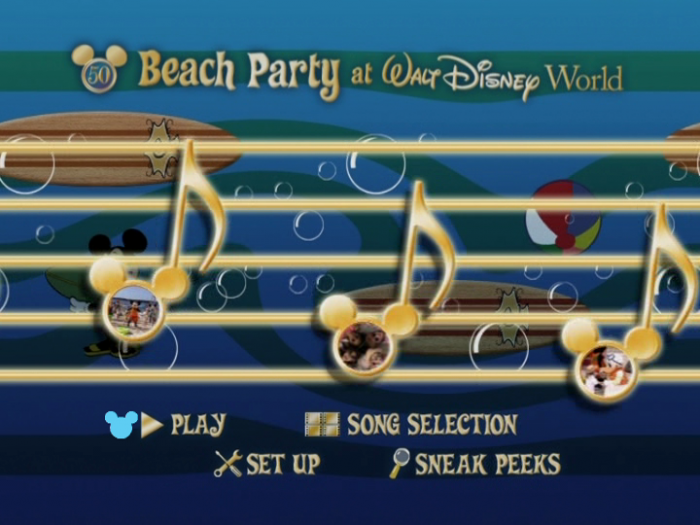 # 6 – Residential Street and New York Street at Disney-MGM Studios
In a departure from editions of the Sing Along Series we have previously watched, Beach Party begins with the "Sing Along" kids at home. These aren't just any homes though, these are houses that were a part of Residential Street. For those who never experienced the original TWO HOUR Backstage Studio Tour at Disney-MGM Studios (now Disney Hollywood Studios), Residential Street was one of the attractions on this tour. Guests would be shown the secrets behind how television and movies were made. Residential Street was a series of houses designed to be filmed from the outside to give an establishing shot of a scene, before cutting to a moment "inside" the house which was filmed elsewhere in a studio soundstage.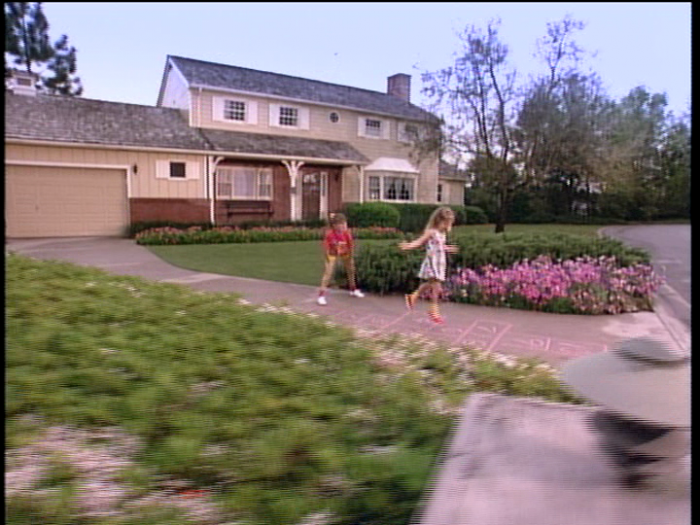 Residential Street was closed to make way for the Lights, Motors, Action! stunt show, which was then itself replaced by Star Wars: Galaxy's Edge.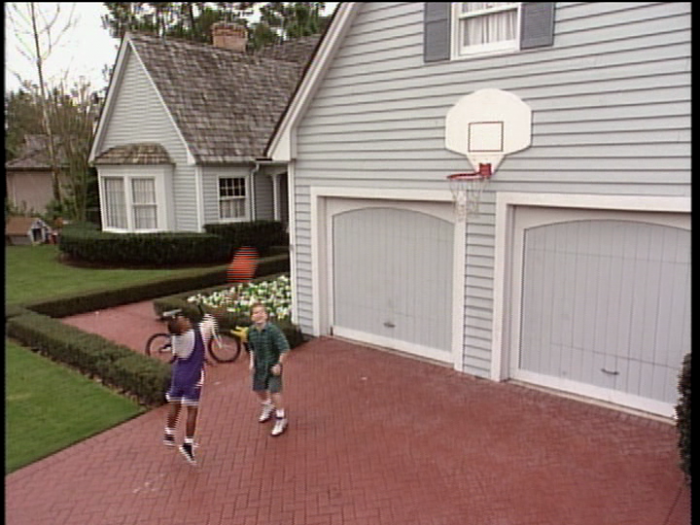 Mickey Mouse came waltzing into the neighborhood to round up the kids for a Beach Party. This was done while singing a version of the song Celebration by Kool & The Gang.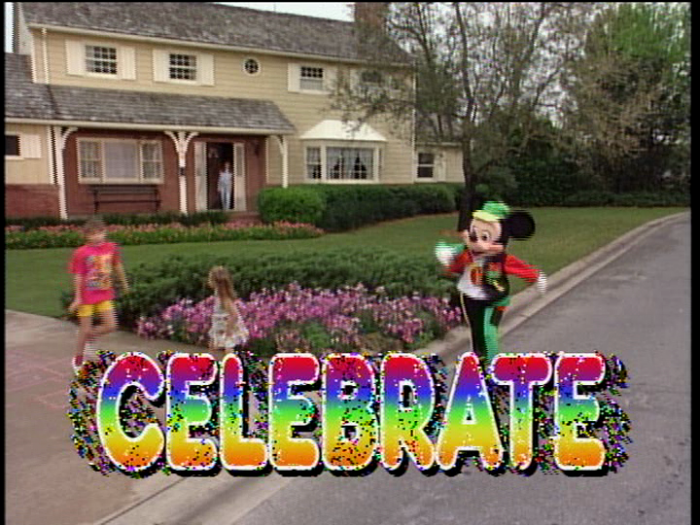 Generally speaking, the adults in Sing Along Series never talk. The kids have lines, and the Disney characters themselves speak, but the adults are usually seen but not heard. In what I found to be a hilarious moment while watching, as Mickey Mouse danced by a house, several kids immediately followed him like the Pied Piper. In the background you can see an adult hold a basketball that was left by the kids saying an obviously dubbed in "bye kids!" line added in post production. I loved it.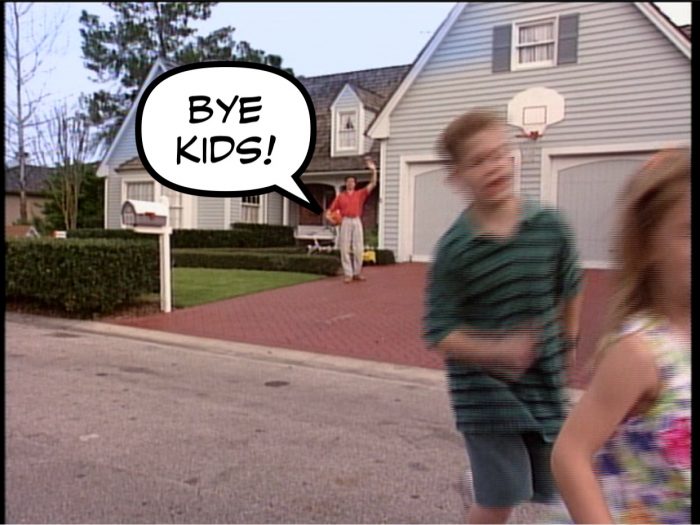 The next group of kids were playing in New York Street, another part of the Ye Olde Backstage Tour attraction. New York Street was later renamed into the Streets of America and has been the setting for several cinematic classics, including Hulk Hogan's Thunder in Paradise. The area in which the kids are playing in pictured below is now caves in the Rise of the Resistance attraction.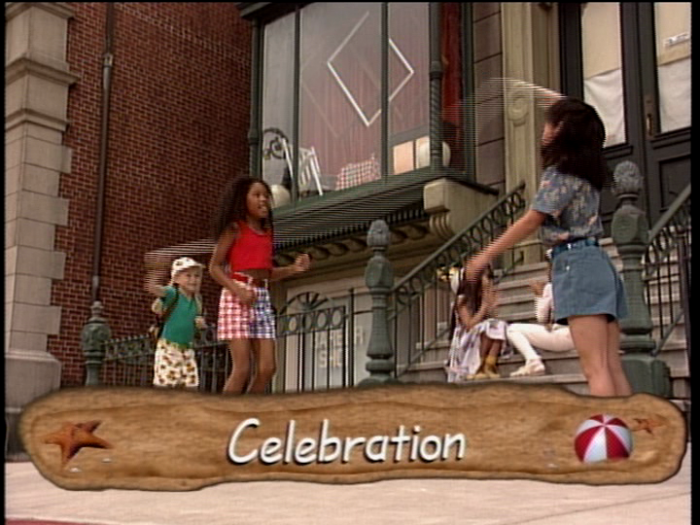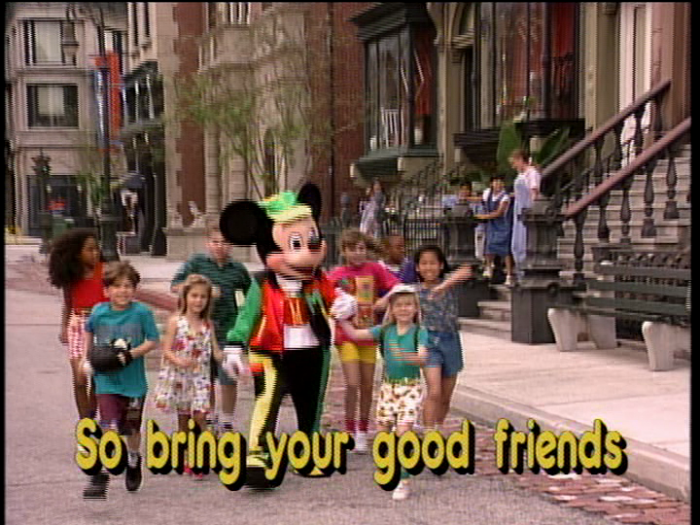 Mickey and the kids meet up with Goofy and Donald Duck. Soon after, Pluto and Minnie Mouse join them as well.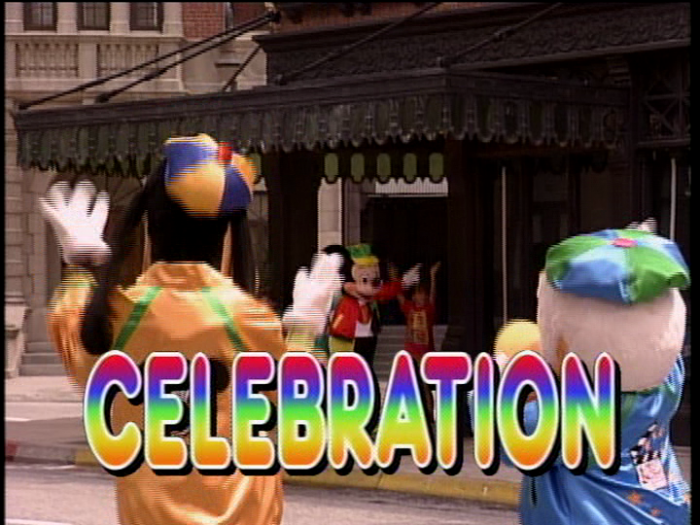 I mentioned earlier that this was a version of the song Celebration. Certain lines have been tweaked, such as the following one which has everyone singing, "Say goodbye to winter weather. It's up to you, what's your pleasure."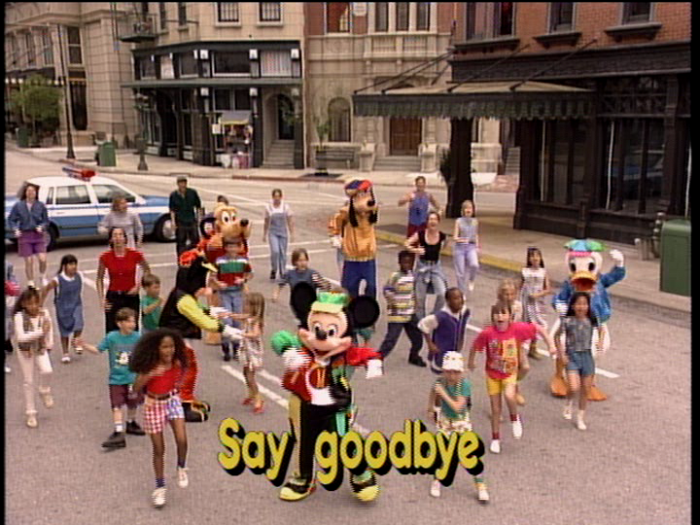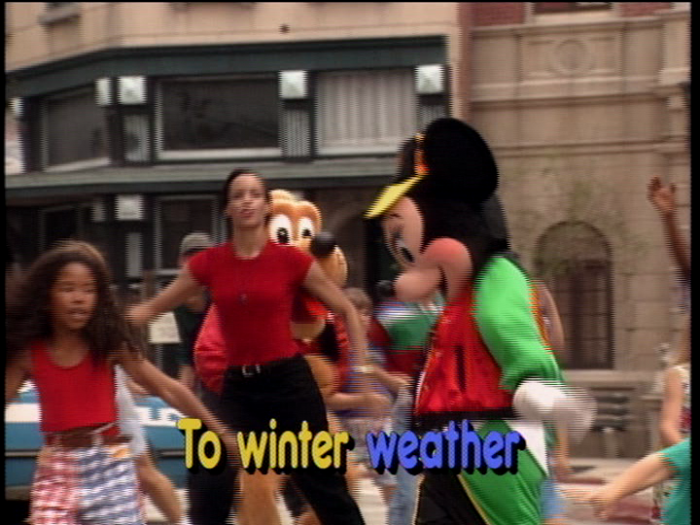 In another first, a bit of "magic" was used as everyone just mysteriously disappeared by New York Street and reappeared on a beach in front of Bay Lake.
# 5 –  Bay Lake/Seven Seas Lagoon
Mickey and the gang have appeared on a beach that I would guess is part of Fort Wilderness Campground. A whole bunch of small watercraft are in the water behind them. Everyone then began to sing a song which I can only describe as next level bonkers called Set Your Name Free. Sometimes I have no idea if a song actually existed and I never heard it before, or Disney created it for the Sing Along Series. I'm guessing this one is a Disney original because it is insane.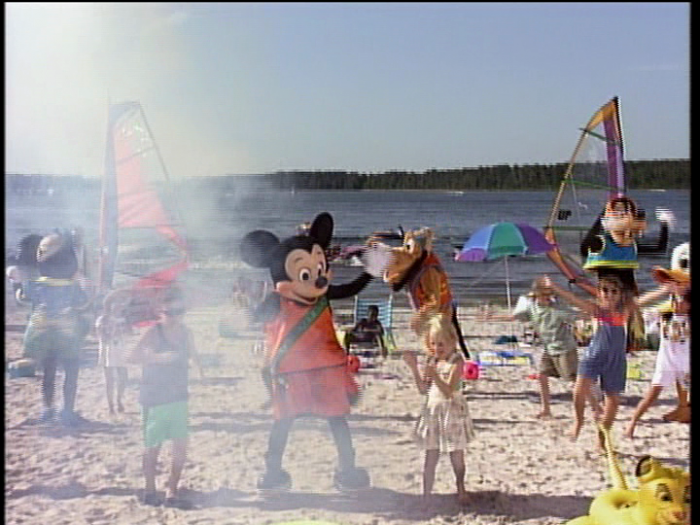 Later, as Chip & Dale join in on the activities to take the kids to a luau at The Poly, we get to see a lot of iconic locales around Seven Seas Lagoon, such as Cinderella Castle below.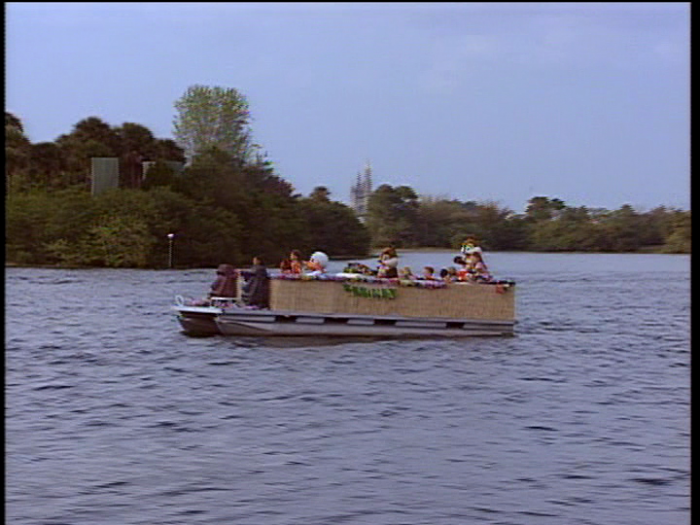 Space Mountain.
Disney's Contemporary Resort.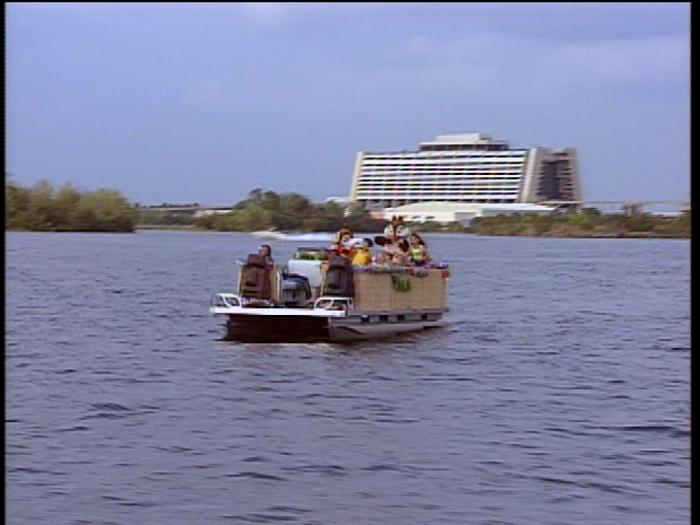 Eventually everyone ends up at The Poly and the girls in the group are given a lesson in hula dancing.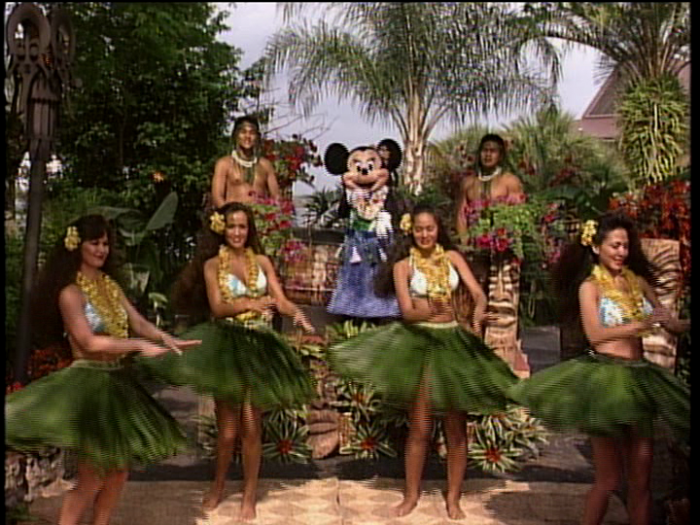 For one song, the girls in the group were playing on a beach outside Disney's Grand Floridian. They see the Little Mermaid nearby and make their way over.
This isn't just any little mermaid though. Nay Nay. This is pretty much THE Little Mermaid herself, as Ariel voice actress Jodi Benson does the voice over work and sings the Part of Your world song. You can see several of The Poly longhouses in the background.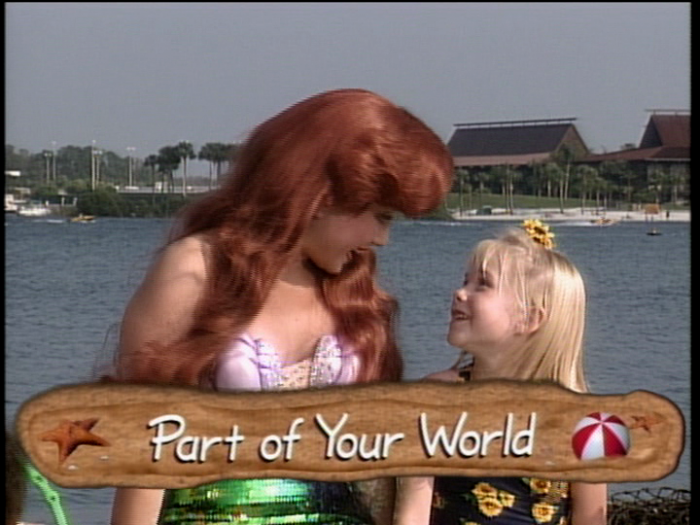 The boys meanwhile were living the life of a pirate in – of all places – EPCOT's World Showcase lagoon. You can see the Mexico Pavilion in the shot below (all that's missing is Len Testa standing in line for La Cava del Tequila).

Always love seeing Spaceship Earth.

Port of Entry gift shop.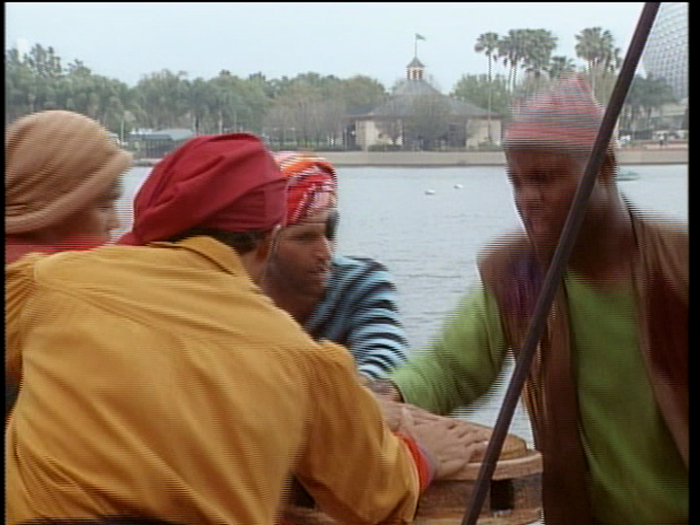 #  4 – Typhoon Lagoon
Okay, time to get to the stuff we all want to see, Disney water parks! The first place the kids go to is Typhoon Lagoon.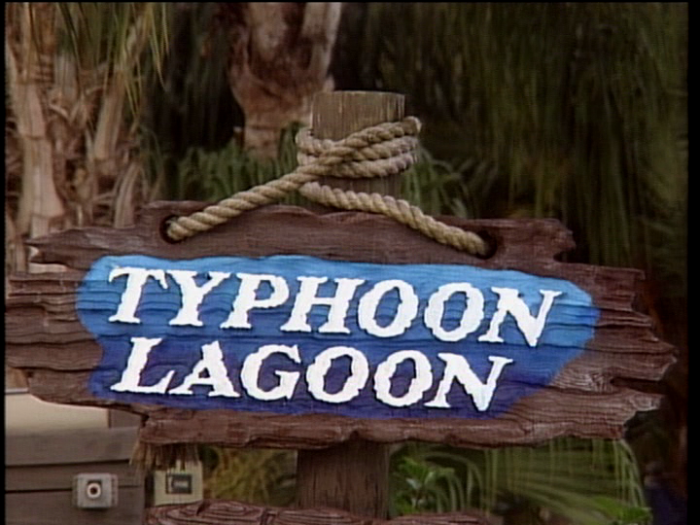 What they show us in Typhoon Lagoon is people surfing. I had no idea you could surf at Disney World, but that is wild!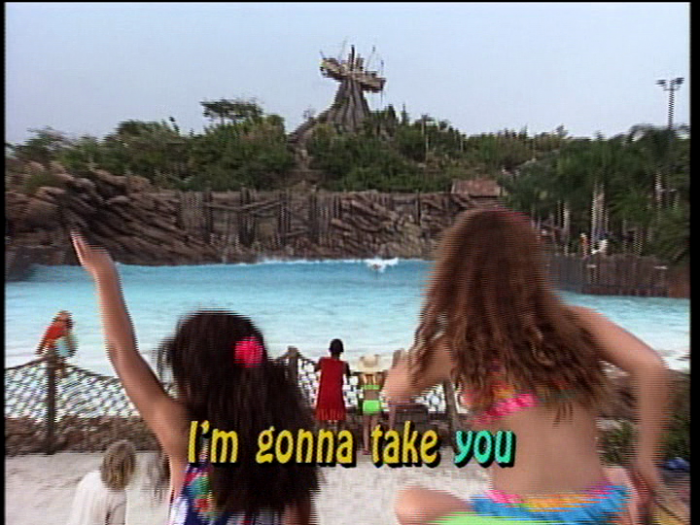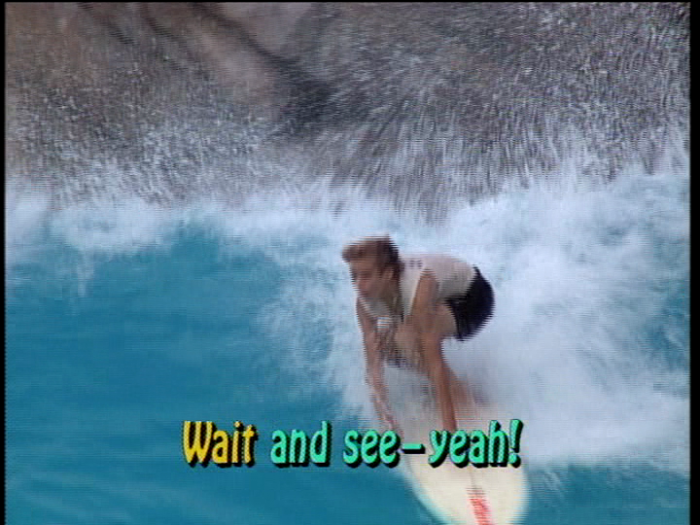 Goofy is the unsung hero of all the Sing Along Series DVDs. Here we have Goofy grabbing a board and hitting the waves himself.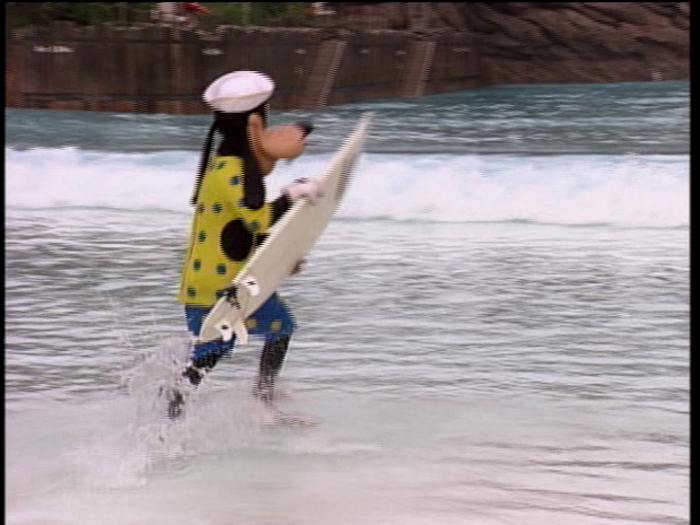 Hang 10, Goof!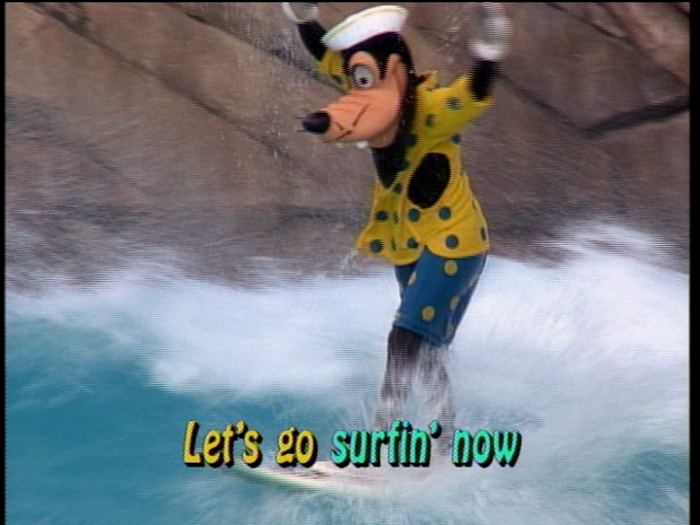 Tigger was a life guard for this segment.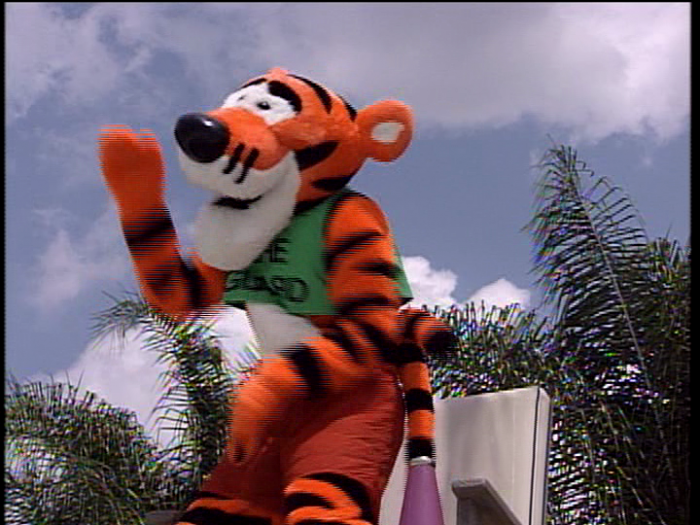 The surfing sequence had the kids singing Surfin' Safari by the Beach Boys. Donald Duck was twistin' the night away on the beach, and by the end of the song had buried himself into the sand. This type of continuity and payoff for a joke is rarely seen in the Sing Along Series.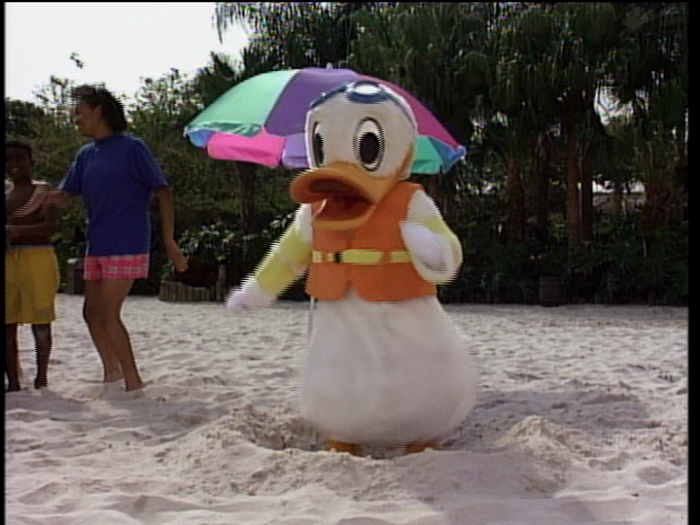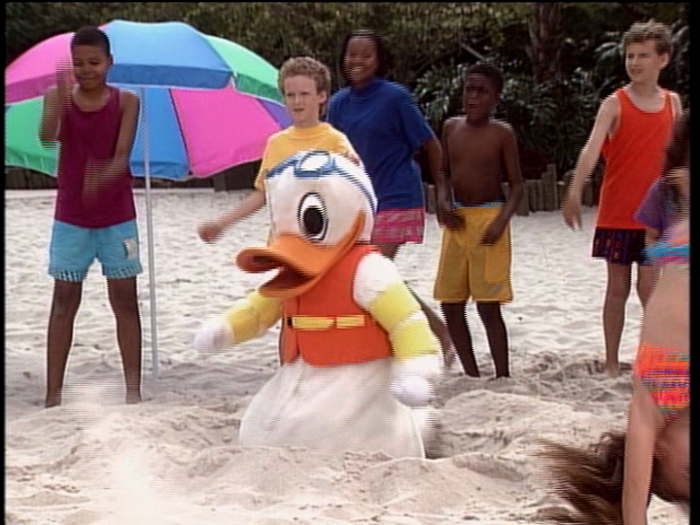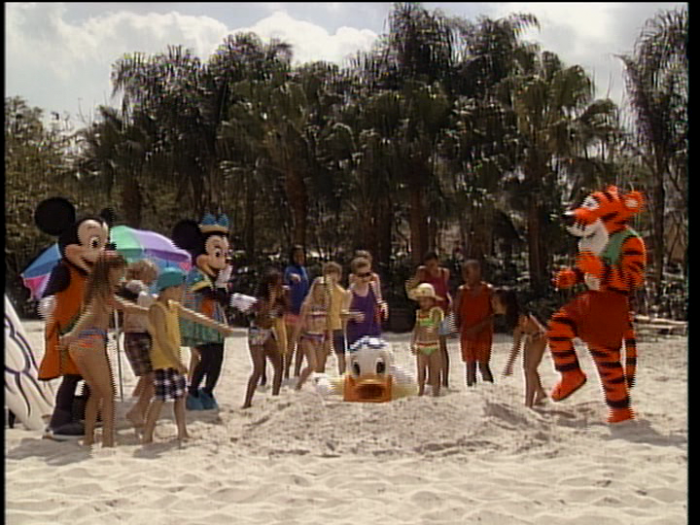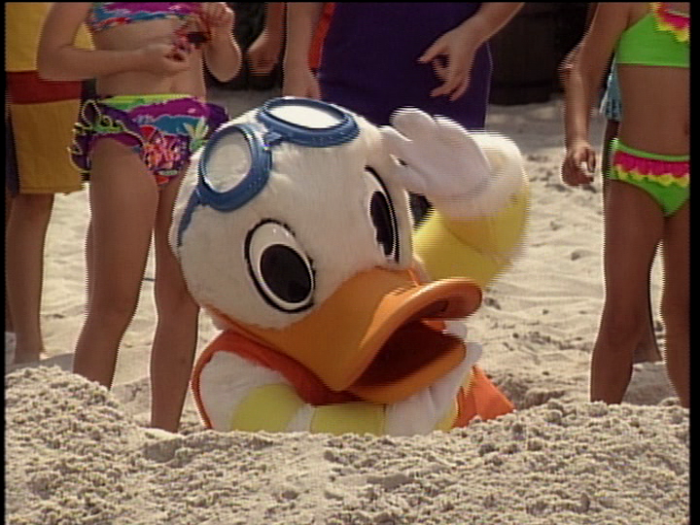 # 3 – Scuba Mickey!
While at Typhoon Lagoon, one of the kids was taking pictures with an Old Timey* Polaroid camera.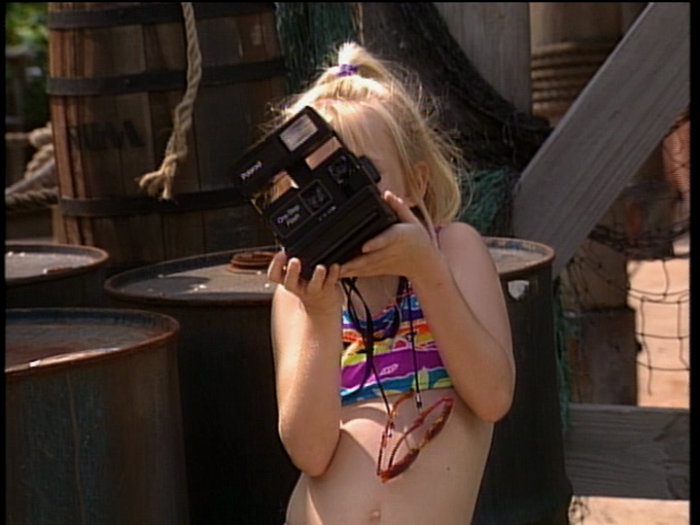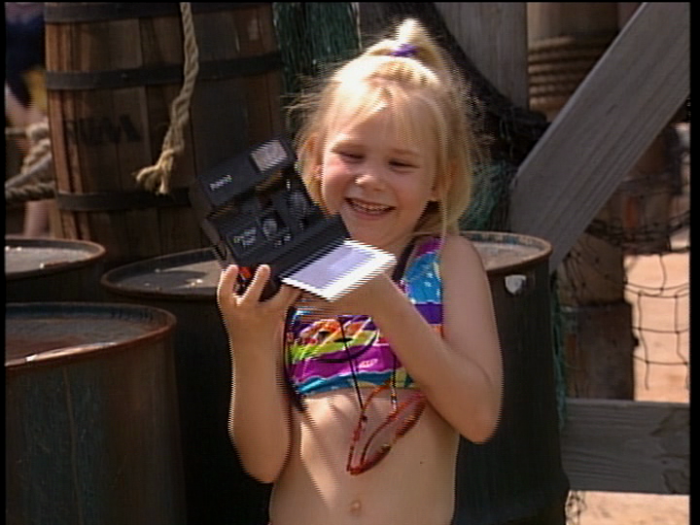 She was taking pictures of kids posing in a fun Shark Reef Photo Op.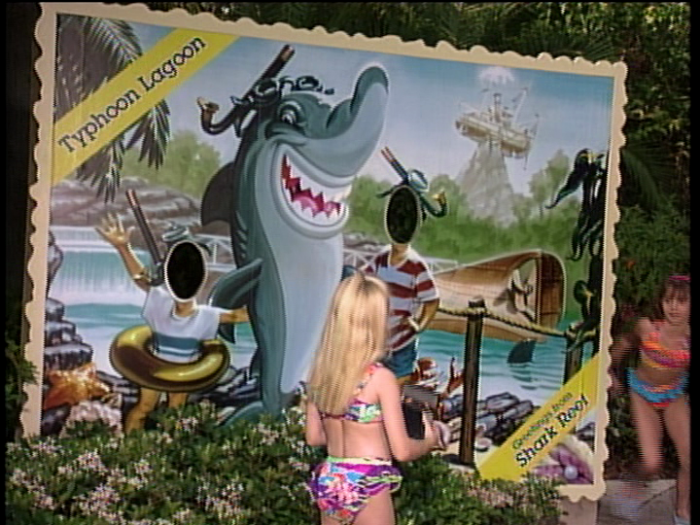 As the kids were looking at their pictures, one of the all time greatest moments in Sing Along Series history happened. Mickey Mouse, dressed in full SCUBA GEAR, nonchalantly passed by them. This was incredible.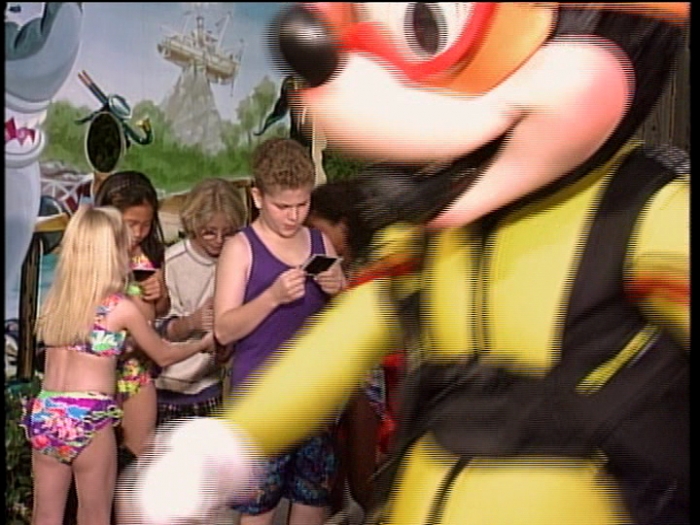 The kids had the exact same reaction I had… "what the?!!"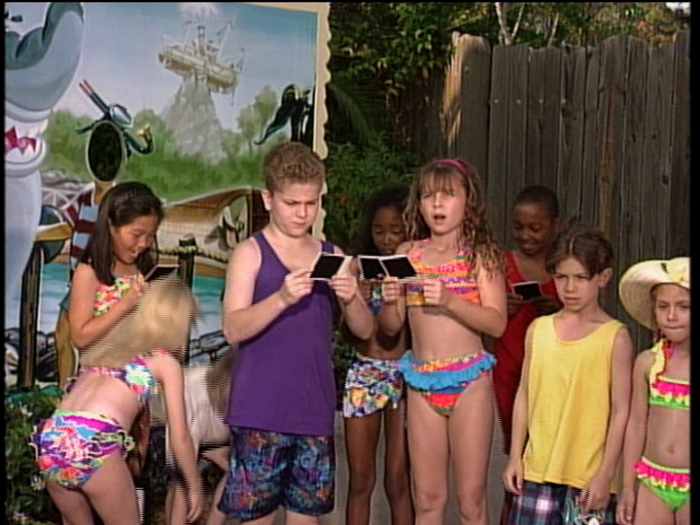 This began the song Three Little Fishies as the kids explored Shark Reef while snorkeling.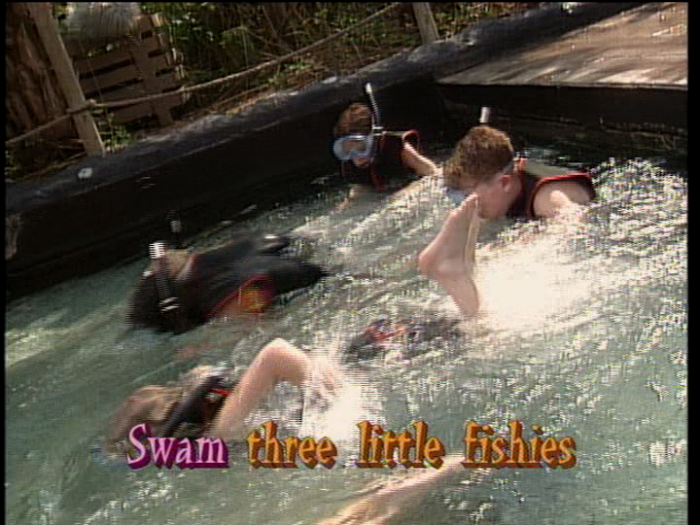 In between seeing a whole bunch of fish, we would get glimpses of Mickey Mouse scuba diving in the area.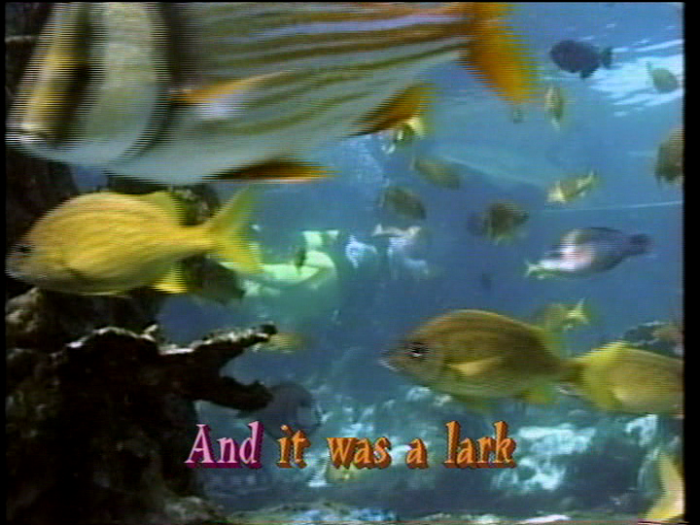 We also got to see a couple of sharks.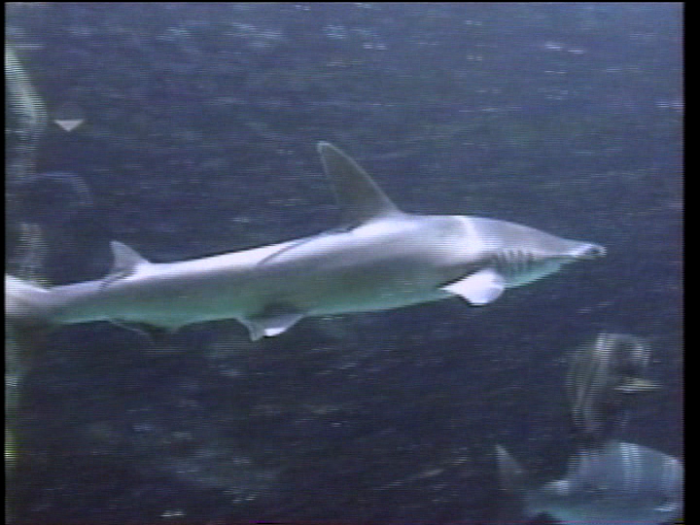 Seeing Mickey actually scuba diving was awesome.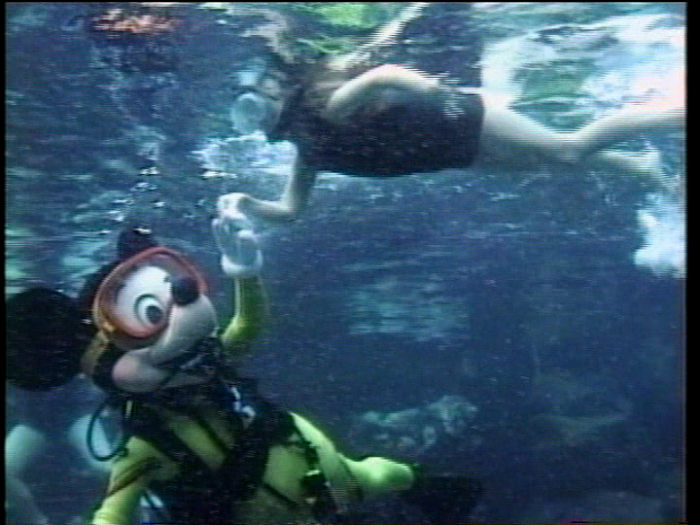 # 2 – Blizzard Beach
Next stop, Blizzard Beach. Interestingly enough, this edition of the Sing Along Series originally came out in the summer of 1995, while Blizzard Beach itself opened in April of the same year. Knowing how productions like these work, there's a good chance that the Sing Along Series was filmed before Blizzard Beach had its grand opening.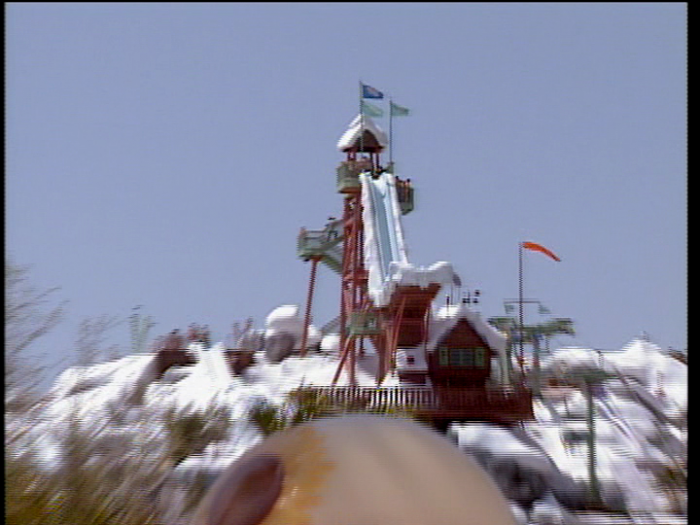 Ice Gator, along with Figment, is one of Disney's best ever character creations for a park.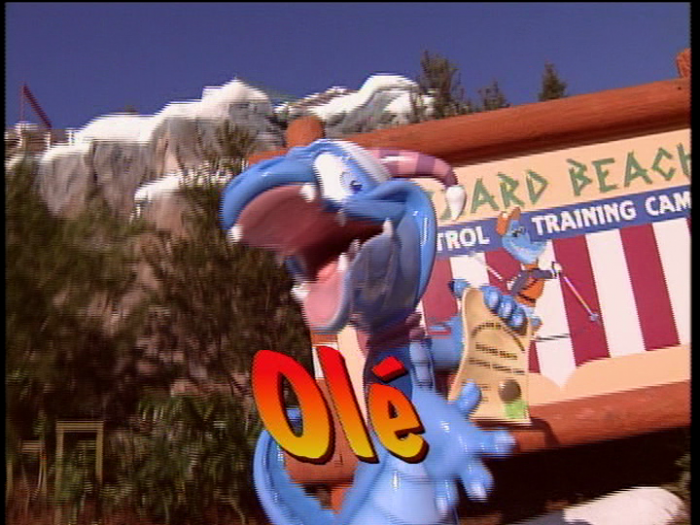 The penguins from Mary Poppins met the kids at Blizzard Beach.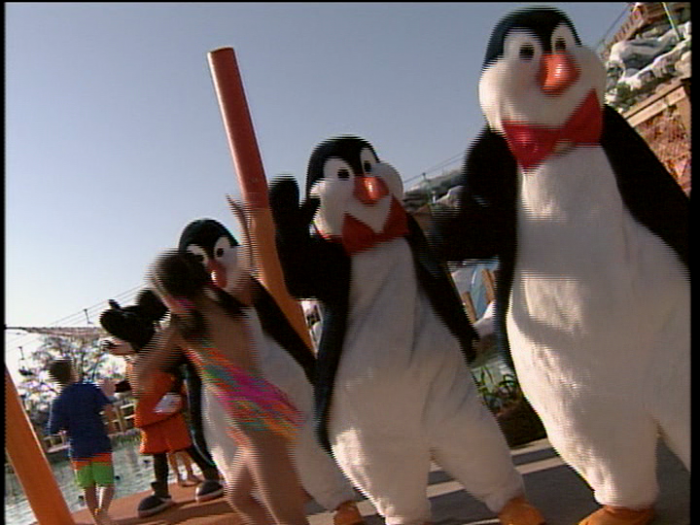 The attractions shown for Blizzard Beach are a lawyer's dream. Below is an attraction still in the park, Ski Patrol Training Camp.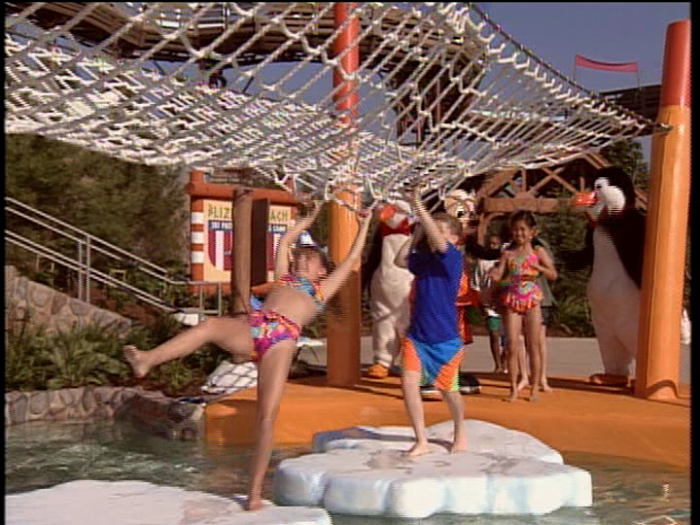 For the next attraction, kids are riding Lazy River-like inner-tubes but are spiraling fast down a bunch of hills. This was BANANAS.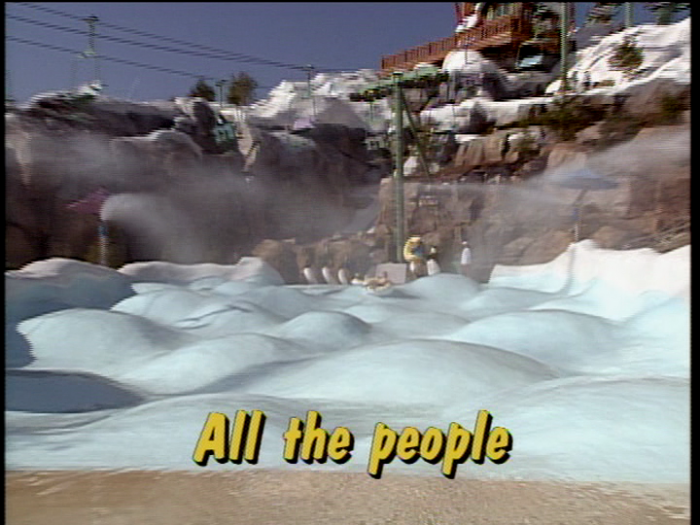 At one point you can basically see a kid fly in mid-air about to crash and burn. Just wild!!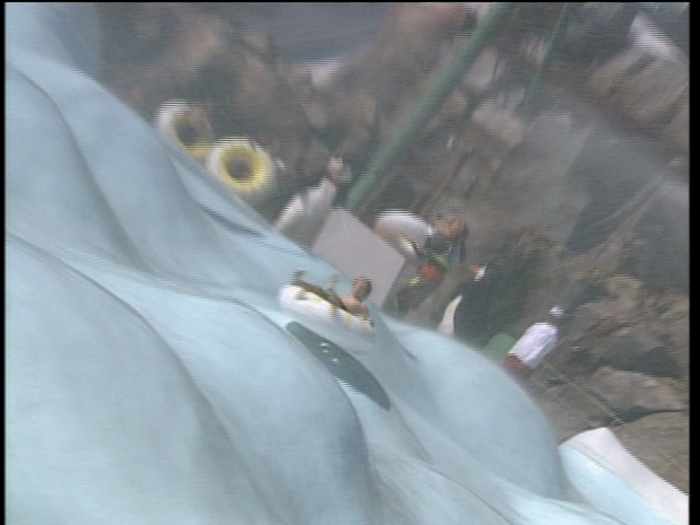 I'm a sucker for Adam Sandler films, and one of my guilty pleasures is the film Grown Ups. During that film, the characters go to a water park and do an attraction which is basically a zip line/cable line that has you hanging on for dear life before you let go and drop into the water. For years I would watch Grown Ups and think there's no way a water park would actually have an attraction like that and LO AND BEHOLD DISNEY DID! As the kids say, I'm shook. Even crazier, afterwards I found out that River Country (which we saw in Sing Along Songs: Campout at WDW) there was also a cable line attraction, and that big kids can still enjoy the cable line at Blizzard Beach today.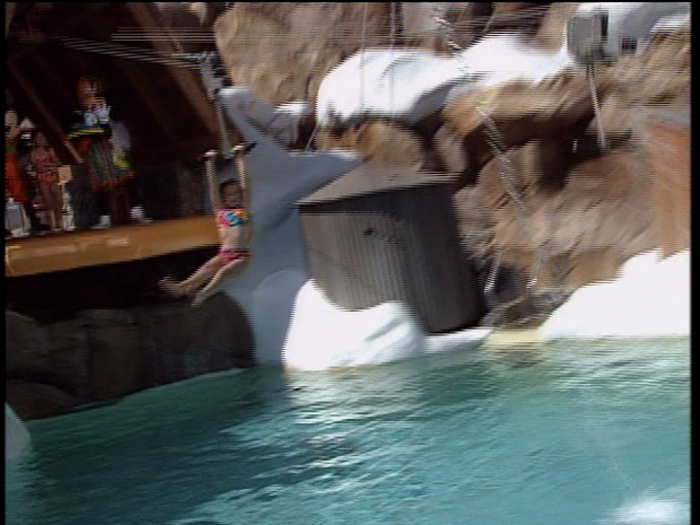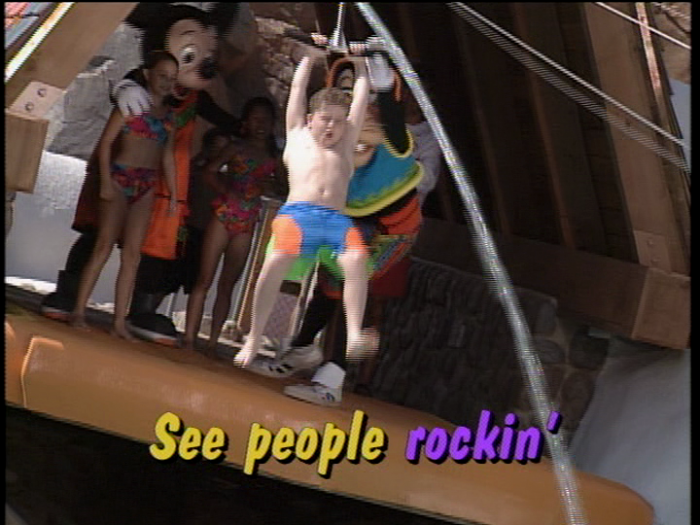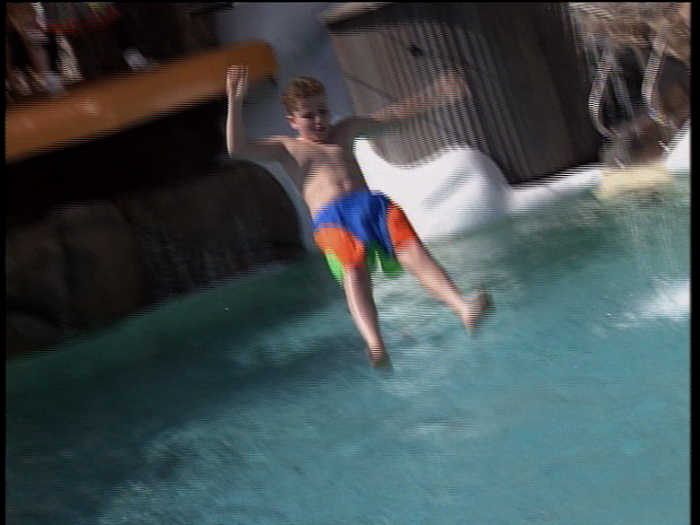 Toboggan Races is an attraction still at Blizzard Beach today and looks like a blast as the kids race each other down the slides.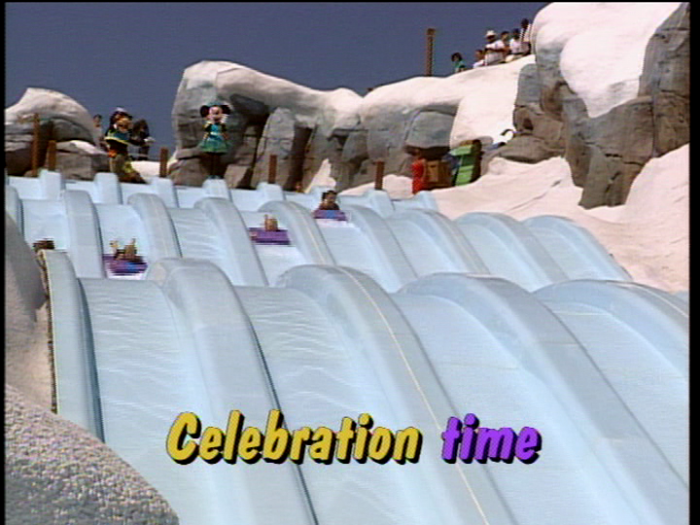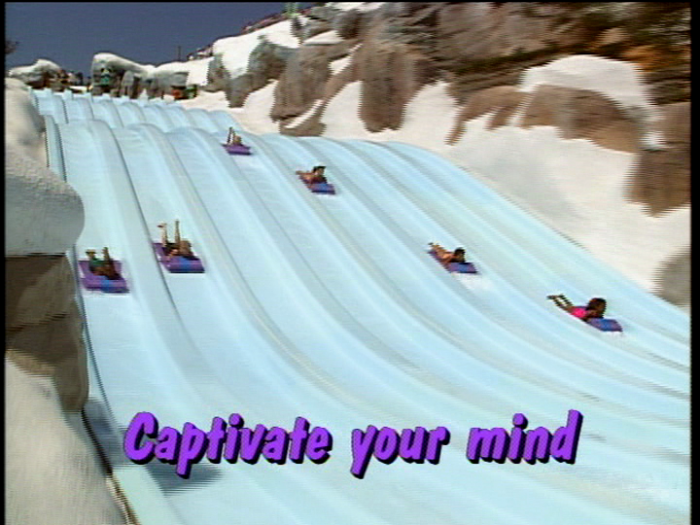 The Sing Along Series always shines the brightest when the Disney characters are enjoying the attractions.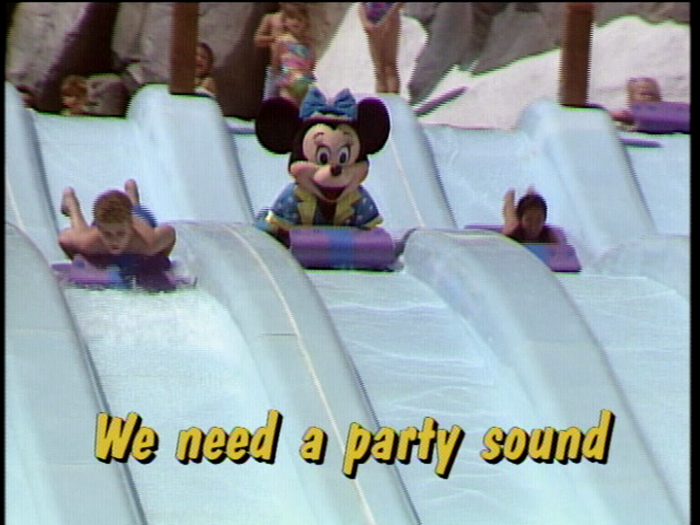 Pluto enjoying Teamboat Springs.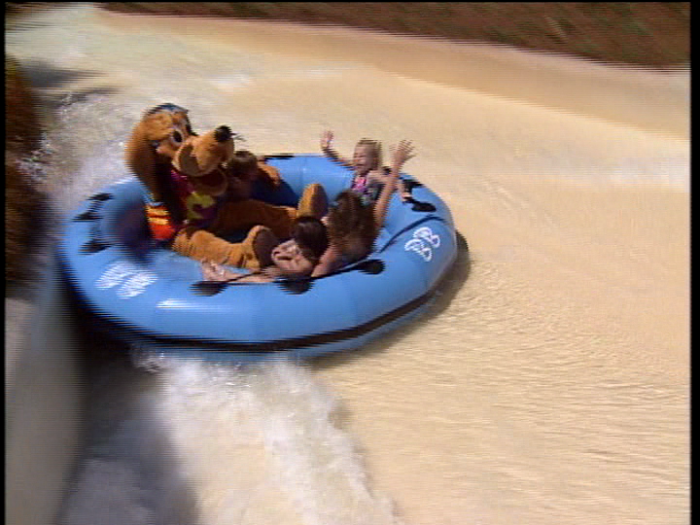 Donald on Teamboat Springs.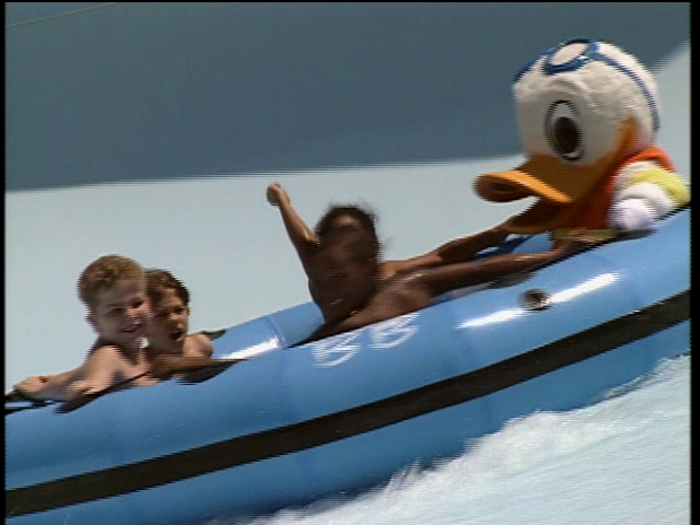 Minnie enjoying the Cross Country Creek lazy river.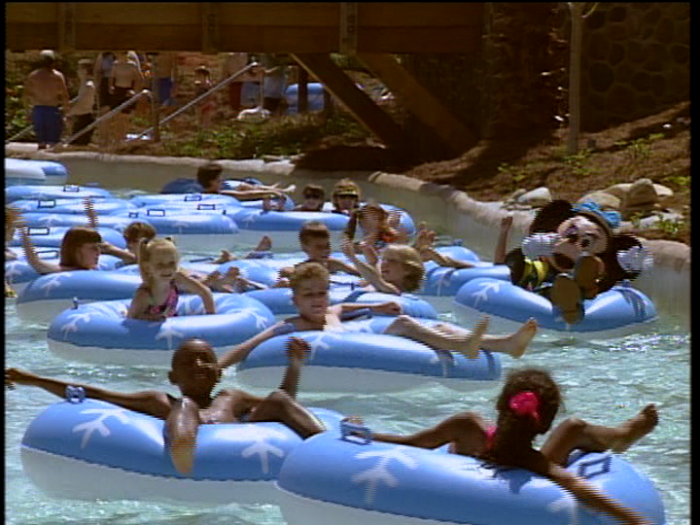 # 1 – The Electrical Water Pageant
We've seen some weird stuff in this edition of the Sing Along Series, but nothing tops the end as OUT OF NOWHERE Aladdin appears and breaks the fourth wall by talking to the viewers at home.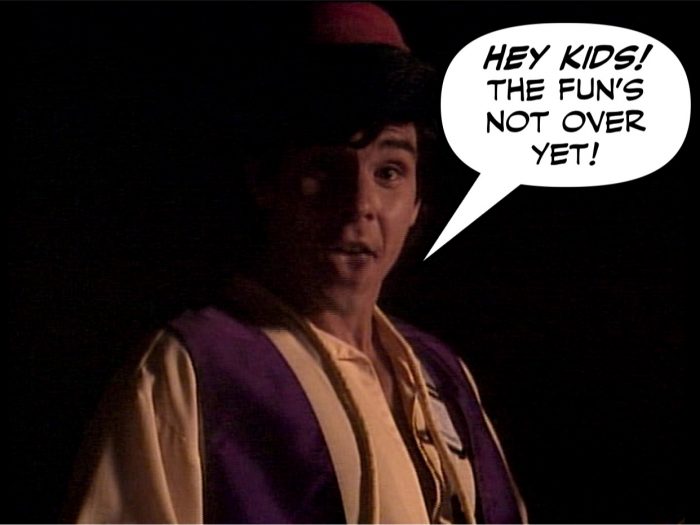 The moment gets even more surreal as it is then revealed that Aladdin and Jasmine are part of a rock band, and are rocking out to the song Slicin' Sand (again, no idea if this is an actual song sung by humans before).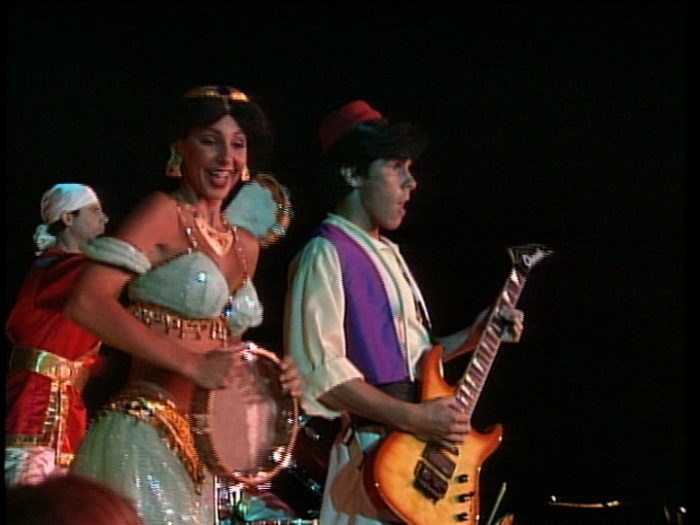 But the best part is the next reveal, which shows the band is performing with the ELECTRICAL WATER PAGEANT behind them!!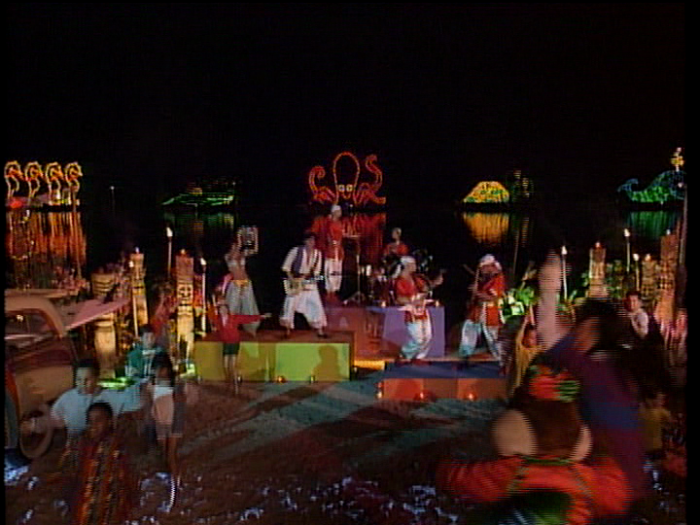 The Electrical Water Pageant is one of my all time favorite Disney things and – to me – is something that makes Disney, "Disney." Like the Magic Kingdom's PeopleMover, it isn't a high tech spectacular, but instead a piece of a long ago era that slaps as hard today as it ever did. Good luck to the monstrosity that is Harmonious having 1/10th the Disney magic this show does as it slowly makes its way around Bay Lake and Seven Seas Lagoon.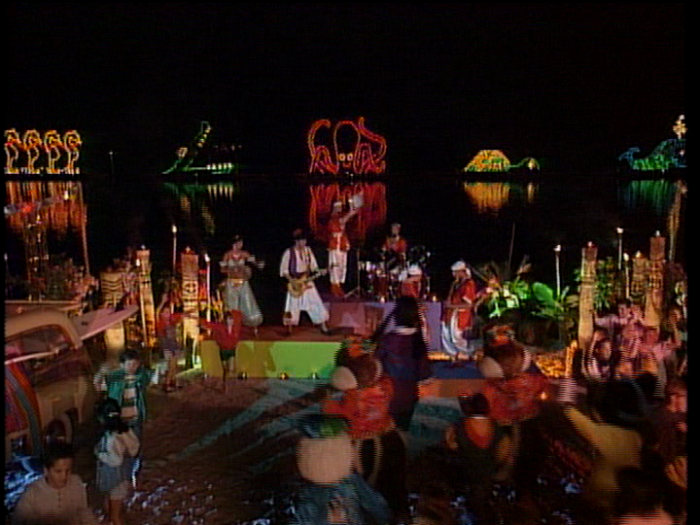 So there you have it: Six Reasons we love Disney Sing Along Songs – BEACH PARTY! See you next weekend for the latest installment of the SATURDAY SIX, where we'll look at something fun from the world of Disney and Universal. If you enjoyed yourself, be sure to check out The Magic, The Memories, and Merch! articles covering the latest from the Disney Outlet Stores. You can also follow Your Humble Author on Twitter (@derekburgan).
If you enjoyed this article, you will surely like the following: 
6 Reasons We Love Disney Sing Along Songs – DISNEYLAND FUN!
6 Reasons We Love Disney Sing Along Songs – HAPPY HAUNTING
6 Reasons We Love Disney Sing Along Songs – CAMPOUT AT WALT DISNEY WORLD
The SATURDAY SIX Looks at Walt Disney World Locations Used in Hulk Hogan's THUNDER IN PARADISE
6 Times THE SIMPSONS Totally Nailed Being a Theme Park Fan
The SATURDAY SIX Looks at Our Favorite Shows Going to Walt Disney World (Part One: Boy Meets World, Step By Step, and Sabrina the Teenage With)
The SATURDAY SIX Looks at Our Favorite Shows Going to Walt Disney World (Part Two: Family Matters, Roseanne, and Full House)
Special Thanks to The Elite Brandon Glover, the bio-est of all reconstructs @bioreconstruct, Captain Cruiseline Scott Sanders of the world famous Disney Cruise Line Blog, my personal protege Hunter "Elvey" Underwood, artist @SonderQuest, the SAT SIX Fun Squad of Parkscope Joe and "the Dadalorian" Nick, hot shot Michael Carelli, charter member of the Universal Four @Nitro230, and Hermione Granger's tutor Megan Stump for their invaluable assistance with this article. The SAT SIX is inspired each week by goofballs Aengus Mackenzie and LitemAndHyde and you Potterheads will  enjoy Meg's other blog work over at the Central Florida Slug Club.