The SATURDAY SIX Looks at All the Recent Theme Park News via MEMES (New Universal Park, Childless Millennials, and More!)
This week's SATURDAY SIX takes a look at theme park news via MEMES! It's been a while since the award-winning SAT 6 investigation team looked at recent theme park news, but today we are going back to the well once again to examine all the hot topics in the only way we know how…via theme park memes.
# 6 – Disney's New Rules
There have been several BIG attention-grabbing stories in the theme park universe this year, but one of the more surprising news items was one that went mostly under the radar for casual theme park fans. Back in the spring, Disney announced out of nowhere that it was going to enact several changes at its theme parks, including the banning of loose ice and smoking inside the parks. While these new rules didn't make splashy headlines, many of us inside the bubble assumed it would give the "Karens" of the world more reasons to complain at Guest Services. I know this may sound shocking to you, Dear Reader, but many people inside the theme park community feel a sense of entitlement. From Annual Passholders, to DVC owners, to even us salt of the Earth bloggers who merely request our own ride vehicle. To cover this list of outrage, a Twitter user came up with a fun security checklist.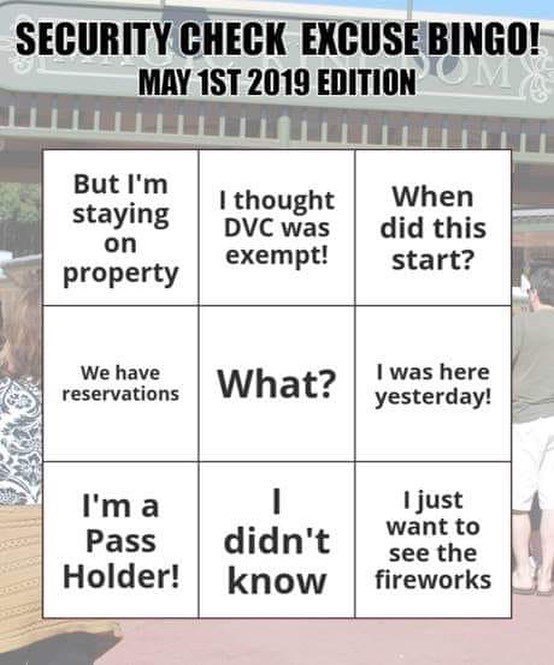 The one rule change which did get attention was the ban on stroller wagons and cracking down of strollers large enough to pack in the contents of a small apartment. Now this rule ostensibly seemed to be Disney declaring war on several third party vendors which had started up a cottage industry on renting out elaborately themed – and gigantic – strollers, but the new dimensions on regular strollers was going to affect a lot of parents. Similar to how airlines have an area for you to see if your carry-on baggage is allowed, Disneyland put up a box for guests to see if their strollers fit the new guidelines. The following meme took that box and made a joke that hits a little too close to home for Your Humble Author.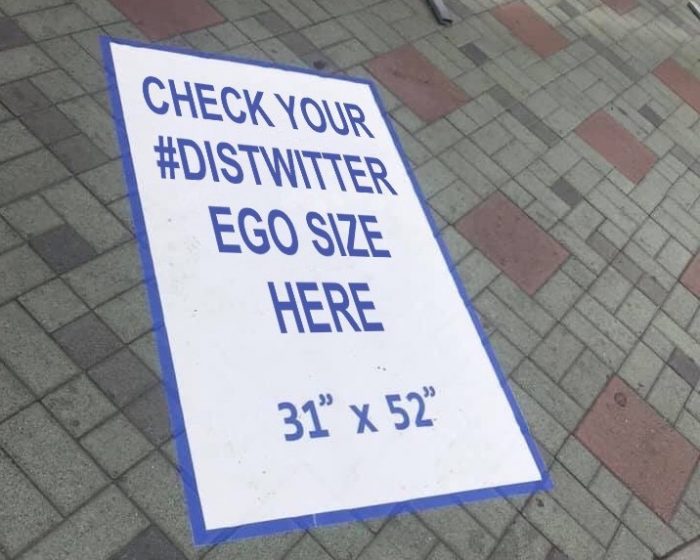 # 5 – Low Crowds Post-Star Wars: Galaxy's Edge
Speaking of the new rule changes, in a previous SAT 6, we joked that they were one of the reasons crowds "felt" low at Disneyland since the opening of Star Wars: Galaxy's Edge. The crowds "felt" low because they "were" low. On an episode of the Disney Dish podcast. Len Testa explained that in the calendar year of 2018, the entire Disneyland Resort saw an observed crowd level day of "1" on 15 occasions. The whole year. From the point Galaxy's Edge opened through July 4th, Disneyland park saw 19 days at an observed level of "1" and  Disney's California Adventure saw 18 days.
For a while, some Disney fans did their best attempt at gaslighting by trying to pretend that the parks weren't empty, and instead the crowd levels just "felt low" because of things like the park doing infrastructure changes like widening the walkways. After Disney made several announcements clearly designed to get people back into the parks (including the return of the Main Street Electrical Parade) even this dedicated group of fans who felt Disney was infallible had to admit there must be something going on.
The new logical reason/excuse was laid at the feet of Disneyland preemptively blocking the lower tier Annual Passes ahead of the opening of Star Wars: Galaxy's Edge.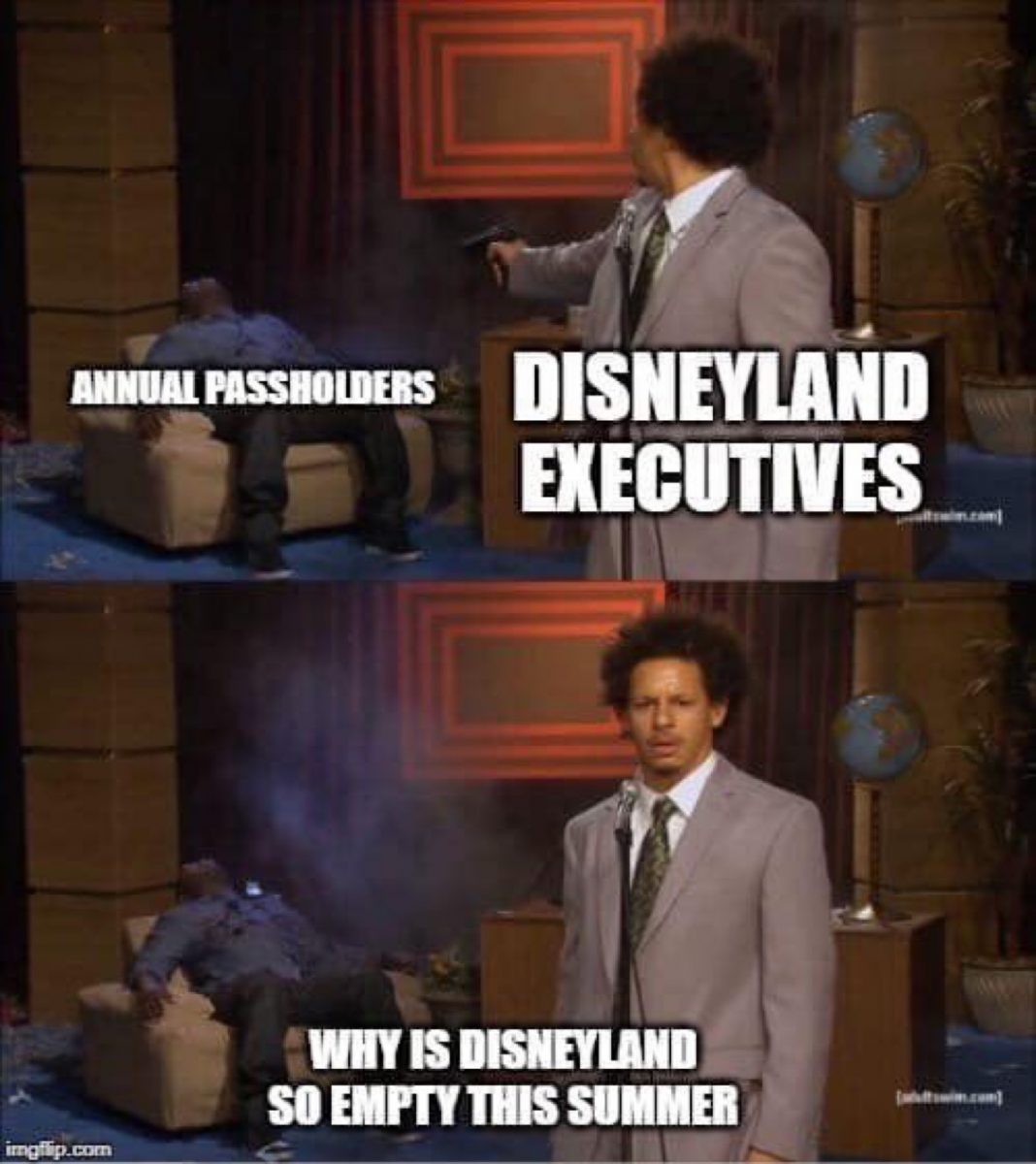 Did Disney feel that word-of-mouth reviews of Galaxy's Edge would be so strong that it would compel those blocked-out to spend more money just to experience it? That makes more sense than wanting the park empty to increase guest satisfaction levels (another next level bonkers theory put out there). This week Disneyland sent out an email reminding their annual passholders they weren't blocked out of DCA, which – in theory – may indicate things aren't going well over in that park either. Maybe they should widen the walkways…
# 4 – Epcot Transitions
The plans for the "new and improved" Epcot caught many of us by surprise. One of the biggest changes seemed too good to be true. The Leave a Legacy monoliths were finally going to be removed from the front of the park. By the end of June, half of the monoliths were gone and the new space left "so much room for activities!"
Upcoming changes to Epcot will include the removal of Innoventions West, the Fountain of Nations, and even Mouse Gear. The replacements will include a new festival center, a "journey of water" feature, and a beer garden. To celebrate the upcoming beer garden, a Twitter user changed the old Sorcerer Mickey logo on Spaceship Earth to something more appropriate.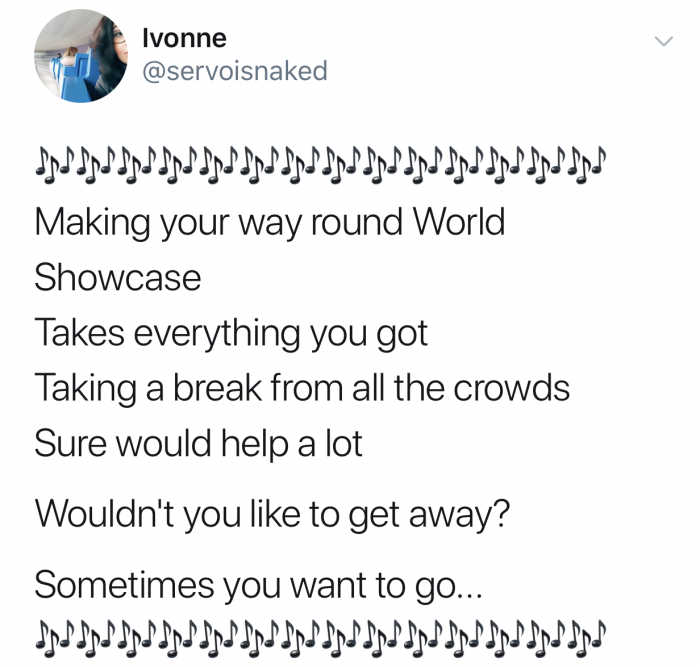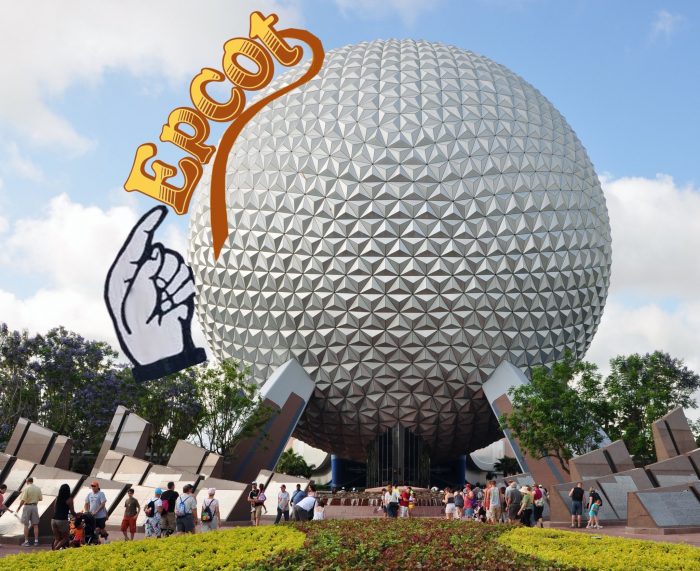 Can we also note that the removal of the Lost and Found at the TTC, the Leave a Legacy monoliths, Innoventions West, and the rumored change of the Electric Umbrella means Disney clearly wants to ruin our Worst Places to Propose at WDW article? It's the only thing that makes sense.
# 3 – Walt Dedicates The NBA Experience
We've said it before, Twitter user @hamjenkinsIII's use of the iconic photo featuring Walt Disney opening Disneyland is the peanut butter to our jelly. It's so simple and ridiculous, and yet gets us every time.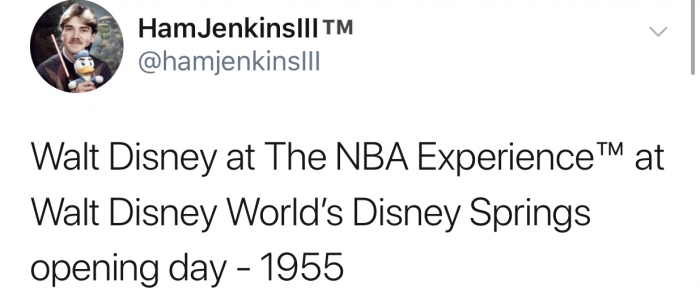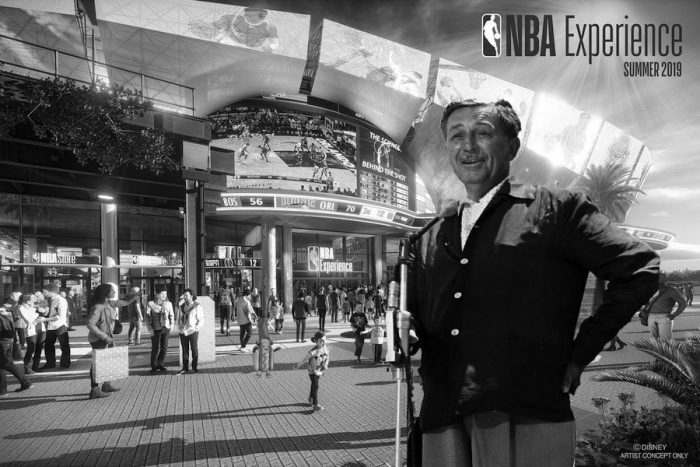 It's been a busy summer, and we've seen some other great memes featuring Walt. Here is one featuring Walt dedicating the highly controversial merchandise test inside the Main Street Cinema at Disneyland.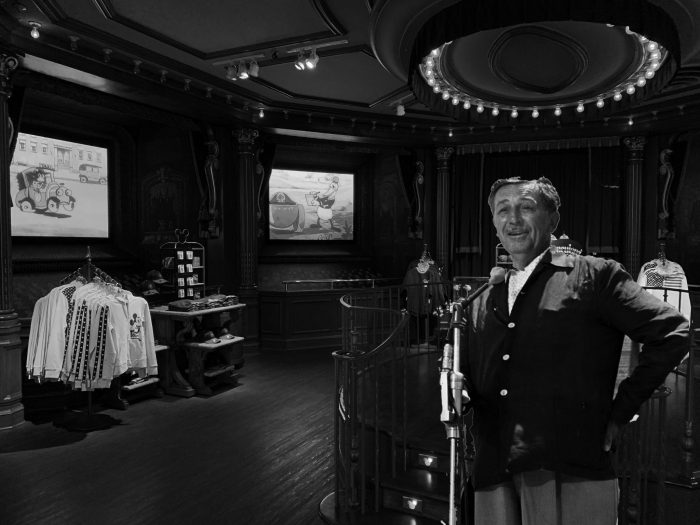 And Walt at Club Cool, which will be one of the losses once Innovations West is bulldozed.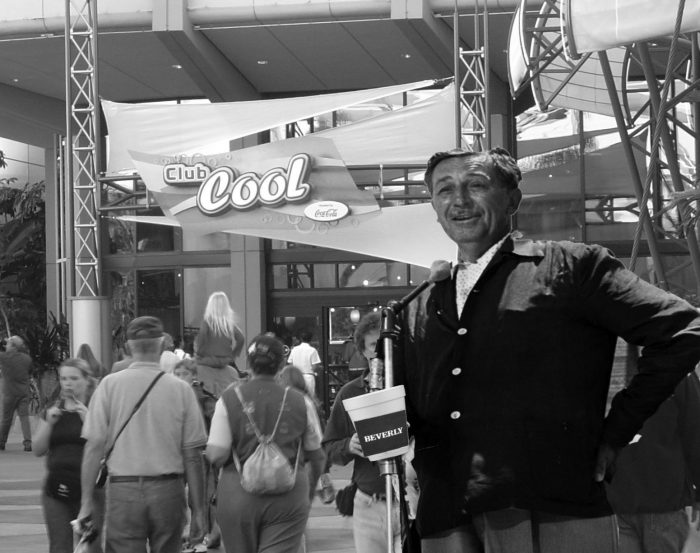 # 2 – Childless Millenials
We started off this article by talking about stories that reach the casual theme park audience. I know something has went "viral" when my friends and family reach out to me to see if I heard about a story they just saw. This past week, one of those stories you could only miss if you were living under a rock came out when the New York Post put out the following clickbait story.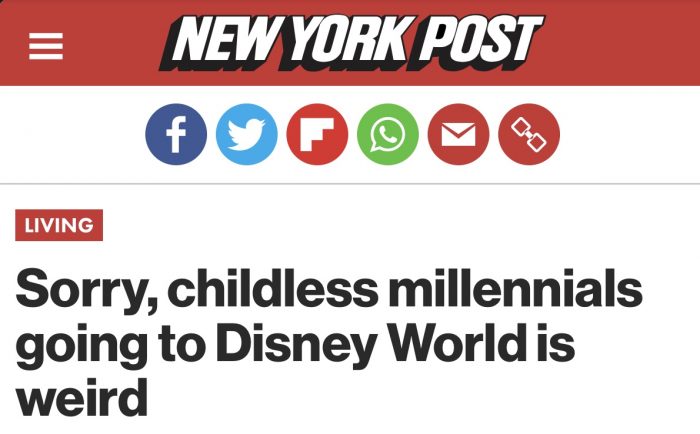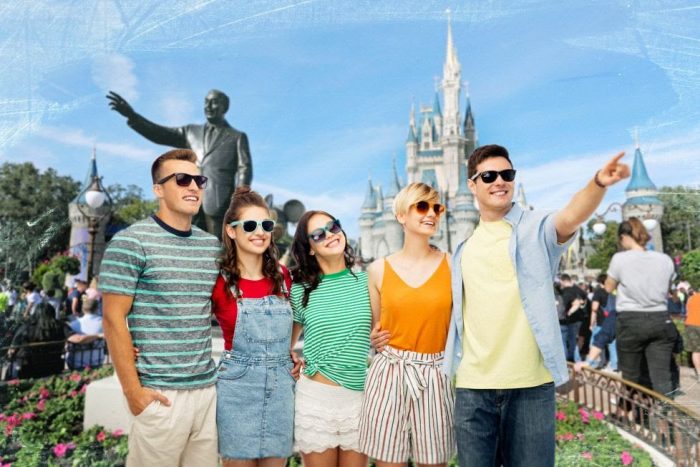 Because the actual story does not deserve to be linked, we're not going to do it here. Besides, I'm relatively certain most of you have read it anyway. Instead we are going to focus on the most bizarre part of the story, THE PICTURE. Because the story wasn't written in good faith, and possibly by someone who has never been to the parks, the photo they used made no sense to anyone who DID like Disney. Using generic Shutterstock pictures, the Post photoshopped a group of Millenials in front of Cinderella Castle at the Magic Kingdom.
Resident meme machine @SuperWeenieHtJr had fun repurposing their picture into other theme park locations, including Universal's new Hagrid's Magical Creatures Motorbike Adventure.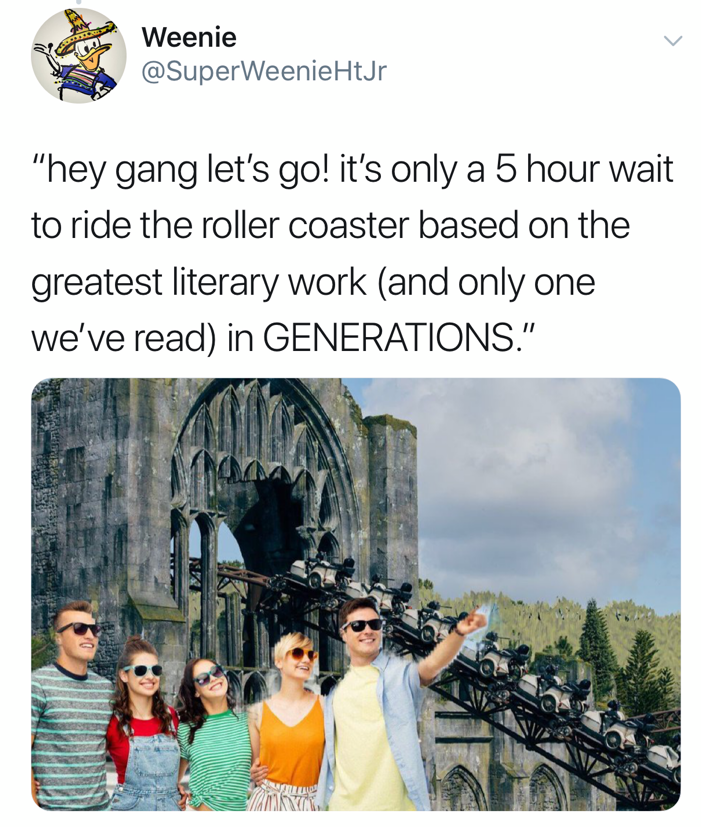 At Star Wars: Galaxy's Edge…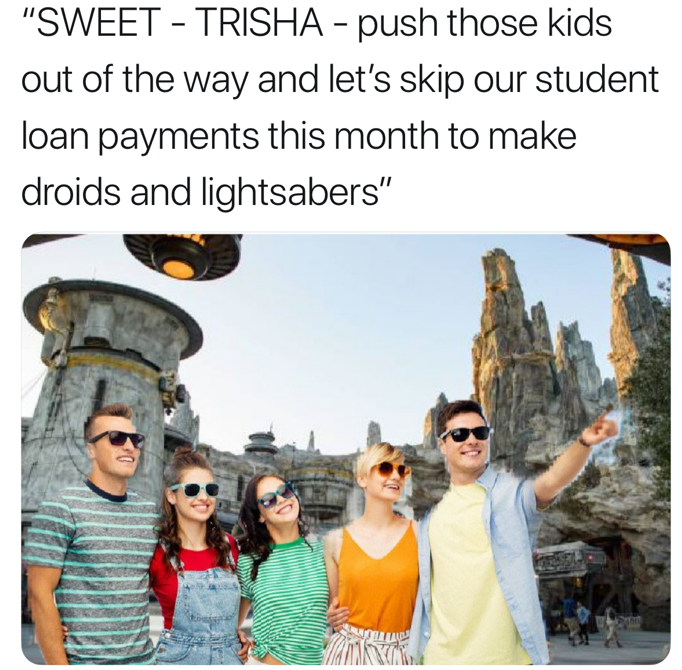 At Magic Kingdom's purple wall…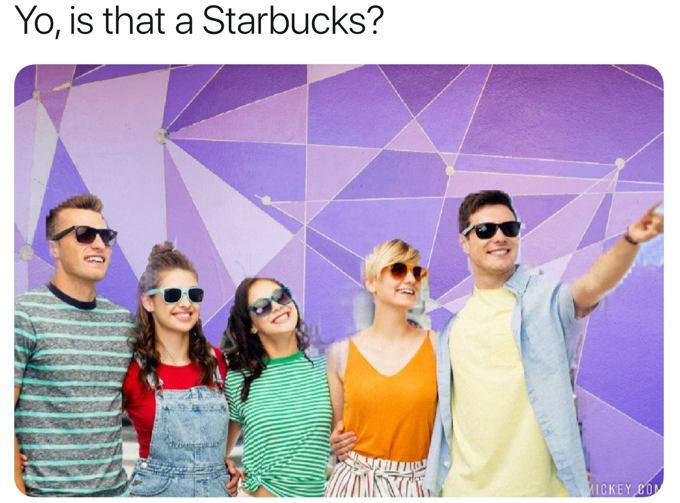 At Disneyland….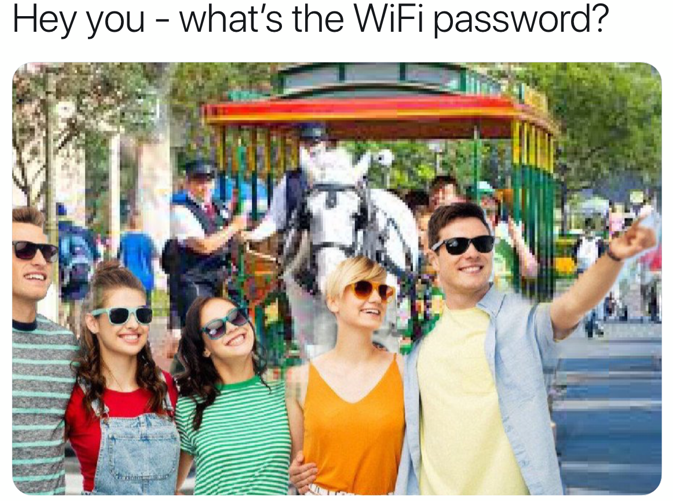 Soon after the NY Post story, Universal announced it was building a new theme park. Twitter user @MysticFlights redesigned the logo for the new park based around this scorching hot story making the rounds…
# 1 – Epic Universe
Speaking of Universal's new park, we finally have a name – "Universal's Epic Universe" (which we assume will be universally epic) – and some concept art (although the art does remind us of some other concept art we've seen recently, we just can't put our finger on it…).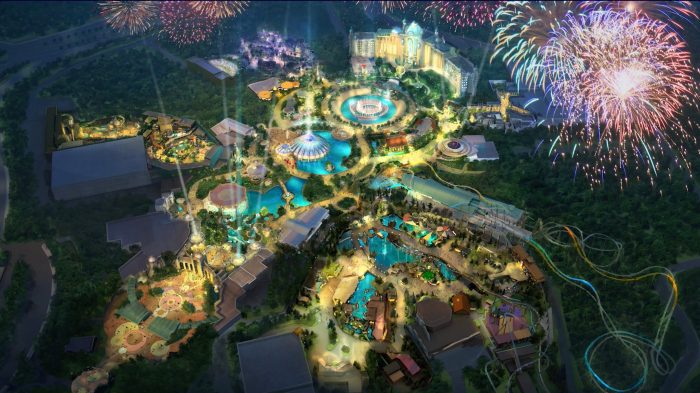 While Universal gave no specific details, Orlando Park Stop's own Alicia Stella broke down what is expected to be in each area of the new park. Having recently stayed at Disney's Gran Destino Tower and experiencing some of their incredible room views, the hotel at Epic Universe is going to be a Must-Do for me.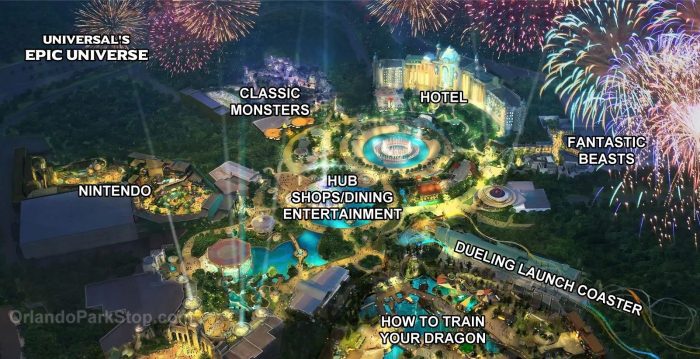 Twitter users came through in a big way with their fun takes on what was in the concept.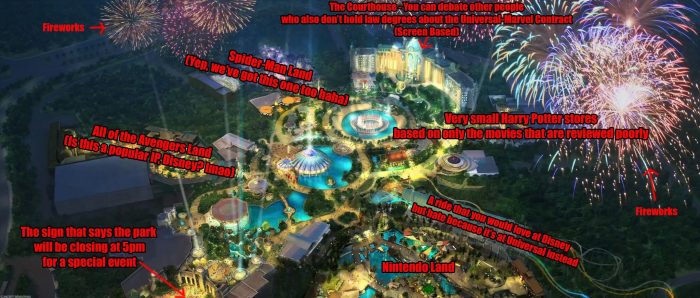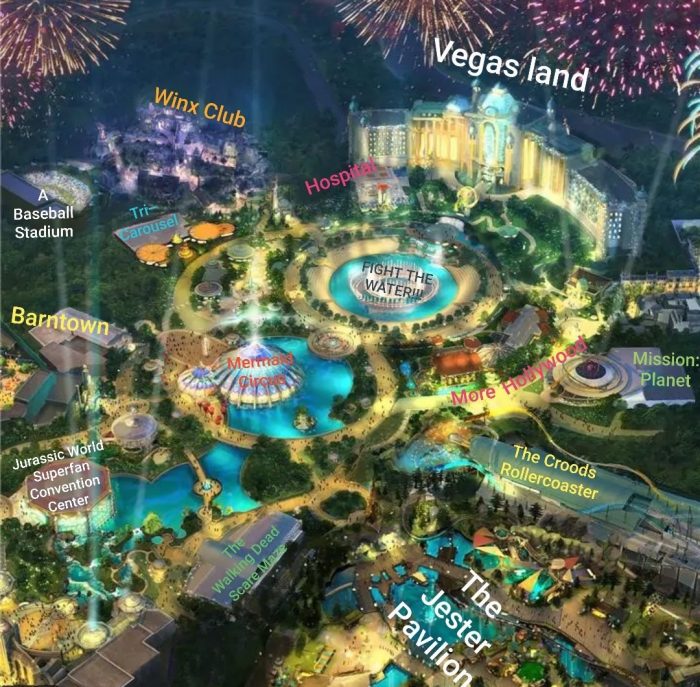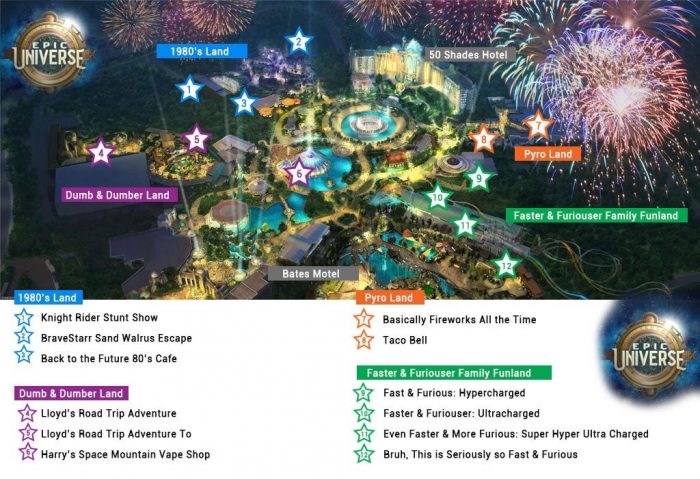 Those memes were good, very good. Exceptional even. But Twitter user @paintervision took the map which Universal used to show how close Epic Universe was to the Universal Orlando Resort, and tweaked in a way that is just hilarious to anyone who has been in Orlando or is part of the theme park community.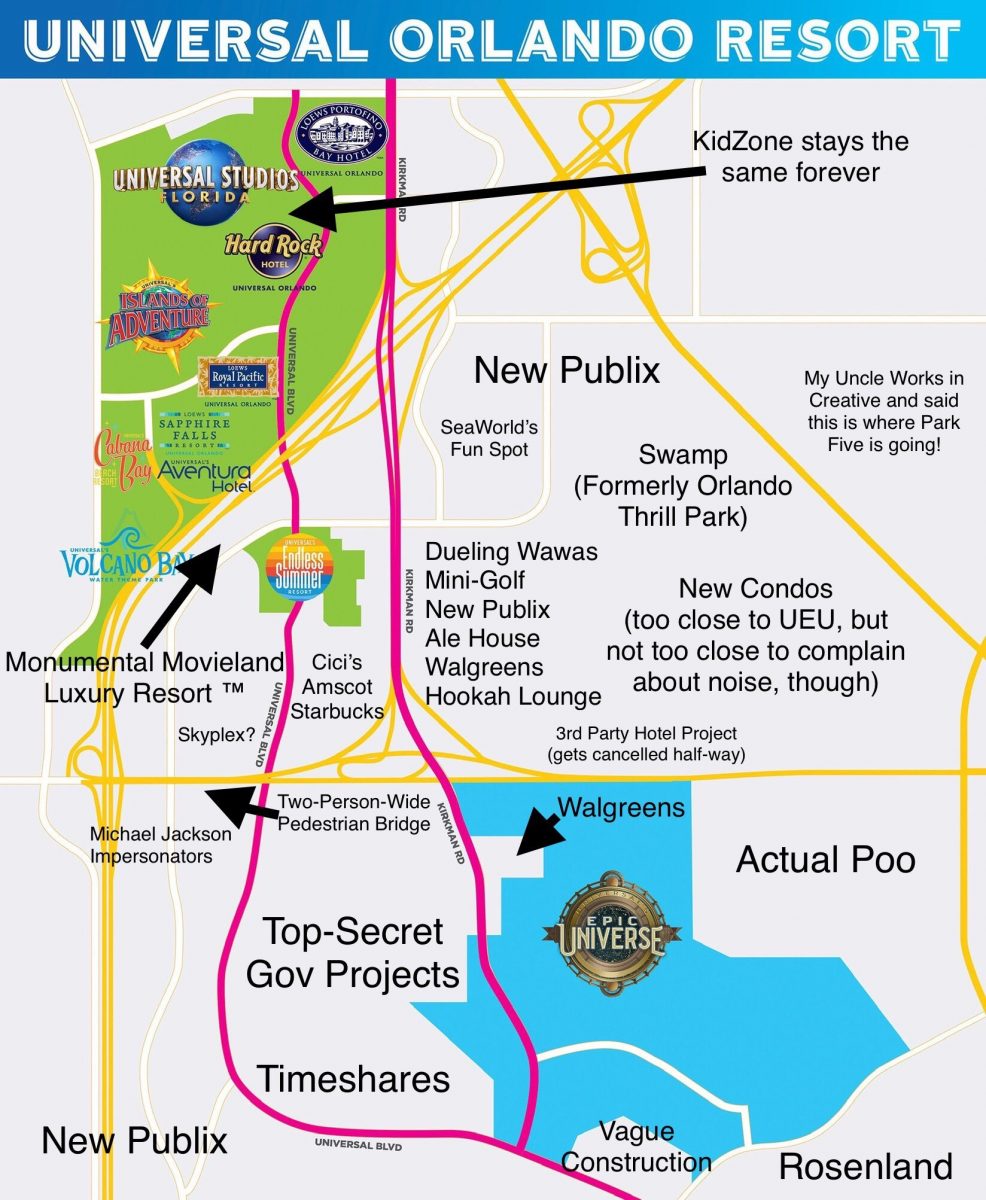 So there you have it: A Look at Theme Park News via MEMES! See you next weekend for the latest installment of the SATURDAY SIX, where we'll look at something fun from the world of Disney and Universal. If you enjoyed yourself, be sure to check out The Magic, The Memories, and Merch! articles, or, for your listening pleasure, check out the E-Ticket Report podcast. You can also follow Your Humble Author on Twitter (@derekburgan).
If you enjoyed this article, you will surely like the following: 
The SATURDAY SIX Looks at Theme Park News via Memes (vol 1)
The SATURDAY SIX Looks at Theme Park News via Memes (vol 2)
The SATURDAY SIX Looks at Theme Park News via Memes (vol 3)
The SATURDAY SIX Looks at Theme Park News via Memes (vol 4)
The SATURDAY SIX Looks at Theme Park News via Memes (vol 5)
The SATURDAY SIX Looks at Theme Park News via Memes (vol 6)
Special Thanks to The Elite Brandon Glover, Captain Cruiseline Scott Sanders of the world famous Disney Cruise Line Blog, my personal protege Hunter "Elvey" Underwood, the bio-est of all reconstructs @bioreconstruct, Mr. 'Ohana Tim Grassey, the SAT SIX Fun Squad of Parkscope Joe and Nick, hot shot Michael Carelli, and Hermione Granger's tutor Megan Stump for their invaluable assistance with this article. The SAT SIX is inspired each week by goofballs Aengus Mackenzie and LitemAndHyde and you Potterheads will  enjoy Meg's other blog work over at the Central Florida Slug Club.
FINAL PLUG! Did you know The 2019 Unofficial Guide to Universal Orlando has a special edition of the SATURDAY SIX in it? That's right, ANOTHER NEW ONE EXCLUSIVE TO THIS EDITION! Finally, someone came up with an actual reason to read a book. ORDER this baby now!