The SATURDAY SIX Asks, "When Does It Hit YOU That You're On An Orlando Theme Park Vacation?"
This week's SATURDAY SIX takes a look at quintessential moments of an Orlando theme park vacation! Now we all know when the realization hits us that an Orlando theme park vacation is over. It's when the credit card bill comes and we need smelling salts to revive us. But today we ask the question, when does it begin for you? After weeks and months – if not years – of planning and saving, a trip to Florida visiting Walt Disney World or the Universal Orlando Resort is something we all look forward to. For us, some things that may seem inconsequential to others are meaningful in a way that's  hard to describe. Today we are going to look at some of our favorite parts of an Orlando theme park vacation that have absolutely nothing to do with E-Ticket thrill rides, starting with…
# 6 – MCO's Airport People Mover
In almost all airports, the only way to get from here to there – no matter how far it is – is to walk. Is that how we are going to do things in the vacation capitol of the world? Nay Nay! The Orlando International Airport (MCO) has what can be considered your first ride in Florida as their Airport People Mover (APM) brings guests from their respective concourses to the main terminal. What many people refer to as the "fake monorail," the APM is a great introduction to the world of wonder guests are about to experience at the theme parks. When you're a kid, there's nothing cooler in the world than being able to ride the APM once you touchdown from whatever part of the world you've just arrived from. When you're an adult, and you start to appreciated things like moving walkways, escalators, and just about anything that makes your life easier, the APM can be a lifesaver when you're trying to wrangle kids and your bags over a long distance.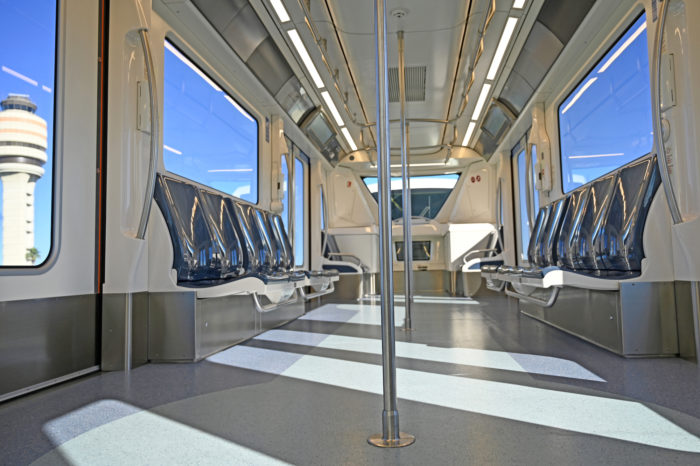 With windows all around, guests riding the APM get a great view of MCO and other Florida like icons such as palm trees, sunshine, and absolutely no hills.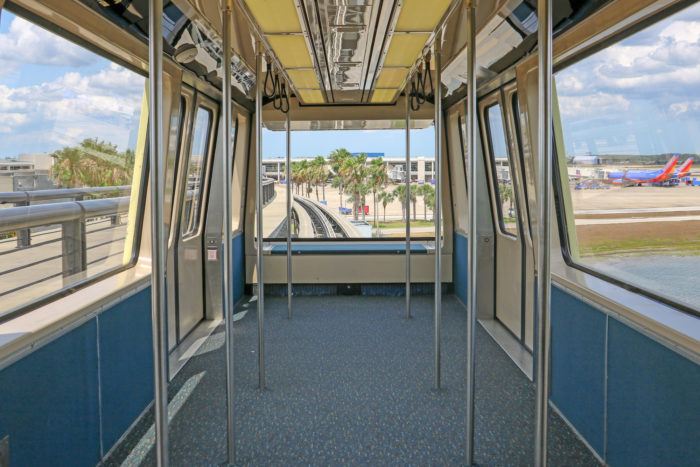 What kid doesn't immediately want to run to the back of an APM to get the best view in the room?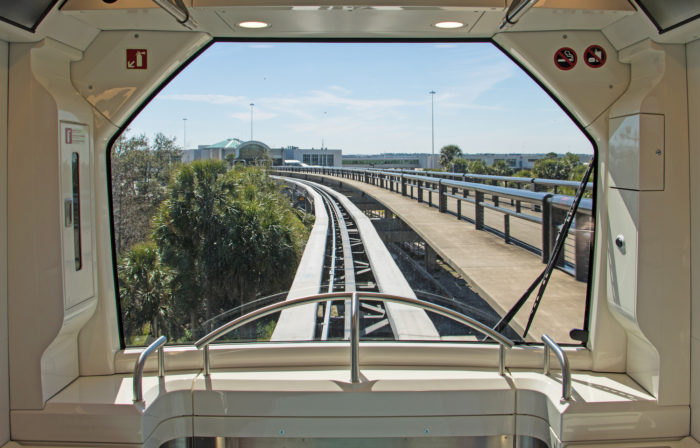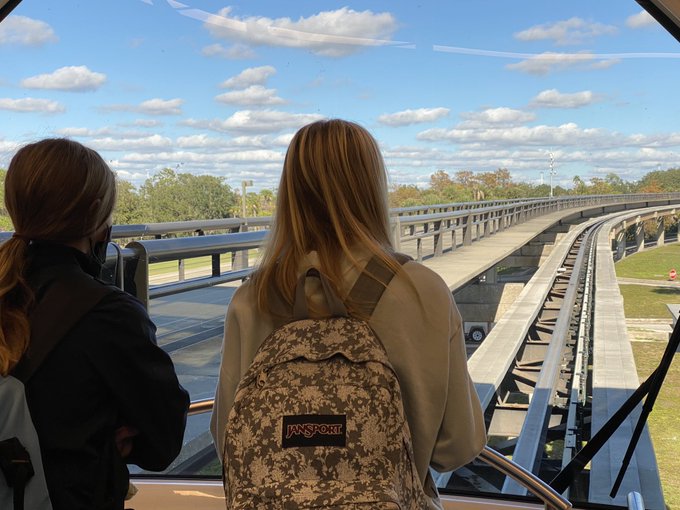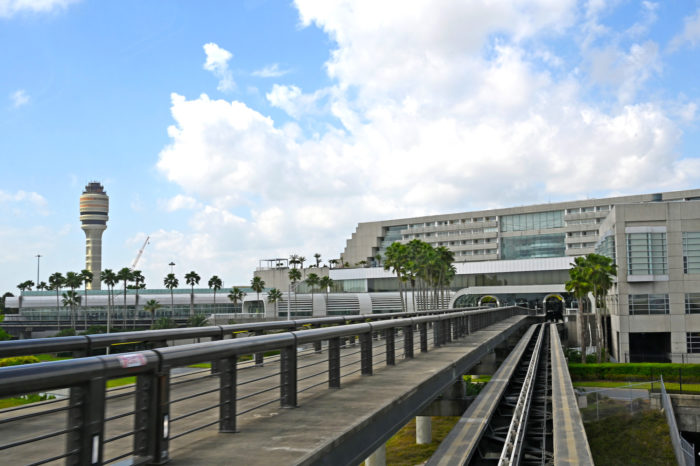 This aerial photo by the one and only @bioreconstruct shows us the APM's tracks going to two different concourses.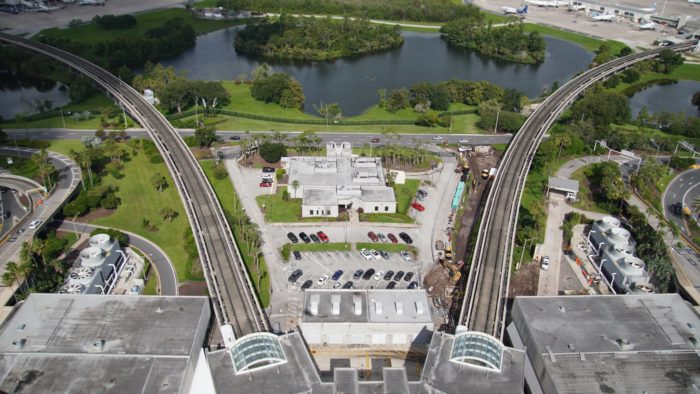 MCO put a little TLC into the APM's load and offload stations.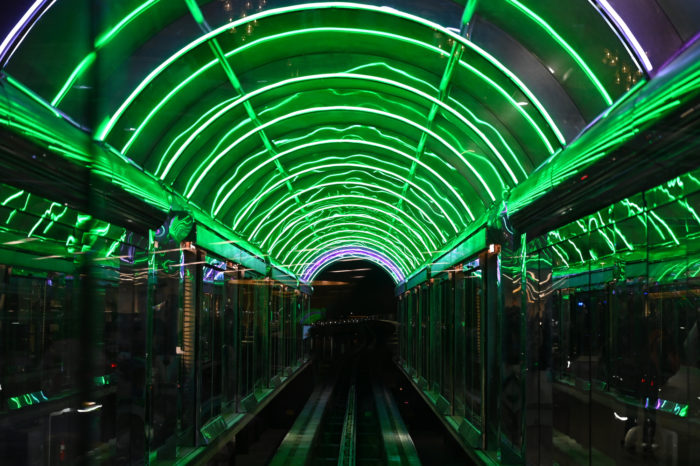 For the opening of Star Wars: Galaxy's Edge, the APM's loading area were given a look to resemble Batuu.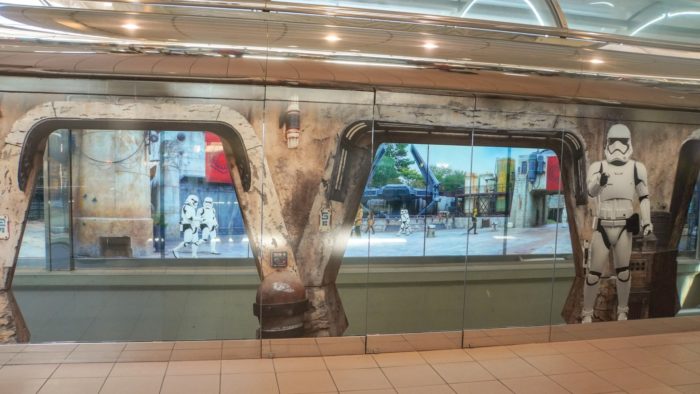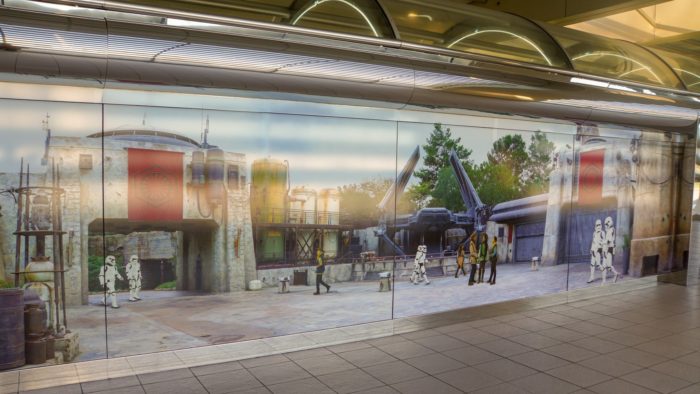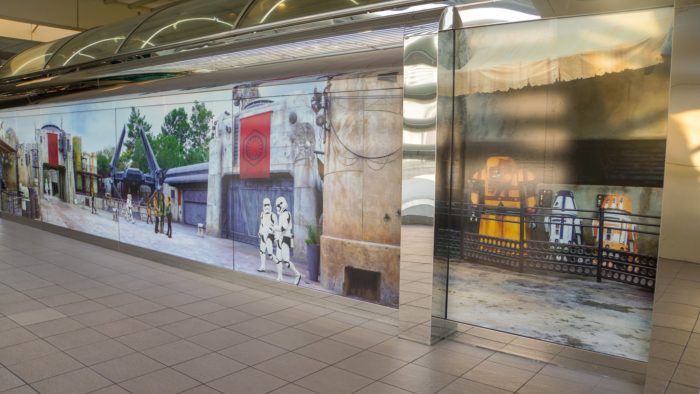 One of the things I love the most about MCO is that you have an instant connection with both Disney and Universal as soon as you exit the APM as both theme park resorts have some pretty cool gift shops in the main terminal. I've spent just about as much time as anyone in Florida covering theme park gift shops – the good, the bad, and the ugly – and the stores at MCO are upper tier filled with great merchandise and photo-ops.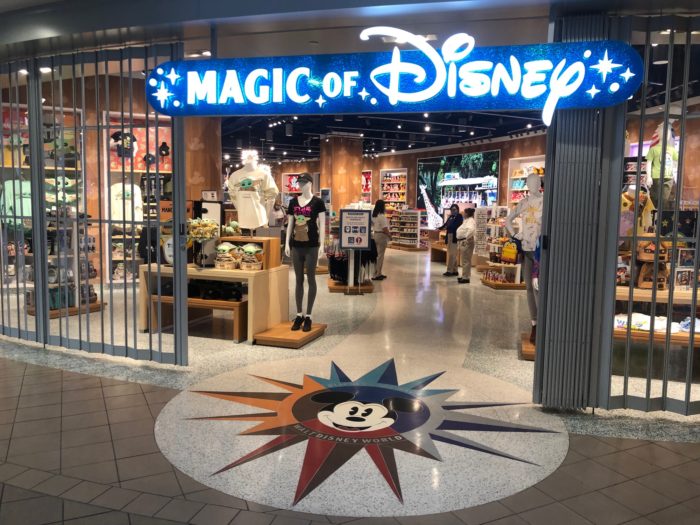 As fans of Pressed Pennies, you have to love that the Disney offers exclusive designs at their MCO gift shop.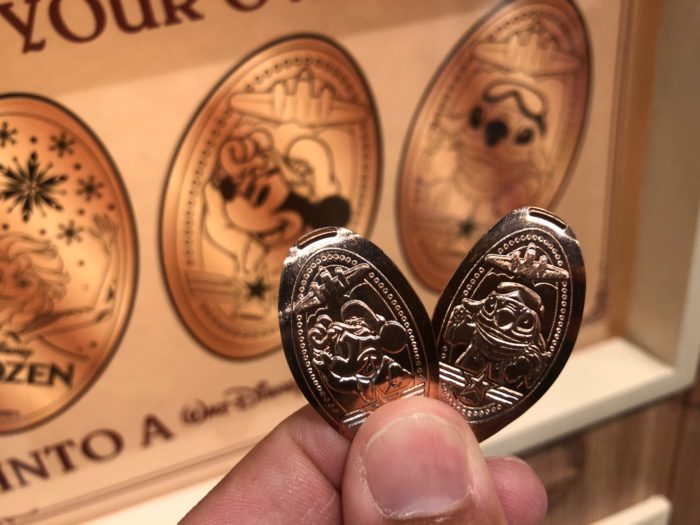 The Universal Orlando Resort's gift shop at MCO is a wonderful place to pick up last minute gift ideas for friends and family back at home, such as Chocolate Frogs from the Wizarding World.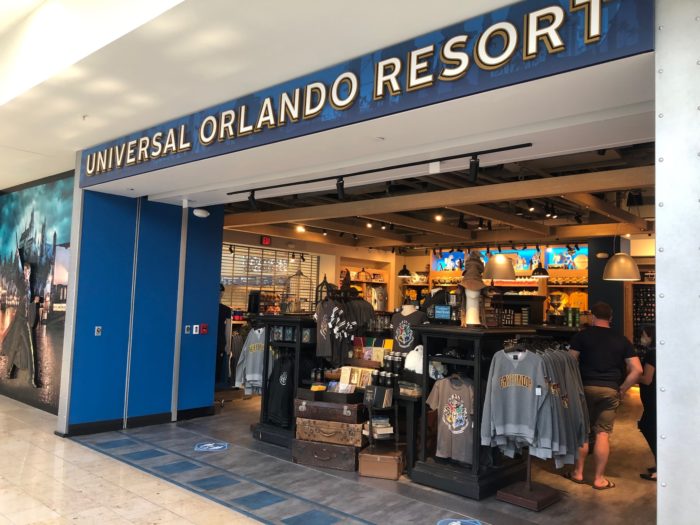 Several fun photo-ops are available, including the Wizarding World, Jurassic World, and minions from Despicable Me.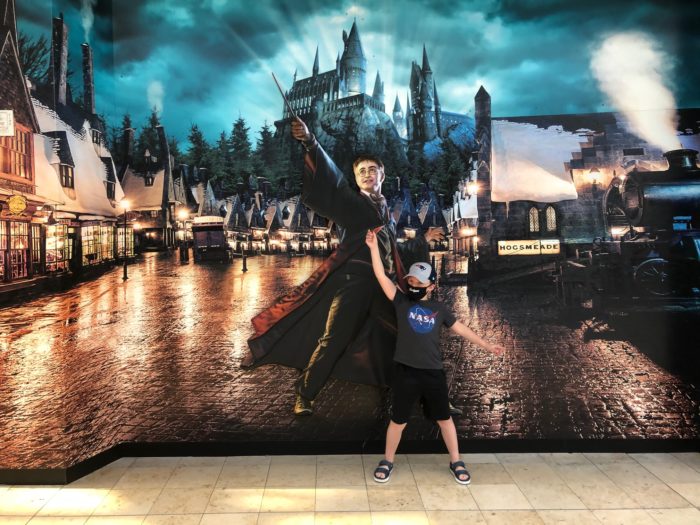 Not only you will you find fantastic theme park gift shops (don't forget about the stores dedicated to SeaWorld/Busch Gardens Tampa and the Kennedy Space Center) but MCO is just loaded with great details that you should check out. For most airports, when you are in the them all you want to do is just put your head down and get to wherever you are going as quickly as possible, but at MCO they give you a reason to explore.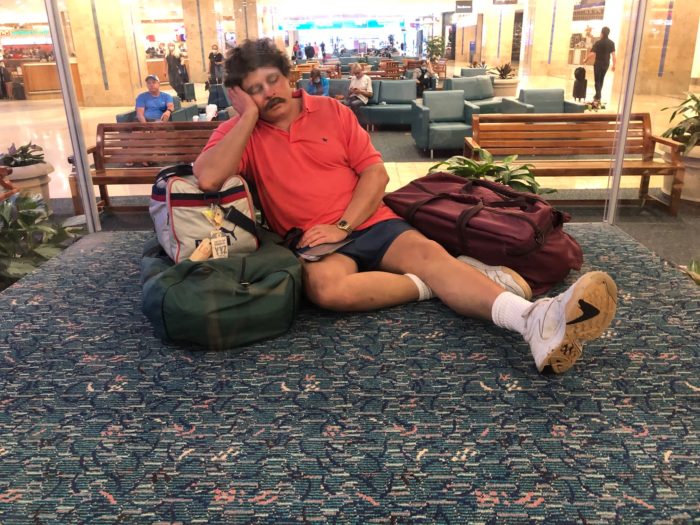 Be sure to follow @MCO on social media, as you'll get a lot of fun and interesting trivia about the airport. You'll also discover that many fans just love that MCO carpet…
# 5 – Theme Park Billboards
We're out of the airport and on our way to Disney and Universal but we still need to keep our head on a swivel as even the billboards in Orlando are much more fun than the ones you are used to. Both Disney and Universal are regularly changing out most billboards to highlight the latest attractions and offerings, but you'll also see some bangers that have lasted the test of time, including a Harry Potter billboard in which his wand is coming through the billboard.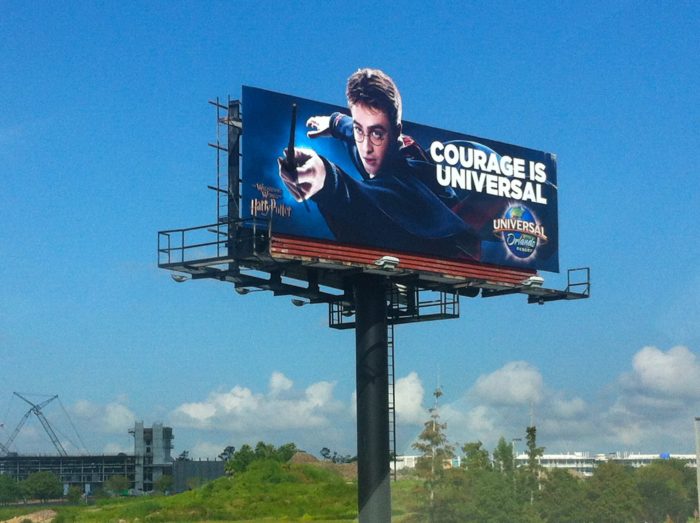 Almost everyone on Disney property is going to remember seeing this animated billboard for the Twilight Zone Tower of Terror. Think of all the billboards we pass by every day and 99.94% of them make zero impact in our lives, but when you have one that's cool not only will you remember it, many will take photos of it and add it to their vacation memories.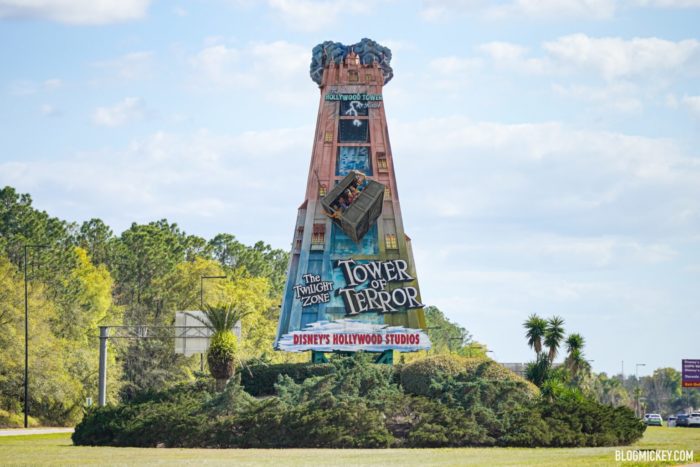 Readers of this fine blog series will certainly remember the long running "battle of wills" between the Universal Orlando Resort and an Osprey who wouldn't leave the VelociCoaster, but as it turns out these flying friends also enjoy Universal's billboards.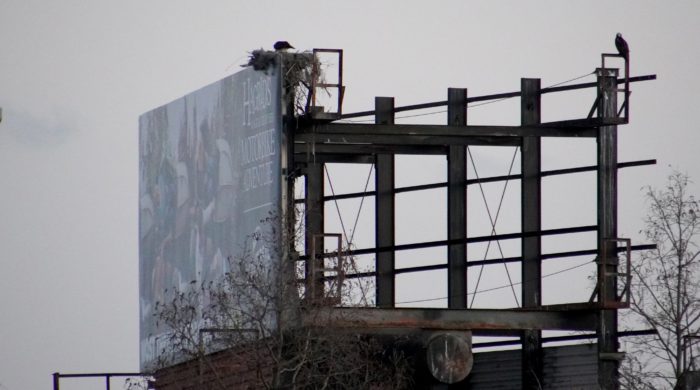 A lot of us look forward to Star Wars: Rise of the Resistance when we book our WDW vacations, and seeing this billboard for the attraction can only get you more excited for that experience.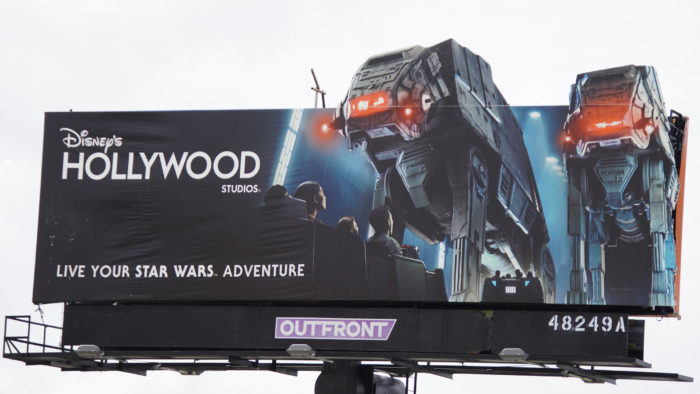 One Star Wars: Galaxy's Edge billboard is actually double sided.  Both sides featuring the image of the Millennium Falcon flying above the  spires of Batuu.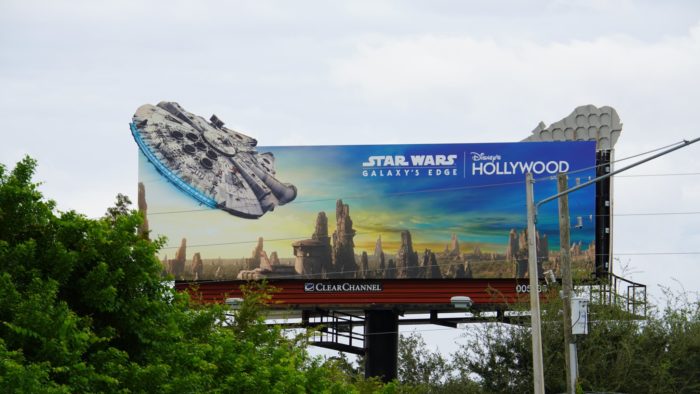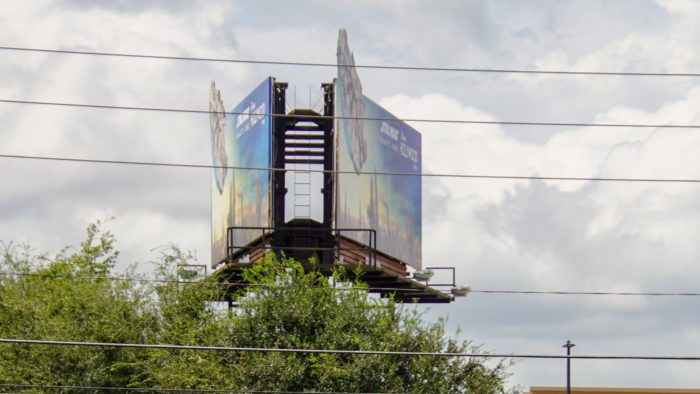 2017 was a rough year for theme park fans. We lost Dragon Challenge, The Great Movie Ride, Terminator2: 3-D, DisneyQuest, Wishes, Universe of Energy, and it was also the last year for Bill & Ted's Excellent Halloween Adventure at Universal's HHN. However one of the deepest cuts to our heart was the loss of the animated Stink Bug billboard outside the Animal Kingdom.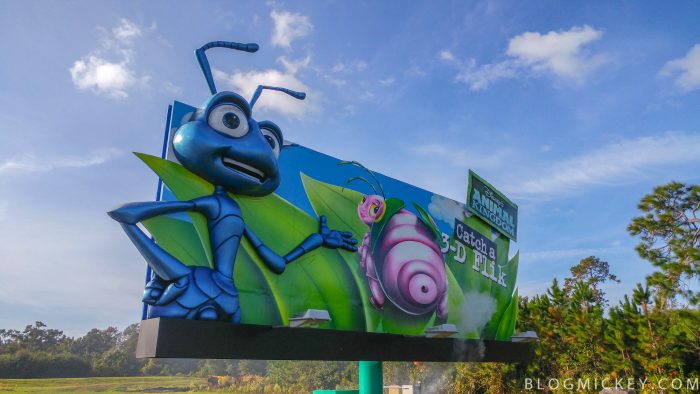 # 4 – Mickey Pylon
You know Disney can do anything when they can make a simple pole that holds electrical lines something people actually stare out their car window out. The Mickey Pylon is used by the Reedy Creek Energy Services which supplies power to Walt Disney World and can be seen by visitors along I-4 when you approach World Drive.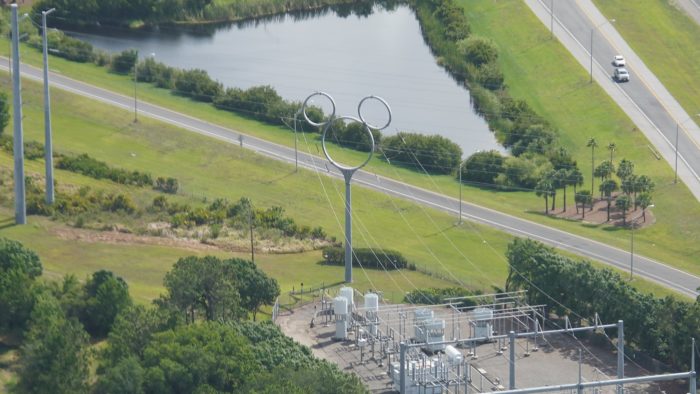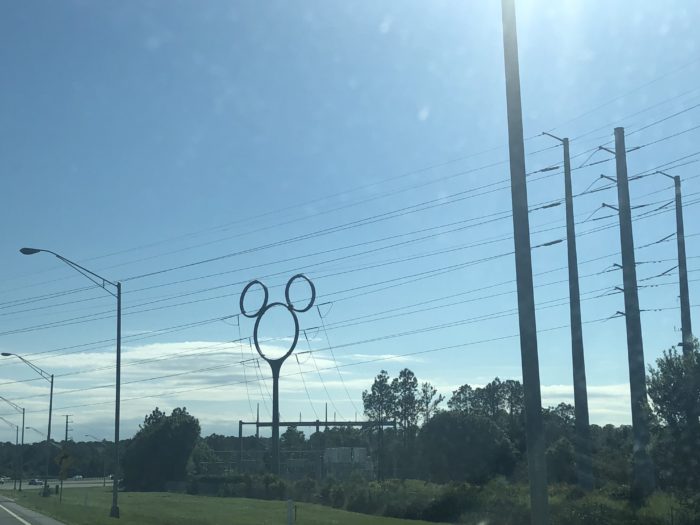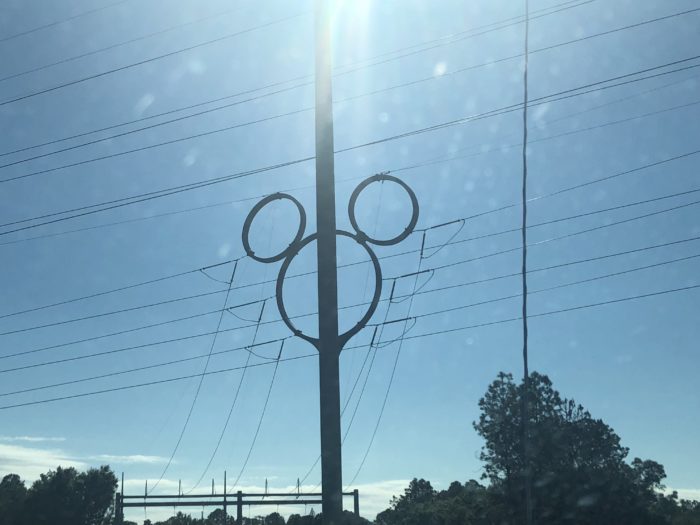 # 3 – Seeing Volcano Bay While You Are Driving
Seeing a "Hidden Mickey" in power lines is cool, but something even cooler is being able to see Universal's Volcano Bay. Forget the fact that Volcano Bay immediately became the best water park in Florida upon its debut (in fact it's my favorite park at Universal or Disney, period) the giant Krakatau volcano rising into the sky is something you can see from many parts of Orlando. This is significant because it's hard to see just about anything from the theme parks when you're not in the theme parks in Orlando. You can get glimpses here and there, but Volcano Bay is the first time normal people get to see the power of what a theme park "weenie" can do. When you see that Volcano, it's awesome.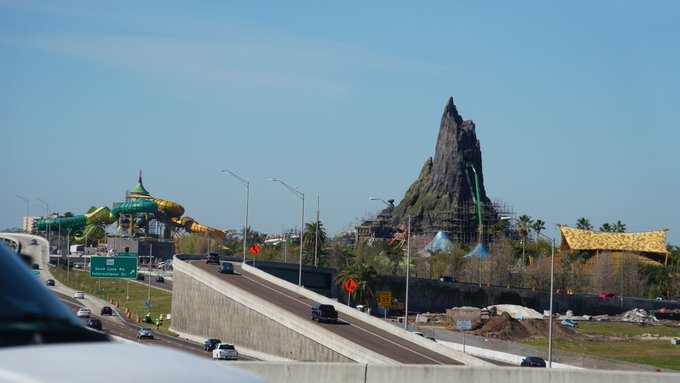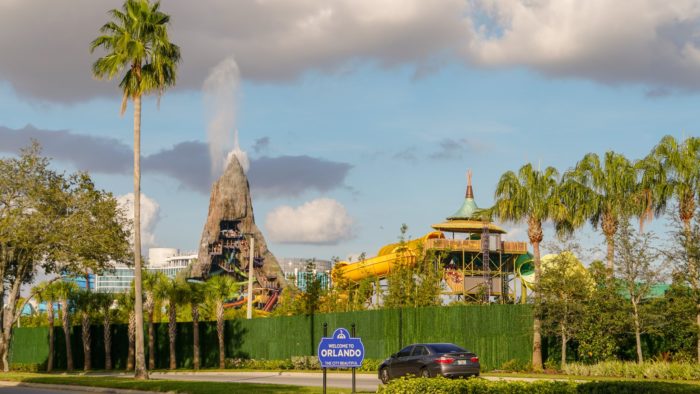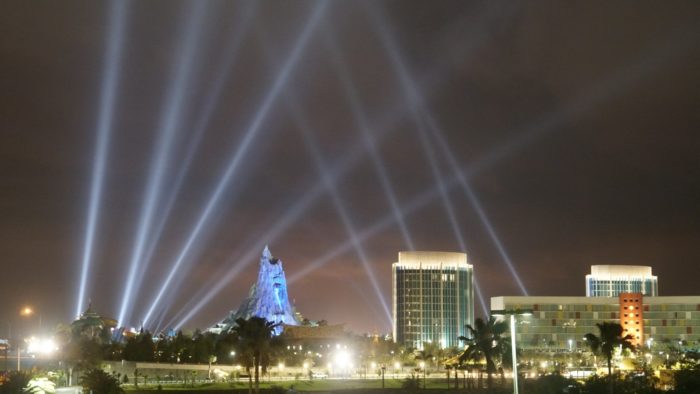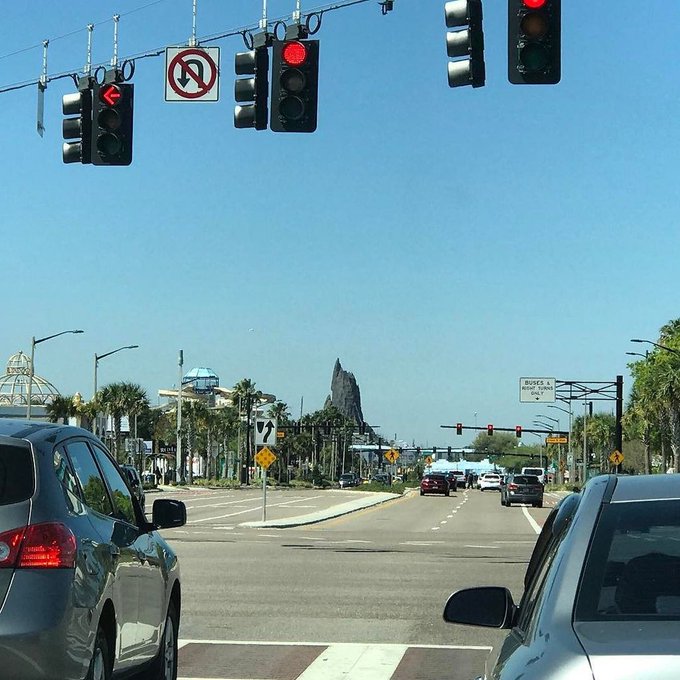 But don't get too distracted…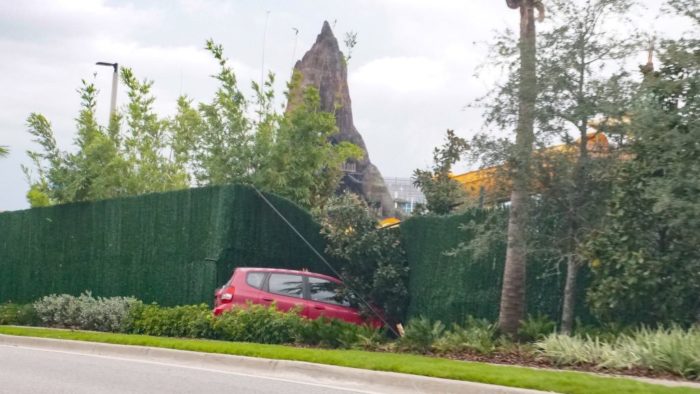 # 2 – Resort TV
For those staying onsite at Disney or Universal, one of things we like to do (at least my family) is put the resort TV on. It's "comfort food" for our eyes, and for years Disney had the all time best resort TV show with Must Do Disney featuring Stacey J Aswad. Many versions of Must Do Disney played over the years, as the show was constantly updated to squeeze in the newest attractions and explain things like MagicBands. I personally could keep this channel on for hours at a time, even falling asleep to it as I was firmly in my "happy place."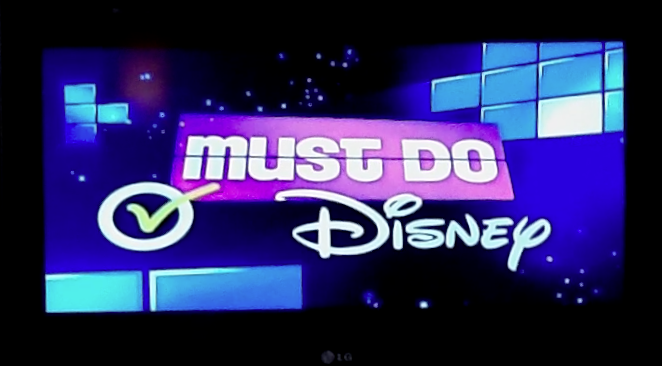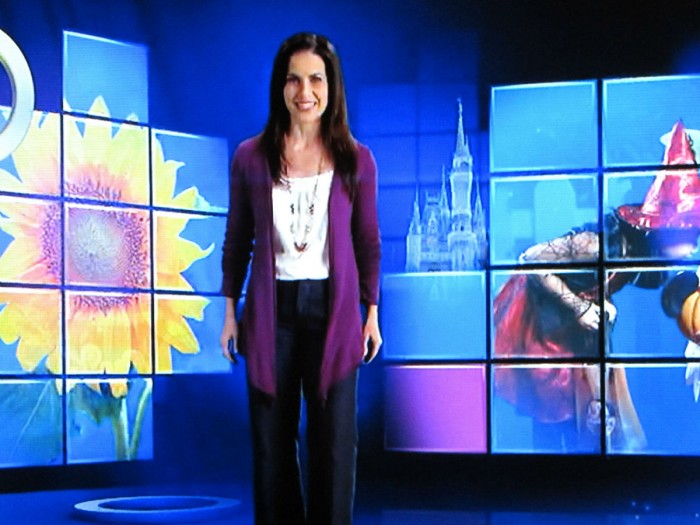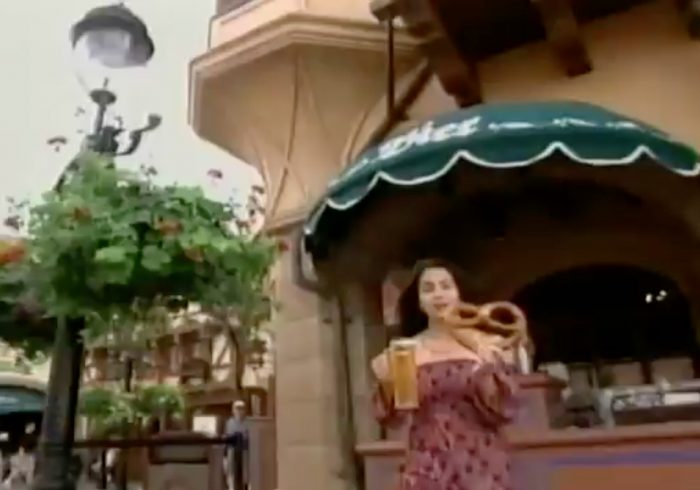 Unfortunately, Must Do Disney was recently retired from Disney's resort TV lineup, but hopefully they are working on something just as iconic to replace it. Meanwhile, over at Universal they are started to amp up their resort TV game as well with several dedicated channels dedicated to advertising various elements of the resort. As we covered in our review of Universal's Aventura Hotel, the tablet which comes with each room allows guests to control the TV, including picking out what channel they would like to watch.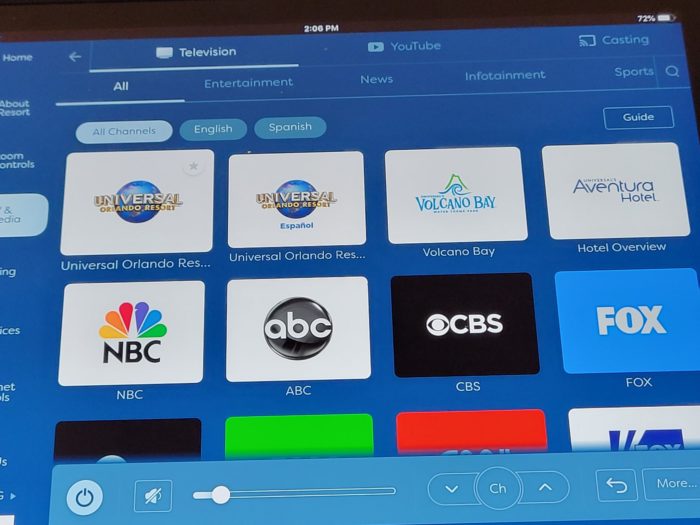 There are stations you can watch which highlight the Universal Orlando Resort, including the theme parks, on-site hotels, CityWalk, and Volcano Bay.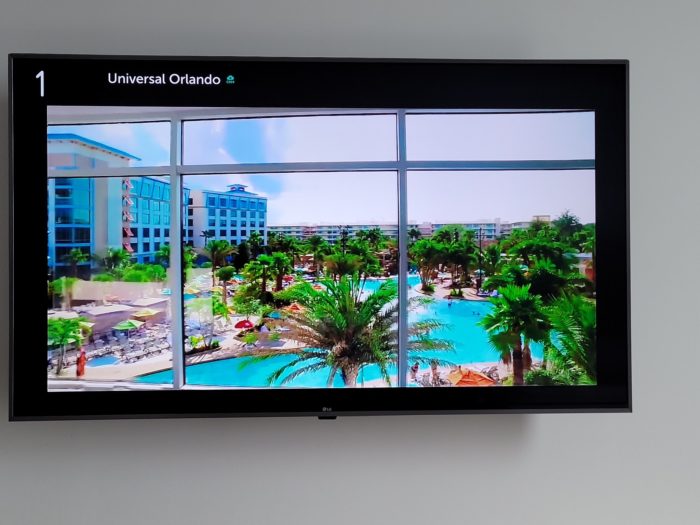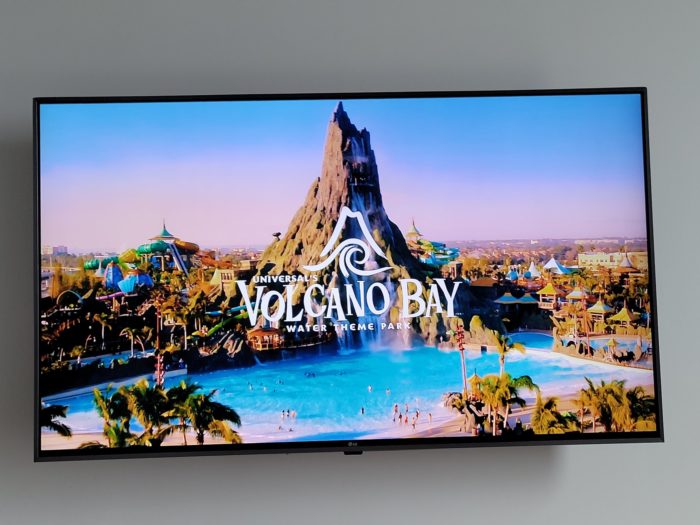 The Volcano Bay channel is the one which would most closely resemble Stacey J and Must Do Disney as it features one person explaining the amenities of the park while having fun.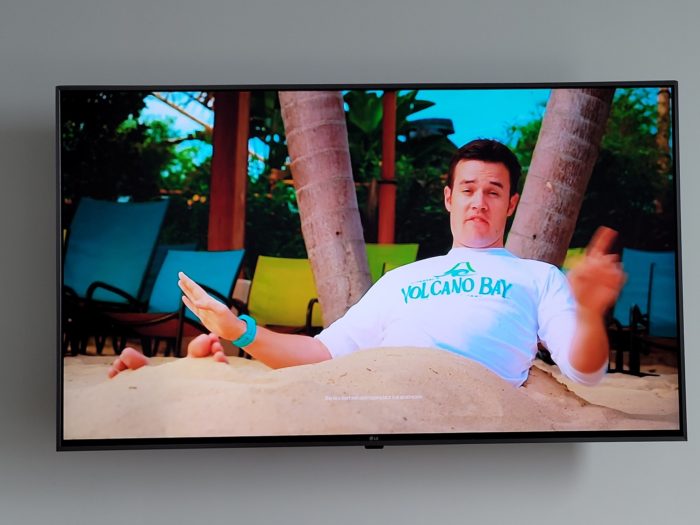 I always put on resort TV at Disney and Universal as sort of "white noise" and be able to see things I know I love.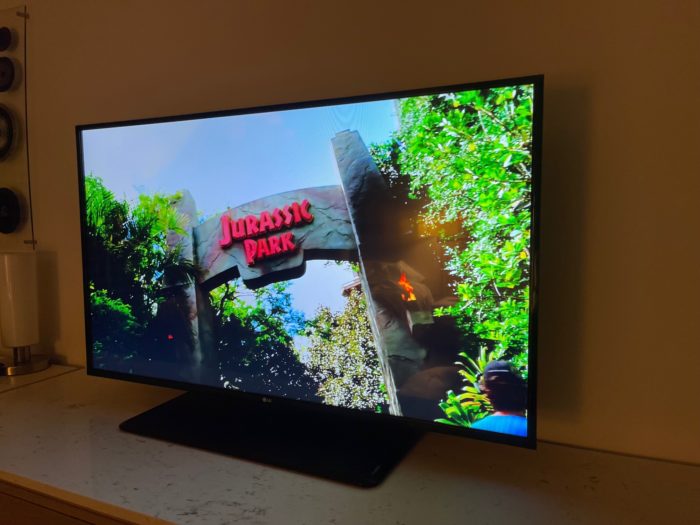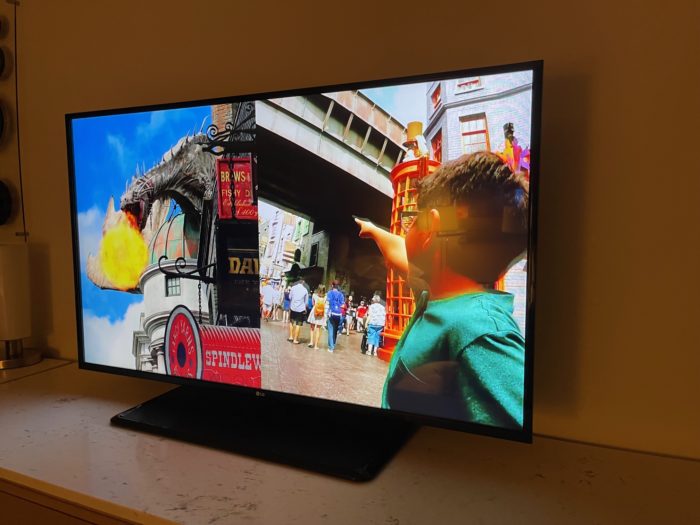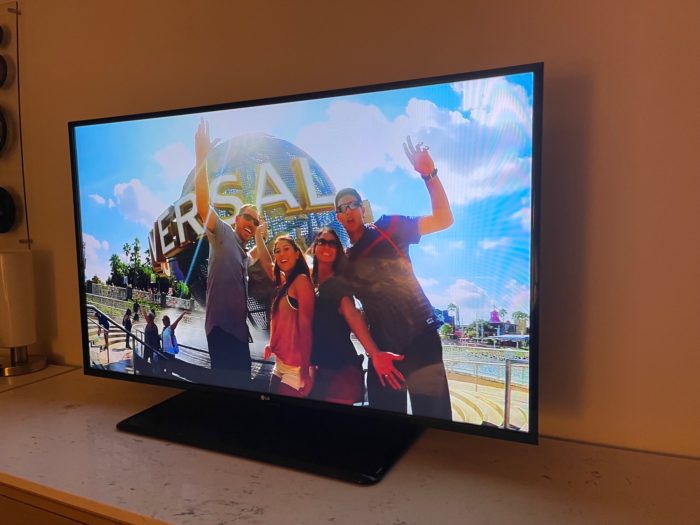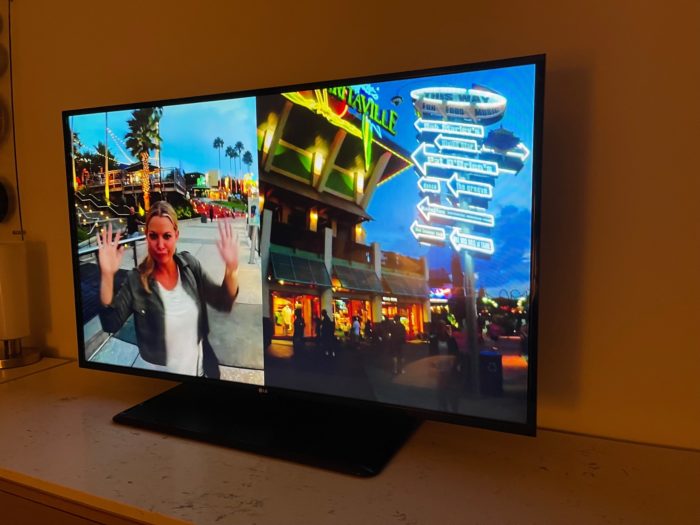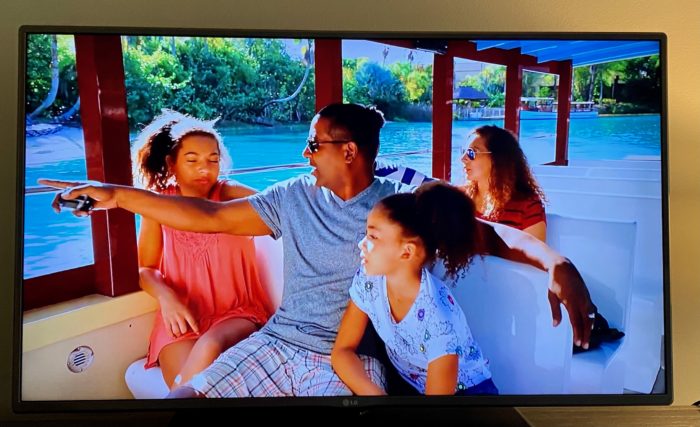 # 1 – Welcome to Walt Disney World
Driving into Walt Disney World has a special moment when passing the archway. It's so popular and memorable that you'll see a whole bunch of "DO NOT STOP HERE" signs to deter people from pulling over and taking pictures (of course to a Tik Tok generation, those signs don't mean as much as they used to). Driving through this archway should bring a smile to even the most hardened theme park fan. It's something special…something memorable… and something that tells you that you're theme park vacation is HERE.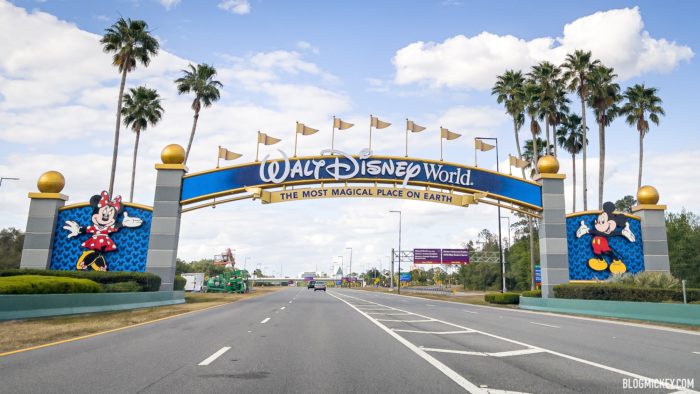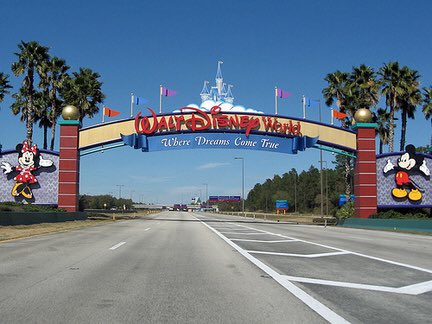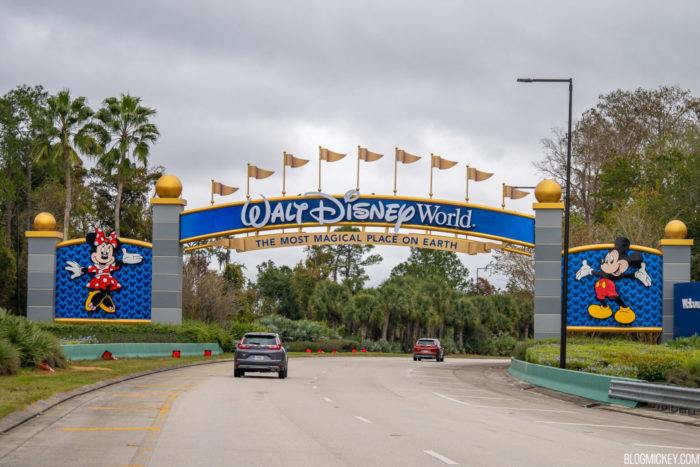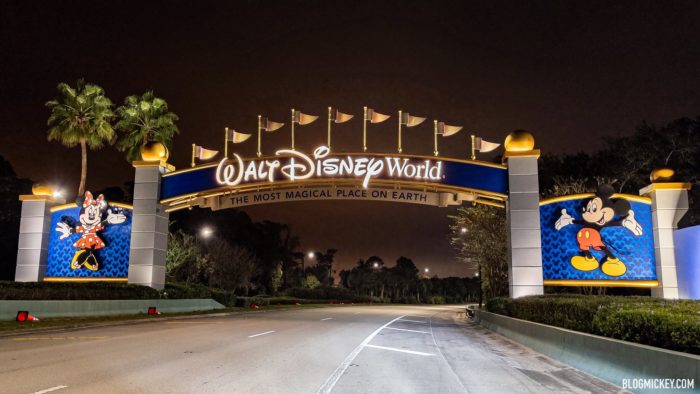 HONORABLE MENTION – Seeing the Park Icons
We mentioned seeing the Krakatau weenie while driving, but the ultimate weenies in Florida are the theme park icons. All of which are special and can evoke powerful feelings.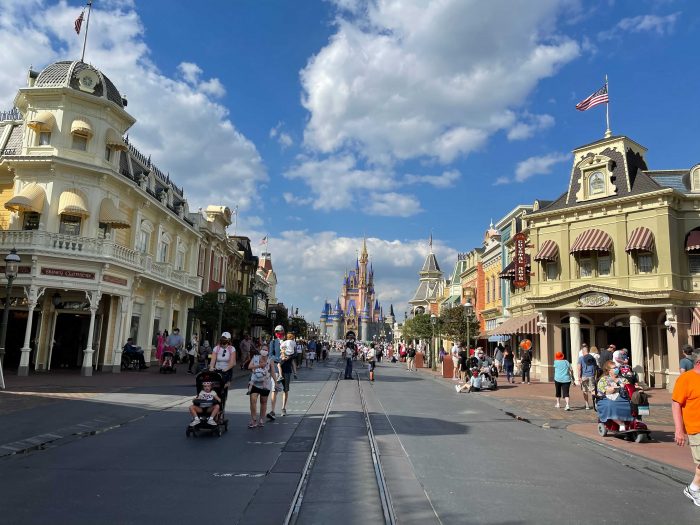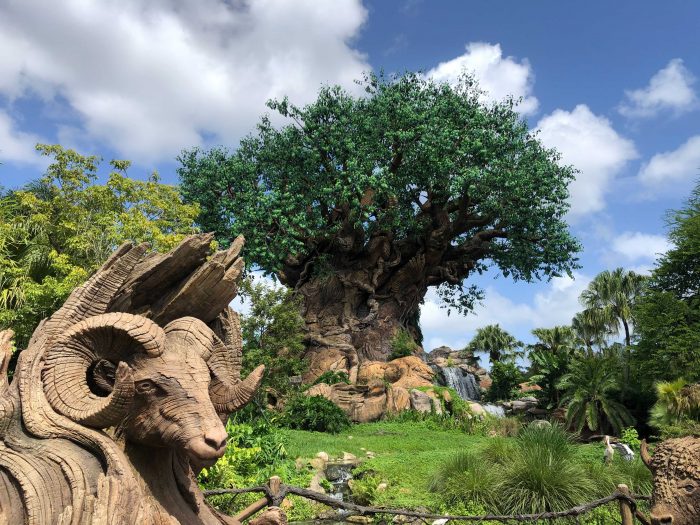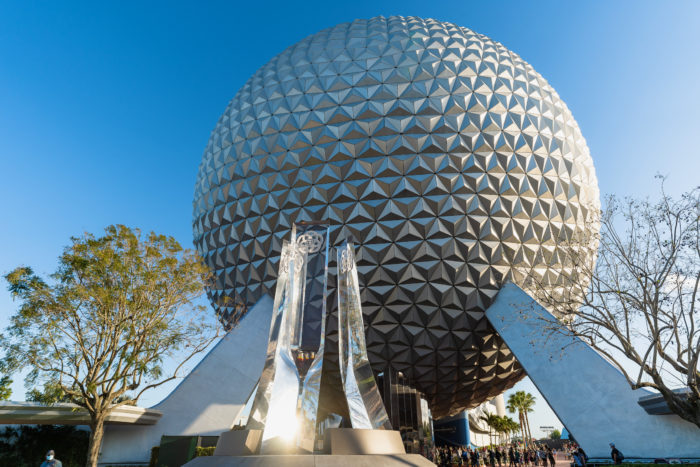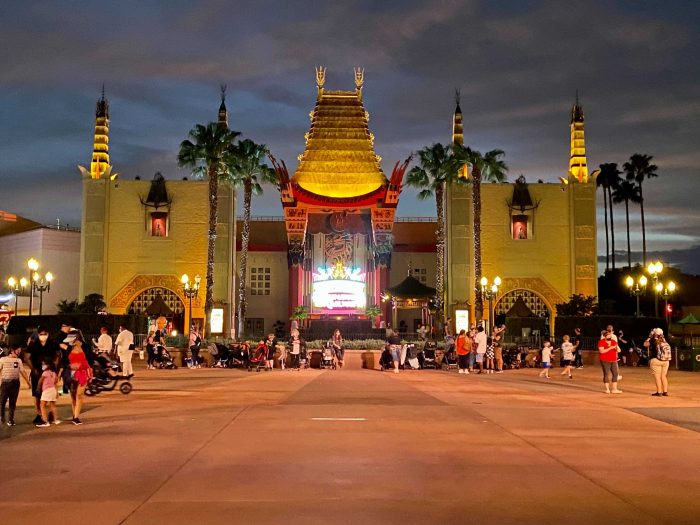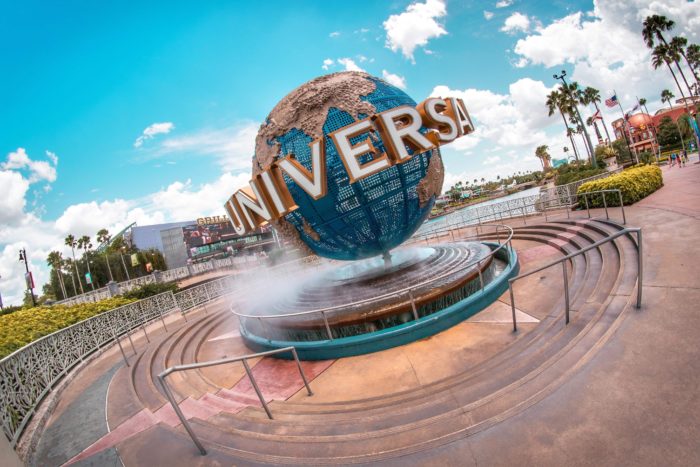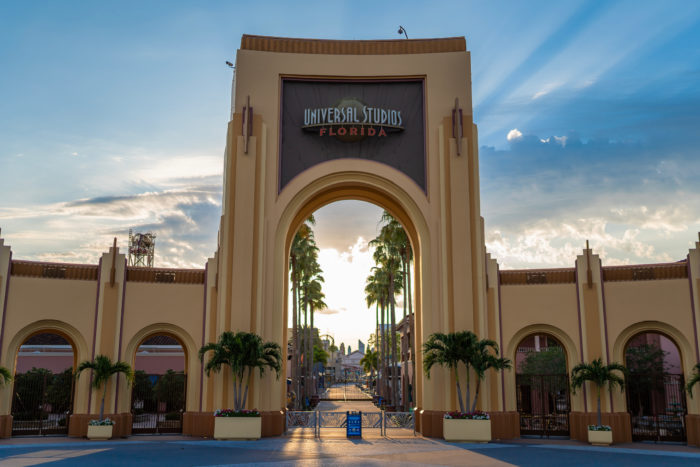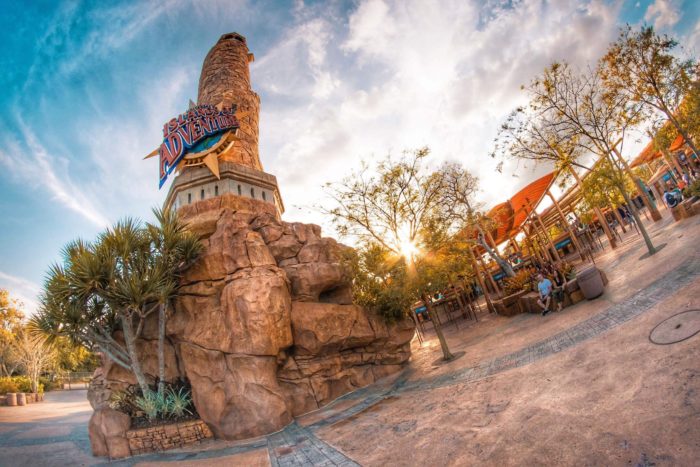 Double Secret Honorable Mention: Seeing the Disney Cruise Line Ships on the Horizon
For many people coming to Orlando, they aren't flying to see the theme parks, but they are visiting Disney. They are here for a Disney Cruise Line sailing and it is pretty much a straight shot from MCO to Port Canaveral using SR 528. This drive isn't that long, and it's for the most part it's pretty boring…until you get to That Moment. The moment when the giant cruise ships start to appear and get bigger and bigger the closer you get to them. Seeing these ships can hit your heart just like seeing Cinderella Castle once you walk out from under the train station at Disney's Magic Kingdom. It's powerful and at this point you know you're moments away from having an incredible time.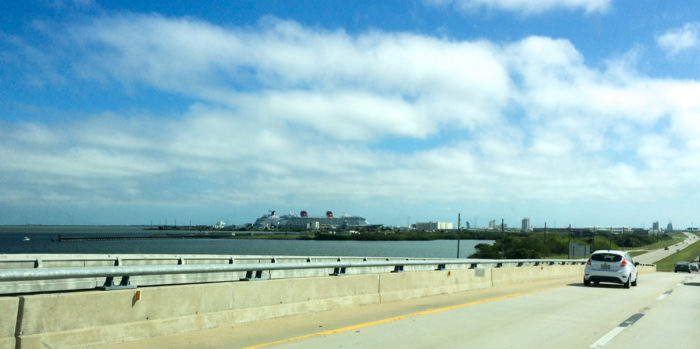 So there you have it: The Quintessential Moments of a Disney/Universal vacation! See you next weekend for the latest installment of the SATURDAY SIX, where we'll look at something fun from the world of Disney and Universal. You can also follow Your Humble Author on Twitter (@derekburgan).
If you enjoyed this article, you will surely like the following: 
The SATURDAY SIX Takes THREE Flights in a Single Day with @bioreconstruct
DAVID & DEREK: The Do's and Don'ts of COVID-19 Safety Protocols at the Theme Parks
6 Pieces of Disney Merchandise That Don't Exist (but Totally Should)
SATURDAY SIX Presents: The Disney Signage Hall of Shame
Special Thanks to The Elite Brandon Glover, the bio-est of all reconstructs @bioreconstruct, Captain Cruiseline Scott Sanders of the world famous Disney Cruise Line Blog, my personal protege Hunter "Elvey" Underwood, artist @SonderQuest, the SAT SIX Fun Squad of Parkscope Joe and "the Dadalorian" Nick, hot shot Michael Carelli, charter member of the Universal Four @Nitro230, and Hermione Granger's tutor Megan Stump for their invaluable assistance with this article. Absolutely no help was added by SeaWorld Influencer @SuperWeenieHtJr. The SAT SIX is inspired each week by goofballs Aengus Mackenzie and LitemAndHyde and you Potterheads will  enjoy Meg's other blog work over at the Central Florida Slug Club.