SATURDAY SIX: 6 Reasons We Love Universal's ROYAL PACIFIC RESORT
While Disney runs its on-site resorts, Universal partners with a luxury hospitality company in Loews Hotels. Because of this partnership, the level of service at all of Universal's hotels is extremely high. Now, I understand the arguments of staying off-site, but for my family, staying on-site is one of our favorite parts of a theme park vacation, especially at Universal. Today we're going to look at one of my personal favorite on-site hotels in Orlando, and let's kick off the countdown with….
# 6 – Location, Location, Location!
Disney has several resort areas where location is king. Who doesn't want to stay at one of the monorail resorts and enjoy a quick ride over to the Magic Kingdom? A stay at Disney's BoardWalk is a hop, skip, and a jump away from both Epcot and Disney's Hollywood Studios. Because of the compactness of Universal, a room at the Royal Pacific is within walking distance to everything at the Universal Orlando Resort. You're less than 10 minutes door to door from your room to Toothsome or Voodoo Doughnut. Unlike the Contemporary, where your walk to the Magic Kingdom includes a stoplight and waiting for traffic,  your walk from the Royal Pacific is along a gorgeous garden walkway filled with lush landscaping. One of my favorite things in Orlando is walking from Royal Pacific to the parks, because as you venture further towards CityWalk, the Ocean Trader Market background music from Islands of Adventure's Port of Entry begins to get louder and louder. It truly is magical.
You don't have to walk if you don't want to, as Universal provides complimentary water taxis to CityWalk and there is almost always a pedi-cab more than willing to take you as well (they work solely on tips). Considering every guest who stays at Royal Pacific gets Unlimited Universal Express and early morning entry to the Wizarding World, being so close to the parks allows you to maximize your park time without having to get up at the crack of dawn. It's also worth noting that the water taxis service only their home resort, so you don't have to wait long for one or have to sit as they make multiple stops like Disney's resort watercraft.
Guests have a themed walkway to the parks, but can also walk to the neighboring Sapphire Falls. This is helpful because unlike some theme parks in Orlando, guests at any on-site hotel at Universal can "pool hop" to any other hotel on property and enjoy their amenities. Royal Pacific guests can also walk (or take a free shuttle) to Volcano Bay.
# 5 –  Exotic Theming
Our family has vacationed in many areas of the world, but my absolute favorite place that we have visited was Hawaii. I love the tranquility and relaxing nature that you find there, and that feeling exists in Royal Pacific's exotic theme. The entire resort is filled with ambiance in the form of landscaping, torches, and water elements. Fresh orchids are found throughout the resort, and the outdoor courtyard near the lobby is amazing with elephants playing in the water (along with a great sign asking guests not to disturb the elephants). The whole resort has an exotic Pacific-region theme that just draws you in, and is the perfect area for either a break during the afternoon after battling the Florida sun, or a great way to unwind after a hard day of hitting the parks.
# 4 – Jake's American Bar
Located on the ground floor of Royal Pacific is Jake's American Bar, a deceptively large table service that has a lot seating both inside, outside, and at the bar. The original bar themed to a sea pilot (cough – we're looking in your direction Jock Lindsey), Jake's American Bar is inspired by the adventures of  Captain Jake McNally, the South Seas pilot who – in storyline – disappeared in Southeast Asia. While we've always enjoyed the sit-down service at Jake's, our best bet is walking up to the bar and ordering off the menu. For those not staying at the resort, it should be noted that parking will be validated by any on-site restaurant as long as you spend $25.  Be sure to try the Fly Boy Beef & Cheese Fries along with a beer flight.
Throughout the year Jake's American Bar hosts a Beer Dinner that is well worth going out of your way to check out. A five-course meal paired with select ales and lagers–What's not to like about that?
# 3 – Despicable Me Character Breakfast
Previously, Royal Pacific's character breakfast was held at Jake's American Bar and featured characters from Despicable Me and Hop. Being huge fans of character meals in general, our family had a great experience. The breakfast is now at the Tahitian dining room (former home of Emeril's Tchoup Chop) and is completely based around the Despicable Me characters, having added a second Minion and Gru's three daughters. Upon check-in, guests get their first photo op with Gru and Stuart (the one-eyed Minion). After being escorted to your table, guests are then released to visit the buffet to eat all that you desire. There are two buffet lines featuring a sweet and savory assortment of fruits, eggs, breakfast potatoes, meats, pancakes, sweet rolls, bagels, and cereals. Servers will bring orange juice, water, and coffee to the table at your request. Gluten free options are available.
If you've dined at any Disney character meal, you will be accustomed to characters visiting each table around the dining room for photos. That is the same system in place here, with three sets of characters roaming throughout the meal. Gru & Stuart the Minion, Gru's daughters (Margo, Edith, & Agnes), and Kevin the Minion. The characters were very playful, engaging in dancing games or playing tricks on each other. Another layer to the overall Minion theming is the soundtrack of popular music as performed by Minions playing throughout the meal. Universal has nowhere near the amount of character meals that Disney offers, but the ones they do have are a lot of fun and this is no exception.
The Despicable Me Character Breakfast has three seatings every Saturday: 8:00 a.m. 9:30 a.m., and 11:00 a.m. The cost is $34.99 for adults, $20.99 for kids 3-9, and free for children under 3. To make a reservation go to www.LoewsCharacterBreakfast.tix.com.
# 2 – Islands Dining Room and the WOK EXPERIENCE
Islands Dining Room is the main table service restaurant for Royal Pacific. Despite being located directly next to the main pool area, inside you would have no idea as it is very quiet. In the mornings, Islands offers a large breakfast buffet along with an extensive a la carte menu that includes their signature Hawaiian pancakes and Tahitian French toast a l'orange. The dinner menu brings a Pan-Asian themed menu that does not disappoint with options such as General Tso's chicken, Korean bulgogi ribeye, and tofu broccoli lo-mein. There is a children's menu available, and in our experience the servers have no problem allowing guests to order off the Jake's American Bar menu so that they can get a burger instead of something like shrimp pad thai. Our family also enjoyed the fact that there is a large room available which has a TV as well as toys for kids to play with. This allowed for the adults to relax and enjoy the meal while the kids could have fun.
To book reservations at Islands Dining Room, use OpenTable.
Be sure to finish your meal with Island's signature dessert: the jumbo pineapple donut.
While the regular menu at Islands is top notch, the highlight of Islands Dining room is the legendary Wok Experience, which includes an all-you-care-to-eat soup and salad bar, along with an unlimited amount of trips to the wok station. Guests combine their choice of vegetables, proteins, and sauce (mixed with noodles or rice) to make a unique dish – cooked right in front of them – that just so happens to taste out of this world. I love 'Ohana as much as the next person, but – for me – the Wok Experience is overall much better and you never feel like the restaurant is trying to get you out of there as quickly as possible in order to turn the table. The cost is just $25 per person, making it a tremendous value as well. The Wok Experience is available on Friday and Saturday nights from 6-9p.m. and gets our highest possible recommendation.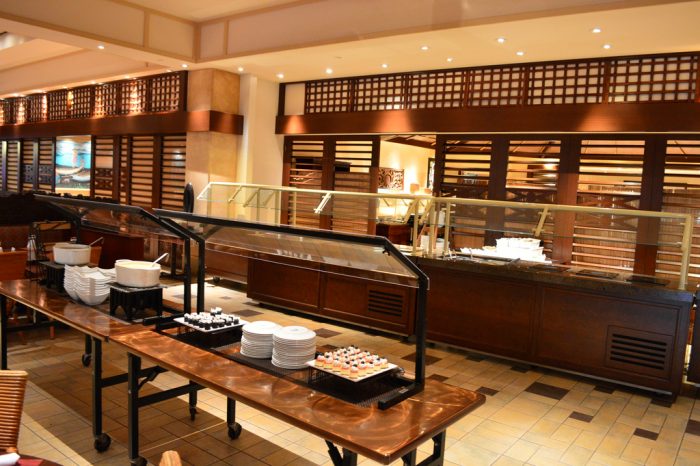 Guests can start their meal with a trip to the salad bar. Like 'Ohana's bread service, I personally consider this to be fool's gold as you don't want to get full on this great salad bar right before an amazing meal. Our dining party included a vegan who thought everything was fresh and tasted great. Meanwhile the rest of us when straight to the Wok station…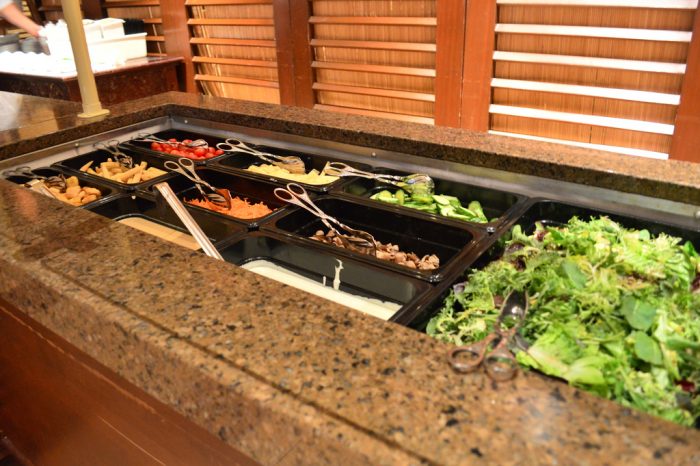 Here is a step-by-step process of a Wok dish being prepared.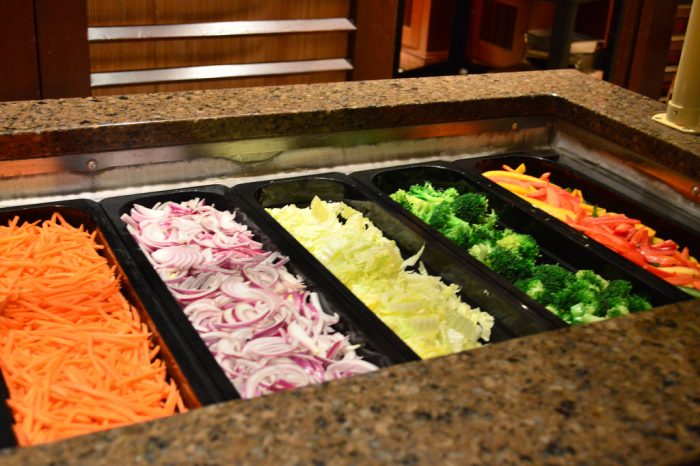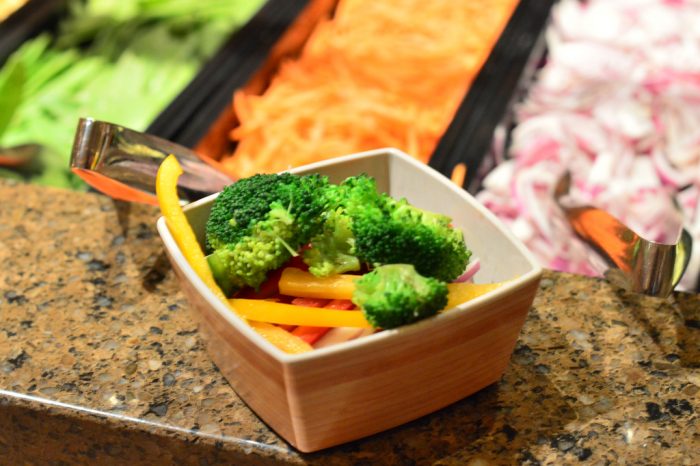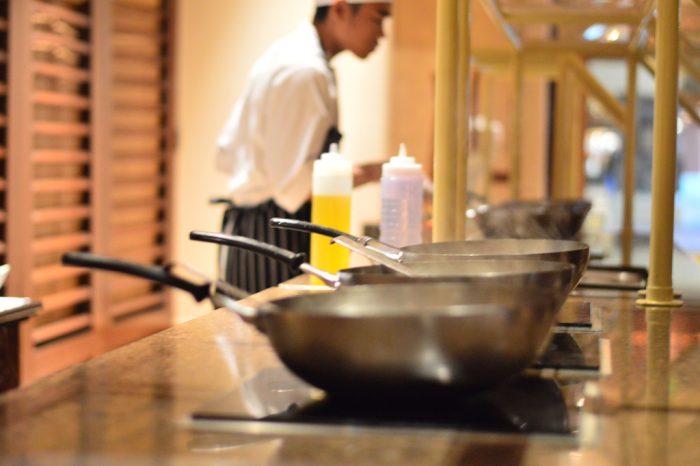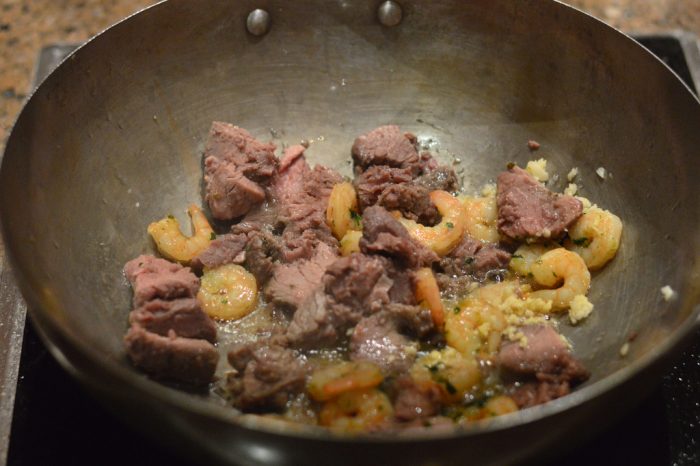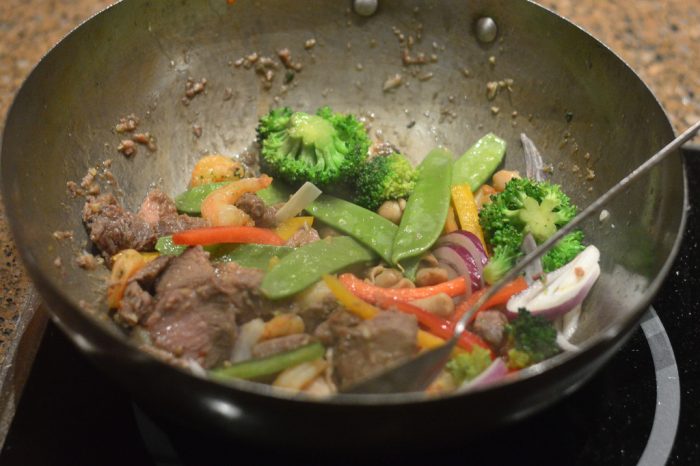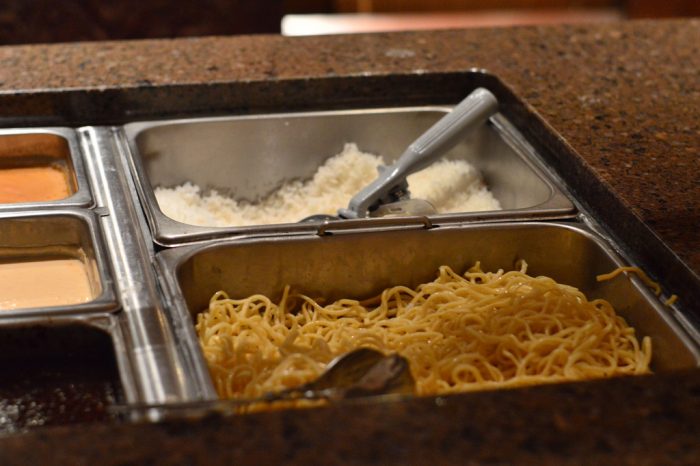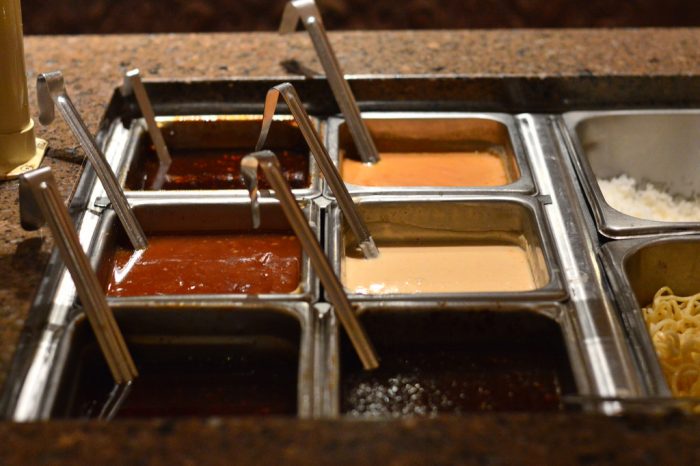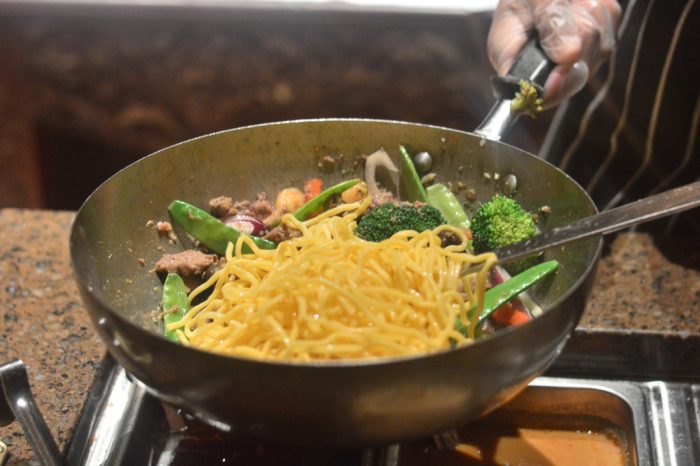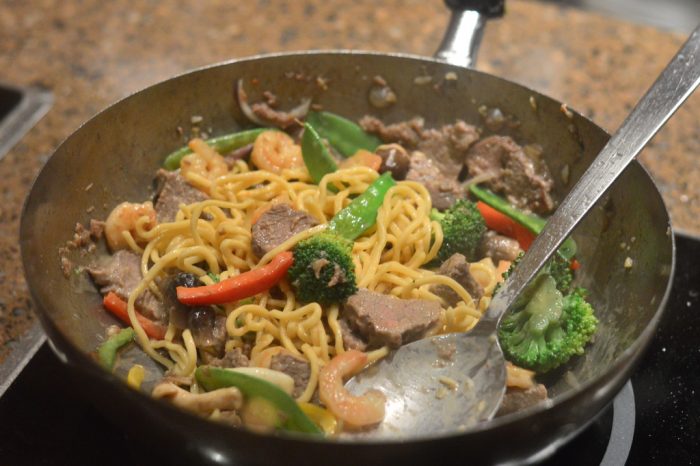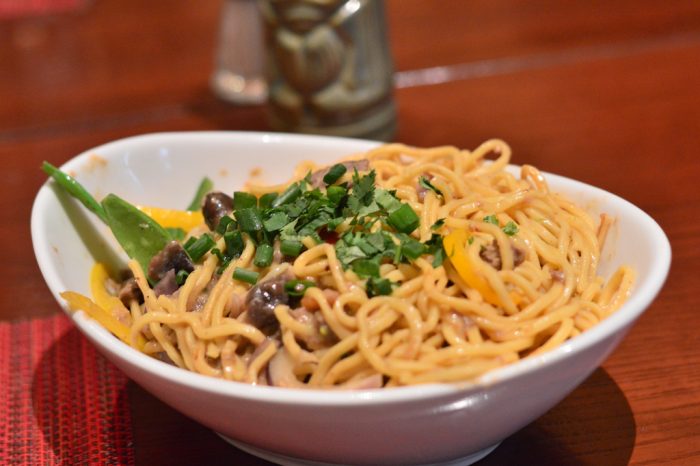 For those who travel with vegetarians or vegans, the Wok Experience is great for them as well.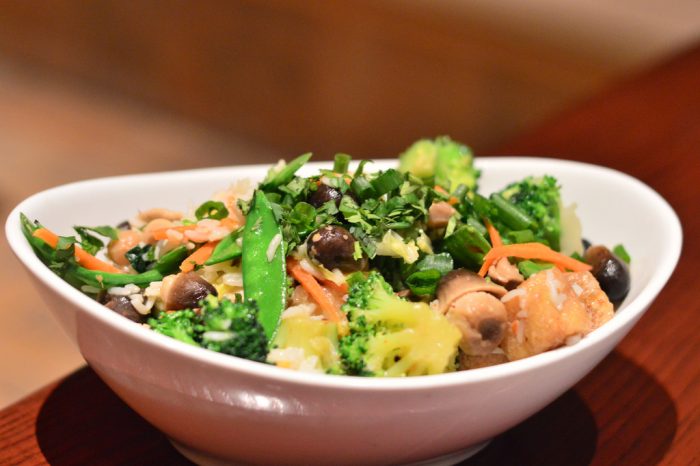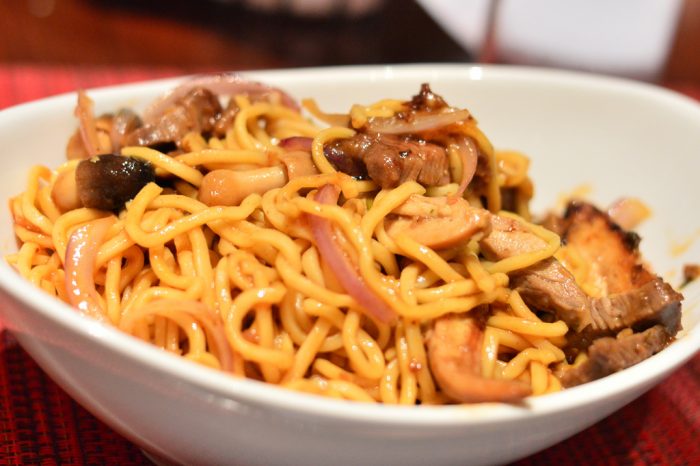 Across from the Wok station are tables set up with soups and desserts.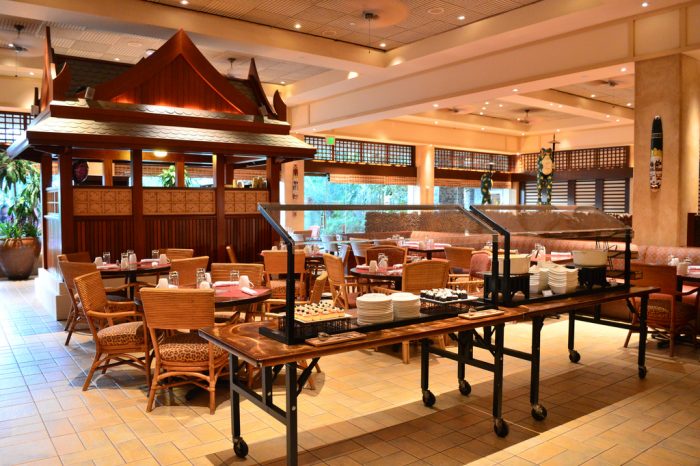 These strawberry cheesecake squares were wonderful. I found myself snacking on them while waiting for my Wok dish to cook. I was like Buddy the elf popping cotton balls into his mouth. Would have like to take a plate of these home.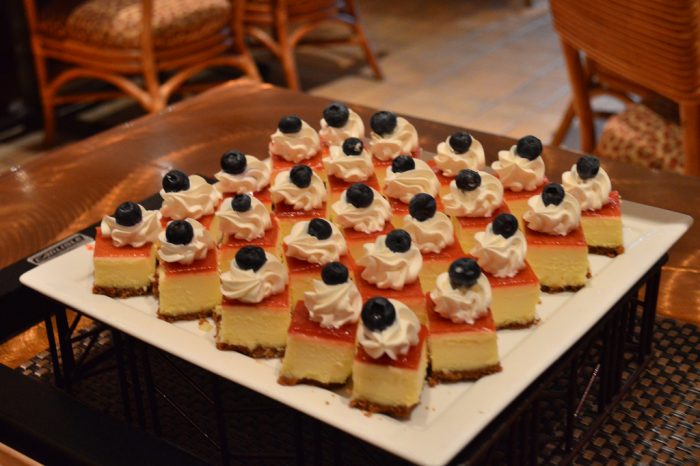 The chocolate cake dessert was also very good.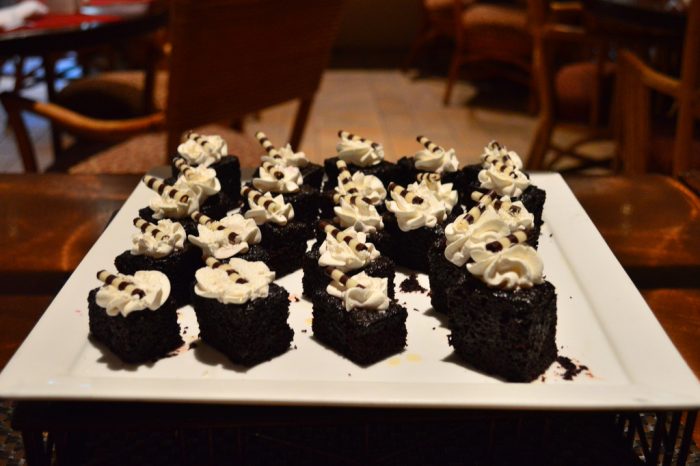 # 1 – The Pool
The lagoon-style pool at the Royal Pacific Resort is massive. While it is the only Premier resort pool at Universal without a slide, it does feature the gigantic Royal Bali Sea interactive water play area connected to the pool. This play area is themed to a ship, features water cannons, and seemingly dumps about a million gallons of water on the people playing around it. When I was a kid all the pools were the same shape: a rectangle. If pools and play areas existed like this, I'm not even sure my parents would have been able to drag me away to go to the theme parks.
For adults, there is plenty of seating, a white sand beach, zero entry, cabanas, two hot tubs, an ice cream place, and the Bula Bar & Grille. The pool area offers towels, magazines and newspapers to read while laying out in the sun, and games such as ping pong. While there is plenty of covered seating at the Bula Bar, servers will come out to the pool area to deliver drinks and food. Our recommendation: Shipwrecked Loaded Nachos (but you can't go wrong with the Char Siu pork lettuce wraps either).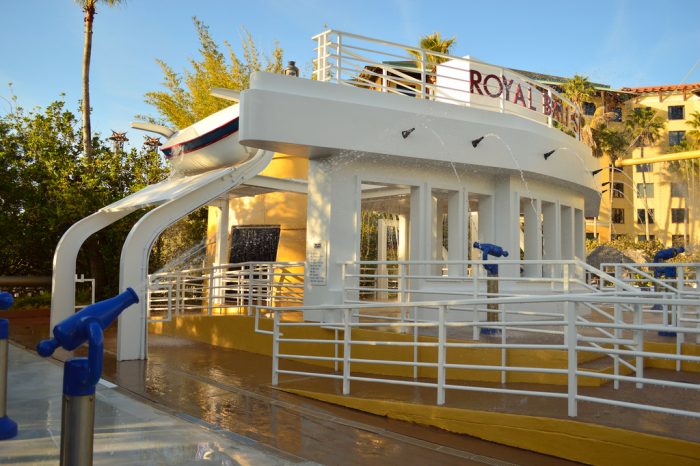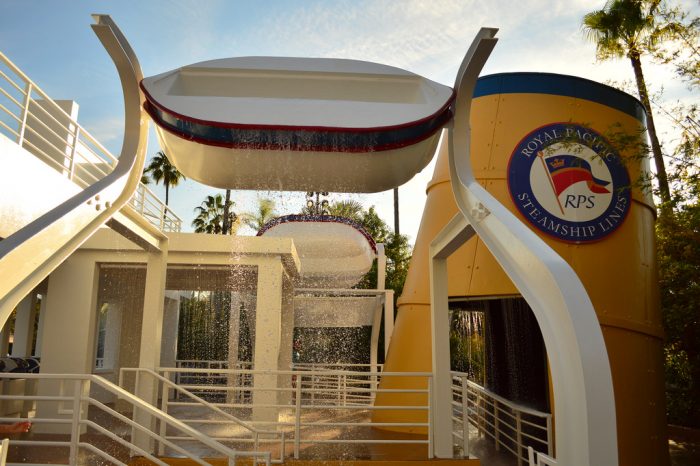 Right outside the Royal Pacific pool are some lovely beaches.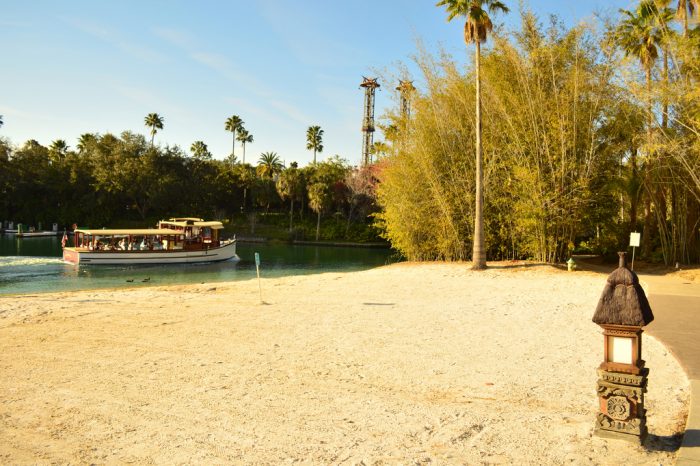 Honorable Mention – Royal Pacific is Pet Friendly
While Disney has only recently started to make some of its resorts pet friendly, many of Universal's hotels – including Royal Pacific – have been welcoming pets for years. In fact, the Royal Pacific not only has an elaborately themed area dedicated just to pets, at check-in they are given their own gift bag filled with stuff and there's even a gourmet room service menu for cats and dogs. (Sorry, I don't care how long my Yorkshire Terrier gave me the cold shoulder, I had to draw the line somewhere!) There is one-time resort fee of $100 per stay for guests with pets (limit 2 pets per room).
Double Secret Honorable Mention – The Gymnasium
For the most part gyms at Disney resorts are relatively nondescript. Universal meanwhile has a gym at Cabana Bay that is probably bigger than the Planet Fitness in many towns and The Gymnasium at the Royal Pacific includes a spa pool straight out of a Hollywood movie. It also includes tons of cardio equipment, free weights, and Nautilus equipment  – all complimentary – but while you're working on those FitBit numbers we'll be over at Jake's sipping on a cold one.
Triple Threat Honorable Mention – Royal Club
The Royal Pacific Resort offers a Club Level experience as well, as guests can enjoy the amenities at the Royal Club. Inside is a large amount of seating, several TVs, computers, and board games. There is a continental breakfast in the morning, afternoon snacks, evening meal (themed to a different experience each night) and later a dessert offering. Throughout the day soda, coffee, and other drinks are available. Everything is complimentary, including the alcohol options.
So there you have it: Six Reasons We Love Universal's ROYAL PACIFIC RESORT! See you next weekend for the latest installment of the SATURDAY SIX, where we'll look at something fun from the world of Disney and Universal. If you enjoyed yourself, be sure to check out The Magic, The Memories, and Merch! articles, or, for your listening pleasure, check out the E-Ticket Report podcast. You can also follow Your Humble Author on Twitter (@derekburgan).
If you enjoyed this article, you will surely like the following: 
SATURDAY SIX SPECIAL INVESTIGATION: An in-depth look at theme park photography
6 Pieces of Disney Merchandise That Don't Exists (But Totally Should)
Are Disney's Hotels Going To The Dogs? A Review.
Walt Disney World Locations Used in Hulk Hogan's THUNDER IN PARADISE
SATURDAY SIX Investigative Report: Disney PET PEEVES
The 5th Annual Theme Park TURKEYS of the Year
6 Reasons We'll NEVER FORGET 2018 (No Matter How Hard We Try!)
Special Thanks to The Elite Brandon Glover, the Corporal of Confetti @FelipeWWoHP, the SAT SIX Fun Squad of Parkscope Joe and Nick,  and Hermione Granger's tutor Megan Stump for their invaluable assistance with this article. The SAT SIX is inspired each week by goofballs Aengus Mackenzie and LitemAndHyde and you Potterheads will  enjoy Meg's other blog work over at the Central Florida Slug Club.
FINAL PLUG! Did you know The 2019 Unofficial Guide to Universal Orlando has a special edition of the SATURDAY SIX in it?That's right, ANOTHER NEW ONE EXCLUSIVE TO THIS EDITION!Finally, someone came up with an actual reason to read a book. ORDER this baby now!