SATURDAY SIX: Six Reasons We LOVE the Walt Disney World SWAN and DOLPHIN
This week's SATURDAY SIX takes a look at Six Reasons We LOVE the Walt Disney World SWAN and DOLPHIN. Disney has three classifications for their resorts: Value (including Pop Century and Art of Animation), Moderate (Caribbean Beach and Coronado Springs), and Deluxe (The Poly and The Contemporary). Three of the Deluxe resorts are not run by Disney, these include Shades of Green (owned and operated by the US Armed Forces) and the Swan and Dolphin. For over 25 years the Swan and Dolphin has been a part of the Starwood chain of resorts. While Starwood was bought by Marriott in September of this year, the hotels continue to be run under their respective brands (Swan being part of Westin, while the Dolphin part of Sheraton.)
Both the Swan and Dolphin are considered Disney Deluxe Resorts. While neither hotel offers the Disney Magical Express to and from the airport, or participates in the Disney Dining Plan, guests do get the normal WDW on-site ammenities including Extra Magic Hours, Disney transportation, and early access to Fast Pass+. How do the Swan and Dolphin stack up compared to the other on-site resorts?  Well, today we are going to check out our favorite parts of these two incredible hotels, and let's begin our list with…
# 6 –  Todd English's bluezoo
One of the most underrated restaurants on Disney property is Todd English's bluezoo located on the ground floor of the Dolphin. The bar area is visually stunning, and sets up the unique food and drink menu perfectly. Recently we did a tongue in cheek look at a Disney Value Resort Bar Crawl, but one thing that stood out at those bars – along with many others on Disney property – is a reliance on the standard Disney bar menu. Todd English's bluezoo is the complete opposite of that. Whether you get a Burnt Orange that arrives on fire or a Swedish Fish with its infused foam, the drinks served at bluezoo are served with creativity and flair.
The dining room of bluezoo is deceptively large. While the menu is filled with some great items (especially if you're a seafood fan,) what shocked us was the crispy Asian pork ribs. I didn't think anyone would come close to touching the quality of Morimoto Asia's Hoisin sticky spare ribs, but bluezoo's are somehow better. While many probably wouldn't think of bluezoo as the first choice to bring your kids, there is actually a part of the menu for kid's appetizers, entrees, and desserts. The whimsicly named "desserted island" is among the most fun at WDW.
–
# 5 – The Rooms
Having stayed onsite at almost all the hotels at both Disney and Universal, the plush Heavenly Beds used by the Swan are just about the best I have ever slept on. Another surprise was the in-room coffee maker using Starbucks coffee. At the Swan, our room had an actual mini-fridge, compared to "beverage chillers" used by the Dolphin and most other Disney hotels. Some of the rooms at both resorts have a balcony, and we were lucky enough to have one of those during our most recent stay. The highlight of the room – for me – was the incredible shower area. This was literally the greatest shower experience I have had in my entire life. The shower includes both a rainfall shower head along with an awesome hand shower "wand-like" attachment. The overall size of the bathroom was bigger than the Disney Moderates I have been to, and there was a second area right outside the bathroom that also had a sink so two of us could get ready at once.
–
# 4 – Location, Location, Location
One of the biggest selling points of the Swan and Dolphin is their location and the fact that you are going to find rooms at a much better price than their Disney owned counterparts nearby. There is a walkway which connects the Swan and Dolphin to both Disney's BoardWalk area as well as the Yacht and Beach Club resorts. There is another walkway in the opposite direction which leads you to Disney's Hollywood Studios. You can also take water taxis to both parks, or use the free Disney bus transportation to go to any of Disney's four parks. You are also right across the street from Fantasia Gardens, which contains by far and away the most challenging mini-golf course we have ever played.
Being so close to EPCOT makes both the Swan and Dolphin great choices to consider during the Flower & Garden and Food & Wine festivals. We also enjoyed that we were a nice gingerly walk away from enjoying a cone at Ample Hills, a drink at AbracadaBar, or once again tackling the Kitchen Sink at Beachs and Cream. It is like having the best of both worlds: having amazing access to a ton of great things to do Walt Disney World, and yet still being able to save money.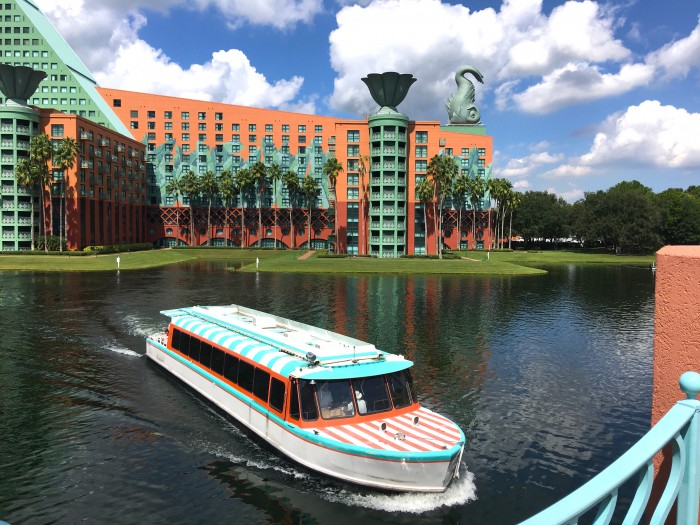 –
# 3 – The Food & Wine Classic
We mentioned EPCOT's Food & Wine Festival above, but what you may not know is that the Swan and Dolphin have their own festival once a year with the Food & Wine Classic. Taking place over one weekend, the Food & Wine Classic allows guests to sample about 40 different food options, many of which come directly from Swan and Dolphin restaurants such as Shula's Steak House, Il Mulino, and Todd English's bluezoo. There is a section dedicated to "beef and more" items, which include a piece of steak presented by Shula's, a pulled pork sandwich presented by The Fountain, and Buffalo chicken wings presented by the Cabana Bar. There are also sections for pasta, fish and seafood, sushi, and pastries and desserts. My personal favorite area was Carnival Corner, which not only offered corn dogs and a unique version of kettle corn, but also had versions of midway games that I'm a sucker for. All of these areas are considered part of The Causeway, and there is one other section seperated from the rest called "the Beer Garden."
Fans of adult beverages are going to love the Food & Wine classic as there are a whole bunch of options including sake, craft beers, and wine. Like EPCOT's Food & Wine, there are also several food and beverage seminars. With a wide variety of ticket options, the Food & Wine Classic can find the sweet spot in anyone's budget and you do not have to be staying at either resort to go (although there are room packages available.) As a Floridian, I avoid Friday and Saturday nights during EPCOT's Food & Wine Festival like the plague, but the Swan and Dolphin's Food & Wine Classic is my kind of jam. With the live music and beautiful ambiance, it is just a wonderful experience.
The 2017 Food & Wine Classic will be held Friday, October 27th and Saturday, October 28th.
–
# 2 – The Architecture
When Michael Eisner came into power at Disney back in the mid 1980s, one of the first things on his agenda was to significantly raise the amount of hotel rooms at Walt Disney World. At the time, the Disney company had made a deal with The Tishman Group giving them exclusive rights to operate convention hotels on Disney property. Tishman had just helped build EPCOT, and in the 60s and 70s had helped build Madison Square Garden and the World Trade Center in New York City. Still owning the land the hotels would sit on, Disney had a say in how the buildings would look. (Of course, this is the short version of the story, for a more detailed explaination, including Tishman suing Disney, check out the book Everything By Design: My Life as An Archetect by Alan Lapidus.)
For the look of the hotels, Eisner reached out to world famous architect and designer Michael Graves. Known for his Modernism style, Graves' Swan and Dolphin are like nothing else on Disney property. Allowed almost free reign, Graves created a spectacle with the Swan and Dolphin that certainly has the "wow factor" on the outside (the aforementioned Lapidus helped make the inside of each hotel more functional for an operations point of view.) The Dolphin has a huge 27 story pyramid-like structure at its center and on both sides of the roof are 50 foot tall dolphin fish with their tail fins in the air. This is a dolphin fish via the mind of Dr. Seuss by the way. The Swan hotel has a more "normal" 12 story tall building in its center, and on each side is a seven story tall tower topped with a near 50 foot tall Swan statue.
Also recommended: Jim Hill and Len Testa talk the Past, Present & Future of EPCOT resorts, which includes a great discussion on the history of the Swan and Dolphin, along with the fabricated backstory which is truly next level bananas.
–
# 1 -The Grotto Pool
Both the Swan and Dolphin have their own quiet pools and hot tubs, but the main pool is one they share and it has some really cool features. The Grotto Pool is by the Dolphin and has actual seating in its very large grotto area, along with a slide and two separate areas of the pool to enjoy. A grotto feature is my favorite at any themed pool, and the huge area here even beats out the pool at Universal's Portofino Bay. Getting out of the sun and being able to lie down in the grotto itself was like being inside a cave. The hot tubs that were a part of The Grotto Pool were neat because you got to relax surrounded by gorgeous rock work and water features. The nearby Cabana Bar and Beach Club is probably the most upscale pool bar area I have seen at Disney, and had a pretty extensive food list that included fish tacos, calamari, and crab salad. For me that was a first.
–
HONORABLE MENTION – THE DINING!
We're going to have to do another SATURDAY SIX dedicated strictly to the dining at the Swan and Dolphin because it is right up there with the best at WDW. We mentioned Todd English's bluezoo in the Dolphin, and directly across from that venu is The Fountain. This table service venue was like an old timey diner, serving hamburgers, hotdogs, and fantastic milkshakes. The Fountain also has a grab and go ice cream station where you can get a Make Your Own Root Beer Float! Also downstairs is the awesome Picabu, serving food 24/7, while upstairs at the Dolphin is Shula's Steak House, which offers some of the best cuts of meat you'll find anywhere at WDW. Over at the Swan is Il Mulino, Kimonos, and Garden Grove, three teriffic restaurants, with Il Mulino being possibly the best Italian place on property.
–
DOUBLE SECRET HONORABLE MENTION – THE SWAN BOATS
Outside of The Grotto Pool is a beach area filled with activities, and one thing you can do is rent a swan boat to go onto Crescent Lake. How great is that?!
–
AUTHOR'S CHOICE – Phins & Feathers Beer
For those of us who do enjoy an adult beverage or two, one of the things that is most exciting about the future of theme parks is how many exclusive drinks we are getting at the parks and resorts. For alcohol, my drink of choice is beer and the Swan and Dolphin have their own brew with the Phins & Feathers pale ale. The beer can only be found at the Swan and Dolphin along with the nearby Big River Grille & Brewing Works at the BoardWalk. There is even a "phins of a feather" cocktail at Todd English's bluezoo which incorporates the beer. This is what I would love to see more of at all resorts, both Disney and Universal.
So there you have it: Six Reasons We LOVE the Walt Disney World SWAN and DOLPHIN. See you next weekend for the latest installment of the SATURDAY SIX, where we'll look at something fun from the world of Disney and Universal. If you enjoyed yourself, be sure to check out The Magic, The Memories, and Merch! articles (which we just celebrated our THREE YEAR ANNIVERSARY), or, for your listening pleasure, check out the E-Ticket Report podcast. You can also follow Your Humble Author on Twitter (@derekburgan)
If you enjoyed this article, you will surely like the following:
Disney World Swan and Dolphin: A Foodie Paradise
Six Reasons We Love Disney's Port Orleans French Quarter
Six Reasons We Love Disney's Port Orleans Riverside
Six Reasons We Love Disney Old Key West Resort
The Six Best Bars and Lounges at WDW Resorts
Special Thanks to crack staff photographer Brandon Glover, the man who regularly breaks the space-time continuum – @bioreconstruct, the always lovely Dani of This Florida Life and TouringPlans' Best Week Ever, and blogger to the stars Megan Stump for their invaluable assistance with this article. Be sure to also check out Brandon on The Park Blogger podcast with co-host Aengus Mackenzie along with resident Potter-head Meg at the Central Florida Slug Club.
FINAL PLUG! Did you know The 2017 Unofficial Guide to Universal Orlando has a special edition of the SATURDAY SIX in it? That's right, A BRAND NEW ONE. Finally, someone came up with an actual reason to read a book. PRE-ORDER this baby now! (For every copy sold, a percentage of the profits* go towards buying a DVD of the Seven Dwarfs Mine Train rap video.)
*0 percent