SATURDAY SIX: Walt Disney World locations in Hulk Hogan's THUNDER IN PARADISE
This week's SATURDAY SIX looks at Walt Disney World locations used in Hulk Hogan's Thunder in Paradise. We're getting into the DeLorean today with Marty McFly and Doc Brown to head back to the year 1994. It was a simpler time back then. A time when Walt Disney World only had three theme parks: Magic Kingdom, EPCOT, and Disney-MGM Studios (now known as Disney's Hollywall'd Studios and soon to be renamed as Disney Studios Escape, Disney's CineMagic Kingdom, or A Salute to All Movies But Mostly Star Wars).
1994 was also a time where there was not one but TWO successful professional wrestling companies in America. One was WWE (who is still thriving today) and the other was World Championship Wrestling (WCW). In a controversial move at the time, WCW started taping blocks of wrestling shows at Disney-MGM Studios. Because the park was still trying to be a working production facility for movies and TV, an action-adventure television show featuring Hulk Hogan was also filmed on location. That show: Thunder in Paradise.
How to describe Thunder in Paradise? Take Baywatch, strip away all the nuanced storylines and good actors, throw in a high tech speedboat in the vein of Knight Rider/Air Wolf and you pretty much have it. However, Thunder in Paradise does have one thing going for it that will appeal to readers of this fine article series: it shot almost all of its scenes at The World. Who among us doesn't fondly remember Full House going to WDW? More recently Modern Family shot an entire episode at Disneyland, and it was great! It is awesome seeing the theme parks we know and love in a whole new context. So today we are going to look at some of our favorite WDW locations used in Thunder in Paradise. So sit back, tie that do-rag tight brother, and let's begin our countdown starting with…
# 6 – DISNEY'S GRAND FLORIDIAN RESORT
The pilot of Thunder in Paradise actually used the Loews Don CeSar Hotel in St. Pete, Florida as the base camp for Hulk Hogan and crew, but when the show was picked up for a series the following twenty episodes used Disney's Grand Florida Resort. Fans of the Grand Flo are going to LOVE Thunder in Paradise as at least 25% of the entire series takes place inside or on the grounds of the resort. It's incredible! You'll see the lobby, the hallways, the rooms, and the Hulkster even has a dinner in Victoria & Alberts! A lot of scenes are filmed directly in front of the Grand Floridian, with the Scuttlebutt Bar N' Grill being a major location for the show. The Scuttlebutt is where the Grand Flo's Beaches pool bar now sits.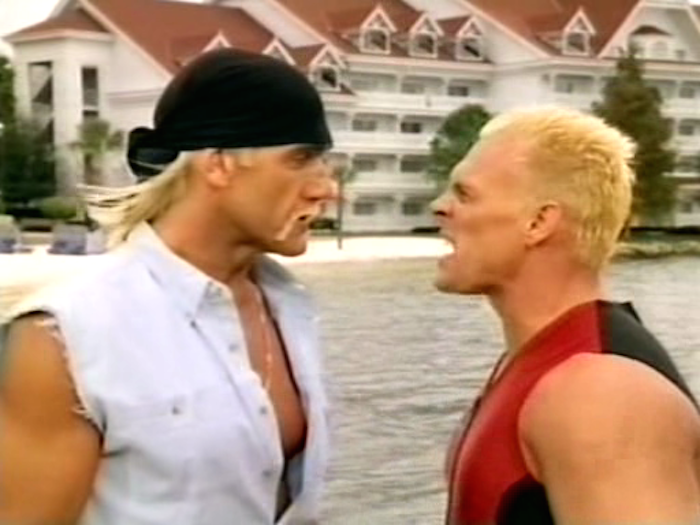 –
# 5 – THE LIVING SEAS
EPCOT fanboys may want to grab a box of Kleenex before reading this one, because we're going to open up some old wounds. Starting in episode 4 of the series ("Sea Quentin") the show started to use several locations from The Living Seas Pavilion in EPCOT. Just as the attraction Horizons has its devoted fans, many people still fondly remember the hydrolators and more from The Living Seas. There is no bigger fan of The Seas with Nemo & Friends than me, Your Humble Author, but there is something magical about seeing old school EPCOT on display in Thunder in Paradise.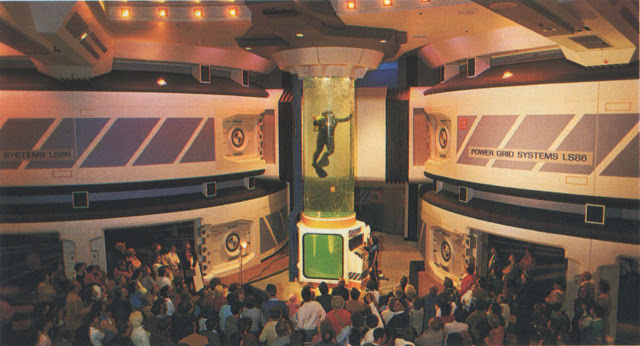 –
# 4 – MOROCCO PAVILION
Episode 7 ("Sealed with a Kismet") showed how much the Thunder in Paradise producers could do with the locations available at WDW. While we theme park fans are used to the pavilions in EPCOT's World Showcase to be a sample of each country, Thunder in Paradise used the Morocco Pavilion as a substitute for the whole country. By creatively using different angles, they made the area look much larger than it really is. When you have a limited budget but some visually interesting locations, you really can pull out some "Hollywood magic"; along with revealing shots when the Thunder pulled out onto World Showcase Lagoon and you could see Mexican Pavilion in the background. Thinking about it, I should have gone to La Cava del Tequila for a couple shots before watching this series. "Sealed with a Kismet" became the TV Movie Thunder in Paradise II.
It should be noted that one thing which makes episodes truly amazing to watch (or awful, depending on your point of view) is how many of the shows actors were professional wrestlers. The episode Sealed with a Kismet included Fred "Shockmaster" Ottman as a palace guard, and a main bad guy in El Gigante. The performances are next level bonkers and need to be seen to be believed. Let's keep in mind that it is a two way street and actors usually end up embarrassing themselves when they step into a wrestling ring.
–
# 3 – UNITED KINGDOM PAVILION
Episode 8 ("Changing of the Guard") is possibly my favorite of the entire series because of two reasons. The first reason is because it guest stars John O'Hurly, who most of you probably know as J Peterman on Seinfield. Whether it is having an archive of Ziggy comic strips, or finding out his $25,000 slice of cake was worth $2.19, J Peterman was always a favorite of mine. The second reason is that several scenes of the episode were shot in the UK Pavilion at EPCOT including the exterior of  the Rose & Crown pub. Pound for pound (or should I say, "£ for £") the UK is my favorite pavilion in all of World Showcase. I love the shops. I love the music. I love the beer. I love it all.
–
# 2 – CINDERELLA CASTLE
This one is going to include a deep dive for WDW fans, but in the same episode where the crew head to "the United Kingdom" they go into a European castle. This castle is actually Cinderella Castle from the Magic Kingdom. But that's not all, the characters also go into the ground floor of King Stefan's Banquet, which got converted into the mega popular Cinderella's Royal Table in 1998.
–
# 1 – MAGIC KINGDOM ATTRACTIONS
It takes a while, but in Episode 19 ("Blast Off") we finally get to see some actual theme park attractions in the show. Hogan takes his daughter out for some fun and we get to see them enjoy Dumbo the Flying Elephant, Mad Tea Party, Cinderella's Golden Carousel, and Splash Mountain. This was a particularly weird moment in the series because in several instances Hulk and his daughter acted as if the knew they were being filmed, but there was no there was no other person with them who would be filming. Just a bizarre breaking of the fourth wall. How great would it have been to see them on the Skyway?!
–
Honorable Mention – LIVING WITH THE LAND
Like Baywatch, for the most part Thunder in Paradise was never that serious. The good guys always won and they always quipped jokes. However in Episode 11 ("Nature of the Beast") it went in a totally dark direction when Hulk Hogan's partner – Chris Lemon – started having flashbacks of being abused as a POW by a Japanese soldier. He started having this flashbacks after meeting that same man years later in the Living with the Land greenhouse! It's hard to put in perspective how completely out of whack this episode is from the rest of the series.  I guess it would be like if Quentin Tarantino directed an episode of the Mighty Morphin Power Rangers with the Pink and Green Rangers having a Mexican standoff with real guns.
–
Double Secret Honorable Mention – STREETS OF AMERICA
You have to hand it to them, Thunder in Paradise went out with a bang. The last two episodes of its first (and only) season was titled The M.A.J.O.R. and the Minor and is like a fever dream come to life. It guest stars the kid who played JT on the ABC sitcom Step By Step (a show whose characters also went to Walt Disney World in an episode) and is basically a poor man's version of the Gerard Butler action movie Gamer. It's absolutely crazy, but it was nice to say one final goodbye to the the former home of the Osbourne Lights (my absolute favorite thing in all of WDW).
–
NEXT LEVEL BANANAS MENTION – Team Disney Building
My eyes almost popped out of my skull when the Team Disney Building (located across the street from Disney Springs) made a quick appearance in the very same episode where the Hulkster was riding attractions at the Magic Kingdom. Jaw dropping.
BUT WAIT, theres more!
Hey, that's Disney's Polynesian Village Resort back there! You actually see the Poly in a lot of background shots when they shoot certain angles at the Scuttlebut Bar throughout the series.
–
Typhoon Lagoon.
–
Discovery Island!
–
Japan Pavilion from EPCOT's World Showcase.
–
SUPPLEMENTAL MATERIAL YOU NEED TO CHECK OUT:
Recommended Audio: The WDW Today Podcast did an episode with Eric Bischoff which talked about his decision to move wrestling tapings down to Disney-MGM Studios. You can listen by CLICKING HERE.
The Thunder in Paradise interactive game that was "played" on the old CDI: You an watch a full play through by CLICKING HERE.
So there you have it: Walt Disney World locations used in Hulk Hogan's Thunder in Paradise show. See you next weekend for the latest installment of the SATURDAY SIX, where we'll look at something fun from the world of Disney and Universal. If you enjoyed yourself, be sure to check out The Magic, The Memories, and Merch! articles, or, for your listening pleasure, check out the E-Ticket Report podcast. You can also follow Your Humble Author on Twitter (@derekburgan)
If you enjoyed this article, you will surely like the following:
This is a WRESTLING FAN SPECIAL, see if you can find the hidden wrestling Easter Eggs in the following articles…
If I Ran the Theme Park – Decorating Universal Orlando for the Holidays
A SATURDAY SIX Look at Ways Disney Can Introduce Marvel Characters into the Theme Parks
Inaugural 2015 Theme Park Awards (AKA "The Burgys")
SATURDAY SIX NEWS DESK: Bait You Can Click On
Special Thanks to crack staff photographer Brandon Glover, the true Guru of Thunder in Paradise Chloe De Vil, Director Emergency Rapid Response Team Inc, and blogger to the stars Megan Stump for their invaluable assistance with this article. Be sure to also check out Brandon on The Park Blogger podcast with co-hosts Aengus Mackenzie and Brian Carey.