SATURDAY SIX: Top Six Roller Coasters in Orlando
This week's SATURDAY SIX covers the Top Six Roller Coasters in Orlando. We here at the Saturday Six offices have been looking forward to the grand opening of the Seven Dwarfs Mine Train for a while and one of the side effects of that anticipation has been having roller coasters on our brain. Luckily we are blessed with a lot of fantastic coasters in Orlando. But which ones are the very best? Today we are going to find out…
# 6 – Dragon Challenge (Islands of Adventure)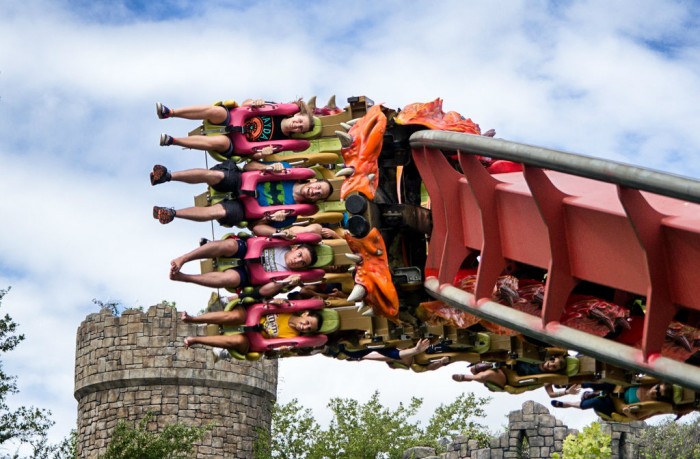 Dragon Challenge in the Wizarding World of Harry Potter squeaked by over Rock 'n' Roller Coaster to take the # 6 spot. In its former incarnation as Dueling Dragons, this coaster had the unique experience of two trains leaving at the exact same time and at several points of the ride come oh-so-close to touching each other. Unfortunately the trains are now staggered, so while they don't offer that exhilarating rush of coming near each other, they offer two exciting – and different – experiences. The Chinese Fireball (red side) has got faster speed and a bigger drop while the Hungarian Horntail (blue side) has a zero-gravity roll, cobra roll, and plenty more inversions to put a smile on your face. Waiting for front row on both is highly recommended.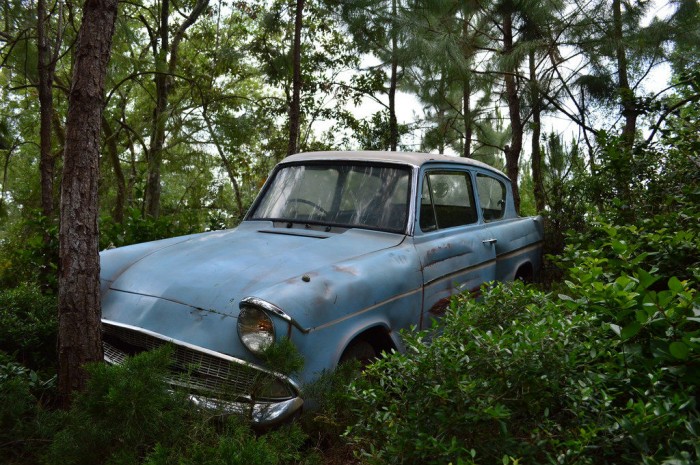 What is interesting about Dragon Challenge is that it is the only ride on this list that may not be around in five years. When the ride was Dueling Dragons it commanded one of the longest waits in Islands of Adventure, but since the make-over to Dragon Challenge, it is often a walk on or has a minimal wait. Why? Because Dueling Dragon's queue is contained within a large medieval castle. Now this castle looks spectacular, but unfortunately it is just a couple steps away from THE best looking castle in Florida, Hogwarts (sorry Cinderella, but it's true.) You do not want another castle nearby taking away from the majestic look of Hogwarts, so the Dragon Challenge castle is pretty much hidden from sight. The coaster and queue have a huge footprint, space that could be used to build another Potter-themed area which would help spread guests out better. We can't think of another E-Ticket attraction in the history of theme parks that went from a headliner to a walk-on overnight, so the days of Dragon Challenge (which doesn't even have a gift shop) may be numbered.
# 5 – Manta (Sea World)
While Disney and Universal are loaded with great coasters, you can't overlook SeaWorld who have brought two incredible rides to Orlando in the form of Krakken and Manta. While Krakken's floorless ride system and big drop score major points with us, the theming and overall experience of Manta push that coaster into the league of where the Big Boys play. The queue of Manta is fantastic, an air-conditioned walk throughout an elaborately designed aquarium with plenty of fish and stingrays to look at. The ride itself has the rider in a unique position where after loading your seat positions itself so you are facing the ground. While this position is to simulate riding under a stingray as it swims the ocean, it feels more like you are flying like Superman through the sky and is wonderfully unique experience.
There is also a separate aquarium connected to Manta which you can check out after riding (or for those who don't want to ride Manta at all). Highlights of this walk-through attraction include the incredible looking sea dragons and the pop-up sections of the tank that give you a 360 degree look at the aquarium. Not to be missed.
# 4 – Big Thunder Mountain Railroad (Magic Kingdom)
Big Thunder Mountain Railroad shows exactly what Walt Disney Imagineering can do with an original idea. An exciting "runaway mine train" coaster that is gorgeous just to look at, let alone ride. The theming across the board on Big Thunder is incredible and almost unbelievable when you consider the ride made its debut in 1979, a full 20 years before any other ride on this list. Thrilling and filled with humor, Big Thunder is perfect for guests who look at rides like Dragon Challenge or regular coasters and think, "no way am I getting on that!"
After riding Big Thunder, take a ride on the Walt Disney World Railroad, which passes by the back of the attraction and allows you to get a better view of the story elements you are whizzing past in your mine car.
# 3 – Expedition Everest (Animal Kingdom)
What WDI showed they could do in 1979 with Big Thunder, they perfected in 2007 with Expedition Everest. There is simply not a better looking coaster in the world. The queue is flawless and brilliantly sets up the story of searching for the Yeti in the Himalayas. There are no loops, inversions, or gigantic drops in the ride, but there is plenty of excitement and a great section that has the ride going backwards. It's impossible to mention Expedition Everest without bringing up the 500 pound gorilla in the room, the Yeti animatronic itself. Billed as one of the biggest and most impressive animatronics ever made, few guests actually got to see the Yeti work as it was intended. As we wrote earlier this year in the article Six Things We Wish Theme Park Guests Would Stop Complaining About, the half a second you spend speeding past a Yeti that doesn't move doesn't take away from all the things which Everest nails perfectly.
Hands down the most picturesque attraction (and surrounding area) in any Disney park, Everest is both Beauty and the Beast as it also makes a case for being WDW's most thrilling attraction.
# 2 – Revenge of the Mummy (Universal Studios Florida)
When you replace beloved attractions, the new rides better be good. Part of the reason guests still fondly reminisce over WDW attractions such as Horizons and Mr. Toad's Wild Ride is because their replacements (Mission: SPACE and The Many Adventures of Winnie the Pooh, respectively) don't have the "it factor" and are just very good rides, if not a little bland. Kongfrontation was an opening day attraction at Universal Studios Florida in 1990, and one that many people loved. The fans were ready to riot when a ride based on a Brendan Fraser movie kicked out one of the park's icons, King Kong. But something funny happened, Revenge of the Mummy was good.
Actually, not just good, great.
Revenge of the Mummy's facade is a far cry from the majestic look of Expedition Everest, but inside those doors is a ride you will not soon forget. The Mummy coaster features dark ride elements, special effects, an unbelievable amount of fire, and an exciting indoor coaster track that will make you want to jump right back on the ride once you reach the unload area. Space Mountain showed us years earlier that putting a coaster in the dark makes it seem to go much faster than it really is and Mummy throws in tight turns and steep drops to get your heart racing.
# 1 – The Incredible Hulk Coaster (Islands of Adventure)
One of my favorite things to do when going to Islands of Adventure with friends and family who have never been is to quickly take them over to the Incredible Hulk Coaster, wait for front row, and don't let them know what they are about to experience. The launch of the Hulk coaster is hands down one of greatest experiences in Orlando and the ride that follows it is no slouch either. Zero-G roll, cobra roll, loops, drops and a corkscrew are part of this unforgettable experience.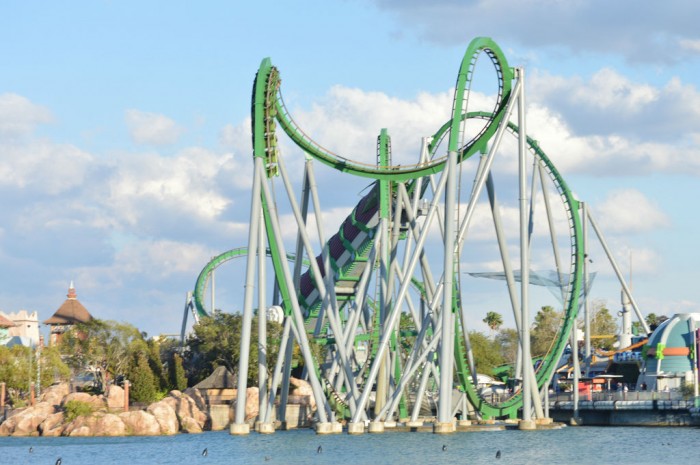 Guests see and hear the Hulk Coaster from a great distance, but up close there are several incredible viewing spots where the riders seem to come right at you. The Hulk is not a perfect ride by any means. It doesn't have the theming of Everest. It doesn't have the story of Mummy. It doesn't have an amazing queue like Manta. But what it does have is the best coaster experience in Orlando.
HONORABLE MENTION: Hollywood Rip Ride Rockit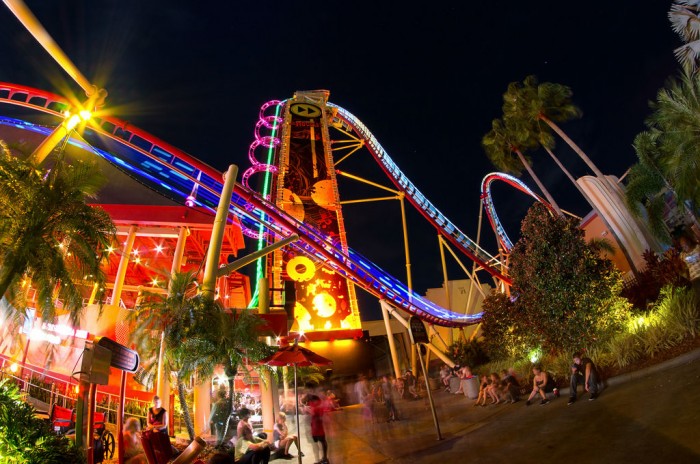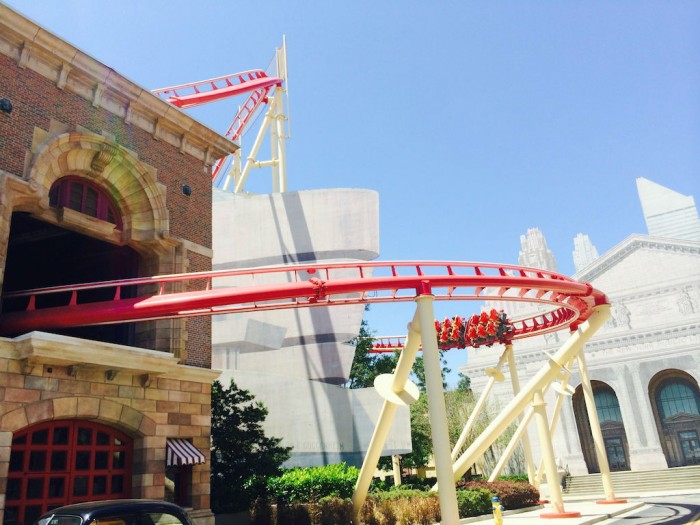 For all its faults, Hollywood Rip Ride Rockit brings a lot of incredible features to the table. One, you get to listen to music throughout the experience, and unlike Rock 'n' Roller coaster at DHS, you get to pick what song you wan to play (my personal favorites are "Sabotage" by the Beastie Boys and – don't judge – "Bring Me to Life" by Evanescence.) The 90 degree lift hill straight up to start the ride is breathtaking and then the excitement begins. Just as the Hogwarts Express will be the first attraction to go from park to park, Rip Ride Rockit is the first coaster to go through several "lands" in one park and even through attractions themselves. Rip Ride Rockit has many detractors, but we at the Saturday Six love every second of it.
So there you have it: the Top Six Roller Coasters in Orlando. See you next weekend for the latest edition of the Saturday Six, where we are going to sing the Heigh Ho rap as we look at the Seven Dwarfs Mine Train. We may even have a surprise for all you patriotic readers as well on Memorial Day, so keep your eyes fixed on the blog. If you had fun, be sure to check out The Magic, The Memories, and Merch! articles or, for your listening pleasure, check out Pardon the Pixie Dust podcast.
Special thanks to Disney Blogger Extraordinaire Morgan Crutchfield, Mike Sperduto, Jeff Kyle, and crack staff photographer Brandon Glover for their assistance with this article.