SATURDAY SIX: Six Family Friendly Desserts at Walt Disney World Your Kids Won't Forget!
This week's SATURDAY SIX takes a look at Six Family Friendly Desserts at Walt Disney World Your Kids Won't Forget! Recent SATURDAY SIX articles have had us looking at some of the great drinks you can get at the WDW hotel lounges (such as the Northwest Exposure at Wilderness Lodge's Territory Lounge or the Abita Flight at Port Orleans Riverside's River Roost Lounge) along with some unique burger offerings on property including ESPN Club's Old World Bavarian Burger or The Mad King at Splitsville. Today we are going to go straight to the end of the menu and look at some of the most unique, outrageous, and – at times – next level bonkers desserts on Disney property. So sit back, loosen up that belt on your pants, and let's begin our list with…
# 6 – "DESSERT"ED ISLAND (Todd English's bluezoo)
One of the most underrated dining experiences in all of "The World" is at Todd English's bluezoo in the Dolphin at Walt Disney World. bluezoo is known for its world class bar that has one amazing cocktail after another (we recommend to start with the Burnt Orange or the Swedish Fish) but the restaurant's dinner menu may be the true "best kept secret" at Disney. The Crispy Asian Pork Ribs appetizer is  somehow better than the mouth-watering ribs at Morimoto Asia. On the way to the dining room, guests will also pass by a unique circular rotisserie that makes the fish being grilled on it seem to dance on the coals. On the menu, this is presented as "this evening's dancing fish." So with a sense of style, originality, and wit you don't often see in restaurants, it is no surprise that bluezoo also features a Must Try dessert.
The "Dessert"ed Island follows the grand tradition of Disney as it actually is based on story. This story features "a chocolate boat filled with vanilla ice cream sailing the Jell-O seas to explore chocolate island." If more stories were like that I bet Millenials would read more. All of the chocolate pieces, including the ship and sails, along with the palm tree, are actually made in-house at the Swan and Dolphin. Just a spectacularly fun way to end a meal. ($9.00)
–
# 5 – Everything Pop Sundae (Disney's Pop Century)
No one believes this when I tell them, but the Everything Pop food court at Disney's Pop Century is hands-down the "restaurant" at Walt Disney World I visit the most. Why? Because it's the one place at WDW where you can get a Sloppy Joe. We all have that favorite Disney food or snack. Some guests love their Mickey Waffles, some prefer the cheddar cheese soup at Le Cellier, and others keep coming back for the bread pudding at 'Ohana, but for me it's the Sloppy Joe at Everything Pop.
Many SATURDAY SIX readers know of the Everything Pop food court because of the infamous Pop-Tart Sandwich. An inaugural theme park Turkey of the Year nominee, the Pop-Tart sandwich uses Pop-Tarts as the "bread" for a sandwich that has egg in the form of a hockey puck along with cheese and bacon melded together in a twisted form straight out of John Carpenter's The Thing. But believe it or not, the sandwich is not the only item at the Everything Pop food court which uses Pop-Tarts. The Everything Pop Sundae features six flavors of ice cream, brownies, bananas, M&Ms, gummy worms, marshmallows, rainbow jimmies, chocolate fudge, caramel sauce, whipped cream, Maraschino cherries and Pop-Tarts sticking out of the top like monoliths. You may ask yourself "why, gummy worms?" That's a very good question. ($10.99)
# 4 – Chocolate Extinction (T-REX Cafe)
For our next dessert we are going to head on over to Disney Springs and into the larger-than-life T-Rex Cafe. With stunning fish tanks, gigantic moving dinosaurs, and an Ice Cavern room which constantly changes colors, the description of "sensory overload" still doesn't properly get across the experience. It is going to take one heck of a dessert to draw your kid's attention away from all that is going around them, but the Chocolate Extinction delivers on that end. Here is the description of the dessert:
A gigantic portion of chocolate fudge cake served with ice cream, whipped topping drizzled with fudge and caramel sauces and sprinkled with Butterfinger crumbs. Enough for four!
They had us at Butterfinger crumbs. In fact, we might have ordered a side of steamed asparagus with our entree if they sprinkled it with pieces of Kit Kat, or a baked potato with some powdered Snickers on top. The Chocolate Extinction itself is impressive, and you get a show when it is served. In the middle of everything on the plate is a container of dry ice that provides a great smoke effect that cascades over the food. There are several large portions of the fudge cake (think of giant brownies), and the Butterfinger crumbs sprinkled liberally around the plate were as good as advertised. We enjoyed the treat in the Ice Cavern room, and the changing of the lights combined with the smoke effect was really neat to see. Unfortunately, you do not get to keep the cool shaker which contains the dry ice, but you will get plenty of looks from neighboring tables when this is delivered to your table. ($17.99)
–
# 3 – S'Mores Baked Alaska (The BOATHOUSE, Disney Springs)
We here at the SATURDAY SIX headquarters have had a lot of "extreme eats" at both Universal and Walt Disney World, so it takes a lot to impress us, but we're still picking our jaws off the ground after seeing the S'Mores Baked Alaska at The BOATHOUSE. There's a relatively good chance the Titanic sunk after striking an iceberg smaller than this GIGANTIC dessert. While the menu says it serves "four," that is apparently theme park bloggers because six or more regular humans will have no problem sharing this behemoth. With a graham cracker crust, rocky road ice cream, and a "frosting" of sorts made out of toasted marshmallows and Hershey's candy bar pieces, this Baked Alaska is a first ballot dessert Hall of Famer. Stuck in the middle of this beasts is a boning knife that would make Jason Vorhees jealous, and your server can cut the Baked Alaska into as many pieces as you would like.
Make sure you plan a trip to The BOATHOUSE on your next Disney vacation. Whether you enjoy the incredible blueberry lemonade or Mint Julep at one of the three bars, the filet mignon sliders, or any of the amazing fresh seafood dishes, The BOATHOUSE has something for everyone.  ($40.00)
–
# 2 – Kitchen Sink (Beaches & Cream Soda Shop)
The iconic Kitchen Sink sundae at the Beaches & Cream Soda Shop may be the most well known desserts at Walt Disney World. Served in an amazing replica of a kitchen sink (which sadly you can't keep – or buy – but you can get a cute Mickey Kitchen Sink version), this sundae includes "scoops of vanilla, chocolate, strawberry, coffee, and mint chocolate chip smothered in every topping we have." These toppings include fudge, butterscotch, strawberry, pineapple, and peanut butter toppings, a banana, a cinnamon spice and an angel food cupcake, marshmallow crème, a brownie, Oreos, a Milky Way candy bar, chocolate shavings, milk chocolate chips, peanut butter chips, chocolate and rainbow sprinkles, maraschino cherries, and a WHOLE CAN OF WHIPPED CREAM.
What sets the Kitchen Sink apart from most desserts – outside of the E-Ticket dish it is served in – is that a small production is made when the sever brings it to your table. The overhead lights dim, special lights come on, and all the servers get in on the spiel. It's a fun experience. What's not as fun is that halfway through eating the kitchen sink, everything starts to form together. For a person like me, who doesn't like mint ice cream, each and every bite has a hint of every flavor, including mint. There is also a Chocolate Lovers version available which uses just chocolate, cookies & cream, and vanilla ice cream flavors, with just the chocolate related toppings. If you haven't done it yet, experiencing the Kitchen Sink needs to be on your Disney Bucket List. ($29.00)
–
# 1 – The 10 Gallon Challenge (Whispering Canyon)
You now can be the rootinest tootinest cowboy in the wild wild west with a dessert served in a plastic cowboy hat. That's right, making its Disney World debut just within the last month, the 10 Gallon Challenge at Wilderness Lodge's Whispering Canyon is a true Frankenstein's monster. Like the Kitchen Sink, the 10 Gallon'er features chocolate, vanilla, strawberry, and mint chocolate chip ice cream. However we then step into the Twilight Zone with the addition of chocolate covered bacon, a full piece of apple pie (whaaaaat?!), toasted marshmallows straight out of a campfire, cookies cupcakes, brownies, graham cracker crumbles, and basically anything else lying around in the kitchen. It is bananas, literally, because it has those too. As crazy a concoction as this sounds, it actually fits in with the overall theme of wackiness that you find at Whispering Canyon. A wonderful addition to the Disney family of desserts, YEE-HAW! ($27.00)
–
HONORABLE MENTION – Chocolate Cream & Crunch (Morimoto Asia)
A dessert as beautiful as it is tasty,  the Chocolate Cream & Crunch at Morimoto Asia features "mandarin orange jelly, dark chocolate gelato, and hazelnut chocolate crunchies," but the real draw here is OREO TEMPURA. That's right, deep fried Oreo is finally rescued out from the Minnesota county fairs and brought into the Orlando fine dining market. ($14.00)
–
DOUBLE SECRET HONORABLE MENTION – Contemporary Signature Chocolate Monorail

 (Disney's Contemporary Resort)

Available exclusively at Disney's Contemporary Resort (through the in-room service menu), the Signature Chocolate Monorail dessert is what separates Disney from the rest. Even the drawing of The Contemporary on the plate is made out of chocolate (we should know, we licked it clean.) You need to place an order for the monorail dessert at least 24 hours ahead of time, but it is something that can truly make your stay at The Contemporary extra special. ($45)
S
So there you have it: Six Family Friendly Desserts at Walt Disney World Your Kids Won't Forget! See you next weekend for the latest installment of the SATURDAY SIX, where we'll look at something fun from the world of Disney and Universal. If you enjoyed yourself, be sure to check out The Magic, The Memories, and Merch! articles (which we just celebrated our THREE YEAR ANNIVERSARY), or, for your listening pleasure, check out the E-Ticket Report podcast. You can also follow Your Humble Author on Twitter (@derekburgan)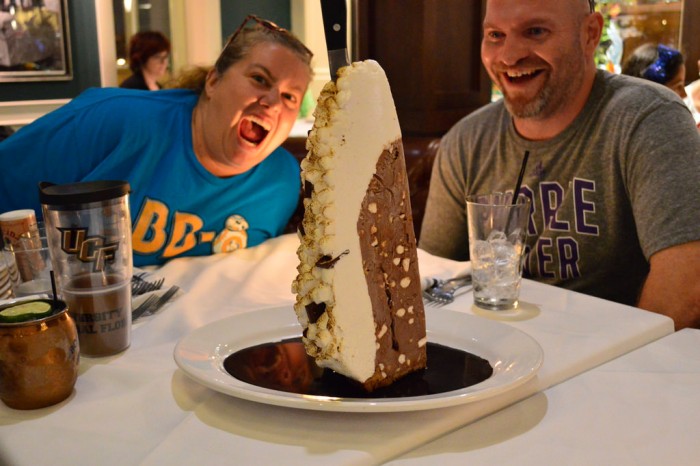 If you enjoyed this article, you will surely like the following:
The Six Best Kept SECRETS at Walt Disney World's EPCOT
FATHER'S DAY SPECIAL: Celebrating Dads at Walt Disney World and Universal
The Six Best Souvenir Cups at Walt Disney World
Six Of Our Favorite Shows That Went to Walt Disney World
Special Thanks to crack staff photographer Brandon Glover, Disney photography icon Tom Bricker, and blogger to the stars Megan Stump for their invaluable assistance with this article. Be sure to also check out Brandon on The Park Blogger podcast with co-host Aengus Mackenzie and fellow Potterheads may enjoy Meg's work on the Central Florida Slug Club.