Snacks Around the World Showcase – Japan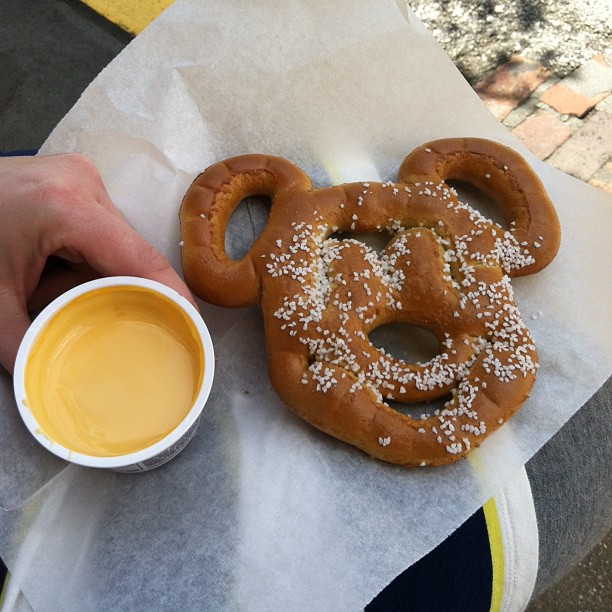 When Epcot enters the conversation, the first thing many people mention is eating (or drinking) around the world. While there are many worthy restaurants scattered around the World Showcase with a wide variety of different foods to try, there are also many pre-packaged snacking alternatives to tempt an adventurous diner.
In addition to interesting snacks to be eaten while in the park, those packaged snacks make great souvenirs. They are relatively inexpensive, won't take up much space in luggage, and make a different sort of present to bring home.
Instead of just showing the different options, I decided it would be much more interesting to turn snacking into a challenge. Since the World Showcase has so many options, there had to be some parameters in the snacking quest. There are 11 countries represented in the World Showcase portion of Epcot, which could get expensive quickly if you are to get something in each country. In addition, since the point was trying new things, I would avoid things that are readily available in the United States or things that aren't particularly strange. Finally, I wanted it to be something I was actually willing to try.
So, here are the rules for the World Showcase Snacking Challenge:
No snacks over $10; preferably less than $5
As unusual as possible
Something I personally would eat
Let's get started!
While this may be debatable, Japan presents the most interesting of options for packaged snacks. They definitely have the largest selection, with the Mitsukoshi department store having an entire section of snacks, candies, and drink options. Because of the wealth of options, I headed there first, even though it's actually in the middle of the World Showcase.
Japan is absolutely gorgeous, with meticulously maintained trees and a Zen garden that is always perfect-looking.
While there are several restaurants here, we are interested in snacks, so it's time to head to Mitsukoshi.
Mitsukoshi is a large international department store that has its headquarters in Japan, and has been around since 1673. The Mitsukoshi in Epcot's World Showcase is the only one in North America. Inside you will find an assortment of collectables from manga or anime, plus Japanese characters popular in America, including Pokémon and Hello Kitty. The items change regularly, so it's always worth a quick look.
Since it's a department store, there are various sections that flow into each other, and at the very end, you enter the snack area.
The bowls and plates they have are absolutely adorable, and there's generally a sale section to find a good deal or two.
I usually pick up a variety of candies when I visit, because I'm a bit candy obsessed. However, the point of our challenge was to try new things, so I didn't even look (so as not to be tempted).
The options for this challenge are almost endless. There's nuts, crackers, cookies, chips, and things I simply didn't recognize.
Even Hello Kitty is featured on snacks! She appears on boxes of cookies, crackers, bowls, and even chocolate-filled marshmallows.
There are many options that are spicy, including sriracha and wasabi flavors of dried peas or rice crackers.
There are quite a few seafood flavors, including shrimp flavored chips and actual dried squid and dried fish.
These things are called rice cakes, but are very different from what I usually think of as rice cakes. They are gelatinous, and each filled with something different. Since I am unable to speak or read Japanese, it's sometimes hard to tell what's inside. Sometimes the pictures are helpful… but not always. On the back of each snack there's an English label that has been added, listing ingredients and calorie counts, and sometimes this can help you guess what you might be getting.
Luckily the green tea flavor spells out directly what it is, since the picture isn't really helpful.
So how was I supposed to make a decision? I stood in front of the racks and picked things up and put them back down, and generally felt overwhelmed. I took a break from snacks to focus briefly on the soft drink options.
As usual, a variety of options that change frequently adorn a table next to the snack alcove.
Ramune soda is a fun Japanese soda, and what makes it unique is it is sealed by gas pressure pushing up against a marble. To open the soda, you push the marble down, releasing the pressure, which lets you drink.
I wonder how many people asked questions about Ramune before they printed and framed that information sheet?
After standing and staring for an extended amount of time, I finally picked up ninja chips. I read the back to see what the ingredients were to try to guess at what flavor ninja could be, when a helpful Cast Member came over to see if I needed help. Ninja chips are apparently squid flavored. I'm so glad he stopped by to help! With a bit of assistance, I picked out a package of rice crackers, since the Cast Member assured me I would enjoy it if I liked sweet things.
The rice crackers are apparently soy sauce flavored, and sweetened by large sugar crystals. This snack costs $4.99, which works with my budget for this challenge.
On my way out, I also snagged another snack to try, since Japan is the most snack heavy of the countries represented in the World Showcase.
Red bean paste is common in Japanese desserts and snacks, and it's not something that's commonly eaten here. Perfect!
On my way to the registers, I took a couple of photos to show some of the candy options (while still avoiding looking closely to avoid purchasing anything!)
Mario candy might make a great treat to bring back to your children, if you are doing a solo trip to Walt Disney World. Or yourself, for that matter.
Apparently gummy candy is super-popular in Japan, as there are a huge variety of flavors.
Now, it's time to give the snacks a try! First up:  Red Bean Paste Fish Bun
It's really cute, and smells quite good. The consistency of the outside is like other pre-packaged snack cakes, and is slightly greasy.
After giving it several bites to win me over, I gave up. The texture was really, really strange, and all I could think of was beans (like refried beans). It had a similar texture to mashed beans, but the taste was completely different. Even if the texture was off-putting, I could have gotten past that if the interior was amazing, but it simply wasn't. It was too strange for my tastes, but wasn't completely horrible.
Even though I didn't care for it, I am glad I tried something different. On to part two of the challenge!
The rice crackers are individually packaged, which makes it easier to enjoy without the snack going stale. It is very, very crispy, and hard to break in half.
These are quite tasty! Even though there's huge sugar crystals, the sweetness does not overwhelm, likely because of the saltiness of the soy sauce flavor. The crackers are very, very crunchy, almost hard to chew in fact. Even so, it was quite enjoyable, and I will probably be getting these again when I run out.
So what do you think? See anything else in the pictures that you would want to try? Think that the hot dried squid would be amazing? Let me know in the comments!