SATURDAY SIX: Top Six New Food Options in Diagon Alley's Leaky Cauldron
This week's SATURDAY SIX takes a look at Top Six New Food Options in Universal's Diagon Alley. We began our mouthwatering journey into Diagon Alley two weeks ago when we went through the best new drinks and continued last week by looking at the best new snacks. Today we finish up our glutonous trilogy by hopping into the Leaky Cauldron and checking out the newest food options inside the Wizarding World. Offering traditional British pub fare, the Leaky Cauldron serves a menu that differs wildly from the standard hamburgers, chicken fingers and pizza that we've become used to inside the theme parks. Our All-Star blue ribbon panel of experts sat down and tried everything, and today we're counting down the best of the best….
# 6 –  Bangers & Mash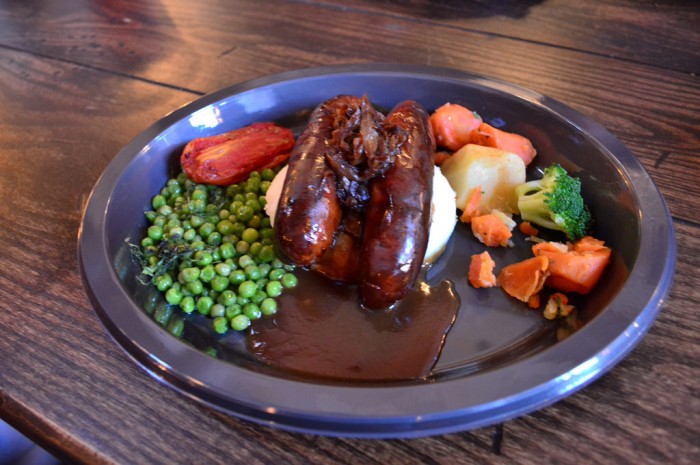 Bangers & Mash delivers in a big way. Two large pieces of sausage sitting on top of mashed potatoes with onion gravy and servings of vegetables to top off the plate. Seeing real vegetables instead of french fries at a quick service restaurant still takes some getting used to, but it is definitely something long needed in the theme park world. One day we are going to have to have an official Bangers & Mash Taste Test between Walt Disney World and Universal. Settling once and for all which venue has the best version of this dish with entries from Rose & Crown (Epcot,) Raglan Road (Downtown Disney,) Finnegan's (Universal Studios Florida,) and the Leaky Cauldron. ($11.99)
# 5 – Specialty Chicken Sandwich
The Specialty Chicken Sandwich is going to be a big hit with many of our favorite foods all put into one sandwich. Grilled chicken, Colby cheese, bacon, and roasted tomatoes sit between the handmade bun, but what puts this sandwich over the top is the apple butter mayo. Personally I'm not a big fan of plain mayonnaise, but Universal already showed me something with the incredible maple mayo for the chicken and waffle sandwich at Cletus' Chicken Shack  and the apple butter mayo for this chicken sandwich was very tasty.  ($10.99)
# 4 – Fisherman's Pie
Three different types of seafood are included in the Fisherman's Pie. Salmon, shrimp and cod are baked together with some peas in a potato-topped crust. Steven Jayson, the corporate executive chef for Universal, is serious when it comes to fresh seafood as he has fish flown in daily from Alaska for Lombard's Seafood Grille and other selected dishes across the parks, including this pie.  ($14.99)
# 3 – Beef, Lamb, & Guinness Stew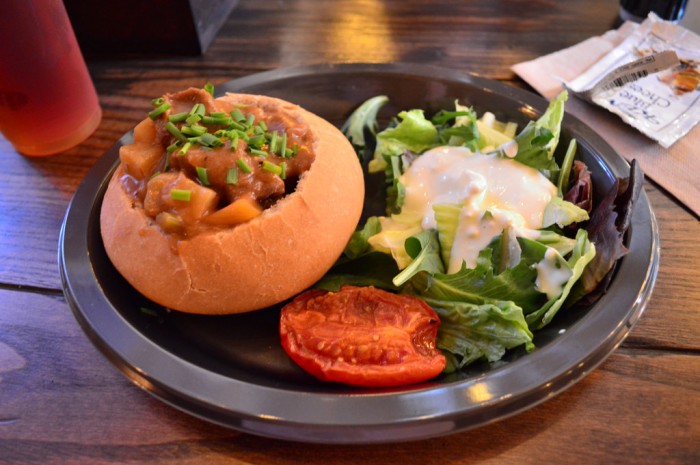 Served in a bread bowl, the Beef, Lamb & Guinness Stew is think and filling. The Guinness itself is not overwhelming and the stew has a surprising amount of actual meat. Like the Fisherman's pie, the side salad is a really strong side for this dish as it compliments the warm stew well. ($12.99)
# 2 – Banger Sandwich
The Banger sandwich is remarkable as you get a rather large sausage that is covered in a special mustard aioli that reminds us of the Dalkey mustard at Cookes of Dublin, one of our favorite places in Downtown Disney. There is also some roasted tomatoes along with sautéed cabbage and onions loaded into the roll as well. A fantastic sandwich worth going out of your way in the park to try. This was a tough call as many of those polled would put The Banger sandwich at the top of their list, it's that good. ($11.99)
# 1 – Toad in the Hole
The picture above says it all. While on a much smaller scale than the Gringotts dragon or even the Celestina Warbeck and the Banshees stage show, it's hard to believe that Toad in the Hole exists inside an American theme park. A huge hit with guests (part of which could be attributed to the lower price point compared to other entrees) the Toad in the Hole is two pieces of traditional sausage baked into a Yorkshire pudding and served with onion gravy and vegetables. To quote Ned Flanders, this is scrumdiddlyumptious. ($8.99)
HONORABLE MENTION: The Ploughman's Platter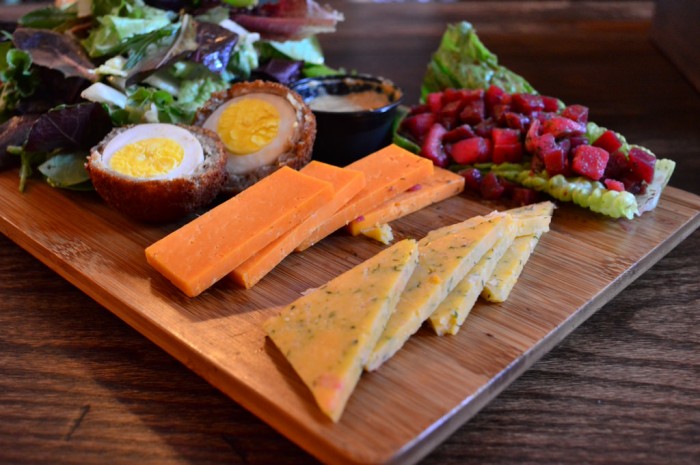 Your humble author is actually writing this description under protest as I personally feel The Ploughman's platter  is an amazing achievement within a theme park. However, I have consistently been outvoted on this topic and repeatedly told that, while unique, The Ploughman's platter is more of a side dish to enjoy with a Wizard's Brew than a good meal like the other options listed above. The Ploughman's platter includes Scotch eggs, cornichon pickles, apple beet salad, a regular salad, Branson pickle relish, a selection of English cheeses, and bread. Did we mention these English cheeses are actually flown in from Britain? "We spared no expense." – John Hammond, Jurassic Park ($19.99)
So there you have it: the Top Six New Food Options in Universal's Diagon Alley. See you next weekend for the latest edition of the SATURDAY SIX, where we are going to look at the construction capital of the world, Downtown Disney. If you had fun, be sure to check out The Magic, The Memories, and Merch! articles, or, for your listening pleasure, check out Pardon the Pixie Dust podcast.
Special thanks to crack staff photographer Brandon Glover for his invaluable assistance in this article. I would also like to thank  Meg (one of the founding members of #PotterWatch, her story of which you can listen on  episode 3.2 of the Parkscope podcast), "the better half" @loveleelaura88, @MagisterGermain, @laurenlikesnaps, @FelipeWWoHP of OrlandoUnited, Downtown Disney Historian @Trygve and the usual gang of idiots.