SATURDAY SIX: Top Six Meet and Greets at the Magic Kingdom
This week's SATURDAY SIX takes a look at the Top Six Meet and Greets at the Magic Kingdom. Let's face it, meet and greets have become an important part of the vacation experience for many guests. Gone are the days when you could randomly bump into characters roaming the parks as the meet and greets of today have become attractions themselves, with some lines equaling even the best rides and shows in the parks. With elaborate sets, must-do character dining, and even special events based around the opportunity to meet characters, nobody does meet and greets better than Walt Disney World. Today we are going to look at the very best meet and greets at the Magic Kingdom, along with a little advice from an expert on meeting characters, Kenny the Pirate. The rankings are based on several factors including; theming of the meet and greet area, guest interaction with the characters, and a pinch of Je ne sais quoi (the indefinable magic that some meet and greets deliver which stays with you and your family for years, if not a lifetime.) Remember that clicking on any picture will bring it up in full size, and with that out of the way let's start with…
# 6 – The Little Mermaid (Ariel's Grotto)
Disney hit a home run with New Fantasyland delivering a great coaster with the Seven Dwarfs Mine Train, a wonderful dark ride with Under the Sea ~ Journey of the Little Mermaid, and the first "E-Ticket" dining experience with Be Our Guest Restaurant. They also over-delivered in the area of meet and greets with the hilarious Gaston (who we just may see later in the list,) Enchanted Tales with Belle (including the stunning Lumiere animatronic and the how did they do that Magic Mirror,) and Ariel's Grotto.
The Grotto is located right next to the Mermaid attraction and personifies what Disney can bring to the table. Walking into the area guests will receive the same wow factor they got when seeing the elaborate queue of Under the Sea or the impressive Ursula figure during the ride. This is a setting befit of a Disney princess.Guests are asked to sit next to Ariel on her clam shell bench, and this provides an intimate experience you just don't get at many meet and greets. Like her movie counterpart, this Ariel will comment on unusual items guests may have that wouldn't be found in the water, along with having age appropriate conversations with each and every guest. This is your only opportunity to meet Ariel outside of a dining package, and be sure to ask how her friends Flounder and Sebastian are doing!
–
# 5 – Anna (Fairytale Hall)
When Anna and Elsa made their meet and greet debut in the Norway Pavilion at Epcot the term overnight success is actually an understatement. Most will remember their heavily publicized move over the Magic Kingdom and the immediate 300 minute waits that followed. The sisters remained so popular that the park actually had to change it's operating procedures in the morning in order to stop the American version of Pamplona's running of the bulls to get to them.
Now that it has been over a year, we learned a couple things. First of all, no one has found a cure for Frozen Fever, as the pair are still huge draws to the park. And secondly, while Elsa may be the star of the movie, Anna is the star of this meet and greet. With campy stories and a fun loving attitude, Anna gets to have fun with guests compared to the more demure Elsa. Anna will tell stories involving Olaf, Sven, and Kristoff along with showing guests the best way to throw a snowball.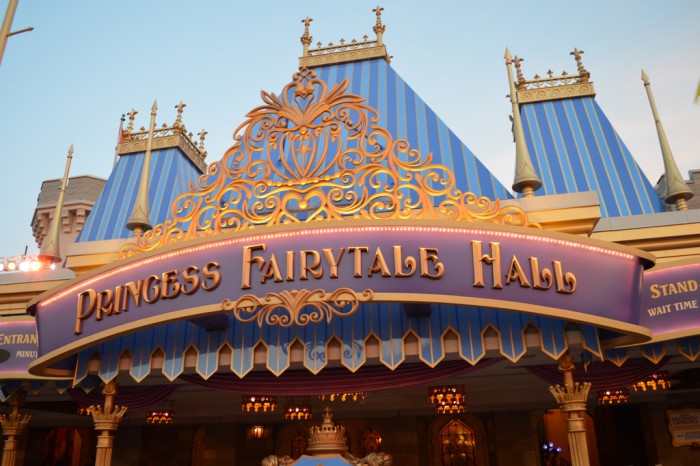 –
# 4 – Merida (Fairytale Garden)
Merida's meet and greet outside Cinderella Castle is your only opportunity to meet this vibrant red head in Walt Disney World and it's a great one. With theming elements like tapestries and rock work seemingly straight out of the movie Brave, this area is terrific. Aside from the great interaction with Merida, this area also has activities for kids, such as learn archery/doing a little coloring.
–
# 3 – Rapunzel (Fairytale Hall)
Anna, Merida, and Rapunzel all have one thing in common: they are high energy characters who enjoy goofing around with guests (along with taking pictures and signing their autograph books.) Whether it is showing guests how to defend themselves with pans, or talking about her friends Flynn Ryder and Pascal, meeting 'Punzel will be a highlight of your character day. And while Anna and Elsa were added to Princess Fairytale Hall while their new place is being built in World Showcase, this is Rapunzel's home and it is gorgeous. The queue is hands down the best made for any meet and greet, just beautiful.
–
# 2 – Lady Tremaine, Anastasia, and Drizella (Fantasyland)
Like Ariel, meeting the Tremaines in Fantasyland is your only opportunity for this experience outside of a character meal at 1900 Park Fare. While these girls are villains in the loosest sense of the word, the laughter they will bring your family makes them heroes in our book. Between the "mean" Lady Tremaine and the silly Anastasia and Drizella, these are characters who perfectly walk the line being evil, but not scary. They would be the clear winner of a Best Meet and Greet Award if it wasn't for our #1….
–
# 1 – Talking Mickey (Town Square Theater)
We mentioned earlier that Be Our Guest Restaurant can be considered the first E-Ticket dining, and we can add Talking Mickey at Town Square Theater as our inaugural E-Ticket meet and greet. There are a lot of great details in the queue and inside the room itself, but seeing Mickey Mouse talk to guests is one of the most magical moments at the happiest place on Earth. It's absolutely breath taking to watch, and even more amazing when you realize it has nothing to do with MyMagic+. Talking Mickey is the greatest achievement in meet and greet history and is almost taken for granted. You want the Disney Difference? This is it. This is Walt Disney Imagineering at it's best and it will leave kid's jaws on the floor while bringing smiles to their parents faces.
–
HONORABLE MENTION – Gaston
Gaston was the perfect bad guy in Beauty & the Beast as the narcissist everyone loved to hate. Turns out the very character traits which make him despicable on film make him one of the most entertaining meet and greet characters on Disney property, let alone the Magic Kingdom. Full of himself, insulting those around him, and machismo oozing out of every pore in his body, Gaston is the real deal and worth going out of your way to just watch in New Fantasyland.
So there you have it: The Top Six Meet and Greets at Walt Disney World. Let us know in the comments what your favorite meet and greets on property are.
See you next weekend for the latest installment of the SATURDAY SIX, where we'll look at something fun from the world of Disney and Universal. If you enjoyed yourself, be sure to check out The Magic, The Memories, and Merch! articles, or, for your listening pleasure, check out the Pardon the Pixie Dust podcast. You can also follow Your Humble Author on Twitter (@derekburgan)
If you enjoyed this article, you will surely like the following:
Six Reasons We Love Disney's Contemporary Resort
Six "Secrets" of Disney's Art of Animation Resort
2015 Theme Park Awards (AKA "The Burgies)
Disney Dining: 'Ohana at Disney's Polynesian Village Resort
Special Thanks to crack staff photographer Brandon Glover, character locater Kenny the Pirate, Best Week Ever's Daisy Lauren, and Megan Stump for their invaluable assistance with this article. Be sure to also check out Brandon on The Park Blogger podcast with co-hosts Aengus Mackenzie and Brian Carey. 
FINAL PLUG! Did you know The Unofficial Guide to Universal Orlando has a special edition of the SATURDAY SIX in it? Finally, someone came up with an actual reason to read a book. PRE-ORDER this baby now! (For every copy sold, a percentage of the profits* go towards buying a DVD of the Seven Dwarfs Mine Train rap video.)
*0%