The Best Food from the 2022 Disney California Adventure Food & Wine Festival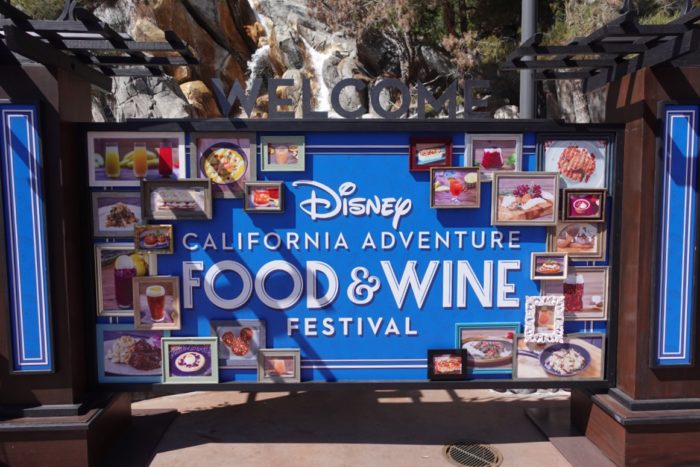 The Food & Wine Festival is back at Disney California Adventure! The 2022 iteration features 12 food booths serving up some creative and delicious items to chow down on. In this post we'll highlight some of our favorite items from this year's festival.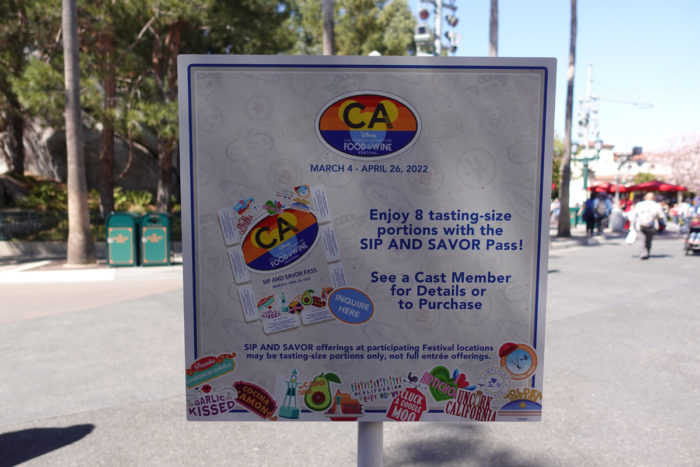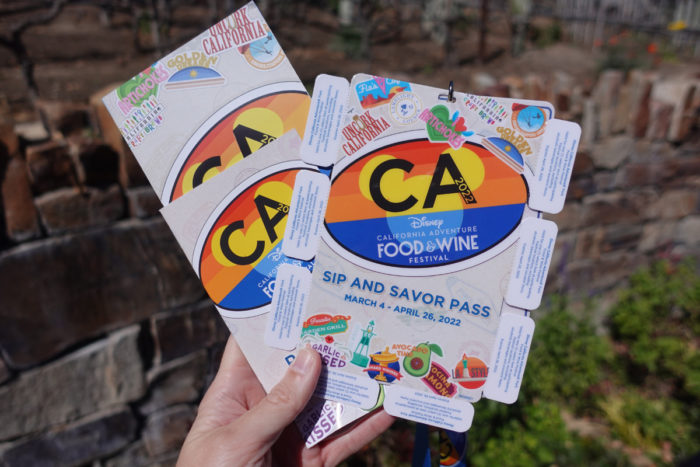 The Sip and Savor Pass is back for 2022. The cost is $57 for regular park guests, and $52 for Magic Key members. Keep in mind to make the Sip and Savor Pass a good value you should buy only the most expensive items at each food booth. You get 8 tabs to use on food and non-alcoholic beverages. That means each tab is worth $7.13 for regular guests, and $6.50 for Magic Key members. Most non-desserts hover around $8, while desserts are around $6.50. Non-alcoholic beverages under $6.50 are NOT a good use of a Sip and Savor tab.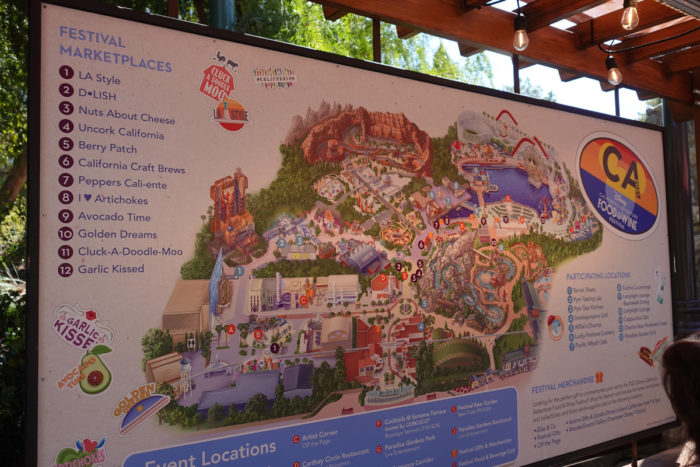 Food and Wine Festival booths are mostly located in the center of the park, but there is also one in Hollywood Land, as well as many festival items scattered at quick service restaurants around DCA.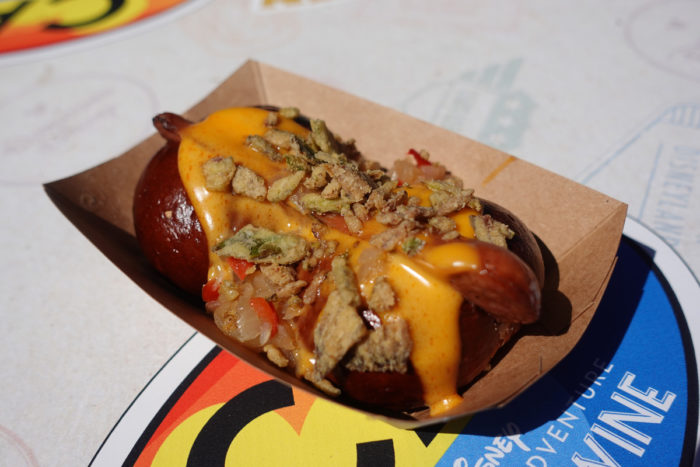 IPA Sausage Dog – California Craft Brews – $7.00 – California Craft Brews
Everything about this dog was heavenly. I may be easy to please, but pretzel buns make everything better, right? The dog is also topped with malt vinegar-jalapeno crunch, which is so good that I would eat it buy the handful if there was a bag in front of me. One thing I need to point out; why is it only one half of a sausage? This seems like a cost cutting measure to me.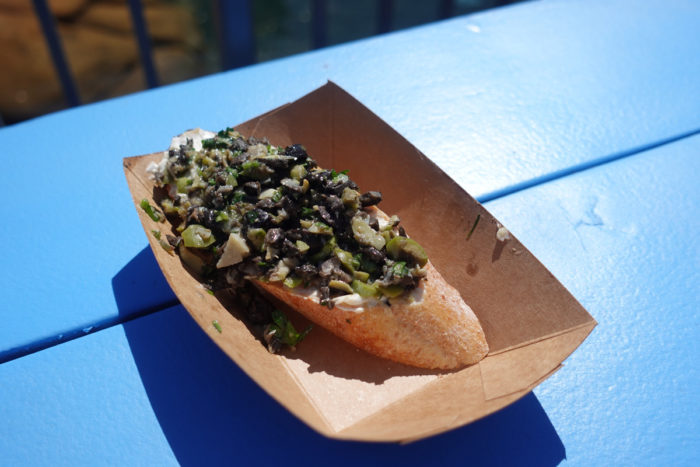 Artichoke Toast with Olive Tapenade – $6.75-  I ♥Artichokes 
Every year there is at least one ingredient at the Food & Wine Festival that I have no idea what it is. This year that ingredient was "Tapenade" (it's finely chopped olives, capers, and olive oil). I'm happy to confirm that I now love Tapenade! I'm a huge fan of both artichokes and olives, so because of that the Artichoke Toast ended up being one of my favorite items I tried from this year's festival.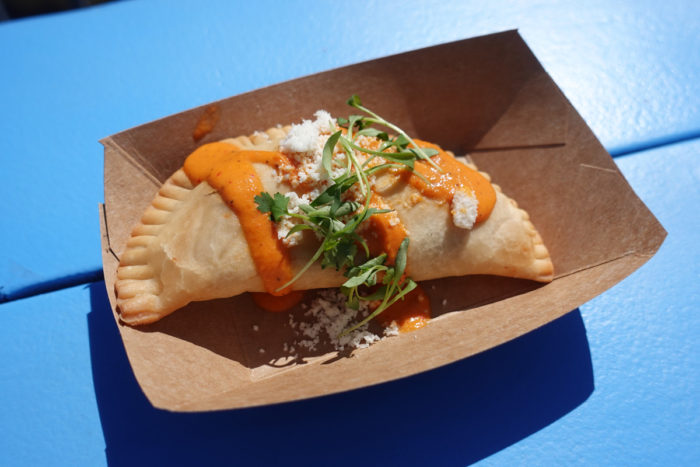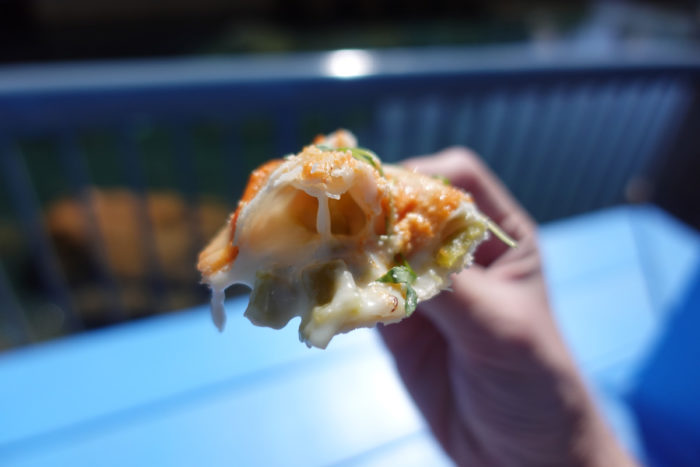 Chile Relleno Empanada – $8.50 – Peppers Cali-Ente
This empanada is one of the highlights of the festival, and one of the items I heard many people talking about in the park. It's delicious and has a nice little kick to it. I had to include a picture of the inside because it was gloriously gooey.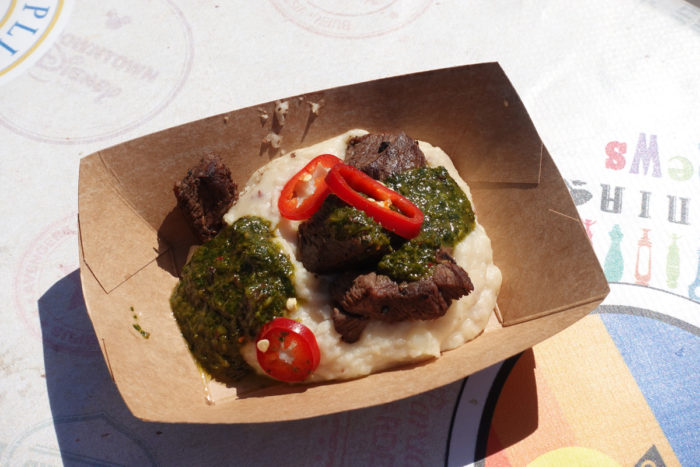 Grilled Top Sirloin – $8.25 – Garlic Kisses
This is probably the most "safe" item on the list, aka one that will appeal most to picky eaters, but it's still worth talking about. The black garlic chimichurri is *fantastic* and I wish I could dump it all over any meat I consume from now on.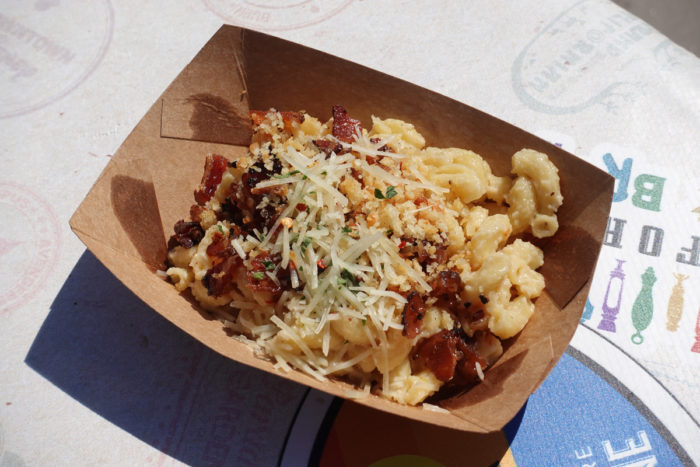 Carbonara-Garlic Mac & Cheese – $8.00 – Garlic Kisses
This is another winner from the Garlic Kisses booth, but I do have to say that I wish it had an even more intense garlic taste. This dish was far better than the usual theme park plastic tasting mac and cheese.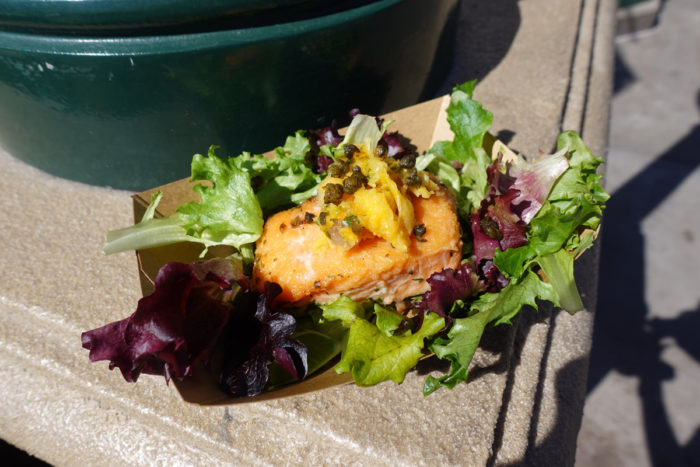 Honey-Orange-glazed Verlasso Salmon Salad – $8.00 Golden Dreams
Get some roughage while you're indulging on festival food! At first I thought they forgot to give me the citrus vinaigrette salad dressing, but it was all on the bottom of the tray, so be sure to mix everything up when you buy this item. I was also worried that salmon served cold would end up too dry but I'm happy to report that it was moist and flavorful.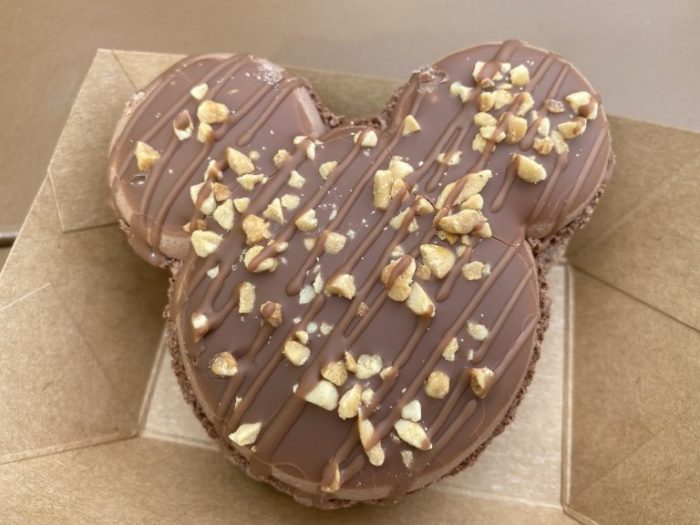 SNICKERS Caramel-Peanut Milk Chocolate Mickey Macaron – $6.50 – Nuts About Cheese
We were so happy to see this favorite return for the 2022 festival. It's a gigantic macaron that tastes like a Snickers candy bar. What more could you possibly ask for? This is a good item to share with a couple of people due to its huge size.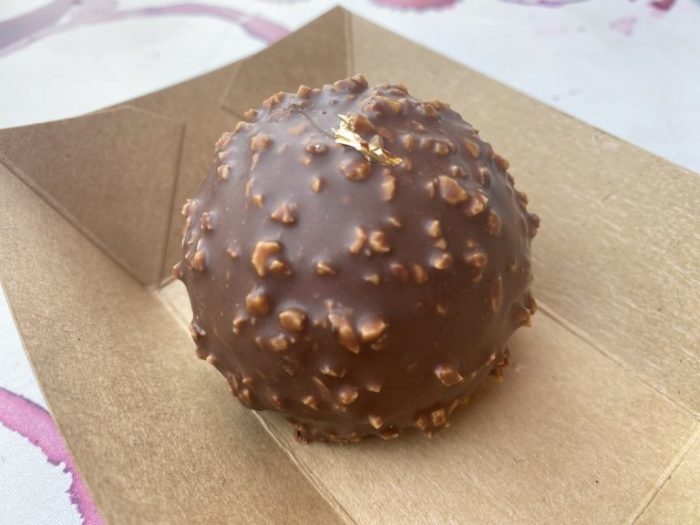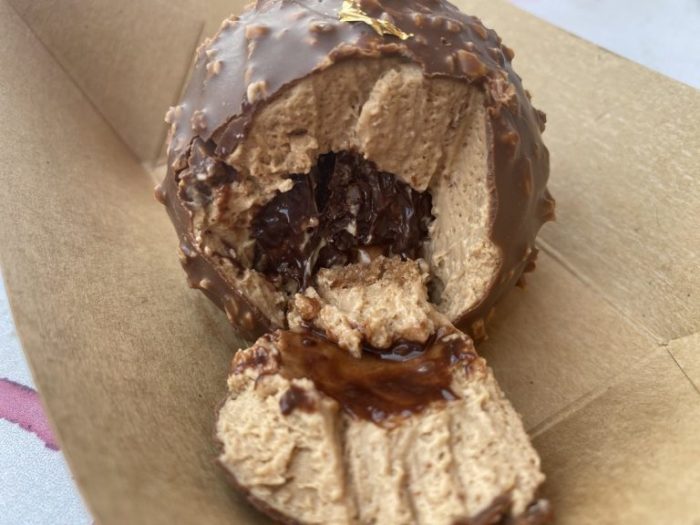 Chocolate Hazelnut Crunch – $6.50 – Uncork California
The Milk Chocolate Mousse has a delightfully fluffy texture, while the Hazelnut Ganache in the middle is absolutely decadent. This is a must buy dessert for chocolate fans.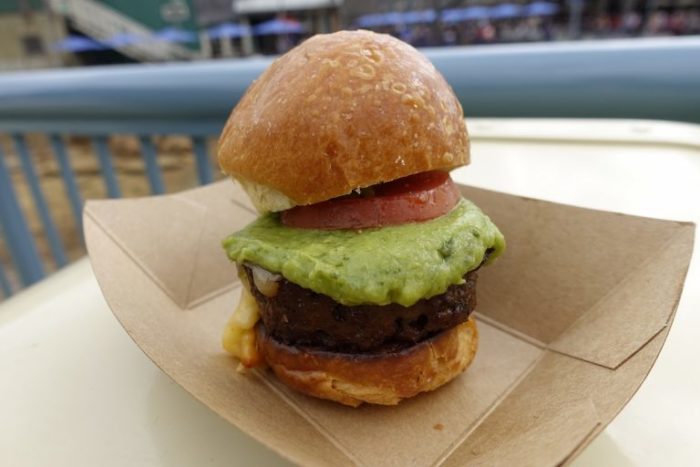 Petite Avocado Impossible Burger with dairy-free pepper jack (V) – $8.00 – Avocado Time
Another returning item from last year is the Petite Impossible Burger. The Impossible Burgers seem to be in every restaurant these days. My feelings are pretty much the same as everyone else that has tried one; it's shocking how similar the taste and texture is to real meat. This one was a bit on the well done side (I usually prefer medium), but it was still very good. I also appreciate the good-sized portion of avocado on the top.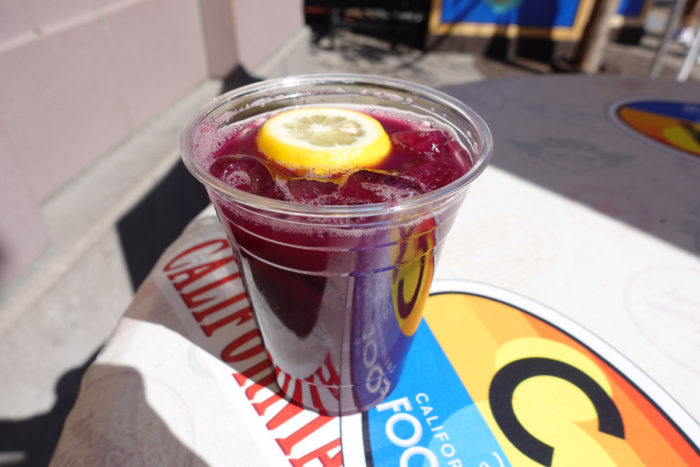 Blackberry-Lavender Lemonade (non-alcoholic) – $6.00 – Cluck-A-Doodle Moo
Blackberry, pineapple juice, lavender syrup, and lemon juice blend together perfectly for this wonderful drunk. We were expecting it to be sickeningly sweet, but it ended up being just the right amount of sweetness. It's worth noting we don't recommend using one of your Sip and Savor tabs on this items since it's on the cheaper side. But we wanted to review it so you have something to wash down all of the other great items on this list.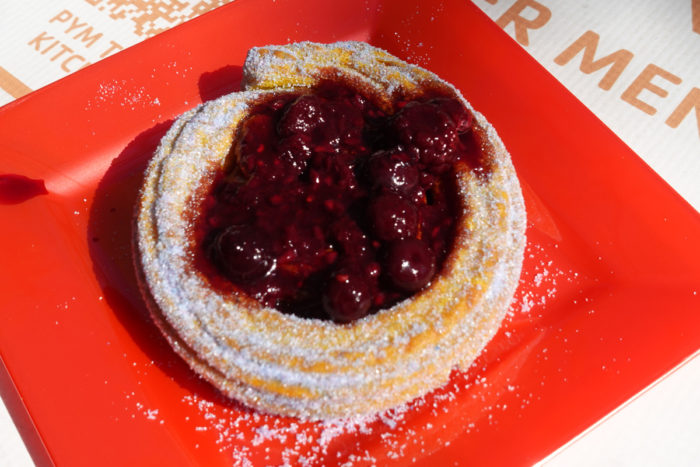 Raspberry Spiral Ration – $6.25 – Terran Treats
Located deep in Avengers Campus away from the other Food & Wine booths is this special festival treat. It's like a miniature funnel cake, which is just small enough so you can make the excuse that you shouldn't have to share it with anyone else.
You don't want to miss this year's Food & Wine Festival at DCA. Be sure to check out our Disneyland Crowd Calendar, which rates every day of the year on a scale of 1 to 10 so you can see how busy Disneyland and DCA will be during your visit. Also check out our Disneyland Touring Plans. These itineraries can show you how to beat the crowds and spend less time in line at your favorite rides. Our Touring Plans can also be personalized! All of our tools are used by hundreds of thousands of visitors each year and are constantly being updated by our in-park team of researchers and data scientists. We can even book your vacation for you.
Disney California Adventure Food & Wine Festival 2022 runs March 4 through April 26, 2022. Let us know what items are your favorites in the comments below.