Step-By-Step Guide: How to Use Genie+ and Lightning Lane at Disney World
If you're heading to Disney World, you might have heard about Genie — and it might sound pretty complicated. Never fear, TouringPlans is here! We'll walk you through Genie and its upcharge features including Genie+. Whether it's your first visit or you were an old hand at Fastpass+, you'll be ready to use it in the parks. Last updated/republished June 24, 2023.
Today we'll be talking about Genie+ at Disney World, but if you're a Disneyland visitor click here for the equivalent post. Click on anything in the list below to go directly to that section, and click on any image in this walkthrough to enlarge it.
If you're not interested in purchasing Genie+ or Lightning Lanes and you just want to know how to setup Genie and the Tip Board for convenient touring, click here.
Brief Overview of Genie, Genie+, Lightning Lane, etc.
So that we're all on the same page, I'm going to lay out the Genie terminology.
The My Disney Experience App (MDE) is a smartphone app that helps you manage your vacation and touring. It gives you information about your trip and real-time park data such as wait-times and show schedules.
The Lightning Lane is a special queue at some attractions that allows you to skip [most of] the wait in line. To use the Lightning Lane, you need a reservation for a specific time.
Disney Genie is a feature of My Disney Experience. The Genie page in the app has two tabs, the Tip Board and the My Day tab. On the Tip Board, you can see attraction and dining information to help you make decisions as you tour. On the My Day tab you can see plans you've already made, and also Genie's (free) suggestions for activities you might enjoy.
Genie+ is an upcharge feature of Genie that allows you to make Lightning Lane (LL) reservations for multiple attractions. It also includes access to Audio Tales, which is a series of podcast-style audio clips giving background and behind-the-scenes information while you tour, and some Snapchat-style photo lenses. Since March 20, 2023, Genie+ also includes free downloads of all PhotoPass pictures and video taken on attractions. Since June 27, 2023, Genie+ can be purchased in two modes: "All Parks" that allows you to make reservations in any park, or for a single park at a time.
An Individual Lightning Lane (ILL) is an upcharge feature of Genie that lets you make a Lightning Lane reservation for a single ride.
The two upcharge features, Genie+ and Individual Lightning Lane, are independent. You can purchase one and not the other if you choose. In fact, they are so independent that if an attraction has a Lightning Lane queue, then its reservations will be offered only through Genie+ or only with an Individual Lightning Lane – never both.
If you're not interested in buying Lightning Lane access with the Genie+ and ILL upcharge features, then I recommend you skip the rest of this article and read Customize the Genie Tip Board for Convenience and Speed instead. That post focuses on getting the best experience with the free features of Disney Genie.
A note on language …
Talking about Lightning Lanes can be confusing because the term "Lightning Lane" actually refers to the queue, not the reservation. But since "reservation" is 4 syllables, many people (including myself!) tend to naturally abbreviate and use "Lightning Lane" to mean either the reservation or the queue. To make it worse, the term "Individual Lightning Lane" actually does mean the reservation – because when you get to the ride, the queue is still called the Lightning Lane. To keep it clear, I'll refer to reservations as either Individual Lightning Lanes (ILLs) or Genie+ Lightning Lanes (Genie+ LLs) in this article.
How to Set Up Genie
The basic Disney Genie is free, and has two tabs available. The first is the Tip Board, where you can view attraction wait times and Lightning Lane availability. The second is the My Day tab, where you can view any reservations you have made as well as Genie's recommendations for your personalized itinerary.
If you are not using Lightning Lanes, and you remember when your lunch reservation is (or you don't have one), then you don't need to use Disney Genie unless you want to. You can view wait times and all the other available information elsewhere in MDE. If you want to use Genie+ or buy Individual Lightning Lane reservations, you must do it through Genie. If you want to skip the setup below, you can still access the Tip Board and Lightning Lane reservation features – but you'll miss out on some convenience.
You can begin setting up Genie from either of two places: the MDE Home Screen, or through the Hamburger Menu.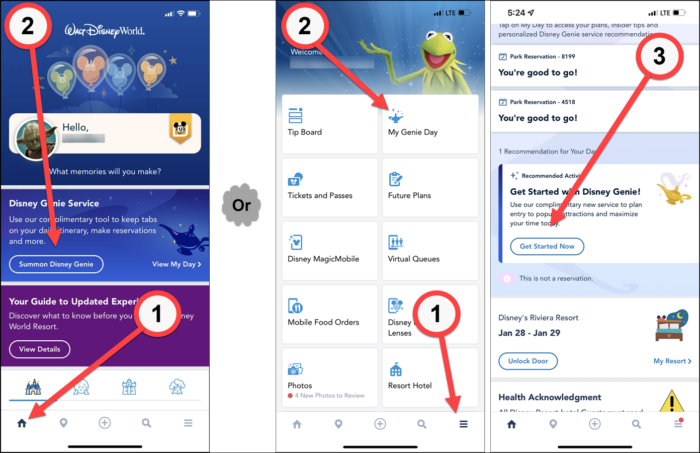 In the next few screens you'll select your park and the date, and indicate who you'll be touring with. If your ticket requires reservations, then you'll only be able to select the park that your reservation is at.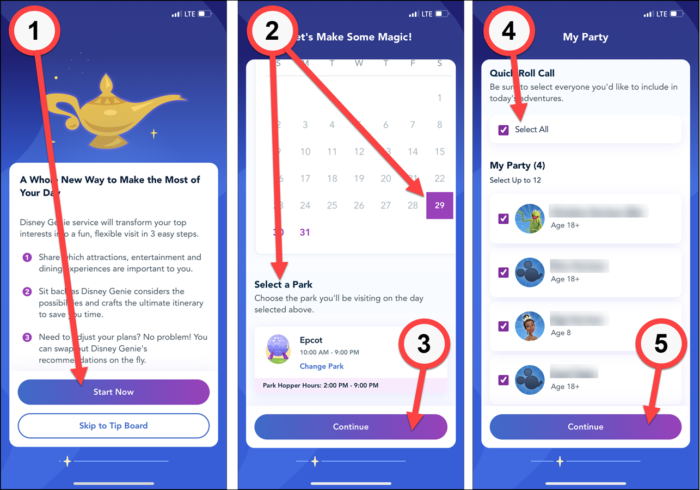 The order of the screens after the steps above can vary a bit, and you may or may not be offered the opportunity to purchase Genie+ as part of the sequence. Don't worry, if you click it away here you'll have another chance later.
Most of these screens are self-explanatory (and you can go back and change your choices later), but one that isn't so obvious is the Top Picks screen. Choices you make in your Top Picks will appear at the top of your Tip Board, so you can save a lot of scrolling by selecting your planned Lightning Lane picks here.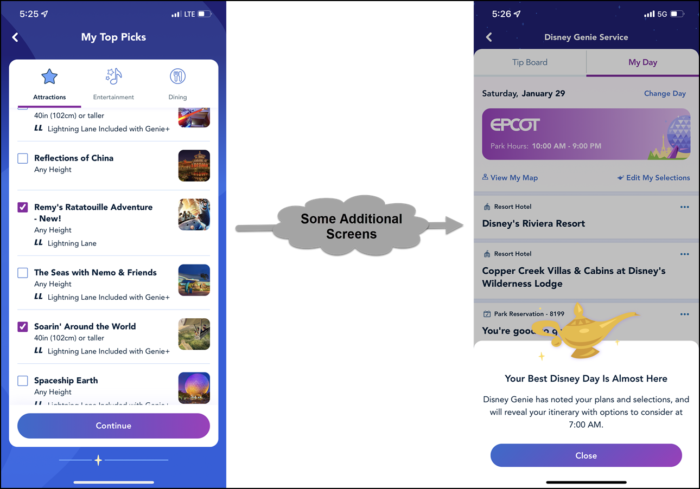 You can set up Genie for days in the future if you choose, but Genie will always wait to give you recommendations until 7 a.m. on the day of your visit.  At this point we do not recommend using the personalized suggestions feature as a touring plan, as we find Genie's suggestions are rarely an effective way to enjoy the parks. For more details on the "Some Additional Screens" and how to use the Tip Board while touring, see Customize the Genie Tip Board for Convenience and Speed.
How to purchase Genie+
You can buy Genie+ beginning at 12:01 a.m. of the day that you plan to use it. This is also when you'll be able to view that day's price, which is not announced in advance. The lowest price is $15, and the highest that we've seen so far is $35. As of June 27, 2023, Genie+ will be sold as an "All Parks" or single park option. We'll update the screenshots below after the changes go live.
You may see a splash screen to buy Genie+ when entering Genie for the first time that day, or you will see the option to purchase on the My Day tab if you have a park reservation. You'll also find a banner right at the top of the Tip Board, and if it's after 7 a.m., you'll be prompted to buy Genie+ if you click on a Lightning Lane time. You're not likely to struggle with finding an entry point to start buying Genie+, because Disney will be thrilled to take your money.
Genie+ will automatically select everyone in your party, but you don't need to buy it for everyone in your group. You can select Edit in the 2nd screen below to remove anyone that won't be making Genie+ reservations. After the confirmation screen shown on the right below, clicking Continue will bring you back to either My Day or the Tip Board, depending on where you began your purchase.
How to make a Genie+ Lightning Lane (LL) reservation
To make a Genie+ reservation, start on the Tip Board and select the experience that you want to book. In the "Review Details" screen, make sure to note the time of the reservation. It is very common for this to be a different time than you saw on the Tip Board, even if you refreshed the Tip Board right before clicking. You don't have to accept the changed time if it doesn't work for you (click the x on the top left to back out), but you can't adjust the time that you see. As usual, you can choose to make the reservation for all or only some members of your group.
If you're booking between 7 a.m. and 7:30 a.m., you won't see a time as you do on the screenshots below. You'll be able to book, but the button will say "Check Availability". It still makes a difference when you book, earlier bookings tend to get earlier returns. It's just that so many people are booking in the first half hour that the times you see before clicking wouldn't be close to accurate, so Disney doesn't show them.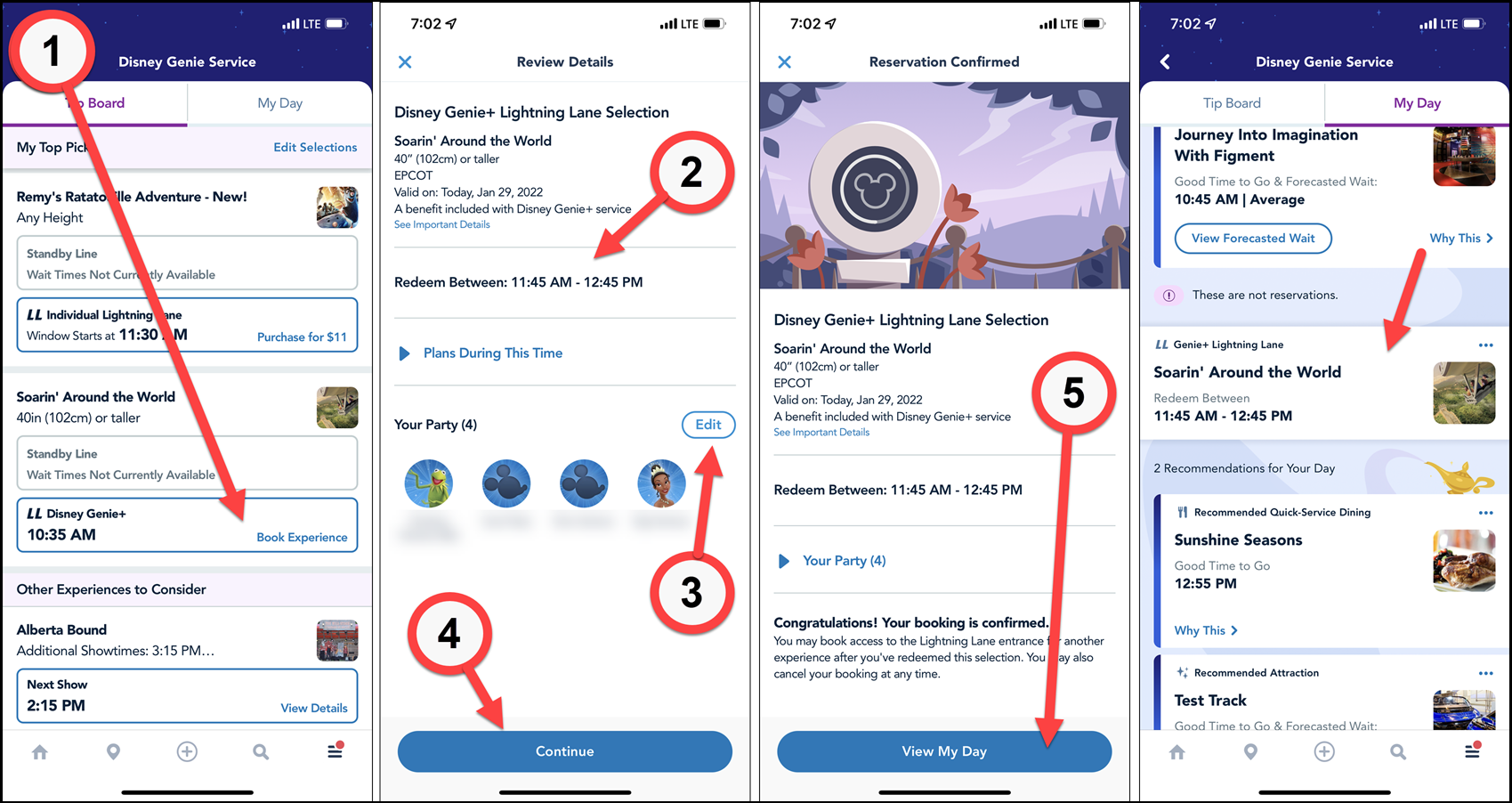 Reservations for Park Hopping
If the Lightning Lane reservation you want is for a ride that isn't in the park where you have your Park Pass, you won't be able to reserve unless the return time is after 2 p.m., when you can park hop. It's OK if you're booking before 2 p.m., only the return time for the LL needs to be later than 2 p.m. As of June 27, 2023, you'll only be able to make reservations for Park Hopping if you've purchased the "All Parks" Genie+.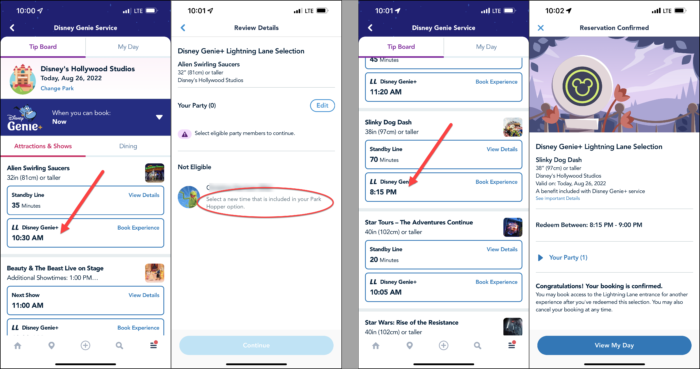 Practically speaking, this means that if it's earlier than 7:30 a.m., and you're trying to book in a park you're hopping to, you're shooting in the dark. You may have to try a few times before you're successful since you won't be able to see the return time to know if it's late enough for you to reserve.  Unless you're trying for an attraction that books very quickly and will pass 2 p.m. rapidly, it may be easier to simply wait until you can see the return times before looking at reservations in a park you're hopping to.
Making Your Next Reservation
After you make one reservation, you can make another one either
When you've used the one you just made (or canceled it)
When it has expired
After two hours have passed – and for the purposes of this calculation, reservations made before park opening behave as if they were made right at park opening. So if you make a reservation at 7 a.m. and the park opens at 9, you'll need to wait until 11 a.m.
For planning purposes it's nice to understand how the rules work, but the good news is that you don't usually have to remember what the time will be since you can see it in the app. For a practical example that covers some funky situations in depth, see When Can I Book My Next Genie+ Lightning Lane?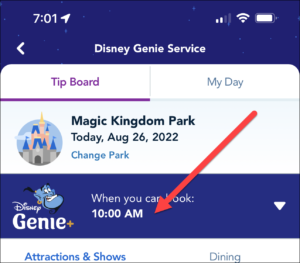 How to modify a Genie+ Lightning Lane (LL) reservation
Genie+ reservations can be modified once you've made them: you can change the time of the reservation, or change it to a different attraction, or both. If you're changing the attraction, you're limited to options in the same park – to switch to an attraction in a different park you'll need to cancel and rebook. If the reservation isn't in the same park as your Park Pass, then the same park hopping limitation applies, and you won't be able to modify it to a time earlier than 2 p.m.
To begin modifying your reservation, begin on the My Day tab and find the card for the Lightning Lane you want to modify. Tap the meatball menu (the three dots) on the top right of the card. Select "Modify Plan" from the menu that opens at the bottom of the screen.
On the following screen, you'll see the options that are available for you to change to. The option to select a new time for your current attraction will always be on the top. Below this will be options for other attractions and their available times. Remember that you'll only see attractions on this list that are in the same park as your original reservation, and that you won't be able to select a time before 2 p.m. if you're hopping to that park. You'll see those times displayed, but you won't be able to change to them.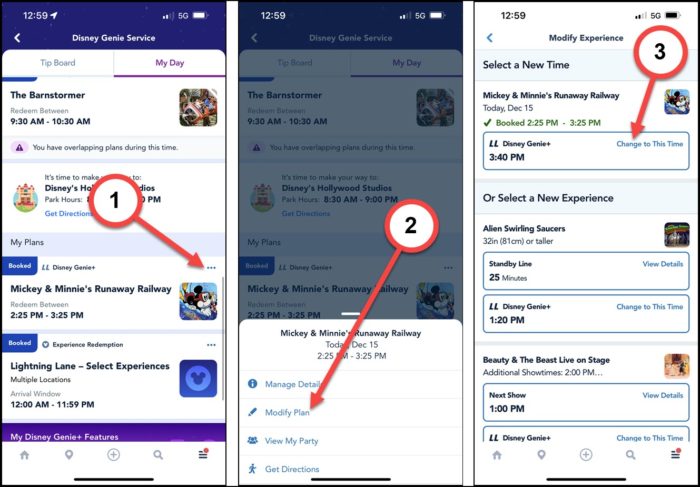 Once you've made your choice, the next set of screens should look pretty familiar by now; they're very similar to the ones you see when making the reservation from scratch. As usual, the time on this Review pane might be different than what was showing when you made your selection – if you're not happy with what you see, use the X in the top left corner to back out and retain your original reservation.
If you'd like to continue then edit your party, if necessary, and click Confirm Change. Editing your party here is a little different than when you're first making the reservation. You can remove guests from the modification, which leaves their original reservation untouched, but you won't be able to add anyone new into your party.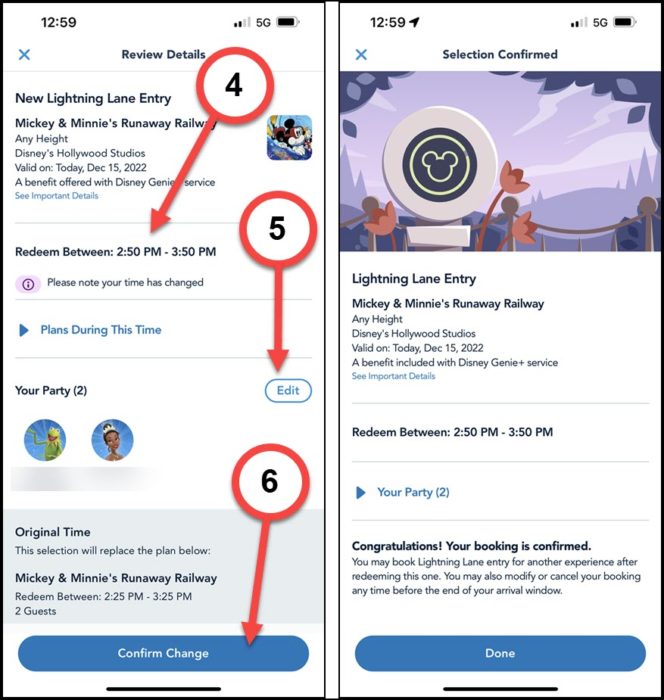 Modifying a reservation does not restart the timer on when you can book again – if you made the original reservation at 11 a.m., you'll still be eligible to book again at 1 p.m. at the latest once you modified it. For more detail about how modification affects when you can book again, see the examples in When Can I Book My Next Genie+ Lightning Lane?
How to make an Individual Lightning Lane (ILL) reservation
To make an Individual Lightning Lane reservation, start on the Tip Board and select the experience you would like to book. For an ILL reservation, you can select the time, so browse to find a time that's convenient for you. As usual, you can select to include all or only some of your group.
On the Review Details page, make sure to check the time of the reservation — the same as you see with Genie+ reservations, it's not uncommon to have it change from what you selected. If the time is wildly inappropriate for you, you can go back and search for a different time and try again.  After clicking purchase you'll see a confirmation screen, and clicking through will bring you back to Genie. Although the time can change between when you first select and the Review Details screen, once you click Continue and move on to the payment screen your time will be reserved for 10 minutes while you complete payment.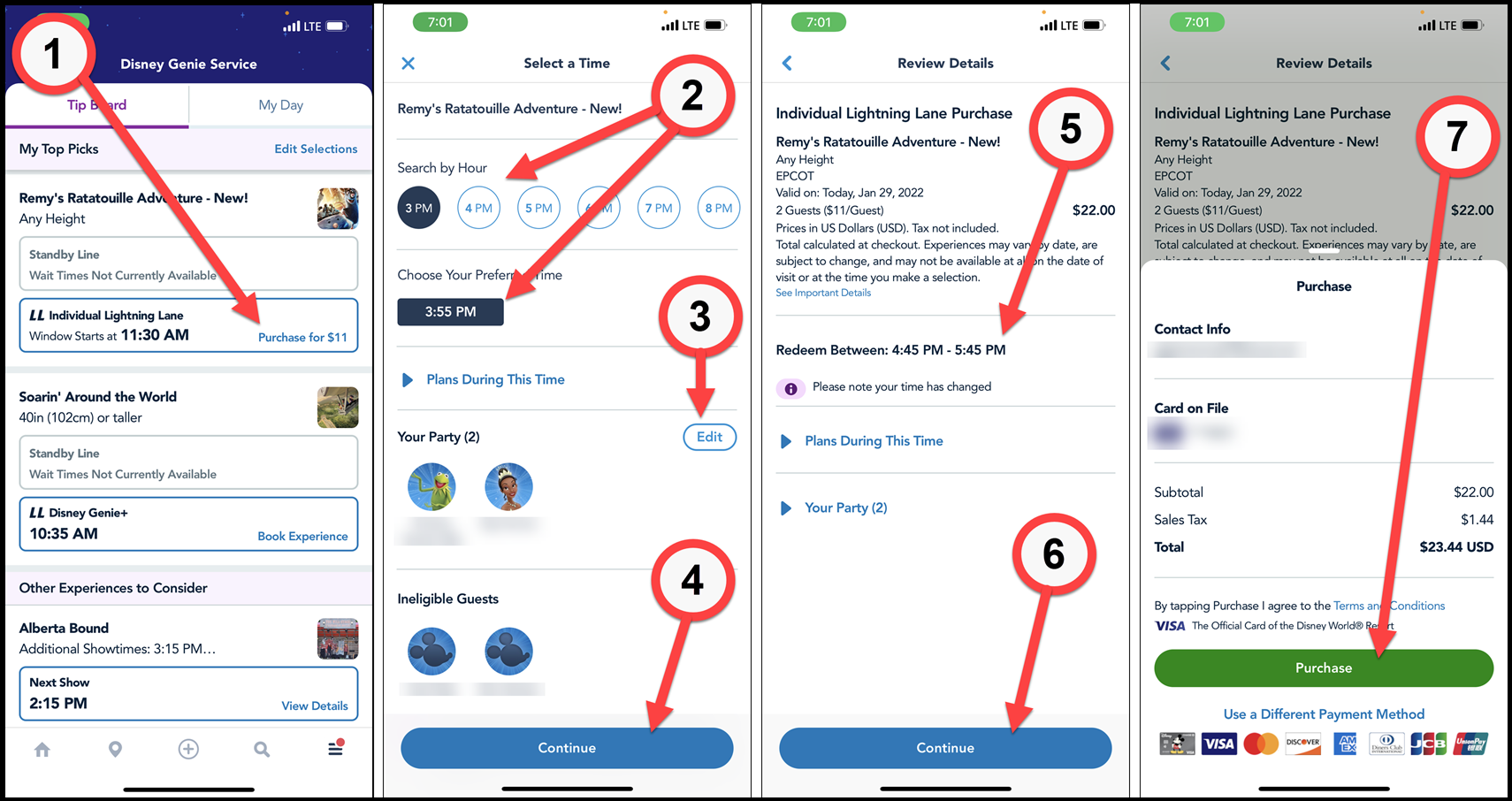 Similar to regular Lightning Lane where return times don't display on the Tip Board between 7 and 7:30 a.m., ILL panels will show "See Available Times". Again, this is simply Disney's way of acknowledging that due to the number of people booking during this time, it's not possible to give accurate times on the Tip Board.
Once you've made an ILL reservation, there is currently no way to cancel or modify it. If you are unable to ride because the attraction is down at some point during your return window, then you will be eligible for a refund but it might not be automatic.
How much will Genie+ or ILL help me?
We have a series of posts covering this question from a variety of angles. Keep in mind that the data is changing; most of the articles linked below are updated regularly.
Frequently Asked Questions
Still have questions? We have a separate article that covers a ton of nitty-gritty details that we couldn't fit in here. Disney Genie Frequently Asked Questions (Disney World version)
Original publication date January 30, 2022.