Surviving summer at Walt Disney World
I've literally sweated to get this blog post to you.
As the husband of a teacher, my family's Disney vacations typically come during the summer months. The heat and crowds of June, July and August keep some away, but we've learned to love our summer trips.
While the summer crowds were once substantially heavier than other times of the year, Disney has managed, through events and promotions, to even those crowds out. So long wait times shouldn't necessarily deter you from a summer trip. Wise use of FastPass+, crowd calendars and a good touring plan can greatly reduce the time you spend in lines. We find that by getting to the parks early, we can knock out a lot of attractions before the sun is straight overhead.
We've learned that summer has its advantages, too, such as longer park hours and fewer attractions down for refurbishment. Along the way, we've figured out a few tips and tricks that should help you if you're currently preparing for your summer trek to Walt Disney World.
Midday getaway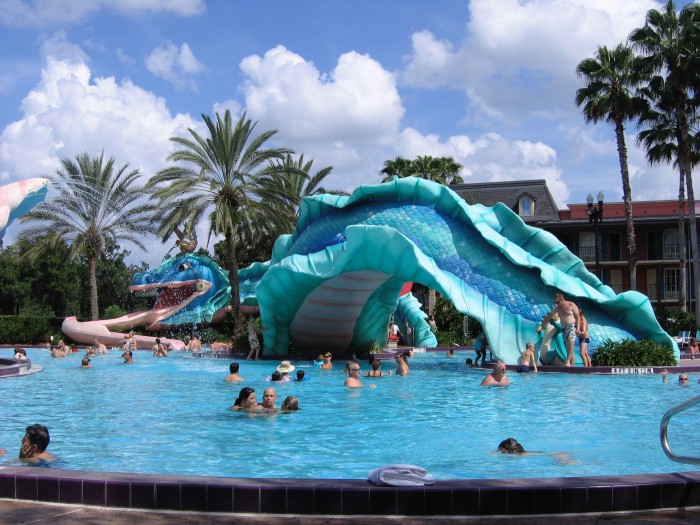 If you think you're going to be able to do the parks from rope drop to closing, think again. A key part of enduring a summer trip is planning for daily rest and relaxation at your resort when the parks are at their most crowded and hottest. If you're trying to decide whether you're going to stay on or off property, you'll want to factor in the travel time of returning to your resort midday. Thanks to summer park hours being the longest of the year, you'll still be able to accomplish plenty, even with spending a few hours at your resort.
Ideally, you'll be able to hit a park at rope drop, head back to your resort after lunch, grab a quick nap or perhaps go for a swim. Then head back to a park refreshed and ready to enjoy more attractions and evening entertainment. This kind of touring is ideal for park hopping, where you can hit one park in the morning and another in the evening. You might even consider saving your FastPass+ reservations for your evening park on select days. The new Frozen attractions in Epcot's Norway and the evening Kilimanjaro Safaris will be tough to get FastPasses for if you're trying to add them the same day after you've used your three initial FastPasses. If you've never done Seven Dwarfs Mine Train during dusk or evening, it's the best way to experience that final scene.
Crank the A/C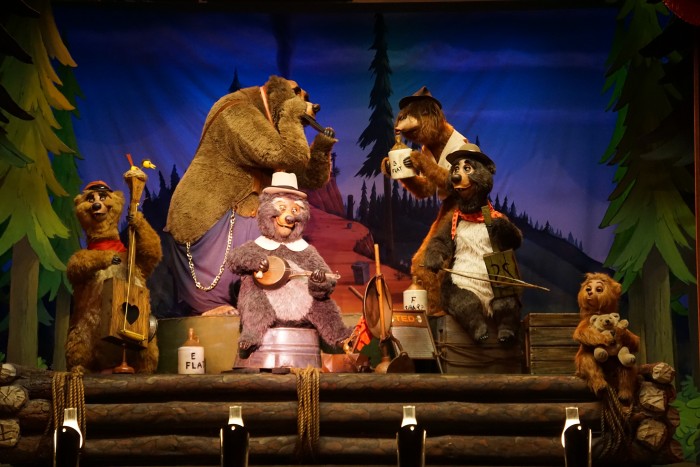 In the summer, indoor attractions are your friend. Luckily, Disney has plenty of them. Are you starting to drag after riding Splash Mountain? Take some time to duck into Country Bear Jamboree. You would be surprised at how just 10 to 15 minutes sitting in a cool attraction can recharge your batteries. People say that Disney's Animal Kingdom is the hottest park, but I think that's a function of it having most of its attractions outdoors. Indoor dining can be a big relief as well. The new Harambe Market might be a big draw to diners at Animal Kingdom, but it's outdoors and crowded. If your family needs a break, you may be better off heading over to Restaurantosaurus.
Air conditioning is also one of the overlooked advantages of taking Disney transportation rather than your own car. Hopping on an air conditioned bus can make for a relieving ride back to your resort, as opposed to getting into car that's been baking on an asphalt parking lot all day.
Mind your body's needs
High heat and humidity can cause big problems if you're not paying attention to your body's signals. First and foremost, make sure you and your entire family are staying hydrated. Luckily, you can get a free cup of ice water at any counter service location. Be sure to take advantage of that service. It's no problem bringing (non-alcoholic) beverages into the park, so grab a few bottles from your resort room fridge before heading out the door.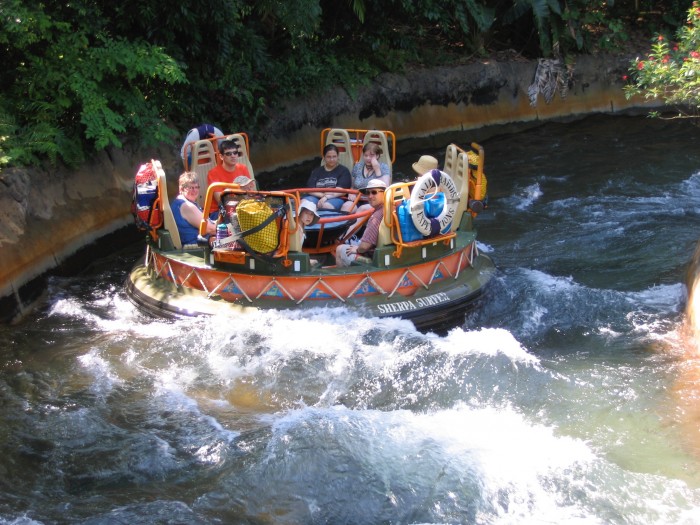 Apply sunscreen early and often. No one wants to endure the discomfort of a nasty sunburn on vacation. Make sure to cover the areas you might overlook, like the tops of your feet if you're wearing sandals. Speaking of feet, comfortable, broken-in footwear is a must if you want to avoid blisters. I like to alternate between athletic shoes and a comfortable pair of waterproof sandals, saving those sandals for the day we're planning on riding Kali River Rapids at Animal Kingdom. Otherwise, you could end up walking through the park with soaked shoes and socks.
And finally, as much as we may not want to talk about it, it's an unfortunate reality. The combination of heat, humidity, moist skin and constant walking can lead to painful chafing. Applying an anti-chafing powder to those problem regions at the start of your day will keep the rashes away.
A hard rain's gonna fall
During the summer, you can expect almost daily rain showers. Be sure to bring rain panchos from home, I guarantee you'll use them and you'll save a good bit of money over buying them at the parks.
The thing about Florida showers is that they rarely last more than an hour or two, even though they can be heavy at times. The midday rain storm has a tendency to clear out the crowds in a park. So if you can wait it out, you might be able to jump on some attractions with much lower wait times.
Water parks, better late than never
If you've never been to Typhoon Lagoon or Blizzard Beach, summer is a great time to enjoy the theming and attractions. While conventional wisdom may say that you should get to the water park at opening to avoid the crowds, I take a different approach.
When you use a morning of your trip to visit the water park, you're missing out on early morning touring at one of the theme parks, which I find far more valuable as far as maximizing your time. Instead, I like to head to the water parks for the couple hours before closing, which is typically 7 p.m. By 4 or 5, you'll see the day crowds begin to dissipate. By the last hour, you'll have very little wait for most of the parks slides. I've been able to virtually walk on to Crush 'n' Gusher at the end of the day. The great thing about this approach is that it still allows you to head to a theme park to catch an evening spectacular and ride a few attractions.
One other essential for the water parks, and your resort pool for that matter, is swim shoes. When the sun is beating down on the concrete, it can be painful to walk on with bare feet. Swim shoes eliminate that problem. Also, anyone who has been in the fantastic Surf Pool at Typhoon Lagoon can tell you that the rough bottom surface, while helpful to prevent slipping, can be rough on bare feet. Swim shoes will save your soles in this situation as well.
What are your tips for touring the parks in the summer? Please share your experiences in the comments.