We Tested Wi-Fi and Cell Service for Rise of the Resistance Boarding Groups at Disney's Hollywood Studios
A frequent question we're getting is whether people should use their cell phone carrier or Disney Wi-Fi when attempting to get a Star Wars: Rise of the Resistance Boarding Group at Disney's Hollywood Studios and at Disneyland.
Fastest Network and Location for Rise of the Resistance Boarding Groups
Based on network tests we've been running, we think the fastest network speeds to access Disney's servers are achieved by using Disney's Wi-Fi, but only in certain spots within the park. At Disney's Hollywood Studios, the fastest, most reliable Wi-Fi access we've found is in Animation Courtyard near the Disney Junior Dance Party entrance.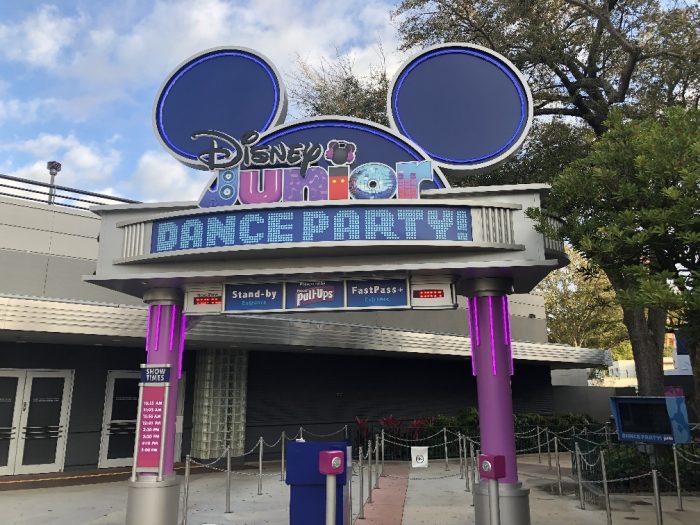 If you can't make it to that spot, or if you're seeing issues with Disney's Wi-Fi while using MyDisneyExperience before boarding groups open, then I suggest switching to your cell phone carrier instead of using Disney's Wi-Fi. Your cell phone carrier's network speeds will probably be slightly slower than Disney's Wi-Fi, but it's probably more reliable in many areas of the park. See below for more details.
The least good place to be in the park, regardless of which network you're using, seems to be in front of the Chinese Theater.
Good Wi-Fi access speeds are found throughout Disneyland, and at least as far as Buena Vista Street at Disney California Adventure. Disneyland's Wi-Fi can be found in these locations:
Town Square
The Central Hub
Peter Pan
Matterhorn
Space Mountain
By Star Wars Launch Bay
Around the small world mall
Outside of Golden Horseshoe
New Orleans Square
All of Galaxy's Edge
Note that if you walk from one access point to another, you may have to re-agree to Disney's Wi-Fi terms and conditions to re-connect to the network.
Getting a Boarding Group is Still a Lottery
Being on the fastest network only improves your odds of getting a boarding group — it's not a guarantee. When your boarding group request makes it to the correct servers in Disney's network, it's there with thousands of other requests from people all around you doing the same thing.
At that point, your request depends more on how Disney's network routing software distributes those thousands of requests across maybe a few dozen computers. If it's a simple algorithm like round-robin, your request has a chance of getting routed to a less-efficient server. Even more sophisticated load-balancing algorithms, like software-based adaptive routing, still run the chance of the server slowing down a split-second after it receives your request. There's nothing you can do about that.
I think that internal load-balancing, individual server performance, and differences in Wi-Fi quality throughout the park are the main reason why some boarding group requests sent via cell carrier result in lower boarding group numbers than those sent on Wi-Fi.
Background
The MyDisneyExperience app seems to make most of its API calls through the domain api.wdpro.disney.go.com. It's likely that boarding group requests are going to the same place. The domain name servers for disney.go.com are hosted by the Disney Internet Group (DIG) at these servers:
sens01.dig.com
orns01.dig.com
sens02.dig.com
orns02.dig.com
All of this infrastructure is probably at one of Amazon's data centers in Oregon.
Ping The simplest way to test network speed is through a utility called ping. Ping tells you whether you can reach a domain from where you are, and if so, how long it takes for your request to get there. Lower numbers are better.
Traceroute Another useful network tool is traceroute. Traceroute tells you both the time it takes to get to a domain, and the route of computers through which your request travels to get there. Lower numbers are better.
Using traceroute on Disney's Wi-Fi, I was getting responses from dig.com and disney.go.com in under 100 milliseconds, and it appeared that the requests took a reasonably direct route to get there. They didn't go through any public network I recognized, like Level 3 or Cogent, so it's possible that the requests stayed entirely within Disney's private network. That would probably be the fastest possible route under most circumstances.
The same requests on T-Mobile got routed from Orlando to Tampa on T-Mobile's leased network through Level 3, then to Google's network in Miami (Google-level3-60G.Miami.Level3.net), then to Mountain View, California. The request bounced around a bunch of servers in Mountain View before making it out to Disney's servers, again in Oregon. The trip averaged around 460 milliseconds, or more than four times as long as through Disney's Wi-Fi.
Network Speed and Reliability Tests at Disney's Hollywood Studios
I brought two devices into Hollywood Studios over multiple days to test network speeds: an iPhone 8 and an iPad Pro.
Upload/Download speed My cellphone carrier is T-Mobile. T-Mobile's LTE network offers consistent, reasonably fast network speeds, even in crowded parts of the park. I was able to get download and upload speeds of over 40 Mbps everywhere I went. Here's an example from Sunset Boulevard, a place I would not recommend standing for Rise of the Resistance boarding groups: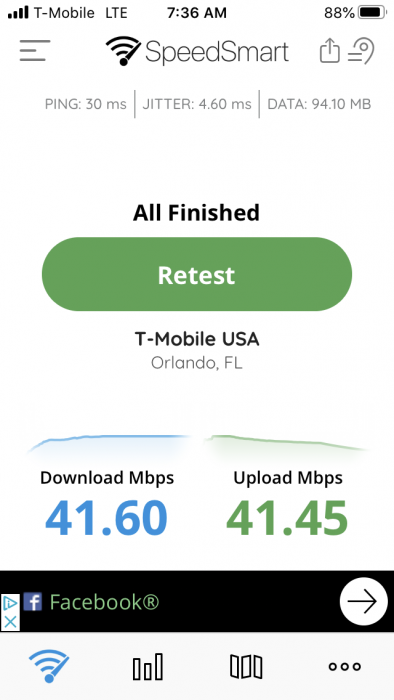 Disney's Wi-Fi network offers comparable speeds. I also ran this test on Sunset Boulevard: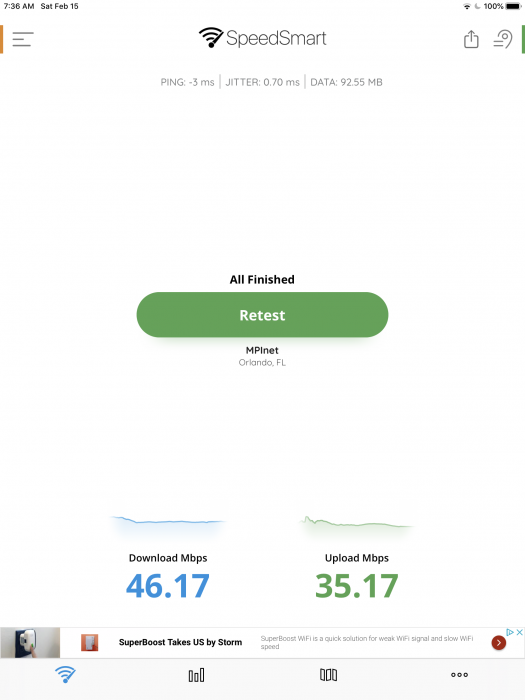 Ping Speed I used the ping utility to test how long it took for requests to reach the MyDisneyExperience servers, starting a few minutes before official park opening.
Here's a chart of the network performance I measured at various places throughout the park on Saturday, February 15, 2020. I also tested on Sunday, February 9 and Tuesday, February 11, and Saturday's tests showed the widest differences:
| | | | | | | | |
| --- | --- | --- | --- | --- | --- | --- | --- |
| Network | Location | Time | Packets Sent | Min Response Time | Avg Response Time | Max Response Time | Packets Lost |
| Disney WiFi | Sunset Boulevard | 7:50 am | 24 | 12.563 | 189.536 | 1,337.481 | 2 |
| T-Mobile | Sunset Boulevard | 7:50 am | 27 | 37.366 | 47.423 | 61.039 | 0 |
| Disney WiFi | Brown Derby | 7:51 am | 36 | 12.368 | 46.391 | 368.008 | 1 |
| T-Mobile | Brown Derby | 7:51 am | 33 | 26.451 | 46.998 | 56.824 | 0 |
| Disney WiFi | Chinese Theater | 7:54 am | 31 | 13.774 | 12.579 | 25.739 | 10 |
| T-Mobile | Chinese Theater | 7:54 am | 43 | 37.008 | 53.219 | 344.743 | 1 |
| Disney WiFi | Star Wars Launch Bay | 7:57 am | 28 | 16.174 | 129.782 | 1,158.968 | 4 |
| T-Mobile | Star Wars Launch Bay | 7:57 am | 32 | 30.135 | 46.156 | 55.289 | 0 |
| Disney WiFi | Disney Junior Entrance | 7:59 am | 172 | 11.935 | 23.151 | 145.43 | 0 |
| T-Mobile | Disney Junior Entrance | 7:59 am | 170 | 29.273 | 49.082 | 91.653 | 0 |
At its best, Disney's Wi-Fi generally outperforms T-Mobile in terms of speed to get to Disney's servers. At the entrance to Disney Junior in Animation Courtyard, Disney's average network speed is better than T-Mobile's best speed. But speed only gets you so far — network reliability is also important. And that's where T-Mobile does better (and probably your cellphone carrier, too).
Network Reliability The big difference between T-Mobile and the Wi-Fi in Disney's Hollywood Studios is that Disney's Wi-Fi network seems much less reliable in crowded areas of the park. Disney's Wi-Fi network repeatedly disconnected my iPad as I walked around, especially on Hollywood Boulevard and Sunset Boulevard. It sometimes took up to 30 seconds to re-connect.
In addition, Disney's Wi-Fi network dropped 17 network packets – around 5.8% of the traffic we sent it – during our ping tests above (but none were dropped during the crucial 8:00 a.m. boarding group window near Disney Junior). T-Mobile dropped exactly 1 packet, or about 0.3%.
What's been your experience getting boarding groups? Do you feel like you have more luck with cell phone data or Disney Wi-Fi? Let us know your experience in the comments.