The 10 Best Food Items from 2020 Disney California Adventure Food & Wine Festival
Food & Wine Festival 2020 starts today at Disney California Adventure. There's thirteen booths and dozens of food items to try this year. Not sure where to start? Here, in no particular order, are the 10 best food items from 2020 Disney California Adventure Food & Wine Festival.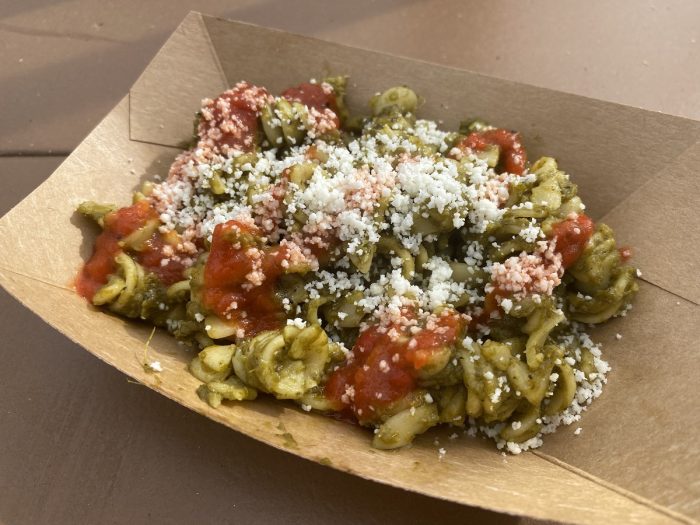 Creamy Poblano Pepper Pasta – $7.75 – Peppers Cali-Ente
Starting off with one of our favorite items from this year, the Creamy Poblano Pepper Pasta is a generous portion of Rotini Pasta with Roasted Poblano Sauce. The pasta is topped with Roasted Red Pepper Drizzle which is gloriously spicy. Disney, if you're reading this (which you're not), I'm going to need this recipe.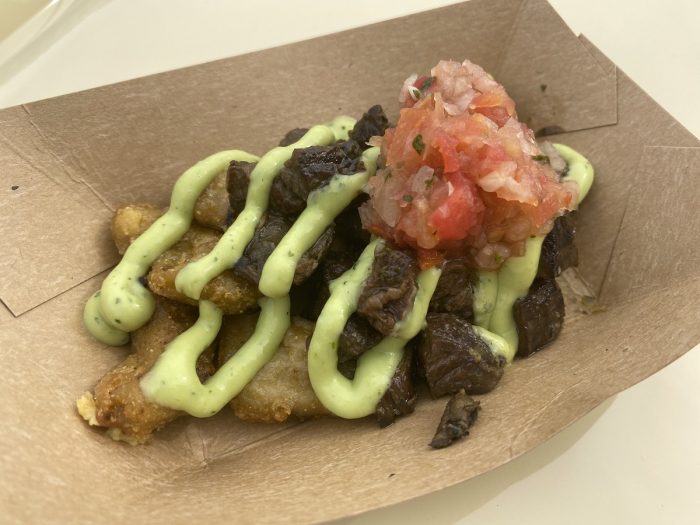 Tortilla-crusted Fried Guacamole with Carne Asada – $8.25 – Avocado Time
After I ate the Creamy Poblano Pepper Pasta I thought none of the other items this year would top it. Then I ate the Tortilla-crusted Fried Guacamole with Carne Asada. Fantastic. I'm not sure I've ever had fried guacamole before, but I can now confirm that it is glorious. I also need to mention the included Carne Asada is cooked perfectly. This is a must buy.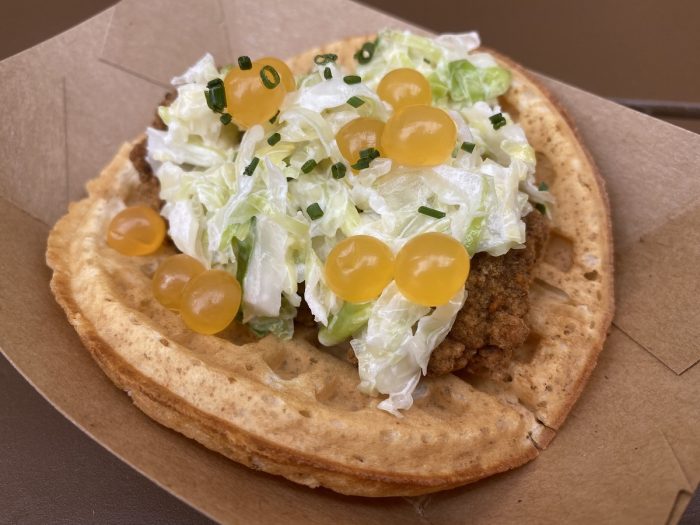 Brunch Fried Chicken & Waffle Sandwich – $8.00 – Golden Dreams
The waffle is a bit on the savory side, while the chicken was covered in a yummy thick breading. The "Mimosa-inspired Slaw and OJ Bubbles" may scare you off but just hear me out… it's good! If you are worried about the taste I would recommended chipping in with a few of your friends and giving this unique item a try. The flavors go together surprisingly well.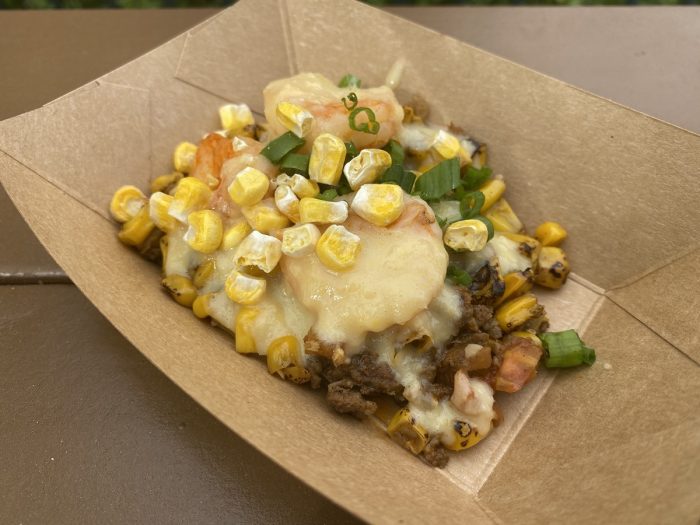 Shrimp and Braised Corn – $8.25 – Off the Cob
I enjoyed the Shrimp and Braised Corn  thanks the blend of several flavors that go well together. The Chorizo and Shrimp was flavorful while the crispy Corn Kernals added a satisfying crunch.
Mickey-shaped Caramel-Peanut Milk Chocolate Macaron – $6.50 – Off the Cob
It's a gigantic macaron that tastes like a Snickers candy bar. What more could you possibly ask for? This is a good item to share with a couple of people due to its huge size.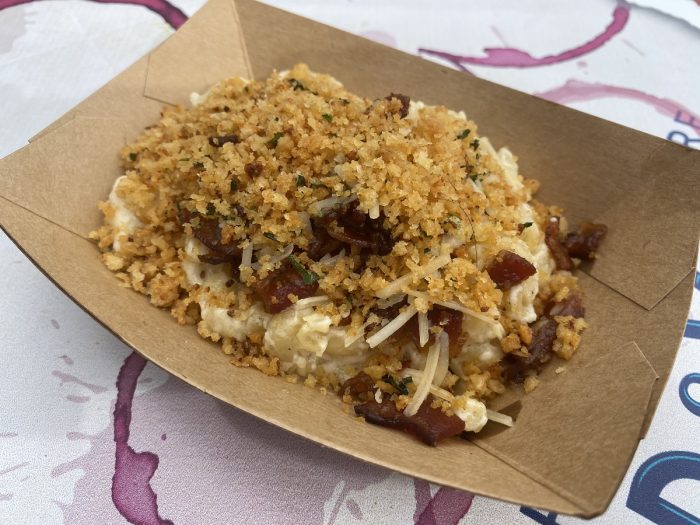 Carbonara Garlic Mac & Cheese with Bacon – $8.00 – Garlic Kissed
Each year DCA's Food & Wine Festival has its token macaroni and cheese dish. I found the White Cheddar Cheese Sauce to be creamy and tasty, while the Panko Crumbs added a good crunch to the dish. My only complain was that I didn't really taste much garlic, but maybe it was overpowered by the bacon. Overall this is a solid item with a decent serving size.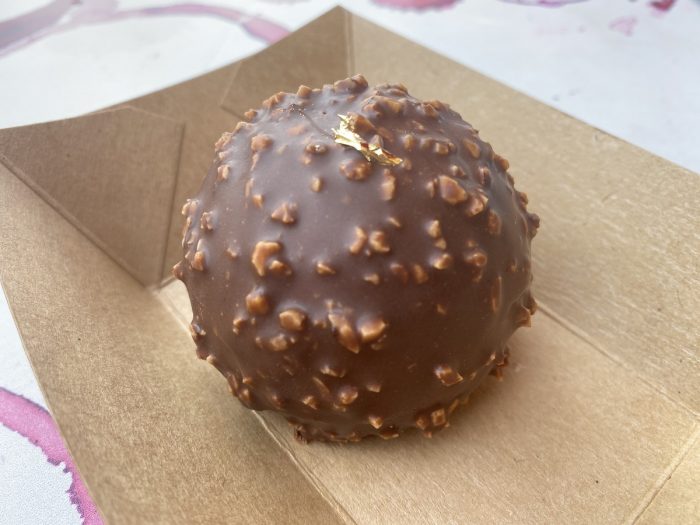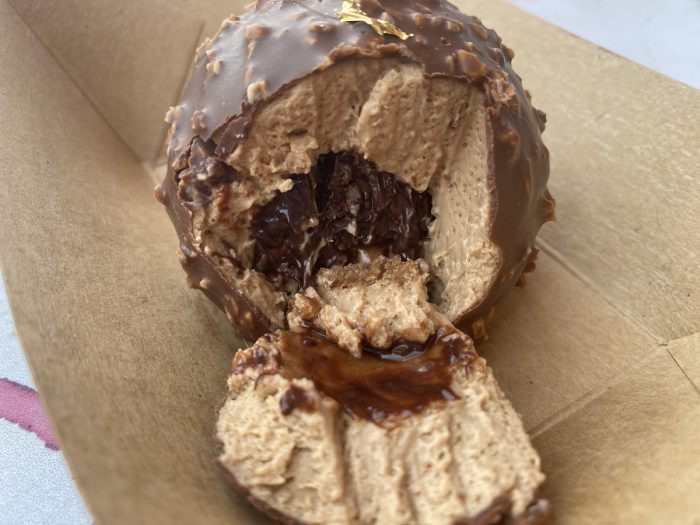 Chocolate Hazelnut Crunch – $6.50 – Cluck-a-Doodle-Moo
The Milk Chocolate Mousse has a delightfully fluffy texture, while the Hazelnut Ganache in the middle is absolutely decadent. This is a must buy dessert for chocolate fans.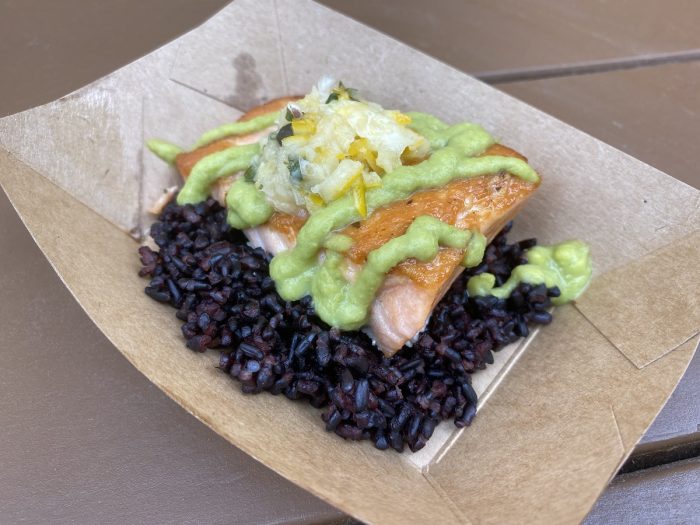 Seared Verlasso Salmon – $7.75 – Golden Dreams
I really enjoyed the Salmon in this dish, which was cooked perfectly. The included Lemon Pea Purée and Meyer Lemon Relish add some wonderful flavors that match perfectly with the salmon.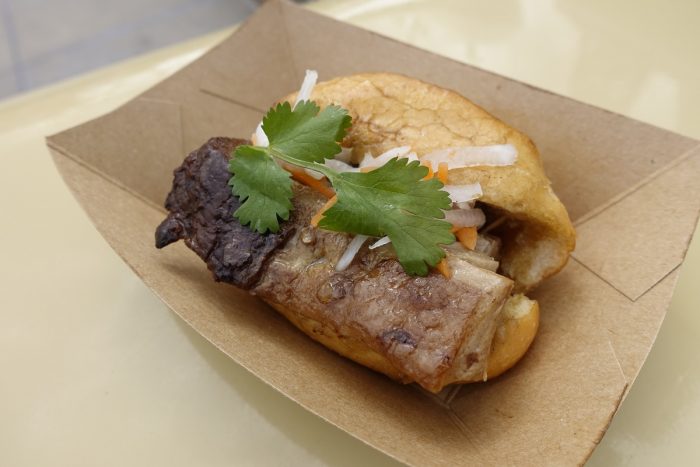 Black Garlic Soy-braised Pork Belly Banh Mi – $8.00 – Garlic Kissed
A returning favorite is the Pork Belly Banh Mi, which is absolutely decadent. The pork belly is perfectly cooked and is so tender that it falls apart in your mouth. The garlic soy sauce makes this item a real winner. The bread is very soft, so it easily soaks up all the juices from the pork belly. When you're done eating you're left with a wonderful garlic aftertaste.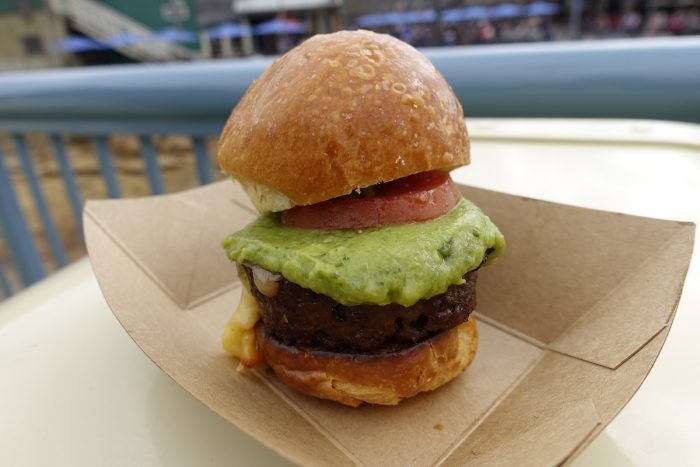 Petite Impossible Burger  (V) – $8.00 – Avocado Time
Another returning item from last year is the Petite Impossible Burger. The Impossible Burgers seem to be in every restaurant these days. My feelings are pretty much the same as everyone else that has tried one; it's shocking how similar the taste and texture is to real meat. This one was a bit on the well done side (I usually prefer medium), but it was still very good. I also appreciate the good-sized portion of avocado on the top.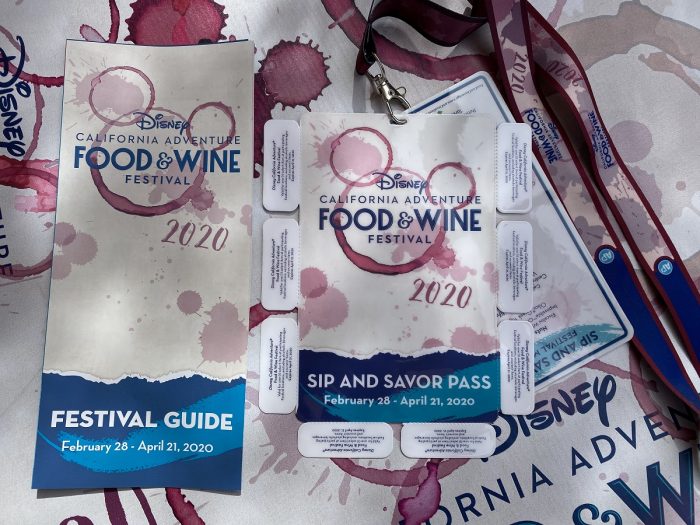 The Sip and Savor Pass returns for 2020. This year the cost is $51 for annual passholders and $56 for everyone else. That gets you 8 tabs to use on any of the food items or non-alcoholic drinks. It's worth mentioning that you should use your Sip and Savor tickets on the most expensive items to get the most bang for your buck. This means you should avoid using your tickets for drinks and desserts. If you use your tickets for eight $8 items, you'll be getting $64 worth of food for $51 (or $56 if you don't have an AP). If you buy 8 $6.50 items that means you're only getting $52 worth of food for your $51/$56.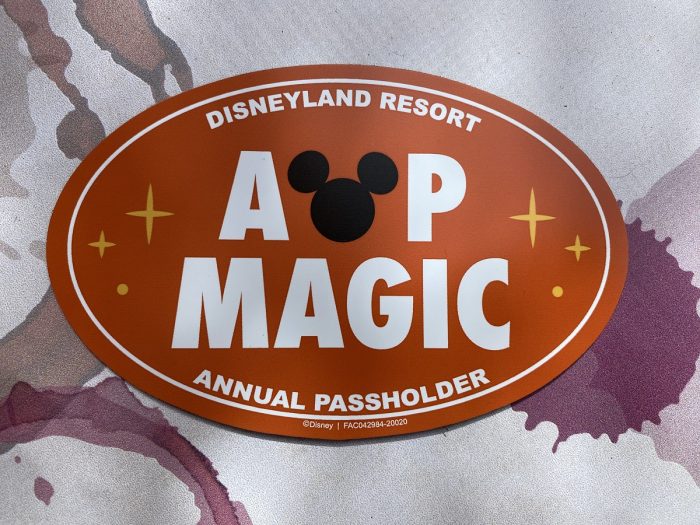 If you are an annual passholder be sure to ask for the new AP exclusive magnet when you purchase your Sip and Savor pass.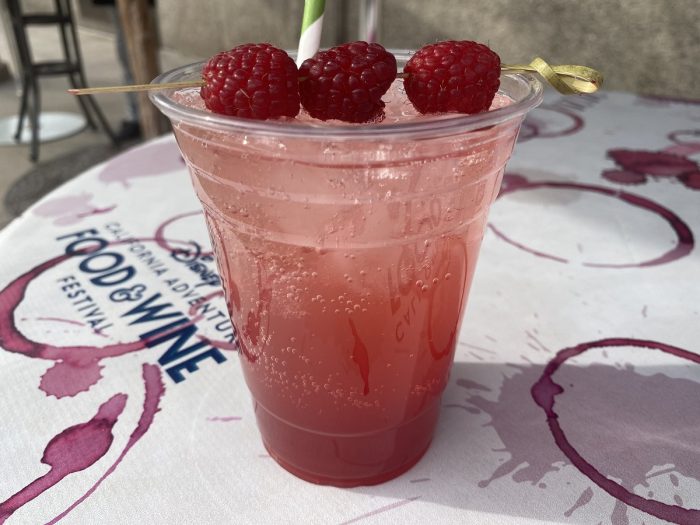 Bonus item: Ruby Citrus Sparkler – $5.00 – Berry Patch
I may as well mention this tasty beverage that I used to wash down many of the items on this list. I found the Ruby Citrus Sparkler to be light, crisp, and refreshing. It's a bit on the sweet side, but not nearly as sweet as some of the other ultra sugary drinks sold in Disney Parks. I would get this again, especially when as the weather starts to warm up.
Let me know what you think after you try these items at the DCA Food & Wine Festival. Are there any items you tried and enjoyed? Are there any that you think others should avoid? Let me know in the comments below.