Getting to Know Universal – Skull Island: Reign of Kong
Today in Getting to Know Universal, we are covering the ins and outs of Island of Adventure's Skull Island: Reign of Kong. Kong sits on an expansion pad in Islands of Adventure–no attraction was removed in its creation. Construction started in 2014 and the attraction opened the summer of 2016.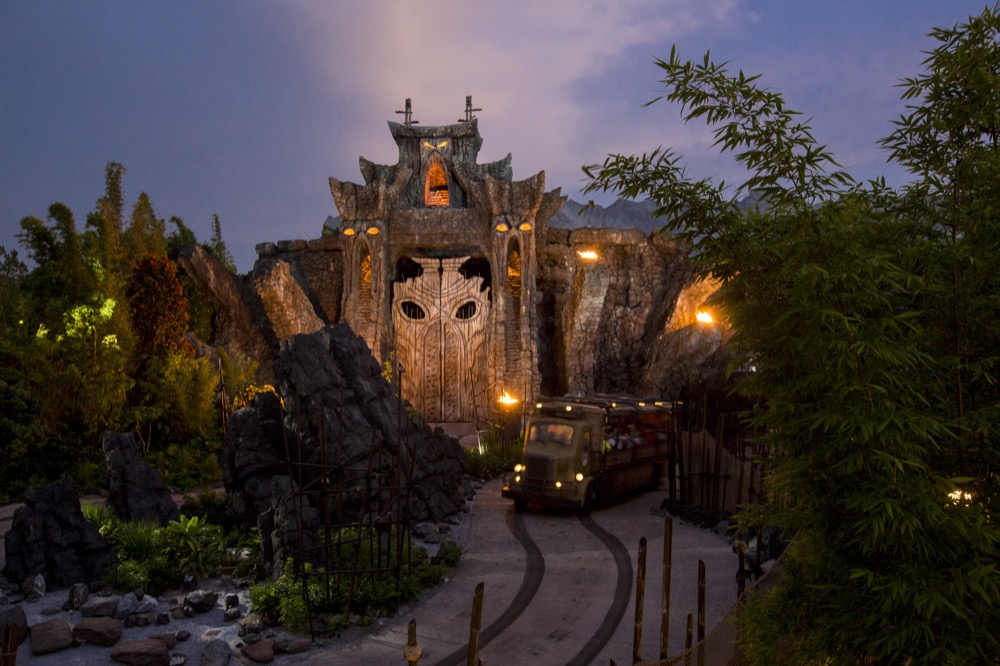 The Experience
Skull Island: Reign of Kong is a slow-moving trackless dark ride with dark caves, 3D projections, simulated chases, and audio-animatronics. While Kong is on the name of the attraction expect to see many creepy crawlies and carnivorous beasts.
Skull Islands' immense facade looms over the land, the massive stone gates holding back the creatures trapped behind. Outside a temporary base is set for those venturing into the caves. Inside guests find out why this is called Skull Island: thousands of skulls line the mantels, walls, and shelves. As our expedition progresses guests realize they are not alone! The locals are attempting to summon Kong and scare away intruders. We soon catch up to the internal camp and guests are ushered to board massive transport vehicles.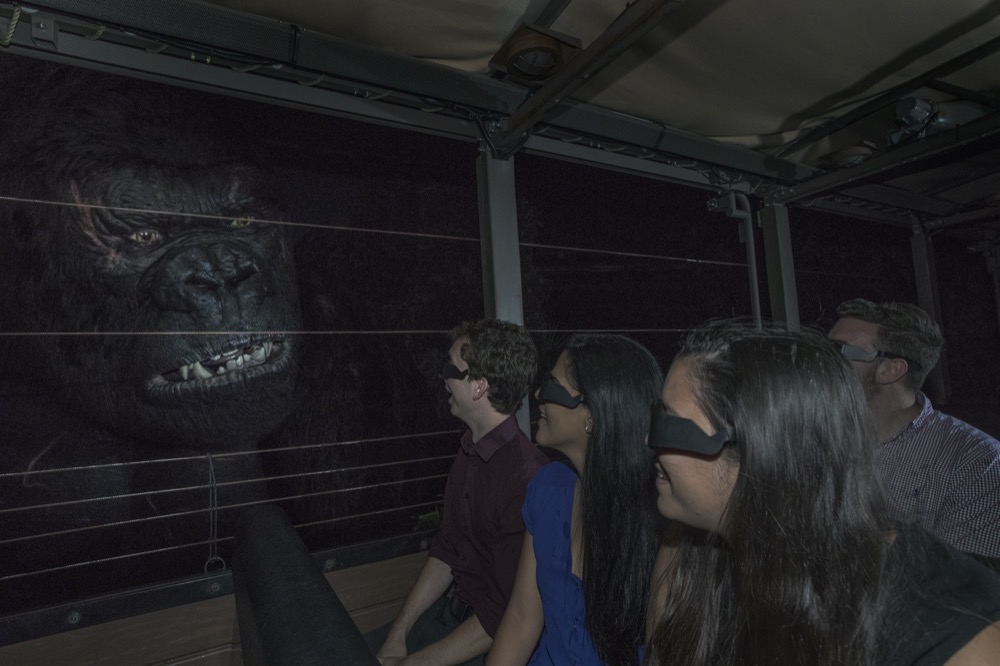 Guests travel in the trucks beyond the gates to deliver supplies at a rendezvous point. Despite a foreboding atmosphere and numerous warnings, we push onwards. Inside our meetup is ambushed by creatures and our expedition leader is abducted. Our truck makes chase through Skull Island, but right before certain doom Kong intervenes, saving us from a hoard of dinosaurs. With one last growl as we pass buy we wonder if he is benevolent or malicious? We might never know.
The Opinion
TouringPlans users rate Skull Island: Reign of Kong highly four years after opening, but that was not always the case. Many love the queue, outdoor segment, theming, and audio-animatronics, but were not enamored with another attraction using 3D screens. Over the intervening years, Kong has shot up my personal, and many others, ride rankings. With a unique atmosphere, fun plot, and fantastic Kong audio-animatronic this is a must ride every visit.
Restrictions & Accommodations
Guests riding Skull Island: Reign of Kong must be at least 36 inches tall with a supervising companion; 48 inches to ride alone. The attraction is accessible to wheelchairs, but guests in ECVs must transfer to a wheelchair to ride. The attraction features water effects and loud noises.
Rider Swap is offered for parties with members under the height requirement, see a Team Member at the entrance for assistance. This attraction is loud, scary, and intense, it even scares some adults.
The distance between the ride vehicle seats is unusually small for an attraction of this type. Some larger and taller guests might find the ride vehicles awkward or uncomfortable.
When to Visit
Skull Island: Reign of Kong remains one of the most popular attractions at Islands of Adventure. According to the TouringPlans wait times page, we advise riding Kong within 90 minutes of the park open or during the last 90 minutes before the park closes. Due to the nature of how the ride loads and its location, waits for Kong often eclipse that of Spider-man and Forbidden Journey.