The Disney Cruise Line Health Questionnaire: One Last Thing Before You Board
You may think you're done with paperwork after you complete the online check-in process 30 days before your Disney cruise, but not so fast. There's one last form to complete before you head to the port: The Health Questionnaire.
When do I complete the Health Questionnaire?
The Health Questionnaire will be emailed to you in the wee hours of the morning on your DCL embarkation day. For my cruises in 2022 and 2023, my Questionnaire emails arrived at 5:31 a.m., 5:22 a.m., 5:43 a.m., 5:08 a.m., and 5:12 a.m.   You should complete the form as soon as you see it, though there's no need to wake up early specifically for this.
All the emails came with the subject line "Mandatory Health Questionnaire / NAME Party / Reservation Number. The lead contact on your reservation may complete the form for all occupants of your stateroom. The form must be completed by an individual 18 years of age or older.
Note: Pre-pandemic this form was distributed on paper as you arrived in the port terminal. Today the form is online.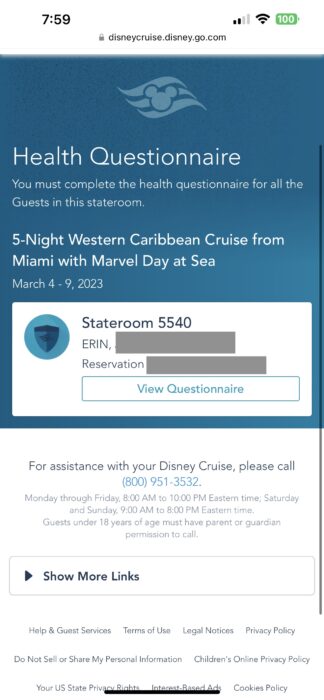 What happens if I don't get the Questionnaire email?
The odds of this happening are extremely small, particularly if you've gotten other pre-cruise emails from DCL. If it's after 6:30 a.m. and you haven't gotten your Health Questionnaire, your first step is to check your spam folder. Then ask other members of your travel party whether they have received the Questionnaire email.
If you really haven't gotten the email, call DCL at 800-951-3532 and ask them to resend it, though be aware that DCL may have limited times that the phones are staffed or you may encounter extended hold times if the lines are open.
If you still don't have the email, or if you can't wait on hold, just head to the port. You will have to complete the form in person before being able to board the ship.
What kinds of questions will I be asked?
The questions you'll be asked may vary slightly depending on your embarkation point and what's happening in the world at the time of your sailing. In spring 2023, there were only three questions for guests sailing out of Port Canaveral:
Will anyone in your travel party be pregnant 24 weeks or more at any point during your sailing?
Within the last 3 days, have you or any occupant of your stateroom developed symptoms of vomiting or diarrhea?
Have you or anyone in your immediate travel party (occupying one stateroom) tested positive for COVID within the past 10 days or are you currently having symptoms to include: Fever, cough, shortness of breath, sore throat, runny nose, muscle aches, headache or loss of taste or smell?
In spring 2022, the questions were asked were the pregnancy question above, plus also:
Have you or any person in your party had a positive COVID-19 test within the past 10 days?
Within the past 14 days, have you or any person in your party had close contact with or helped care for anyone diagnosed with or suspected of having COVID-19?
Do you or any person in your party have symptoms commonly associated with COVID-19? This includes a fever (100.4 F/38 C or higher), feeling feverish, chills, cough, shortness of breath or difficulty breathing, fatigue, muscle or body aches, headache, new loss of taste or smell, sore throat, congestion or runny nose, nausea or vomiting, or diarrhea.
During summer 2022, all of the above were asked, plus:
Are you or any person in your party currently subject to health monitoring for possible exposure to COVID-19?
Prior to the 2020-2021 pandemic pause of sailing, versions of the questions included:
Have you or any occupant of your stateroom traveled from or through China, including Hong Kong or Macau, in the past 14 days?
Are you or any occupant of your stateroom experiencing a fever AND [DCL's emphasis] any one of the following symptoms: sore throat, cough, runny nose, muscle aches or headache?
Within the last three days have you or any occupant of your stateroom developed symptoms of vomiting or diarrhea?
Have you or any occupant of your stateroom traveled to Guinea, Liberia or Sierra Leone in West Africa within 60 days of the start of your cruise vacation?
Have you or any occupant of your stateroom been in direct physical contact (having cared for, lived with, or had direct contact) with a confirmed or suspected Ebola case within 60 days of the start of your cruise vacation?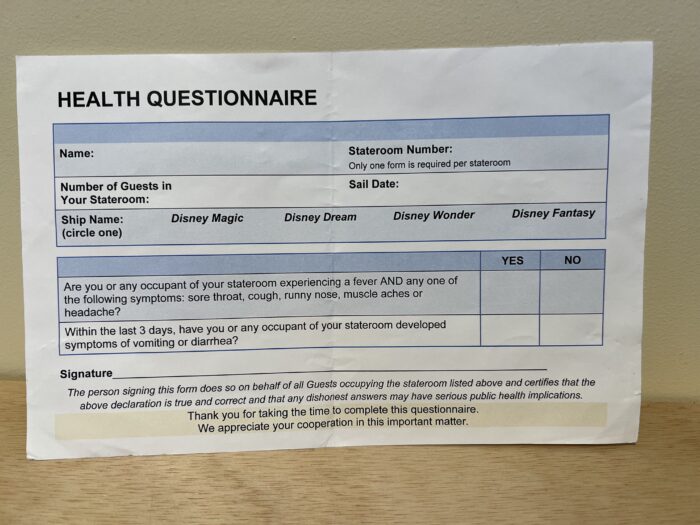 Anything else?
At the end of the Questionnaire, guests are now required to attest to the following:
On behalf of myself and all Guests occupying the stateroom listed above I certify that all answers are complete and accurate and I understand that any dishonest or misleading answers may have serious public health implications. The information in this Online Health Questionnaire may be reported to the relevant public health authorities.
I/we attest that all the Guests occupying this stateroom: (1) are knowledgeable about their individual risk of developing severe illness if infected with COVID-19; (2) have made an informed decision about cruising based on their individual risk; (3) have decided whether to I consult with a health care provider based on their individual risk; and, (4) agree to follow all health and safety measures during this cruise to minimize the spread of disease, such as wearing face coverings, proper hand washing, coughing etiquette and appropriate physical distancing.
Why is DCL asking me these questions?
In relatively small, enclosed spaces, with many guests touching the same stair rails, elevator buttons, and serving utensils, communicable diseases do have the propensity to spread. If 3% of a ship's population becomes ill with something like Norovirus or COVID, this must be reported to authorities.
DCL is constantly cleaning and disinfecting high-touch surfaces, and you should be vigilant about washing your hands, but everyone's jobs gets a lot harder if guests board the ships with a known illness.
Can I skip the Health Questionnaire?
No. If you don't complete the health form, they won't let you board the ship.
What happens if I answer "yes" to the items on the Health Questionnaire?
If you answer yes, you will be contacted by DCL and evaluated by cruise line medical personnel. Depending on the timing and the question, you may be called or you may be interviewed and possibly examined at the port.
In many, if not most, cases, the interview/examination will result in guests being denied boarding.
What happens then?
In the COVID era, Disney has been decent about letting folks rebook their sailing for a later date. The current policy states:
Guests who test positive for COVID-19 within 10 days of their sail date can apply their cruise fare toward a future sail date or receive a refund in their original form of payment without Disney-imposed cancellation fees. Please note that travel insurance and cancellation fees imposed by third-party suppliers, including airlines, are not refundable.

When applying the cruise fare toward a future sail date:

New sail date is subject to availability
If an offer was used to book the original sail date, it may not be available or applicable to the new sail date; offer terms and conditions will apply, including blockout dates
Guests cannot change their reservation back to the original sail date after taking advantage of this policy

If you booked your reservation before December 9, 2022, you can view information about the Flexible Refund Policy here. Please contact a member of our reservation team for assistance at (866) 325-6685 or (407) 566-7797.
That said, you may want to consider travel insurance to protect yourself financially in case DCL policies change. And read travel insurance plans carefully before choosing one for your family, not all will cover expenses due to denied boarding.
Do people lie on the form?
Look, should you lie? No!
Do people do it? Yep.
The question about vomiting and diarrhea is particularly problematic for some guests. There are numerous reasons why a person might experience digestive distress that have nothing to do with communicable diseases: motion sickness from pre-cruise travel, morning sickness from early pregnancy, chronic irritable bowel issues, certain medications, and so on.
Guests with allergies, asthma, or certain types of cancer might have chronic coughs without exposure to any virus or bacteria.
You know the difference, but DCL might not. While not required, it couldn't hurt to bring documentation from a medical professional if you're prone to medical issues unrelated to communicable illness. Also consider whether the Services for Guests with Disabilities form should be part of your pre-cruise planning.
That said, if you're sick, or if your kids are sick, be a decent human and tell the truth. Please.
Anything else?
It's in your best interest, and the best interests of everyone on board your ship, that you arrive healthy for your cruise.  In the two week period leading up to your cruise, do your best to maintain your good health.
Stay away from ill people
Wash your hands religiously
Avoid large gatherings
Wear a mask in public and on transportation such as planes and trains
Eat familiar foods in moderation
Keep home COVID tests on hand and use them if anyone in your party has any COVID-like symptoms
And in general, make sure that you're up to date on all vaccinations.
If you're looking for additional advice and planning assistance with any Disney Cruise Line sailing, be sure to check out the Unofficial Guide to Disney Cruise Line or ask for a free quote from one of our expert travel agents.