The SATURDAY SIX enjoys a Floating Cabana at Royal Caribbean's PERFECT DAY AT COCOCAY
This week's SATURDAY SIX looks at PERFECT DAY AT COCOCAY, Royal Caribbean's private island! As much as I enjoy the theme parks, all things considered my favorite way to take a vacation is by getting on a ship with the Disney Cruise Line or Royal Caribbean. There's just something about visiting exotic locales, seeing world class shows, and having 24 hour access to amazing food that brings me to my happy place. We've been able to visit so many incredible places over the years, including Aruba, St. Lucia, and St. Maarten, but on a recent sailing we were finally able to experience Royal Caribbean's private island: Perfect Day at CocoCay.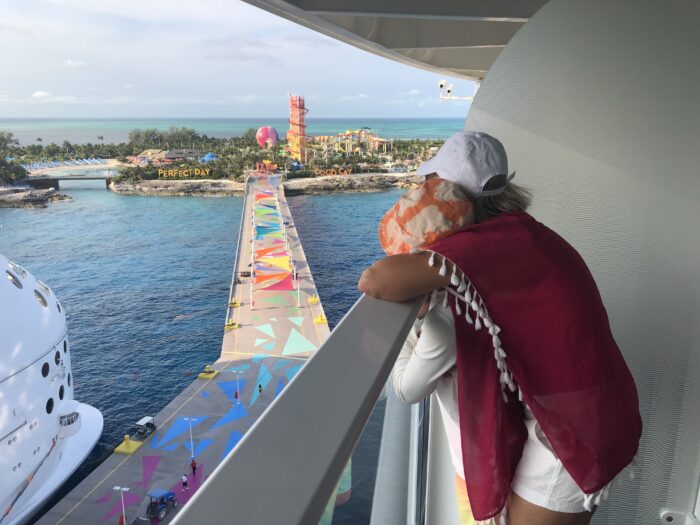 We have been to private islands before, including Disney's Castaway Cay and Royal Caribbean's Labadee, but we had never been to Perfect Day. In fact, that was my only request when we were originally looking for sailings to book. I didn't care what ship we sailed on or what itinerary it sailed to, but I wanted one of the stops to be at Perfect Day.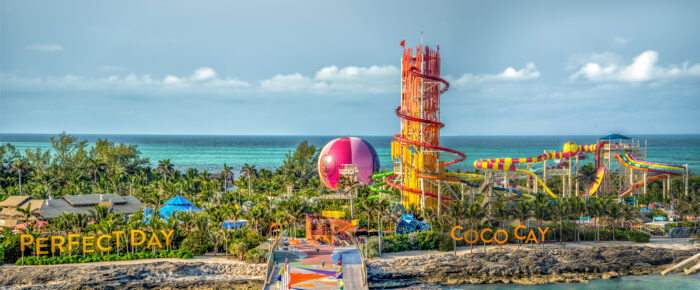 Turns out, Perfect Day at CocoCay was better than I could have ever imagined. While I enjoyed going to Labadee, I felt that Disney's Castaway Cay blew it out of the water. I now feel that Perfect Day does the same thing to Castaway Cay, and is the gold standard for private island experiences, and here's why…
# 6 – Perfect Day at CocoCay
Looking back, I think the reason I love Perfect Day so much is that it combines two of my favorite things. Caribbean islands and theme parks. When I say "theme parks," I don't mean just attractions (although Perfect Day has its fair share of those at Thrill Water Park) but more of an overall level of being completely immersive along with the sheer amount of things to do for people of all ages.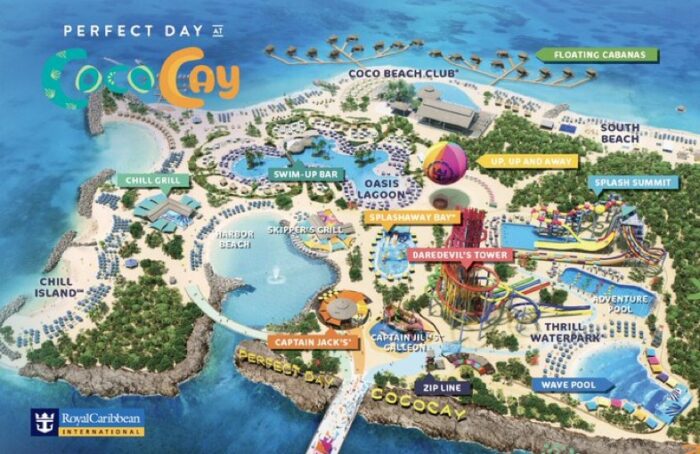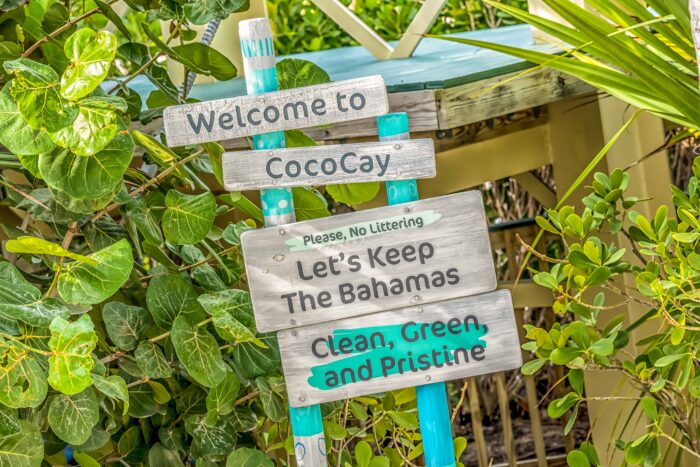 One thing that Perfect Day has is a hot air balloon experience, where you can get incredible photos like the one below.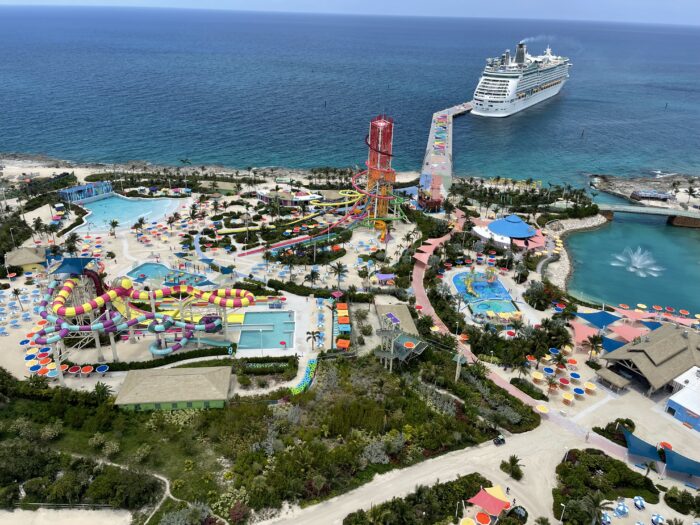 Thrill Water Park is the official "weenie" of Perfect Day, and you can't help but notice the large tower with water slides coming off it.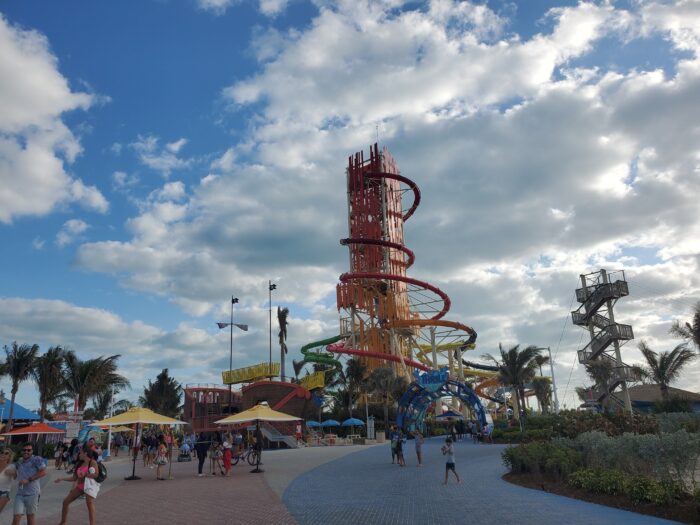 Turns out you can get some pretty spectacular photos from the Water Park as well!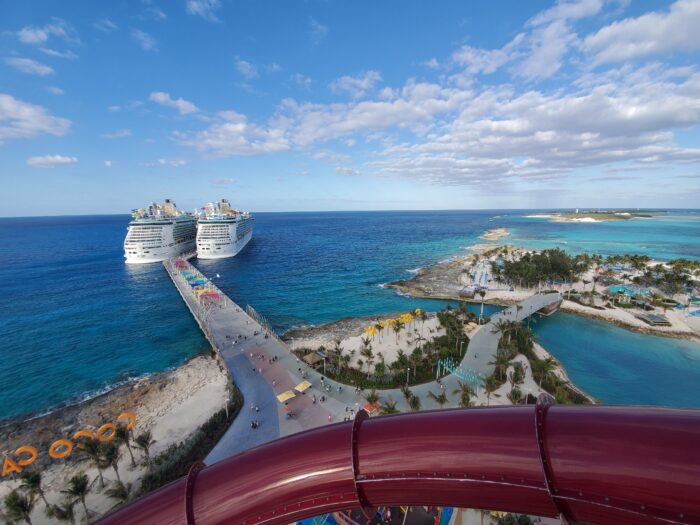 Everywhere you look, there is something to do at Perfect Day.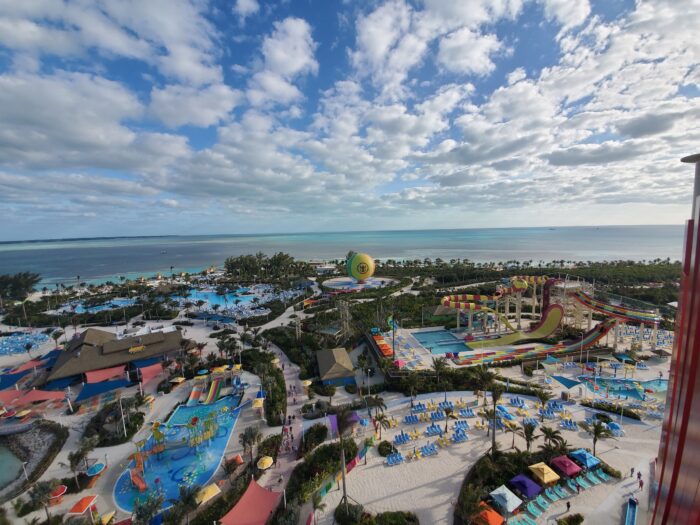 For people who have never been to Perfect Day, one thing you need to understand is that there is a TON of free seating across the island. Yes, there are a variety of up-charge cabanas and other options, but you can have an incredible experience at Perfect Day without spending a dime.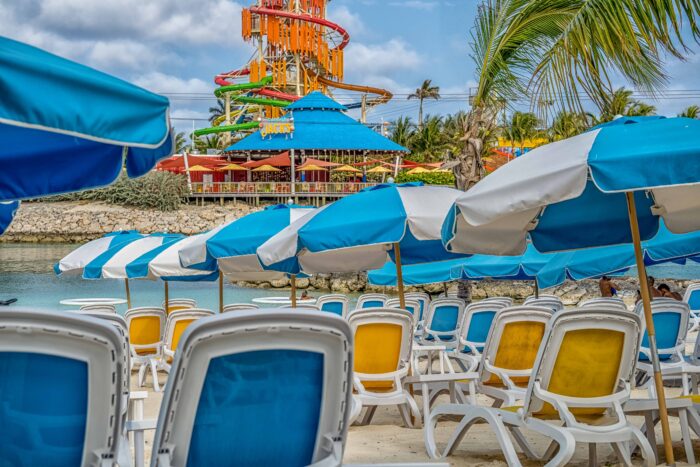 One area people will be drawn to is Oasis Lagoon's gigantic pool, the largest in the Caribbean.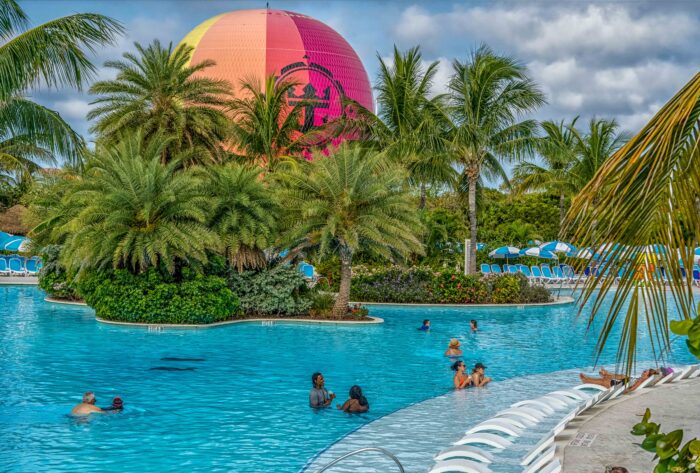 The poolside bars are always a hit, and by the early afternoon this area is party central.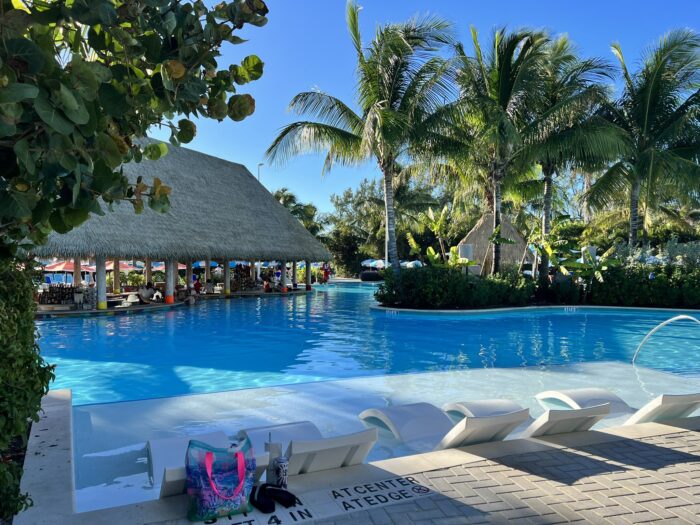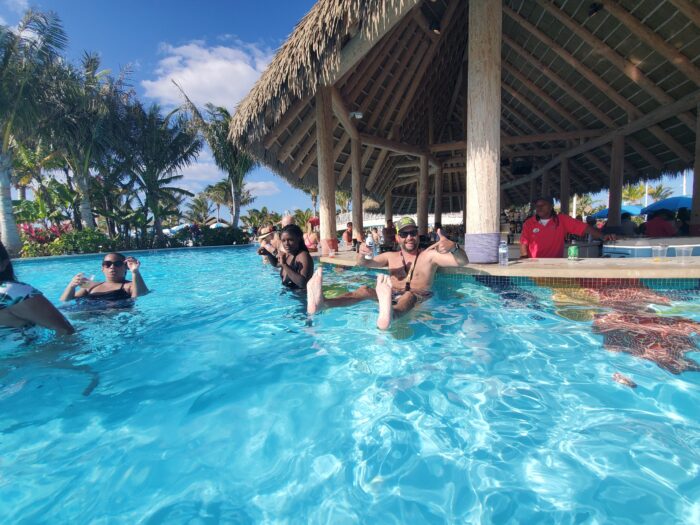 Chill Island is a much more relaxed atmosphere, where you can enjoy the ocean or one of the many family-friendly games going on nearby, including volleyball, basketball, and cornhole.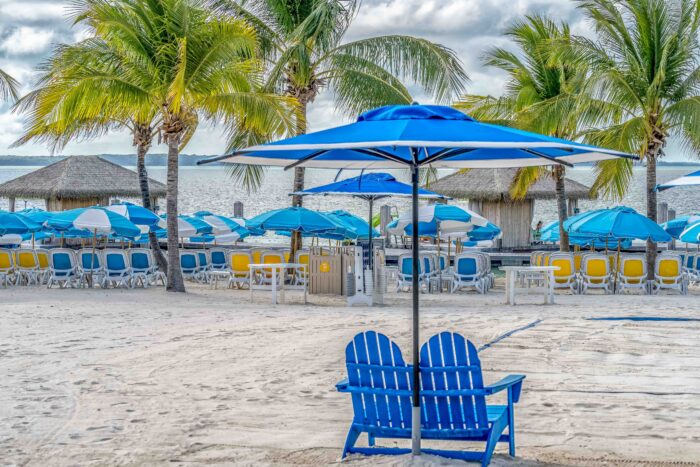 Each area of the island has a multitude of bars nearby, and if you have a drink package on your sailing, it works on Perfect Day.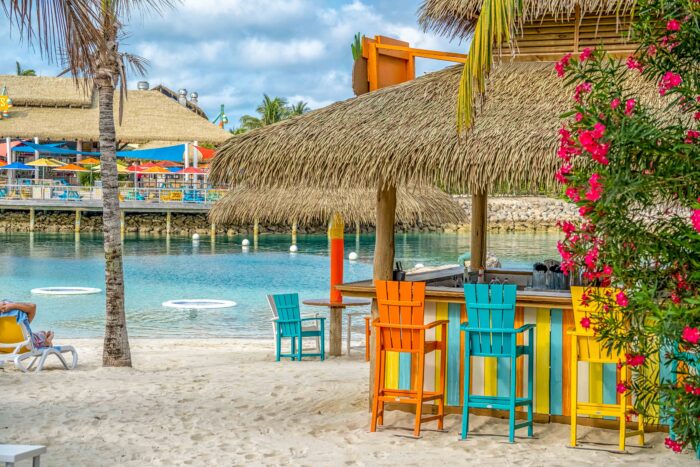 One bar we had set our sights on was the floating bar in the ocean. How great is this? Straight up E-Ticket!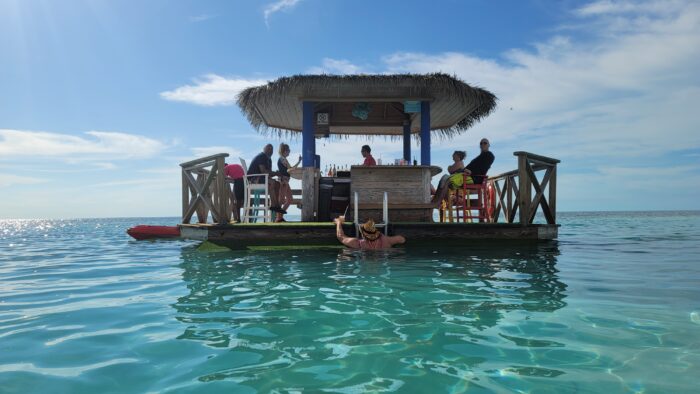 There are even tables near the floating bar to enjoy your cocktails at. Just incredible.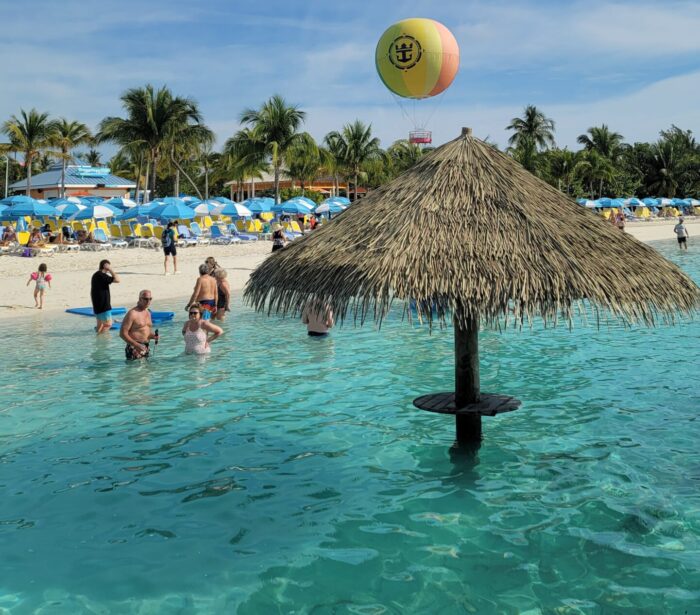 I wasn't expecting much when it came to shopping, but I was truly blown away by all the options that Perfect Day had with the Straw Market. Unlike the Artisan Village at Labadee, which was filled with "hard sell" salespeople that made the entire shopping experience uncomfortable, the Straw Market at Perfect Day was a great experience with a whole bunch of various shops.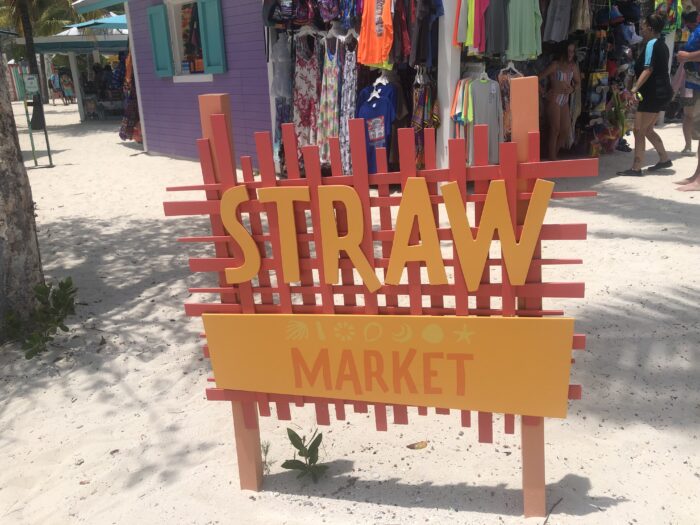 It doesn't matter where we go, whether the China Pavilion at EPCOT or any of the various islands in the Caribbean, the one item our kiddos are drawn to is swords.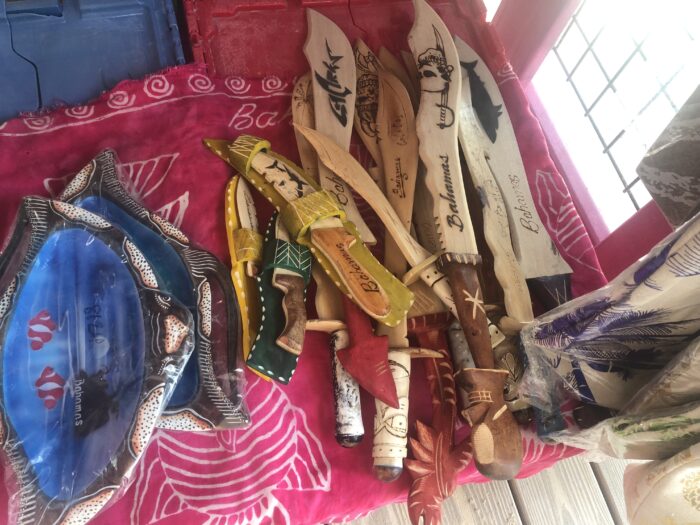 We picked up several items at the Straw Market, including this stingray made from a coconut. You can use your SeaPass card from the ship to make all purchases on Perfect Day, including at the Straw Market.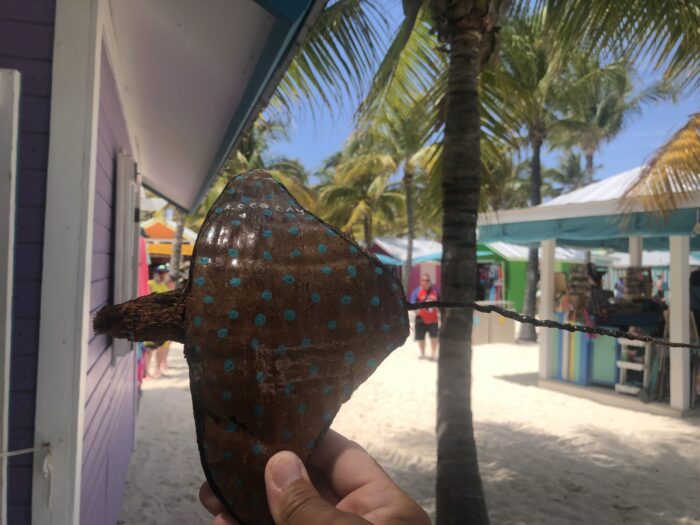 As I mentioned earlier, you can enjoy a full day at Perfect Day – including an unlimited amount of food – without spending one extra cent. The island itself is included with your cruise fare and you'll find plenty of food options included as well, including Skipper's Grill, which features a LARGE variety of items including hamburgers, hot dogs, chicken, tacos, and (a whole lot) more.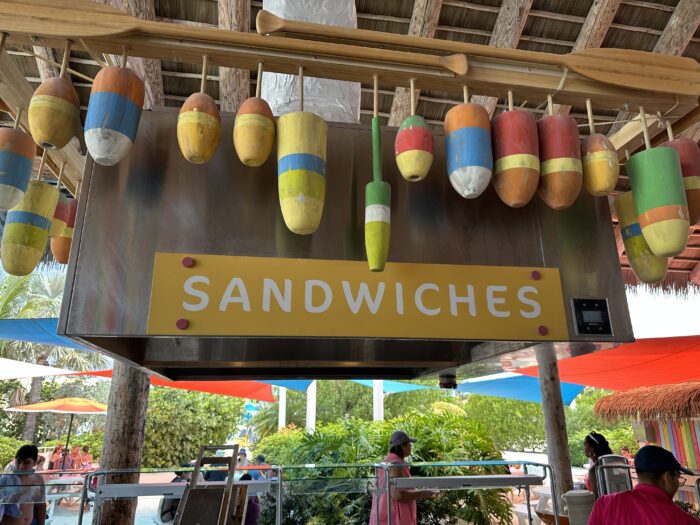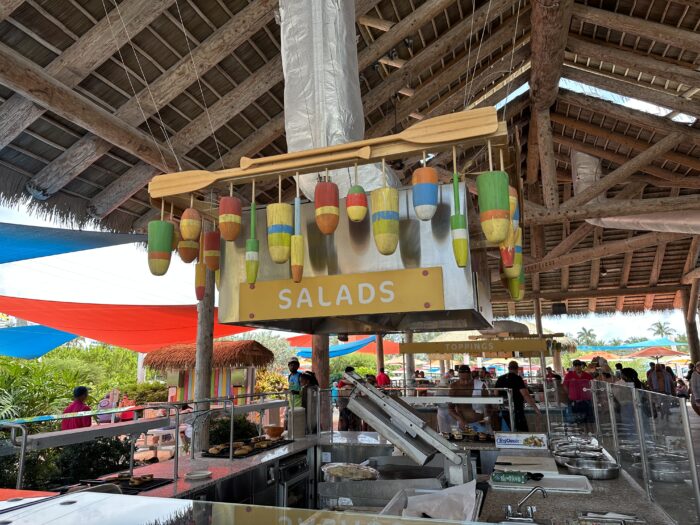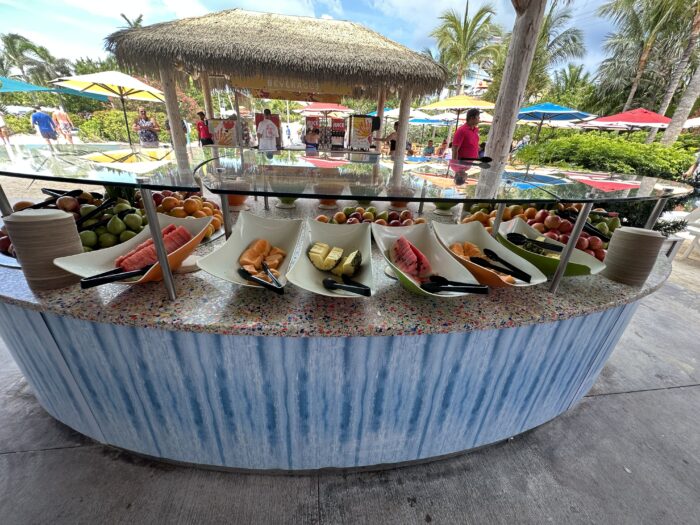 # 5 – Coco Beach Club
Coco Beach Club is a private retreat within Perfect Day. You can purchase day passes for Coco Beach Club, but they are included with the rental of any cabana in the area.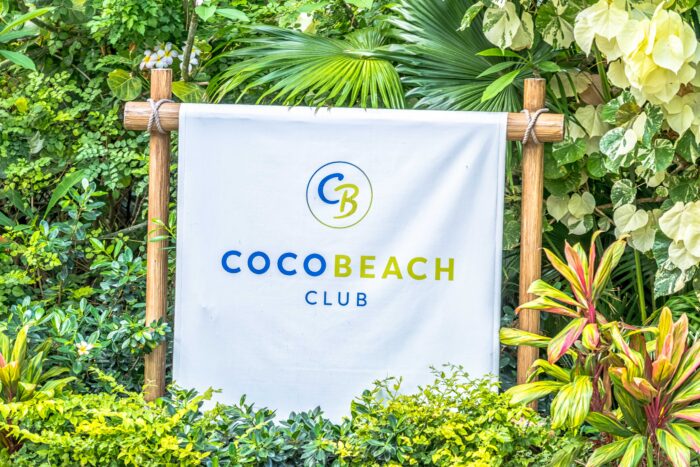 The Coco Beach Club includes a 2,600 sq. ft infinity pool, a dedicated restaurant with options you can't get anywhere else at Perfect Day, plenty of seating by the beach, and several cabana options both on the beach and in the water.
The infinity pool was truly great, and with a bar nearby it was easy to grab a drink and enjoy it while relaxing in the pool.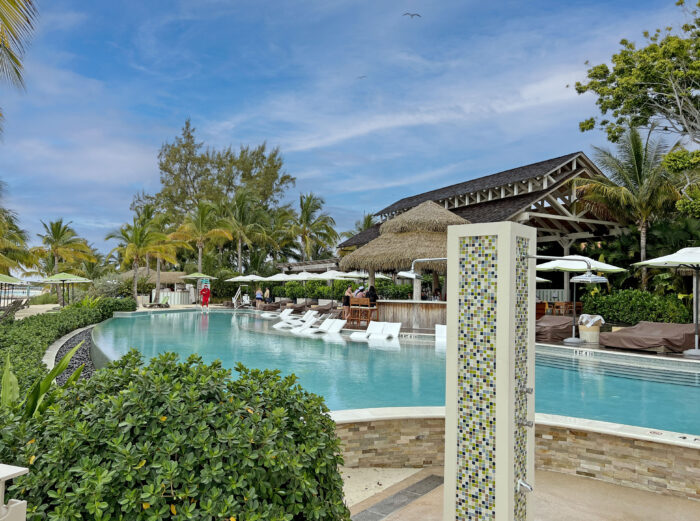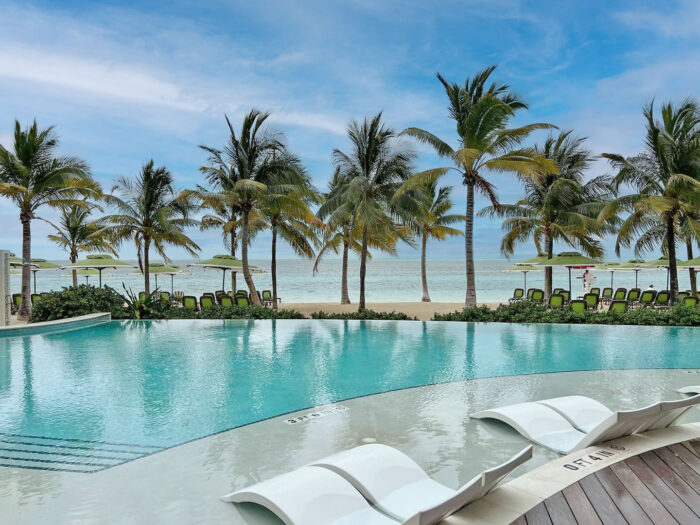 There is plenty of seating at the Coco Beach Club restaurant. All food on the menu is included with your Coco Beach Club pass.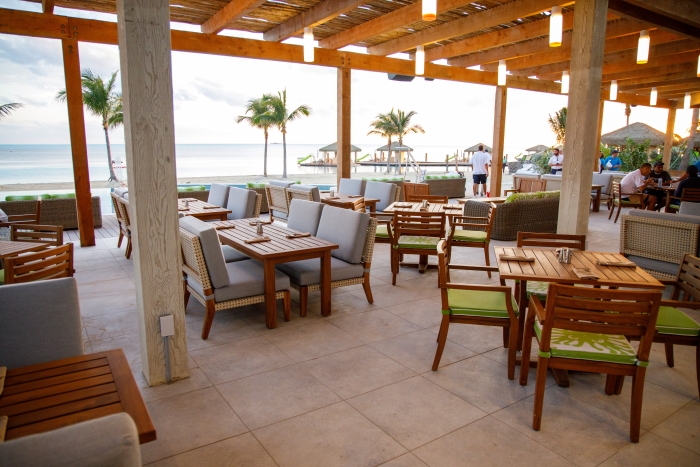 Two of the most popular items on the Coco Beach Club menu are the Grilled Bahamian Lobster and the Coco Lobster Sandwich.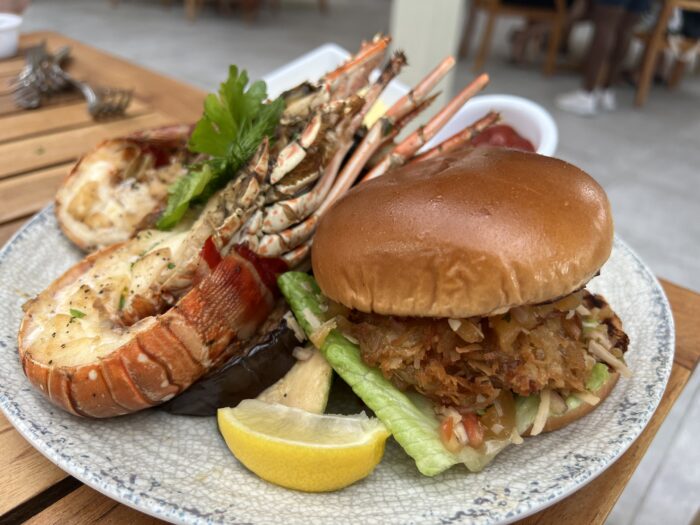 But who is going to turn down filet mignon?! I remember thinking back to our meals at Disney's Castaway Cay and I think you can see how much better the overall options were at Perfect Day. Between the variety and the high-end offerings the food would have had to taste terrible to be on par with Castaway Cay, and it didn't – a long way from it.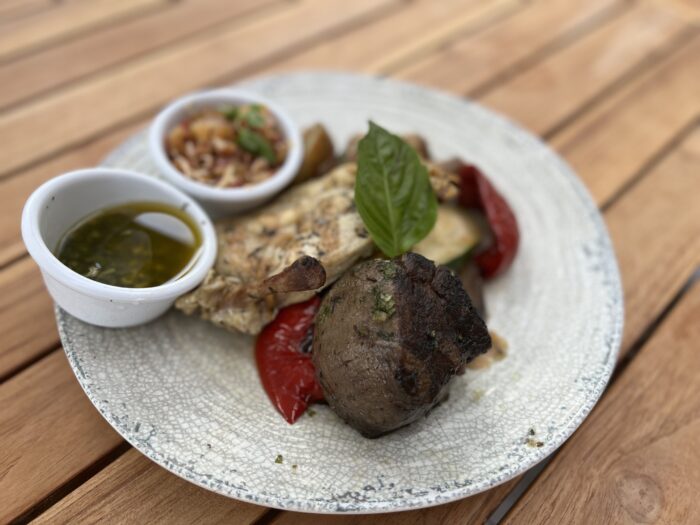 The Coco Beach Club does have options for the "picky" eaters as well, including the Cabana Burger with fries.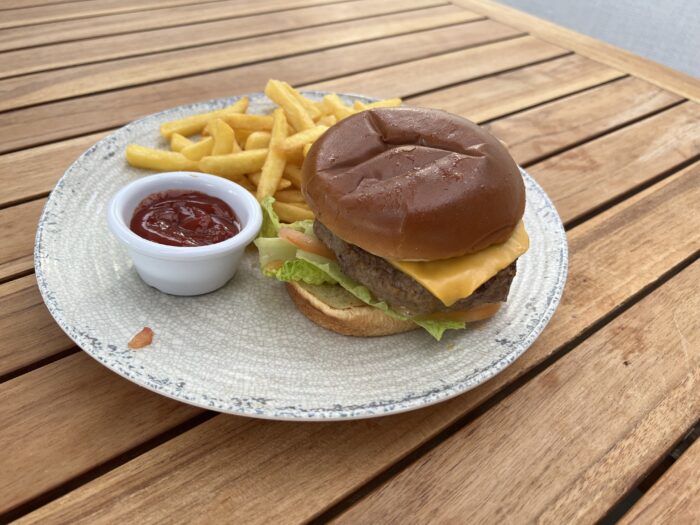 For dessert, how about a piece of Bahamian Rum Soaked Cake?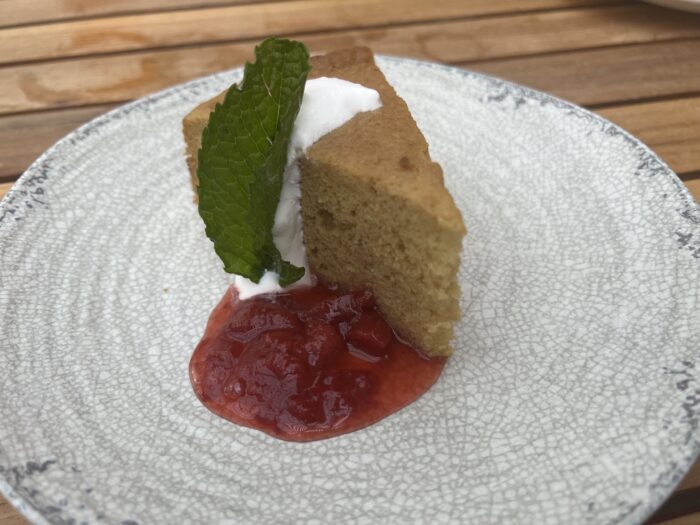 # 4 – Floating Cabanas
We were originally going to sail to Perfect Day in April of 2020, but just like the theme parks, the cruise industry shut down for Covid-19. Our sailing, which was going to be on the Harmony of the Seas, was canceled. When the cruise industry got back up and running, my family's schedule didn't line up for an immediate cruise, so we had to push it back a bit. By the time we were able to sail, the Wonder of the Seas was sailing on the high seas and we were able to book that ship instead.
Because I had two extra years to save money for this vacation, I decided it was time to check off a bucket list item. I've always wanted to stay at one of the overwater bungalows in Bora Bora, but to be quite honest, I'm not sure I ever see myself going to Bora Bora (it's just not bloggable, Dear Reader.) The overwater bungalows at Disney's Polynesian Village just aren't the same, because half the appeal to me is jumping into the water from your bungalow. So I decided to book us a floating cabana at Perfect Day. The Floating Cabanas are part of Coco Beach Club and are located at the very top of the map below.
Similar to renting a cabana at Universal's Volcano Bay, you can't choose what cabana you want when renting a floating cabana at Perfect Day. There are a total of 20 floating cabanas, numbered 1-20, and you are assigned one once you get onto your sailing (we had booked the cabana about a year earlier.) Turns out, we were assigned the very cabana I was hoping to get. Cabana #10.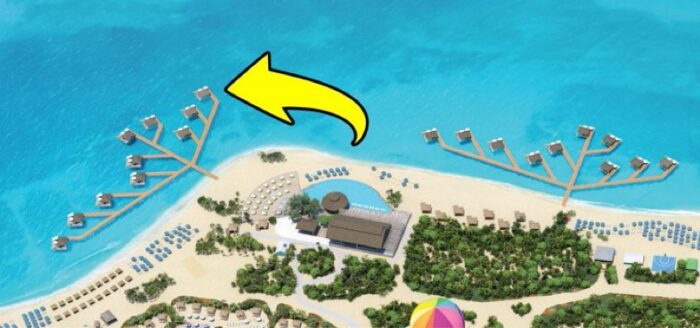 Making the first walk out to the floating cabanas filled my heart with joy. This was a literal dream come true.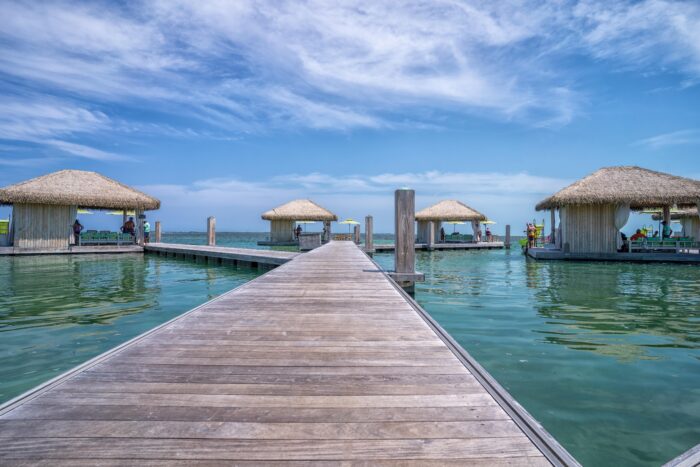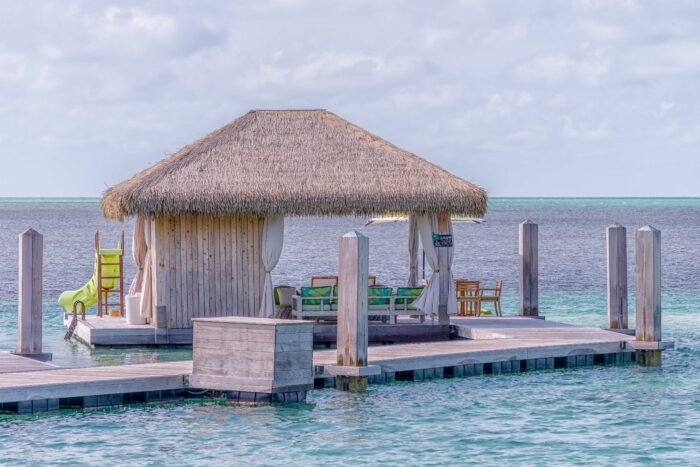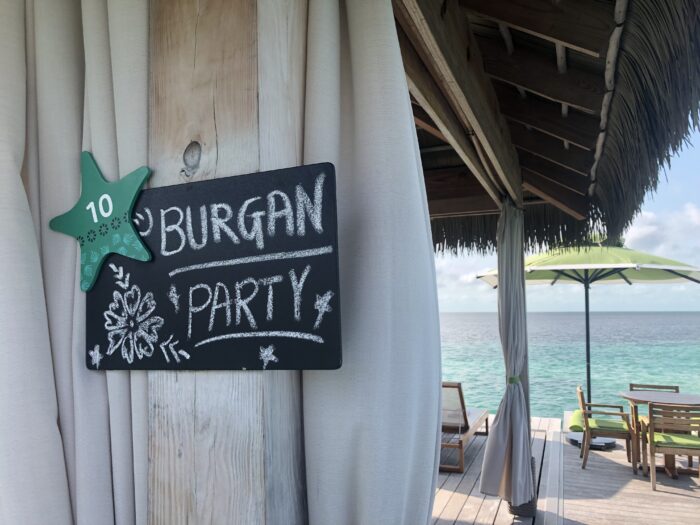 We had thought about this day for years, and it was finally here. We were on the floating cabana and it was PERFECT.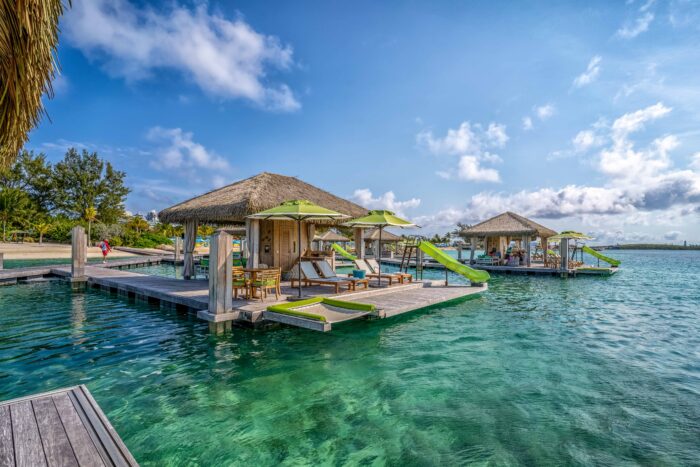 # 3 – The Amenities
There is plenty of seating once you get onto your floating cabana. When you book a floating cabana, you have the ability to get 8 passes to the Coco Beach Club. We used all 8 passes (4 adults and 4 children) and bought one extra pass and the cabana never once felt "crowded."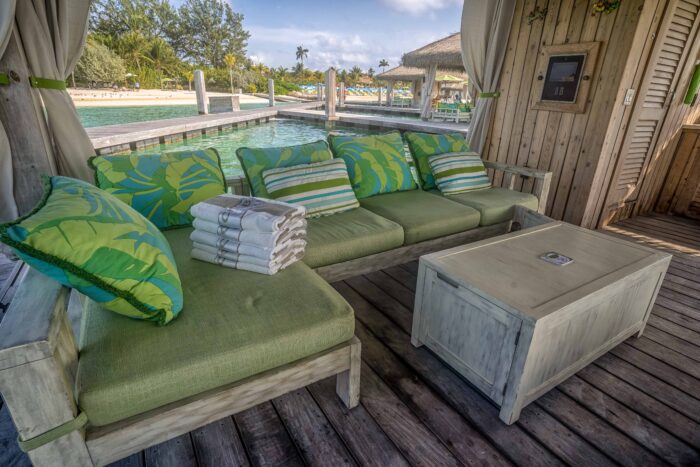 Each floating cabana comes with Coco Beach Club towels, which are a huge upgrade to the other free towels available at Perfect Day. These towels were so good I was considering stuffing a couple into my backpack, but ended up hoping to buy some in the gift shop (if they sold them, I never found them).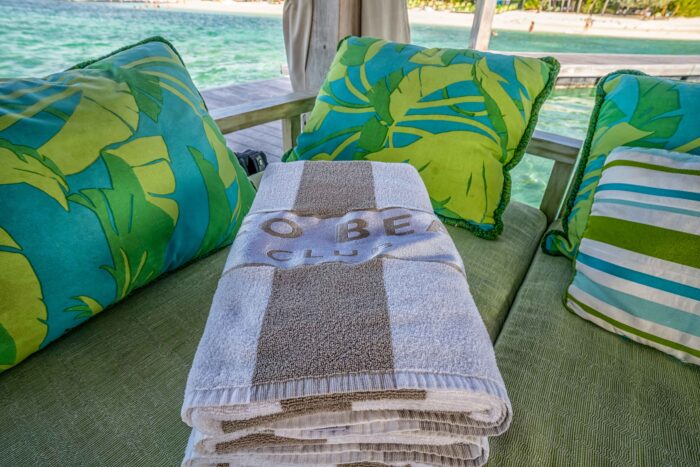 The floating cabanas had a touchscreen gimmick where you can play a variety of music options, or use bluetooth to sync your phone up to the system and play anything you want. We chose the latter. There are multiple power outlets in the cabana to charge your personal items as well.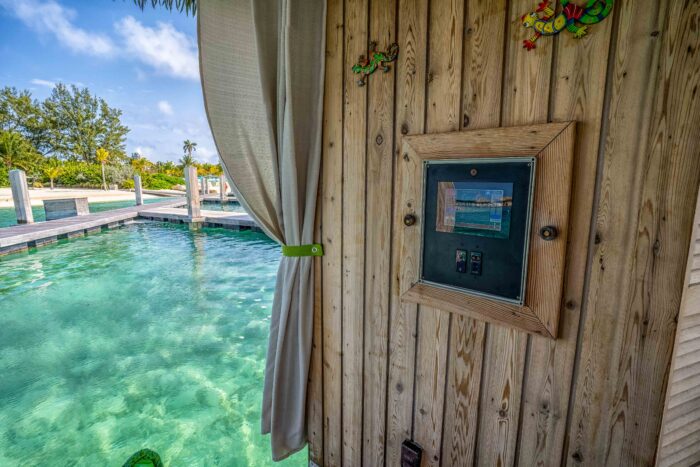 The large coffee table in the floating cabana also doubles as a safe for your belongings.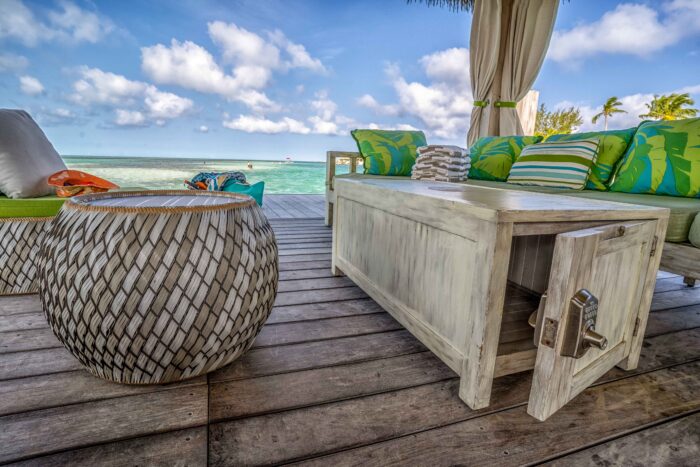 Here is the view from the couch looking out. Million dollar view.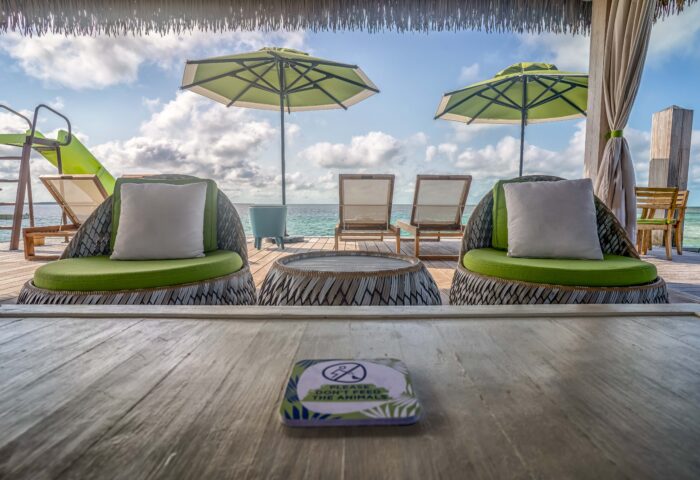 More seating on the cabana, along with a look at the dining table (with chairs) and an overwater hammock.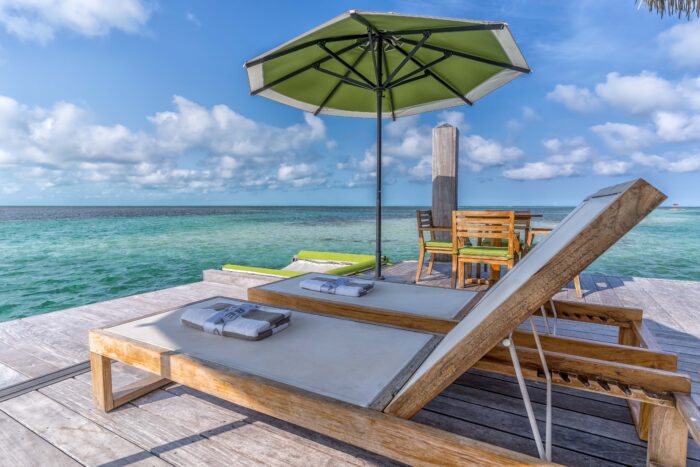 This small table was also a cooler.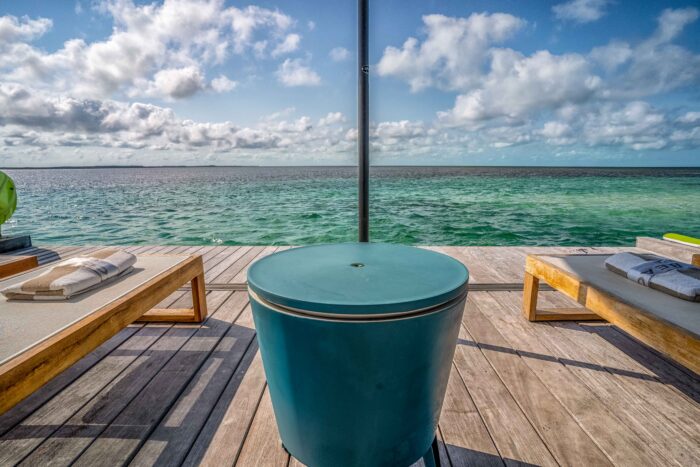 One twist of the top reveals the ice and drinks below. The cooler was pre-loaded with the water bottles.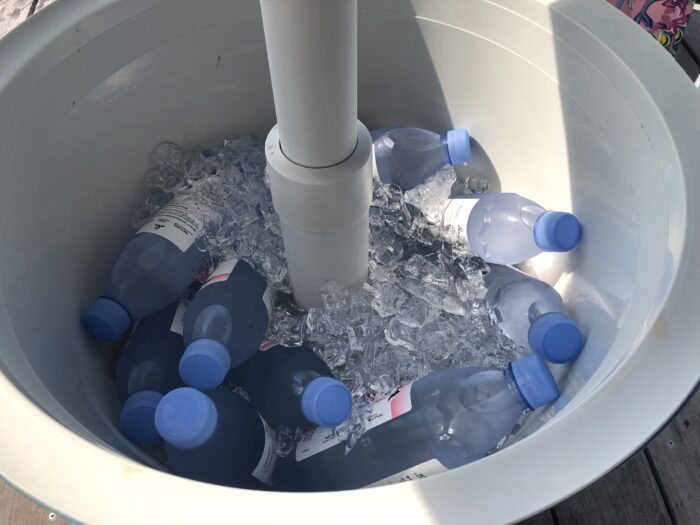 We used the table to play games on.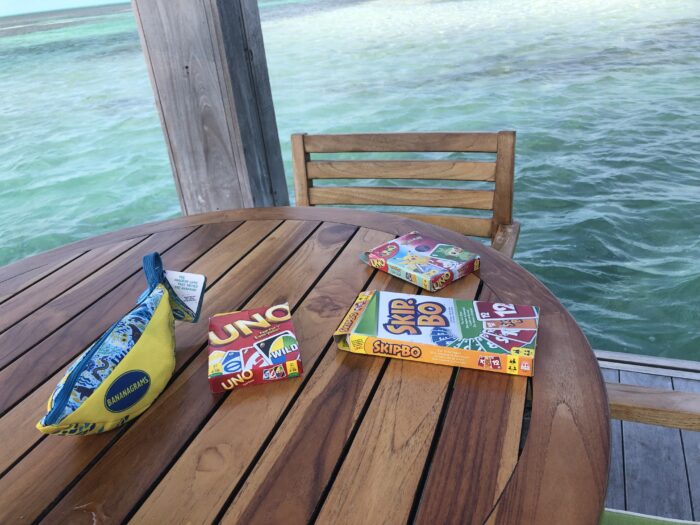 Everyone loved the overwater hammock.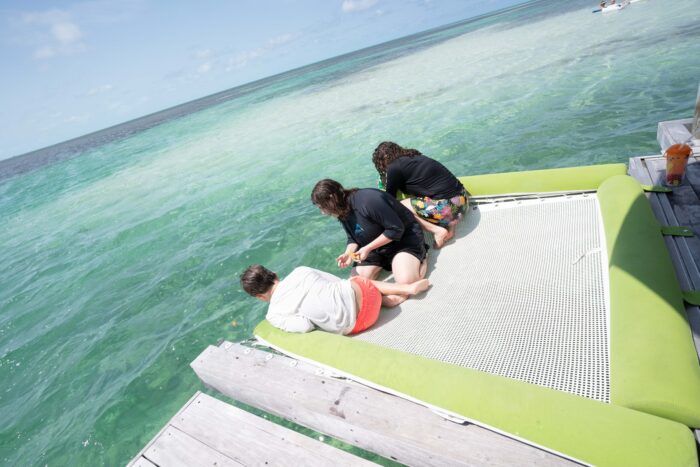 The water was beyond perfect. I don't consider myself a "beach person" but if our beaches in Florida were like the beaches in the Caribbean, I'd be a beach person. There was a great sandbar right near Cabana #10 as well.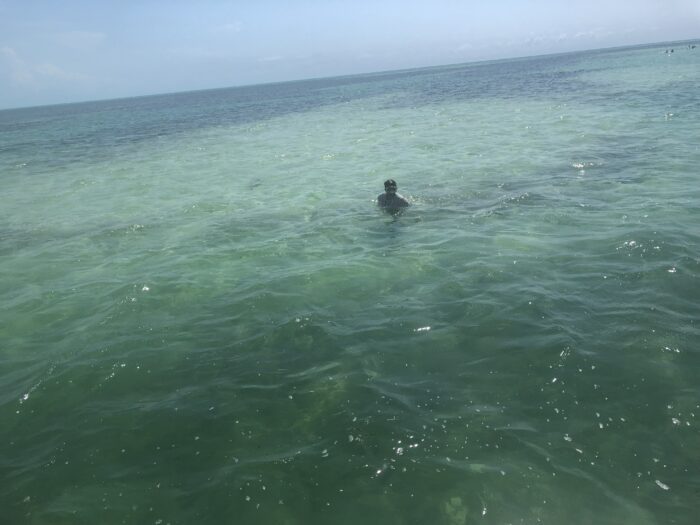 The biggest surprise of our entire cruise was the amount of sea life we saw while at Perfect Day. Not only were there various types of fish, but we also saw turtles, stingrays, barracudas, and even a couple of sharks. It was amazing!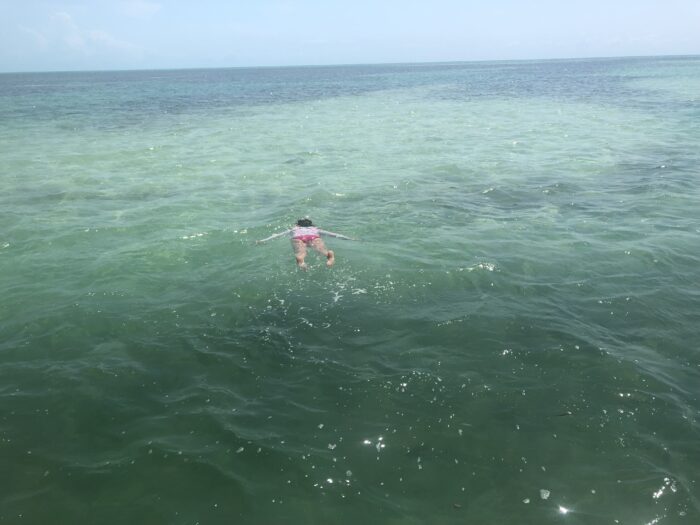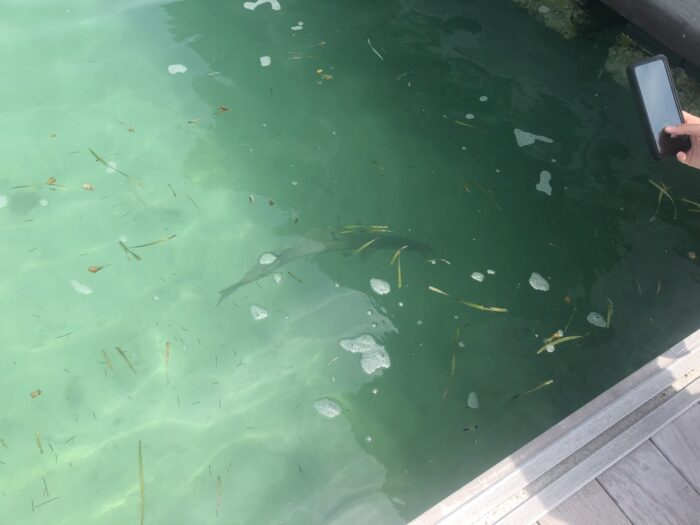 # 2 – The SLIDE
While it's fun getting into the water from your floating cabana, it's even more fun going down the slide, especially for the kiddos!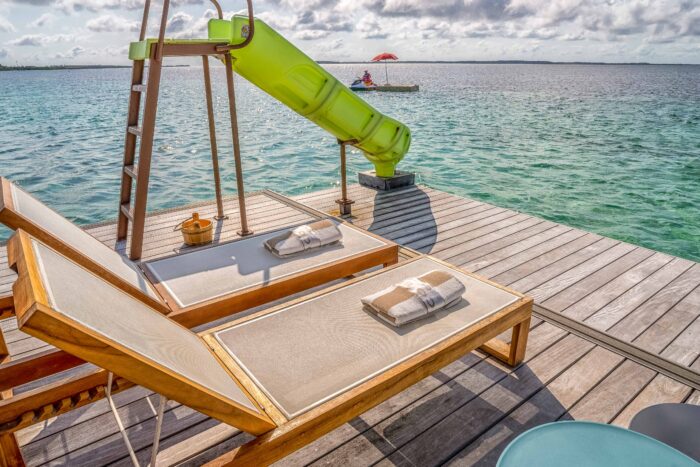 There is a bucket included with the cabana that you fill up and pour down the slide before using.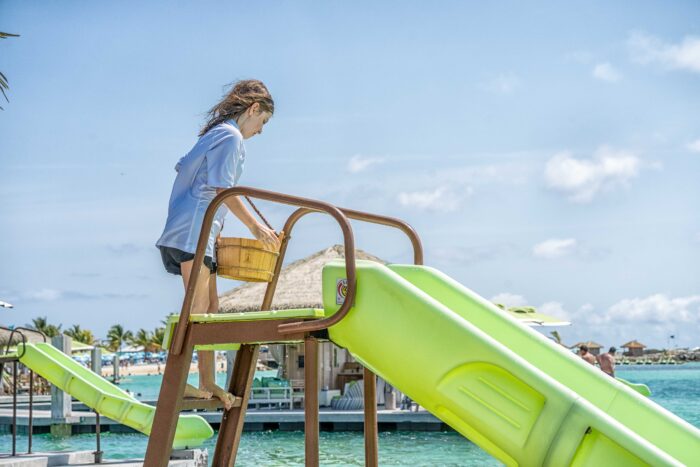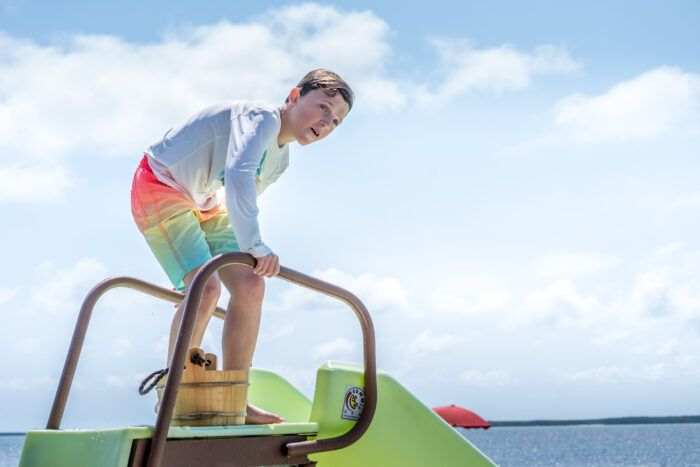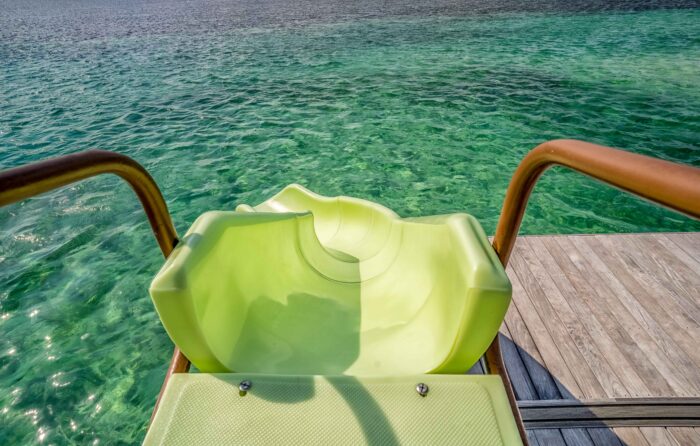 Down we go!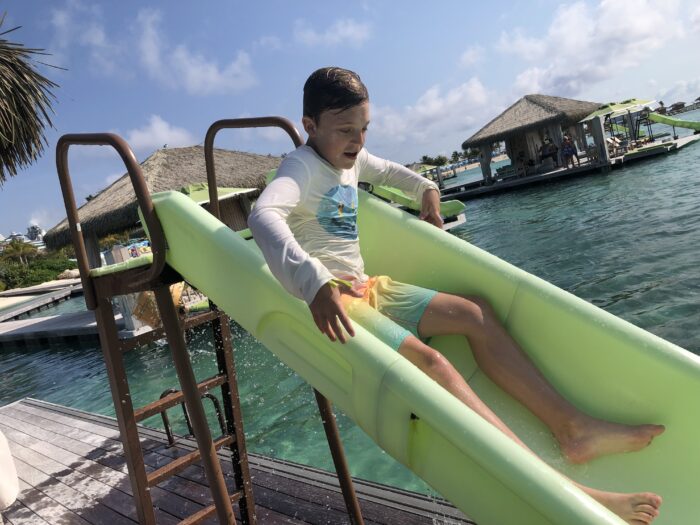 Splashdown!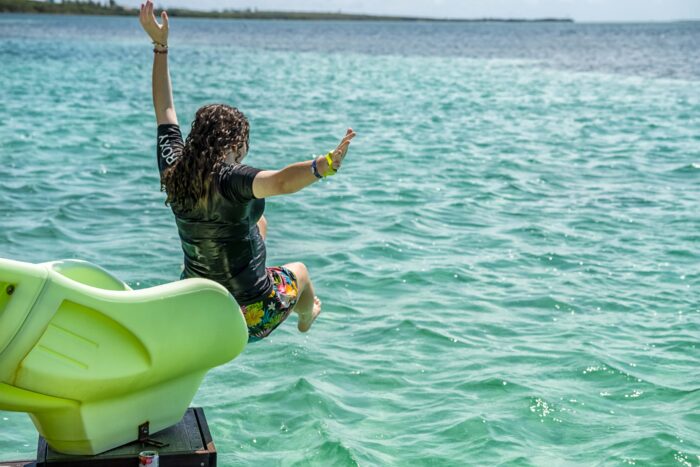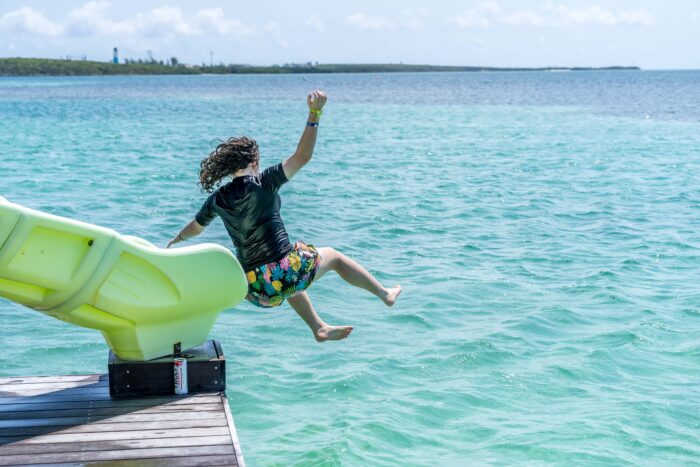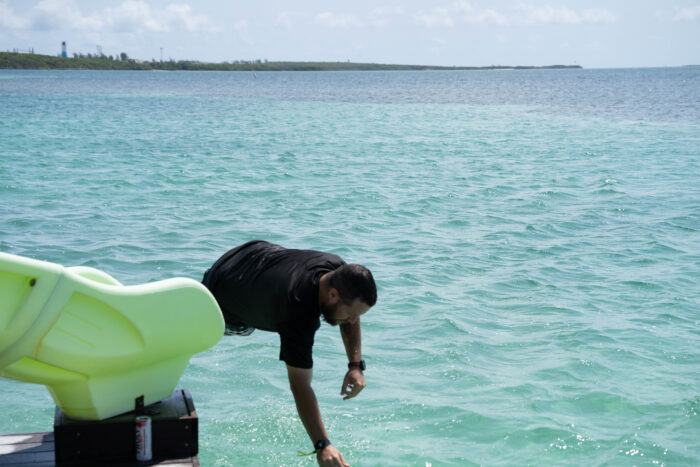 # 1 – The Food and Drinks
As we said earlier, your drink package transfers to Perfect Day, and that includes the options the floating cabana's mini-fridge comes loaded with.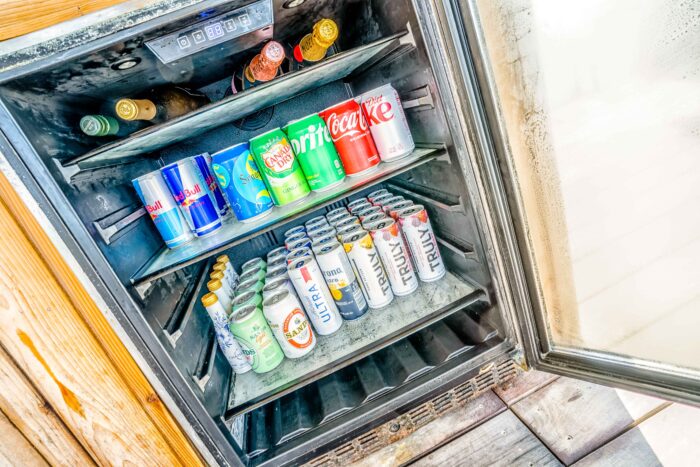 I'm pretty sure we had to get a restock on Sprite and Coke multiple times. Had to get our money's worth!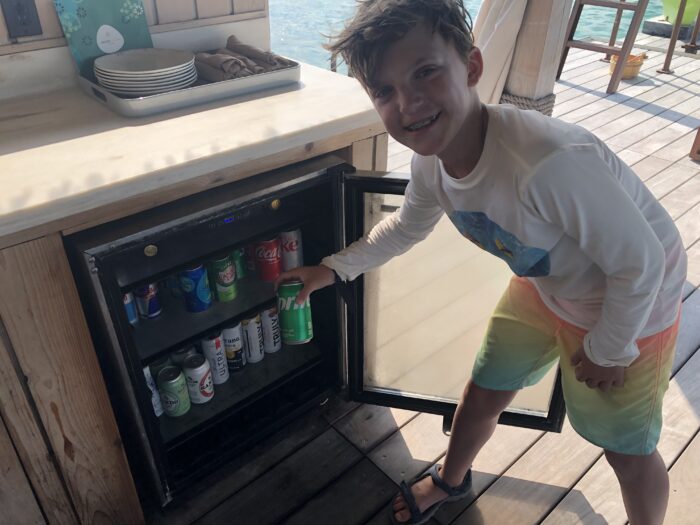 While there was no beer exclusive to Perfect Day, there were several Caribbean-based brews available.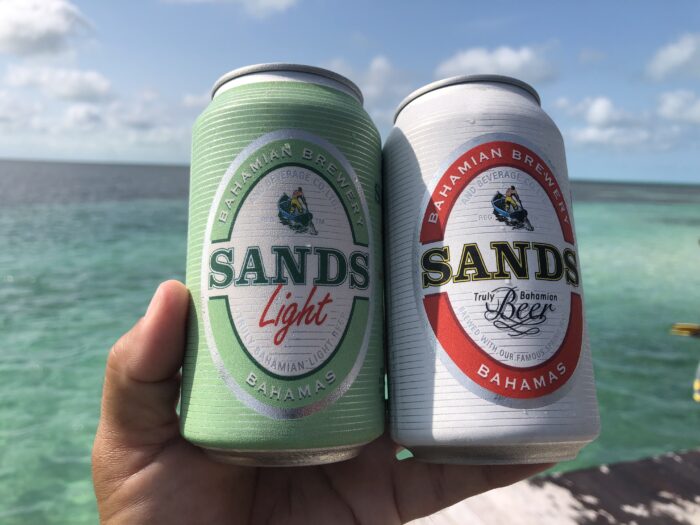 Each floating cabana is assigned an attendant, and they will get you whatever you need. Our attendant was named Sushant and he was fantastic. All the attendants use those large tricycles to go back and forth to Coco Beach Club to bring you food and drinks (and more towels, if needed.)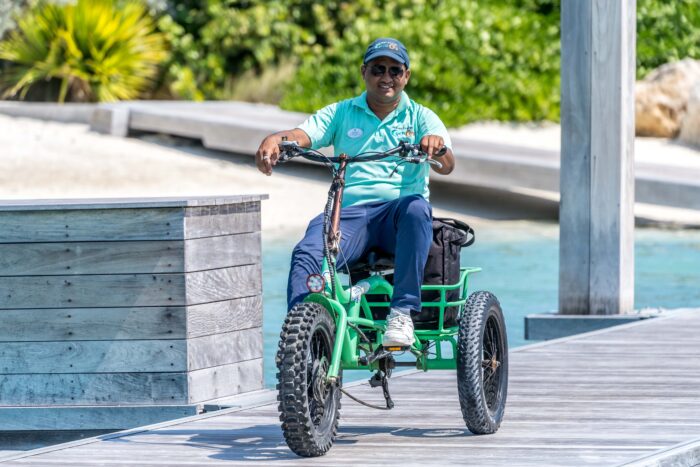 Your attendant will bring any drink you would like, including the signature cocktail of Perfect Day, the Coco Loco.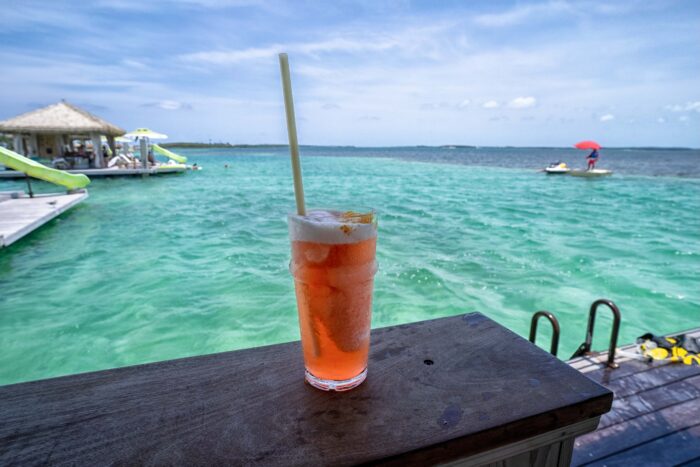 Sushant said for appetizers, he would just bring us everything on the menu.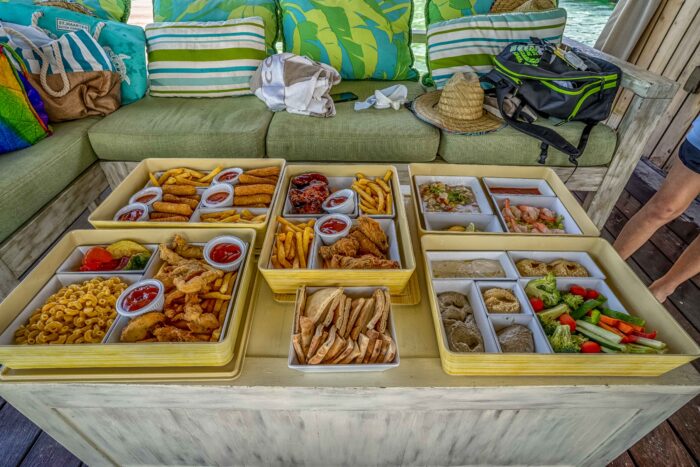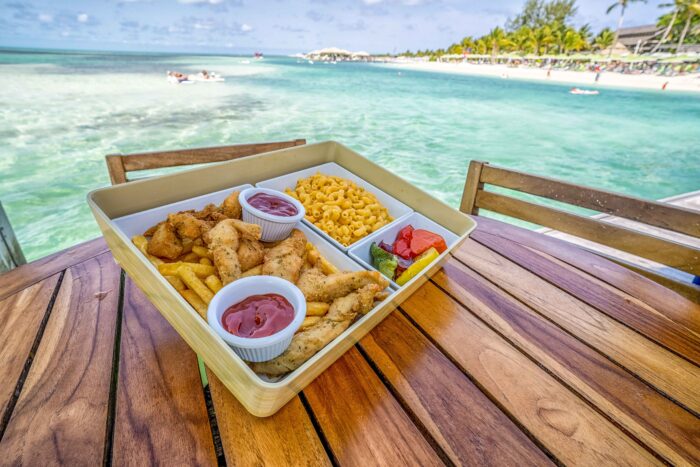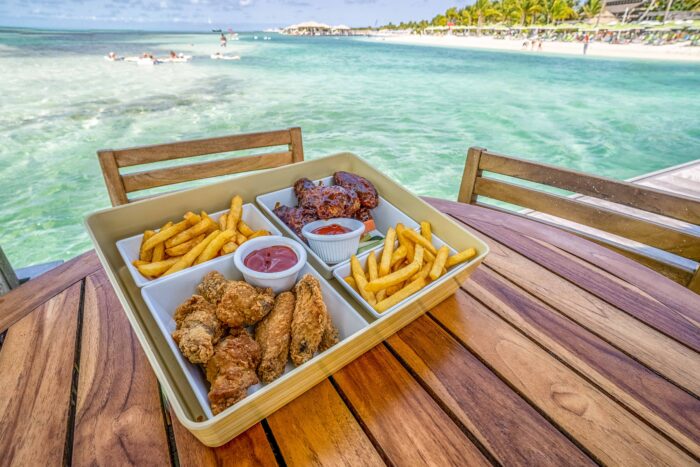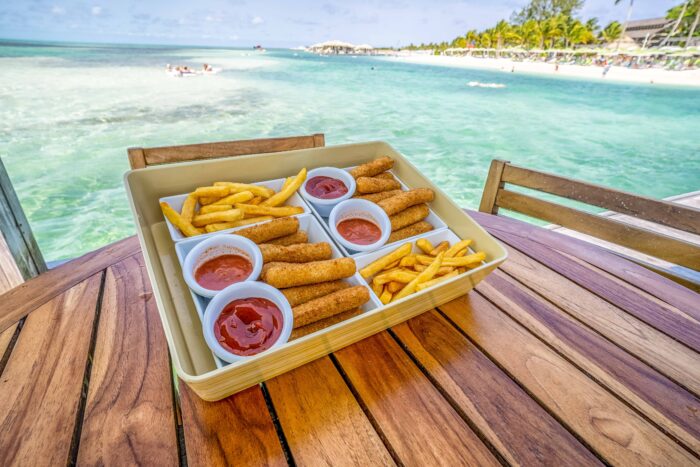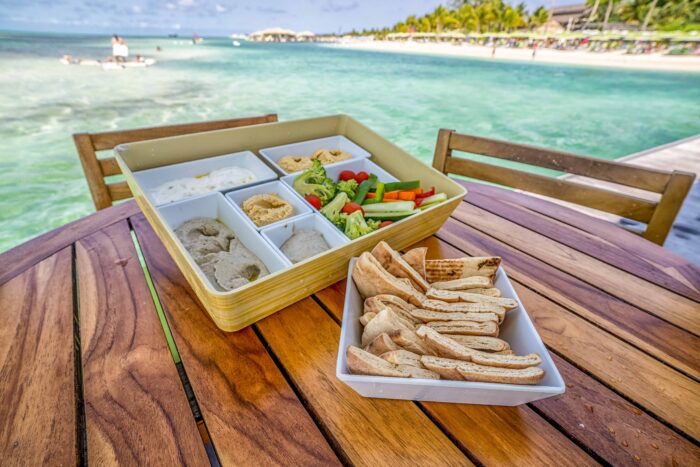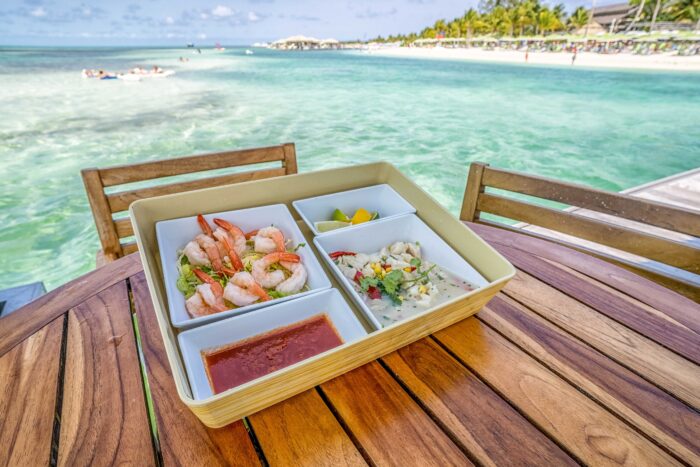 When it came to entrees, Sushant asked what each of us would prefer, this included the Bahamian Lobster and Filet Mignon. We ordered multiples of everything, including the Coco Lobster Sandwich.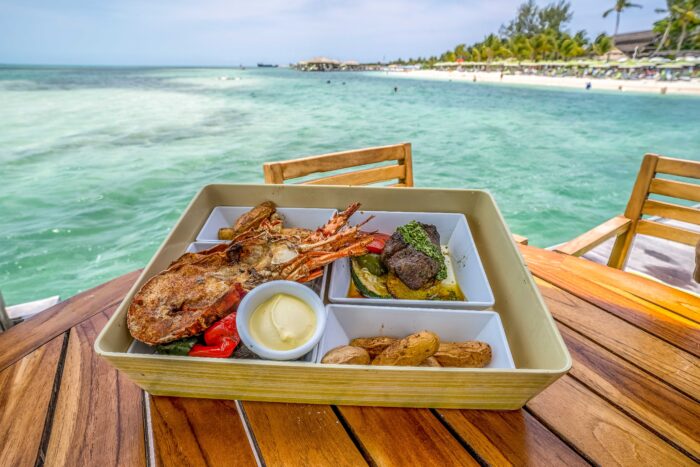 Desserts include the Bahamian Rum Soaked Cake, brownies, and chocolate chip cookies.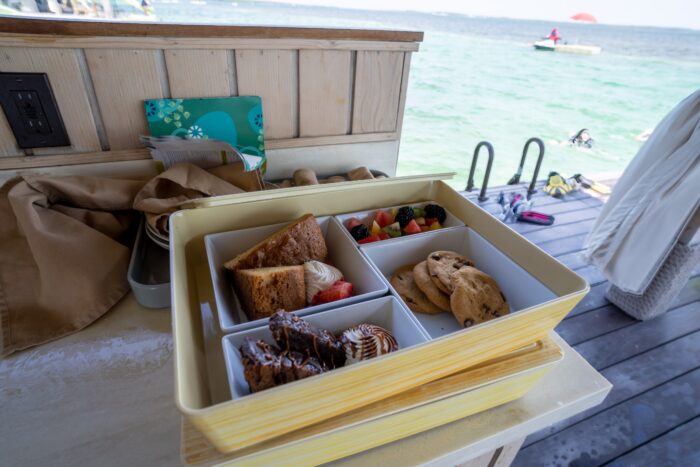 We walked to a nearby Snack Shack (which offers complimentary food to all guests at Perfect Day) to pick up the iconic chicken sandwiches, along with funnel cakes and other snacks to bring back to the cabana.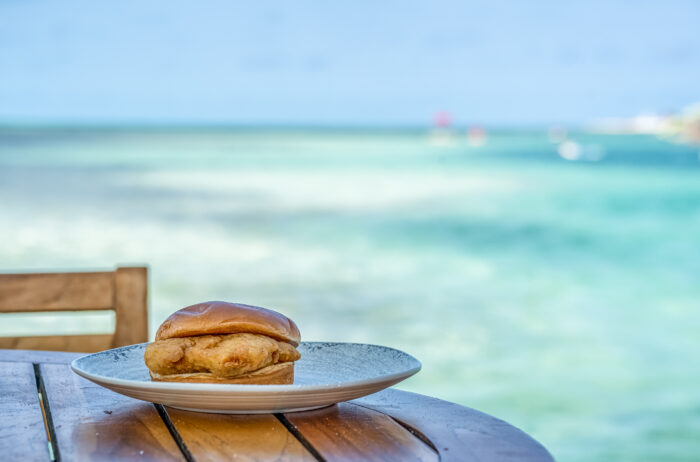 The food on the ship was wonderful, but the food on Perfect Day, especially in the floating cabana, was NEXT LEVEL. Overall, the floating cabana experience was everything I wanted it to be and so much more. One of the best days of my life and I can't wait to go back to Perfect Day!
So there you have it: The SATURDAY SIX Enjoys a Floating Overwater Cabana on PERFECT DAY AT COCOCAY! See you next weekend for the latest installment of the SATURDAY SIX, where we'll look at something fun from the world of Disney and Universal. If you enjoyed yourself, be sure to check out the THEME PARK ENJOYMENT INDEX, giving a monthly recap of all the theme park news you need to know (and a lot more you don't need to know, but we're gonna tell you anyway). You can also follow Your Humble Author on Twitter (@derekburgan).
If you enjoyed this article, you will surely like the following: 
The SATURDAY SIX Presents: A Kid's Guide to Royal Caribbean's Wonder of the Seas
The SATURDAY SIX Sails on Royal Caribbean's WONDER OF THE SEAS – the World's Largest Cruise Ship
The SATURDAY SIX uses THE KEY on Royal Caribbean's Wonder of the Seas: Is it Worth the Cost?
Six Reasons We Love Sailing on the DISNEY CRUISE LINE
The SATURDAY SIX Celebrates Ten Years with TouringPlans
Special Thanks to The Elite Brandon Glover, Digital Maestro Scott Walker, the bio-est of all reconstructs @bioreconstruct, Captain Cruiseline Scott Sanders of the world-famous Disney Cruise Line Blog, my personal protege Hunter "Elvey" Underwood, artist @SonderQuest, the mighty maven of merchandise Hedgehog's Corner, the SAT SIX Fun Squad of Parkscope Joe and "the Dadalorian" Nick, hot shot Michael Carelli, charter member of the Universal Four @Nitro230, the permit princess Alicia Stella, master cartographer Tommy Hawkins, and Hermione Granger's tutor Megan Stump for their invaluable assistance with this article. Absolutely no help was added by SeaWorld Influencer @SuperWeenieHtJr. The SAT SIX is inspired each week by goofballs Aengus Mackenzie and LitemAndHyde and you Potterheads will enjoy Meg's other blog work over at the Central Florida Slug Club.
The only bad part about Perfect Day at CocoCay? LEAVING…