TouringPlans Travel Beat 11-18-2023
At Travel Beat we have all the "other" news from the last week or so—the stuff that wasn't big enough to stop the presses for. What did the newsroom bring us this week? (Sneak peek: National Geographic Tours and military discounts.) Bullets are just ahead if you're in a hurry, and more details follow below. Don't forget to check out the Headline News Recap, in case there was something you missed!
Disney Opens Fort Lauderdale Cruise Terminal
Cosmic Rewind Wins Outstanding Attraction Award
Lyft On-Time Pickup Promise for the Holidays
Mardi Gras Ride-and-Dine Bookings Available Now
New National Geographic Private Jet Tours in 2025
National Geographic Day Tours Releases New Itineraries
From the Parks: Holidays Begin at Universal Orlando
Headline News Recap
If anything you read below tickles your feet, feel free to reach out to our friends at TouringPlans Travel for a free quote.
Disney Opens Fort Lauderdale Cruise Terminal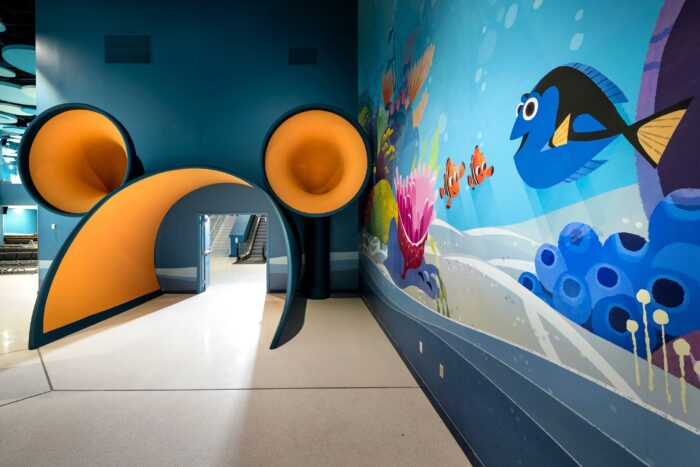 Since 1997, guests departing on a Disney Cruise from Port Canaveral have used Disney's dedicated terminal, getting the Disney vibe during the check-in process before they even board the ship. On Monday Disney celebrated the opening of a second dedicated terminal, this one in Port Everglades in greater Fort Lauderdale. With the Treasure launching at the end of 2024 and bringing the fleet up to 6 ships, we're sure this terminal will see plenty of use!
Cosmic Rewind Wins Outstanding Attraction Award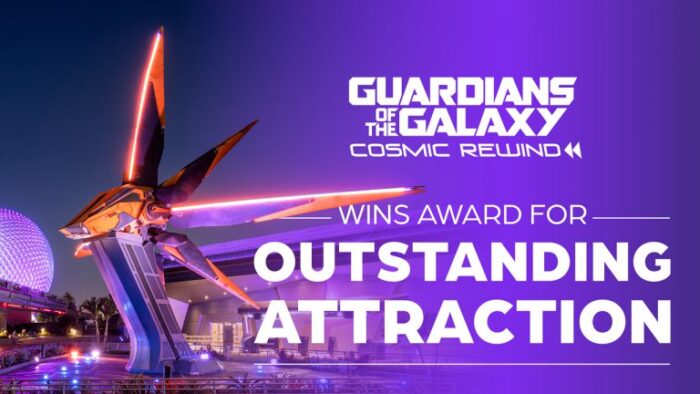 It seems hard to believe that Cosmic Rewind has been open for almost two years. This week, it was honored by the Themed Entertainment Association (TEA) with the Thea Award for Outstanding Achievement – Attraction in 2024. Thea awards are the "Oscars" of the themed entertainment industry, recognizing achievement by creative teams and engineers. Cosmic Rewind has quickly become a Disney World favorite attraction, with 5-star ratings from teens through over-30s on TouringPlans surveys. I think we can all agree that the award is well-deserved!
Lyft On-Time Pickup Promise for the Holidays
I think many of us know someone who reserved a rideshare for a trip to the airport and had the car show up late or worse, got completely ghosted. Lyft's new pick-up promise assures travelers that their ride will be on time when they've scheduled a ride to the airport, and they're putting their money (or at least their credits) where their mouth is. If drivers are ten minutes late or more, travelers will receive up to $100 in Lyft credits.
The number of credits received will depend how egregious the experience is. Travelers receive $20 in Lyft Cash if the driver is over 10 minutes late, that bumps to $50 if they're not automatically matched with a driver 10 minutes after their scheduled pickup. And if they need to use another service to get to the airport, they'll get up to another $50. Receipts from other services can be submitted for reimbursement via the 'Help' section of the Lyft app.
Mardi Gras Ride-and-Dine Bookings Available Now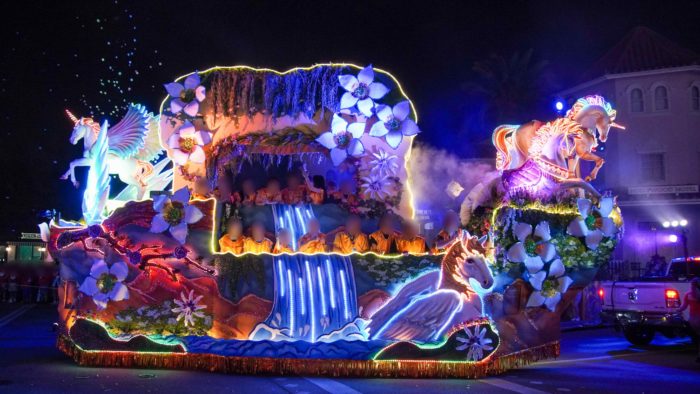 Float riding is available in Universal's Mardi Gras parade, and one of the best ways to guarantee a spot is to purchase a Ride & Dine package. For $84.99 per person, you'll get a spot on a float plus an appetizer, entree, dessert, and soft drink at a restaurant in CityWalk or Universal Studios Florida (not all restaurants offer the package). These packages went on sale this week and can be booked online. The Mardi Gras event this year runs from February 3 to April 7, 2024.
New National Geographic Private Jet Tours in 2025
National Geographic adds to its collection of Private Jet itineraries with two new tours that will be available for 2025. These popular tours mix high-end accommodations with seamless air travel to let you explore perspectives that span multiple cultures and regions. The two new itineraries are:
Oceans and Islands of the World by Private Jet, departing April 21-May 15, 2025

On this 25-day itinerary, guests will embark on an extraordinary adventure exploring the oceans and islands of French Polynesia, New Zealand, Australia, Indonesia and more.

Australia & New Zealand by Private Jet, departing May 1-20, 2025

On this 20-day itinerary, guests will experience stunning terrains from New Zealand's Southern Alps to Tasmania, sacred sites from the bubbling landscape of Rotorua to Uluru and great cities from Queenstown to Sydney.
For more information and other available tours, see the National Geographic Expeditions website.
National Geographic Day Tours Releases New Itineraries
National Geographic Day Tours has added over 30 new full and half-day tours to its roster, bringing the total to more than 100 tours in 14 countries. Even better, Day Tours can be booked directly by travelers, allowing you to add one into your visit no matter how you arranged it. (Of course, if you've made arrangements through a travel agent, they can also help you book.) Here's a sampling of the newly released itineraries, and you can see them all on www.natgeodaytoursbytui.com.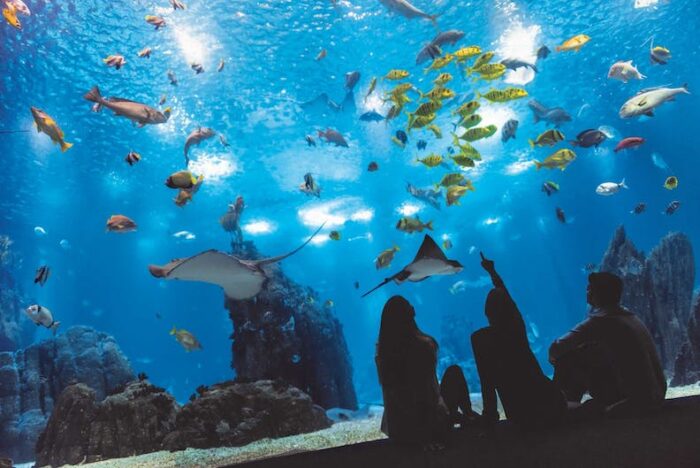 Barcelona, Spain: Homage to Miró: Discover the artworks of Miró and their interaction with the spaces created to house them by architect Josep Lluis Sert.
Lisbon, Portugal: A Visit to the Oceanarium: Gain an in-depth understanding of the ocean through this tour of the Lisbon Oceanarium, led by a marine biologist with specialist knowledge on the importance of our oceans and its biodiversity.
Naples, Italy: The History of Pasta: Join a local historian in the green hills of Gragnano, the global epicentre of dried pasta, and visit a reconstructed water mill rarely open to the public.
New York: Hudson Yards, Where Sustainability Meets Urban Design: Explore the engineering behind this New York neighborhood built above the railway yards in New York City and meet and talk with the design team, including the chief engineer.
Paris, France: Baguette and Eclair Initiation with a French Master Baker: Take a hands-on lesson in traditional French baking taught by a French master baker.
From the Parks: Holidays Begin at Universal Orlando
We've been showing you lots of pics from Disney's Christmas rollout, but this week Universal Orlando kicked off its holiday season on the 17th. The weather has been gloomy and rainy all week and Friday was no exception, but our parks reporters were there to check out the holiday merch and the parade.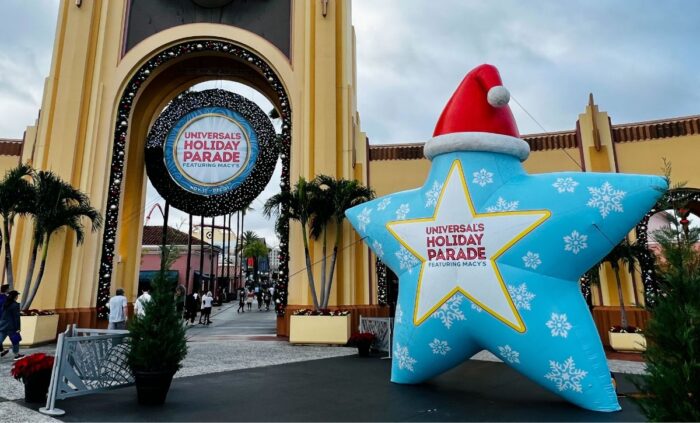 Headline News Recap
First, some last week's news. Festival of the Holidays kicked off last week at Disneyland, but our review of the West Coast Festival food didn't make it to press before Saturday. Must-Try Food Items at Disney California Adventure's Festival of Holidays 2023.
Moving on to this week, it was a quiet week for headline news … at least until Thursday. On Tuesday, a previously announced discount became available for booking; the Kids Play & Dine at Disney World: New! 2024 Discounts for Kids at Walt Disney World and Disneyland.
And then on Thursday and Friday …
Disney announced the 2024 Military Salute for Disneyland, and we updated our Frequently Asked Questions About the Disney Military Salute for 2024 article.
Universal announced its 2024 Military discount, the Military Freedom Pass and we updated our Universal Military Freedom Pass – Frequently Asked Questions article.
Disney announced the concert lineup for the Disney on Broadway series at the Festival of the Arts, plus Dining Package info: 2024 Festival of the Arts Concert Lineup and Dining Packages.
That's it for this week's Travel Beat. What news are you most excited about? Let us know in the comments!