Tips for Catching the Character Cavalcades at Disney's Animal Kingdom
Visiting Walt Disney World in this age of COVID-19 precautions is certainly a different experience. But, there's still lots of magic and fun to enjoy. One of our favorite changes at Walt Disney World is the implementation of character cavalcades at each of the four theme parks. Animal Kingdom has some of the most creative cavalcades as they take place on the Discovery River that loops around the interior of the park.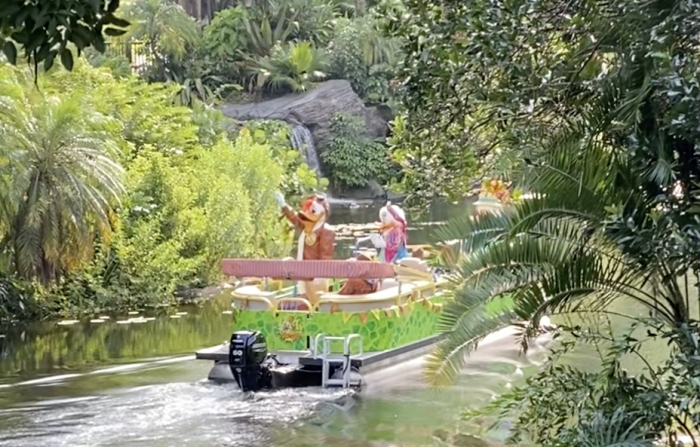 Since these character cavalcades do not have a published schedule, as a safety precaution, it takes some spontaneity and some awareness to be able to catch them. It's fun to catch an appearance of beloved Disney characters without the hassle of a meet and greet line, or waiting around for a scheduled parade. Here's some of our trips for viewing the character cavalcades at Disney's Animal Kingdom.
Music comes from each of the decorated boats that the characters appear on, so if you hear music on the river then head to a bridge or spot along the water to view the characters as they go by.
If you're on a bridge remember that you can view them coming on one side of the bridge, and going on the other. The boats enter the river near Expedition Everest and the Rivers of Light ampitheater, then circle the park and head back. If you're facing toward the back of the park they'll come from the left side of the bridge, and go from the right. If you're facing the front of the park, reverse that.
Be aware and maintain physical distancing from other groups.
The appearances are not scheduled, but they seem to be every hour. It takes about ten minutes for each boat to loop the park.
There are five different character boats, plus a percussion group. The character groups include:

Mickey and Minnie on safari
Donald and Daisy Duck, and Launchpad McQuack
Rafiki and Timon
Chip and Dale, and Goofy in their Dino-Bash outfits
Pocahontas and Meeko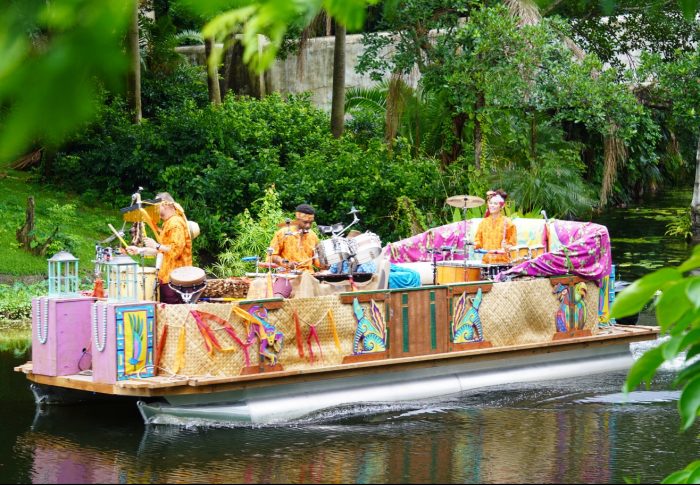 Character Cavalcade Viewing Locations
In my opinion, it is best to just go about your day and enjoy Disney's Animal Kingdom without worrying about the cavalcades. Chances are you will see multiple appearances throughout your day. Besides viewing the cavalcades as you happen to be walking around the park, there are a few spots in the park where you can sit and relax.
On the walkway between Africa and Asia there are multiple clearings and landings on the water's edge. There's even an official Relaxation Station along this walkway with tables and chairs so you can sit, relax, enjoy the view, and take a break from wearing your mask if you wish.
Two other great viewing spots are near Dinoland U.S.A. and Rivers of Light amphitheater. The amphitheater is a nice option which provides lots of room for physical distancing. The one downside is there is no shade here, but you'll have a nice wide open space, with stadium seating where you can watch each of the boats arrive and depart the waterway.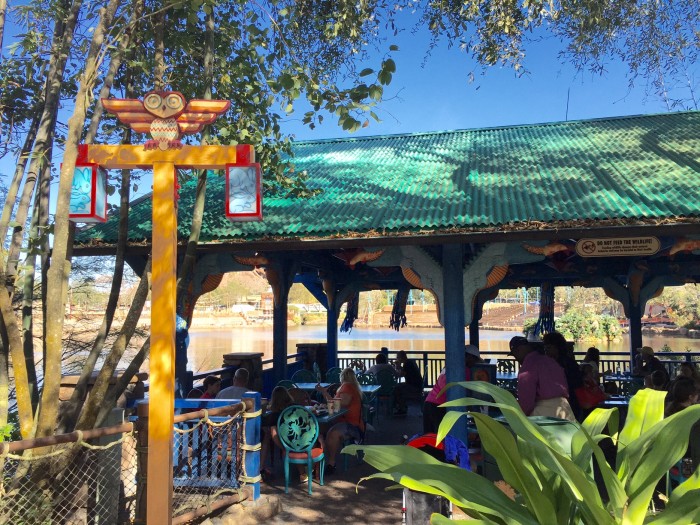 On the other side of the lagoon is Flame Tree BBQ. This quick service restaurant is a great place to grab lunch. Place your mobile order early and grab a table at the waterside pavilion, closest to the lagoon. There's a limited number of tables here so if you head here at peak lunch time you may be out of luck. But, if you are able to snag a table here you'll be treated to views of all the boats as they come and go, all while in the shade and nibbling on delicious food.
Maximize your day at Animal Kingdom and avoid long lines by becoming a TouringPlans Subscriber. You'll gain access to our Lines app where you can use pre-made plans to tour the park in the most efficient way possible, or build your own plan. Plus, you'll be able to see Expected Wait Times versus Disney's Posted Wait Times. With the time you'll save you'll have more time to enjoy special moments like the character cavalcades.
Have you seen any of the character cavalcades yet? Where's your favorite place to watch them?