Tips for Watching the Winged Encounters Mini-Show at Animal Kingdom
It's one of the most enchanting moments in all of Disney's Animal Kingdom. But, if you don't know to look for it, you might miss it. Throughout the day you can catch a quick mini-show, the Winged Encounters experience. It's a short experience, but one that is sure to be memorable.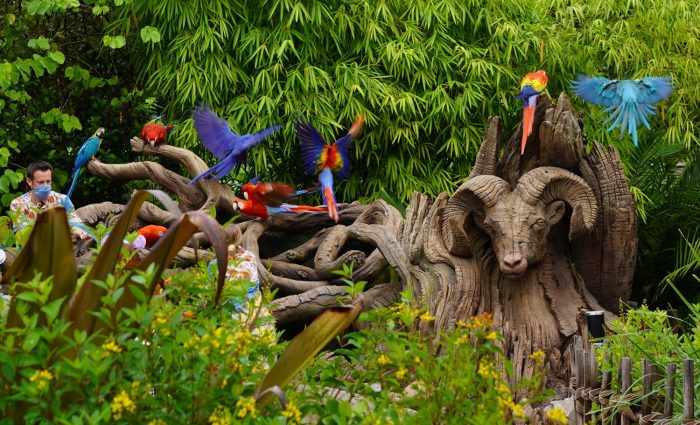 Like many the character cavalcades at Disney's Animal Kingdom, Winged Encounters does not have published showtimes. This is a COVID-19 precaution so that guests do not gather ahead of time. You can find the Winged Encounters "stage" to the left of three Tree of Life. A large log that resembles the Tree of Life acts as a platform for brightly colored macaws.
You can tell the show will happen soon if you see a group of two to three Cast Members head toward the stage area and set up a few things. Then they typically head backstage for a few minutes before coming back out again right as the brief show begins.
The two greatest moments in the brief encounter is right when the macaws arrive and fly onto the stage area. They stick around for a few moments for pictures and viewing. Soon they're on the move again as they make their exit, which is the best part of all as the come very close to any guests gathered in the immediate area.
If you want to get photos or video of their arrival and departure, you may find it easiest to let your shutter click away and then pick out the best pictures afterwards. Anytime I have seen the show I take a video and use the white circle on the screen while the video is recording to snap a few photos at the same time.
We've noticed that the show is typically every hour and usually not too long after the top of the hour. If you happen to catch the experience at the very end of the encounter and want to catch the entire show, just come back to the stage area around an hour later and you'll most likely catch it. There is generally a lunch time break around noon, and the last show is usually in the three o'clock hour.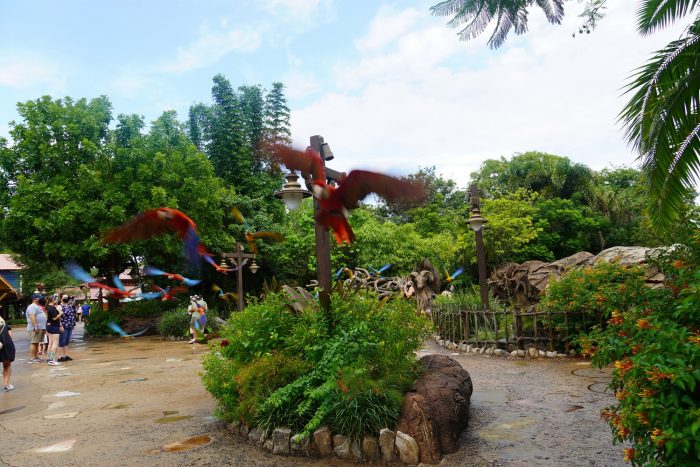 We're in the parks daily to help make sure our tools and resources are up-to-date so you can get the most out of your Walt Disney World vacation. Don't miss out on the best experiences in the parks, both big and small, by becoming a TouringPlans Subscriber.
Have you ever watched Winged Encounters? Do you think it is worth stopping and enjoying it for a few moments?