Top 5 Things to See Before the EPCOT Festival of the Holidays Goes Away
EPCOT's International Festival of the Holidays kicked off on November 26 offering live entertainment, festive decor and activities, and an array of seasonal fare from around the globe.
But for those still waiting to check out EPCOT's final festival of the year, it's now or never!
In addition to Christmas and New Year just around the corner, and the International Festival of the Arts set to begin on January 14, Festival of the Holidays is set to serve its last lakte and peppermint treat on December 30.
So if you're planning to visit EPCOT before that date, here's what you need to see before Festival of the Holidays goes away!
5. The Candlelight Processional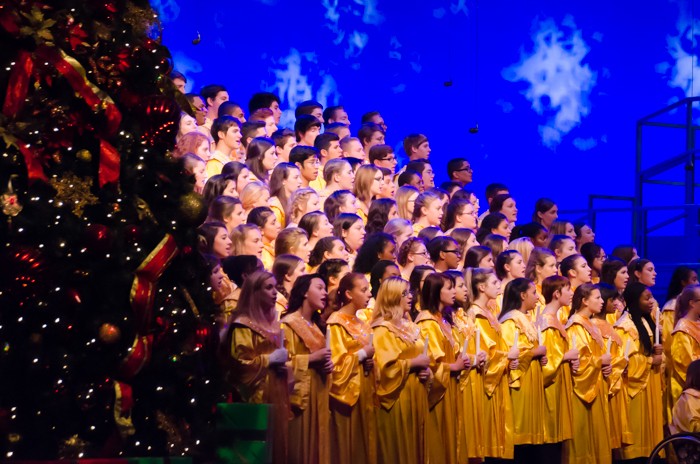 This annual event, held at the American Gardens Theater at the American Adventure pavilion, features a celebrity narrator, a full choir, and a 50 piece orchestra performing traditional holiday songs each night.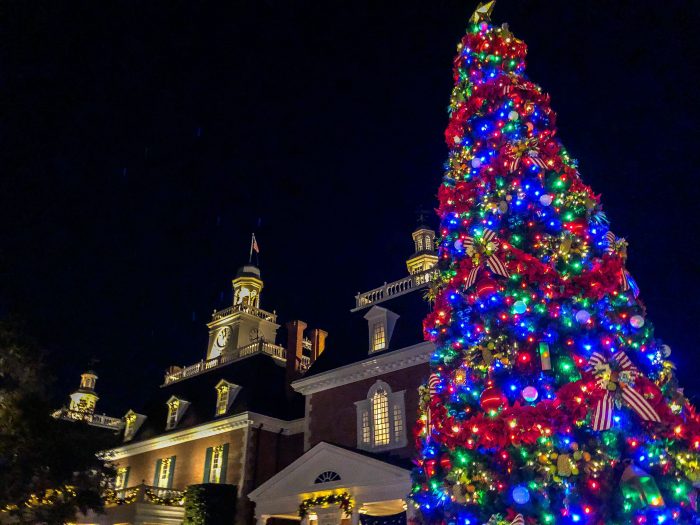 Be warned, it's practically impossible to bah humbug during this masterful display, and many guests think so too. Folks begin lining up for this first-come, first-serve experience long before it begins, and Disney even offers a Candlelight Processional Dining Package that guarantees seating.
If lines and/or a dining package sound like a hassle, we've got a secret. Since the American Gardens Theater is outdoors, guests just walking through the pavilion can hear music, the narration, and even elements some of the show.
If you're wanting to check it out, grab a snack at one of the Holiday Kitchen booths, find a trash can (*ahem* festival table) nearby, and enjoy!
4. Christmas Light Displays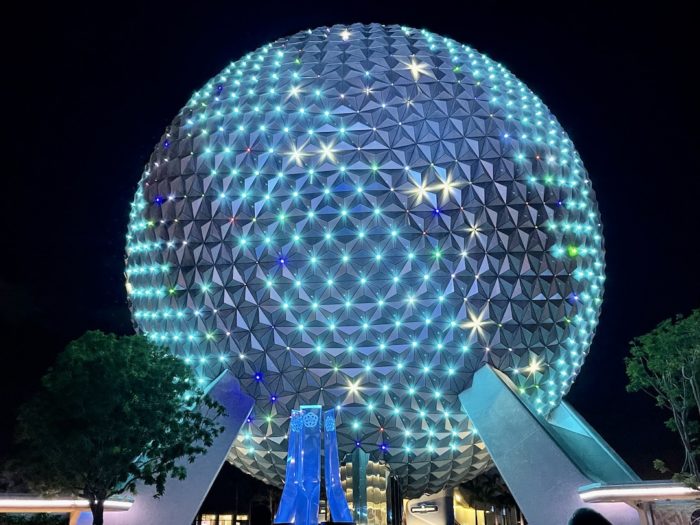 One of the best things Disney did for Walt Disney World's 50th Anniversary is Spaceship Earth's new lighting package as one of the Beacons of Magic. Seriously, it's a stunner and worth staying in the park after dark for, especially since a special holiday tag has been added to the display! It's the perfect way to end the day.
That's not the only spot in the park offering Christmas lights. Once again, Disney has decked Living with the Land's greenhouses with Christmas lights for an extra festive experience. However, you're going to want to wait until after dark to fully enjoy this overlay.
3. The Best of the Fest's Holiday Kitchens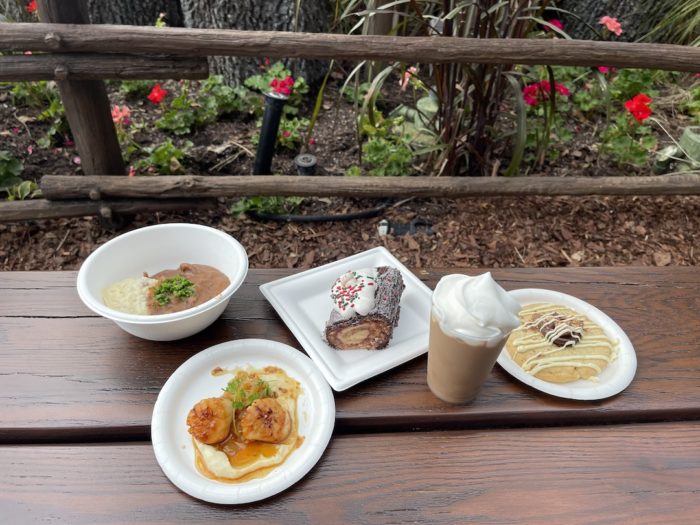 There's A LOT of deliciousness to be had at the Festival of the Holidays, and if you need an excuse for stuffing yourself, we've got you – just say it's for Christmas dinner research. You're welcome.
However, since there are so many options, we're listing a few of our favorites to help you narrow down what you want to sample.
Slow-roasted Turkey with Ben's Original Stuffing, Mashed Potatoes, Green Beans, and Cranberry Sauce at The American Holiday Table for $5.75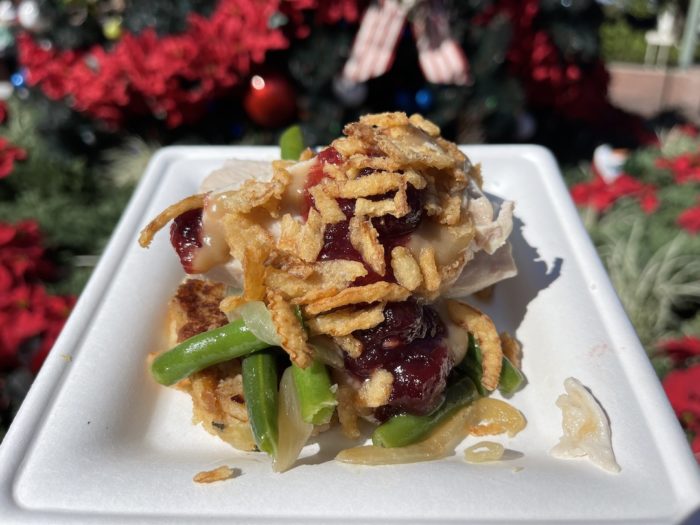 Located at the American Adventure, this oldie but a goodie is hearty and really, really yummy! Plus, it's the perfect mini-meal when you're on the go.
Cheese Fondue in a Bread Bowl with Steamed Veggies & Marbled Potatoes at the Bavaria Holiday Kitchen for $8.25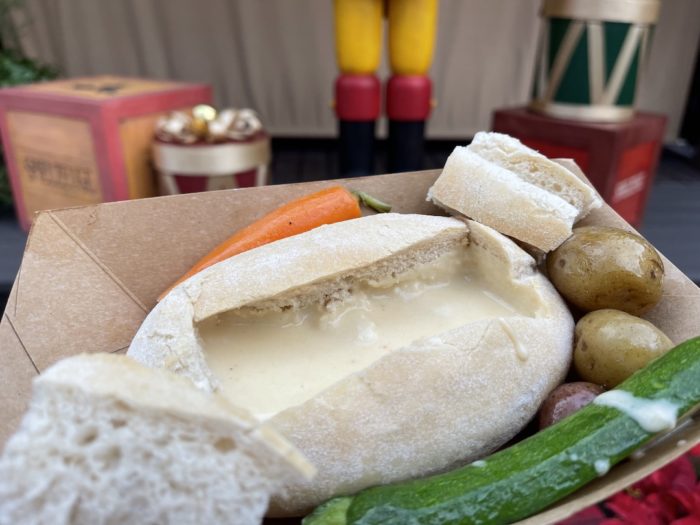 Hot, melted cheese? This item from the Germany Pavilion's festival booth just might be a foolproof hit.
Pretty Much Everything From the Donut Box near Test Track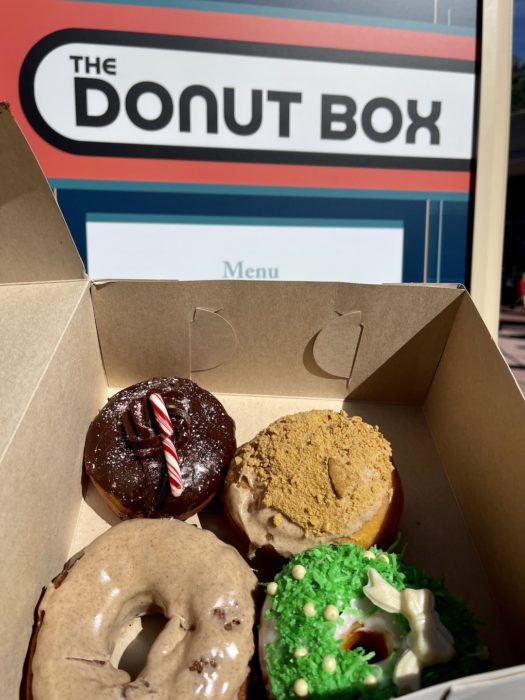 Our park reporter Chrissy particularly enjoyed the Eggnog-Cream-Filled Donut, and the Gingerbread Milk Shake comes with the option to purchase an Annual Passholder-exclusive cup.
Lamb Kefta or Harissa Chicken Grilled Kebabs at Tangierine Cafe – Flavors of the Medina Holiday Kitchen for $5.75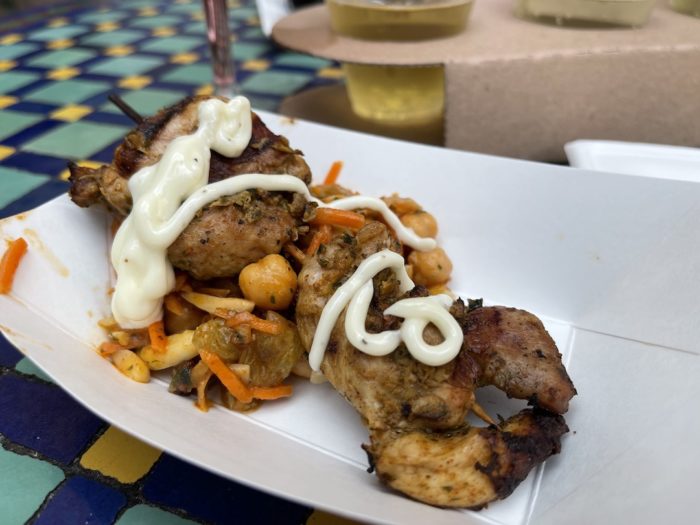 The Morocco pavilion has enjoyed a glow-up in terms of fare throughout 2021, and its holiday kitchen was one of our team's faves this year. Both the lamb and the chicken kebabs were super good and packed with flavor.
Keep in mind, these are just a few of our festival favorites. We can also recommend the items at L'Chaim! Holiday Kitchen, Mele Kalikimaka, and the Yukon Holiday Kitchen.
2. Holiday Storytellers
The Holiday Storytellers have returned to Festival of the Holidays and are such a delight. Almost every World Showcase pavilion offers one of these talented storytellers, and both young and old alike will enjoy their performances and hearing about the cultures and legends of other nations.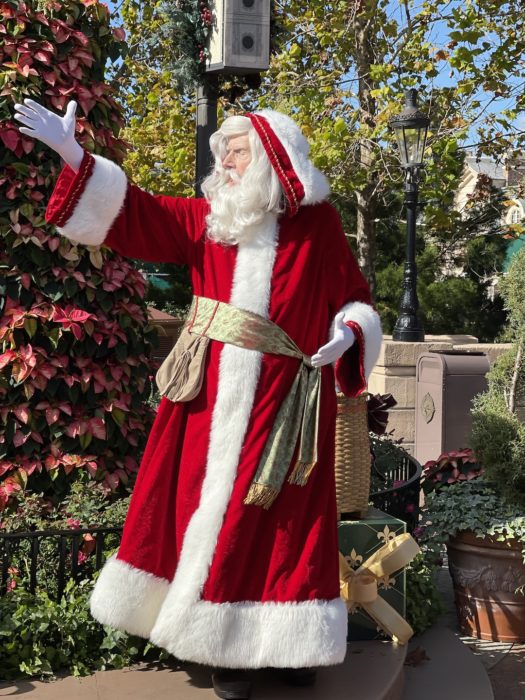 Our recommendations? Don't miss Father Christmas in the United Kingdom, Pere Noel in France, the Hannukah Storyteller between Morocco and France, or the Barn Santa in Norway.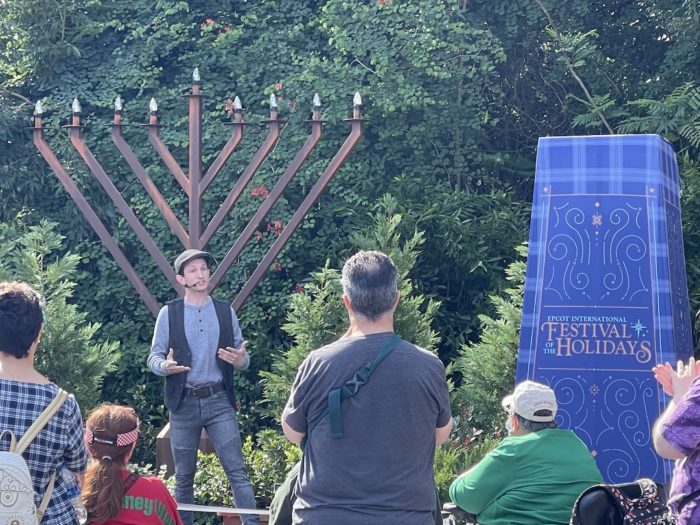 Also, right at the entrance to World Showcase, JOYFUL! A Celebration of the Season is absolutely worth checking out. They always end their set with Sister Act 2's showstopping, modern take of "Joyful, Joyful." If you know, you know.
1. Holiday Cookie Stroll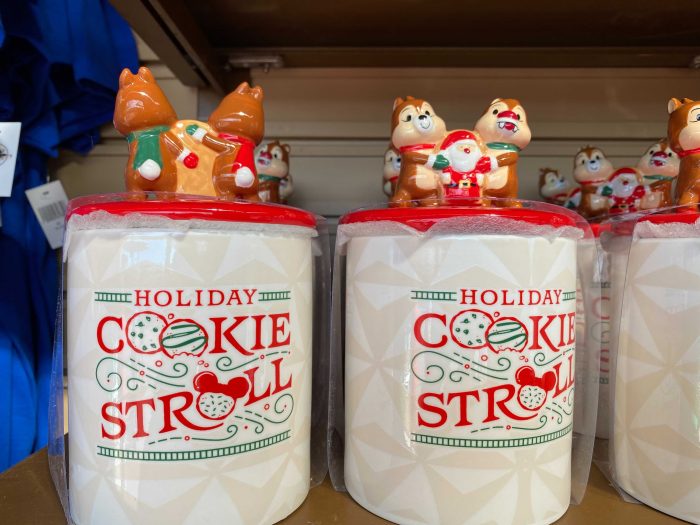 If Santa requires cookies for his trip around the globe, so do you for your trip around World Showcase; and the Holiday Cookie Stroll actually rewards you for eating cookies. Yes, readers, this is why Walt Disney World is the place where dreams come true.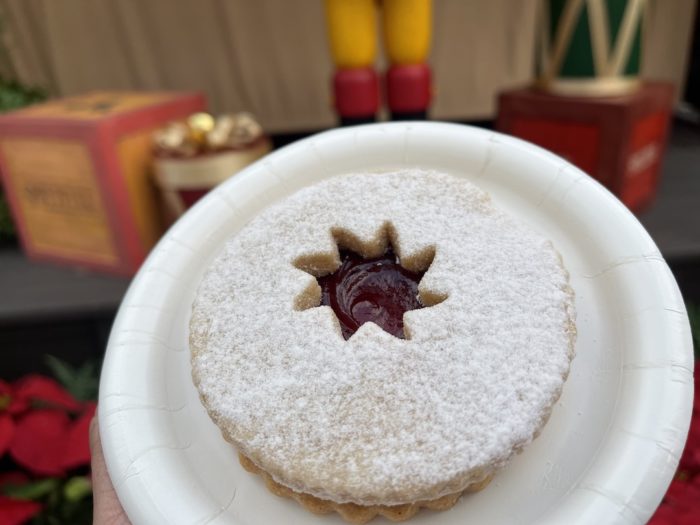 To participate in the Holiday Cookie Stroll, guests must purchase one cookie from each of the 5 cookie stroll locations which consist of the Yukon Holiday Kitchen, L'Chaim! Holiday Kitchen, American Holiday Table, Bavaria Holiday Kitchen, and Holiday Hearth Desserts.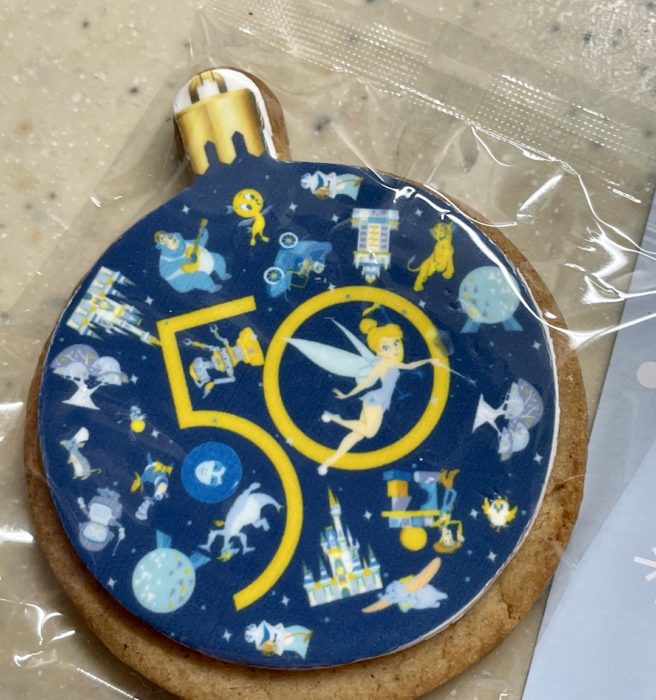 Be sure to ask for a stamp each time you purchase a cookie and have it added to your festival holiday passport. Once you've collected five stamps, head to the Passport to Holiday Sweets and Treats to receive not just a specialty cookie shaped like a 50th Anniversary ornament, but also a peppermint sundae in a cute keepsake cup!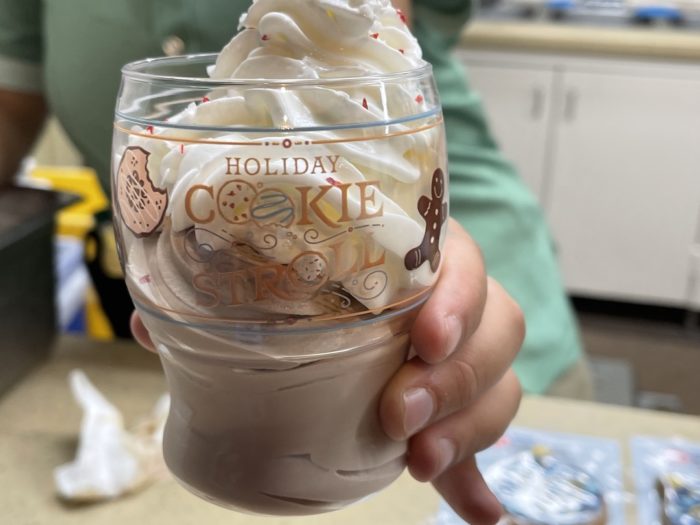 Note: You don't have to complete the stroll in one day, and you can bring your stamped passport to Holiday Sweets & Eats any time throughout the festival.
Also, in our experience, Cast Members are only looking for five stamps and not necessarily five different stamps. So if you purchase several of the same type of cookie, you're still gonna get that reward.
Are you planning to check out Festival of the Holidays before it ends on December 30? What is your favorite part of the festival? Let us know in the comments!