Top 5 WDW Entertainment Options
For many Walt Disney World visitors, the major headliners and other "rides" are the main focus for their visit. They can't have a successful Disney vacation without Rise of the Resistance, Cosmic Rewind, Flight of Passage or Seven Dwarfs Mine Train. Or they brag about how many rides they've accomplished in a day. I mean, I'm at a record of 26; who's counting? But the entertainment at Walt Disney World is also world-class, and a day spent running from headliner to headliner misses a lot of high-quality live entertainment from some of the most talented humans in the world.
So let's go over some data to see what the highest-rated entertainment options at Walt Disney World are right now. That way you can start by adding them to your upcoming vacation plans.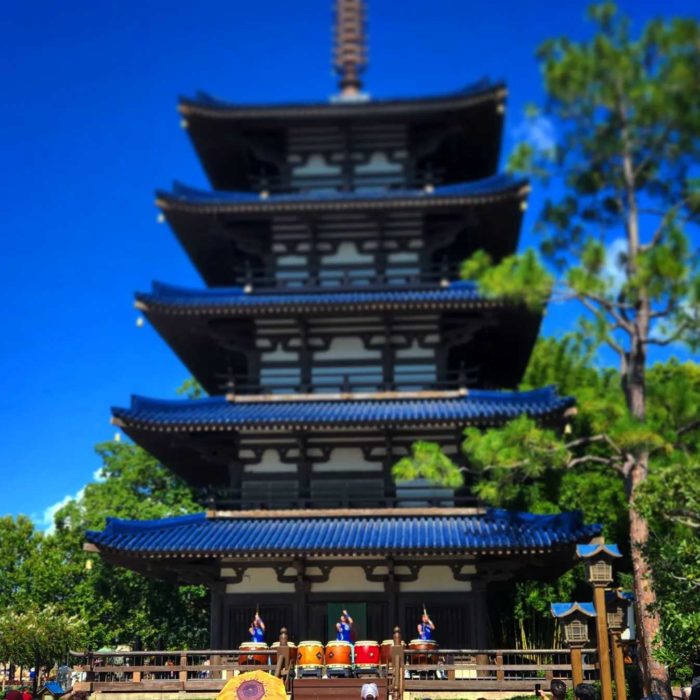 Explain the Data
After every Walt Disney World vacation, TouringPlans users can fill out a post-visit survey. In that survey, every member of your party can rate their satisfaction with every attraction or entertainment option that they experience. These ratings are given the following scale:
1 = Very Dissatisfied
2 = Somewhat Dissatisfied
3 = Neutral
4 = Somewhat Satisfied
5 = Very Satisfied
Since each rating has a numeric value, we can do things like find the average and the standard deviation. For today's analysis, we're going to compare the overall average satisfaction for each entertainment option. We'll be narrowing the survey results down to surveys received in the past two years. For all submitted surveys, we average satisfaction scores from every age group in every survey. Higher average = higher satisfaction. In today's article, we'll look at the top 5 entertainment options with the highest average satisfaction scores.
A note before we begin – I'm defining live entertainment not as big stage shows or parades, but smaller groups that are more out "in the wild" in the parks.
1. Kora Tinga Tinga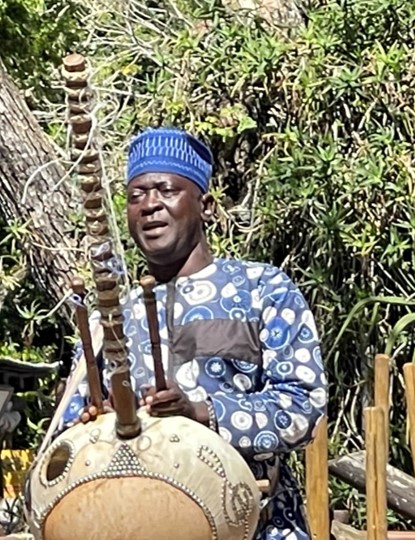 Kora Tinga Tinga is a traveling minstrel that performs in the Harambe village. He plays the kora, a hand-crafted African harp. Kora Tinga Tinga was actually one of the very first live performers to return to Walt Disney World following the pandemic, so it's good to know that such a popular and high-satisfaction act got a quick callback.
Just how highly-rated is Kora Tinga Tinga? Over the past two years, the average satisfaction for his performances is 4.52. That's higher than Feathered Friends in Flight (4.44), and much higher than the new Finding Nemo show (4.23), and much much higher than attractions like Kali River Rapids (4.08) or DINOSAUR (3.82). So on your next Animal Kingdom visit, consider prioritizing some time with Kora Tinga Tinga before those other options. Bonus: Kora Tinga Tinga performs right by the Dawa Bar. So you can settle in, grab a drink, and enjoy the music. A pretty great way to spend time in Africa.
2. Voices of Liberty
Voices of Liberty is a popular 8-person a cappella group with a classic Americana repertoire. The group performed outdoors since EPCOT reopened in July 2020, but returned to the indoor rotunda of the America Adventure Pavilion in January 2022. Sometimes the group will perform special musical sets, especially in November and December for the holidays.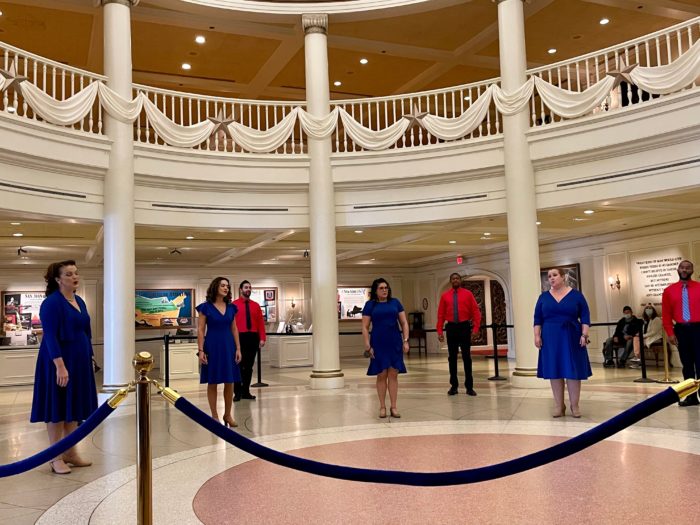 Even kids are mesmerized by this group as they mix in some fun and funny songs into their normal sets. The real sell for this performance is that you can sit or stand while you watch and enjoy the shade and air conditioning of the American Adventure Pavilion. Showtimes for Voices of Liberty are generally scheduled so that you can head immediately to the theatre for a showing of The American Adventure following the music.
Just how good are the Voices of Liberty? Well, their average satisfaction score (4.44) is roughly equivalent to satisfaction at Remy's Ratatouille Adventure (4.42). It even rates higher than the entire Eat to the Beats concert series (4.30) and the ever-popular Jammitors (4.27).
3. DiVine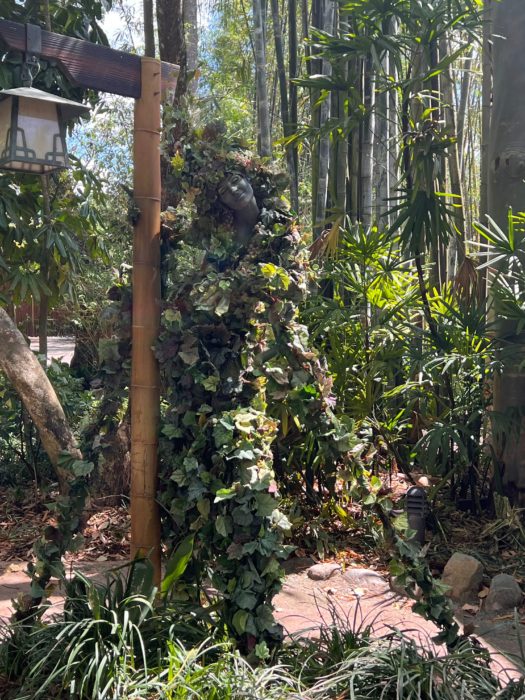 DiVine is far and away the most intriguing street performer at Walt Disney World. And she is one you can't easily see – at least not at first. Clothed in foliage and vines, she blends so completely with Animal Kingdom's dense flora that you probably won't notice her until she moves. Guests standing less than a foot away have gasped in amazement as DiVine surprises them by brushing them with a leafy tendril.
DiVine is usually out and about in the middle of the day, and stays visible for around 20 minutes at a time. This isn't a type of entertainment where you sit and watch her for 20 minutes, though. Instead, you just hope to spot her and maybe take a picture or two. Of course, if you enjoy people getting mildly startled when they first see her, maybe the whole 20 minutes would be fun!
You can typically find DiVine near the stroller rental area in The Oasis by the entrance to the park. Other times she'll wander the path from Pandora to Africa or from Asia to Africa. DiVine's average satisfaction of 4.41 places her way above quite a few of the attractions at Animal Kingdom, so she's worth seeking out.
4. Sergio
Sergio is an entertaining master juggling act that involves interactions with the crowds watching the show in the Italy Pavilion at EPCOT. Many guests that visited Walt Disney World prior to the pandemic are familiar with the original Sergio, who was one of the longest-running entertainers in the parks thanks to the incredible popularity of his show.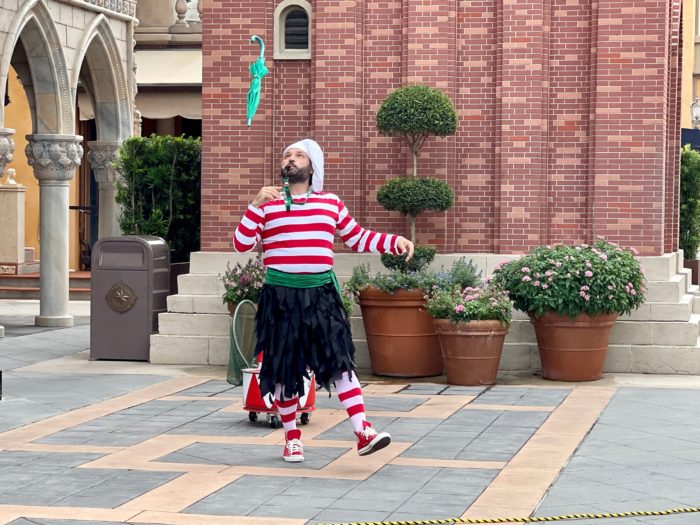 Post-reopening, a new Sergio is in town, but he is also highly-rated, thanks mostly to preschoolers and grade schoolers who love his silly juggling and other interactions. Sergio's overall average satisfaction score is 4.40, but with this younger crowd that score goes all of the way up to 4.77! There is literally no other attraction or entertainment option or other offering at Walt Disney World that scores higher with this age group. The only thing that comes close is meeting Anna and Elsa at Royal Sommerhus. So much for skipping EPCOT if you have littles! Looks like it's the place to go.
You can catch Sergio in the Italy pavilion most days throughout the afternoon. One note here – if it's a hot and sunny day in Orlando, there aren't many shady spots from which you can enjoy Sergio's performance. Aim for an earlier or later performance instead of the sweltering middle of the afternoon.
5. Mariachi Cobre
Mariachi Cobre is a long-standing mariachi band from Jalisco, Mexico that entertains people near the Mexico Pavilion in EPCOT with their world-famous traditional folk music. On most days, you can find this group performing on the steps to the pavilion. During the holiday season, they typically add some dancers to their crew as well.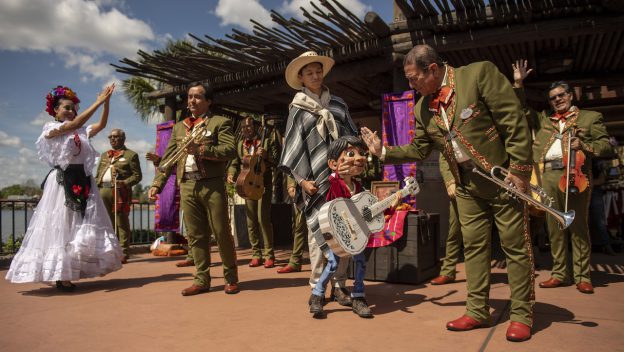 Typically, Mariachi Cobre performances run for about 25 minutes, and happen several times throughout the afternoon. On days when they're not performing, a well-rated Marimba Trio takes their place. Mariachi Cobre's average satisfaction score of 4.37 puts it above attractions like Spaceship Earth (4.03) and The Seas with Nemo & Friends (3.62). It also scores above the big "attraction" of the Mexico Pavilion – Gran Fiesta Tour, with its average score of 3.68.
Best Parks for Live Entertainment
Out of the top ten entertainment options across WDW, four can be found in EPCOT and four can be found in Animal Kingdom. The other two are in Magic Kingdom. I think we have an easy "bottom" park with Hollywood Studios (RIP Citizens of Hollywood).
Animal Kingdom and EPCOT both have many highly-rated entertainment options. But if we average their satisfaction overall, EPCOT nudges ahead by just a hair. Live entertainment is part of the charm of World Showcase, and it elevates the park as a whole.
What Does This Mean For You?
Especially at Animal Kingdom and EPCOT, make time for entertainment. It adds value and depth to your day.
If you have kids in grade school or younger, put Sergio on your touring schedule for some guaranteed fun.
Next time you're in Animal Kingdom, take a few minutes to search for DiVine or enjoy some local musicians.
Did your favorite live entertainment make the list? Which other options would you suggest to folks with upcoming WDW trips? Let me know in the comments!