Tusker House Lunch: Jambo to Flavor!
The latest Walt Disney World restaurant to reopen and join the "herd" is the Animal Kingdom favorite – Tusker House!
Tusker House is a colorful, marketplace-themed restaurant at Animal Kingdom's Africa. Before the COVID-19 closure, Tusker House was a character buffet offering both crowd-pleaser standard dishes and African cuisine.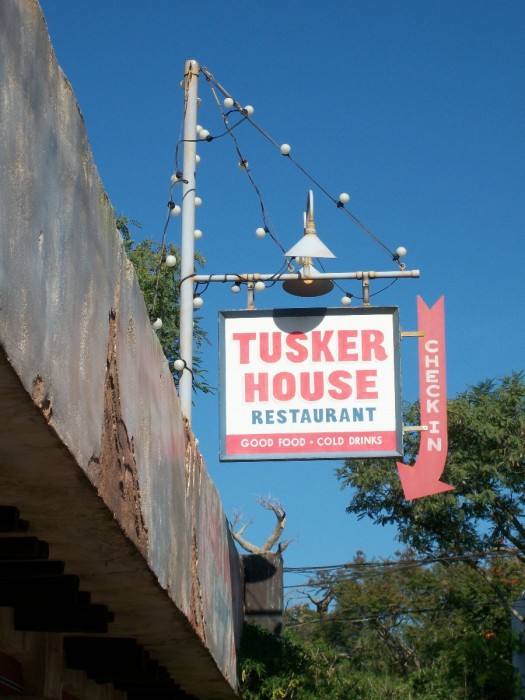 And while the characters have returned, albeit in a modified fashion, the buffet has been overhauled into an all-you-can-eat family-style meal for breakfast, lunch, and dinner.
We've already covered what Tusker House's new breakfast is like, but our in-park reporter Chrissy went back to this Animal Kingdom restaurant to see how the experience differs for lunch.
What You Need to Know
Lunch at Tusker House is currently priced at $55 per adult and $36 per child, which is higher than breakfast. Breakfast costs $42 per adult and $27 per child. Fortunately, a 10% Annual Passholder discount is applicable here.
Just like breakfast, the modified Tusker House still features Mickey, Donald, Daisy, and Goofy in their safari outfits. Of course, that's a huge part of this dining experience since you probably won't see Mickey and the gang in their "adventurous" apparel anywhere else on property.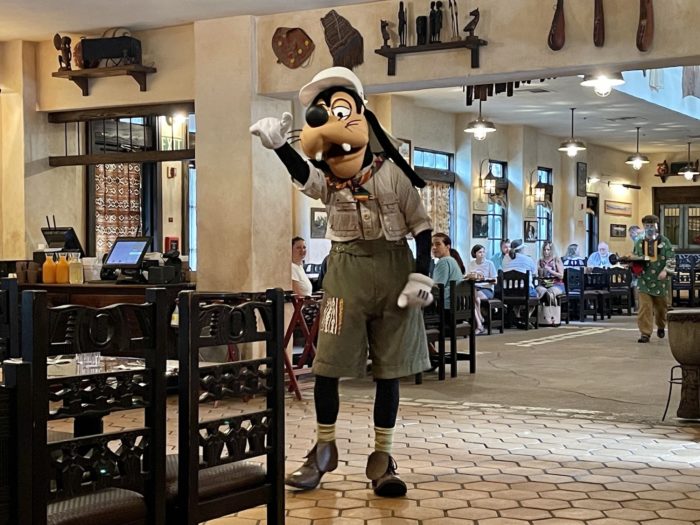 Tusker House currently offers indoor seating only. Tables aren't spaced from each other, but they are arranged around the edges of the room to allow the characters to move down the center.
And like other character meals at Walt Disney World right now, the characters can't come to the individual tables and Cast Members advise guests not to walk around when the characters are present.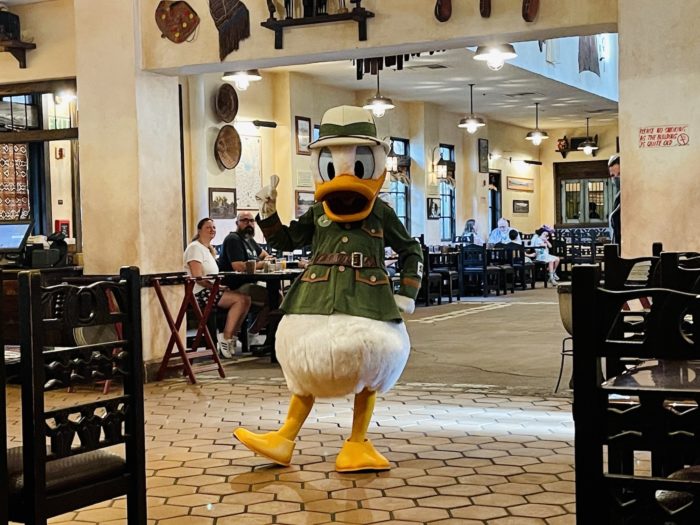 Now you can stand up in order to get a selfie, but just be sure to stand at your table. Also, the character roster is the same regardless of the time of day, and Minnie is not included. She isn't on the autographed postcard guests receive either.
If you're looking to dine at Tusker House during your vacation, we strongly suggest booking a reservation at least 60 days out. But if you're already within that window, consider using the TouringPlans Reservation Finder.
The Menu
Starting with drinks, Tusker House offers an extensive drink menu with options like Walk the Plank, the Smoked Turkey, and even a Godiva Chocolate Martini!
There's also a number of "Mocktails" and Non-Alcoholic drinks as well.
Drink – Spicy Poblano Margarita – $14.00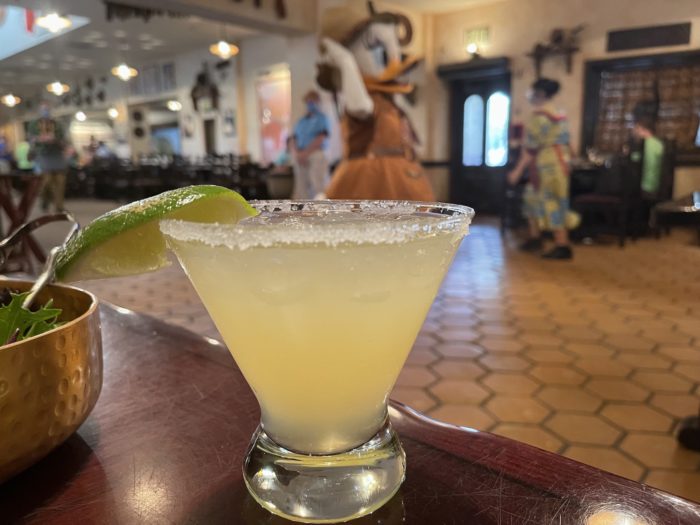 Chrissy went for the Spicy Poblana Margarita which is Patrón Silver Tequila, Ancho Reyes Verde Liqueur, Lime Juice, and Pure Cane Sugar.
Her thoughts? Well, Chrissy says that just like her breakfast drink, this lackluster margarita was partly her fault. She says she should have given them time to get the bar right as this one was very strong and spicy.
Assorted House-made Breads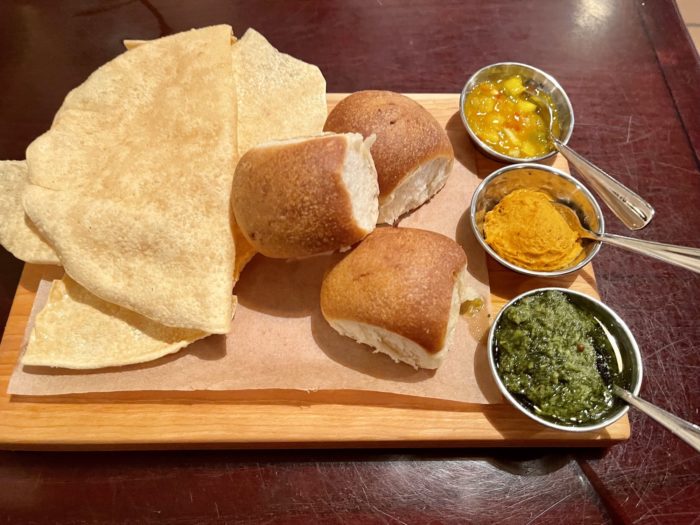 The bread service comes with hummus, coriander, and mango chutneys. Chrissy says the chutney trio was so dang good and that her server recommended using it on the beef. He was right.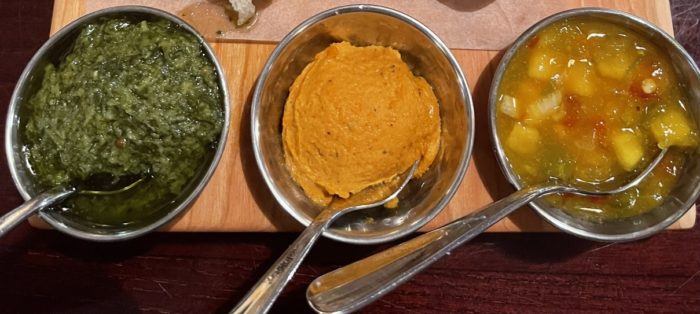 Overall, she loved this bread service so much that she had two servings and was very happy with the flavors after Tusker House's sort of sad showing at breakfast.
African Inspired Salads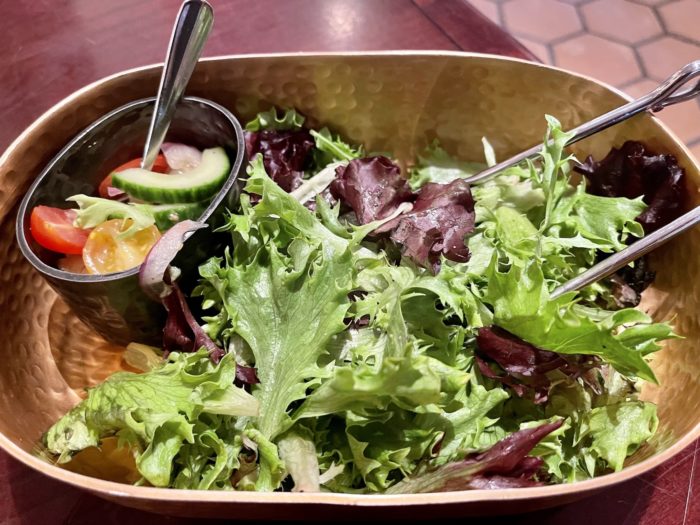 Described as Kachumbari and Arcadian Green Salad with Citrus Vinaigrette Dressing, Chrissy says she just didn't get any African flavors from any of the dressing or veggies, but greens were more than welcome after the number of carbs she had just consumed.
Moroccan-spiced Beef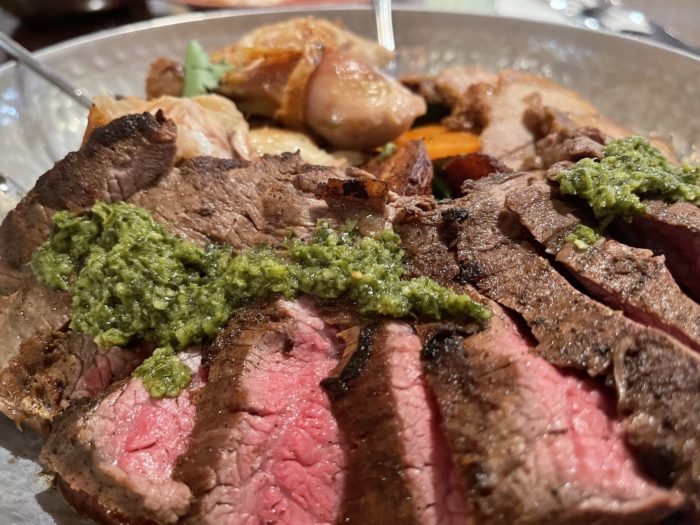 Hopefully, the photos show just how pink and juicy this beef was. You can also see the portion size, which was giant. Chrissy only wishes they had gone heavier on the spices, but that's one of the difficulties of having a family-style African-themed meal that's supposed to make everyone happy.
Spit-roasted Herb Chicken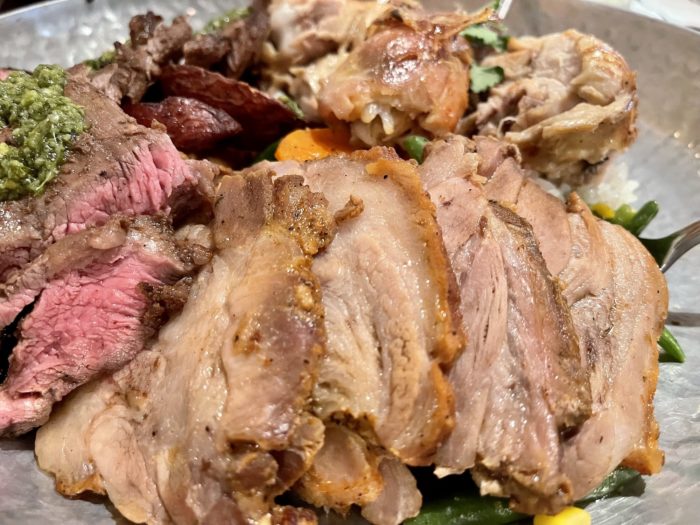 This is just a huge helping of yummy chicken. Chrissy loved it with the coriander chutney, but her little one devoured it all on its own. Not fancy, not dry, not pricey. Just lovely.
Berber-marinated Pork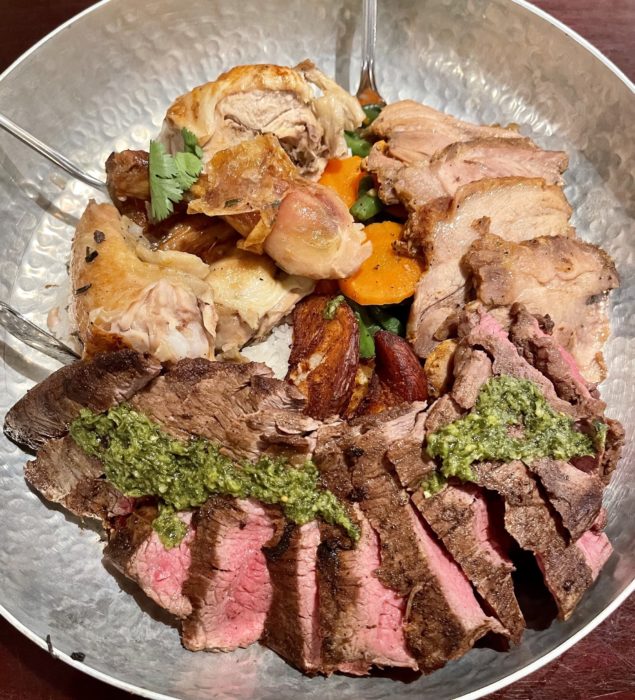 Not much to say about this one. Just perfectly cooked and plentiful.
Cape Malay Green Curry Shrimp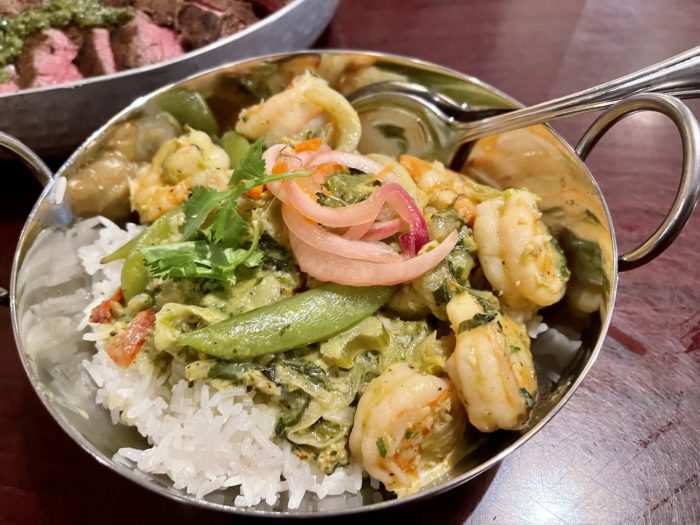 THIS! Chrissy says give her all this, the Jungle Juice, the breakfast curry dish, and the bread and dips and let her sit in a corner for a few hours. This was so fun, bright and spicy, and the shrimp was done just right. It was also beautiful with perfectly-cooked rice. Overall, the whole thing was true Tusker House and Chrissy would've been back at the buffet for this one in the old days. Love it.
The Sides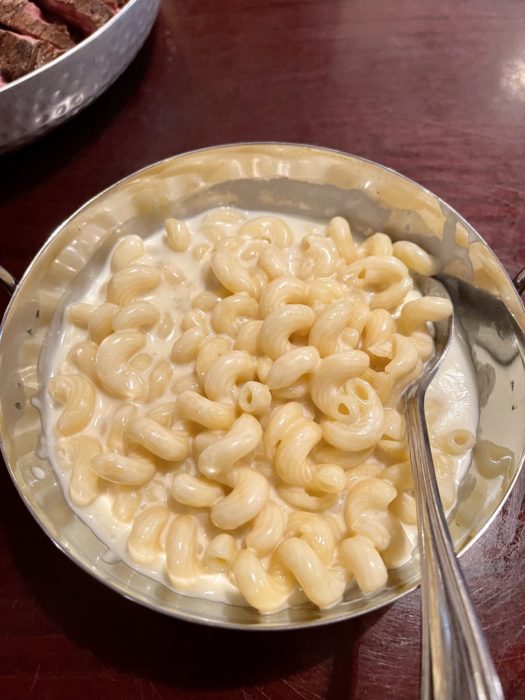 Tusker House's sides consist of roasted potatoes, jasmine rice, green beans with carrots and corn, house-made macaroni and cheese, and Impossible Durban Curry (available upon request).
Basically, Chrissy says to expect the usual Disney goodness here. Veggies with a nice bite and noodles with gallons of cheese sauce. The makings of happiness.
The Desserts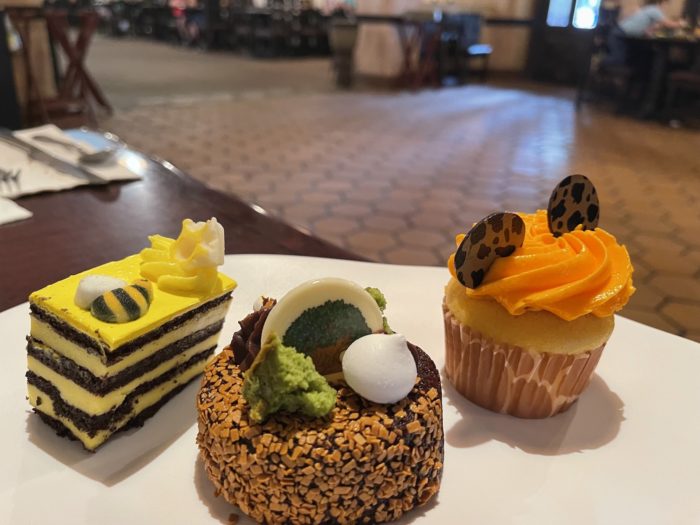 The Tusker House menu describes the dessert menu as animal-inspired mini desserts with plant-based chocolate mousse available upon request.
According to Chrissy, this was the only part of the meal that was lackluster. Nothing, other than the chocolate discs, were on theme and nothing was especially memorable or good. There are far too many options for better sweets on property.
The honey cake reminded her of those pre-sectioned cakes you buy for a baby shower. It was obviously made in a giant sheet pan and the sugar decorations were added after the portions were cut. The desserts are the loudest example of economy and quantity over quality. Also, the menu says they were supposed to be "Animal-inspired Mini Desserts" and that called to mind the tiny plops we had at Cape May. However, these were full-sized and just boring.
She said she would be willing to let this go since 1.) The child was delighted by the cupcake. 2.) I can go to Topolino's for excellent TS dessert. 3.) Everything else was great. She's sure desserts will improve when supply lines and staffing improve, and this wasn't enough of a bummer to even alter her opinion of the meal.
Final Thoughts
If this is what a price increase of $13 looks like, they should double it and charge $68 and go full blast. The difference in quality, taste, and theme of the meal was like the difference between buying a bag at the dollar store on your way to the party or buying a hatbox that matches the color of the invitation and hot gluing the receiver's favorite silk flowers to the top as decoration. Both act as a vessel for a gift, but only one is going to make you happy.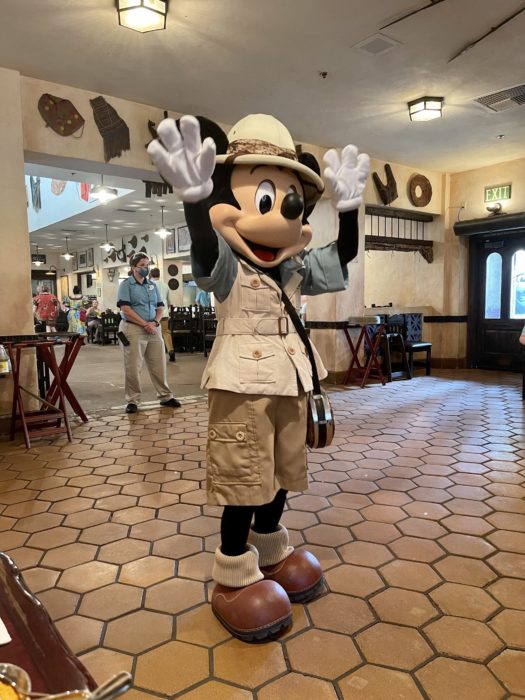 Lunch is what lunch at Tusker House should be short a full buffet. Breakfast, however, was just breakfast with one awesome dish and signature juice. Her recommendation? Skip the Tusker house breakfast, go get in line for Flight of Passage, and then wait until it's 95 degrees for a really wonderful lunch at Tusker House and some heavenly A/C.
Will you check out Tusker House during your next trip to Walt Disney World? Have you missed this popular Animal Kingdom restaurant too? Let us know in the comments!