WDW Dining Roundup – Poly, Wilderness Lodge, Contemporary
Coming out of lockdown, the first thing I noticed was that restaurant food tasted better than I remember.  And Walt Disney World restaurant food tasted better than regular restaurant food.  With that in mind, Laurel and I did a quick cycle of Magic Kingdom resort dining this week.  Here are the photos and some thoughts on the meals.
Dinner at Whispering Canyon
First up is dinner at Whispering Canyon at the Wilderness Lodge.  Both Laurel and I went with a Signature Skillet choice: Laurel with the Plant-based choice ($34), I with The Traditional ($34).
Both skillets come with cornbread and coleslaw appetizers.  At Laurel's request, hers were vegan, and the vegan coleslaw had a vinegar base, I think with a touch of mustard: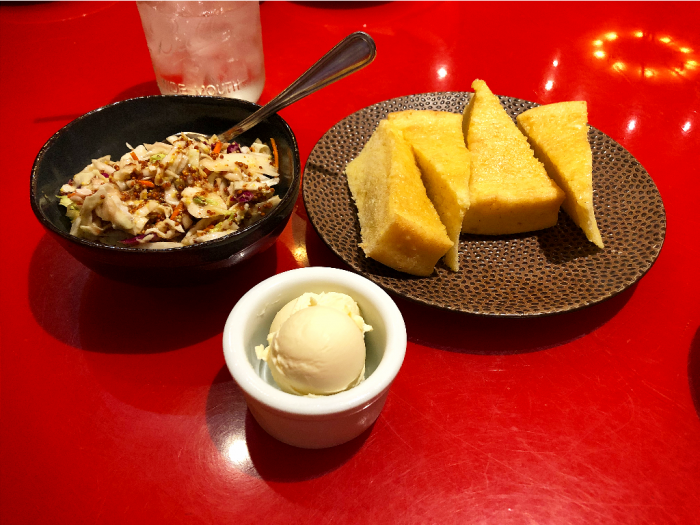 I had a bite of each. The coleslaw was delicious – a tangy counterpart to the mayo base of mine.  I thought the texture of Laurel's cornbread was dense and chewy.  In contrast, my cornbread had the texture of a medium-light cake, which was just the right consistency.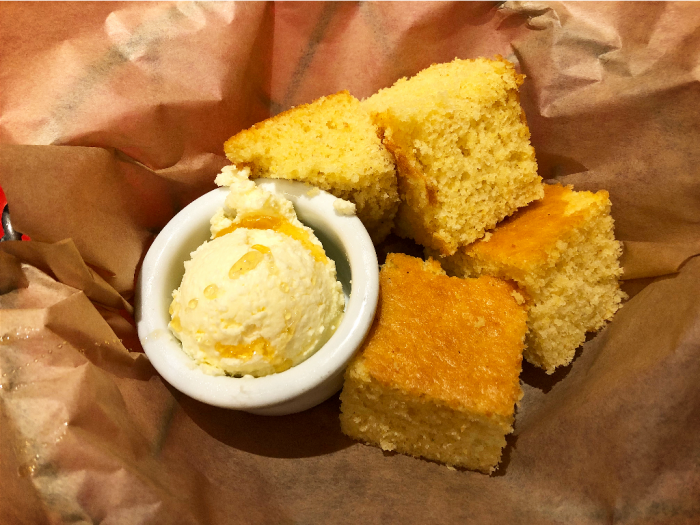 Here's my mayo-based coleslaw: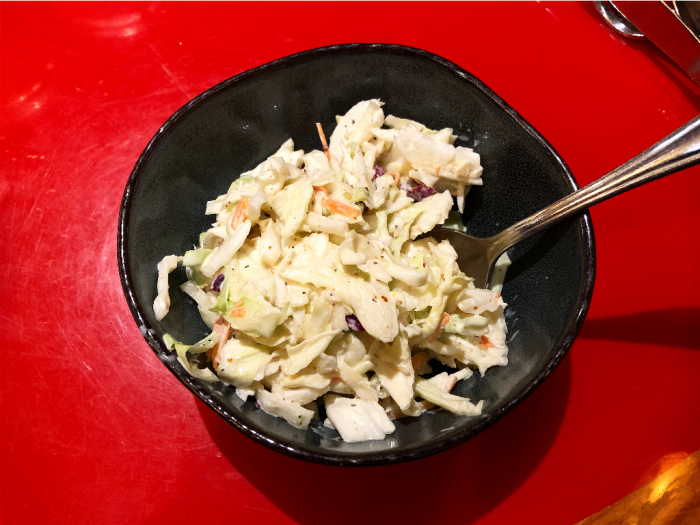 The beauty of a Whispering Canyon dinner is, of course, the all-you-care-to-eat skillets.  These didn't disappoint.  My Traditional skillet came with smoked beef brisket, maple-chipotle pork ribs, smoked pulled pork, citrus-herb chicken, a link of sausage, mashed potatoes, corn, and green beans.  As you can imagine, it's meat-centric. Here it is in all its glory: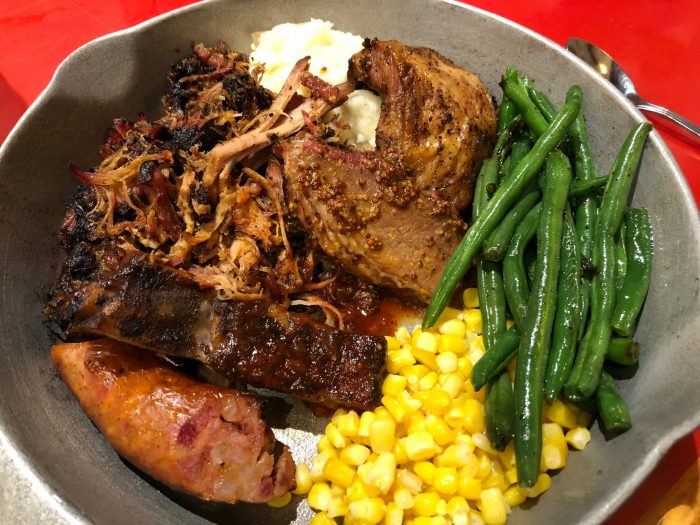 The pulled pork and brisket were the two best meats on this plate – smoky, tender, and juicy.  Plus, there was plenty of it, and as the kids say, quantity has a quality all its own.  I liked less the chicken thigh, because it didn't have enough flavor to stand up to the bold spices of the meats.  Had I eaten it first, I might've enjoyed it more, so that might be the way to approach this plate.  Also, the "Western-style" sausage was interesting in that the herbs and spices used to season it reminded me more of southern breakfast sausage than, say, kielbasa (which was what I was expecting).
Here's Laurel's vegan skillet, which she enjoyed.  I had a taste of the grilled carrots and peppers, and both of them were savory and delicious. I would've traded a meat from my skillet for a couple of servings of those.  The beefless tips and Chic'n are similar (if not exactly) what you can get in grocery stores these days, but here with tangy sauces.  The one thing that Laurel didn't like here was the barbecued jackfruit.  Although we live in a perpetually divided country, I think all Americans can agree that equating barbecued jackfruit to barbecued pork is the culinary equivalent of a second-degree felony, and should be prosecuted. Probably somewhere in Italy, I think.
Service at Whispering Canyon was excellent – our friend Gustavo, who'd recommended the chicken to me over at Grand Floridian Cafe, was pulling double duty over at the Lodge, so it was great to see him again.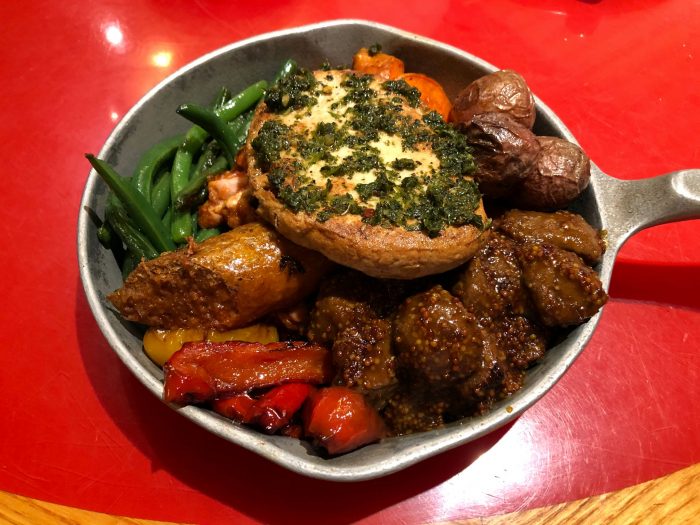 Snacks at Geyser Point Bar and Grill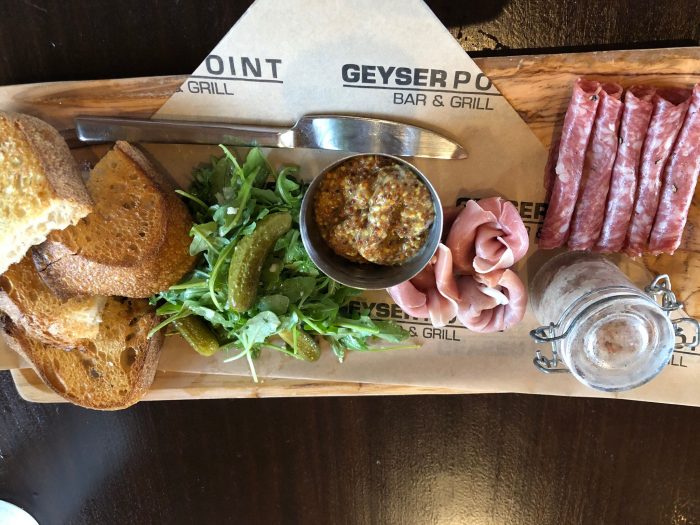 Earlier in the day we stopped by Geyser Point for a drink, and shared the charcuterie plate ($14).  This came with warm, crusty sourdough bread; cornichons; arugula; a strong, grainy mustard; ham; salami; and a small jar of duck rillette.  We really liked the thought that went into pairing these flavors. We had great results in combining any two or three ingredients together with the bread and mustard. It was a lovely way to wait out an afternoon rain storm.  In fact, it was so good that I went back and ordered it again this past Saturday.  And it was even better – with more ham, and another meat – bresaola – to go along with the salami.
Breakfast and Dinner at Kona Cafe
We had breakfast and dinner over at the Polynesian's Kona Cafe last week.  First up is breakfast.  I ordered the Two Eggs-Any Style ($14) and got the eggs scrambled.  The main reason I went with this instead of the Tonga Toast ($16) or the Macadamia Nut Pancakes ($14) is that wasn't in the mood for anything sweet.  There was nothing complicated or out of the ordinary with my breakfast, and it was cooked correctly.  A lot of times, that's the best way to start the day.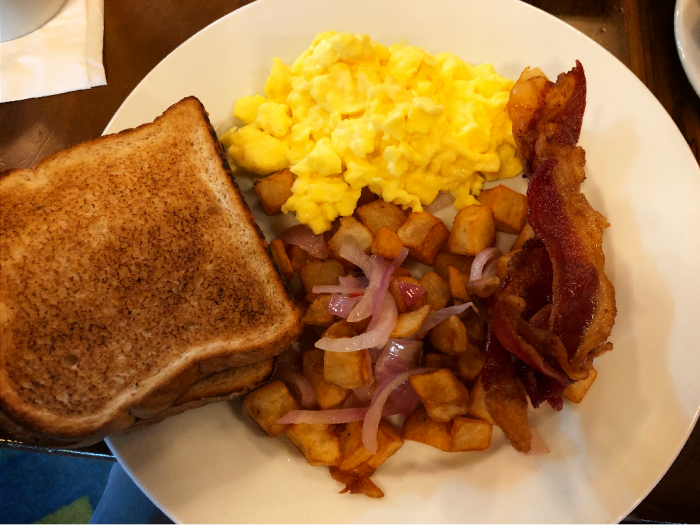 Laurel ordered the Plant-based Loco Moco ($14), made with plant-based eggs, plant-based sausage, coconut milk, rice, and pico de gallo.  It looked delicious, and Laurel loved it.  I had a bite of the eggs, and while the flavor told me they weren't actual eggs, the consistency and texture were spot on.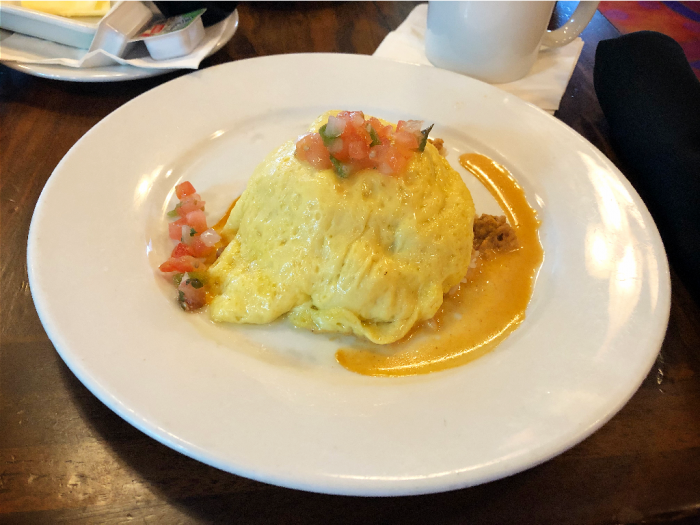 We went back to Kona Cafe for dinner.  I started with the Spicy Tuna Roll ($18).  This is eight pieces of standard spicy tuna roll, at the right temperature, and with tasty ginger.  I could've used a bit more flavor from the tuna.  Also, this is enough sushi that you might consider it as an entree by itself.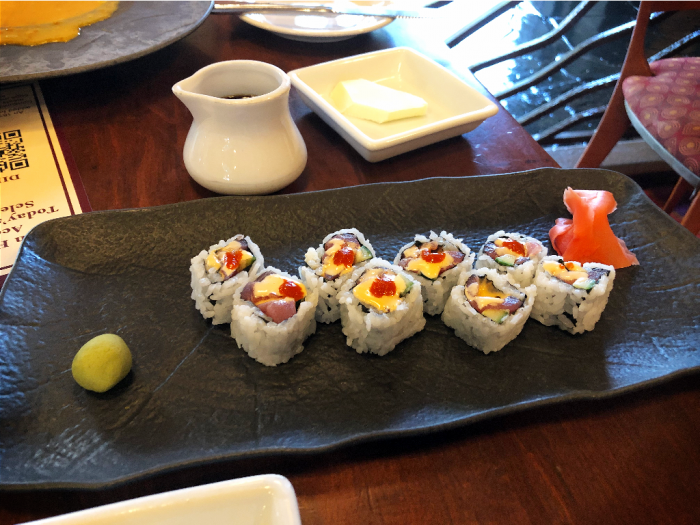 Laurel's appetizer was the Seafood Coconut-Curry Soup ($10), which had a marvelous aroma of crab and shrimp. Laurel said it also had scallops, and it tasted fabulous.  I'm not a fan of anything flavored with coconut, but this was outstanding – rich and creamy, with tons of fresh seafood flavor.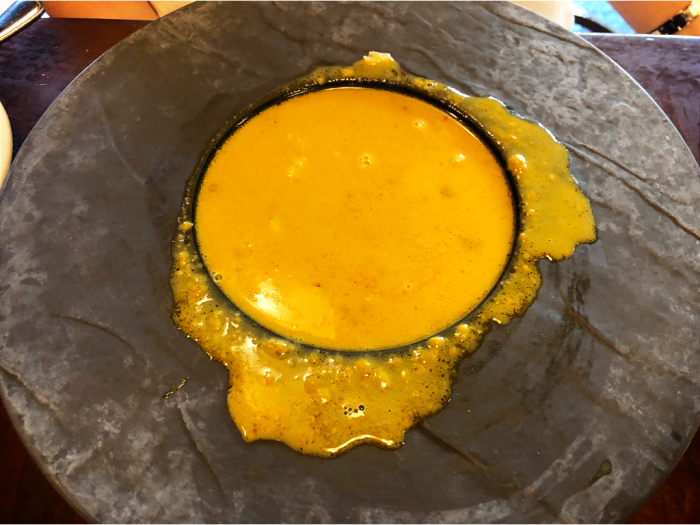 Laurel ordered the Vegetable Bowl ($21) for her main course. This is a soup with glass noodles, pineapple-scented tofu, roasted tomatoes, green beans, peppers, peanuts, and other vegetables.  Like the sushi, this is a large serving.  In tasting the broth, I thought I detected fennel, coriander, and ginger flavors.  I could be wrong.  The tofu was excellent – fried slightly, and tangy.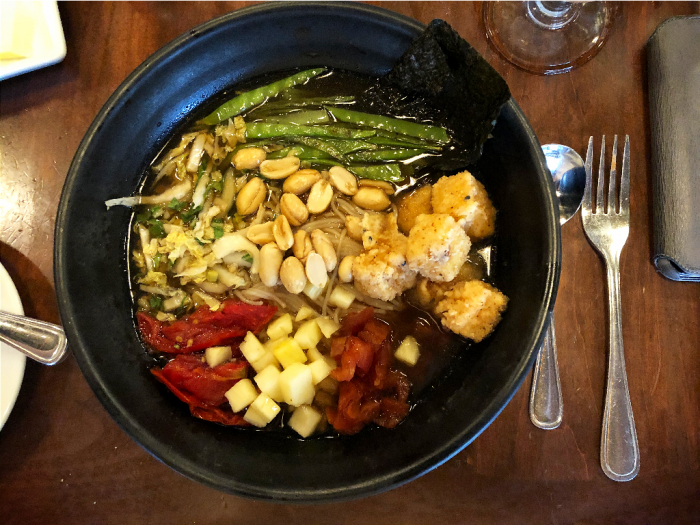 I went with the Turkey Banh Mi ($16), and it was everything I've ever wanted in a turkey sandwich.  This one was topped with pepper-crusted bacon, pork pâte, and pickled onions.  Like almost all banh mi, it came with cilantro and jalapeño, and Disney added a spicy poblano mayo.  I think we should all use Thanksgiving leftovers for these sandwiches annually. Also, the fries here were perfect – crispy on the outside, tender on the inside.  Sixteen dollars is a lot of money for a banh mi and some fries in most places, but I came away from this very satisfied. I'd order it again.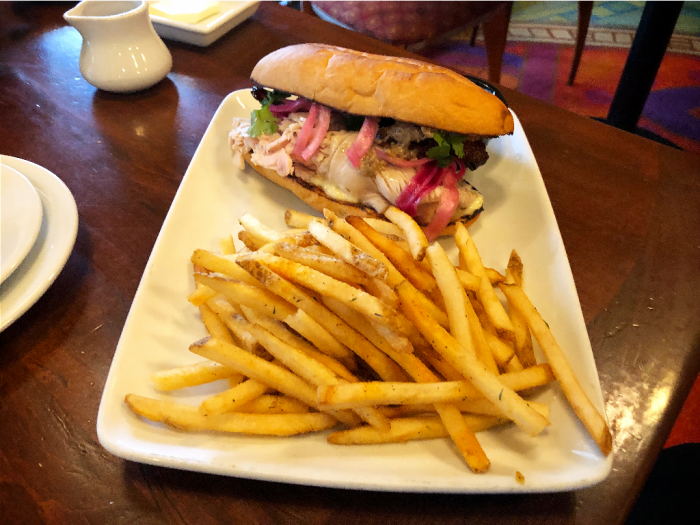 Breakfast at The Wave
We had breakfast at The Wave one morning before the parks opened.  Laurel went with the Avocado Toast ($12), which were four medium-size slices of toasted multi-grain bread, with smashed avocado (I think we call that guacamole now), onion jam, radish, a sprinkle of pumpkin seeds, and watercress.  It also came with a side of roasted potatoes with onions and peppers.  Laurel enjoyed it, and it wasn't too filling for a day in the parks.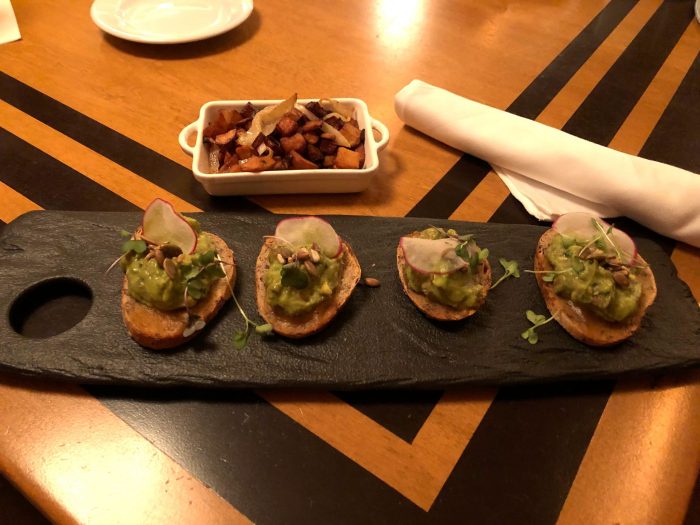 I went with the custom omelette, and asked the chef to put in a little of everything.  In this case, that was cheddar cheese, peppers, onions, tomatoes, ham, and bacon.  It came with a side of potatoes roasted with with onion (delicious), and a too-dry biscuit that I suspect was microwaved.  Nevertheless,the omelette was perfect, and full of flavor. It was also big enough to share, especially with the potatoes.  Service at The Wave was excellent, and we were in and out in under 40 minutes.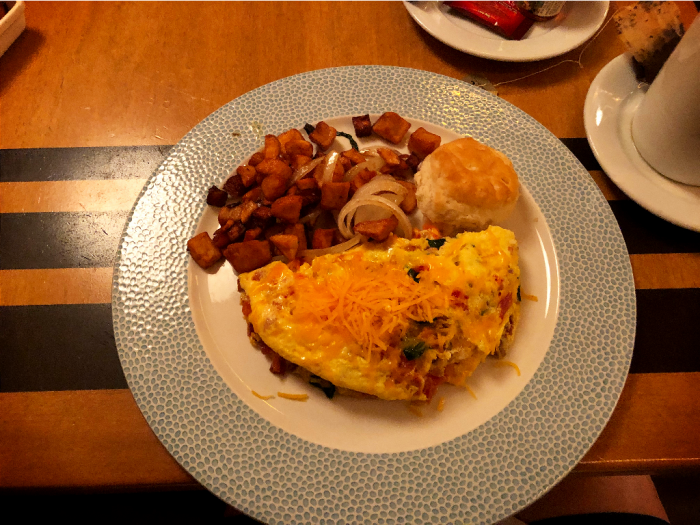 That's a quick look at our most recent culinary experiences at Walt Disney World. Let me know if there's anywhere you're excited to eat at for your next trip – we may check it out for you!