What Do I Do With My Bag on a Disney World Ride?
If you're going to Walt Disney World, chances are you're bringing some gear – water bottles, sunscreen, phone charger, and the like – and you'll be toting that gear in some sort of bag. One of the first questions new Disney World visitors ask when this topic comes up is, "What do I do with my bag when I go on the rides?"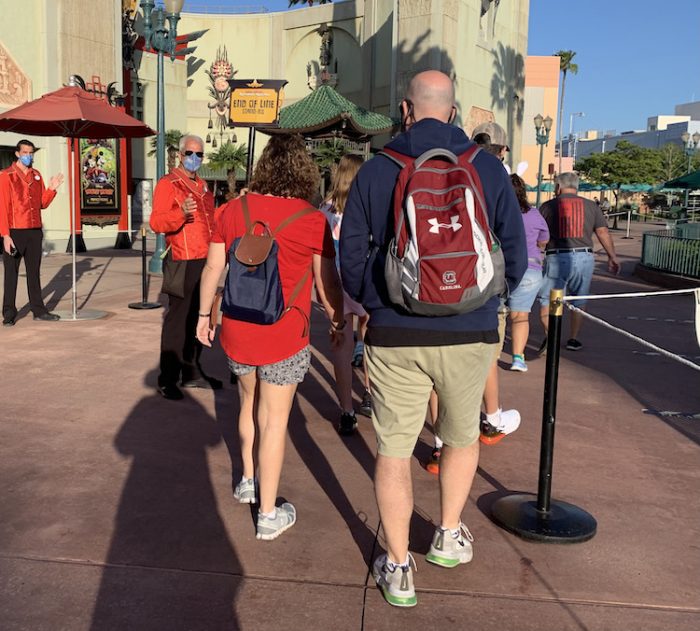 For folks with young children, the answer is easy; just leave your bag (minus valuables) in your parked stroller. Another option is to make use of the lockers at each theme park, but that can be inconvenient as well as expensive.
But for the vast majority of Disney World guests, the answer to the "What do I do with my bag on the rides" question is, "Take it with you." Disney allows guests to bring a bag with them into every attraction in the theme parks, with just one exception (see below). At some of the other Central Florida theme parks, notably Universal Orlando, guests are prohibited from bringing any items with them on several attractions.
Note: I'm using the word "bag" here to mean a day bag such as purse, diaper bag, camera bag, or backpack of moderate size. Overnight bags, camping-style backpacks, suitcases, and the like are best left back at your hotel, in your car, or in a park locker. (Disney World prohibits guests from bringing bags larger than 24″ x 18″ x 15″ with them into the parks.) If you're planning to purchase bulky or heavy items while you're in the theme parks (giant LEGO Cinderella Castle, for example), you should try to do this at the end of your visit, while you're on your way out of the park. Pre-pandemic, Disney offered package pick-up or the delivery of purchases to your hotel, but these services have not been reinstated.
While bags are allowed on the vast majority of rides, there are a few different ways they are accommodated on the attractions.
Keep the bag on the seat next to you or the floor in front of you.
For attractions that are slow-moving or fully enclosed or have spacious vehicles, you can bring you bag onto the ride and plop it down next to you for the duration of the experience. Examples of this most common method of bag handling include:
Buzz Lightyear's Space Ranger Spin (Magic Kingdom)
Dumbo the Flying Elephant (Magic Kingdom)
Haunted Mansion (Magic Kingdom)
Living with the Land (EPCOT)
Journey into Imagination (EPCOT)
Spaceship Earth (EPCOT)
Toy Story Midway Mania (Hollywood Studios)
Mickey & Minnie's Runaway Railway (Hollywood Studios)
Harambe Wildlife Express Train (Animal Kingdom)
Na'vi River Journey (Animal Kingdom)
TriceraTop Spin (Animal Kingdom)
All show-style and auditorium based attractions such as Country Bear Jamboree (MK), Reflections of China (EP), Festival of the Lion King (AK), Lightning McQueen's Racing Academy (DHS), and many others.
These are just some examples — there are many others in each park.
Keep your bag in a dedicated pouch located inside your ride vehicle.
Many attractions with jostling or rapid movements incorporate a mesh pouch inside the vehicle into which you may place your bags.
Some pouches may be smaller than your bag. If this is the case, be prepared to secure something like a larger backpack with your body. For example, by putting your feet through your backpack straps as it rests on the floor of the vehicle or by wearing your backpack on the front of your body, assuming that this does not disrupt any vehicle safety restraints.
Examples of this include:
Big Thunder Mountain Railroad (Magic Kingdom)
Mission Space (EPCOT)
Soarin' (EPCOT)
Rock 'n' Roller Coaster (Hollywood Studios)
Dinosaur (Animal Kingdom)
Expedition Everest (Animal Kingdom)
and more.
Be aware that if an attraction has a storage pouch in the vehicle, that means there is some possibility that the bag is in danger of leaving the vehicle if it is not secured. I learned this the hard way once while riding Dinosaur at Disney's Animal Kingdom, an attraction that has an in-ride storage pouch. I was in a row of the vehicle alone, with plenty of room around me. The only bag I had with me was a small, relatively light, flat-bottomed paper bag containing only a mug I had purchased at Creature Comforts (Starbucks). Dinosaur does not go upside down or make wide turns like a roller coaster, so I thought I was fine just placing the bag on the floor rather than securing it in the pouch (I didn't want to crumple the paper). I neglected to note that the sides of the Dinosaur vehicles are open, without a door or ledge of any sort. The first time the vehicle bucked to avoid a dino, my bag rapidly slid across the floor of vehicle and narrowly missed being hurled outside.
Keep your bag in a dedicated area near your ride vehicle.
There are three attractions that use this method of bag storage, one mandatory and two optional.
Avatar Flight of Passage (Animal Kingdom)
Soarin' (EPCOT)
Mission Space (EPCOT)
At Flight of Passage, there are cubbies located on a wall behind the ride vehicles. The vehicles themselves configured like a motorcycle, with no floor on which to stow items. Everything you bring must be put into a cubby.
Soarin' and Mission Space are both listed above as attractions with a built-in storage for bags. There are indeed storage pouches inside these attraction vehicles. However, due to the nature of these vehicles (lack of a floor for Soarin', small size of the passenger compartment for Mission Space), larger backpacks may be problematic. In each of these cases, guests may, if they wish, leave larger items on the floor area inside the final attraction experience, but not inside the ride vehicle itself.
Keep your bag in a nearby locker.
There are two attractions at Walt Disney World that have dedicated lockers – one optional and one mandatory: Kali River Rapids and Tron Lightcycle/Run.
You are allowed to bring belongings on Kali River Rapids (Animal Kingdom), so you don't absolutely have to get a locker. However, the warning signs at the attraction are accurate: "You will get wet and you may get soaked." That means that your stuff will get soaked too. Seriously, SOAKED. The lockers are the same small/large sizes as at the front of the parks. The small lockers are free for up to two hours of use. The large lockers are $4 for up to two hours of use. If you want to keep your personal items dry, use a locker.
At Tron (Magic Kingdom), locker use is mandatory. There is no storage available on the vehicles – at all. In the queue, you'll find lockers for storing your loose items before you board. Lockers can be opened using either a MagicBand or a ticket card (MagicMobile will not work), and are about a cubic foot. That's big enough for a school backpack and perhaps a few other items. The lockers are double-sided — think elevators with doors that open at the front or the back depending on your floor. When you exit the ride, you'll access your locker from the other side to retrieve your stuff. Forgot your number in the excitement? No problem, touch your MagicBand or card to a terminal at the end of the locker row to retrieve it.
For more information about the ride vehicles, check here for Magic Kingdom, Animal Kingdom, EPCOT, and Hollywood Studios.
First published May 2021. Last updated / republished July 18, 2023.