What I Love! Just Keep Running…
Our What I Love post today is going to make you consider running to your local donut shop! (Shout out to
Liners
jenc45 & hodgtrzm for this awesome new fitness idea.) This post comes to us from Tim and Pat (Liner Dumbospal) and will have you ready to lace up and get going. Tim writes:
My wife, Pat,  has been running half marathons for years and after each one she would say the same thing: " I think that's the last one of these that I'm doing. I don't know how anyone can run a full marathon." Of course, two days after each race she would be signing up for her next half marathon. My wife was my inspiration to start my own running hobby –  a couch to 5k program (at 57 years old) which eventually led me to the Walt Disney World 10k in January of 2017. At the time, completing that race was my main goal.
 At our daughter's (an ultra-marathoner) suggestion we all put in for the New York City Marathon lottery knowing that it was next to impossible to get picked. Naturally, being the only non-runner in the family, I was the one to get in!  I trained for and completed the New York City Marathon in 2017 and remember that feeling of accomplishment crossing the finish line- it was very uplifting!  
 Now it was my turn to encourage (badger) my wife. I would constantly tell her that with her training discipline, a marathon was well within her capabilities and she would continue to scoff at me. Still, I continued to encourage her. 
In spite of nagging health issues I finally convinced Pat to sign up for the Walt Disney World Marathon and reminded her that, at the very worst, she could always speed walk to stay ahead of the balloon ladies. 
(Balloon ladies literally have balloons tied to them and maintain a 16 minute mile for the entire race. Runners they pass risk being swept, or removed from the course without completing the race.)
Finally, she registered for the race and trained through issues that would have been perfectly acceptable reasons to drop out. She completed the race in January of 2020 and it was truly a game day decision. The morning of the race we discussed her just getting to the corral while being mindful that she could always stop if the pain was too much to take. Once Pat actually started the race I knew that her competitive drive would carry her through – even with 84 degree heat and high humidity!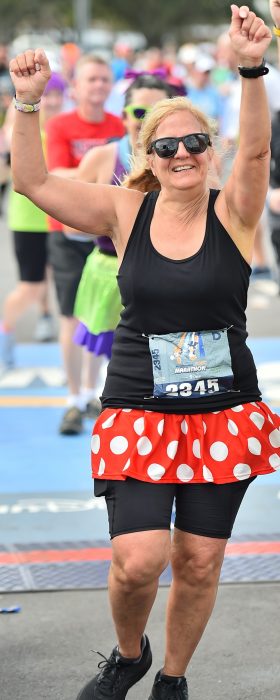 She

 now knows that uplifting feeling of accomplishment with the added bonus of knowing that she

finished her first Marathon in Walt Disney World and has the bling to prove it.  This is my favorite photo of us with our bling just before we commenced our victory lap around World Showcase. We could think of no better way or place to celebrate such an accomplishment!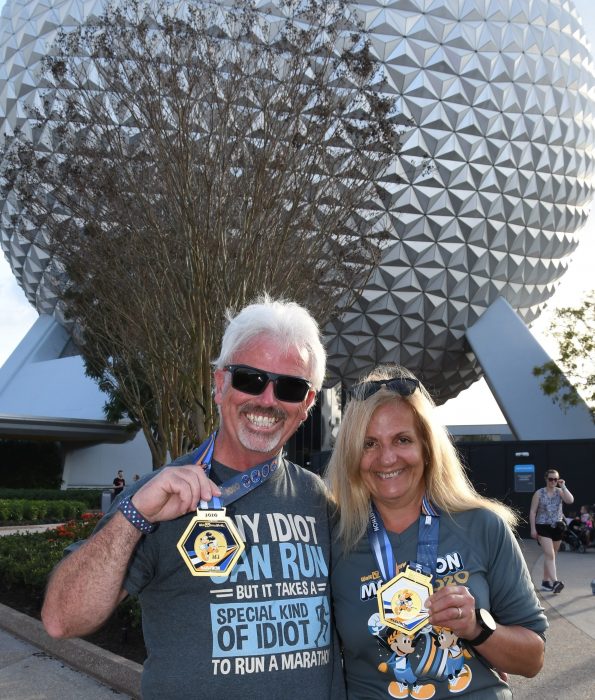 The Dumbospal family is a true inspiration! Thank you for sharing this awesome memory!
If you haven't had a chance to send in your memory and photos, please submit them to christina@touringplans.com and we will include you in this series.