Where is Your WDW Hotel Room Door? Why Does it Matter?
While Disney doesn't call them this, there are two different types of resort configurations at Walt Disney World: motel-style and hotel-style. There are many things that differentiate motel vs. hotels: types of amenities, availability of food on site, and so on. One of the key differences in these two styles of accommodations is where the door is to enter your room.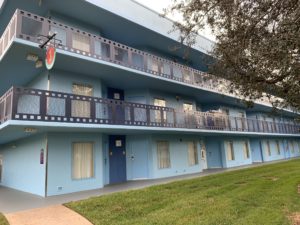 In hotel-style accommodations, you enter your room via a common indoor hallway. To gain access to that hallway you have to pass through some sort of lobby area, often the lobby is staffed by hotel personnel for at least part of the day. A few examples of this at Disney World are:
Wilderness Lodge
Riviera Resort
Contemporary Resort
Art of Animation: Cars, Nemo, and Lion King sections
In motel-style accommodations, you enter your room directly from the outdoors – stepping from an exterior walkway directly into your room. A few examples of this at Disney World are:
Port Orleans Riverside and French Quarter
All the All-Star Resorts
Art of Animation: Little Mermaid Section
Old Key West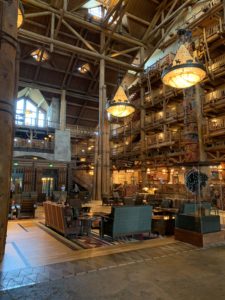 You'll notice that most, but not all, of the hotel-configured accommodations are in the deluxe category and most, but not all, motel-configured accommodations are in the value and moderate categories. There are plenty of reasons why you might choose one or the other (price, transportation options, etc.), but the door location should be on your list of things to consider when making your hotel choice. Here's why:
Distance to your vehicle: Accommodations with doors facing the outside tend to have easier access to parking lots. Because there are many entrance points to the guest rooms, parking lots can encircle the guest buildings. When the accommodations have a lobby that guests must funnel through, parking is convenient only to lobby, not necessarily to your own space.
Privacy: When guest rooms have the door facing the exterior of the building, that often means that the rooms' only windows are also facing the exterior, typically looking onto a pathway traveled by other guests. This means that if your room curtain is open, other guests can easily look into your room. Some people, particularly women, are uncomfortable with this "being on display" feeling. (Note: there are many ground floor level rooms of all categories that have a similar issue.)
Introversion: Some guests prefer not to interact with other people on the way to their hotel room. In the era of online check-in, this is less of an issue in general, but if you're an introvert or someone who wants to reduce interaction with staff and other guests at your hotel, having direct access to your room is a benefit.
Safety: Disney World is an extremely safe place. That said, some guests feel more comfortable when fewer other people are casually able to see exactly which hotel room is theirs. Additionally, some of the more remote motel-style rooms have doors that open out to dark wooded areas, which may make some guests uncomfortable.
Access to private outdoor space: The rooms of motel-style buildings have no space such as porch or balcony to sit outdoors. The only outdoor areas adjacent to the rooms are walkways used by other guests. In the COVID-era, some guests may find this limits their comfort.
While the placement of your room access door might not be at the top of your list of considerations when selecting a Disney World hotel, for some guests, particularly women traveling alone, this may be a factor that tips the scale in one direction or the other.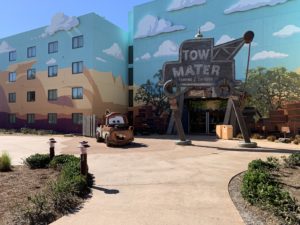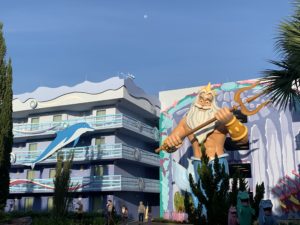 Do you prefer interior or exterior doors at your hotel room? Is it something that you consider? Let us know in the comments.