Which Disneyland Rides Are Better at Night?
"It seems like a new kind of magic takes over in Disneyland after dark." Walt Disney said this in the classic 1962 episode of his Wonderful World of Color television show called "Disneyland After Dark." It's true! Disneyland sparkles, shimmers, glistens, and is a treat for the eyes when the sun goes down each day. In this post we'll share some of our favorite rides to experience at Disneyland at night..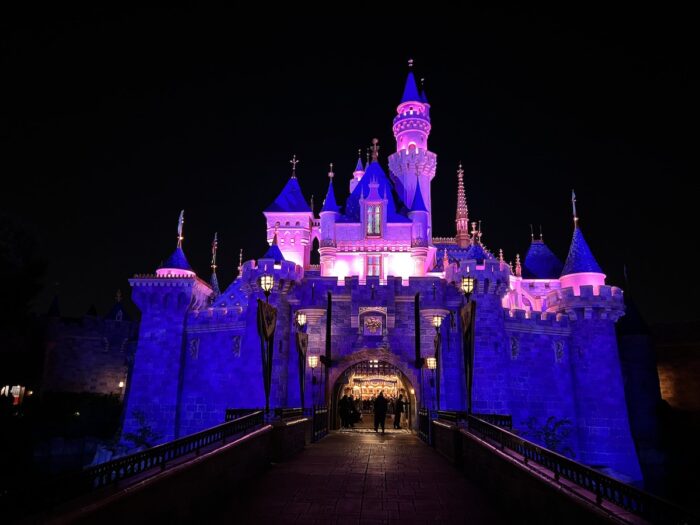 Before we get into the list just look at Sleeping Beauty Castle. The park's icon is lit in lovely pink, purple, and blue lighting. Now it's time to answer the question, which Disneyland rides are better at night?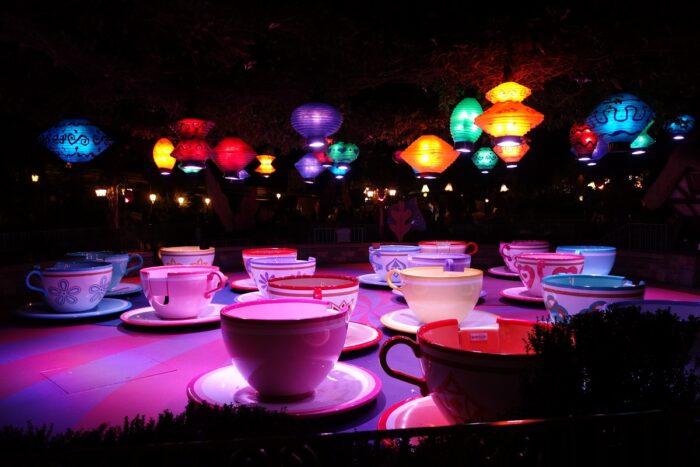 Mad Tea Party
Mad Tea Party is one of those rides that is so simple in concept, and one that could be done in any amusement park or carnival in the country. Disney found a way to make this simple spinning ride nice to look at, charming, and a great source of kinetic energy. Mad Tea Party comes alive at night when the beautiful colored lanterns "dance" along with the music while the tea cups spin underneath.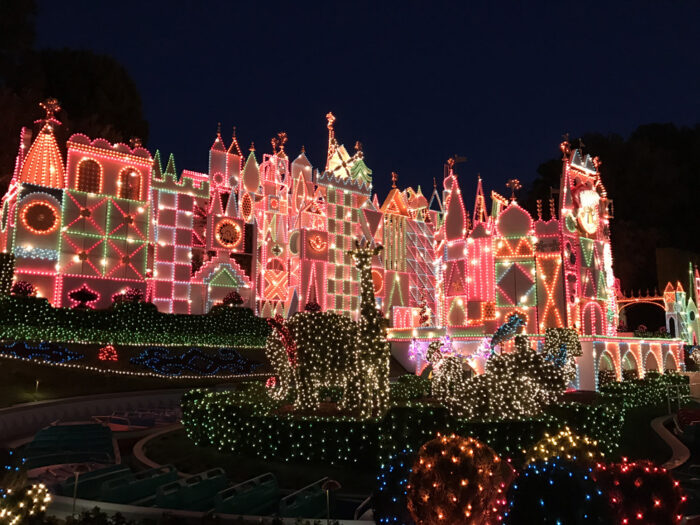 "it's a small world"
Epic in length, most of "it's a small world" takes place indoors where you are bathed in glorious air conditioning. But there is a stretch at the beginning and end of the ride where you are outside with no cover. These sections aren't long enough to make me say you should skip the ride during the day, but it is nice to ride at night when the sun isn't beating down on you. The best part about riding at night is seeing the beautiful exterior of "it's a small world" up close and lit up in some fantastic colors. The nighttime lighting is next level during the holiday season when the facade is covered in thousands of twinkling Christmas tree lights. It's stunning and one of the highlights of the entire park.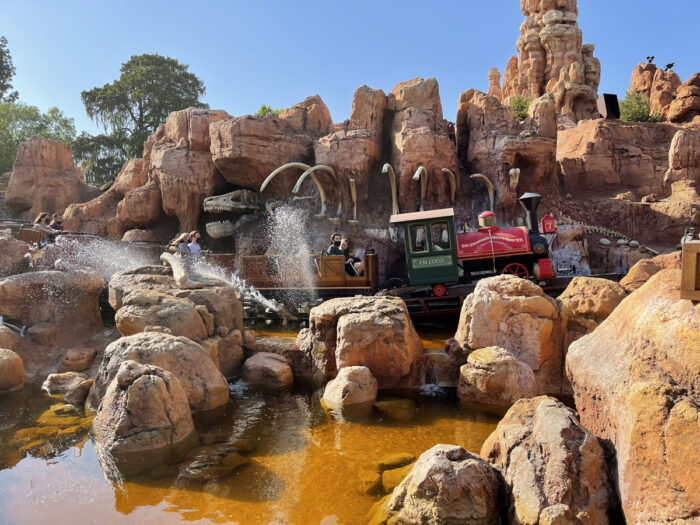 Big Thunder Mountain Railroad
Big Thunder Mountain Railroad is one of Disneyland's best rides and it looks great during any time of day, but I've always preferred it at night. There's something I love about how Disney made the rocks have a golden glow at night, almost as if it's being lit by a permanent sunset. Attached to Big Thunder Mountain is the town of Rainbow Ridge, which also looks fantastic at night. The buildings are lit by lanterns that flicker light just like the real thing. It brings life to the small mining town and it's definitely worth checking out.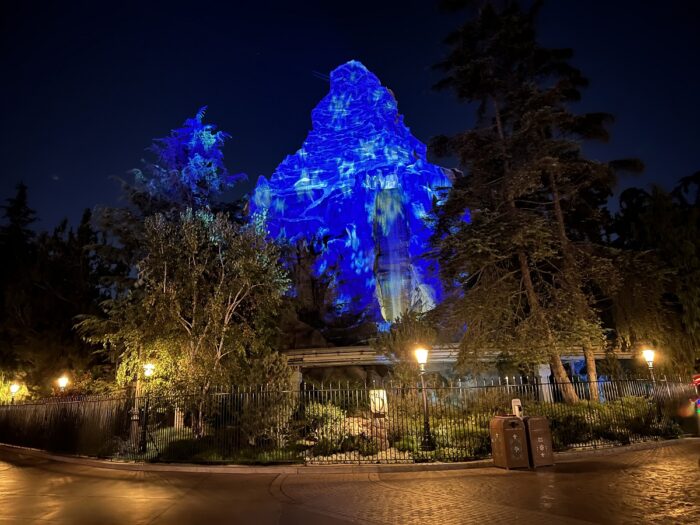 Matterhorn Bobsleds
Besides Sleeping Beauty Castle, Matterhorn is the most distinctive landmark in Disneyland. It's visible from almost anywhere in the park and at night it looks especially good. As you may know, Matterhorn Bobsleds is a rollercoaster. In your bobsled you weave in around the mountain and occasionally you catch glimpses of the outside world. During the day you may find yourself blinded by sunlight as you approach these openings, but at night they offer stunning views of Disneyland. Also, waiting in line for Matterhorn is much more pleasant during the summer. Most of the queue is uncovered and leaves you exposed to the elements.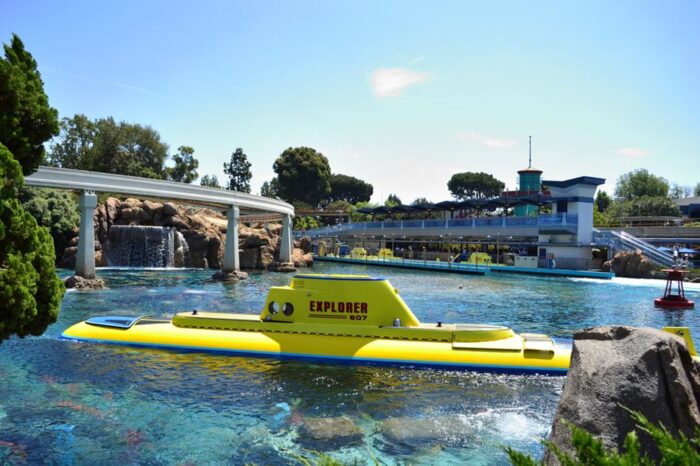 Finding Nemo Submarine Voyage
Finding Nemo Submarine Voyage's lagoon is no doubt impressive during the day, but at night it's next level. Disney masterfully lit this underwater showcase and we think it's a joy to look at. It simply looks much better at night. Finding Nemo Submarine Voyage ranks high with preschool and grade school children, and it's a ride that the whole family can enjoy together.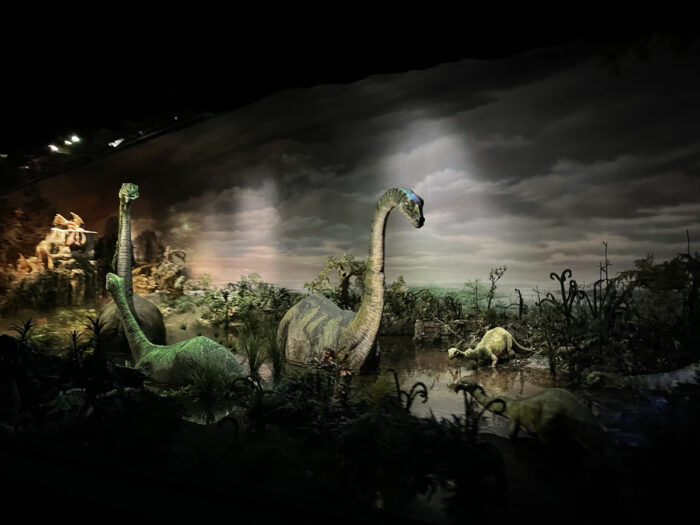 Disneyland Railroad
There's something about riding the Disneyland Railroad at night that hits different. Whether it's steaming past the peaceful moonlit waters of Rivers of America or seeing the flickering lights of bustling Main Street, U.S.A., the Disneyland Railroad is a completely different ride at night. Plus by the time the sun goes down you'll probably have already walked a few miles around the park and your legs will be ready for a much needed break. You can stay on Disneyland Railroad and relax for as long as you want, which is unique for Disneyland rides.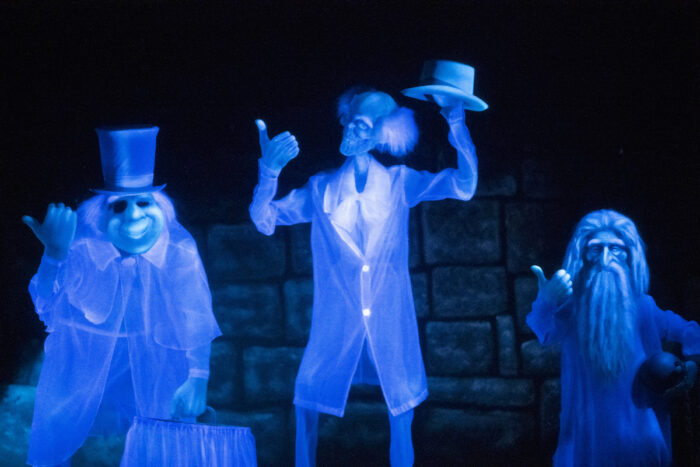 Honorable mention: Haunted Mansion
Okay I know this entire ride takes place indoors, but hear me out. Think about it, approaching the Haunted Mansion as its exterior is bathed in darkness, dim lights, and spooky flickering candles sets the mood much better than when everything is baking under the hot Southern California sun. Plus, at night your eyes are much more adjusted to seeing in the dark. At night you'll see everything the Haunted Mansion has to offer and maybe even notice some details you didn't before.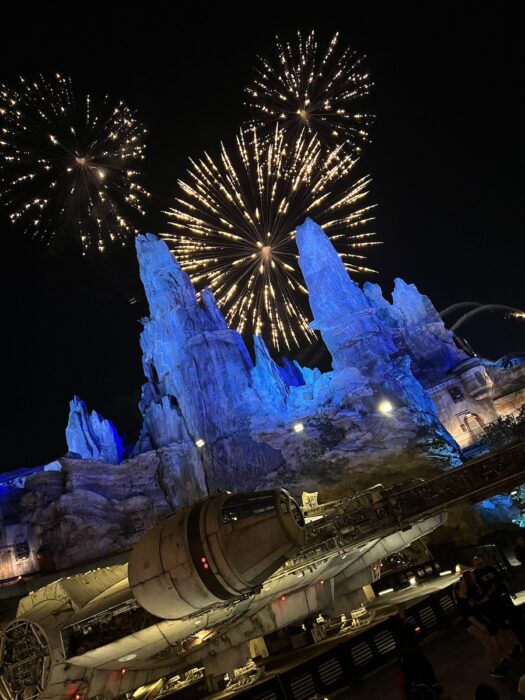 TouringPlans can help you plan your perfect Disneyland vacation. Be sure to check out our Disneyland Crowd Calendar, which rates every day of the year on a scale of 1 to 10 so you can see how busy Disneyland and DCA will be during your visit. Also check out our Disneyland Touring Plans. These itineraries can show you how to beat the crowds and spend less time in line at your favorite rides. Our Touring Plans can also be personalized! All of our tools are used by hundreds of thousands of visitors each year and are constantly being updated by our in-park team of researchers and data scientists.
We can even book your vacation for you. Our experienced staff of travel agents are standing by to help you plan your trip.
Did I leave any of your favorite night rides at Disneyland off this list? Let me know your thoughts in the comments.