Why You Should Consider the "Swolphin" Rather Than A Disney Hotel
Did you know that there's a non-Disney hotel complex on prime real estate, right on Disney property? It's the Walt Disney World Swolphin! OK, OK, I know that's not a real place, but the Walt Disney World Swan (and Swan Reserve) and Dolphin should be viewed as essentially one large resort complex. They share common grounds and amenities, and "Swolphin" is easier than saying "Swan, Swan Reserve, and Dolphin" every time we're discussing the property. We're often asked why someone would stay at the Swolphin rather than a "traditional" Disney hotel. As it turns out, there ARE good reasons — read on to find out more!
The Basics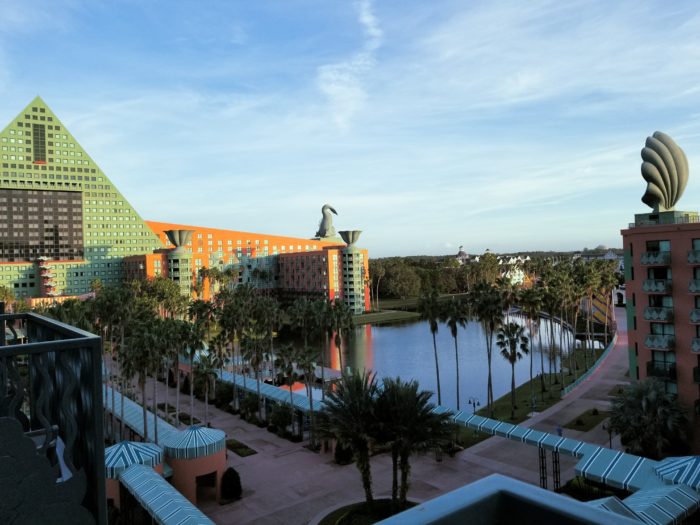 First, let me give you the nuts and bolts of the properties. The Swolphin is a resort complex in the Crescent Lake area of Walt Disney World. It is walking distance from both Epcot's International Gateway and Disney's Hollywood Studios. The resorts are not owned by Disney and are part of the Marriott chain of hotels.
The Swan and Dolphin are a pair of hotels designed by architect Michael Graves. For branding purposes, the Swan is a Westin, and the Dolphin is a Sheraton, but they share several amenities. The Swan is slightly more compact, but apart from that distinction, the experience at both hotels is more or less the same. Indeed, they share several amenities such as the pool, fitness center, and restaurants, and if you stay at one, you're likely to have occasion to pop over to the other during your stay.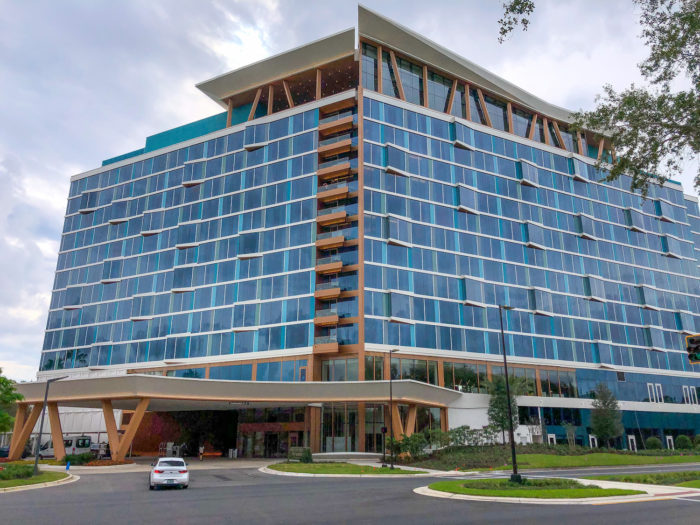 The Swan Reserve is a newer property that opened in 2021. It sits across the street from the Swan, and shares amenities with the Swan and Dolphin. It is targeted at business travelers, has a very large number of suites, and is part of Marriott's Autograph Collection. It does have its own pool and dining options, but it is a smaller property than either of its older siblings.
You Might Not Have to Pay
As a frequent Disney traveler, I have always lamented the fact that Disney doesn't have any sort of rewards program, where you earn free nights based on how often you go. The Swolphin, as a Marriott property, is a notable exception. This means that you get Marriott points when you stay there and, more importantly, you can USE Marriott points to book there. The upshot of this, of course, is that if you travel a decent amount for work or pleasure and you're a member of Marriott's Bonvoy program, you may have points that will cover or at least offset the cost of the room. In fact, I have stayed at the Swolphin several times over the years, and I have stayed there for free FAR more than I have paid.
If You Do Pay, It Can Be a Relative Bargain
In Walt Disney World lingo, the Swan, Swan Reserve, and Dolphin are considered "Deluxe" category resorts. They do not, however, always carry the same price tag as Disney's own Deluxe resorts. You can often book at the Swolphin for less than you would pay at any other Deluxe resort. Occasionally, you'll be able to book for FAR less than the list of Deluxe resorts that allow you to walk to a theme park.
For example, picking a three-day stretch in August, you could stay at the Dolphin for as little as $231/night, including the resort fee. In contrast, the three Disney-owned Crescent Lake resorts ranged from $538-554 when I ran the numbers. It's not just the Dolphin, however — the Swan at the same time was $267, and the Swan Reserve was $301. Considering that you're staying at a very nice property in more or less the same spot, that's a massive difference if cost is a concern.
Awesome Amenities
One often overlooked aspect of the Swolphin is the quality of the amenities there. For example, Stormalong Bay has a deserved reputation as the best pool on Disney property, but the main pool area at the Swolphin is at least as good as any other pool at Walt Disney World. In addition to a traditional rectangular pool near the bar (which sort of serves as the unofficial "adult" pool), there is a kiddie pool, a large-ish shallow pool for small children, two hot tubs, and a huge free-form pool with a large water slide and waterfall-covered grotto. Yes, you can see the back side of water without waiting in line for the Jungle Cruise!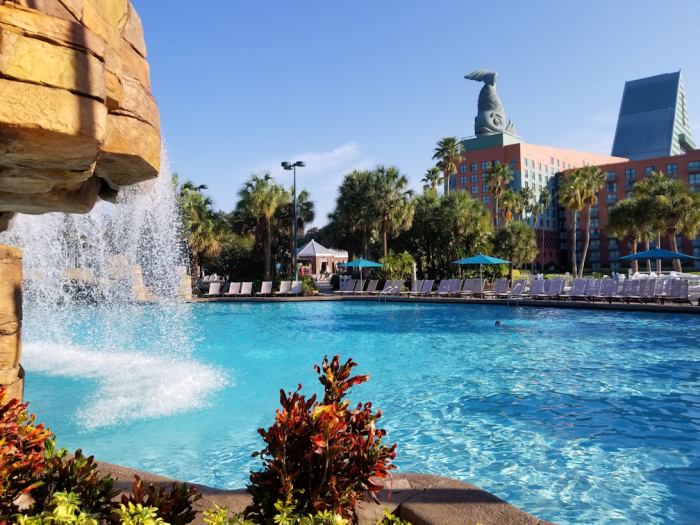 Some of the most underappreciated restaurants on Disney property call the Swolphin home, like Todd English's bluezoo and Shula's Steak House. Yes, Shula's is a chain that you can go to outside of Disney World, and yes, it's expensive, but the meat is very high quality and blows the doors off of a place like Yachtsman Steakhouse. What's more, they tend to be relatively easy to get into, even on short notice, particularly if you go through the resort or restaurant directly as opposed to booking through Disney.
The Dolphin also has evening childcare right there on property! Camp Dolphin is a kids club on the ground level of the Dolphin resort, and it provides a great place for your children aged 5-12 to hang out while you do more adult things. There is plenty of fun to be had there, and my kid has loved it! Pricing ranges from $50-$85 depending upon the amount of time and other variables, per child. Reservations are required, and you can get them here. Note that Disney has closed its own kids' clubs, so Camp Dolphin is an offering that Disney resorts do not have anymore.
Location, Location, Location…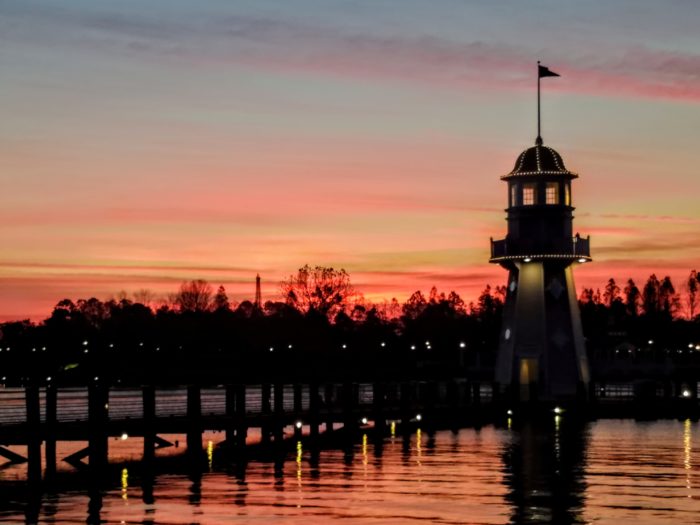 Unless you plan to spend the bulk of your time at the Magic Kingdom, the Swolphin's Crescent Lake location is tough to beat. Two parks —Epcot and Hollywood Studios — are a walk or a quick boat ride away. Moreover, while Disney Springs probably hosts the best selection of high-quality restaurants on property at the moment, Crescent Lake can certainly hold its own in this regard.
As mentioned above, the restaurants at the Swolphin are some of the best around, but you're also very close to places like Flying Fish Cafe and Beaches & Cream. The location provides easy access to the cavalcade of dining options at World Showcase through the International Gateway. Add in a few unique options at Hollywood Studios like 50's Prime Time, Sci-Fi Dine In, and Hollywood Brown Derby, and there is plenty of variety all easily accessible from the Crescent Lake area.
Caveats
We pride ourselves on being objective here at TouringPlans, so in the spirit of full disclosure, there are a few reasons you might NOT want to select the Swolphin, particularly as compared to a Disney hotel:
Supplemental Charges Add Up: While the Swolphin tends to be less expensive than other Deluxe properties, there are a couple of additional costs that you should factor into your calculation. The first is the resort charge, which is $40/day per room, which applies to all rooms. The other is parking, which costs $32/day ($42 for valet) and will only impact you if you're driving or renting a car. Even if you book using points, you're going to be on the hook for these charges, so make sure you're factoring them into your calculation.
Different Buses: The Swolphin no longer uses Disney's bus transportation and has its own dedicated buses. While you're unlikely to notice a difference for most things, the Magic Kingdom buses drop off at the Ticket & Transportation Center rather than the park entrance. That means an extra travel step when you travel to that park.  More on this here.
No resort-wide room charge: Because they are not Disney hotels, you cannot charge dining and merchandise from the parks to your room when you're staying at the Swolphin, and Magic Bands will not open your hotel room door. It's not a big deal, but worth mentioning for those wanting the complete Walt Disney World immersion experience. Speaking of which…
One of the most common knocks against the Swolphin is that it is less "Disney-fied" or "magical" than Disney resorts. A few minor Disney-specific touches notwithstanding, these hotels are very similar to Westin/Sheraton hotels you might find anywhere else in the world. This is something you may or may not care about (and might even be a plus, depending upon your druthers), but it's definitely worth being aware of if you're hoping to be awash in Disney magic 24/7 on your trip.
Comparing the Three
So, which one is better? Between the Swan and Dolphin properties, I think of them as a single resort, so my normal practice is to just stay at whichever is cheaper. With that said, if they were priced the same and I had a choice, I'd probably stay at the Dolphin. Part of that is personal preference, but the Dolphin, with its vaulted lobby, just feels more grand in my opinion.
More pragmatically, many of the shared amenities —the fitness center, the quick service restaurant (Picabu), the main pool, the kid's center, the lobby bar — are all located at the Dolphin. The resort complex is large, and walking from the Swan to the Dolphin isn't as easy as walking across the street. According to my Fitbit, I logged slightly over half a mile walking from my room at the Swan, to Picabu to grab some breakfast food, and back on a recent trip. Over the course of a stay, that can add up.
With that said, guests at the Swan are somewhat closer to the Boardwalk area, so depending on what you're planning on doing, that might be a better fit. Ultimately, the difference is negligible, and I freely stay at both without a strong preference for either.
The Swan Reserve is a bit more niche. It is a higher tier of Marriott Property, and is therefore considered "nicer," and you can reliably expect it to be more expensive than the Swan & Dolphin if you're paying cash. With that said, we've yet to see a dramatic difference in the limited surveys we've received so far in terms of guest satisfaction. We'll be updating those as we get more guest feedback.
So why stay at the Swan Reserve? For one thing, it has a large number of suites — more of its rooms are suites than regular rooms, in fact. Additionally, it is designed to cater more to business travelers than the other two resorts. So, if you are wanting more space or need to get stuff done while you're at Disney, the Swan Reserve is certainly worth considering.
For a deeper dive into the Swan Reserve
Tip: Use the Swolphin for a Quick Weekend Getaway
Not too long ago, I returned from a quick weekend getaway to Walt Disney World. As is often the case for these quick trips, I stayed at the Swolphin. As I was leaving, I remember thinking, "Man, this place is perfect for a quick trip," and it got me to consider WHY I favor the Swolphin for weekend getaways.
Part of it is that unlike a lot of Disney hotels, you can often get a room at the Swolphin with relatively little notice. The Swan & Dolphin resort properties often show availability when booking through Marriott's site even when they're unavailable on Disney's site. I've often wondered if this leads to greater availability because it requires an extra step that many travelers don't bother to do. It makes the Swolphin the perfect place to stay for a last-minute trip, when rooms at Disney's hotels can be scarce.
When it comes to a quick trip, less immersion in the "Disney bubble" isn't necessarily a horrible thing. For me, a quick weekend trip isn't really long enough for me to become completely wrapped up in the magic anyway, so the relative lack of "magic" makes the transition away from and back to "real life" a bit easier to manage.
I prefer the bubble for longer trips, but for a quick getaway, the Swolphin has just enough of the outside world to keep me grounded. I know it seems paradoxical to recommend a place for the absence of Disney touches, but for a two or three-day trip, I actually kinda prefer it. Your mileage may vary, of course, and I am 100% sure there are plenty of you that will disagree with me on this, but that's my view on it.
So, what has your experience been? Do you like staying at the Swolphin? Do you prefer one hotel over the others? Let us know in the comments!