10 Things I am Looking Forward to at Disneyland this Week
By the time you read this, I will be in the middle of a work vacation in the Happiest Place on Earth! Yes, my job is a rough one, it often requires me to travel to, of all places – Disneyland! And to top it off, they are putting us up in my favorite hotel anywhere – Disney's Grand Californian Hotel and Spa. So I'm sure that at the moment you are reading this, the sides of my face will be aching from all the smiling I have been doing. Here are some of the things I'm looking forward to the most!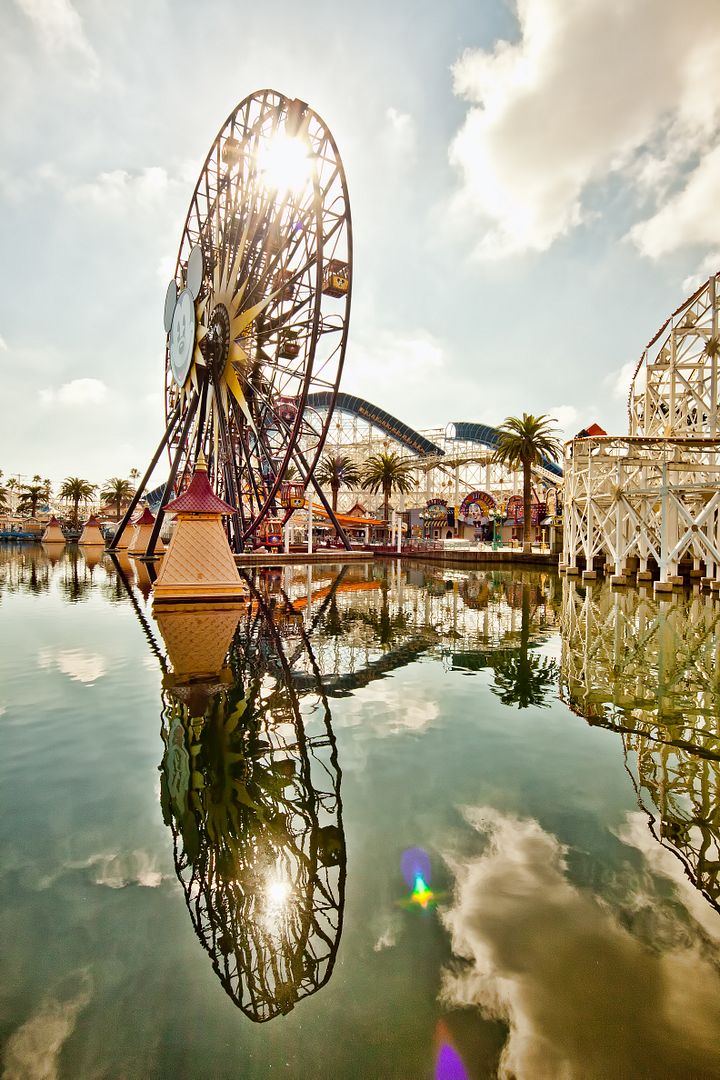 1. I'm Taking a Newbie! – Well she's essentially a newbie. My roommate (and work colleague) for the trip hasn't been to Disneyland since she was seven! She's very familiar with Walt Disney World and goes all the time but Disneyland is a whole new thing for her. I'm excited to show her everything that Disneyland has to offer and watch her fall in love with it as I did several years ago.
2. Carthay Circle Restaurant – I finally am going to try Carthay Circle! I can't wait! I've seen the menu, I've read the reviews, and I've drooled over the pictures of the food. And again – I can't wait! Did you know if you order an appetizer or dessert with your entrée you get a FASTPASS for World of Color? Even more value for our money! Okay, there's no cost associated with FASTPASSes so there may not be actual value there, but it feels like it!
3. Cozy Cone Motel– I also have not eaten at Cozy Cone yet, and Seth's review has me intrigued. Or should I say scared? I've gone on record as saying food in a cone sounds rather genius to me. It's kind of like egg rolls for me. If I break it down I probably don't actually like a single thing in an egg roll. But put it all together in a tasty wrapper and fry it up? I'm there! I was thinking the cones would be similar, but maybe I was wrong. Maybe horribly wrong if Seth's experience is common.
 4. Extra Magic Hours for Hotel Guests – I was so excited when the powers that be decided to make this available to all Disney hotel guests, and to extend it to either park every single day! A whole hour to enjoy Cars Land before the general public! Or a whole hour at Disneyland any morning I choose! No more confusing schedule of which park I could possibly go into early if I meet one of the several different requirements. With this announcement, I just roll out of bed and go to whichever park I feel like! Well, I do shower and put on make-up first, but you get the drift. Here's hoping this onsite privilege sticks around!
5. New Hotels – On this trip we are touring several Harbor Boulevard hotels. You can expect a blog soon on which ones I liked the best! There's no substitute for actually stepping in a hotel, and better yet, in a room, to see what a hotel is like. I'm sure I've stayed at many of the places we'll be touring, but I'm hoping to see some new ones!
6. I've got a new camera! – Really this one should have been number one based on excitement factor alone, but I know this bores the heck out of some people who will want to skip ahead. My dear sweet wonderful husband recently agreed to a camera upgrade and I'm going full frame! Again, if your eyes are glazing over at this point and you're wondering what language I am speaking when I say full frame, move on to point number 7. But if you know what that means, you understand my excitement. I can't wait to try this baby out, and what better place to put a new camera through its paces, than Disneyland?
7. Downtown Disney District view at Disneyland Hotel – After our conference ends we are moving over to the Disneyland Hotel for one night. Last time I was at the Disneyland hotel, I had a lovely view of a parking lot. This time, thanks to a great military rate, we have a Downtown Disney view! I love Downtown Disney view rooms. It makes me want to sit in front of that floor to ceiling window and just soak in all the excitement below. I also wouldn't mind catching the fireworks from there just to see a different perspective! And to be able to watch them in my PJ's.
8. Mad T Party – Okay, I admit it. When I'm coming from a different time zone, it takes a real effort to stay awake for something like ElecTRONica or the Mad T Party. But this time I'm doing it! I am determined! I have already made aforementioned roommate promise to drag me out of the hotel room if jet lag starts to overtake me. I won't be there every night, but I will be there at least once!
9. Billy Hill & the Hillbillies – I've never been shy about my love of Billy Hill and his hillbillie peeps. I love them, and I cannot wait to see them in their new location.  I've heard some mixed reviews of the new, maybe temporary location, so I want to see it myself. I will definitely miss the air conditioning and eating opportunities in The Golden Horseshoe, but Billie's show seems like it would work well in the Big Thunder Ranch setting. I hope people don't forget they're back there!
10. Cars Land – I'm not sure anything else needs to be said about this one. It's amazing, and I'm going to soak in, and photograph (!), every detail.
How about you? Are you going soon? What are you looking forward to most on your next trip to Disneyland?