10 Things Walt Disney World Regulars Should Know About a Disneyland Trip
One thing I've learned over time is a Disney cruise can be very intimidating for even the most seasoned of Disney veterans. It's a whole different vacation! Well, Disneyland isn't a "whole different" vacation than Walt Disney World, but there are enough differences it can confuse Walt Disney World vets. I know I was confused the first time! So here's some info which may help you out.
1. Staying Offsite – I've said before staying offsite at Disneyland is totally different than staying offsite at Disney World. At Disney World, I don't like staying offsite. It alters the homing signal and that's not good. DINOSAUR reference, anyone? Too obscure? Okay, moving on… Offsite at Disney World is too far removed from the magic for me. While I prefer onsite at Disneyland as well, I don't mind staying offsite when I have to. Some of the offsite hotels are a closer walk to the main park entrance than some of the onsite hotels. Disneyland knows this and is trying to make staying onsite more enticing with the addition of an Extra Magic Hour at Disney California Adventure only for onsite guests. The good news is offsite guests can still get into Disneyland early on select days by purchasing a ticket or three days or more..
2. FASTPASSes Are Still Old School – No FastPass+ yet at Disneyland! FASTPASSes are still old school, rush-around-the-park-to-acquire-them adventures. Ending times are now enforced, but other than that, it's the FASTPASS of old we all knew and loved. Disneyland also "disconnects" some of their machines from the central system from time to time enabling you to hold more than one FASTPASS at once. If, say, California Screamin' is disconnected you can get a FASTPASS for it and then get another FASTPASS immediately afterwards. It's worth a try when you visit! Radiator Springs Racers is always disconnected by the way.
3. Reservations Aren't Always Necessary – Unlike Walt Disney World, if you are visiting Disneyland you do not have to try to decide what you may want to eat 6 months before you visit. With very few exceptions, during slow times you can walk up to almost any restaurant the day of and get in without much waiting. During the summer? Sure, you'll want to plan ahead a little more, especially if you want to eat at one of the more popular restaurants like Blue Bayou. But if you're not set on a particular place, you'll likely be able to find something even the day of. And in more good news, counter service at Disneyland is quite good! Many options are on par with table service meals!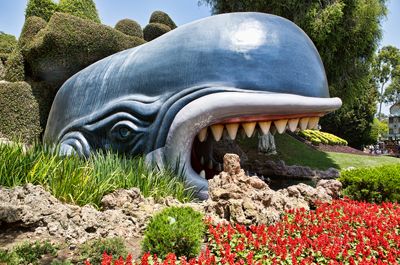 4. All Rides Are Not Operating From Park Open to Park Close – At Disneyland, an open park does not equal all open rides. Mickey's Toontown and all of its attractions, for example, open one hour later than the rest of the park most days. At nighttime, most of Fantasyland will close during the fireworks. Over at California Adventure, much of Paradise Pier will close during the World of Color. It's certainly not the end of the world, just something to be aware of while planning your days.
5. You'll Need to Prepare For Fantasmic! – Fantasmic! at Disneyland is something you do not want to miss, no matter how many times you've seen it at Disney World. Unfortunately, it does take more preparation than it does at Disney World. On quiet days at Disney World you could enter the stadium a few minutes before the show starts and still get seats. But that's the key difference right there. The stadium. There is no such animal at Disneyland. Fantasmic! is staged on Tom Sawyer Island, which is a magnificent place for it by the way, but it is definitely harder to see. On weekends and in the summer people will start camping out a few hours before the show starts. You read that right. Hours. That's not to say you can't walk up right before and have a view of some sort. But if you want an unobstructed view, you're going to have to plan to sit for a while and stake your spot. And FYI, what seems to be a good location while everyone is sitting down waiting for the show to start can suddenly turn into a completely blocked view when everyone stands in front of you. #shortpeopleproblems
6. There Is No Dining Plan – Okay, that's not actually true. There is a dining plan. But it's lame. Yeah, I said it. Lame. O. Depending on your eating habits, the dining plan at Disney World can actually save you money. At Disneyland it will not. Disneyland's dining plan is just a voucher system. While you can possibly save $2 to $3 dollars on a character meal by buying a character meal voucher, the other vouchers are dollar for dollar trades. In fact if you trade in a $15 voucher for a meal that cost you $13.85, you just lost $1.15. And here's an even bigger downer for me, restaurants at Downtown Disney do not take the vouchers. Until Disneyland can offer something better, just say no to their dining plan.
7. Annual Passes May be Worth it Even if You Only Go Once a Year – There are many reasons an AP at Disneyland can be a good deal for you. For one thing, you can't buy more than a 5-day ticket. If you want to stay 6 or more days, and people do, an AP is going to make a lot more sense than buying another set of tickets. Also, as I've discussed before, AP holders get lots of discounts! Food, merchandise, rooms – it can really add up! And you don't have to buy a discount card (a la Tables in Wonderland at Disney World), you just get the discount by flashing your card!
8. Park Hours, Dining Reservations, and Discounts are Much Slower – Another reason for the non-planners to rejoice, park hours and dining reservations come out much later than Disney World! It's not unusual to not know the park hours until three months before your trip. That can cause outright panic among uber-Disney planners! But it's okay! They'll come. It will all be okay. Breathe. Unfortunately resort discounts (if there are any) are released much closer to their effective dates as well. That one does make it harder to plan in a bad way!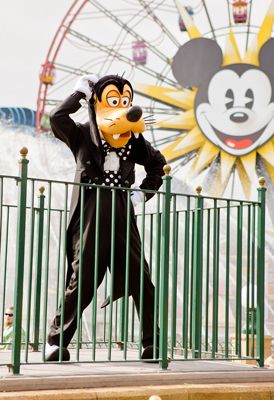 9. Some Bygone Disney World Classics Still Exist at Disneyland – If you're feeling particularly nostalgic for some Disney World rides which have disappeared, you may still find them at Disneyland! Toontown for example! And as a friend of mine said, Mr. Toad is still having Wild Rides and Snow White is still having Scary Adventures in Disneyland!
10. Weekends Make a Big Difference – At Disney World the crowd levels do not change exponentially on non-holiday weekends. At Disneyland, the slowest weeks of the year end with super high crowd levels on the weekends. Why, you ask? Disneyland locals treat Disneyland like their own personal theme park. They come out in droves on the weekends, and really, who can blame them? So if you're debating days to visit, go during the week!
Are there any other tips you think Disney World regulars should know about Disneyland?